The best trout bait will always contain an ingredient that attracts the fish. When you're using artificial bait, it's up to the manufacturer to incorporate something into the bait that makes it stand out.
Berkley Powerbait is famous for this.
I've fished it all from the honey worms, to the dough, to the marshmallows. When it comes to bait for trout, it's hard to beat Powerbait.
In this guide, I'm covering the gamut on trout baits so strap on a feed bag and get ready to be informed.
Comparison Table – The Best Trout Bait
Image
Product
Rating
Price

Best Overall

Size: 1.8 oz
Quantity: n/a
Color: Rainbow

Check Price

Best Rainbow Trout Bait

Size: 1.5 oz/1 in.
Quantity: As many as they fit in the jar
Color: Natural

Check Price

Best Runner-Up

Size: 3 in./1 in.
Quantity: 15/55
Color: Varying colors

Check Price

Size: Varies
Quantity: Varies
Color: 10 color variations

Check Price

Size: Varies
Quantity: 15-55
Color: Yellow/Black

Check Price
---
Our Top Picks For The Best Trout Bait
Berkley Powerbait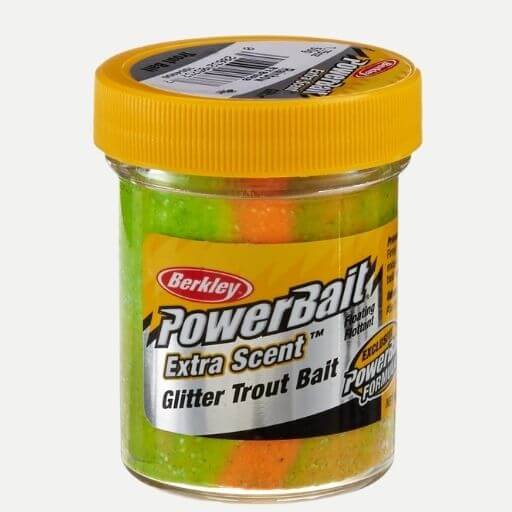 BEST OVERALL
Size: 1.8 oz
Quantity: n/a
Color: Rainbow
Pros
Built-in attractant
Spreads scent throughout the water
Easy to fish
Cons
Strong smell and a bit messy
What Do We Like?
When it comes to the best trout bait, Berkley owns this space and you'll see that as you make your way through the article. Anyone who knows anything about trout fishing knows that Berkley Powerbait is as good as it gets. This stuff has an extremely strong smell that attracts trout.
As you pull the bait throughout the water, it creates a trail that leads the fish right to you. Even better, it creates what I like to call a "warzone" where the smell has now attracted a large number of trout that weren't there before. Now you can drop your bait out there and catch as many as you want because you lured them in.
Another thing that is great about this is the fact that it's moldable so you can use as little or as much as you like. This formula has been developed for decades by Berkley and it only gets better and better with age.
Maggots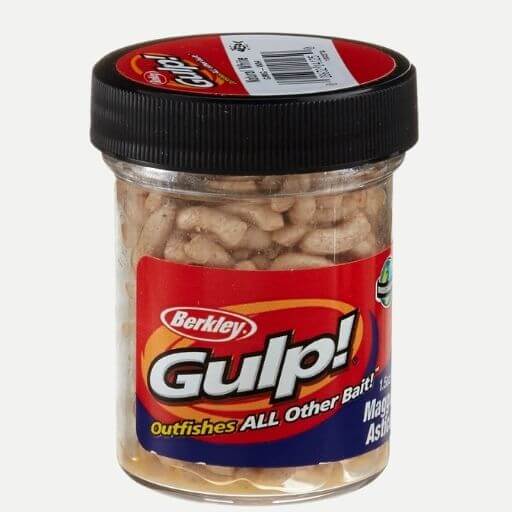 BEST RAINBOW TROUT BAIT
Size: 1.5 oz/1 in.
Quantity: As many as they fit in the jar
Color: Natural
Pros
More natural bait
Tasty snack that trout love
Realistic smell and taste
Cons
Hook a lot of panfish instead
What Do We Like?

You can't go wrong with these. They're the classic choice among trout fishermen all over and have been the favorite for decades. Again, backed by the incredible Berkley reputation and brand, they're a tasty and natural snack that trout enjoy. A lot of people find them useful for many different species when they can't seem to get a bite.
In fact, that's one of the problems. If you're stream or river fishing for trout and you toss one of these guys in the water, chances are you'll end up with a lot of panfish at the end of your life when you're trying to hook trout.
These are specifically engineered to help anglers catch more fish with their appearance, flavor, and scent. According to the manufacturer, these baits actually outfish real live bait 2:1 so they're certainly worth a try. One container goes a long way too.
Power Honey Worms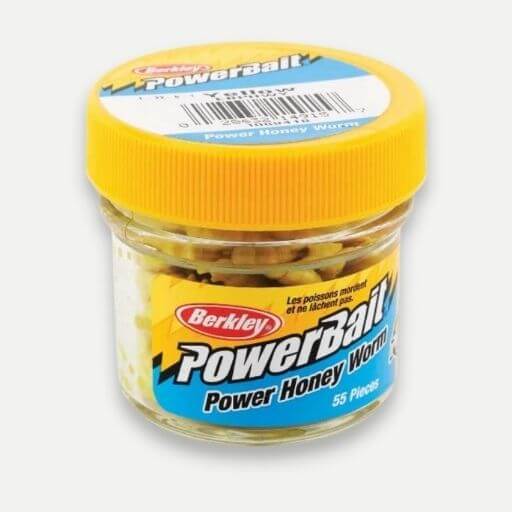 BEST RUNNER-UP
Size: 3 in./1 in.
Quantity: 15/55
Color: Varying colors
Pros
Natural appearance
Built-in attractant
Comes in many color and size varieties for different conditions
Cons
Shorter shelf life than powerbait
What Do We Like?

The only reason I chose these as the runner-up rather than the winner is because of the shelf life. These are just as effective if not more than the powerbait but they won't last as long once you open them.
There are also more things that can go wrong with the rigging because of their size. They do come in a lot of different colors and sizes though which is nice.
One thing I like about these over the powerbait is that you have a better chance of using the honey worms as a trailer for jigs and drop shots instead of balling it all on the end of the hook like you would with the dough.
In terms of the scent, it doesn't seem as strong as the powerbait dough because it's not actually incorporated into the bait itself, instead, the bait is just sitting in it inside the container. That's part of what shortens the shelf life as well.
Pautzke Salmon Eggs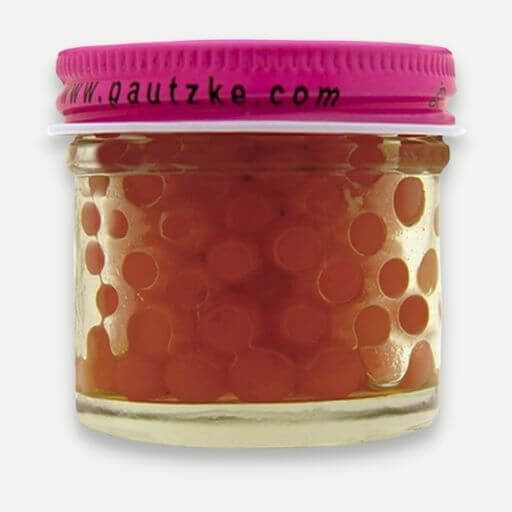 Size: Varies
Quantity: Varies
Color: 10 color variations
Pros
Excellent attractant
Natural appearance and scent
Long shelf life
Cons
Does not float
Weaker scent than other options
What Do We Like?

Finally, we're talking about something that isn't from Berkley. Don't worry, we'll be right back there soon. These trout fishing baits have been around forever and they work great but their temperamental.
I've used these sometimes and they don't work at all and other times you can't even keep up with how many fish you're catching.
It's hit or miss and that's just something we have to deal with sometimes. The manufacturer has sold more than 92 millions jars of these and they're made using a special concoction that mimics real salmon eggs. The scent isn't quite as strong as some of the other options in this guide but natural is always better.
The only other thing is that you'll fish these with a bobber because they don't float. You'll want to suspend them off the bottom and troll slowly to make it look like a salmon egg floating with the current.
Power Eggs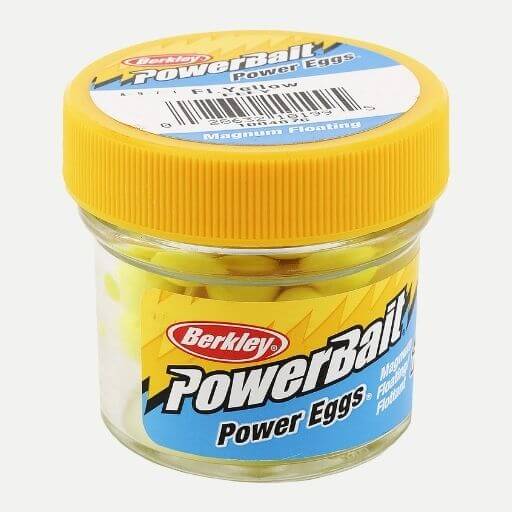 Specs
Size: Varies
Quantity: 15-55
Color: Yellow/Black
Pros
No mess
Strong scent
Long shelf life
Cons
Doesn't look natural in any way
Doesn't float
What Do We Like?
To finish it up, let's get back to what we know and love and that's the Berkley Powerbait trout love. These aren't the oldest Powerbait for trout out there but they're still pretty effective. They look similar to the dough style lure but instead, they're already molded into the shape of an egg.
Honestly, they don't look that realistic, but results speak for themselves. Anglers have no problem catching trout and panfish with these so I wouldn't worry. The results come from the strong attractant that is on most of these Powerbait options.
For these to work best, you'll likely put more than one on the hook depending on their size. If you decide to go with a larger one like the three-inch, you won't have to.
Another downside for some is the fact that these don't float either. Since we're talking about naturally presenting eggs, I guess it makes sense that they wouldn't float but it makes fishing them a bit more difficult.
In most cases, if I had to choose between this, the dough, or the honey worms, these wouldn't be my first choice.
How to Present the Best Trout Baits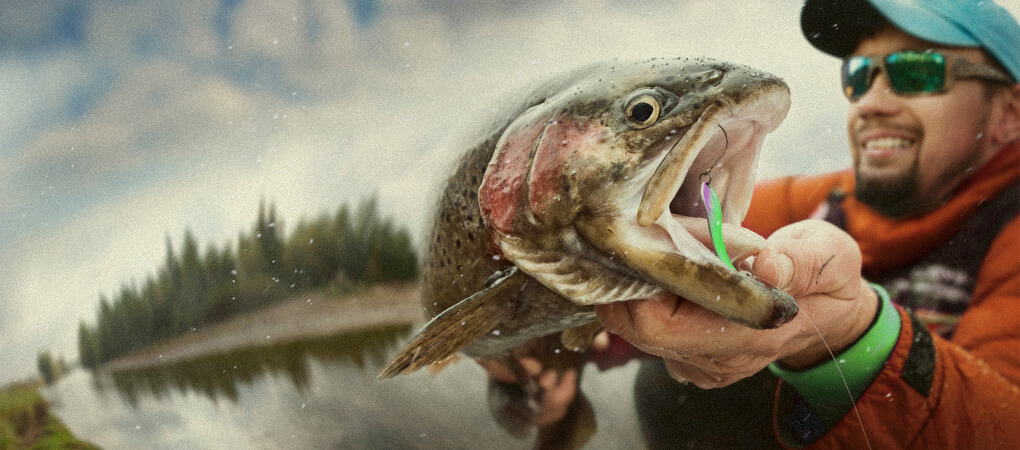 The presentation you choose will vary of course based on the type of bait you're using. That said, the general consensus is that you'll want to present them as natural as possible and cover a lot of water in the immediate area you're fishing so you can let the attractant do its thing. I'll cover some specifics here:
How to Fish Powerbait
The majority of the best trout bait picks above are Powerbait and regardless of which one you choose, besides the worms, they mostly fish the same. You want to rig enough on to cover the hook and then work these as you would with anything else.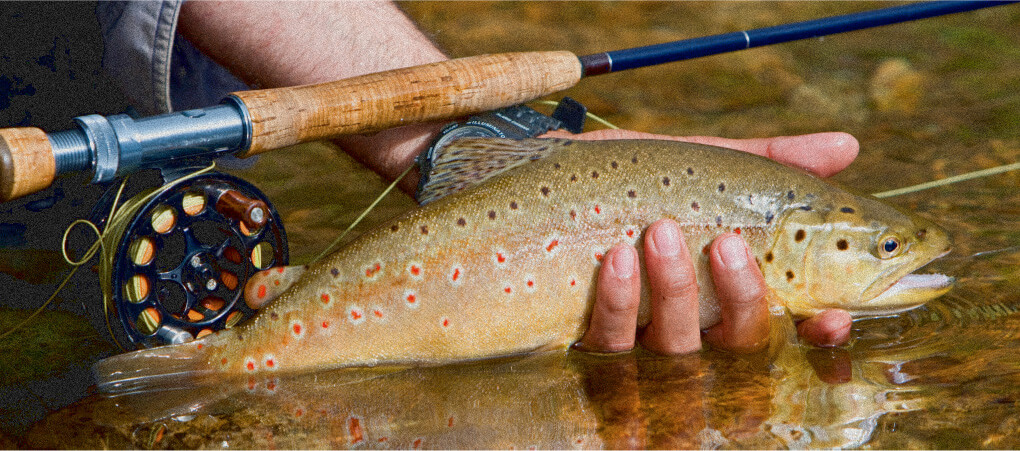 They'll float on the surface and won't take a lot of vegetation so you can work them near and through dense cover without a problem.
When it comes to choosing a color, you usually want to go for something bright and colorful. Most of the Powerbait doughs and marshmallows come in such a bright vibrant color for a reason. You want to get their attention and let as many fish know that you're there.
The best way to do that is with loud noise and light reflection. With Powerbait, you can't do that. So, instead, you need to use a bright color in clear water and scent.
How to Fish Salmon Eggs
Everything eats salmon eggs so fish, especially trout, are very familiar with them. They float downstream during the spawning season and trout are there to catch them as they work their way down.
Rigging these is simple. You'll want to hook one or two to cover a decent amount of hook. Put a single shot weight about 1-2 feet from the egg and then rig up a bobber up further as well because these sink. You'll want the egg to just about touch the bottom of the water and drag but not so much that it'll rupture or fall off.
Drifting salmon eggs are rocks and in slow-moving rivers is a great strategy. Fish them upstream and let them drift into the pools holding a ton of stocked trout. This is a trout angler's dream.
One of the best things about salmon eggs is they're good for everything. They're not only the best bait for rainbow trout but they'll work for any type of trout, panfish, perch, and more.
Berkeley does sell salmon eggs as well but I really prefer the brand recommended above because I think they're much more natural looking and their reputation is super strong as well.
On the Water with the Best Trout Baits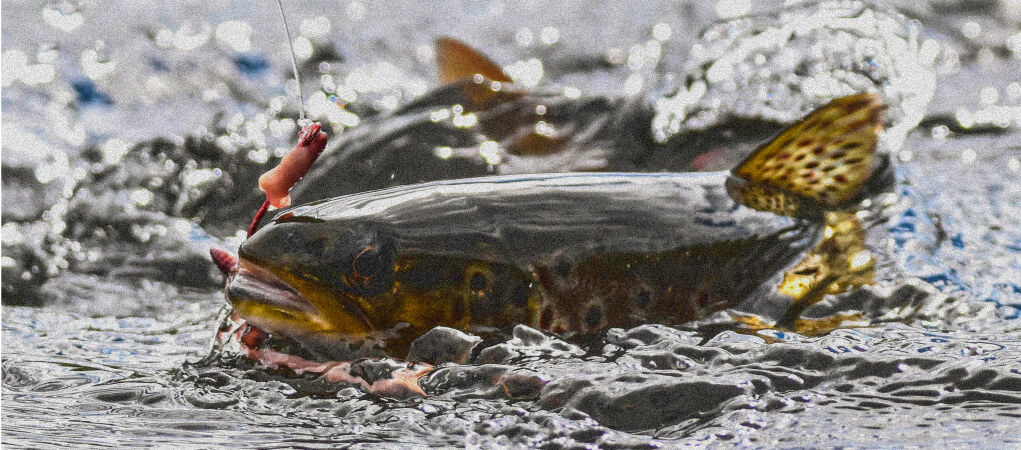 I just want to offer a few more tactics before we wrap it up. You want to make sure you're pairing these baits with the best trout reels. They should be ultralight spinning reels from reputable brands like Shimano and KastKing. These reels will have a higher gear ratio to accommodate the lightweight fish and trout don't put up that much of a fight so you don't need to tire yourself out with the lower gear ratio.
You'll also want to pair that with a fast action, moderate power, trout rod made with a sensitive material like graphite. They might be more expensive than fiberglass but it's worth it. Trout aren't heavy strikers so you'll need to feel every nibble if you expect to catch anything. A high-quality graphite trout rod will make a big difference.
Next, even though you're not fly fishing, waders are a must. You'll still find yourself wading through shallow water to pull the trout out of the stream or to get that perfect cast beneath a low-hanging tree. I always have my waders on or at least nearby if I'm fishing in moving water.
Keep in mind that the focus of this article has been on artificial baits. You can still use minnows, baitfish, grubs, mealworms, and nightcrawlers to catch fish. I just wanted to focus on artificial food sources because they have a much longer shelf life and I find that in many cases, they work better too.
FAQs
Final Thoughts
There's no one-size-fits-all when it comes to trout and there are many ways to catch them. The best trout baits are simple to use, heavily scented and can work in a variety of scenarios.
My favorite thing about Powerbait is that anyone can jump right in and use it. It doesn't require an extensive presentation because the smell does most of the work.
If you're looking for the best trout bait, one of the options in this guide is sure to do the trick.
Good luck and tight lines!