Ice fishing is a sport built on grit and toughness. While the weak sit at home with their hot cocoa, you're out freezing your butt off staring at a hole in the ice.
Sounds fun doesn't it?
Ice fishing isn't what a lot of people think it is. If you do it right you shouldn't even be cold. The problem is, there are a lot of things to buy before you get to that point. It took me years and years to purchase half the things on this ice fishing gear list.
Start with the essentials, get what you need to be successful and comfortable, and save the rest for later. Continue reading for our ice fishing trip packing list. 
---
Ice Fishing Clothing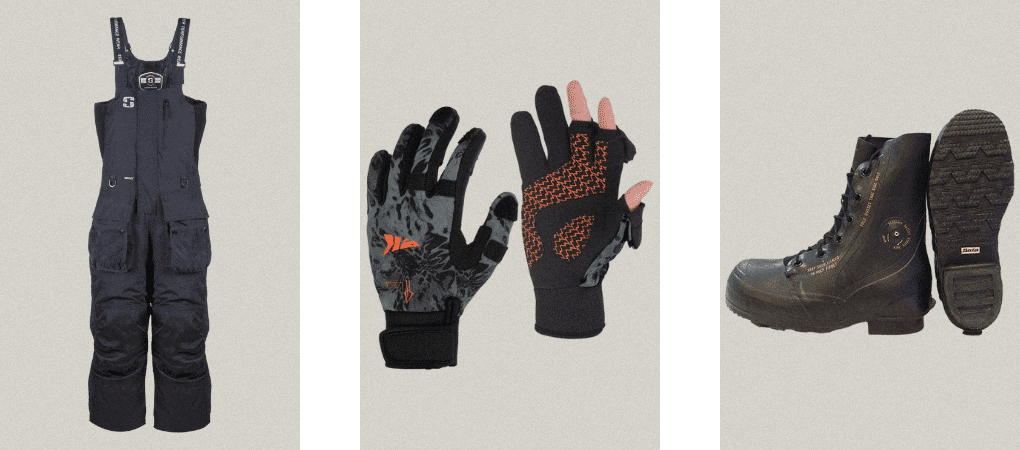 Fewer things are more important than having the right clothing when you go ice fishing. When the wind is whipping around you and there is little to protect you from blustery snow, the right gear will keep you warm, comfortable, and safe on the hard water.
Here are some of my ice fishing must-haves when it comes to layering up with the right clothing.
Ice Fishing Bibs – The best bibs will have a solid layer of insulation, plenty of padding, and a nice level of reinforcement in places like the knees to prevent tearing. You want to make sure your bibs are waterproof as well because you're more than likely to get wet from water in the hold and snow around your fishing area.
Be sure to research denier ratings that will tell you more about the density of the fabric so you can understand what temperature the bibs are rated for.
Ice Fishing Gloves – Gloves are never an afterthought when it comes to ice fishing but you can't have just any gloves. I prefer ice fishing gloves that don't restrict my ability to use my fingers when baiting the line. Many of them come with open fingers for this purpose.
Make sure they're waterproof and reinforced so they don't tear or break down too easily.
Boots For Ice Fishing – The boots are an ice fishing essential. The right boots for ice fishing will offer plenty of warmth and layering while also ensuring maximum comfort if you end up standing on your feet for quite a while. You also want to factor in traction unless you plan on getting ice cleats to go along with them.
I'll be talking about those next.
Ice Fishing Cleats – Ice fishing cleats are not a requirement but a highly recommended purchase. You don't have to use them every time but they'll strap up around your boots for added traction on the snow and ice. They're great for the elderly and folks with limited mobility.
Fishing Electronics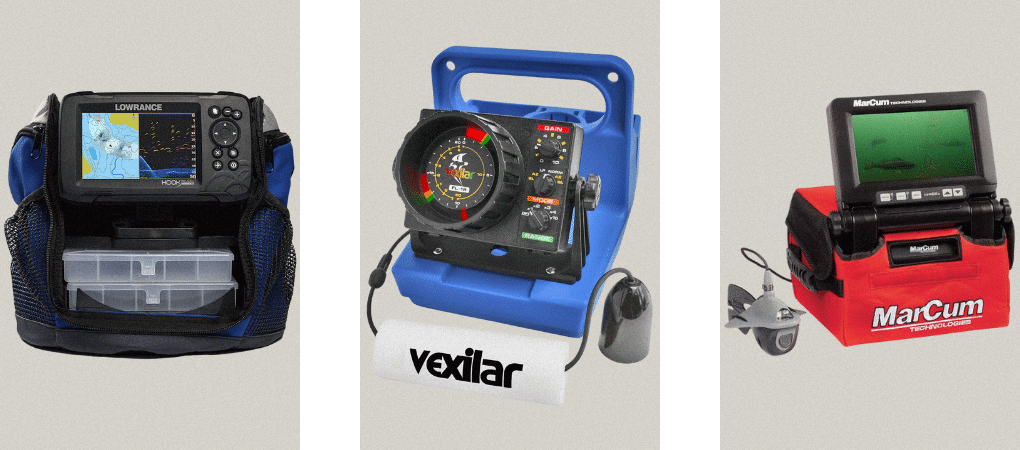 The point of this ice fishing gear list is to give you access to everything you'll want in one place. Do you need a fish finder or a camera to go ice fishing? Of course not. Does it help? You bet your "you know what" it does.
Ice Fishing Fish Finder – The main thing that separates an ice fishing fish finder from a standard unit is the way the transducer produces images. Ice fishing fish finders are designed to actually provide images through the ice.
They also come with protection against cold temperatures and they're more capable of providing accurate images in freezing conditions.
Ice Fishing Flasher – An ice fishing flasher is a confusing device that a lot of people don't understand. It's a dedicated ice fishing device that uses bands of color to display the top, bottom, and anything in between. They're actually easier to read than a fish finder once you know how to use them.
The main pro is that they provide real-time readings of what's happening beneath the surface.
Ice Fishing Camera – I find that ice fishing cameras are the best piece of ice fishing equipment for scouting. These provide crisp and clear images so you can identify things such as structure and vegetation. You'll be able to then decide if that is an ideal area to drop your line or not.
Your Fishing Rig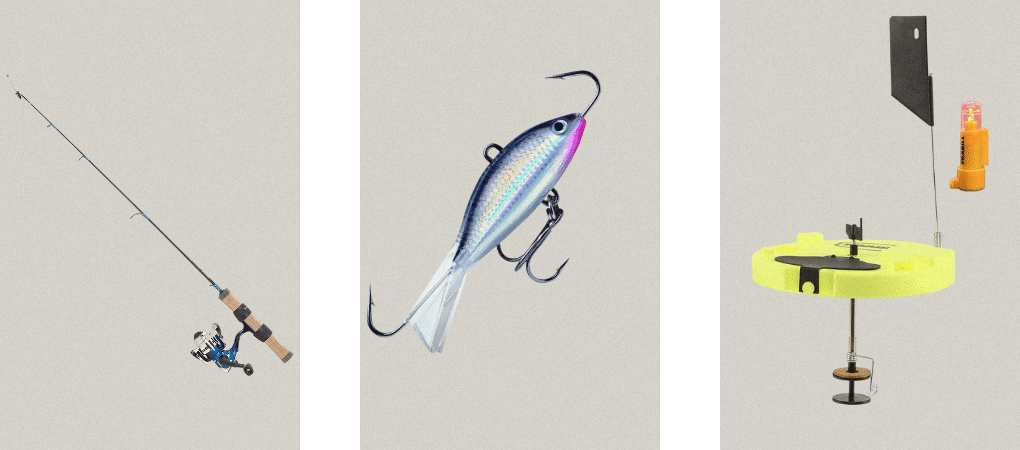 At the center of all fishing is the setup. Your rod, reel, line, and lures are the most important pieces of equipment you'll bring on the ice.
Ice Fishing Rod – The best ice fishing rod is quite different from your standard spinning rod. They're only about 3-feet in length because you need to be able to fit inside of a small ice fishing shelter. These rods are also usually ultralight because you're targeting slower fish and more commonly, panfish and perch.
If you're targeting larger species like walleye and musky, you'll naturally increase to a larger rod but you might not be able to fit in the shelter.
Ice Fishing Reel – When it comes to ice fishing reels, you have a choice. You could go for an inline reel which is designed specifically for vertical jigging. But, you don't have to. You can still use a traditional graphite spinning reel designed for cold weather conditions.
Ice Fishing Line – The line you choose is crucial because not every line can handle the cold and consistent exposure to freezing water. A dedicated ice fishing line is designed for reduced visibility in the clear water and it's also made so it doesn't take the shape of the spool due to the excessively cold weather.
Fluorocarbon and monofilament are most popular for first-time ice anglers.
Lures for Ice Fishing – We all know jigging is the most popular way to fish the ice so jigs are clearly the best choice for ice fishing lures. It's important that you understand the various options for baiting your hook during the winter. Jigs, spoons, and jerkbaits are the top dogs in the clear and cold water.
Also, don't forget about live bait like minnows.
Tip Ups – I recommend that every ice angler at least try using a couple of tip-ups at one point or another. These are a great way to really understand the way fish behave during the winter. Tip-ups are essentially a device with a flag that sits on top of the hole.
You'll bait an attached spool so it hangs down in the hole. When a fish comes by and strikes the lure, the flag will go up and you'll need to go over and pull it in by hand. This is a great way to increase your catch while actively jigging.
Comfort, Safety, and Accessories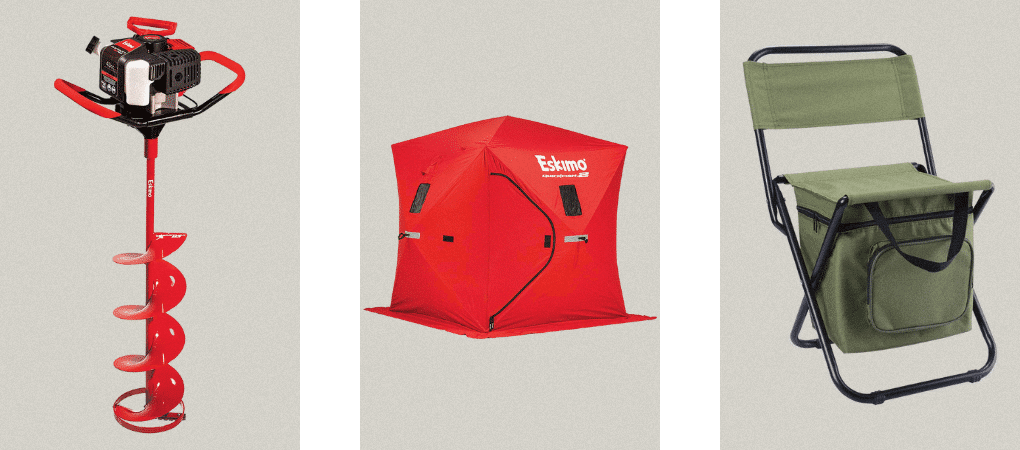 If you've read any of my ice fishing articles, you know that safety first is a big priority for me. I've seen many people fall through the ice in Pennsylvania and this only gets more common as the weather continues to become milder in the North.
This ice-fishing checklist should ensure you stay warm and safe during this ice fishing season.
Ice Sled – I consider the sled one of the most important essentials to be honest. I don't know how I got by without it. If you're not lucky enough to be able to drive right onto the ice, an ice sled gives you an easier way to pull everything to your fishing spot without having to make too many trips.
Ice Auger – The powered auger is another essential whether you're using an electric, gas, or hand auger. Few things are more exciting to me than the smell of gasoline on the ice. Choosing the right auger is the difference between easily drilling holes and cursing so much your mother comes out of nowhere to slap you upside the head.
Don't skimp on the auger, you'll thank me later.
Ice Fishing Shelter – An ice fishing shelter isn't a beginner purchase, but it's something you can pick up after you've decided that ice fishing is a serious thing for you. If you're going every week then you might want to consider it based on where you live.
These shelters come in a variety of shapes and sizes but I find that the portable pop-up shelters are the way to go for most people. You can fit up to 3-4 people in many of them and they go up within minutes.
Ice Fishing Heater – A portable heater is a great purchase for both inside and outside the shelter. Make sure you get the right heater for the job because a large propane heater inside a small two-person ice shelter is a recipe for disaster.
I recommend the ones with fans because they're great at circulating the air and spreading the heat around.
Ice Chisels – At one time, chisels and ice picks were the only way to even make a fishing hole in the ice. Now they're kind of an afterthought. Most people use ice chisels now as a way to "pretty-up" their hole and make it nice and round for pulling large fish through.
It can also be used in emergencies if you have to pull yourself out of the water if you fell in.
Ice Fishing Chair – Sitting on the ice sucks and kneeling on the ice is even worse so having a chair is important. Ice fishing chairs are portable and ergonomic. Many of them come with coolers to store your drinks and carrying bags to take up less space in your sled.
Final Thoughts
I hope this ice fishing gear list can serve as a powerful resource for you. Consider grabbing some of the essentials like all the tackle as well as the clothing. Make sure you don't forget your fishing license at home either!
As you become more experienced you'll want to upgrade to a nice ice fishing shelter and even a fish finder. Stay safe and good luck this season!