---
We independently research, test, and recommend the best products; you can learn more about our review process here.
The best ice augers are easy to use, durable, and great at cutting through ice no matter how thick it is. Whether you've been ice fishing for years or days, you can't do it without an auger.
Years ago, going electric was sacrificing power but today's batteries are just as powerful as a fuel run motor so more and more people are going that way.
That's one reason why I chose the Ion Electric Ice Auger as my top choice.
Gas-powered augers are slowly being replaced by electric because of their fumes, smoke, and weight.
I've used every single type of auger there is and I'll tell you what, there's very little difference between all of them. You'll only notice a difference when something goes wrong and they won't honor your warranty.
Let's try and prevent that from happening. Keep reading so you don't buy the wrong one!
Top 3 Best Ice Augers on Today's Market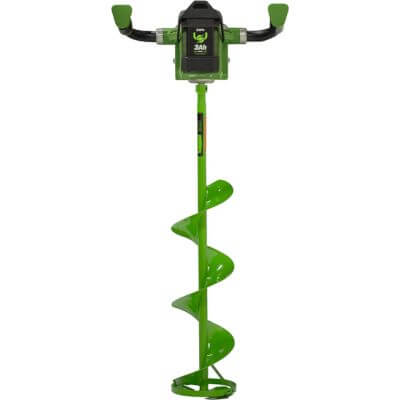 Ion Electric Ice Auger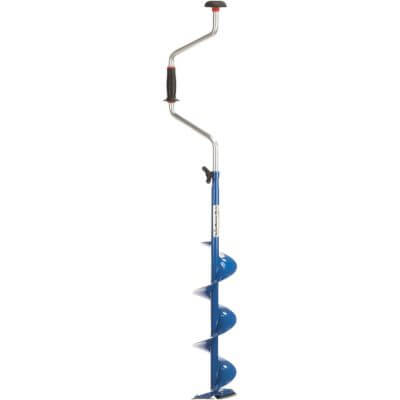 StrikeMaster Mora Hand Auger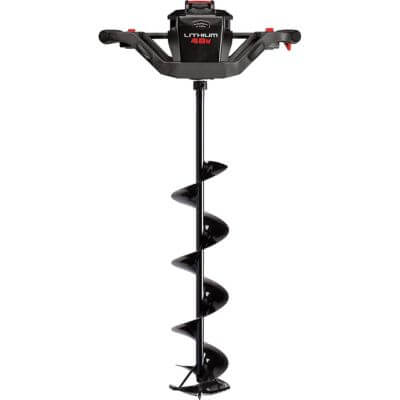 StrikeMaster Lithium 40V
---
BEST OVERALL ICE AUGER
Ion Electric Ice Auger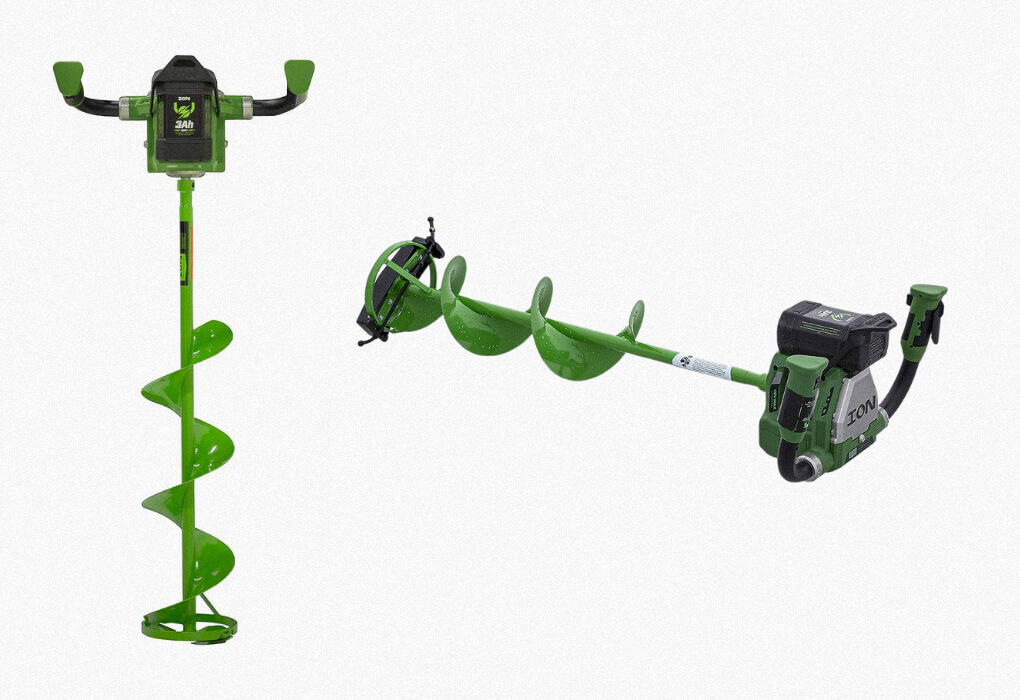 Specs
Power: Electric
Cutting Diameter: 8"
Weight: 22lbs
Why We Chose It
I had a really hard time finding something I didn't like about this battery powered ice auger, it checks all of the boxes and then some.
There's something about the smell of gas that I love so much about ice fishing but I'm seeing more and more of these electric augers popping up.
If there's one thing you can't argue with, it's the fact that they're easy to use. They're lightweight, have ergonomic handles, and have enough power to drill plenty of holes without feeling like you're pushing them too hard.
This one can drill through a complete 1,000 inches of ice on a single charge.
The reverse feature is something unique as well. When you drill a hole there's a lot of slush and ice build-up that you need to scoop out with a skimmer but the Ion allows you to reverse the direction of the blades which pushes all the slush back down into the hole.
I can't tell you how much time this would have saved me had I grabbed this when it first came out.
The biggest concern most people have with electric augers is power. They're worried that they won't have the power to drill through thick ice and they'll end up having to use the hand auger.
That's just not the case with a high-performance 40 volt battery and a full charge. You should be able to tackle any ice with the same power as a gas or propane auger.
All in all, this is by far my favorite ice auger on the market.
BEST GAS POWERED ICE AUGER
Eskimo Mako Quantum Gas Auger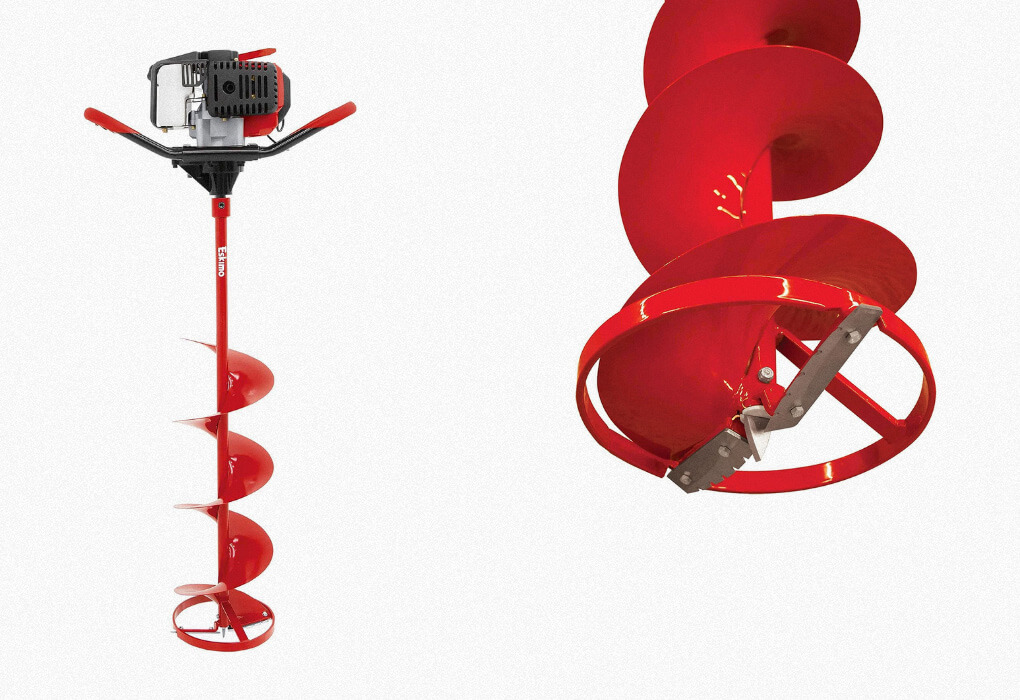 Specs
Power: Gas
Cutting Diameter: 10"
Weight: 34lbs
Why We Chose It
The best ice fishing augers will always have a few things. Ease of use, durability, power, and an affordable price tag. If you can find one that has all of these factors, you've got yourself a deal.
The Eskimo Quantum ice auger has all of that and a bag of chips; these augers are awesome. If this is your first gas-powered auger you might crap your pants out of excitement when you use it the first time.
Starting with the engine, you've got a 43cc 2-cycle Viper engine that performs amazingly well in temperatures well below freezing.
The two-stroke gas and oil mixture in the gas tank is an annoyance but I believe that it's responsible for improved reliability when the temperatures are really cold.
My favorite feature about this auger is the fingertip throttle and centering blade. It makes drilling really easy, you don't have to worry about it tipping, and the throttle is nice for easy operation and shock absorption.
All ice anglers know that when you're out in the cold weather and your fingers start hurting, you'll want to give up in a jiffy. These handlebars will make your life a lot easier.
One "con" I found is that this auger drills a 10-inch diameter hole so it's not the most lightweight.
I know a lot of you out there want an auger that drills an 8-inch hole and if that's the case, choose another auger in this review! We have some smaller ones listed below that will do you just right.
However, I'm not a big guy and I don't think this auger is too much to handle so most people should be alright.
BEST BUDGET (CHEAP ICE AUGERS)
StrikeMaster Mora Hand Auger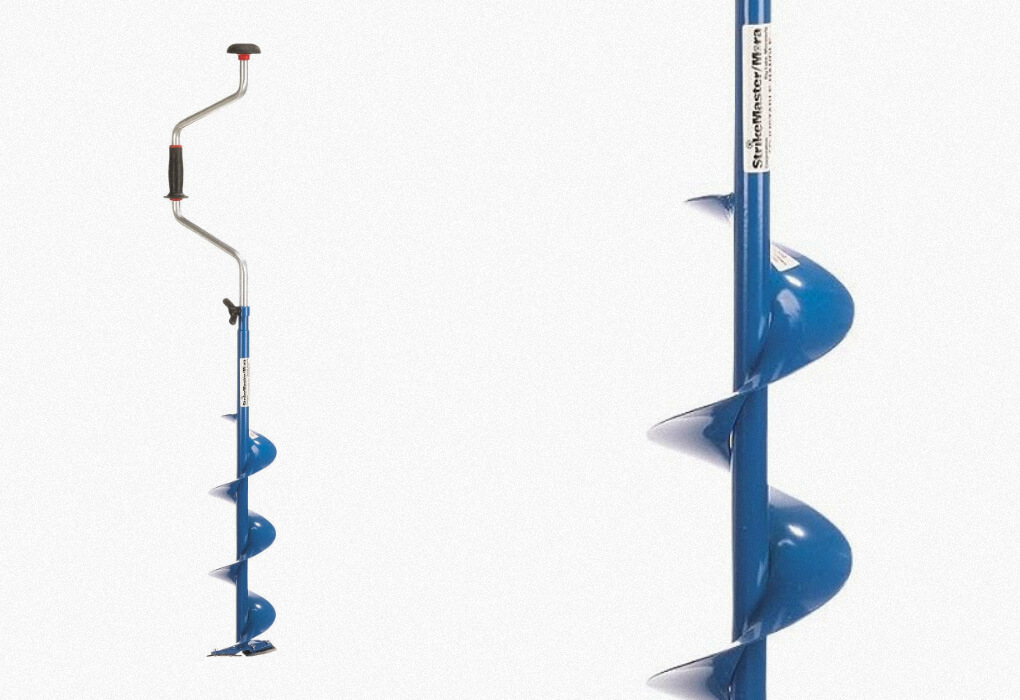 Specs
Power: Manual
Cutting Diameter: 7"
Weight: 7lbs
Why We Chose It
At the end of the day, we all have to use a hand auger at some point. If you're on a tight budget or you simply don't want to spend that much money then I'd go for an ice fishing hand auger.
These babies always get the job done and they're not as hard to use as you think.
Now, if you're planning on drilling 15 holes you might want to rethink your plan but for those of us who know what we want on the ice, it'll work just fine for a few holes.
The blades are high alloy carbon steel so they maintain a nice sharpness and actually sharpen themselves with each use.
The soft rubber grips on the handles are nice and the overall lightweight nature of hand augers is perfect for pulling onto the ice in a sled. Losing that 30lb gas auger will make the ice fishing sled much easier to pull.
If we're focusing on price, you're getting the best auger you can for the price range.
StrikeMaster is one of the most trusted brands out there so even though it's a budget option, don't feel like you're shorting yourself or making things any harder because the auger will last for many years.
Just make sure you understand the in's and out's of drilling a hole because you can bend it if you don't know what you're doing.
BEST ELECTRIC ICE AUGER
StrikeMaster Lithium 40V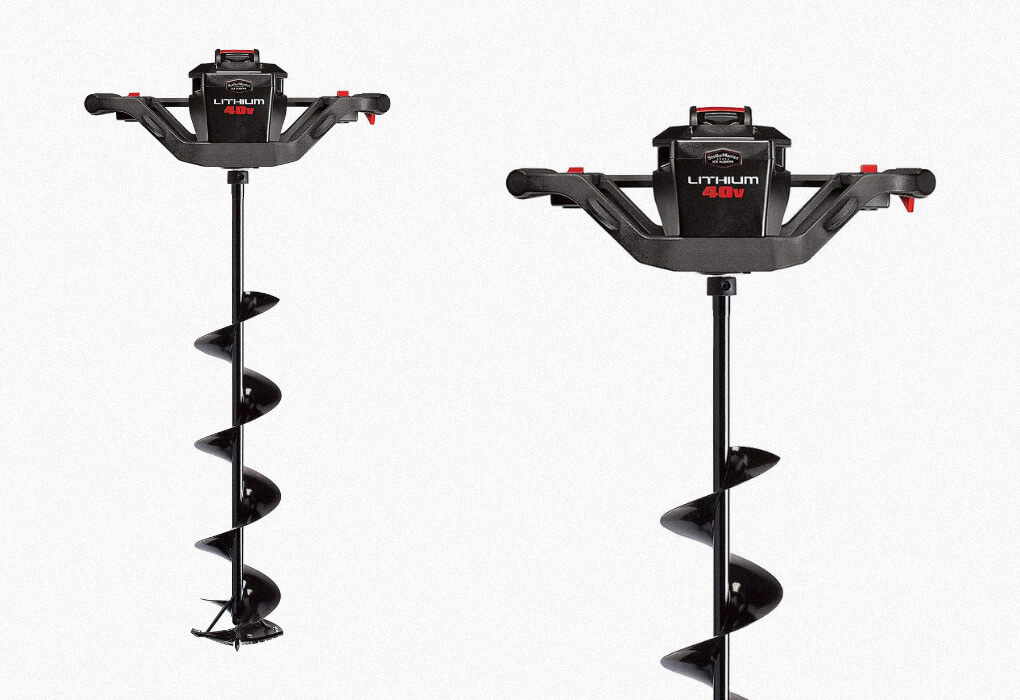 Specs
Power: Electric
Cutting Diameter: 10"
Weight: 24-27lbs
Why We Chose It
I once again find myself in a situation where I can't find anything too negative to say about the auger.
This is the best electric ice auger because it'll drill you a lot of holes on a single charge, you aren't sacrificing any power in exchange for no fumes, and it's lightweight enough so anyone should be able to operate it with ease.
What more could you ask for?
I'd love them to supply you with a backup battery just in case you forgot to charge yours the night before but thankfully, it doesn't take that long to charge (2.5 hours to be exact.)
So if you have a way to charge the battery at the lake, just use a hand auger for a couple of hours, and then you can use this one with ease.
BEST HAND AUGER
Eskimo Hand Auger (6-8 inches)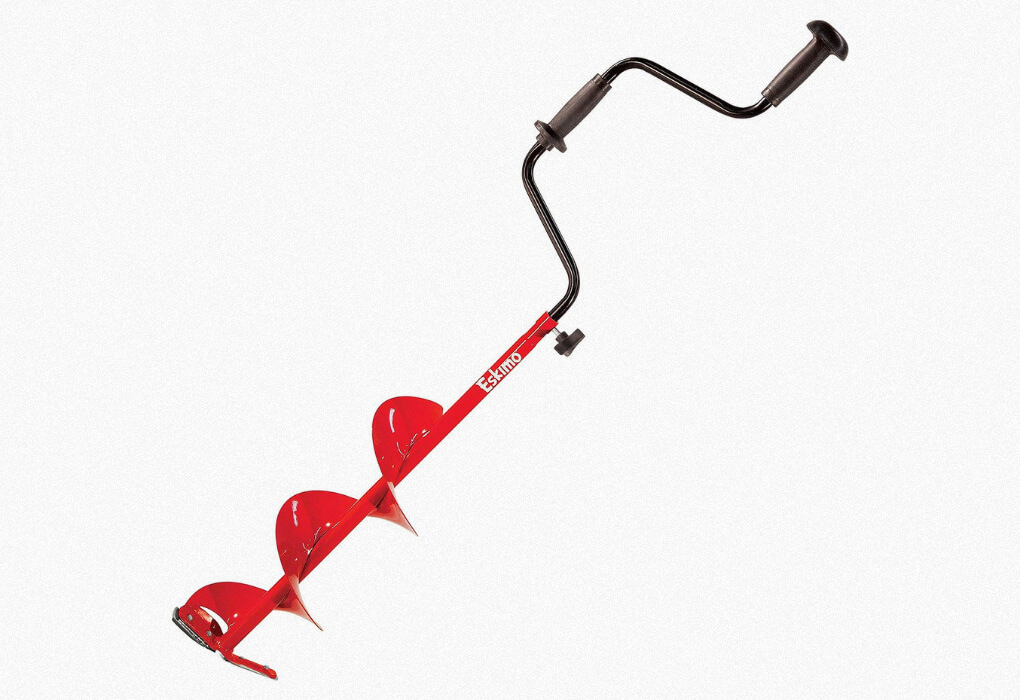 Specs
Power: Manual
Cutting Diameter: 6-8"
Weight: 7.5lbs
Why We Chose It
The main feature of this one is the cross-bolt takedown system which is a luxury that many other hand augers don't have.
As you continue to crank away while you're drilling, God help you if you stop because you'll get jammed up in the ice because of the tight ice pack in the blades.
The design of this Eskimo auger (cross-bolt takedown system) prevents that so you can take a break mid-drill without having to worry about the auger getting stuck.
Besides that, it's just a high-quality auger. It comes in diameters ranging from 6-8 inches with blade protectors and dual flat blades for chipping away at that ice.
I know the big question on your mind and it's "can I use this with my power drill"? The answer is, maybe.
I know a lot of people say that's how they ended up breaking their auger so I'd say you can do it at your own risk.
If you're savvy you might be able to rig it so you can properly insert the head into your drill but you may end up voiding any warranties by doing so.
There are adapters out there but you'll need to find the right one for both the auger and the drill if you're going to try that out.
BEST PROPANE AUGER
Eskimo Propane Series (8-10 inches)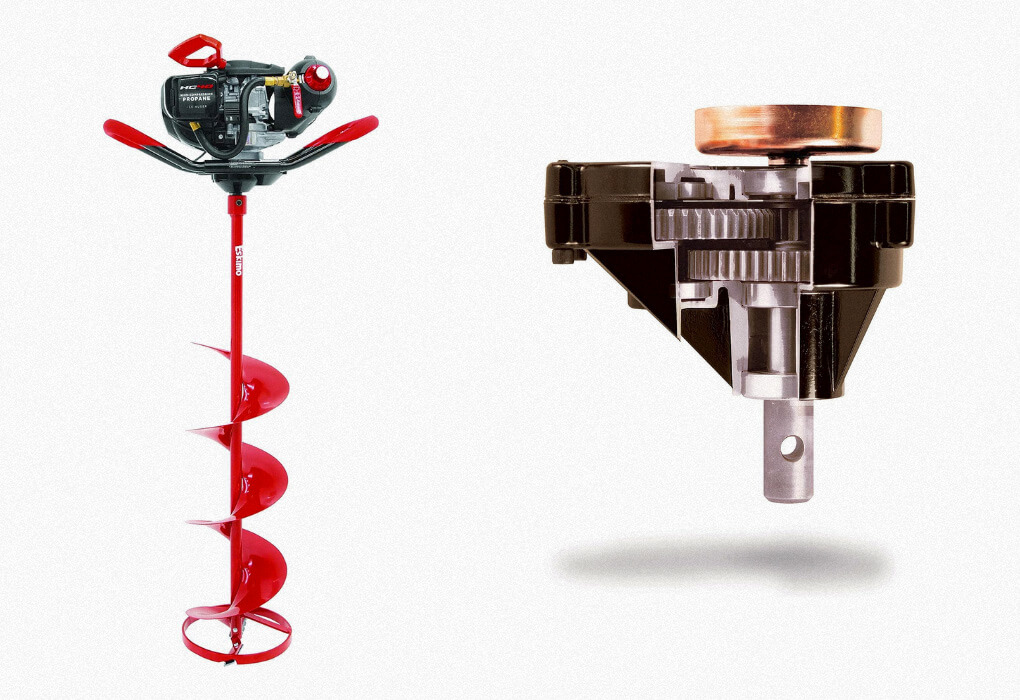 Specs
Power: Propane
Cutting Diameter: 8-10"
Weight: 28lbs
Why We Chose It
More and more people are switching to propane ice augers for a few reasons. First, they burn clean with a lot less smoke. This means that you can actually drill holes inside your ice fishing shelter without smoking everyone out.
I've also noticed that propane augers are lighter because they have a high compression ratio meaning you get more power out of a smaller package. Let's just say, I'm sold.
You have the choice of either 8-inch blades or 10-inch blades. The choice really boils down to whether or not you plan on looking in the hole because the 2-inches don't make that much of a difference.
I'd worry more about the ice thickness and how many feet of ice you have to drill through.
These Eskimo chrome-alloy blades will get the job done.
When you switch from gas to propane, you get a few other bonuses as well.
Since it burns cleaner, there's less gunk in the carburetor, no need to prime the engine, and you don't have to worry about the oil and gas mixture like you would in a 2-cycle engine. Just buy yourself a 1lb can of propane and fire it up.
BEST ICE AUGER DRILL
StrikeMaster Lite-Flite Lazer Drill Uni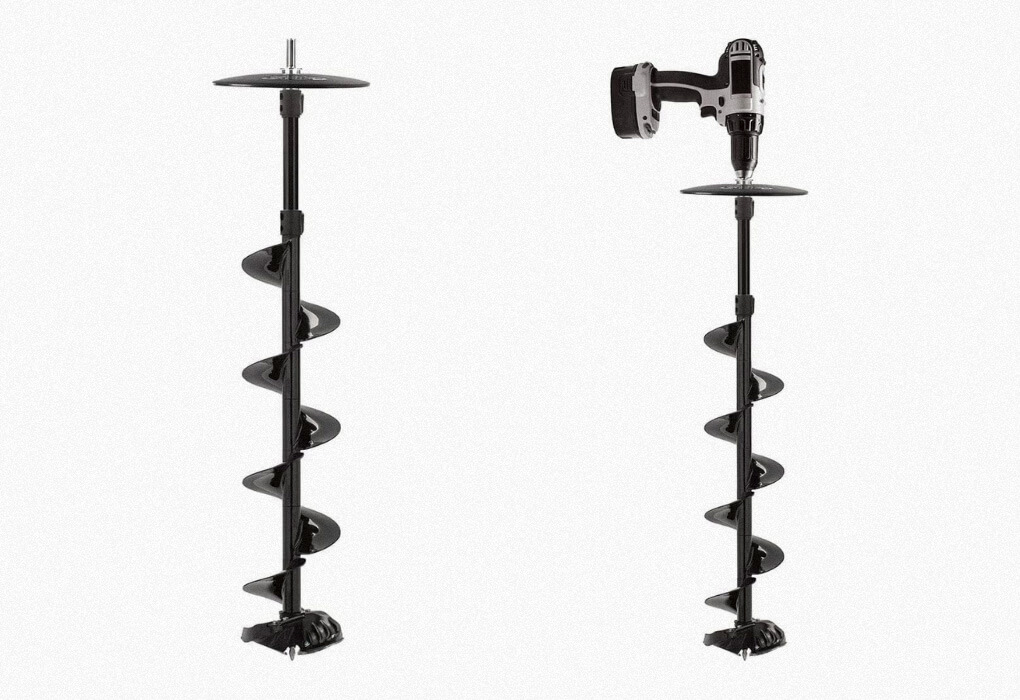 Specs
Power: Drill
Cutting Diameter: 8"
Weight: n/a
Why We Chose It
I'm a huge fan of these drill bit style augers and this is hands down the best ice auger drill bit. It works with an 18v or higher drill with a half-inch chuck.
You can also purchase a StrikeMaster ice auger power head like the one I recommended above and use the attachment if you like.
The manufacturer claims to have used a "unique blend of synthetic resins" to create a blade that is sharp, durable, and long-lasting.
Now, I'm no chemist so I don't know the technicals of "synthetic resins" but whatever they did, it works.
Ask who has tried this drill auger loves it and never plans on using anything else.
The real deciding factor here is the drill you buy. If you don't have a good drill, it won't matter what you do.
I suggest a lithium-ion 20v drill like the Dewalt DCD771B. This drill has the power you need to drive the blades down into the ice and it also has the battery life needed to prevent it from dying on you.
How We Tested
One of the most essential tools for ice anglers is the ice auger. I've conducted extensive testing on a number of ice augers and determined that these are the most important factors in my search for the best one:
Power Source: There are manual, gas, and electric augers. Each of them has their own set of pros and cons. I paid close attention to the physical toll each type of auger took on the body.

Manual augers are the most difficult to operate while electric augers are generally the easiest.
Size: The size of an ice auger directly impacts its portability and maneuverability on the ice. We tested ice augers in various sizes: 6-inch, 8-inch, and 10-inch. I tested various sizes to determine portability and functionality. Of course while a lighter auger is easier to carry, it's generally smaller so drilling the hole may be more complicated.
Price: Ice augers are not the cheapest item you'll get for ice fishing so budget is also an important consideration.
How to Choose the Best Ice Auger for Fishing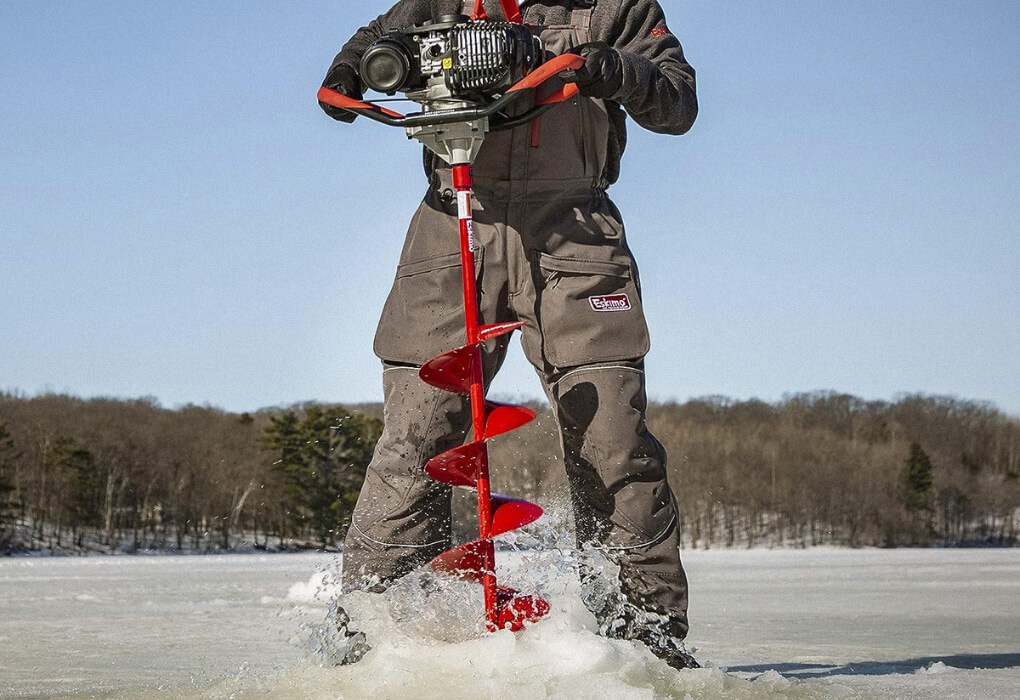 Now that you've seen what I deem to be some of the best ice augers on the planet, how did I settle on those options?
I want to provide some clarity so while you're deciding which augers are the best for you, you know that you're making the right choice.
Type
When it comes to type, you have three main options:
Fuel Powered
Electric Powered
Manual
This is the most important decision you'll have to make and if you've never drilled a hole before, you'll want to start with a manual auger. You'll learn why shortly.
Fuel Powered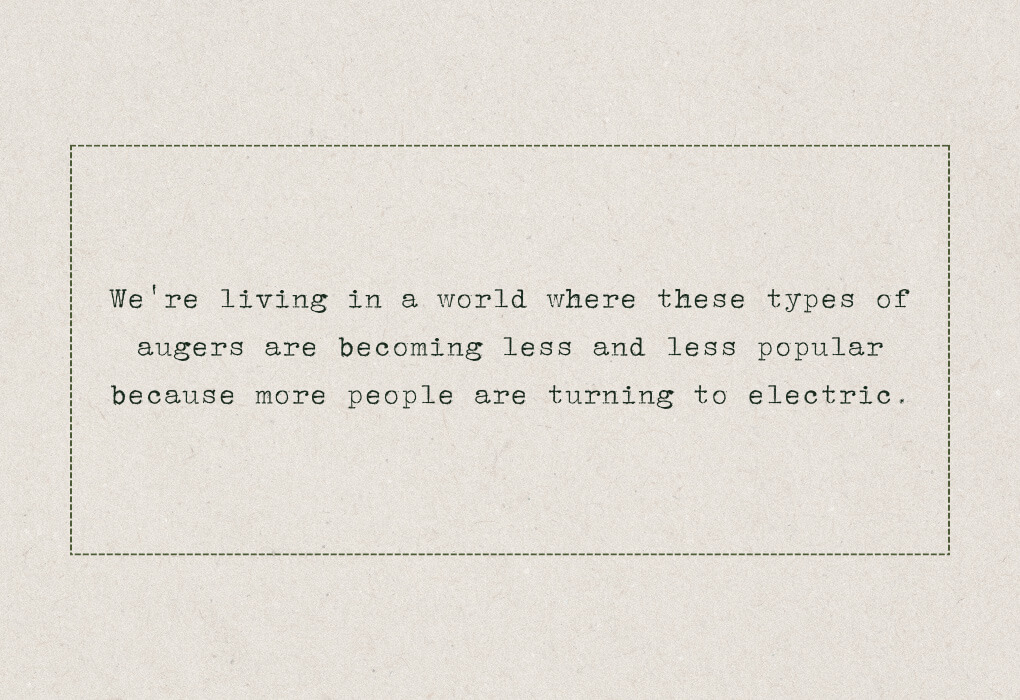 You can choose between gas and propane when it comes to power augers. We're living in a world where these types of augers are becoming less and less popular because more people are turning to electric.
If you're old school and you believe that the smell of gas comes naturally on the ice then feel free to get a gas auger.
They offer exceptional power and most of them are much easier to start than they were in years past.
The main reason people choose propane over gas is because of the fumes. Propane burns cleaner so there is less smoke and emissions. You can also drill a hole from the comfort of your ice fishing shelter if you have one.
Electric
Why are so many people switching to battery-powered augers? I think it comes down to the fact that the technology has improved so much that they're just as good as the fuel powered ones now.
Years ago, you'd get an electric auger because it was lightweight and easy to use but you knew you were sacrificing power and that you'd get a few holes drilled and the battery would die.
You knew that. But, things aren't the same now. You just press the button and boom, you can drill 50 holes without even making a sound.
The only downside is the battery life. If you're planning on drilling a lot of holes you'll need a backup battery. The other factor is your location.
For those of you living in areas of extreme cold where the ice is 16+ inches, an electric auger simply won't be enough and you'll need to use gas.
Manual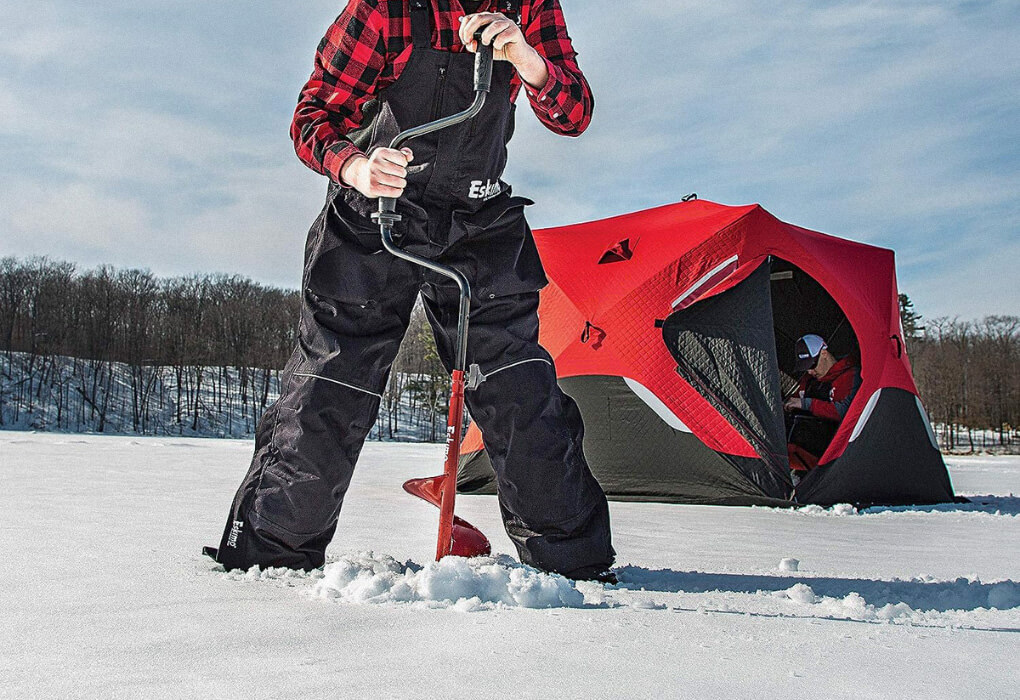 Lastly, we have the good old manual hand ice auger. The best hand auger will give you many years of hole drilling and it'll only ask for a little manual labor in return.
No fuel, no batteries, no noise, no fumes, nothing – just you and the blades against the ice. There are some clear downsides here though.
First, manual labor. If you're afraid of breaking a sweat, shell out the cash for a power auger because you're going to sweat. You also can't expect to drill a ton of holes here.
If you're planning on relying entirely on a hand auger, you might want to have an ice fishing fish finder because you can't be walking around drilling multiple holes.
It'll take up too much of your day and you don't want to sweat heavily because it can actually cool you down and lead to hypothermia.
Size
The blade size and diameter comes down to what type of fishing you plan on doing. Are you looking into the hole sight fishing? If so, you'll benefit from a 10-inch hole. Otherwise, you just need a hole that's big enough to fit the bait.
As for weight, this decision is a bit more important. Keep in mind that you may have to drag this auger for a mile or longer just to get to wherever it is you want to drill the hole.
Every single pound of weight that you have to drag around will start to wear you down and make the trip less enjoyable.
This is another area where electric augers have an advantage. They're generally 5-10 lbs less than fuel augers and they don't vibrate as much so they're easier to drill with.
Lastly, you want to pay attention to the overall length of the blade. Many augers come with adjustable lengths but this factor will also play into the height of the auger overall.
In most cases, the blade length will be plenty for you to drill through the ice but they do sell ice auger extenders if you need them.
Price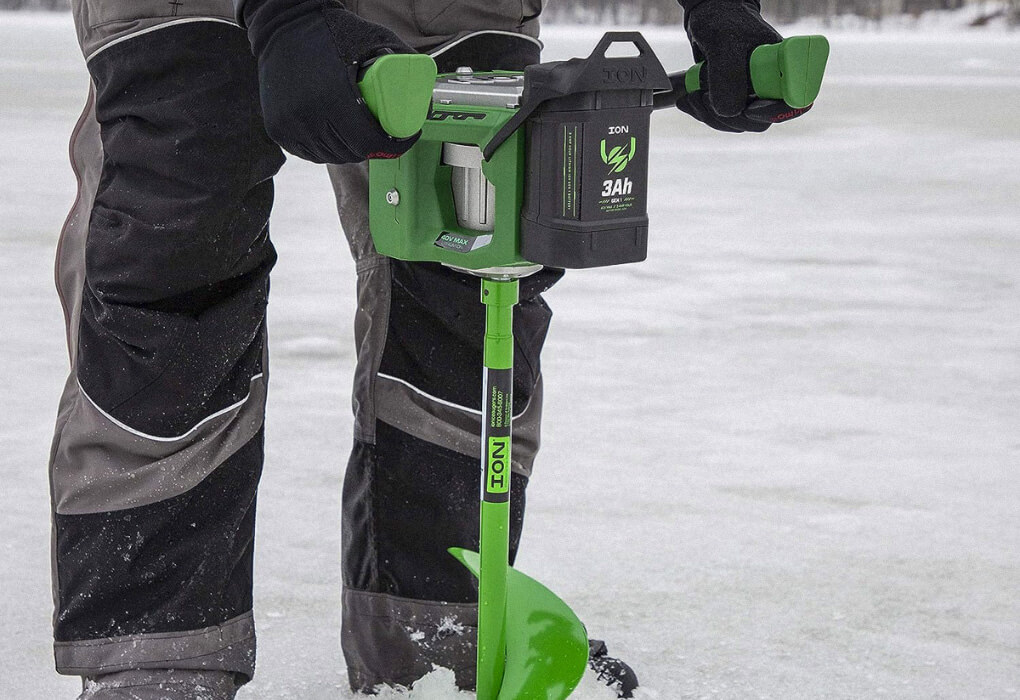 Your budget is always an important consideration because augers are expensive and ice fishing gear, in general, is expensive. It took me a long time to build up all the gear that nowadays, I don't know how I would fish without it.
You'll find that most power ice augers range in price from $400-600. This includes both electric and fuel powered augers. Hand augers cost around $50-100 but can be more expensive.
The one thing I've noticed most in recent years is that a few brands have really corned the ice fishing market. Brands like Eskimo are producing a huge share of all the ice fishing products from augers to shelters to boots.
I highly recommend going with a trusted brand whenever possible because you know they have the infrastructure to provide great value and they'll also stick by their warranty if something goes wrong.
If budget is something that is really preventing you from purchasing an auger, check out eBay. There are a lot of people with used ice augers for sale there and you can get a great deal on an auger that works just as good as the new ones.
What You'll Also Need
As I've said, I believe ice fishing is one of the most expensive ways to fish but it can yield some great results. Here are a few additional things I think you'll want on the hard water.
Ice Cleats
A good set of ice cleats are an absolute must if you're going to be ice fishing on a regular basis and walking around to drill a lot of holes.
Everyone who thinks they don't need cleats have never cracked their butt on the ice. They're not that expensive, they're easier to put on, and they keep you safe and that's ultimately the most important thing in the end.
Cordless Drill
If you're going for a drill style ice auger, you'll need a drill. There are some criteria to follow here. Think about it this way. The blades are just blades.
At this point, the drill becomes an important purchase because if you buy a low-quality drill you may not have the power necessary to get through thick ice.
You need a lithium ion battery powered 18v drill or better. I recommended the Dewalt above but Makita makes a pretty good drill too.
Sled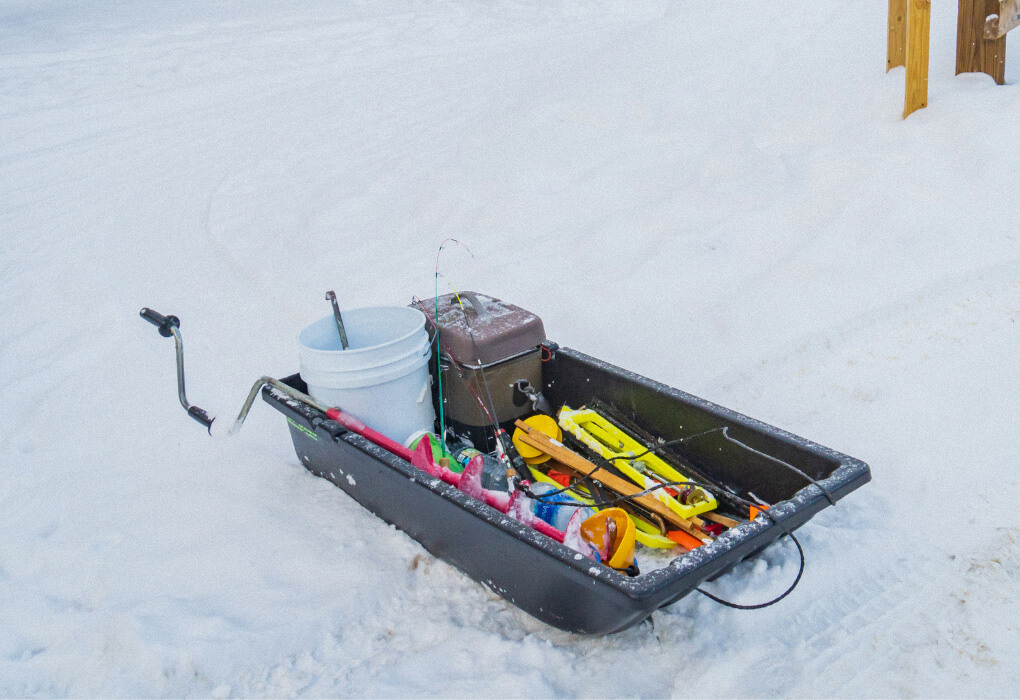 Last but never least, you need a sled to pull this thing. If you don't already have one then take a look at my article about the best ice fishing sleds.
If you don't have time to read it, just know I prefer ones that are deep like the Shappell model.
If the wind is whipping around you won't have to worry about stuff flying out and it has plenty of capacity to carry all your gear.
Final Thoughts
Unfortunately, I think we're at the end of an era. Gas powered augers are becoming a thing of the past and for that reason, I have to recommend the Ion or the StrikeMaster Lithium.
I think that's the direction we're going as a fishing society and there's no stopping it.
But, go ahead, be a rebel and get the good ol' Eskimo gas auger if you want. You may not be too popular on the ice, but you'll have my respect!
All in all, any of these augers will do the trick. They're all really top-notch quality, long-lasting, and capable of drilling through almost anything. Enjoy and be safe!