We independently research, test, and recommend the best products; you can learn more about our review process here.
To find the best ice fishing reels, we must first understand what that means exactly. There's a lot of misconception about "what an ice fishing reel is."
The goal of this article is to put my decades of ice fishing experience out on the line. The best ice fishing reel is an in-line reel, hands down.
But, that doesn't mean you can't use a spinning reel as well.
I've used about 15 different ice fishing reels over the years, many of which are included in this review below. By the end, you'll feel confident enough to choose one for yourself.
Comparison Table – The Best Ice Fishing Reels
---
The 6 Best Ice Fishing Reels Review
Eagle Claw In Line Ice Reel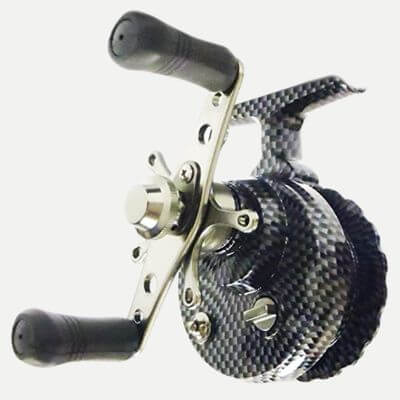 Gear Ratio: 2.6:1
Weight: 5.6 ounces
Bearings: 5
Line Capacity: 2/270, 4/190, 6/120
Pros
Great performance
Limited line twist
Adjustable smooth drag system
Useable outside of ice fishing
Cons
Drag settings take some getting used to
Lacking durability

What Do We Like?
The main thing that brings people to this reel and the reason we chose it as our top pick is the teflon drag system. It makes fighting the fish more enjoyable and it's incredibly smooth for an ice fishing reel.
It takes some getting used to when adjusting the settings and if you're not familiar with this type of reel, you might want to read up on it more.
The Eagle Claw reel also comes with a free spool release button so you can limit the amount of tension you experience to reduce backlashes. You have a lot more control over your drop speed.
The straight line spooling of the in line reel is why people use these for ice fishing. It prevents the line from twisting and reduces line memory so the line consistently lays even on the spool.
What Needs Improvement?
At first glance, it looks like you're looking at a carbon fiber body but that's misleading. It's actually nylon which is concerning for an ice fishing reel.
It's not the most durable material, doesn't do well with sub-zero temperatures, and overall just lacks in the durability department.
If you're using a light line, pretty much anything lighter than four pound, you'll have a hard time setting the drag. Once you get towards that weight the spool is very loose and it just feels clunky.
Overall Summary
The Eagle Claw In Line reel is a great choice for ice fishing and that's why we picked it as our favorite ice reel.
If you've never used an in line reel before, you'll want to study up a little but in reality, they're simpler to use than spinning and casting reels.
Many people use this type of reel because it's easier when dropping lures and this one offers enough bonuses on top of the design to make it worth your while.
Black Betty Hardwater In Line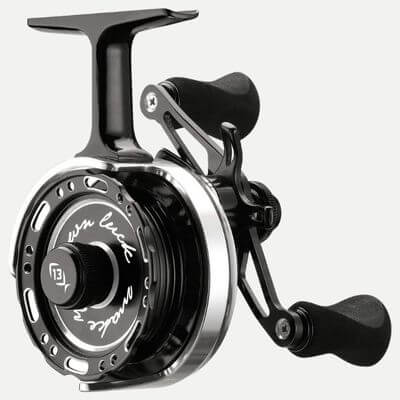 BEST IN LINE FISHING REEL

Specs
Gear Ratio: 2.7:1
Weight: 7 ounces
Bearings: 4+1
Line Capacity: 350/2, 200/4, 150/6
Pros
CNC Aluminum Body
Ergonomic design
Loaded with features
Cons

What Do We Like?
First, this reel looks amazing. If you're someone who can appreciate the aesthetics of a great ice fishing reel, this will get your attention.
It's made with CNC machined aluminum for durability and strength. There won't be any flex or grind if you happen to hook a big fish.
It also comes with a pistol/pencil grip design that allows you to fish both styles without having to worry about rubbing the spool.
The 4+1 bearing system is ideal as well because it is smooth and corrosion resistant even when you're dealing with hard water ice build up.
I'm also a huge fan of the mico-click drag knob that helps you get more control over the resistance but it is something that will take some getting used to if you've never used an inline reel before.
What Needs Improvement?
Some will say it's a learning curve while others will say it's a piece of junk, you'll have to make that determination on your own. As for me, I think this is a great ice reel with a learning curve.
The tension adjustment requires a bit of finesse to get it right. If you set it too tight you won't be able to pull out your line and if it's too loose you'll deal with a lot of backlash.
Either way, it would be nice if it came with a magnetic brake like some of the other reels do but the price tag isn't high enough to merit some of those really premium features.
Overall Summary
This is definitely one of the best inline ice fishing reels on the market today. The company makes a lot of great reel and this one boasts a lot of features that made it stand out.
The body is well designed, it functions as you'd expect, the drag settings are worth it if you educate yourself, and the internals are smooth.
Piscifun Flame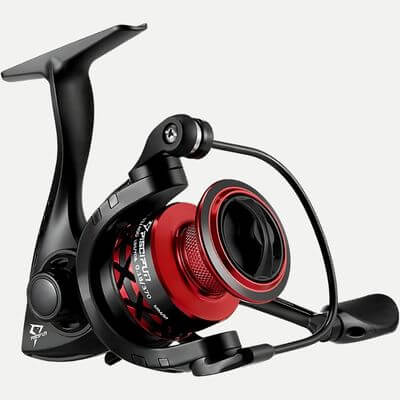 BEST SPINNING REEL
Specs
Gear Ratio: 5.2:1
Weight: 8.5 ounces
Bearings: 9+1
Line Capacity: approx. 255 yards
Pros
Buttery smooth 9+1 bearings for smooth retrieval
Ideal spinning reel for ice fishing because of the drag power
Comes in a number of sizes
Incredibly affordable
Cons
Not as light as it's perceived
Not sealed so try not to get it too wet
What Do We Like?
Starting with the bearings, this is a smooth reel with 9+1 anti-reverse roller bearings. It uses a precision gear design which is something known to the Piscifun brand.
The purpose here is to maintain a smooth retrieval while reducing feedback and grinding when you're pulling in a fish.
This is what makes this reel an ideal choice for ice fishing because the reel takes a lot more abuse when vertical jigging and pulling fish up from under the ice.
The reel itself is unique because it's made of zinc alloy which is supposed to be a better option for preventing corrosion.
This is important during the winter months because water can build up and turn into ice on the spool.
Lastly, you can't argue about the price on this one because you can pick this reel up for less than a tank of gas to get to the lake.
It's super affordable and leaves no reason to use your budget as an excuse for why you're not fishing today.
What Needs Improvement?
At weights ranging from 8.5-10.7 ounces, this is not a lightweight reel by any means. If you're deadsticking, it's not a big deal but vertical jigging will become a problem and fatigue will start to set in pretty quickly with this guy.
Plus, it only offers roughly 20 lbs of drag which isn't great for a reel of this weight.
Overall Summary
All in all, this is an awesome ice fishing reel that really checks a lot of the boxes we're looking for when choosing the best spinning reel for ice fishing.
Piscifun isn't known for ice fishing reels and while this isn't necessarily intended as an "ice fishing reel." You can definitely make it work.
Black Betty Freefall Ghost In Line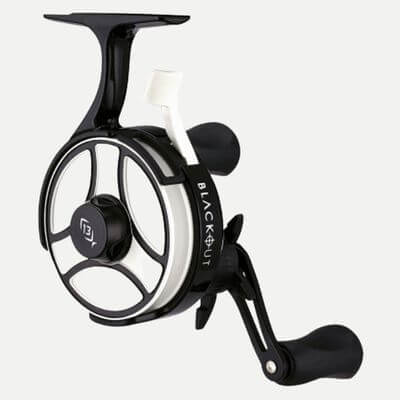 Gear Ratio: 2.5:1
Bearings: 3+1
Line Capacity: 100/4
Pros
Great freefall reel
Reduced line twist
Looks great
Cons
Too much plastic
Eyes freezing up

What Do We Like?
First things first, the reel is designed exactly like we had hoped. The trigger is out of the way like a pistol grip so you can operate it with one hand. That is a major plus.
It also comes with a seperate drag reel and has speed control over the drop. There's a few major positives right off the bat.
The speed control will reduce line twist and promote an even line lay and the one handed operation is ideal for a variety of reasons we shouldn't have to discuss.
The fact that you can freefall drop a lightweight jig for vertical jigging is what drives people to purchase this reel. It also comes with an anti-reverse bearing and adjustable star drag which are easy to operate.
What Needs Improvement?
It's not all good news though. Starting with the body, it's mostly plastic.
That isn't something that bothers me right away, but over time it'll start to damage, crack, and wear down and that will impact the performance of the reel.
If it was just made of almost anything else it would have a lot longer life.
Overall Summary
The primary reason we couldn't choose this as our best in line ice fishing reel is because of the reel construction. It's simply made too cheaply to make the top of the list so we ended up including it as a runner-up.
Nonetheless, it's still a great option with a smooth retrieval and the freefall feature that everyone loves. Fishing Black Betty reels is a great way to step up your cold weather fishing game.
Abu Garcia ICEMAX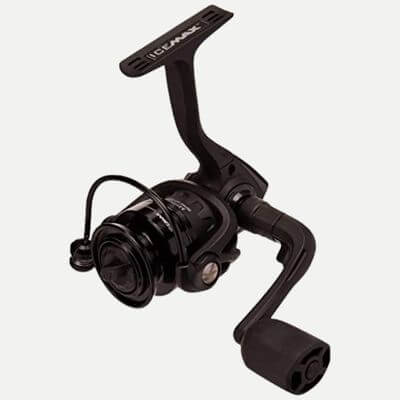 Gear Ratio: 5.2:1
Weight: 8 ounces
Bearings: 4
Line Capacity: 190/2, 100/4, 80/6
Pros
Cold gear lube
Lightweight body
Everlast bail
Cons
Inventory issues on Amazon

What Do We Like?
This is the ultimate ice fishing spinning reel. Abu Garcia ice fishing reels are exceptional and this one is made specifically for ice fishing.
It's long-lasting, durable, functional, and easy to use regardless of your experience level. The body and rotor are made with graphite which is both durable, lightweight, and great for cold conditions.
The aluminum spool features Abu Garcia's patented Spool Lip design which reduces knots and twists by ensuring that the fishing line comes off the spool smooth and lays evenly.
It allows the reel to have a solid line capacity as well even though it's small and light.
One area that a lot of people struggle with using spinning reels for ice fishing is the bail. As the line moves through and onto the spool, the bail can become stiff and lock up.
This reel uses an Everlast bail which is said to improve the durability and resist seizing up.
What Needs Improvement?
The only reason we're not able to put this reel higher on the list is because they're constantly in and out of inventory.
The reel is incredible, made with the best materials, and equipped with great features for ice fishing.
The only problem is, you might have a hard time getting it unless you're shopping right before ice fishing season opens up.
Overall Summary
Overall? This is an exceptional ice fishing spinning reel. Abu Garcia designed it specifically for ice fishing and everything about it screams out to me as an ice angler. If you can find one, grab it before someone else does!
Pflueger President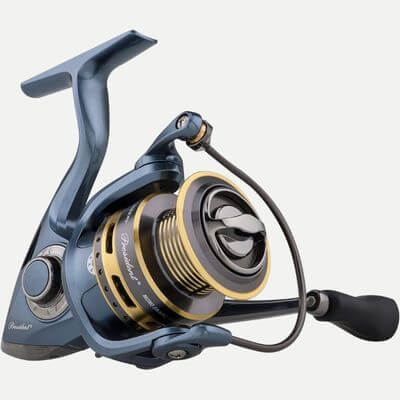 Gear Ratio: 5.2:1
Weight: 7.2 ounces
Bearings: 10
Line Capacity: 220/2, 110/4, 90/6
Pros
Ultra smooth bearing system
Great line capacity
Lightweight graphite body
Cons
Not a dedicated ice fishing reel

What Do We Like?
This is one of my favorite reels in general, regardless of whether we're fishing 20 degree temps in January or 90 degree temps in July, this reel is awesome.
It comes with a lightweight graphite frame and a thick aluminum bail which is ideal for ice fishing. The rotor is also graphite which has longevity and strength without adding unnecessary weight.
The bearing system is like butter on this reel. It's a ten bearing system that retrieves like a dream and it comes with an anti-reverse switch as well.
What Needs Improvement?
I had the same issue with Pflueger ice fishing reels as I did with some of the other brands on this list. You can find them. They're in and out of stock a lot but that's not the case with this one.
Since it's not a dedicated ice fishing reel, you can use it all season long and it does offer some features that I would say help it defend itself as an ice fishing reel as well.
Overall Summary
If you're just starting out with ice fishing and you want a reel that will work on and off the ice, the Pflueger President is one of the best reels IN GENERAL.
Forget about ice fishing for a minute, it's priced affordably, loaded with premium features, and comes from a brand we all know and love. You can't go wrong.
How to Choose the Best Ice Fishing Reel – Complete Buying Guide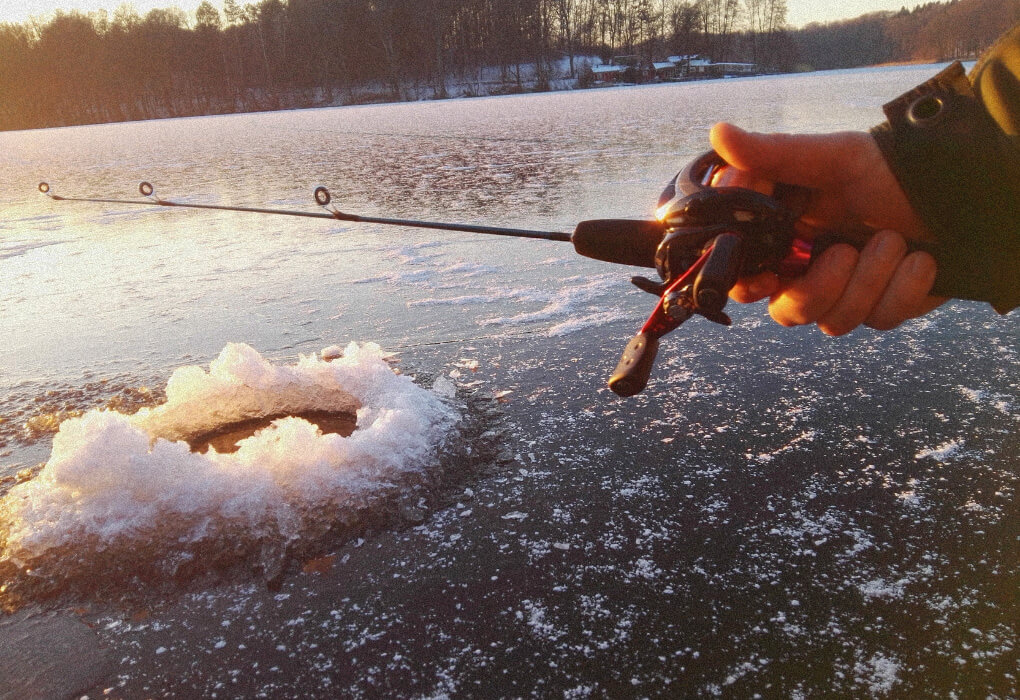 In this ice fishing reels review, we've looked at the best ice fishing reel choices and by this point, you should have a solid understanding of what these reels are and why someone would want to buy one of them.
If you're on the fence about which one is the right choice for you, this section will help break down some of the decisions I use when deciding on the right reel for me.
Body and Materials
One of the first things you'll want to look at is the body of the reel and the materials that go into it. The same thought process should be applied like when we're deciding on a saltwater reel.
We need to factor in additional elements because the water and environment can be hazardous to the life of the reel. You can't use any old reel for saltwater fishing and the same rule applies to ice fishing.
This is where in-line reels come in. These have a unique design that reduces the need for the reel to flex or bend and the line falls straight off the spool.
While this design is actually simpler than most reels, it makes the most sense for ice fishing.
You also want to pay attention to the materials used on the reel. If the reel is made with a lot of plastic, you'll want to consider whether or not it is durable enough to stand the test of time.
Aluminum and graphite are better options.
Spool Design
Keep in mind that ice fishing doesn't put as much stress on the spool. This is because you're not casting and you're spending a lot more time without a whole lot of movement on your line so there is less twisting and bending.
The point is, you don't need anything overly fancy so this is where in-line reels are the desired design as well.
In-line reels prevent twisting because the line falls directly off the spool and is retrieved back onto the spool without any twist.
These reels can generally hold more line as well because they have a smaller arbor. If you're serious about ice fishing and you're sure that you want to get into it, getting an in-line reel is the way to go.
Bearings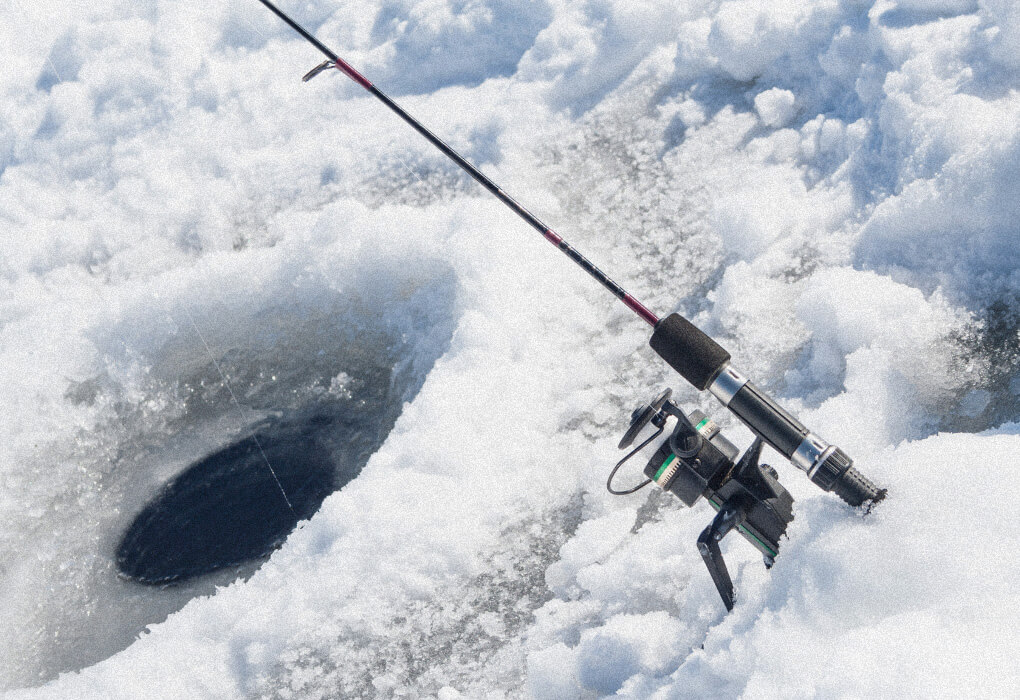 Whenever you purchase a fishing reel of any kind, you want to pay attention to the number of bearings it has. Most people assume that more bearings equals a smoother reel, but that's not always the case.
What's most important is that the reel manufacturer uses high-quality roller bearings or stainless steel ball bearings.
If you shop the best brand names like Daiwa, Pflueger, Shimano, KastKing, and Abu Garcia, you won't have to worry about that.
They all have their own proprietary brands that they use so you can be sure that you're getting the best materials.
These factors are especially true when talking about ice fishing reels. Less bearings is fine because you're not casting and retrieving across long distances.
The quality of the bearings will ensure that they don't lock up or start to burn. This will cause your line to feel the pressure resulting in the line snapping.
Gear Ratio
The gear ratio refers to the number of revolutions the spool makes for each crank you take on the handle. The lowest the gear ratio, the more times you'll need to turn the handle to get the fish out of the water.
If you know anything about fishing at all, the first thing you might pick up on is that ice fishing reels have a much lower gear ratio that most other reels.
6:1 is a pretty common gear ratio but we're finding ice fishing reels with 2.5:1 gear ratios, why is that?
They're built to handle larger fish traveling shorter distances. When you have a low gear ratio, the reel is dedicated to pulling in big fish patiently.
When you use an ultralight reel for example, those have a high gear ratio because you may have a long distance to bring back a small bass but it doesn't put up as much of a fight so you can quickly reel it in.
If you have a big muskie or walleye at the end of the line, a high gear ratio reel could snap your line if you don't have your drag set properly.
You'll go to start retrieving it and the line will snap almost instantly because of the reverse tension the fish is creating.
Lower gear ratios give the fish the patience they need to tire out so you can bring them in without putting too much pressure on your internals or your line.
Handle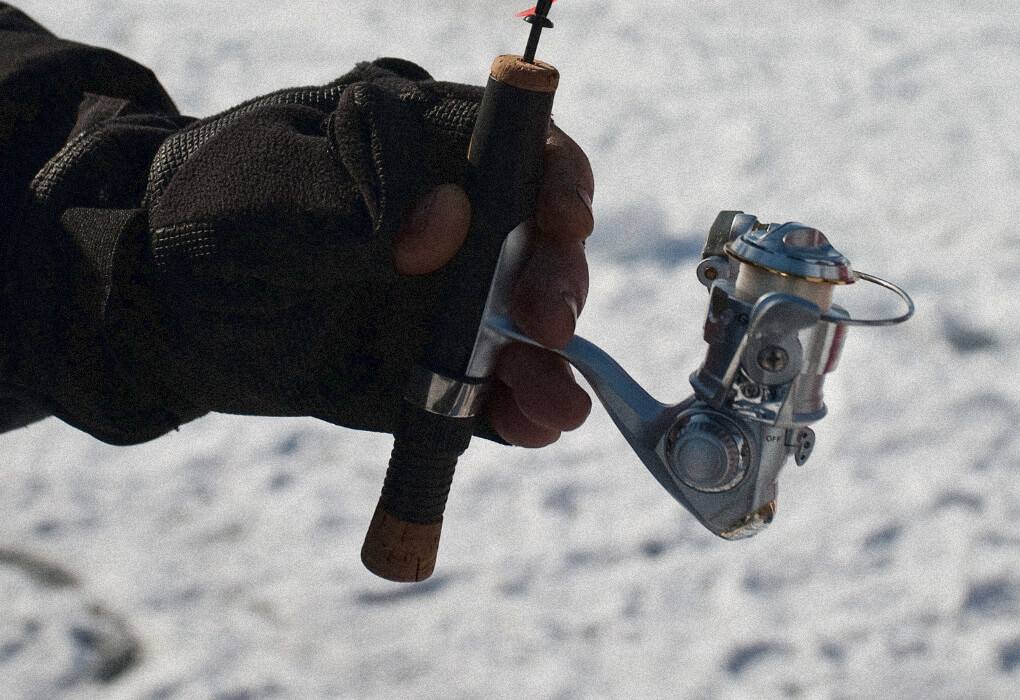 Non-slip materials will be important on your ice fishing reel depending on the grip your ice fishing gloves have. You'll also want an aluminum handle that is as large as possible so you can really crank down on a larger fish.
These handles usually have a wider diameter which gives you more space to operate without having to worry about hitting your knuckles off the spool.
This is one of those things that you can't find in standard spinning reels. They won't possess these features so that's one of the reasons why I recommend going with an ice fishing reel.
You'll get all the features you need and even if you have to sacrifice somewhere along the road, you will still have the right reel for the job.
Anti-Ice Features
Continuing down the ice fishing road, let's talk about ice fishing reel features. Some of these can include, antifreeze lubrication, large handles, anti-corrosive materials, and an automatic ice fishing line release.
I also look for a reel that is durable enough to handle the most extreme temperatures. If you have a flimsy reel with a fragile bail, that will be the first thing to go.
You should also keep your eyelets in mind on the ice fishing rod as well. While this doesn't apply to the reel, it's important to mention that ice will build up in these areas and can cause the rod and reel to become brittle.
Weight
Last but not least, the weight of your reel is an important factor as well. If the reel is too heavy, it will become a problem after a day of fishing.
You'll feel fatigued and could potentially miss out on the fish of a lifetime if you're too tired or impatient to handle it.
On the flip side, you also don't want something that is super lightweight and cheap.
I've found over the years that going with a lightweight reel is generally the best way to go though because manufacturers are finding ways to shave ounces off their overall weight by using different materials without sacrificing durability or performance.
FAQs
What type of reel is best for ice fishing?
In reality, you can use whatever reel you want (sorta) for ice fishing. The best choice is to use an in-line fishing reel because they're made specifically for this style of fishing.
They're designed to drop the lure vertically down into the water for vertical jigging which is what most of us do when we ice fish.
Can I use a regular reel for ice fishing?
Yes, you can use a spinning reel for ice fishing but you'll want to keep a number of factors in mind. If the reel isn't durable, it will become brittle from extreme cold and ice.
You'll also want to factor in the drag settings on the reel because you'll have to adjust them due to the tension differences that large cold water fish bring.
Can I use a baitcasting reel for ice fishing?
I wouldn't. The only type of reel I wouldn't recommend using for ice fishing is a baitcaster.
That said, if you're looking to purchase a baitcaster for warm weather fishing; we have a great review of the best baitcasting reels right here.
Final Thoughts
The best ice fishing reels are in-line reels, no doubt about that. But, I think we've all learned a little something from this review.
Spinning reels will work for ice fishing but you'll want to be picky about bringing any old spinner to the ice.
I hope you found value in this review and feel comfortable enough to take a jump on one of the ice fishing reels above.
If you do, be sure to leave us a comment and let us know which one you bought and how you like it! Nothing left to do but load up your fishing gear and hit the ice!