---
We independently research, test, and recommend the best products; you can learn more about our review process here.
Ice fishing holds a special place in my heart. During the hard water season, I would have the opportunity to visit Boom Lake in Wisconsin to see family.
It was there that I learned just how important it is to have the right reel.
Through the years I have tried out the best ice fishing reels and have used my fair share of awful ones.
I've also experienced some phenomenal reels that check all of the boxes when it comes to performance on the ice such as weight, drag, and handle extensions.
I've also had the opportunity to question the local pros in Wisconsin to get their opinion on what the best ice fishing reels were.
This past winter I was able to make another trip to Boom Lake right after the lake locked up in December.
During my trip, I looked at key factors like reel construction, drag system, weight, and line twists.
After days of research, I've come up with a list of the top ranking reels in five categories.
Top 3 Ice Fishing Reels on the Market
As a quick summary, here are my top three choices for best ice fishing reels based on my research and testing.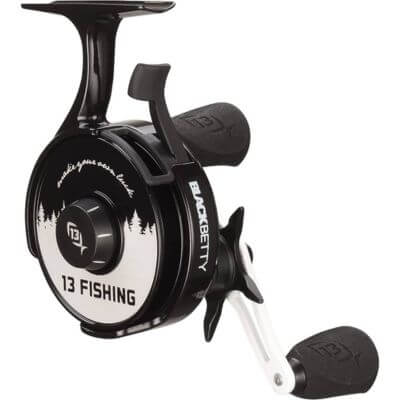 13 Fishing Black Betty Northwoods Ice Inline Reel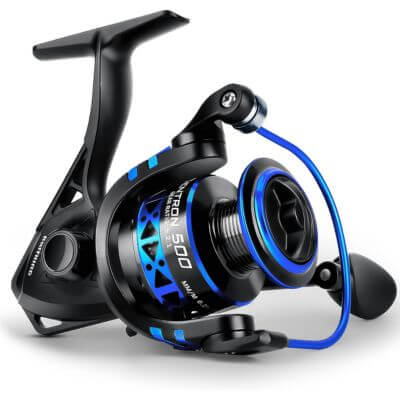 KastKing Centron Spinning Reel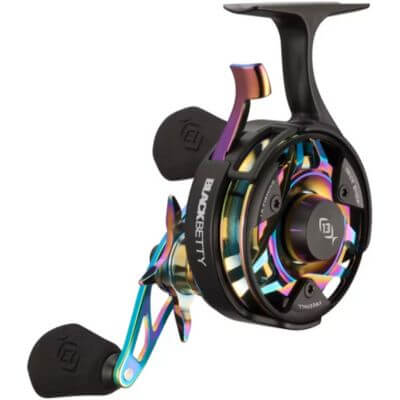 Best Tournament Grade Inline Reel
13 Fishing Black Betty FreeFall Trick Shop Inline Reel
---
Methodology 
I tried out numerous reels during my week at Boom Lake. The lake is most known for its abundance of panfish but it also has a wide variety of other fish like walleye, muskie, pike, and smallmouth bass, so I was able to test the limits of these reels with larger fish. 
While testing out the reels, here are a few factors that I considered:
Construction:  An ice fishing reel WILL be put to the test eventually and you really don't know when that fish is going to hit. Also, the harsh conditions demand a reel that can hold up in freezing temperatures.  
Drag System: Having a quality drag is key to wearing out the fish. The compact confines of an ice fishing house in addition to the small opening in the ice reduces the angler's role during the fight.

Having a great drag system allows the reel to fight the fish in order to wear it out so that you can reel him in. 
Handle: What type of handle the reel has plays a factor in choosing the best ice fishing reel. It's often that you'll be wearing gloves when ice fishing. Having a handle that extends will help you turn the handle without any fumbling. 
Weight: Ice fishing requires patience. Holding the rod and reel for hours on end can get tiresome with a heavy reel. I examined all of the reels and graded each one based on how much the reel weighed.
Line Twists: Ice fishing is unique in that most of the casting you do is reduced to dropping the lure straight down. It's important to choose a reel that eliminates line twists for a clean presentation when the lure is suspended. 
Best Ice Fishing Reel Overall
13 Fishing Black Betty Northwoods Ice Inline Reel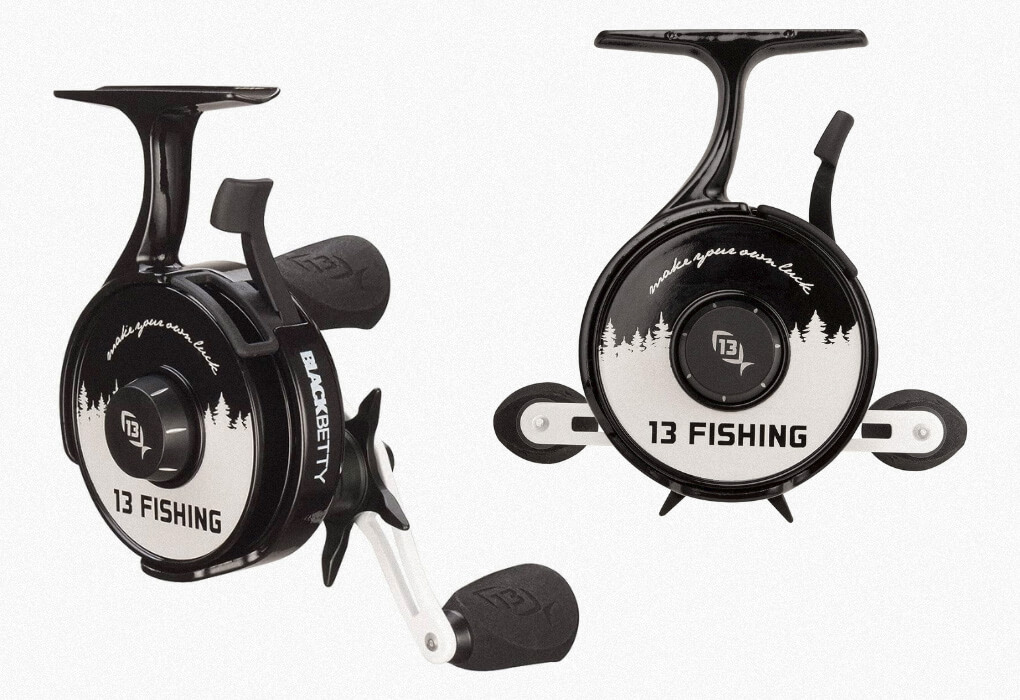 Specs
Type: Inline
Gear Ratio: 2.5:1
Weight: 6.6
Bearings: 3+1
Line Capacity: 4/125
Why We Chose It
The 13 Fishing Black Betty Northwoods Inline Reel led the way when it comes to durability, weight, and a few bells and whistles like its FreeFall trigger system and magnetic drop speed adjustment. 
I paired this reel with a St. Croix Mojo Ice Rod and felt like I owned the ice (or at least the ice house)
I was fishing over a 1-foot hole in about 30 feet of water and was able to test the reel's FreeFall trigger at different depths.
Although it did take me a few tries, I got used to the control and found myself using it on every drop.
The release was smooth and quick which allowed me to drop my bait and stop it simply by pressing down on the trigger.
Another feature that I liked about the FreeFall system on the reel is it made hook-sets fast. There is no turning the handle to engage the reel. You simply push the trigger to lock the spool for a quick hook-set.
I was able to try out this feature when I was lowering my jig down and felt the line tick. I pressed the trigger and set the hook on a panfish.
This is a really solid hard water reel!
I fished with this reel all morning and its lightweight carbon fiber makeup was sturdy and durable with no freeze-ups.
Also, the benefit of using an inline reel is that there are no line twists. The Black Betty gobbled up the line and spit it out in a flat pattern and not once did I see my jig spin because of twisted line.
The aluminum handle was large enough for me to operate it with gloves which makes a big difference because I am almost always wearing gloves. (at least when it's below 30 degrees)
The 6.6 max drag was enough to handle the panfish and walleye that I caught but to be honest, I would like to see this reel with at least 8 lbs. of drag but I understand that inline reels aren't exactly known for their drag strength.
In the end, I highly recommend this reel for not only for beginners, but seasoned ice fishing veterans. I was totally satisfied with its performance on Boom Lake. Get this reel and let us know what you think!
Best Budget Ice Fishing Reel 
KastKing Centron Spinning Reel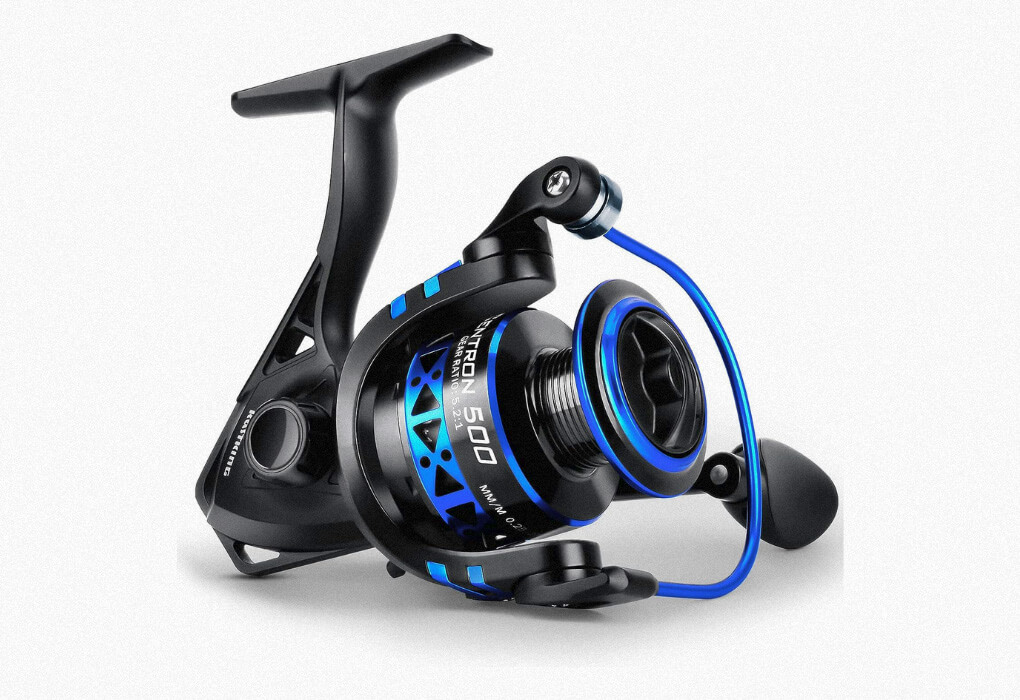 Specs
Type: Spinning
Gear Ratio: 5.2:1
Weight: 7.3
Bearings: 9+1
Line Capacity: 4/240
Why We Chose It
The KastKing Centron Spinning Reel fits the bill when it comes to a budget reel. Right out of the box I was looking for cut corners because of the price but after inspecting it, found no glaring weaknesses. 
I took the Centron out on the ice and was surprised by its incredibly smooth retrieve. This thing has 10 ball bearings in it which exceeded some of the high-end reels that I tested during my weekend at Boom Lake. 
I used the 500 model and loved how comfortable it was when pistol gripping it. I was able to catch three bluegill and a surprise crappie while deep jigging a live minnow.
It's got 11 pounds of drag strength and while I wasn't able to catch anything that tested the drag I will say that 11 pounds is stout for a reel this size.
The ultralight ice fishing reel is perfect for doubling as a travel reel when I travel to other ice fishing destinations farther north.
On a down note, the handle on this reel isn't extended so it may be difficult to use with bulky gloves.
This reel reminded me a lot of my 13 Fishing Thermo Ice Spinning Reel which is also a solid ice fishing reel but is a bit more expensive. 
Overall, the KastKing Centron checked all the boxes when it comes to retrieve, weight, drag, and size. 
It's a solid reel and for the price, its value is off the charts. If you're a beginner looking for a spinning reel for ice fishing or if you're looking for a reel to travel with for your ice fishing trips, the Centron offers a ton of value.
I highly recommend this reel for your next hard water adventure.
Best Tournament Grade Inline Reel 
13 Fishing Black Betty FreeFall Trick Shop Inline Reel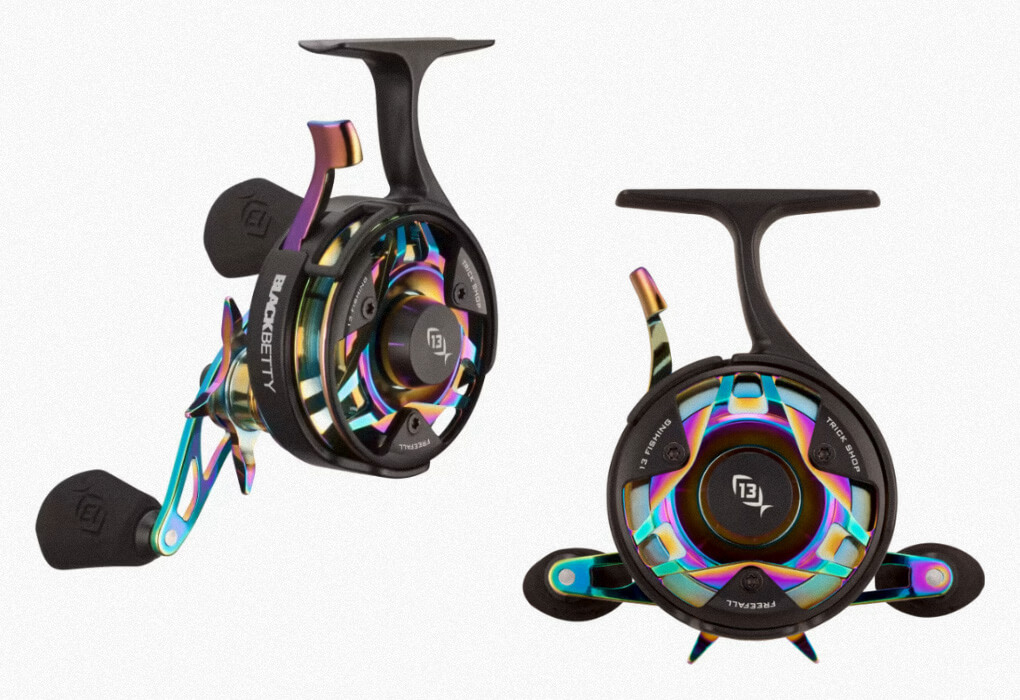 Specs
Type: Inline
Gear Ratio: 2.5:1
Weight: 6.28
Bearings: 3+1
Line Capacity: 4/125
Why We Chose It
The 13 Fishing Black Betty FreeFall Trick Shop Inline Reel is one fine hard water fishing machine. 
I was able to get a hold of one of these through a friend who owns a tackle shop. The reel is a souped up version of the more affordable Black Betty Northwoods Ice Reel.
This may be 13 Fishing's best inline reel ever made. The forward-thinking company has come up with a design that features a unique 2-piece special anodized spool housed within the ultra-lightweight carbon chassis.
I tried this reel out in my ice house in 17-degree temperature and it performed like a real champion.
Coming in at a high price point, I was thorough with testing every feature and I can honestly say that this is the best inline ice fishing reel I have ever used.
The best thing about this reel is the FreeFall Trigger system which allows you to drop your jig down quickly and stop it at the depth you want without engaging the actual reel.
I got into a school of panfish and was pulling them up one after another.
The speed that I was able to drop the jig down and set the hook easily accounted for three to four more fish before they moved on and the bite died.
This reel is a masterpiece!
I fished with this reel all afternoon and had no problems with fatigue even after sitting for over an hour straight between bites.
The 6.28 oz. carbon fiber construction was light but rigid. The reel had no play in it and retrieved line in a twist-free manner.
I was wearing gloves and was able to operate the large aluminum handle with ease. Also, the added star drag was easy to access and I didn't fumble with it even though I was wearing gloves.
The 6.6 max drag was tested when a 18-inch walleye smashed my jig and I set the hook. The drag was smooth and I let it fight the fish for me until it wore out.
This reel is a bit on the pricey side but if you want the best sometimes you have to pay for it.
I will say, if you're looking for a comparable reel that is a bit more affordable check out the Clam Gravity Elite Inline Reel which is made of the same material, but doesn't have the FreeFall trigger and is a bit heavier at 7 oz.
At the end of the day, the 13 Fishing Black Betty FreeFall Trick Shop Reel rose to the occasion and led the pack in drag, weight, and construction and the extra bells and whistles like the FreeFall performance window and trigger system were just straight-up fun. 
If you are a lifelong hard water angler or even a beginner, get this reel and don't look back. 
Best Spinning Ice Fishing Reel
13 Fishing Wicked Spinning Reel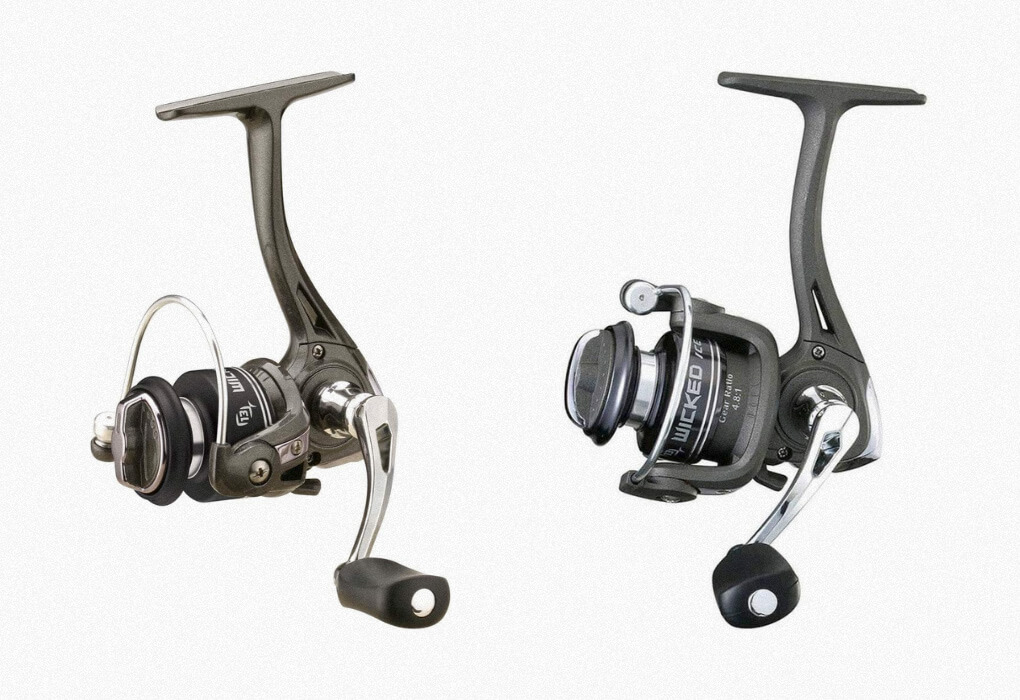 Specs
Type: Inline
Gear Ratio: 4.8:1
Weight: 5.11
Bearings: 4+1
Line Capacity: 4/125
Why We Chose It
The 13 Fishing Wicked Spinning Reel is a lightweight classic. The reel is made of graphite which accounts for its 5.11 oz. weight. 
I loaded the reel with 5 lb. Vanish line and slapped it on my Clam Outdoors Genz Split-Handle Ice Rod and headed to the ice house for the test. 
After my first few drops it's easy to see that this reel is specifically made for ice fishing and isn't a crossover spinning reel that "is good enough" to fish hard water.
The reel is treated with a lubricant that serves as a protectant against below-freezing temperatures which can wreak havoc on your average spinning reel.
The lubricant is noticeable but didn't affect its performance as far as being slippery by any means.
Another hard water specific feature is the elongated handle which extends far enough away from the spool to not get in the way.
This helps when wearing gloves and although I wasn't wearing gloves on this particular day, the extended handle was great because it kept my bare hand clear of the spinning spool which can be awfully painful when it bangs into my knuckles in 24-degree weather.
The handle was also custom made so you can hold the rod in a pistol grip which is a very popular grip with ice fishermen.
During my test, I patiently waited for a bite for over an hour with nothing to show for it but all of a sudden the bite turned on with three bluegill hitting the ice in about 15 minutes.
The retrieve was extra smooth and there was no play in the spool when setting the hook. I was able to test the drag when a 14-inch walleye slurped down the minnow that I was using for bait.
The drag engaged for about a minute and was smooth and in charge wearing the fish out before I reeled him up.
One thing about this reel is it's not a reel made for casting so don't go thinking you can use it off the ice.
The oversized bail is custom-made to hold up to extra cold temperatures and makes casting ugly. (Trust me, I tried it)
For the price I think 13 Fishing Wicked Spinning Reel is a great buy and is every bit worth the cost.
It narrowly beat out the Abu Garcia Max Spinning Reel which is another reel to take a peak at when looking into your next ice fishing reel. 
If you're looking for a lifetime reel that's built solid and can hold up to years of use on the ice, the Wicked spinning reel is going to be your best bet.
13 Fishing was definitely thinking about ice fishermen when they created this tool.  It was an exciting experience and I didn't want to stop fishing with it. Get this reel and don't look back!
Best Ice Fishing Rod and Reel Combo
Clam Jason Mitchell Meat Stick Combo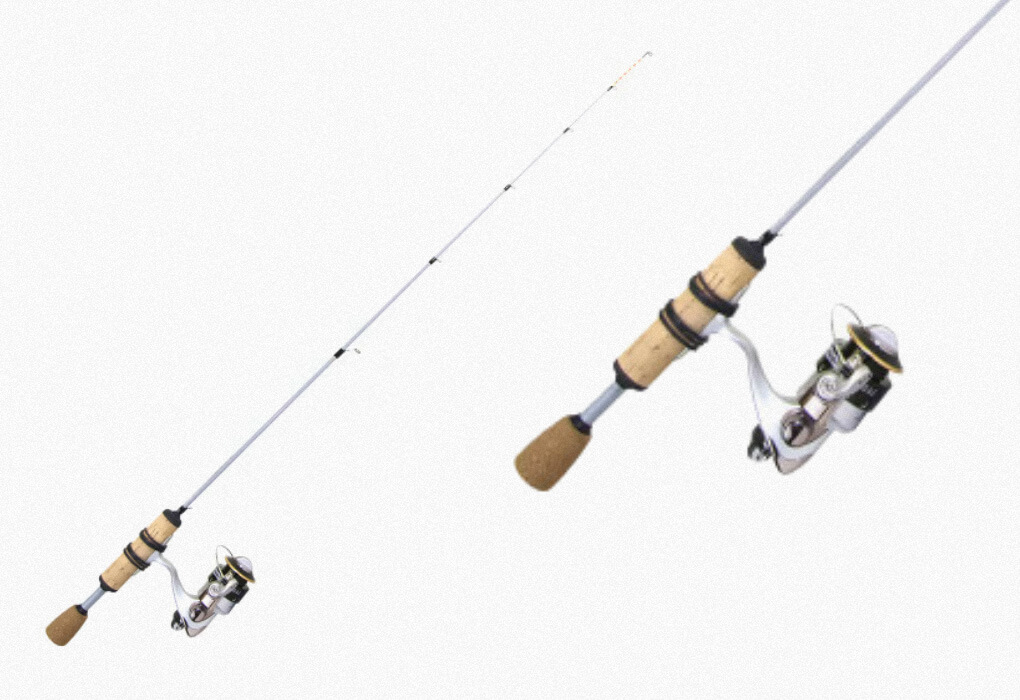 Specs
Type: Spinning 
Gear Ratio: 5.2:1
Rod Length: 24", 28", 36" 
Bearings: 5+1
Line Capacity: 4/100
Why We Chose It
The Clam Jason Mitchell Combo comes in three sizes: 24", 28", and 36" long and is a medium rod. 
The reel is a JMS600 Spinning Reel that was designed by pro ice fisherman Jason Mitchell with versatility in mind.
It's sensitive enough to catch bluegill and has enough backbone and drag to reel up a pike.
On my test, I was using this combo with gloves in 17-degree weather and it handled great but my gloves did scrape the spool every once in a while.
I would like to see the handle extend another half in but it's nowhere close to a deal breaker.
This rod and reel combo is legit on so many other aspects like drag, backbone, and a smooth retrieve.
I was fishing over a 1-foot hole in about 30 feet of water and was able to test the reel's drag when a 20-inch pike grabbed my spoon and made a run for it.
The drag was stout and handled the pike well enough for me to start cranking him up after about a minute.
This is a really solid hard water combo!
The oversized spool made a noticeable difference in line coil and I was able to lower my spoon down without any line twists.
The P-Cork split-grip handle was very comfortable and the Tack-Grip finish provided a sturdy grip even with wet hands.
And the retrieve was super smooth thanks to the 6 bearings in it.
While the combo is a little pricey it is absolutely worth the cost but if you are looking for something more affordable check out the HT Enterprises Fast Stix Extreme DX Ice Spinning Combo which was comparable with the Meat Stick Combo but had a less smooth retrieve.  
If you're looking for a one-and-done purchase of a rod and reel take a look at the Clam Jason Mitchell Meat Stick Combo.
I was highly impressed with the set-up as a whole and would recommend it for everyone from beginners to pros.
How to Choose the Best Ice Fishing Reel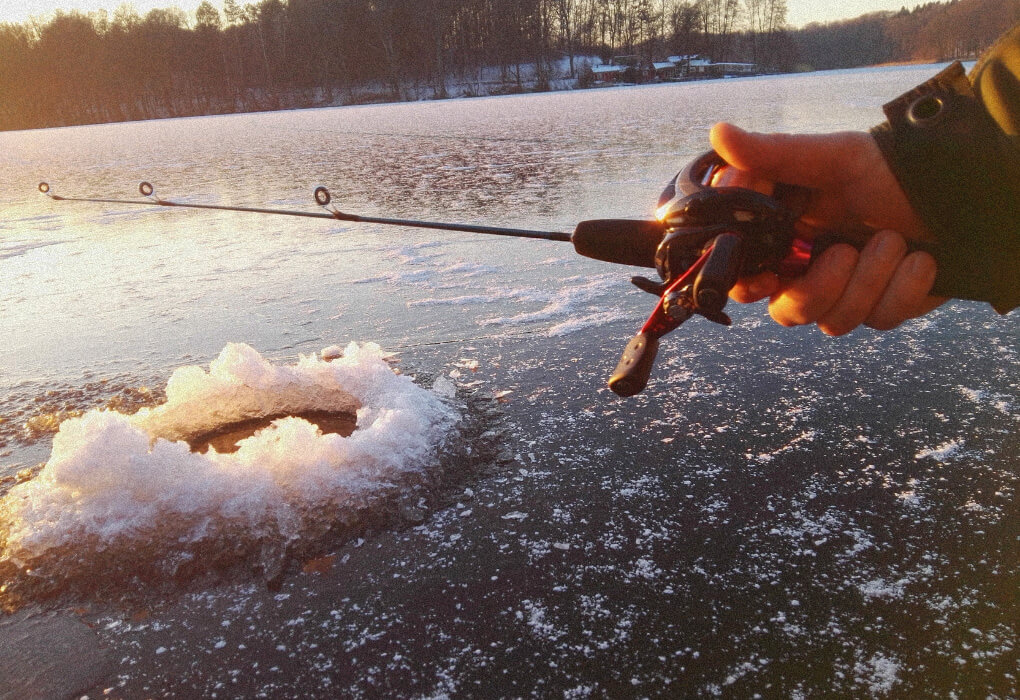 Getting the top-rated ice fishing reel is impossible without understanding how each feature is applied to certain fishing situations.
When you're fishing hard water, I find that choosing a reel is a bit easier because you're not worried about casting distance.
This makes a huge difference and allows you to solely focus on fishing straight down beneath the ice.
In the following sections, we'll take a look at what factors matter most in choosing the best ice fishing reels.
In-line vs. Spinning
The first choice you'll have to make is whether you want a spinning reel or an in-line reel. The benefit to buying a spinning reel is that they are simple to use and familiar to all fishermen. Spinning reels are great for using live bait or deadsticking.
If you fish pistol grip style then you'll want a spinning reel. The downside to these reels is that they twist the line from a vertical position to a horizontal position which can lead to line twists and coils.
In-Line reels have been gaining popularity lately. These reels are great for jig fishing and their claim to fame is that they don't cause line coil because the line feeds from the rod to the spool all in a vertical fashion.
While this design is actually simpler than most reels, it makes the most sense for ice fishing.
A downside to in-line reels is that they are typically weaker when it comes to drag. Make a point to check the drag rating when buying an in-line reel.
Gear Ratio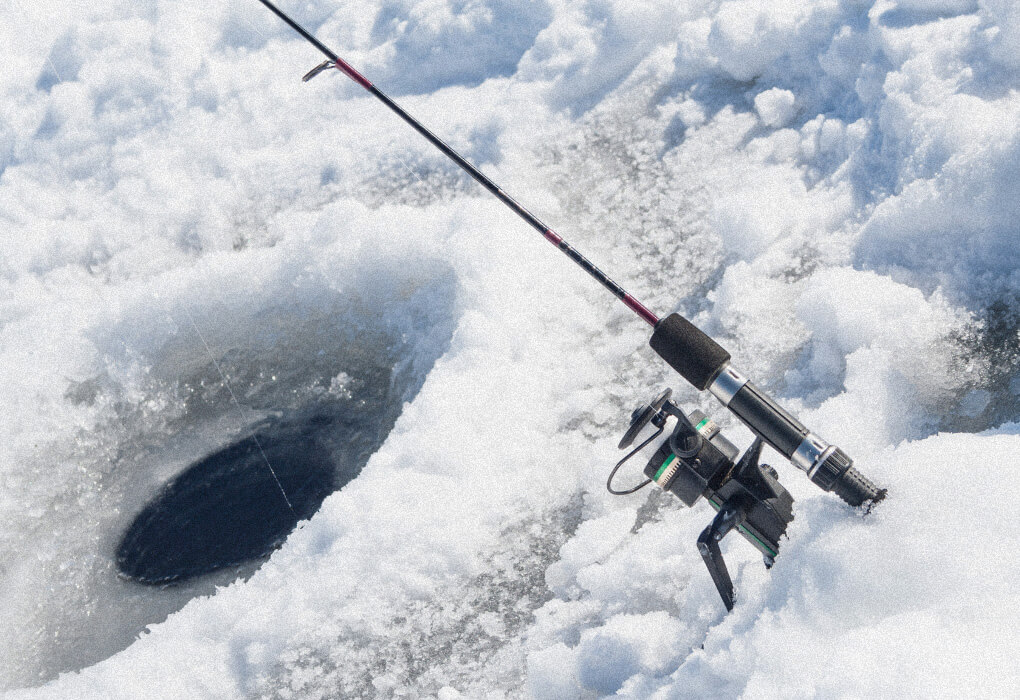 The gear ratio refers to the number of revolutions the spool makes each time you turn the handle.
A lower gear ratio means you'll have to turn the handle numerous times for the spool to hardly turn.
That may not sound appealing but it's exactly what is needed when fishing hard water for larger fish. If you plan on targeting muskie, pike, or large walleye you really need to look at reels with the gear ratio of 2.5:1.
Reels with this ratio are built to handle larger fish traveling shorter distances. When you have a low gear ratio, the reel is dedicated to pulling in big fish patiently.
If you have a big muskie or walleye at the end of the line, a high gear ratio reel could snap your line if you don't have your drag set properly.
You'll go to start retrieving it and the line will snap almost instantly because of the reverse tension the fish is creating.
Lower gear ratios give the fish the patience they need to tire out so you can bring them in without putting too much pressure on your internals or your line.
The opposite can be said if you're looking for a reel for catching small panfish. For smaller fish, you should look at reels with a gear ratio of 5.2:1
Anti-Ice Features
When looking at ice fishing reels it's important to choose one that is specifically built for ice fishing.
These reels have added features like antifreeze lubrication, large handles, anti-corrosive materials, and an automatic line release.
I also look for a reel that is durable enough to handle the most extreme temperatures. If you have a flimsy reel with a fragile bail, that will be the first thing to go.
You should also keep your eyelets in mind on the ice fishing rod as well. While this doesn't apply to the reel, it's important to mention that ice will build up in these areas and can cause the rod and reel to become brittle.
Weight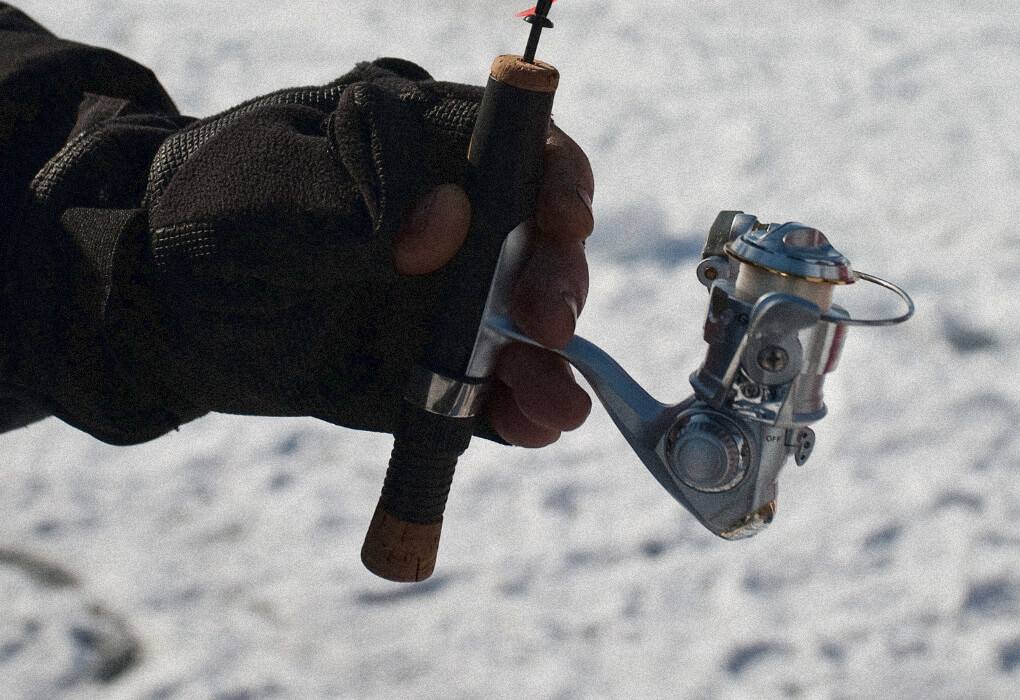 Last but not least, the weight of your reel is an important factor as well. If the reel is too heavy, it will become a problem after a day of fishing.
You'll feel fatigued and could potentially miss out on the fish of a lifetime if you're too tired or impatient to handle it.
On the flip side, you also don't want something that is super lightweight and cheap.
I've found over the years that going with a lightweight reel is generally the best way to go though because manufacturers are finding ways to shave ounces off their overall weight by using different materials without sacrificing durability or performance.
Final Thoughts
Ice fishing holds a special place in my heart and I've learned so much through my years on the ice.
Having the right reel for fishing hard water has certainly made my time fishing hard water more enjoyable.
The list that I've put together was based on my trip to Boom Lake, but is also a combined analysis of 40 years of ice fishing experience.
So let's review our top pick!
For the best ice fishing reel overall, I choose the 13 Fishing Black Betty Northwoods Ice Inline Reel.
It topped the list when it comes to reduced line twists, added features like the FreeFall trigger system and magnetic drop speed adjustment.
I found that this reel is very versatile and will allow you to catch small panfish all the way up to northern pike and muskie.
While the Black Betty won overall, you really can't go wrong with all the reels mentioned in this best ice fishing reels guide.
Give them a try and tell us what you think! We'd love to hear from you!