---
We independently research, test, and recommend the best products; you can learn more about our review process here.
The best ice fishing camera is not something an ice angler runs right out to purchase their first time on the hard water.
It's something they need to think about.
Not because it's super expensive but because it's not always necessary.
It took me years to get a camera but now I use it all the time for scouting different baits.
The Eyoyo 7-inch LCD Underwater Fish Camera is great in value and performance and the one I recommend to all my friends and family.
As you read through these ice fishing camera reviews, think about what you'd use it for and how it could make a difference in your game so you don't pick up the wrong one!
Comparison Table – Best Ice Fishing Cameras on the Market
---
In-Depth Reviews of the Best Underwater Cameras for Ice Fishing
Eyoyo 7-inch LCD Underwater Fish Camera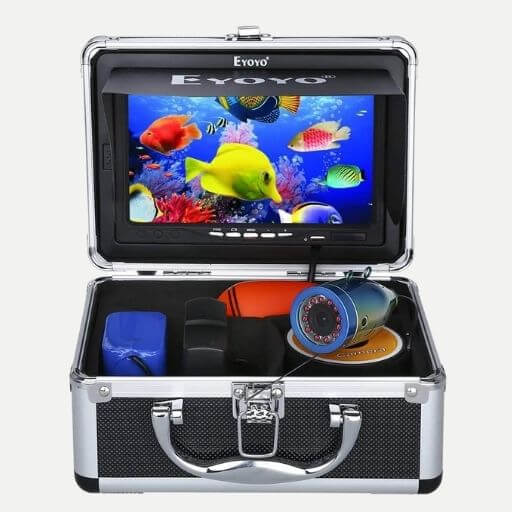 BEST OVERALL ICE FISHING CAMER
Specs
Screen Size: 7 inches
Cable Length: 49 feet
Key Feature: Crystal clear imaging with LED lights
Pros
8 hour battery life is considered optimal by my standards
High resolution color monitor with 7 inch screen
Works well in cold weather, ideal for ice fishing
Cons
The night vision lights can wash out the image quality
Why We Chose It
Between the clear views, the camera being easy to transport, a long cable, and its long battery life, I am amazed at how great this product is for half the price of others that don't even work as well.
The monitor is super clear, the camera is easy to operate, and the cable is 49 feet long, so you're getting a little bit of everything with this one.
I like the wide-angle screen as well which helps you get a nice view around the water.
The high definition imaging displays great detail even in cloudy water plus it comes with a carrying case that not only protects it from the elements but helps make it easier and safer to transport across the ice.
I also don't have to worry about breaking it in the back of my truck or in the sled because of its high level of durability.
The battery has a great life of 8-8.5 hours so you know it'll last long enough for you to complete your fishing experience and that it won't give out in the middle of recording.
It comes with a sun visor as well which means it will help prevent the sun from obstructing your vision.
I also would like to mention that the price is very reasonable for a product of such great quality.
This is going to fill the need for the vast majority of ice fishing situations and I recommend it to 95% of all ice anglers.
Moocor Underwater Fishing Camera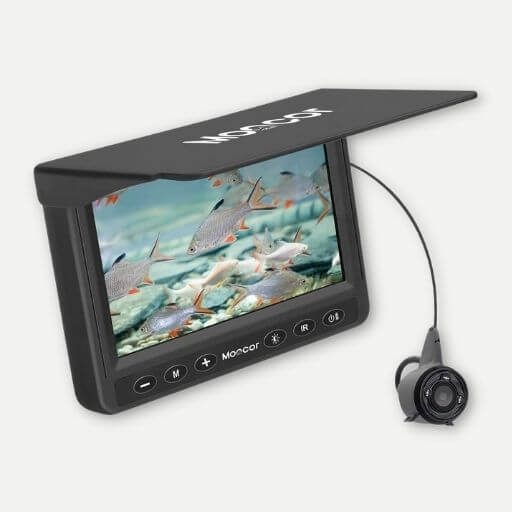 RUNNER UP
Specs
Screen Size: 4.3 inches
Cable Length: 49 feet
Key Feature: Best option for night fishing because of 1000TVL camera with night vision
Pros
You can monitor during the day and night because it has a sun visor and great night vision
Battery lasts for about 8 hours
Clear views as far as 40 feet underwater
Cons
Any imperfections in the water impact the clarity
Small screen
Why We Chose It
The best ice fishing camera should work no matter what the temperature and this is a great option if you're fishing in temperatures dipping down to the teens (13 – 19 degrees).
The clarity of this camera is great at helping you identify different types of fish as well as structure changes.
You can even see when it is dark out because it has excellent night vision with infrared LED bulbs.
I love that the cable is long enough so you can move around the water without getting stuck and the camera is super easy to transport because of its small size.
The battery life can last up to about 8 hours (pretty typical), but this allows me to stay on the ice for the whole day without having to worry about it dying on me.
I'd just make sure to charge the camera the night before you hit the ice.
The camera has a 130-degree angle making it easy to see everything under the ice.
I also find the price of this camera to be reasonable given the quality of camera you receive 1000TVL HD).
I am impressed with this camera's clear vision (especially at night), compact size, and ability to stay charged for a long period of time.
If you're frequently fishing in low-light situations or at night then this camera will help you capture the images you want.
Anysun Professional Ice Fishing Camera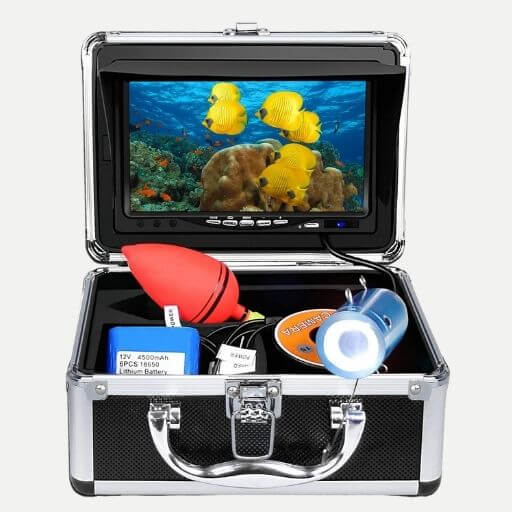 BEST ICE FISHING CAMERA FOR THE MONEY
Specs
Screen Size: 7 inches
Cable Length: 49 feet
Key Feature: 12 hour battery life
Pros
Razor sharp 800 x 480 pixels video
Can be used in temps well below freezing
Budget-friendly
12 hour battery life
Cons
No video recording (DVR)
Replacement batteries are difficult to find
Why We Chose It
I love this camera because it has some of the best features that an angler looks for. The cable is 49 feet long, which is certainly long enough to move around in the ice, and the screen is big enough to see clear details.
This camera can be used in really cold temperatures that fall well under freezing and it is pressure-resistant which means you can submerge it to nearly 50 feet without getting a distorted picture.
My favorite feature about this camera is that, unlike the other cameras, this one's battery can last up to 12 hours – yes, 12 hours (compared to the standard 8-hour battery life of most ice fishing cameras).
Both day and night vision using this camera are very clear and sharp, even if you extend the camera into deep waters.
The price is very good for the product, especially since its battery life is longer than most other cameras.
While I wouldn't say that I'm a "penny-pincher," I'm always on the hunt for a good deal. This camera offers clear video and great battery life for a price that should fit most budgets.
Especially if you've never bought a fishing camera before, this one is great for getting started.
Marcum Underwater Viewing System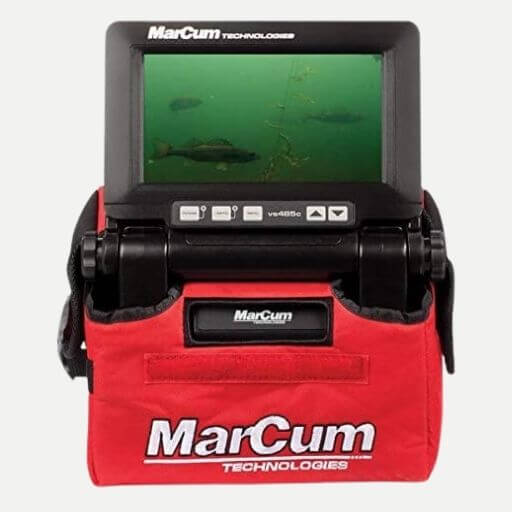 BEST PREMIUM ICE FISHING CAMERA
Specs
Screen Size: 7 inches
Cable Length: 50 feet
Key Feature: Automatic Black-White/Color transition feature
Pros
High-quality resolution images
Automatic color change optimizes your view in low-light
Optimal distance on the cord
Cons
Does not record videos of the underwater world
No infrared lights
Why We Chose It
Not only is this a camera, but it's also a "viewing system." I got a kick out of that.
In my opinion, they call it a viewing system to differentiate themselves from other ice fishing cameras but all it really means is you can switch from a traditional color view to a black and white view – which improves the visibility in low light conditions.
So while I think "viewing system" is a little salesy, I do enjoy and benefit from this feature a lot.
Now, this doesn't come with an infrared feature which is a bummer but the "viewing system" feature makes up for it because the black and white view helps during those low light conditions.
The 7-inch screen is wide enough to get a great underwater view, even in cloudy or dark water, and the 50-foot cable gives you the flexibility to move around the ice and fish other holes while you eyeball the monitor.
Since there is a sun visor, you will be able to clearly see the fish and surrounding areas in the water at a 90 degree angle without worrying about the sun-blocking your view.
Many anglers use this monitor because it is able to be used in temperatures well below freezing and in harsh weather conditions.
Like most other cameras, battery life will last about 8 hours, which is enough time for me to put this camera to good use.
This camera is priced very reasonably compared to other premium cameras that have similar features.
If you want to invest in a premium ice fishing camera – I definitely recommend the Marcum.
Aqua Vu AV715c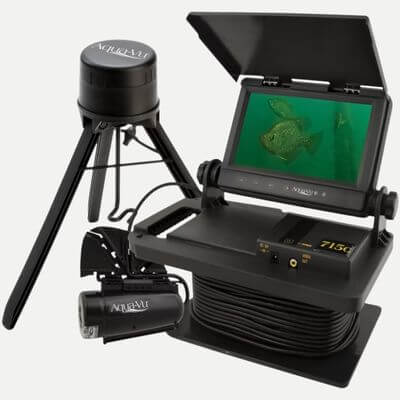 MOST STABLE ICE FISHING CAMERA
Specs
Screen Size: 7 inches
Cable Length: 75 feet
Key Feature: Has a extra long cable
Pros
Stable tripod sits right over the hole for maximum stability
Wireless remote control makes it easy to make adjustments
Rotates 360 degrees for the best viewing experience
Cons
Why We Chose It
One of the most important things I look for in an ice fishing camera is ease of use and the tripod that comes with this unit is awesome and it makes using the camera so easy.
A lot of the other cameras require you to haphazardly drop a camera lens down into the water to see what's going on.
This camera comes with a tripod that you put over the hole and lower the camera down through the hole.
It features a 360 degree camera angle that you can control using the wireless remote which again, makes this one of the easiest to use.
Best of all, it's incredibly stable because of the tripod design which makes capturing images and seeing what's happening beneath the surface that much more enjoyable.
The biggest complaint I hear is that the viewing range is a bit lackluster and the lens restricts your vision so you have to constantly rotate the camera to see anything.
Overall, most people seem very happy with the camera.
Make sure you keep a lot of AA batteries on you because the motor in the tripod runs on them and blows through them pretty quick!
GoFish Wireless Underwater Camera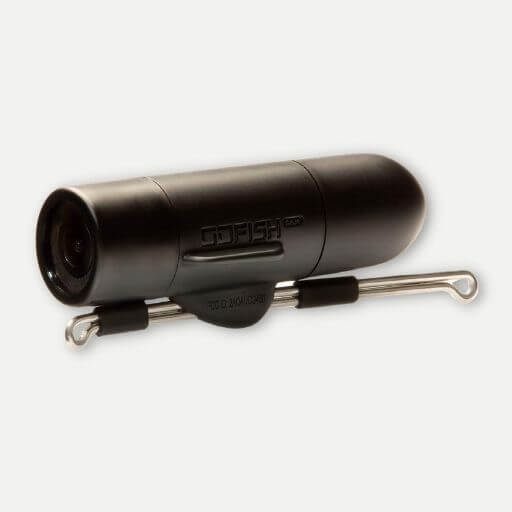 BEST SMARTPHONE COMPATIBLE
Specs
Screen Size: N/A
Cable Length: N/A
Key Feature: Has wireless connectivity
Pros
It has a wireless connection via Bluetooth
Has great night vision
The app is easy to use
Cons
Connectivity can become choppy
Requires a SD card and does not include one
Short battery life of 2 hours
Why We Chose It
I really like this underwater camera because of its Bluetooth capabilities. Most cameras used for ice fishing are not wireless, so I am impressed with the smartphone capabilities of this camera.
This makes your life so much easier by not needing to worry about wiring and just turning on your Bluetooth.
I can also say that this camera is affordably priced ($200) for having this unique capability. I worried about the video quality at first being that it has a wireless connection but it offers a clear visual at depths of 100 feet or more.
They say you're going to get 1080p video resolution, however, I've found that since the camera is connected to your screen wirelessly, there is a tendency for the images to become choppy or glitched.
The app for the camera is easy to navigate, which is great for those fishing enthusiasts who may not be as tech-savvy.
The night vision is extremely clear, which is surprising for a wireless camera.
The biggest downfall is that the battery life is short, lasting no longer than 2 hours. But to be fair, this is battery life is expected for a wireless camera.
If you value being wireless over having a long battery life then this camera is going to be your best bet!
Important note: It does require a sim card for use, which is not included with the camera when you purchase it.
Eyoyo 9-inch Screen Fishing Camera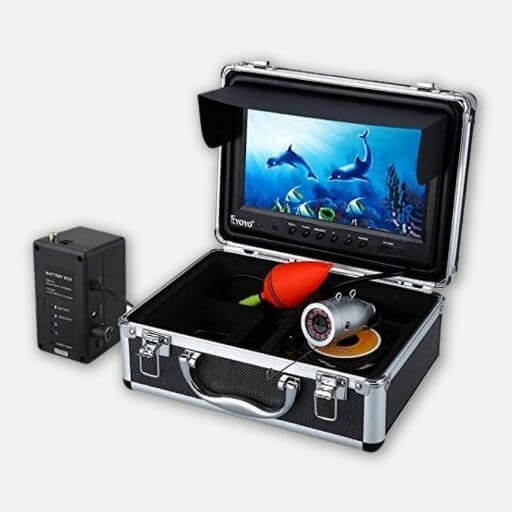 LARGE SCREEN ICE FISHING CAMERA
Specs
Screen Size: 9 inches
Cable Length: 49 feet
Key Feature: Large screen
Pros
TFT color screen helps improve visibility
Has a large screen
Has recording capabilities
Cons
Battery life only lasts 6 hours
Bulky to transport
Why We Chose It
The standout feature of this camera is the screen. A 9-inch screen is great and the viewing angle is ideal so you'll be sure to see everything that is happening beneath the ice.
To add even more to that, they use something called TFT which stands for thin-film-transistor.
Essentially, it's a type of LCD monitor that is said to improve clarity and object recognition.
If you're using this camera for scouting species or recon you'll benefit from the improved quality.
You'll be able to clearly identify what species is after the bait, if they're nibbling it, and even estimate their size pretty well.
The 49-foot long cable makes it easy to move the camera around in the water without getting stuck on any rocks. 
The battery lasts about six hours which isn't great but a lot of these extra features suck the battery life up so that could be the cause.
The ice fishing camera comes with a carrying case making it easy to transport but it is a bit heavy so it's not the easiest to hold on the ice. You might want something to rest it on.
The record feature is nice as well because of the clarity of the screen. You can go back and review which fish took certain baits and plan for the next trip.
If your eyes aren't the best or if you're just looking for a camera that's going to have the best screen – this is the one for you.
Buying Guide: Factors to Consider When Picking Out an Ice Fishing Camera
Having the best ice fishing camera is great but there are a variety of factors you should consider such as the screen size, length of the cable, and battery life.
Also, bear in mind that not all fishing cameras will work in extreme temperature conditions so you'll want to make sure that you only pick video cameras rated for ice fishing (such as the ones in this guide). 
Here are some of the factors that you should consider before going out and buying an ice fishing camera.
Screen Size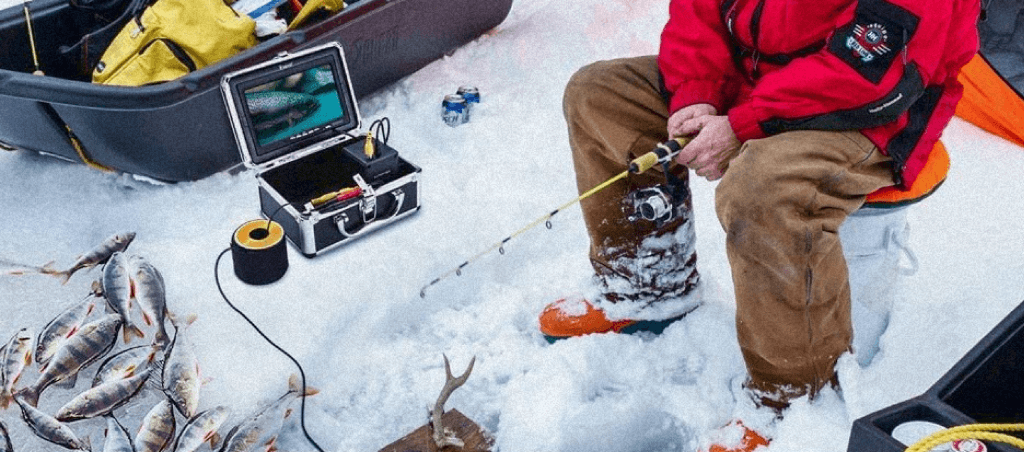 The size and resolution of the monitor are important. A camera is different from a sonar fish finder or flasher so the clarity of your screen will ultimately determine how well you perform on the ice.
Screen sizes generally range from 4-8 inches and I highly suggest never getting anything smaller than 4 inches.
While it might seem like bigger is better, that's not always the case either.
Portability is a big factor (more on this below) and if you have a big bulky underwater ice fishing camera, it could get damaged, or simply get in the way inside of an ice fishing shelter. 
If we're splitting hairs, you'll want to find something in high definition. It will actually help you see the fish and identify the species versus just seeing something moving around.
This is the only real upside to a camera over a fish finder. The high-resolution video will help you identify the fish you actually want to catch.
Cable Length
The length of the cable serves a few purposes. First, it will determine how deep you can submerge the camera.
This is important because it will improve your total range and allow you more flexibility in terms of how deep you want to fish and what you want to catch. 
Second, the length of the cable will also determine how far away from the hole you can go with the monitor.
If you plan on drilling another hole with your ice auger while you monitor a previously drilled one, you'll need a long cable to compensate for that.
Lastly, on the opposite side of the spectrum, a long cable can actually be a problem sometimes.
If you have 100 feet of cable, it could get in the way inside of a small ice fishing shelter and the cables will get really tense if they're left out in the cold for a while. This will make them especially hard to reel together.
Ideally, you want something in the 50-75 foot range. That will give you enough cable to get done what you want without it getting in your way.
Field of View
This is a crucial feature that a lot of people don't think about when purchasing the best underwater camera for ice fishing. Your field of view is referred to as either the "viewing angle" or "degree of view."
This tells you what the range of the camera is under the water in terms of how far on each side can you see without having to rotate the camera.
Again, the assumption is that more is better but it's still not always the case. As you widen the lens you generally reduce the clarity which makes it harder to identify fish and structure.
But a narrow field of view will require you to move the camera more often and you'll end up missing things because you can't see everything that is happening under the ice.
All that being said, anything in the 100-150 degree range is an optimal field of view. You'll spread the video out enough without distorting the image quality.
Viewing distance is another factor that goes hand in hand with this.
It can be impacted by many factors including temperature but generally, your viewing distance is much better in ice fishing because the water is clearer and there are fewer factors impacting your view. 
Unlike the field of view, you should strive to get as long of a viewing distance as possible. You should be able to see the farthest in the dead of winter when everything has been frozen over for a while.
At that time, you may experience viewing distances as long as 15-20 feet.
If the water is still murky from the warm weather it could be as little as 5 feet.
Portability/Storage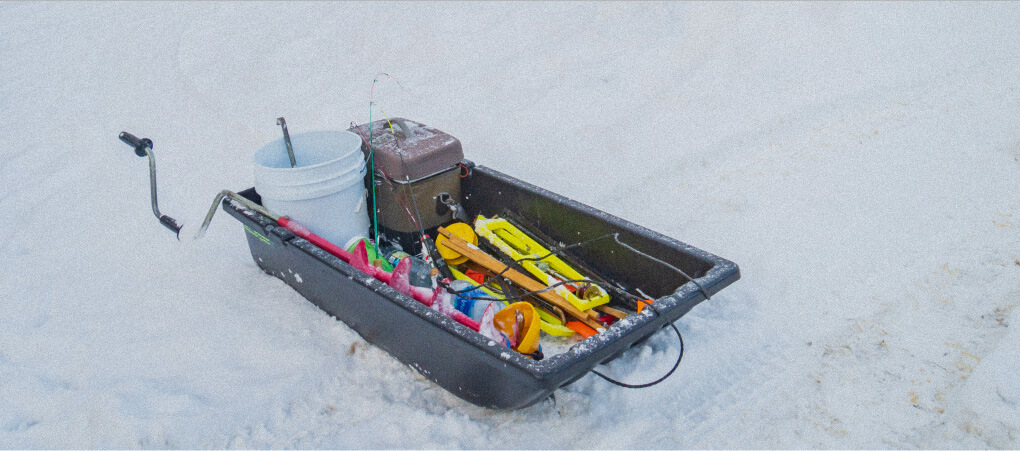 Portability is everything in ice fishing because it's cold, you have to drag the gear out in an ice fishing sled, and you need to protect everything from the elements.
For that reason, a lot of ice fishing fish finders and cameras come with cases that allow you to close them when you're not using them. They have easy carrying handles and they don't take up a lot of space.
This is a pretty hefty investment so it's not something you want sliding around in the back of your truck. So make sure you get one that is rated for durability, waterproof, and cold resistant.
Battery Life
The best camera for ice fishing will have a solid battery life that should last between 6-8 hours. Some cameras consume battery life more than others while certain cameras are better at spreading it out.
Realistically, the camera you choose will depend entirely on how long you plan to be on the ice and how long you hope to run the camera.
Some people only use the camera for scouting when they first get on the ice while others prefer to keep it going throughout the day.
You should also keep in mind that lower quality options will have batteries that may wear down over time and won't hold a charge as well.
Lithium-ion batteries are industry standard and something you should look for.
Cheaper "knock-offs" will not come with lithium-ion batteries and will begin to break down after extended use.
Price/Budget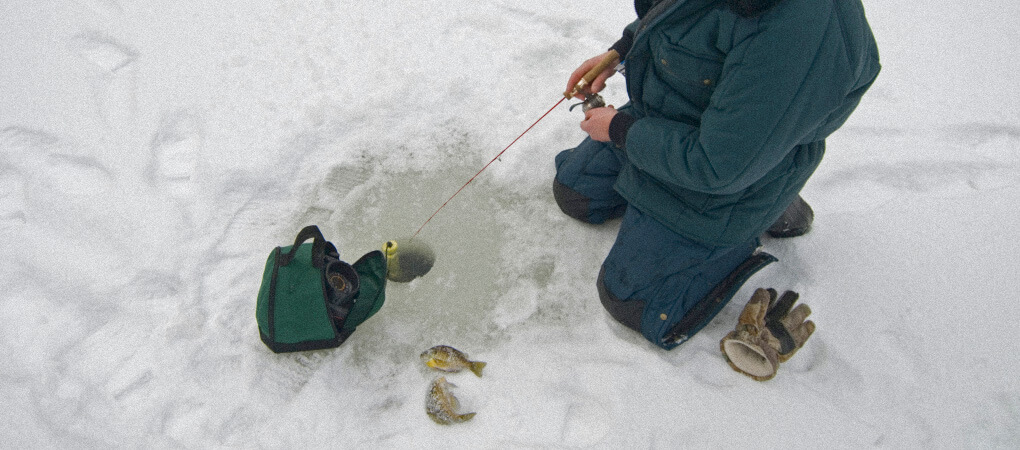 The best ice fishing underwater camera should not break the bank.
The price of the camera compared to your budget is obviously an important factor and always should be when purchasing ice fishing gear. You don't want to overpay for features that you'll never end up actually using.
The goal here is to get the most bang for your buck so be realistic with yourself about what you NEED when reading about all the features each camera offers.
If you take a look at some of the more expensive cameras, you'll actually see that they don't offer much more than the cheaper options.
I always find that it's best to take the mid-range product in most scenarios because it offers the best value.
But, if you're on a budget, the Anysun Professional Ice Fishing Camera certainly doesn't disappoint.
Pro tip: If you're thinking about getting an ice fishing camera for the first time then I'd suggest looking at ice fishing cameras for sale on eBay.
This will allow you to save a little money in the beginning while allowing you to learn what features you truly need and don't need.
You can always upgrade later on!
Final Thoughts
Do you think the best ice fishing camera could make a positive difference in your ice fishing game? If so, you should treat yourself to one.
If I had to pick one, I'd go with the Eyoyo 7-inch LCD Underwater Fish Camera. It combines value with premium features so it's all-around a solid choice.
If you're not ready to shell out the big bucks, definitely see if you can find a used one somewhere like eBay or Craigslist.
Good luck out there and comment below if you have an ice fishing camera that you like!