---
We independently research, test, and recommend the best products; you can learn more about our review process here.
Ice fishing is dangerous, there's no debating that.
You need to constantly be looking out for your safety. As many as 800,000 people per year are hospitalized due to slipping and falling[1].
A lot of these injuries happen on the ice.
If you're ice fishing, you need the proper ice fishing cleats to ensure your safety. I've fallen more times than I can count and let me tell you, ice is unforgiving. Even a soft fall can result in a painful bruise.
The Sharkmouth Ice Traction Cleats will prevent you from falling.
I promise you, it's worth the small amount of money they cost to protect yourself on the ice.
If you're looking for ice cleats or crampons, you've come to the right place. This guide breaks down all the best options out there right now. Here are some of my favorites. 
Top 3 Best Ice Fishing Cleats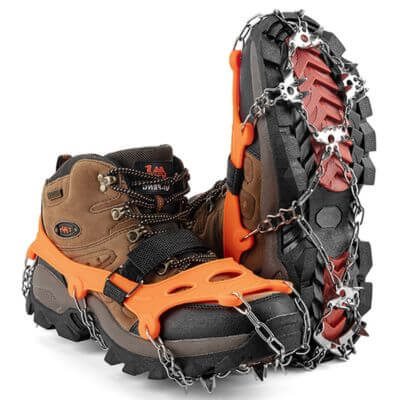 Sharkmouth Ice Traction Cleats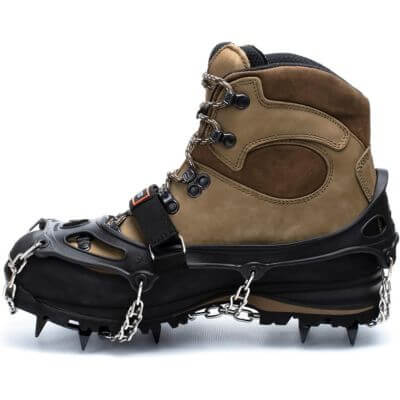 Hillsound Trail Crampon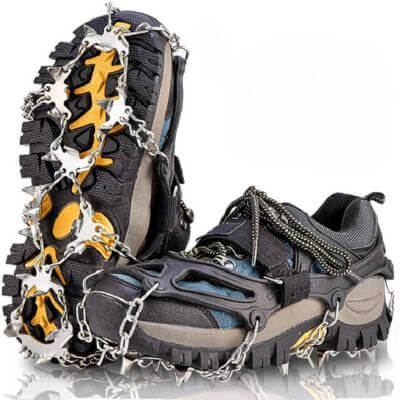 Best Ice Fishing Crampons
Cimkiz Snow Grip Crampons
---
BEST OVERALL ICE FISHING CLEATS
Sharkmouth Ice Traction Cleats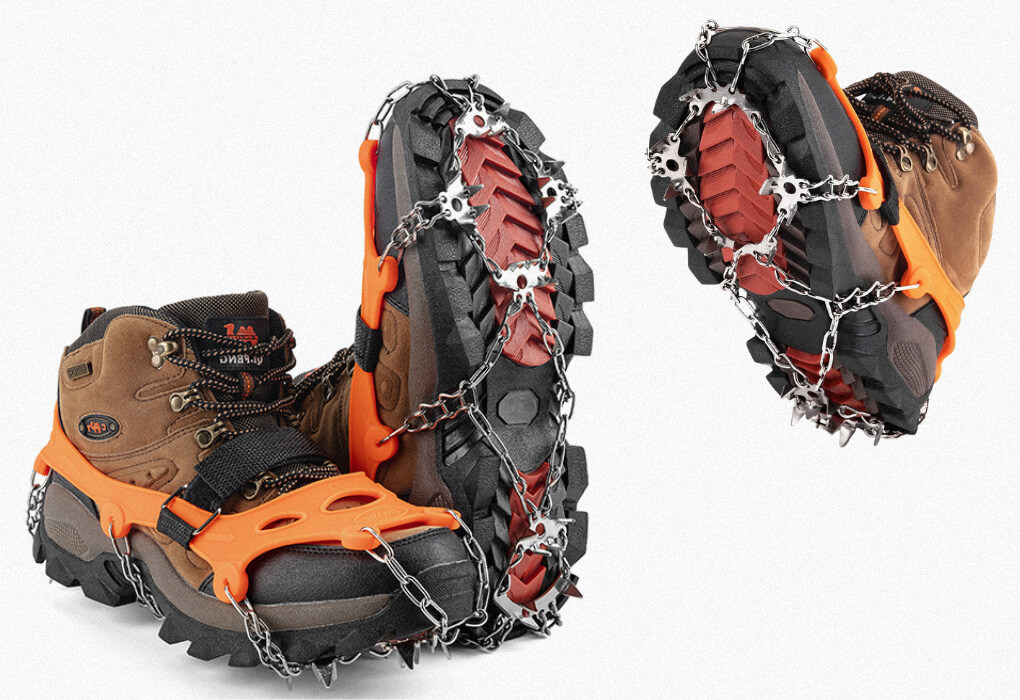 Specs
Type: Cleats with spikes
Sizes: M, L, XL
Spike Length: ½-inch
Why We Chose It
When you're walking on the ice, slipping and falling is a real possibility. It happens to the best of us at one time or another.
These ice fishing cleats from Sharkmouth can basically guarantee you'll never slip again as long as you're wearing them. 
They come with 23 teeth scattered from the front to the back with chains running through the middle of your shoes. The spikes are made with stainless steel so they won't bend over time and they'll maintain their sharpness as you walk.
One issue you run into a lot is the rubber elastic either wearing out so the spikes don't fit snugly or the rubber starts to crack and tear from low temperatures.
The rubber on these ice fishing crampons is rated for -56 Fahrenheit.
I don't know a single soul in the continental US fishing in temperatures that cold so I'll go out on a limb and say you'll be fine there.
I also think these bring a lot of versatility. While they are somewhat overkill for activities like shoveling snow and could possibly damage a blacktop driveway, you could still use them in heavy ice situations.
The spikes are only a half-inch so you won't be stumbling over them and dragging them across the ground when you walk. 
Lastly, these are incredibly affordable. You can find them for less than $25 so you really can't go wrong. I'd suggest going down a size if you're right on the line between sizes.
I'd rather stretch them and struggle to get them on versus having them be loose on my shoes. 
Overall, you cannot go wrong with these spikes. You'll get plenty of use out of them, they won't fall apart, and they're completely solid all-around. They're a great purchase for any ice angler who cares about their safety.
RUNNER UP
Hillsound Trail Crampon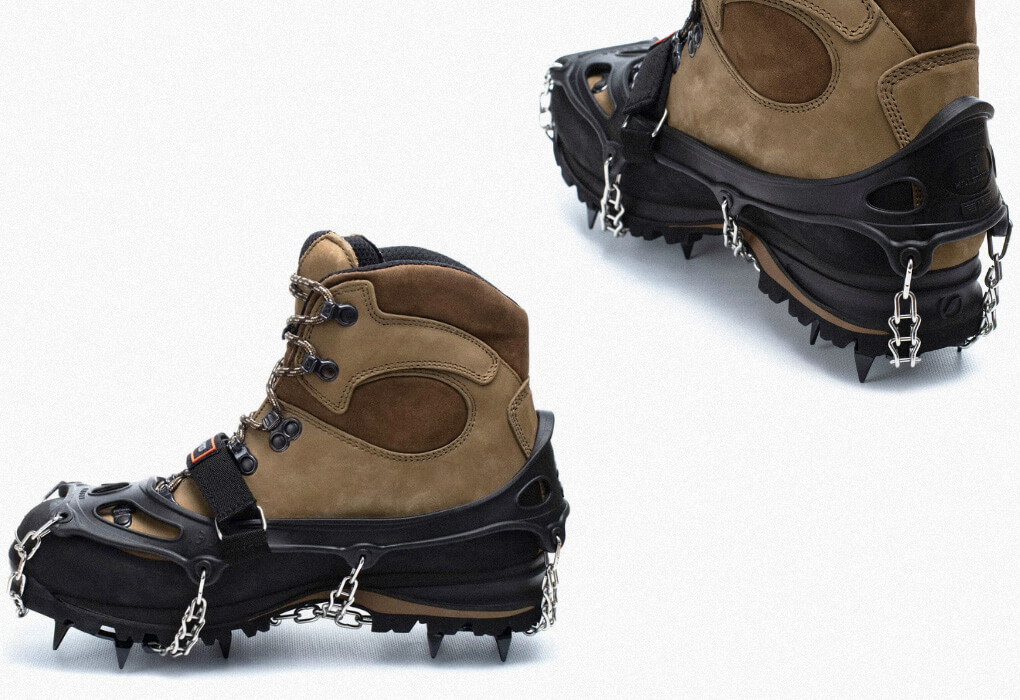 Specs
Type: Cleats with spikes
Sizes: XS, S, M, L, XL
Spike Length: ⅔-inch
Why We Chose It
Again, we have another pair of the best ice cleats for ice fishing. There's very little bad that you can find with these. The cleats feature 11 ⅔-inch carbon steel spikes.
They're a tiny bit longer than the Sharkmouth cleats so they'll dig in a little better on slippery ice but the difference will be nearly unnoticeable. 
The main thing that stands out to me on these is the overall design of the crampon plates on the bottom. These are designed to flex and bend with your feet.
So, as you bend your toes while stepping, the crampons will bend as well. This makes it feel less like you're walking flat-footed like you would wearing snowshoes or skis.
This ergonomic design is a highly sought-after feature in ice fishing spikes.
The rusting possibilities of these are the primary reason I didn't pick them as my top choice. Being that they're not stainless steel, they're much more prone to rusting if you don't dry them off before storing them away.
Carbon steel is stronger than stainless because it's harder but it doesn't have the ability to resist rust and corrosion. This could weaken the spikes over time and actually cause them to break down sooner.
The good news is, you get a two-year warranty so you shouldn't have to worry about them for at least two years.
All in all, again, just an incredible pair of ice fishing cleats and more than enough necessary to get the job done. You won't fall if you're wearing these. It's as simple as that.
BEST ICE FISHING CRAMPONS
Cimkiz Snow Grip Crampons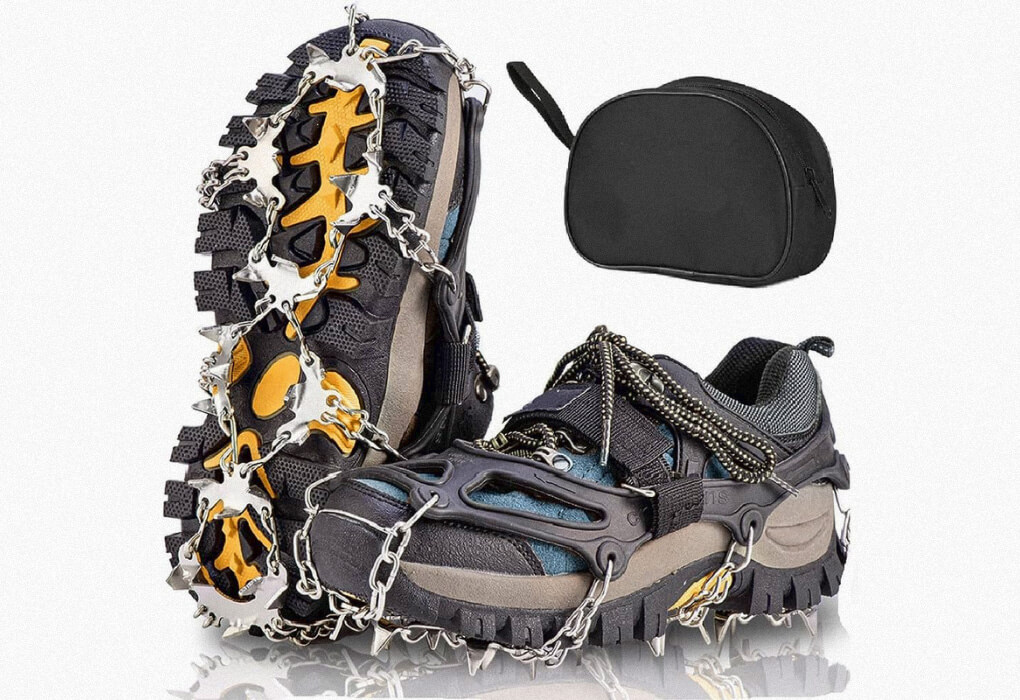 Specs
Type: Cleats with spikes
Sizes: M, L, XL
Spike Length: ½-inch
Why We Chose It
It's confusing to understand the difference between a crampon and an ice fishing cleat. Personally, I still don't get it but the actual definition of a crampon is essentially a longer ice fishing cleat.
These are ½-inch cleats so again… I still don't get it. 
Either way, you're looking at a great pair of cleats rated for -49 so the rubber is durable and elastic enough to withstand frequent use.
The main feature of these is the fact that they come with 19 spikes which is more than any other option on this list. What does that mean for you?
It means that you'll really dig into the ice and anything else you're walking on. The problem is, it'll be really hard to walk sometimes because of that.
While you won't slip and fall, you could end up tripping over yourself if your feet get stuck in the ice.
I'm also not a fan of the fact that it doesn't come with an adjustable velcro strap like most of the options here. That strap acts as the final security from the crampons when you put them on.
It ensures a snug fit every time. Without that, the rubber is bound to loosen over time and reduce the overall quality of the fit. 
That said, between the rubber quality, 19 spikes, and thick, heavy-duty chains, I think you're plenty good to go with these cleats.
You sure won't have to worry about slipping but I'd only recommend these for ice anglers who might have to walk through treacherous terrain to reach their spot. 
BEST DIAMOND GRIP CLEATS
ICETrekkers Diamond Grip Traction Cleats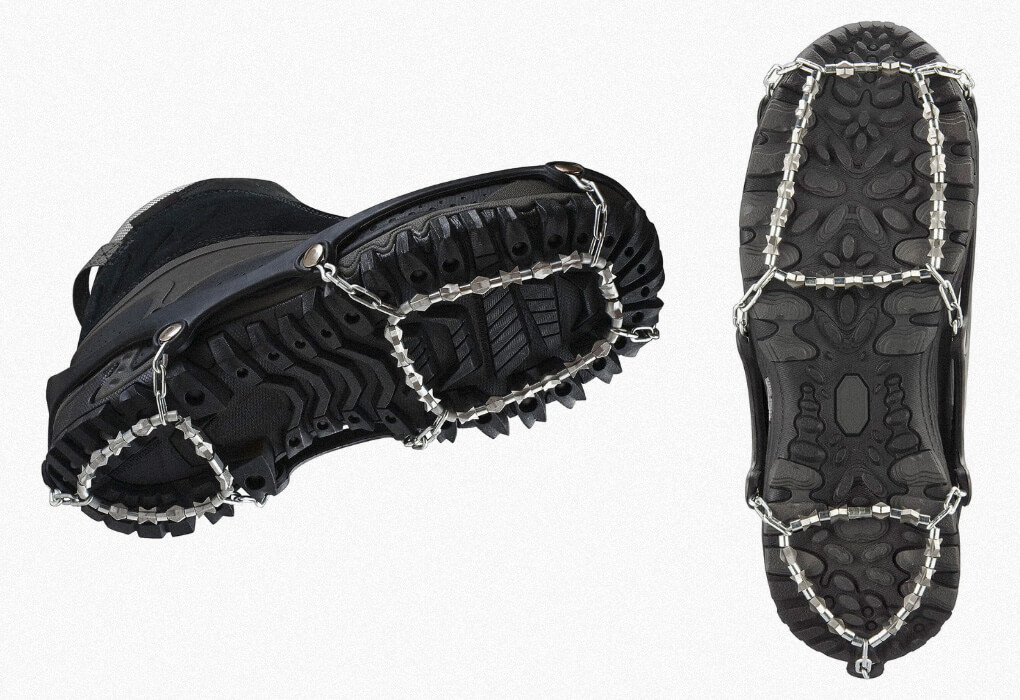 Specs
Type: Diamond grip
Sizes: S, M, L, XL
Spike Length: N/A
Why We Chose It
Maybe you're an ice fisherman but you're also a homeowner or perhaps you have a job that requires you to work outside in the snow and ice?
Either way, ice cleats for ice fishing are a great option because of their ergonomic design, snug fit, and durable materials.
I think these cleats have the best-constructed rubber out of any other option on this list.
The problem is, I wish I could say the same for the cleats themselves. They rust so easily and start to break down even after a few uses.
The question is, why choose this type over the sharp traction spikes? Most people choose this type because the grip is more equally dispersed so it allows you to walk more comfortably and naturally.
When you're dealing with long ½-inch spikes, it can be difficult to walk.
You won't have that problem with these. Plus, you don't have to worry about putting them on lakeside because you can wear them outside around the house shoveling snow or whatever else it is you have to do.
If they could make these out of durable stainless material, I think that would really change the game but if you're interested in having something a little different than the typical spikes, these are the way to go.
BEST MULTI-PURPOSE ICE CLEATS
STABILicers Traction Cleats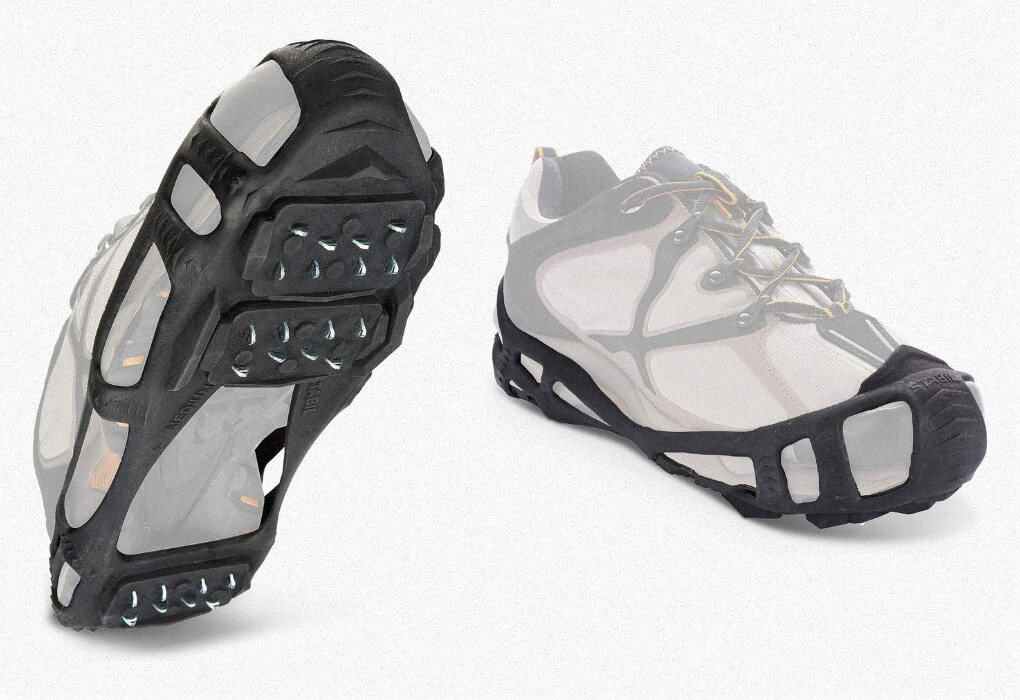 Specs
Type: Rubber traction cleats
Sizes: S, M, L, XL
Spike Length: N/A
Why We Chose It
If you're anything like me, you're frugal. When you're frugal, it means that you don't like to buy things that are only used every once in a while.
If that sounds like you, these cleats are a great choice. Are they the absolute best ice spikes for ice fishing? No. Why? Let me tell you. 
They're not actually spikes but rather rounded studs that stick out of the bottom of the rubber base.
If you're walking on ice, they can actually have an adverse effect and cause you to slide more easily because they're all the same length. I find this to be a pretty big design flaw.
If they staggered the length of the spikes, it would allow you to dig in deep when necessary and then support yourself and walk with the shorter ones.
That said, it doesn't mean you can't use them, it just means they're not always going to be the best option.
They're good in multi-purpose situations if you're worried about falling while shoveling snow or walking to a bus stop but you also happen to ice fish. 
My favorite thing about them is the rubber coverage bands. There's a lot of them, they pull over your shoes and fit snugly, and they're made of a thick rubber so I don't see them breaking down too easily.
The only other downside I need to discuss is the sizing. I've talked with a few people about these and the common trend is that sizing is nearly impossible to get right. Some are too small, some are too large, it's a mess.
Whether you're shopping for men's or women's winter boots, be sure that the ice grips you choose are going to work for your snow boots.
Make sure you know the size of your ice fishing boots and I'd recommend going at least one size larger with these cleats.
MOST HEAVY-DUTY
Kahtoola KTS Steel Crampons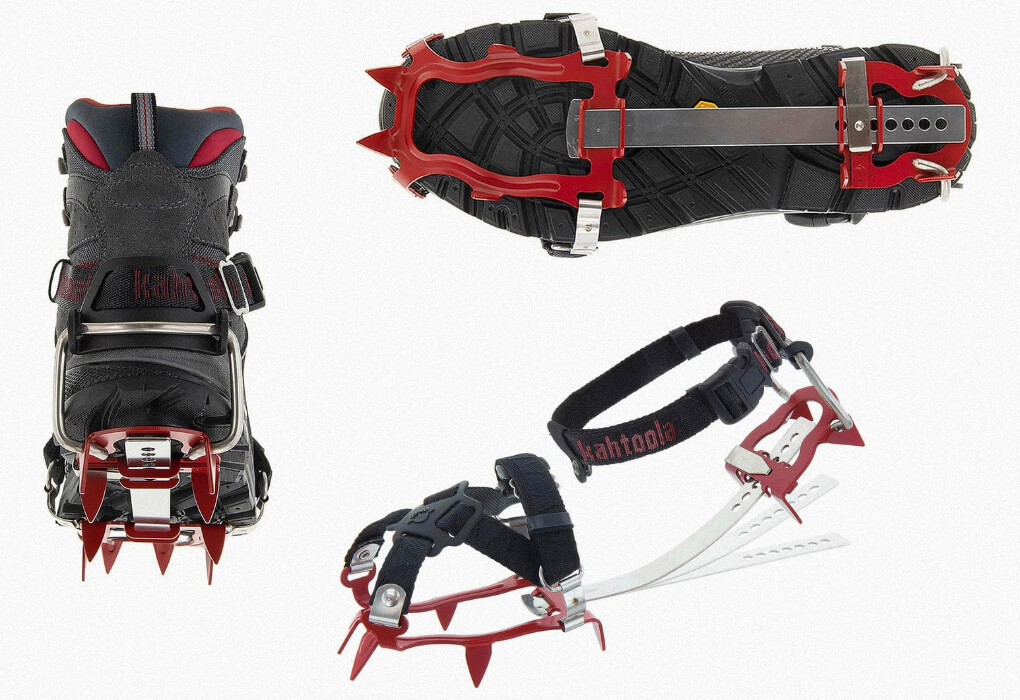 Specs
Type: Spikes
Sizes: S/M – M/L
Spike Length: 1-inch
Why We Chose It
Are you an ice angler who is also a part-time rock climber? Do those even exist? Anyway, these 1-inch spikes are ideal for serious ice anglers who find themselves in pretty treacherous situations.
If you're seriously worried about falling on the ice or you know that you need to walk down a steep bank to reach the lake, these might be a good option for you.
They're designed a bit differently from the rest. Instead of wrapping over your hiking boots with a rubber material, they use two binding buckles on the front and back. In between the binders is an adjustable stainless steel bar that functions a lot like a belt.
The main reason this is important is that the stainless bar is flexible so it allows you to walk somewhat naturally even though the spikes are long.
Overall, do I think you need these spikes? Maybe? Only you can know that. If getting to the hole is a little more difficult for you, the Kahtoola spikes might be the right option for you.
BEST RUBBER SNOW GRIPS
OuterStar Ice and Snow Grips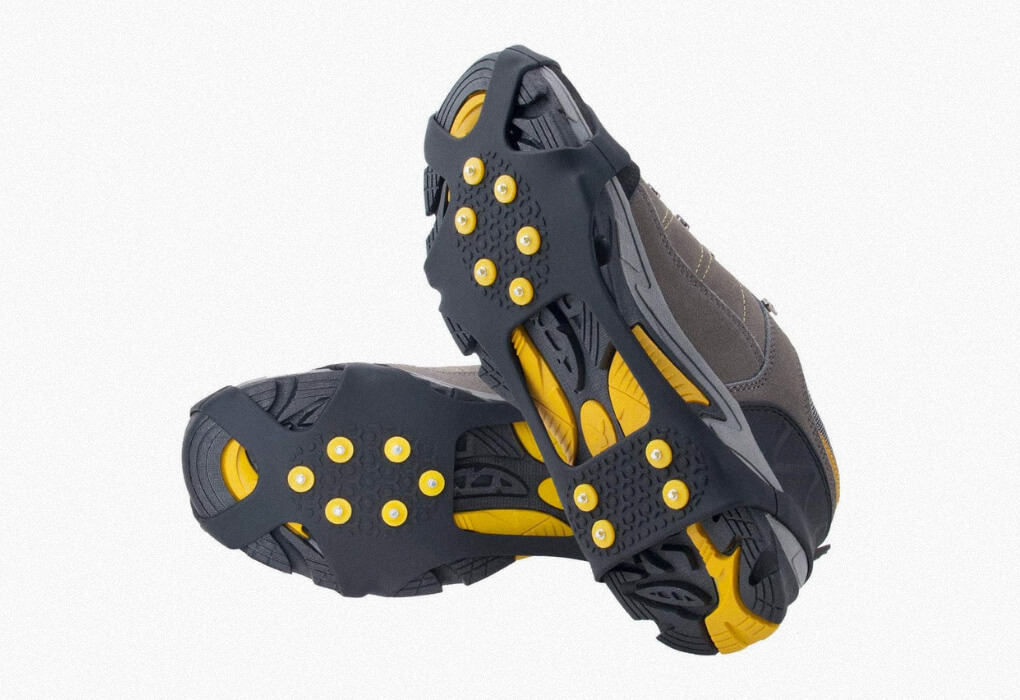 Specs
Type: Rubber grips
Sizes: M, L
Spike Length: N/A
Why We Chose It
I'm calling out to the occasional ice angler here. The OuterStar cleats are a great choice if you go ice fishing once in a while and are looking to keep yourself safe on a budget.
For less than $10, you can get yourself these rubber ice grippers and add a little bit of traction to your trek on the ice. 
The traction device is made with a thermoplastic elastomer which is great for longevity and wear and tear. The best thing about these is how easy they are to go on and come off.
If you're dealing with limited mobility or accessibility issues but you still want to ice fish, these won't be a chore to put on. 
I find that these would be most useful for someone who is going to be doing a lot of walking on the ice but doesn't want to deal with the annoyance of the long spikes and cleats.
These won't get in the way a whole lot but as I said, they're also not going to offer top-level traction either. 
If you're looking for simple, easy-to-use, and cheap ice fishing cleats, this is the option you're looking for.
How We Tested
As with anything in the world of ice fishing, there's no way to know how well it's going to perform until you introduce it to the belly of the beast.
That's what I did for this guide and here's what I learned are the most important factors to look for when choosing ice fishing cleats:
Traction and Grip: One of the most crucial factors in ice cleats is their ability to provide reliable traction on icy surfaces.

I evaluated how well each cleat model gripped the ice, preventing slipping and ensuring stable footing while moving, drilling holes, and reeling in catches.
Ease of Use: I considered how user-friendly the cleats were to put on and take off. Cleats that were easy to adjust and secure were given extra points for their convenience, especially in cold conditions.
Comfort and Fit: Comfort during extended use is paramount. I assessed how well the cleats fit various types of footwear and how comfortable they were to wear over prolonged periods.

It's also important to pay attention to how well the cleats fit based on the sizing charts.
Build Quality: I examined the construction and materials of each cleat model to gauge their durability and resistance to wear and tear.

Cleats that showed exceptional durability and maintained their performance throughout my testing received higher ratings.
Ice Fishing Cleats: Everything You Need to Know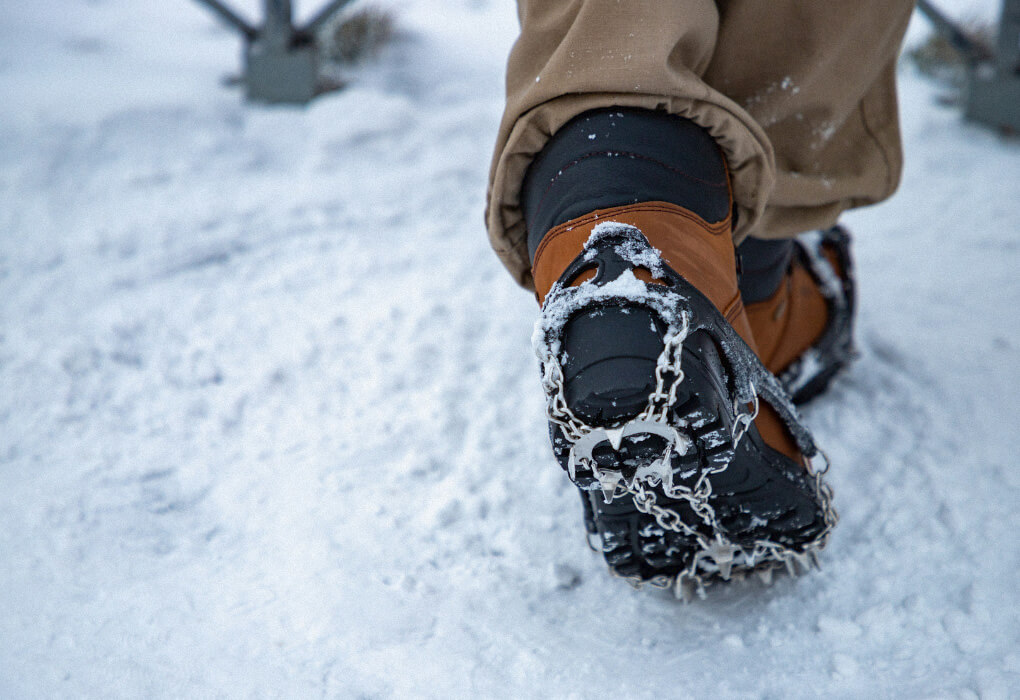 Before you dive right in and pick yourself up a pair of ice fishing spikes, there are some important factors to consider.
We want to always make sure that we're purchasing products that will have a positive impact on our fishing.
The goal for me is to help you not only make a purchase but help you understand why you're making this purchase and what the point is.
You're not just buying spikes, you're buying safety, enjoyment, and peace of mind.
Think about that as you go through the following sections and run through all the important considerations of purchasing the best pair of ice fishing cleats for your situation. 
Types of Ice Fishing Cleats
Let's start by talking about the various types of ice fishing cleats out there. While these might not be the most "technical" of terms, I've broken them down into three categories that I believe ice fishing cleats fall into.
Micro Spikes
Micro spikes are what you see most commonly in this review. With the exception of the Kahtoola KTS spikes. Micro spikes use chains and spikes for traction and usually include some type of rubber to hold everything together. 
You'll pull the rubber over your boots and sometimes use a velcro strap to hold everything together. The bottom of the cleats contain between 12-20 metal spikes made of metal, (preferably stainless steel.)
I find that micro spikes are the most versatile option for being able to use around the house and in the woods.
As you're loading up your ice fishing sled with all your gear from the shed, you don't have to worry about digging your yard up or damaging your sidewalks because the spikes are short enough to limit the damage. 
Crampons
Again, as I mentioned earlier, the door is wide open on the difference between spikes and crampons. If you feel like shining some light on this, feel free to do so in the comment section.
As far as I see, a crampon is a longer spike and more durable option for ice fishing cleats. These are what rock climbers use to dig into the side of mountains as they're navigating the terrain.
If you find it difficult to get down to the water wherever it is you ice fish, these might be the right option for you.
Now, if you're spending most of the day sitting inside of an ice fishing shelter and not moving too much, I don't know if this is the right option.
You might be better off just being careful on your walkout because the spikes could be more trouble than they're worth.
These aren't able to be used anywhere else besides on rough terrain because you'll pretty much dig anything up with the sharp and numerous spikes on a crampon.
Rubber Grips
These might have a more technical name but I'm calling them rubber non-slip grips or rubber cleats.
They usually offer a more stable fit and provide more touching points with the ice than traditional metal cleats.
The rubber cleats are also usually more affordable because they don't contain a lot of the expensive components that the other options have. This includes the thick metal chains and plates covering the bottom of your boots. 
On the flip side, they don't offer as much traction. Of course, when you compare rubber spikes to metal spikes, you can imagine why.
So, why choose this option over metal spikes? I think they're more versatile.
You don't have to only use these for ice fishing. If you've fallen a few times shoveling snow, you know what I'm talking about.
These are great for getting a little extra traction in the driveway or on the sidewalk. The cleats will prevent you from falling but you won't have to worry about digging up the pavement either. 
Factors to Consider When Buying Ice Fishing Cleats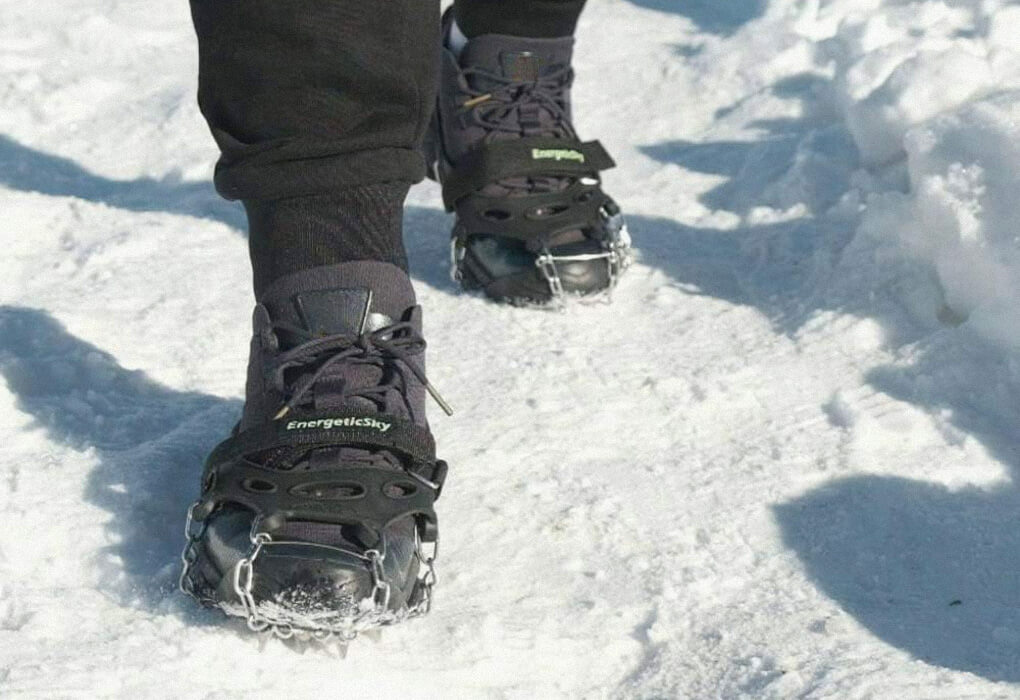 Now that you understand the different types of anti-slip cleats, let's talk about some of the factors you'll want to keep in mind as you're choosing.
There's no one-size-fits-all option here and everyone will have different motivations behind why or why not they choose a certain product. 
Conditions
The icy conditions you plan to fish in will definitely play a role in the ice fishing creepers you choose.
Do you live in a place where the ice is 10-inches thick all winter so you can drive right out, grab your auger, and get down to business? 
If that's the case, minimal traction is necessary because you're not that likely to fall.
What about the folks that need to walk down a steep embankment and step over roots and rocks? These people might be more likely to slip and hurt themselves.
As a result, they would benefit more from longer spikes and more expensive cleats. 
Regardless of your situation, keep it in mind as you shop around. You don't want to find yourself with too much or too little when it comes to your safety.
Distance
The distance you need to walk to get to your hole is another factor. This is actually the most important factor to me because it's a combo.
A lot of experts will tell you to just get the most expensive and biggest cleats you can buy. At Yourbassguy, we don't bs you. 
I say this because if you have to make a two-mile walk to get to your spot, 1-inch ice fishing cleats are going to be more of a pain in the butt than not having them at all.
You'll be getting locked up in the ice, you'll be tripping over the front spikes, and the awkwardness of them will hurt your feet and make pulling the gear more difficult. 
This is the main reason why I chose the Sharkmouth Ice Traction Cleats as my top pick. I think they're the perfect blend of comfort paired with functionality.
They won't get in your way but they'll also guarantee you don't slip and fall. 
Purpose
You'll want to keep the overall purpose of your cleats in mind. Are you planning to use them exclusively for ice fishing and nothing else?
If you are looking for a little traction around the house, you'll want something that won't dig up your blacktop. I won't talk much about this because I've covered it enough but just keep that in mind. 
Brand
Choosing the right brand is always something I put a lot of weight on. Ice fishing brands like Eskimo, Yaktrax Pro, Apex, and Kahtoola microspikes all have a near and dear place in my heart.
It's important that you choose ice fishing gear from brands you trust. You're most likely to get high-quality products this way
How to Choose the Best Ice Fishing Cleats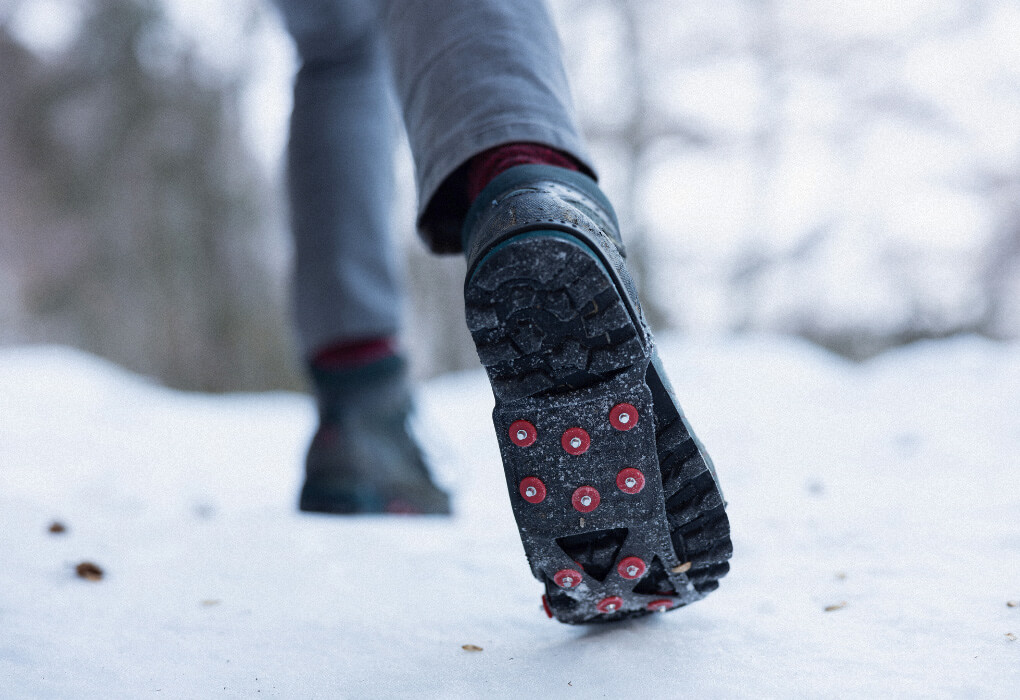 Once you've decided what type of spikes you want and how you plan to use them, it's time to think about the cleats themselves. The best ice fishing cleats will check all of the following boxes.
Spikes
Are the spikes the right length for you? Are they made of a durable material that won't rust easily, won't deteriorate, and that will offer enough traction?
Beyond that, are there an appropriate amount of spikes? There should be at least ten spikes on the bottom to ensure optimal traction. What are people saying about the spikes?
Are a lot of previous customers finding that the spikes bend too easily or that they rust out? Read reviews, FAQs, and educate yourself. 
Material
What material is used on the bindings of the spikes? Are they made entirely of metal or rubber? Is it a mix of the two? What does that mean for the durability, comfort, and versatility of the spikes?
Be sure to weigh the pros and cons of various materials. If the spikes are made entirely of metal, it could likely increase the chances of them rusting out but the metal may not wear down as fast and lose its tension like rubber would.
Fit
Sizing seems to be a big issue with ice fishing crampons so you'll have to keep that in mind as well. I believe it's always better to go a little smaller because you are better off having to stretch them tightly to get them to fit.
If the rubber part is too loose they won't fit right and they'll move around as you're walking. 
You'll Also Need
You didn't think I was going to leave you hanging, did you? No matter what way you look at it, ice fishing isn't cheap. You can't simply grab your ice fishing rod and head to the lake like you can when the weather is warm.
If you don't prepare yourself and bring all the right ice fishing gear, you can end up in a dangerous and even life-threatening situation.
Here are three important pieces of gear you'll want to always have with you when you're ice fishing.  
Ice Fishing Gloves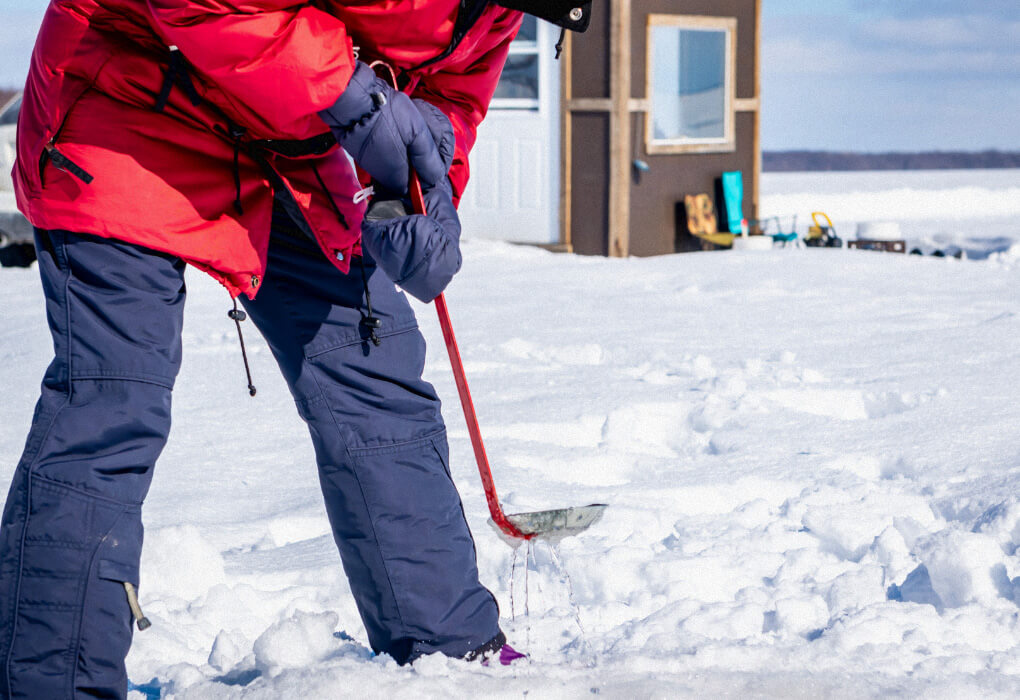 The right pair of ice fishing gloves will help keep your hands warm without impairing your ability to work your lures, rig your hooks, and possibly throw back a few cold ones.
They're made with the best insulated materials and they're easy to get on and off. When you're out on the ice, gloves are not optional. 
Ice Fishing Chairs
The whole point of this guide is safety and comfort on the ice. You want to keep yourself safe and you want to make sure you're comfortable.
Putting these two together makes for a good experience and it also helps you catch more fish.
Having the best ice fishing chair gives you a place to rest but it also serves another purpose. Many ice fishing chairs come with a place to store gear and bait and they don't add a lot of weight to the sled.
Ice Fishing Bibs
How many times do you have to freeze your butt off before you realize that it's time to invest in a good bib? Seriously, how many times?
For me, it was about 25 but I was broke and had no choice. Thankfully, there are plenty of affordable options for ice fishing bibs nowadays to keep you warm, comfortable, and safe on the ice.
Final Thoughts
Ice fishing is a dangerous sport. There are a lot of bad things that can happen and one of those includes falling. A bad fall can mean a lot more than a little bump or bruise. You could end up knocking yourself out or breaking a bone.
Do me a favor and get yourself a pair of ice fishing cleats. I highly recommend the Sharkmouth Ice Traction Cleats. These are affordable, easy to use, and ideal for various conditions. They'll prevent you from falling so you'll never have to worry. 
Use common sense, always pay attention to your surroundings, and as always… good luck out there!