---
We independently research, test, and recommend the best products; you can learn more about our review process here.
When I first started ice fishing I didn't have a lot of money. Heck, I didn't have any money. And because of this, I froze my butt off every time I went out.
But lucky for you, this means I learned a lot about staying warm on the ice and I'll tell you right now that the biggest "hack" to staying warm is investing in a pair of high-quality ice fishing boots.
Yes, they are an investment, but you'll be grateful once you realize the warmth they provide your feet.
So learn from experiences and continue reading to learn about the best boots for ice fishing so you don't have to deal with frozen feet as I did.
Our Top 3 Ice Fishing Boots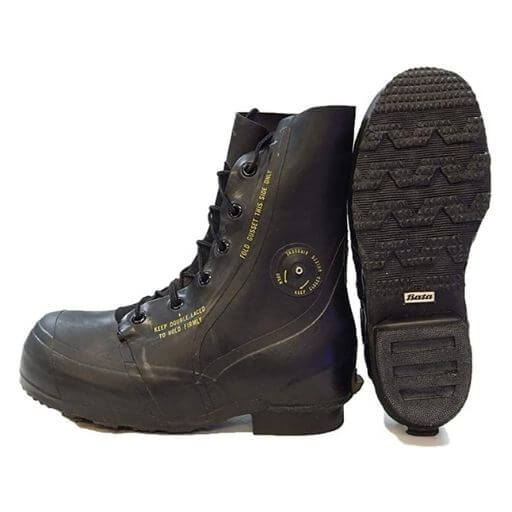 US Army Genuine Military Boots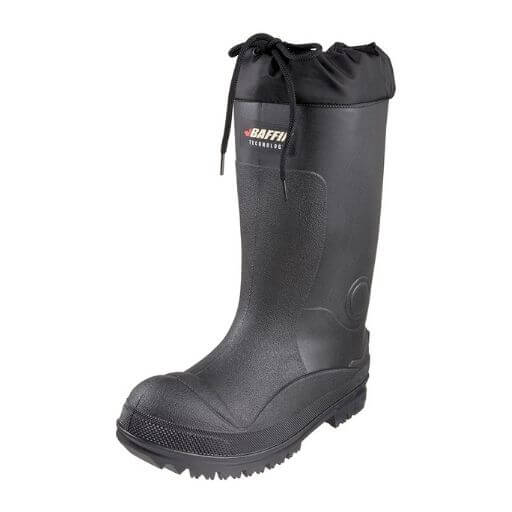 Baffin Men's Titan with Snow Collar
Muck Boot Arctic Pro Snow Boot
---
BEST OVERALL
US Army Genuine Military Issue Cold Weather Bunny Boots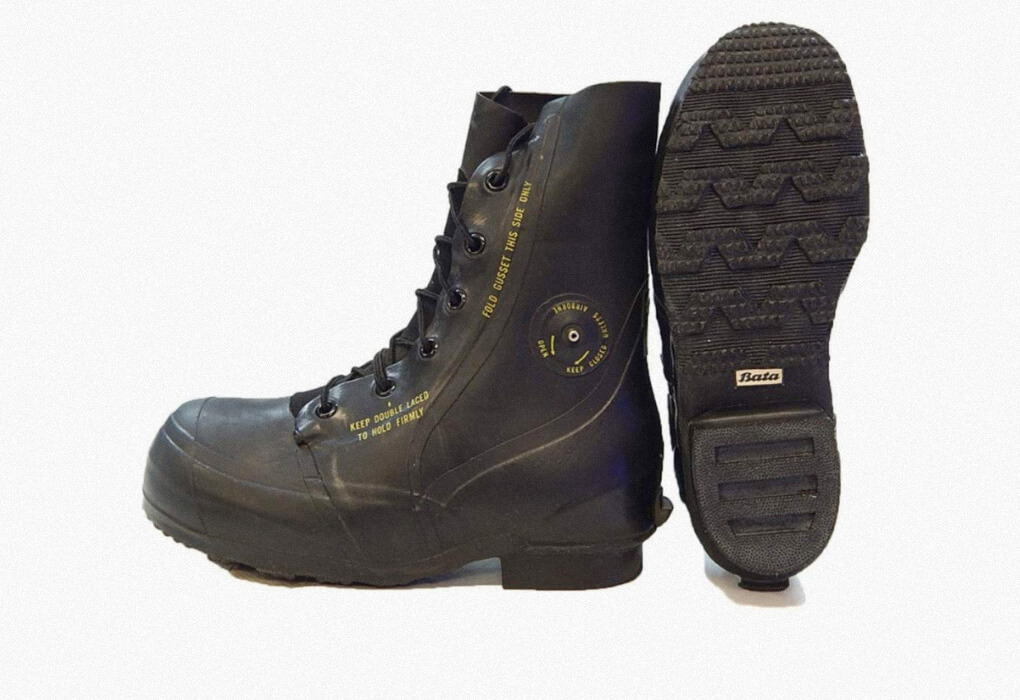 Specs
Temp Rating: (-40)
Material: Rubber
Waterproof: Yes
Why We Chose It
If you're looking to combine value and ruggedness these ice fishing boots are a great option. They're made of rubber so you get the waterproof feature in addition to warm layers of wool on the inside.
While the boots have a non-slip feature, there aren't any ice fishing cleats on the bottom of these boots.
They look like your traditional snow boots on the bottom but I have found that they offer ample traction on the ice even without cleats.
One stand-out feature that you won't find on a lot of boots is the side valve that allows you to inflate and deflate the boots to your liking.
This is a military-grade feature that I'm surprised you can even get at this price range.
This boot fits a bit loose compared to some of the other options so you can make up for that by inflating the interior to fit a bit more snug (thanks to the side valve).
The thing I like most and what has resulted in me choosing these boots as my top pick is the honest temperature rating.
They're rated to -40 Fahrenheit but consistent ranges between 14 and 68. This means that while the boots can be exposed to minus 40, that's the worst it can get without causing damage to the boots.
You can only remain in temperatures between 14 and 68 for extended periods of time and expect the boots to keep your feet warm.
Overall, when you look at a price of around $100 for ice fishing boots that will last years and years, you can't go wrong.
People are paying $200 plus for this type of quality like on the Muck Boot Arctic Pro (more on those below.) In short, give these a shot and you won't regret it.
BEST FOR EXTREME COLD
Baffin Men's Titan with Snow Collar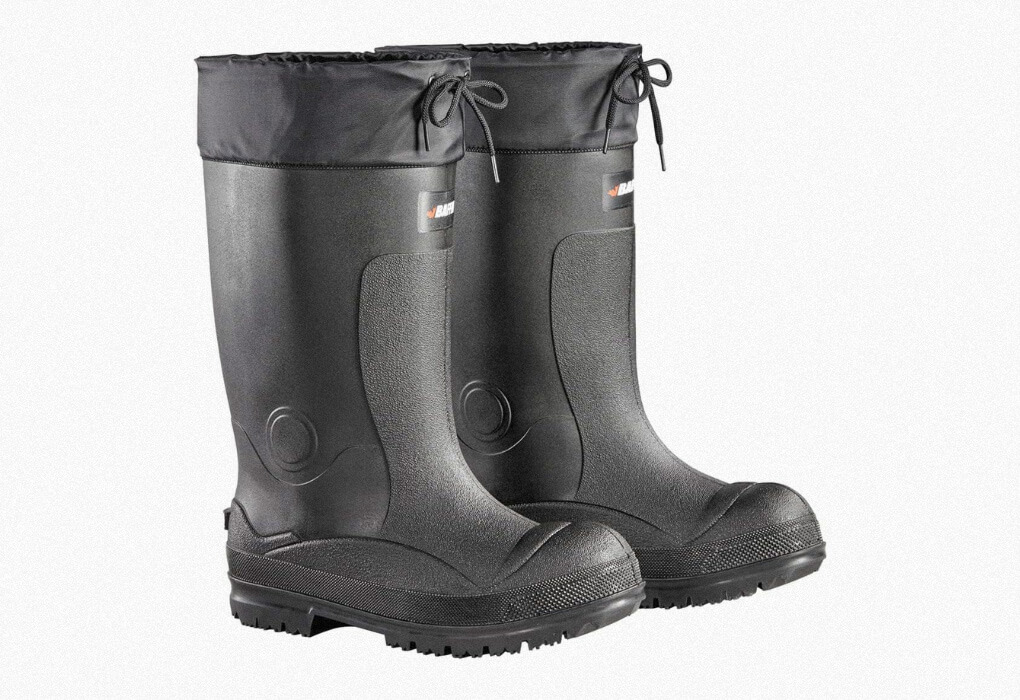 Specs
Temp Rating: (-148)
Material: Rubber
Waterproof: Yes
Why We Chose It
I'll start by addressing the elephant in the room. These boots are rated for -148 but that does not mean they can actually withstand that temperature.
It means that that temperature is the absolute coldest you can expose these boots to without causing damage.
The average ice angler will never see a temperature that cold so they're basically saying that these boots can handle anything.
In reality, you're more likely to face consistent temperatures around 30-40 degrees Fahrenheit with the snowpack and the wind gusts.
These cold weather boots will ensure that your feet stay warm no matter what cold you encounter.
Be warned, they're very tight to put on the first few times and the sizing is clunky so you'll want to go a few sizes larger if you don't like a snug fit.
If you don't mind taking a few trips to break them in then just get one size larger but expect your feet to be a little sore for a while.
To be fair, part of keeping your feet warm is locking in the heat and not allowing any space for moisture to build up that would cause you to sweat and these boots do just that.
An additional feature that I love about these boots is the fact that they're made using a solid rubber outsole without any seams so you're not creating weak points as you walk.
This means there is a lower chance of moisture getting in the boots as they wear down over time.
As much as I like this feature, it does make it more difficult getting them on and off but in the long run, it's worth the extra 2-3 seconds of hassle.
They're not too bulky to walk in and as you get used to them you'll find that the added insulation ensures that your feet are never cold.
If you're worried about some of the other boots not being warm enough because you have cold feet (literally, not figuratively), then these are the boots for you.
BEST WATERPROOFING
Muck Boot Arctic Pro Snow Boot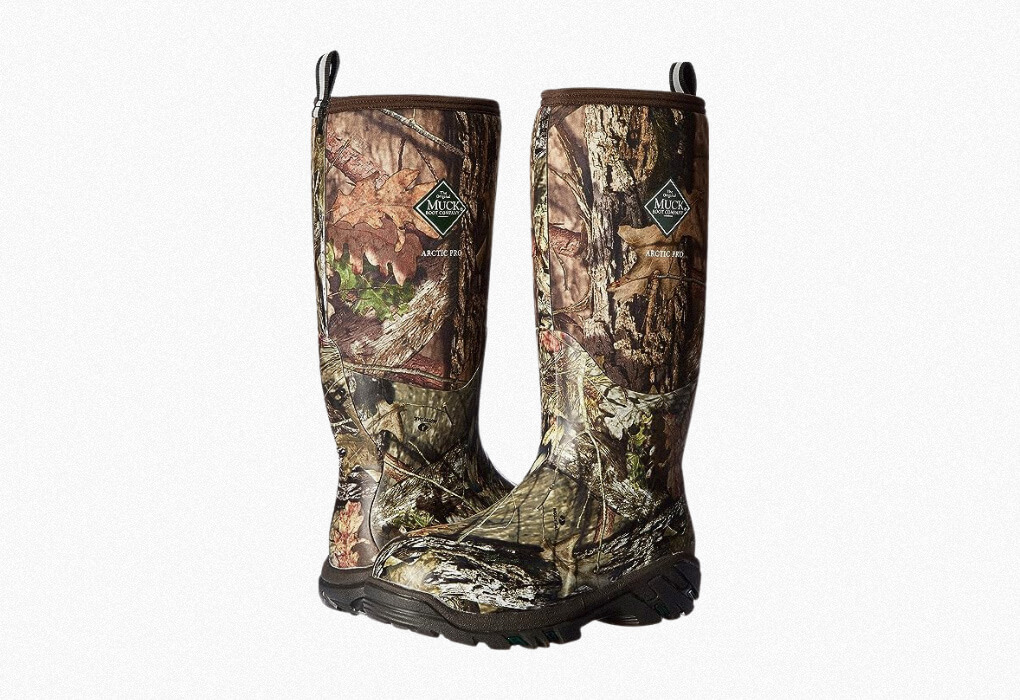 Specs
Temp Rating: (-60)
Material: Neoprene with rubber sole
Waterproof: Yes
Why We Chose It
When you're looking for the best ice fishing boots, there's one feature that will always be important. Waterproofing.
In reality, a lot of these extreme temperature ratings which companies love to brag about will never apply, but the one factor that will surely make your feet cold time and time again is moisture.
You need boots that will keep the snow out and not just the first ten times you wear them but the last ten times you wear them.
These hunting boots are made using 8mm neoprene with 2mm of high-quality EVA foam similar to Thinsulate on the footbed. I know, I know… Fancy terminology.
In short, this just means great heat retention and it helps ensure that your feet stay warm when you're standing on the ice.
As stated above, getting moisture in your boot is the number one way your feet will get cold, and one way to ensure this won't happen is by making sure your boot doesn't have any weak points.
The one-piece style of these boots will ensure that there are limited access points for cold and moisture to get in.
Side note: The Kamik Canuck is a boot you'll see a lot of websites recommending with the best waterproofing but I'm not a fan of the fabric molded into the rubber sole. This style increases the risk of your boot developing weak points.
The biggest problem I have with the Artic Pro is with the lack of velcro or drawstrings compared to the Arctic Sport which does have this.
This means you will potentially have open space on the side when you put your feet in which in turn means, potentially moisture coming in.
On the other hand, if your calves are large, the boots might be too snug. They advertise a "stretch-fit" but that can wear down over time.
All in all, these booties are made with high-grade rubber that is 100% waterproof 100% of the time. I only wish that I could use these boots all year long but they're too insulated and hot for anything else.
MOST COMFORTABLE ICE FISHING BOOTS
Sorel Men's Caribou Insulated Waterproof Boot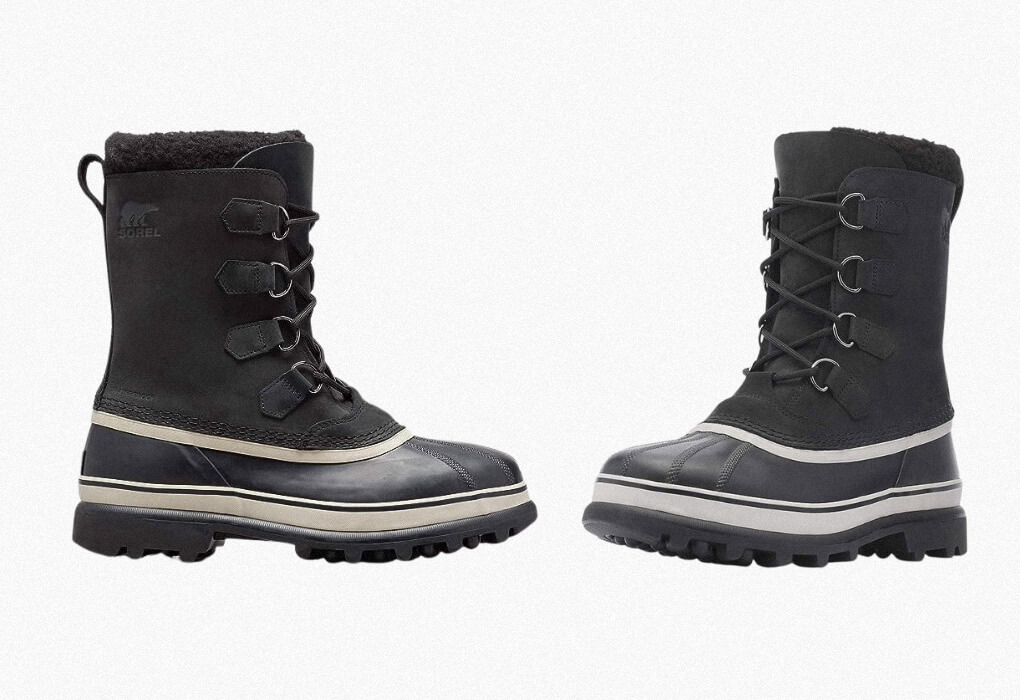 Specs
Temp Rating: n/a
Material: Nubuck leather/Rubber/Felt interior
Waterproof: Yes
Why We Chose It
Some boots are truly designed for cold weather and these nubuck boots are exactly that. They're one of a kind designed winter boots that are fully sealed with an oversized rubber sole to prevent any moisture from getting in.
The first thing that stands out to me is the classical design with the nubuck leather. This type of leather is well known for it's cold weather resistance but it's also a great option for durability and longevity.
I'm also a big fan of the vulcanized rubber shell and grippy bottom that will reduce slipping when you're walking on the ice or pulling your sled down a hill.
As for comfort, this is where I was sold on these boots.
They're one of the most comfortable ice fishing boots you'll put on, they're not too tight around your calves, and the laces are easy to tie and they maintain their grip around your legs to prevent snow and slush from getting inside.
All in all, these are a great option for both weekend warriors and daily drivers.
BEST WOMEN'S ICE FISHING BOOTS
Muck Boot Women's Arctic Ice Mid Snow Boot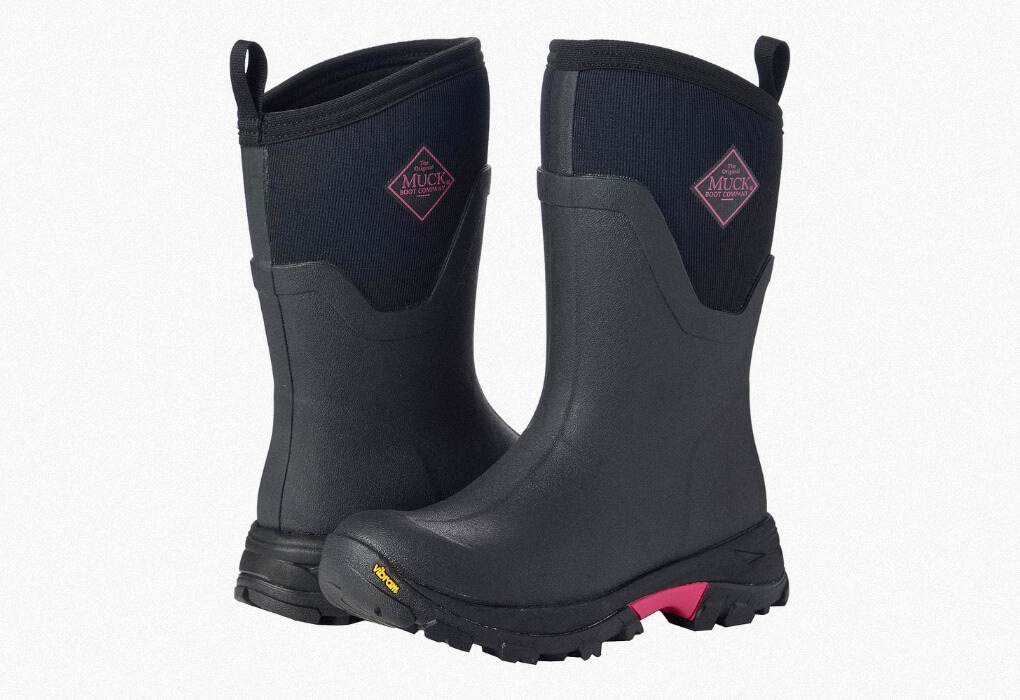 Specs
Temp Rating: (-40)
Material: Neoprene
Waterproof: Yes
Why We Chose It
Muck Boots are some of the best on the market and you'll find me recommending them nine out of ten times. If you're looking for the best women's ice fishing boots, these are the ones.
They have a soft inner fleece lining that is rated to minus 40 which means you'll be good in most freezing temperatures for extended periods of time.
One of the unique features of these boots is the outsole. It's called the "Vibram Arctic Grip" which is said to offer superior slip protection on wet ice with the highest level of traction.
This is great for when you're walking on ice covered by a snow drift. That thin layer of snow makes the ice super slippery so this will help prevent you from falling.
While I do like a lot of things about these waterproof boots, there is a significant design flaw that keeps popping up. Because the boots are shorter than most of the others on this list they dig into your shins when you walk.
The issue is so significant that it actually leaves a mark on your legs and becomes painful after a while.
Many anglers have tried wearing layers of thick socks to help but the problem seems almost unavoidable. This isn't the case with everyone and maybe only those with larger calves.
This is one of those situations where you have to pick your battles. These are some of the warmest ice fishing boots designed specifically for women but they have a major flaw.
Side note: Most of the boots listed in this roundup review are unisex. You'll just have to play around with the sizing to find what works for you.
BEST VALUE
ArcticShield Cold Weather Snow Boots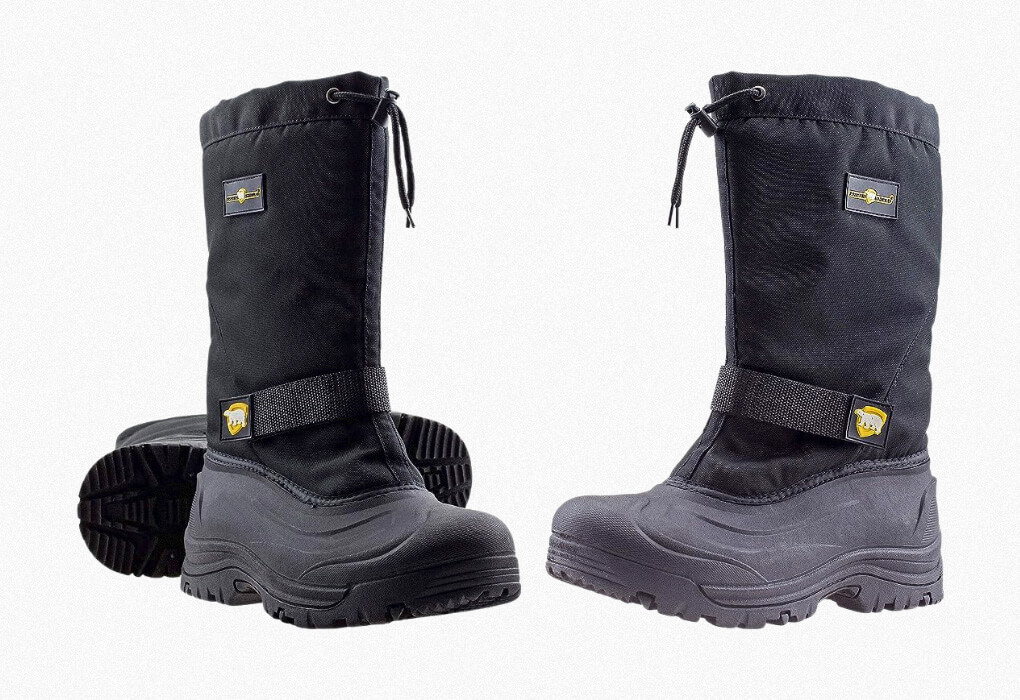 Specs
Temp Rating: (-40)
Material: Synthetic with a rubber sole
Waterproof: No
Why We Chose It
First, let's start with the price. These boots will run you about $50 which is what we LOVE. But if you take a look at them, they don't look too different from the typical snow boots that you'd wear to go outside and shovel snow.
That's because they're not. They're made with that same weather "resistant" material you always see and they feature a rubber sole that runs up a few inches from the bottom.
These boots are rated for minus 40 but as I've said, that doesn't mean they can handle temperatures like that for a prolonged period of time.
If you're out on the ice experiencing anything below 30 degrees, you may end up getting cold feet if you don't have thick socks on.
So, what do I like? I like how they are lightweight, easy to walk in, and easy on the wallet.
If you're in the market for boots that don't feel like they have cement in them, these are a great choice.
They're comfortable, easy to put on and take off, and (most importantly) they won't break the bank. I believe they'll do the trick for your occasional ice angler.
But those of you who are on a fishing trip every weekend for five or more hours might want to think twice about these budget-insulated fishing boots and go with something more durable like the Baffin Titan.
How I Tested
Each pair of boots was independently tested by myself in real life ice fishing scenarios.

In the event that I couldn't personally get the boots and test them out, others took my place and research helped me compile a comprehensive review.
Waterproofing/Durability: To replicate real ice fishing conditions, I wore each pair of boots during actual ice fishing trips.

This involved standing on frozen lakes and exposed to various levels of moisture, including snow and ice melt. The boots' ability to keep my feet dry under these circumstances was a pivotal factor in determining their effectiveness.
Height and Weight: The height of ice fishing boots is a key consideration for both comfort and protection.

I evaluated how each boot's height affected my mobility on the ice and whether it provided sufficient coverage to prevent snow or water from entering the boots.
Traction: To evaluate traction, I tested each boot on a range of icy surfaces, including frozen lakeshores and icy walkways.

I walked across these surfaces with controlled steps to assess the grip and stability provided by the outsoles. I considered the design of the treads and the quality of the materials used in the outsole construction.
How to Choose the Best Boots for Ice Fishing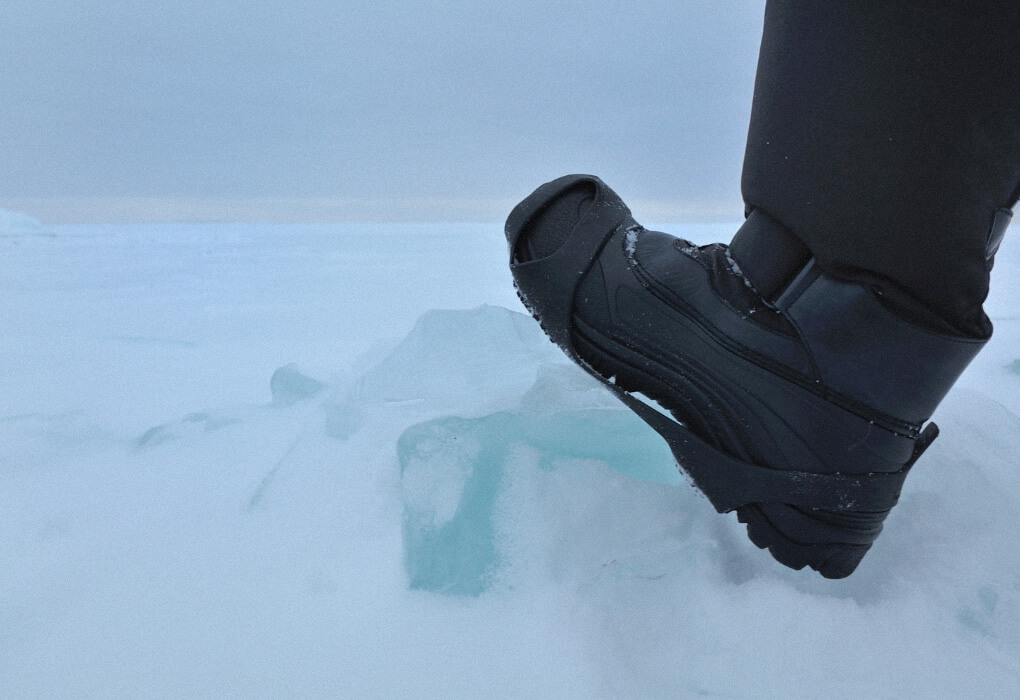 A lot of people will look at a pair of boots and think, "they're just boots, they've got to be good enough, right"? Well, one of the best ice fishing tips I can give you is to NOT think like that. Think like the ice angler you are.
An ice angler will look at a pair of boots and instantly think back to a scenario where they were concerned about whether or not they were going to be able to keep their toes when they got home.
There's a reason why the best ice fishing boots cost so much.
Extra material, design specifications, and testing all come into play to ensure that you're both comfortable and safe on the ice. Here are some of the factors to consider when choosing.
Warmth
Yeah, we know, warmth; but what goes into that? The materials of the boot, the layers of insulation on the inside, the waterproofing factors, the overall shell of the boot comes into play here.
There are a lot of factors that go into creating a warm ice fishing boot. In reality, if you stack one pair of boots up against another, it'll take a while for you to figure out the difference but when you do, it'll creep up on you really quick.
All we're looking for is a boot that can keep your feet warm for extended periods of freezing temperatures.
Even though most boots are rated for -40 and all that, it's often a marketing strategy to get you to pay attention. What's more important is longevity and not the rating.
Think about it this way. Would you rather have a boot that keeps you warm at 20 degrees Fahrenheit for 8 hours or -10 for 1 hour?
Waterproofing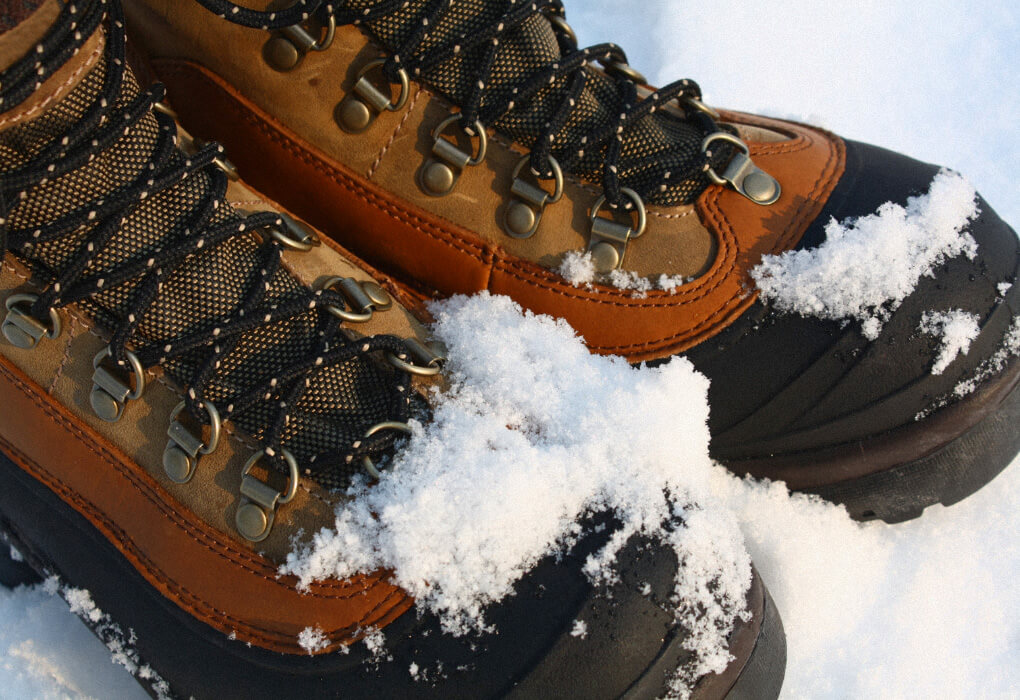 All of these factors overlap at some point and waterproofing is the most important thing for me. It doesn't matter how warm the boots are if they're not keeping the snow and slush out.
You need boots that are snug around your calves so you can walk through deep snow and they need to be solid all-around so no weak points allow any moisture to get inside.
Remember that just a little bit of snow getting in could be enough to cause frostbite if your toes get wet. So, how do you tell if the boots are waterproof?
First, you read the description of course but I like to dive a bit deeper. Just how waterproof are they? The first thing I look for is a single-piece shell.
I love when the rubber boots are made using one piece of 100% rubber, that says a lot for more. It limits any weak spots due to seams that may wear down over time and allow water in.
Another factor you look for is the fit at the top. Many boots use an elastic band or drawstrings to tighten around your calves.
Any ice angler knows that a little wind will blow snow into any opening around your legs so this needs to be snug.
Lastly, the best ice fishing boots will have moisture-wicking properties so they not only keep cold air out but they help dry sweaty feet as part of the inner boot system.
When the insole stays dry it helps keep your feet warmer as a whole regardless of the weather conditions.
Height and Fit
Most of the boots you'll find in this review are longer than 10-inches from heel to collar and I wouldn't really recommend anything shorter unless you're shorter than five feet in height.
You need to make sure you're prepared to walk through high snow because the walk to the ice could bring upon an array of challenges.
Features like bungees, cinch buckles, or gaiters always help keep moisture out. If you're lucky enough to drive right out on the ice of an open lake without a lot of structure changes, you might not encounter any deep snow.
The rest of us will have to contend with walking through the snow and likely cleaning a lot of snow off the ice before drilling.
The fit of the boots is another factor. Don't expect the ice to feel like your recliner at home but you don't want to be uncomfortable either.
The only way to guarantee the boots will fit perfectly is to try them on and most of us don't have that luxury. When you're shopping for boots for ice fishing online, you need to trust the reviews of others.
I've found that many ice fishing boots run smaller than you would expect so you'll want to go up a size. I think the reason is that they don't compensate for layers of heavy socks.
Even with the best ice fishing boots, you'll still want to wear at least one pair of thick socks. That will make the boots feel snugger and ultimately result in you purchasing a larger size.
Traction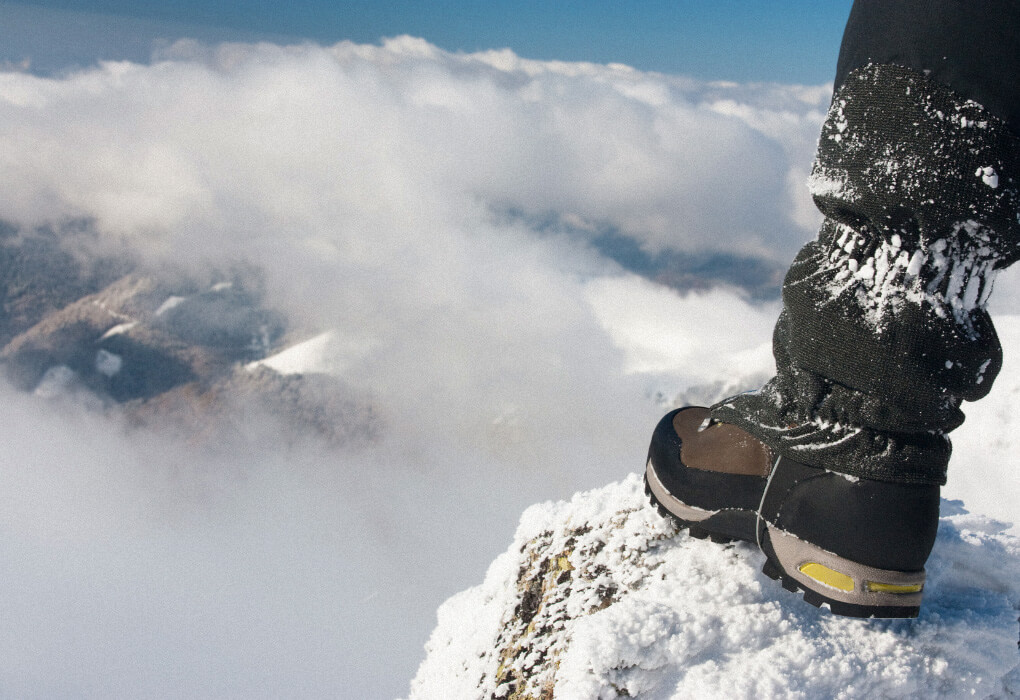 You need good traction in the snow or you'll regret it. The ice becomes very slippery especially when it has just enough snow to cover it after you've cleaned it off.
While no boot will completely prevent you from slipping, you want the best ice fishing boots with enough grip so you can drag your foot across the ice and now glide like a ski.
You'll find that most ice fishing boots come with a lug pattern on the bottom with a variety of sticking points and a sharp exterior that is designed to dig into the snow and provide ample traction on most surfaces.
If you're really concerned about slipping you can get the best ice fishing boots with cleats but I was surprised to find that very few boots actually come with metal cleats anymore.
The extra traction can also help you get out of a dicey situation if you begin to fall through the ice.
What You'll Also Need
While a high-quality pair of ice fishing boots will get the job done 99% of the time, there's that nagging 1% that we have to think about.
Here are a few other pieces of ice fishing gear I wish I grabbed when I first started out to help keep you warm, dry, and safe.
Thermal Socks
While a pair of ice fishing boots are a great thing to have, they're not the "end all be all." A great pair of Carhartt Extreme Weather socks can go a long way.
They'll help compensate for a lower quality boot and keep your feet warm (this doesn't mean I recommend going cheap on the boots.)
Ice Cleats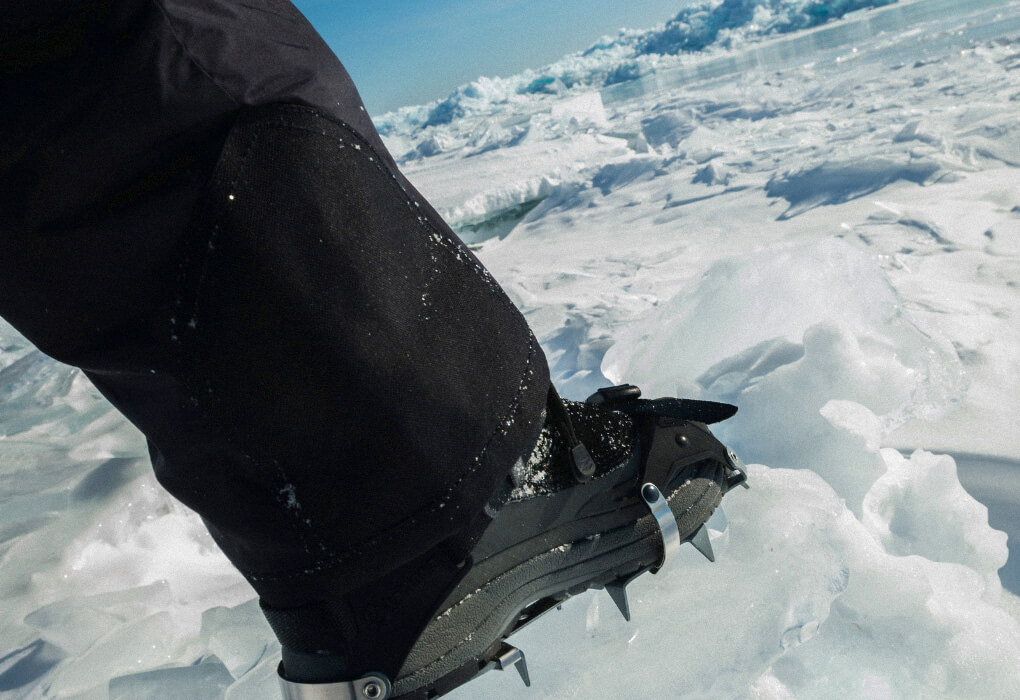 All the boots recommended in this guide come with traction control features to keep you from slipping on the ice, but sometimes that's not enough.
The only way to absolutely ensure you don't fall is with slip-on ice cleats.
Ice Fishing Bib
You need an ice fishing bib to make sure you're not cold but they serve another important purpose as well.
They add an extra layer of protection to prevent snow from sneaking down into your boots from the top.
Frequently Asked Questions
Do you really need special boots for ice fishing? 
It depends on your meaning of the word "need." Do I need them? You bet I do because I'd rather pay the money than sit out there and be uncomfortable.
Believe me, when I was a bit younger I cut corners with my fishing and refused to spend money on the things people kept telling me to buy.
My fishing suffered and my enjoyment of the sport suffered. If you want to get out there, catch something, and have a good time, get the right gear for the job.
You don't have to spend a ton but you definitely need ice fishing boots. 
Do you need ice cleats for the boots?
No, you don't need ice cleats but they'll help. I personally don't use them but I have friends that do.
If you're concerned about falling or you have limited mobility you may want to add that extra layer of protection for peace of mind.  
Are there any ways to keep my feet warm with cheap boots? 
You'll need to have an ice fishing shelter with a high-quality ice fishing heater if you're not going to purchase the right boots.
Using cheap boots will almost guarantee that your feet get wet at some point, it's impossible to avoid.
As a result, you'll need to play a reactive rather than proactive game. When your feet get cold (because they will) you'll need to warm them up. 
How can I prevent snow from getting into the boots from the top? 
The best way to prevent snow from getting into your boots is with an ice fishing bib.
It's essentially an overloaded pair of waders designed for cold weather and they usually tie around the legs.
If you add that to the elastic containment of the ice fishing boots, you should have enough protection to ensure that no snow or water gets inside. 
Final Thoughts
Finding the best boots for ice fishing comes down to one thing, research.
You can only trust the experiences of other anglers and I'll tell you one thing; I've probably spent more time on the ice with cold toes than warm toes.
So, it takes some time to get it right.
A little trial and error by me makes an easier purchasing decision for you. Go with any of the picks in this guide and you shouldn't have to worry.
Good luck out there!