---
We independently research, test, and recommend the best products; you can learn more about our review process here.
This buyer's guide is for all the big strong men out there who want to lug all their gear onto the ice by hand. Stop it!
There's no need because the best ice fishing sleds are affordable, durable, and big enough to house all your gear. The Shappell Jet Sled is a perfect example of this.
This sled is my best overall pick because it checks all of those boxes.
Whether you plan on pulling the sled with your ATV or by hand, there are plenty of options available for you. My goal is to help you make a decision on the best sled for your needs, fishing style, and budget.
Our Top 3 Ice Fishing Sleds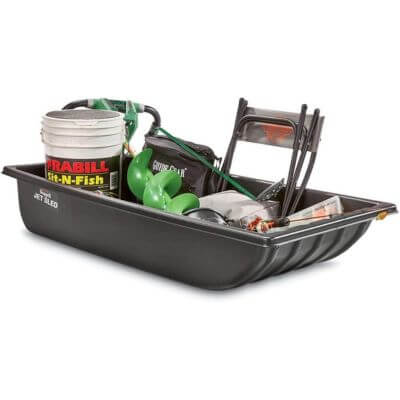 Shappell Jet Ice Fishing Sled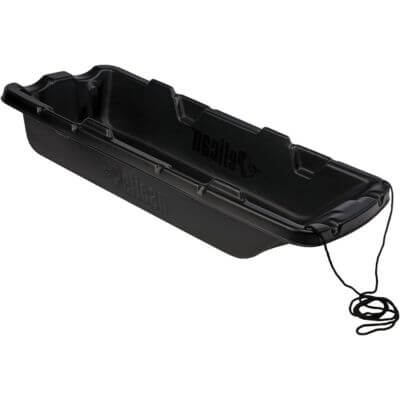 Pelican Trek Utility Sled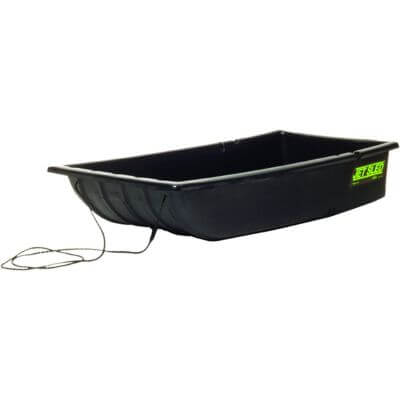 Shappell Jet Sled Jr
---
How to Choose the Best Ice Fishing Sled for You
In many cases, a sled is a sled. They all do the same thing and look the same with subtle differences from one to the other. That said, when it comes to ice fishing, not every ice sled is the same.
You want to make sure you're getting something that is going to hold all your gear, slide well, and not fall apart after a few trips on the ice.
My goal is to help you make an informed decision on the best ice fishing sleds for you as there are a couple of important factors to consider.
Capacity/Size
The most obvious and first consideration you'll all make is on the size or capacity of your ice fishing sled. How much gear is it going to hold?
How far can you stretch it without damaging the sled? How well will the gear stay inside the sled as you pull it onto the ice?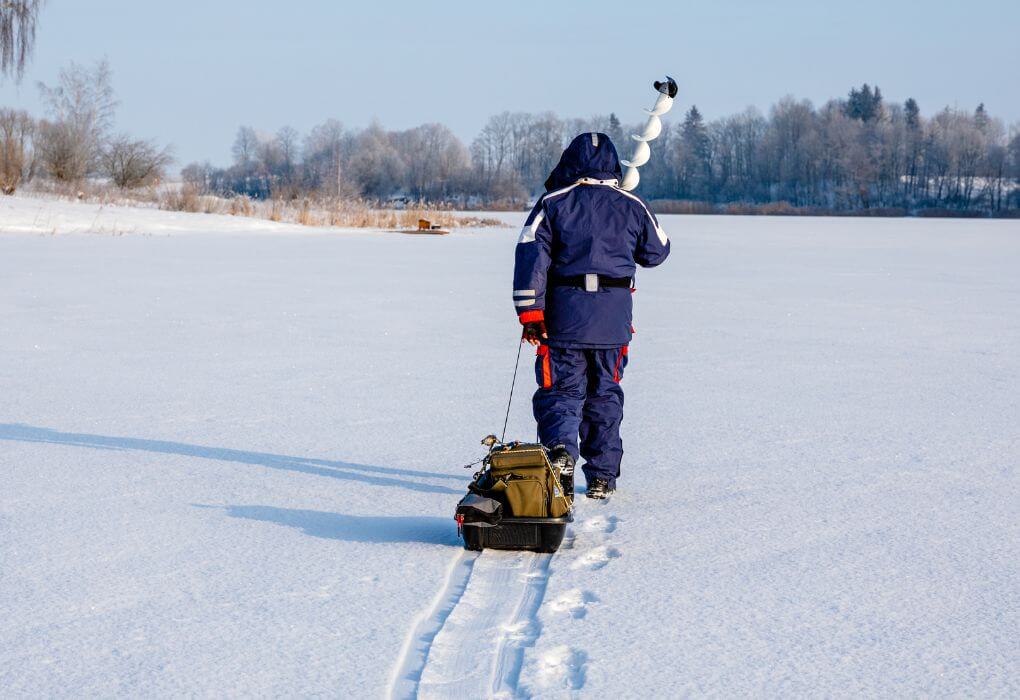 These are all questions we have.
When choosing the appropriate size, we first need to consider what gear we're bringing.
Are you packing an ice shelter?
Do you have ice fishing fish finders?
How many ice fishing rods are you bringing? What about reels?
How many people do you have with you?
How many beers can you fit inside the small cooler before you need to bring the bigger one?
Ask yourself these questions when considering the size of your sled.
As you sort through the various ice fishing sleds, you'll want to find one that has a decent capacity but also size because you don't want longer items like an ice fishing auger or a blower to stick out and potentially fall out onto the ice.
The less hassle you have to go through getting everything out there, the better off you'll be.
Another factor is that you don't want to risk damaging anything or hurting yourself.
If a heavy wind comes through and blows a bunch of stuff out of the sled, now you may have to run around on the ice chasing after the gear.
You could end up falling, stepping in a hole, or running into something if there's a whiteout.
Long story short, take a look at all the gear you plan to bring on the ice. Get some measurements and use those to help you decide if you have a big enough sled.
Best Overall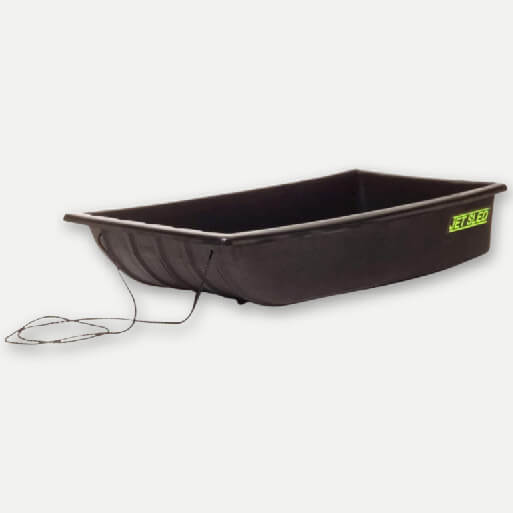 The Shappell Jet Ice Fishing Sled is really the best option for those of you who need a lot of capacity. It may not be the "biggest" sled out there but the high sidewalls, heavy-duty material, and overall quality really make it the best option.
I also highly recommend getting a cover for it. For an extra twenty-some bucks you can make sure nothing falls out and prevent snow from building up inside.
Weight
The portability of your sled will really boil down to how much stuff you put into it. Obviously, if you're lugging around shelters and augers it's going to get pretty heavy.
If you're pulling the sled by hand, you'll want to make sure you're only putting into it what you can willingly pull a decent distance.
In the past I've found myself in situations where I overloaded the sled, pulled it five feet in my garage and said "yep, that should be fine."
Doing that is a lot different than pulling a full sled through two feet of snow for a half mile out onto the ice with the wind blowing against you in snow gear.
One way to help ensure the portability of your sled is good is by looking at the runners on it.
Some sleds like saucers don't come with molded runners so they'll be a lot harder to pull through soft snow because they'll dig in rather than glide across.
Highest Capacity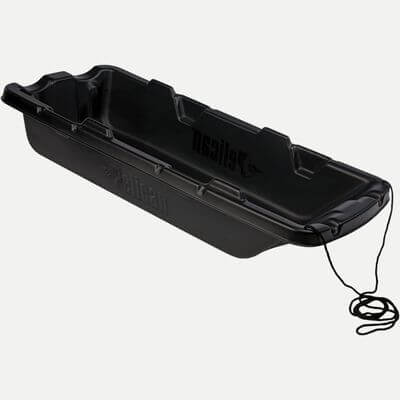 The Pelican Trek 45 offers the highest capacity of any of the ice fishing sleds we looked at. It's made using heavy-duty RAM-X material offering a total capacity up to 500 pound or 71 liters of volume. The sled features built-in attachment points to make pulling this heavy sled with an off-road vehicle that much easier.
You won't have to worry as much about sinkage this way. The sled only weighs about five pounds, it comes with built in ropes, and it has molded in tracking rails to help you maneuver deep snow.
It's also a good multi-purpose sled because you can use it as a utility sled around the house.
Durability
Where you want to focus is on the sides and bottom of the sled. The bottom should be reinforced to accommodate bumping any stones you might not be able to see.
Another big focal point of the sled is the front where you're pulling from. All ice sleds will have a contoured hull in the front to allow the sled to glide and for the snow to fall underneath the sled.
When you're working with plastic ice fishing sleds you want to make sure you have one that is durable and long lasting.
The best ice fishing sled should really be a nearly one-time purchase.
Many sleds are made with tough polyethylene construction so they're designed to handle the bumps and bruises you might experience as you move through the ice, slush, and snow.
Where the ropes are tied for you to pull is the weakest point on the sled and they should be reinforced in some way. If they're not, you simply want to make sure they're sturdy enough.
The most durable style is the ice fishing tub style with the high sides like the Shappell I recommended. These were originally designed for hauling wood so they're deep and the shape on the front makes it easy to pull.
Maybe a sled isn't your only option?
Best Tow Bar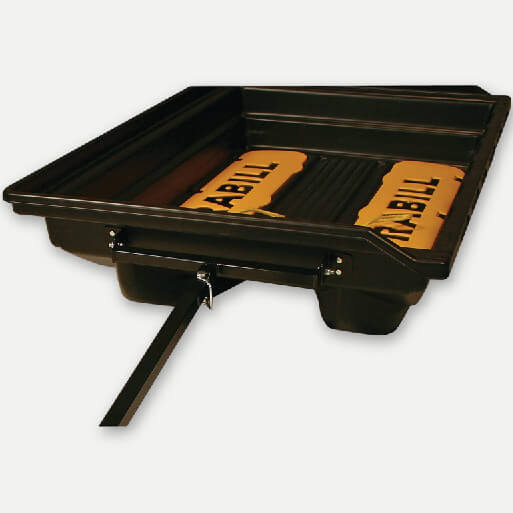 The Frabill Shelter Tow Bar is another option. This is actually designed to pull ice fishing shelters onto the ice. You're supposed to hook the tow rope to something like an ATV or snowmobile but you could pull it on it's own with another sled.
If you're using this, I'd recommend getting a cheap sled and pulling this behind with all your heaviest ice fishing gear on it. It has super deep rails so it'll pull through any amount of snow.
How You're Pulling It
We don't all have the luxury of owning an ATV or living in a place where the ice is consistently thick enough to drive on.
Where I live in Pennsylvania, the ice has been extremely temperamental for the past 4-5 years which has honestly made ice fishing pretty difficult.
Either way, I've had to resort to pulling a sled by hand which can be a challenge especially if you have a long distance to go.
Keep in mind that a cheap sled will become a hazard even if you have an ATV, snowmobile, or whatever.
When you're pulling by hand you're less likely to damage a cheap sled because your body is going to force you to stop before you do something that will crack it or put a hole in it.
When you're rolling through the snow like a maniac and you hit that sharp rock you weren't paying attention to, you won't have a ton of time to stop before you crack your sled in half.
All in all, you need to invest in the best sled to pull behind a snowmobile because these will be the most durable and long lasting options.
Most Durable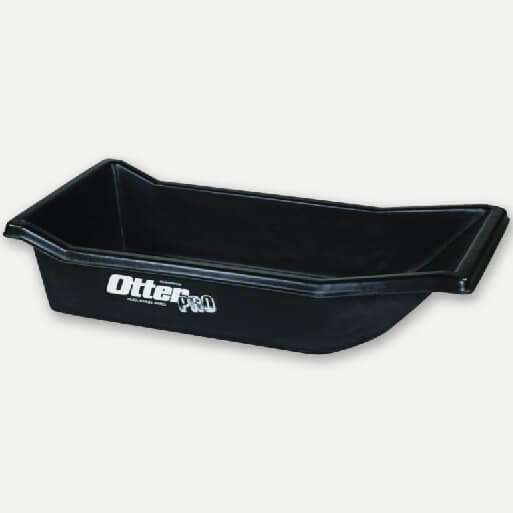 The Otter Pro Sled is a great option because of its durability and perfect design for pulling. It has a raised rear shell to prevent things from falling out the back over the bumps.
It's a 100% roto-molded rugged polyethylene sled too so you'd really have to bang it around to put a crack in it.
Design
You might not think a feature like color would matter much when it comes to fishing but it could. Color could serve as a safety feature in a sad scenario where you find yourself stuck or in danger of falling through the ice.
A bright sled will allow people from a distance to see you better and identify your position quicker.
Color can also help you locate your own sled or hole if you have to leave the ice for any reason. In the event of a white out, a brightly colored sled will make it a lot easier to find your fishing spot.
They don't come with an alarm like when you lose your car in the parking lot.
Another design factor to look for is high sides on your ice sled. The higher sides will ensure that everything stays inside the sled and it also makes it easier to pull through deep snow.
Accessories
I've seen some crazy stuff on the ice. I might have been about 12 at the time and this guy was pulling a sled with his quad and it was a triple decker sled that he had built himself.
He used metal runners like the old-school toboggans and built three layers of shelving for all of this gear.
He actually had a semi-permanent structure built onto the lake and used that sled to bring all of his belongings to the ice house so he only had to make two trips per year. One to the house and one back.
We all don't have to get that crazy and I don't expect many of us will. But, as you get more experienced you may want to accessorize and customize your small ice fishing sled.
One popular modification that people look to pretty quickly is a built in seat. They do sell ice fishing sleds with seats like the CLAM Legend XL.
Best Multi-Purpose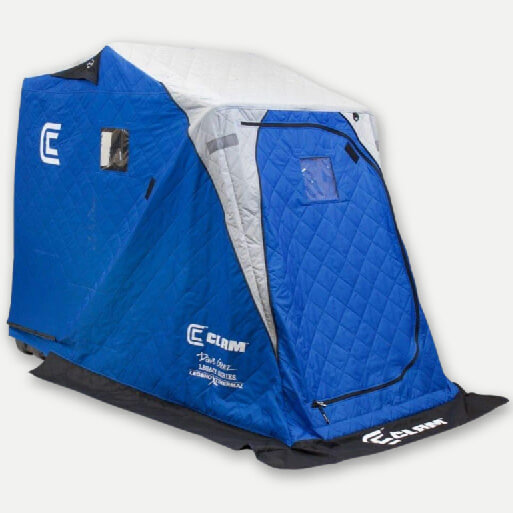 This is a sled, chair, and pop-up shelter all-in-one. If you've got a big budget and you fish alone much of the time, this could be a great option for you.
Rod holders are a common addition too. Ice fishing rods are smaller than your standard spinning or casting rod so they don't take up a lot of space but that also means that they can fall out and get banged around a lot.
You'll want to modify the sled so you can secure smaller items like rods and reels.
Budget
Let's get one thing straight, ice fishing is not cheap. There's a lot more gear to purchase even beyond the gloves, hats, bibs, and boots.
Generally most people would prefer to use a dedicated ice fishing rod because they're a lot easier to work with due to their size.
We're talking here about purchasing a sled, some of you might buy a shelter, and then you have to consider buying an ice fishing fish finder as well. When you start adding it up, the budget can get out of control pretty quickly.
Thankfully, even one of the best ice fishing sleds shouldn't break the bank and you could likely sacrifice in another area because a sled is an absolute must.
Best Budget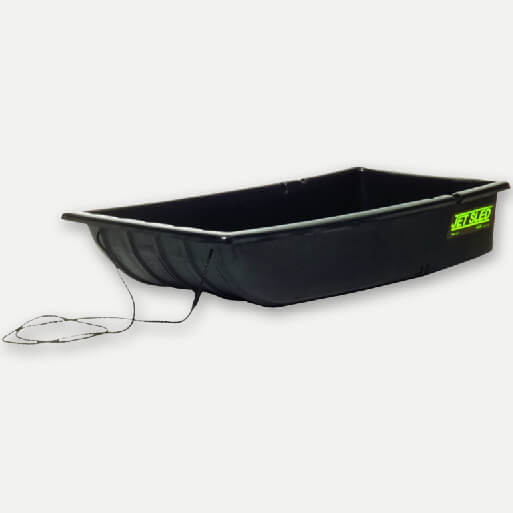 If you're willing to sacrifice a bit of space you could get the mini version of the Shappell Jet Sled. The full size option is a little over $50 and this one is closer to $30 but I'd still suggest going with the bigger one if you can.
Fishing Frequency
One factor I like to always consider when I talk to other ice fishermen is how often you fish.
If you only go out a couple of times per year, you don't need to spend a ton of money on anything because you're not worried about getting out there every weekend.
For many of us, there's a short window where fishing the hard water is a possibility. It seems like that window keeps getting shorter and shorter too so you want to take advantage of it as much as possible.
Your Location
This point goes hand in hand with the previous one but think about where you live, what type of snowfall you get, and factor that into whether or not you get a cheap ice fishing sled.
In some areas of the country like the Dakotas and Minnesota where the temperature can maintain single digits for many hours a day, the ice gets nice and thick so a lot of anglers can drive their vehicle right onto the ice and keep it near their holes.
This can eliminate the need for a sled all together. You can also use your tow hitch with a large sled and pull your ice fishing equipment right onto the hard water.
For me living in northeast Pennsylvania, that doesn't seem to happen as often as it did when I was a kid. If you have a snowmobile or an ATV you're good to go but it's been a while since I've driven on the ice.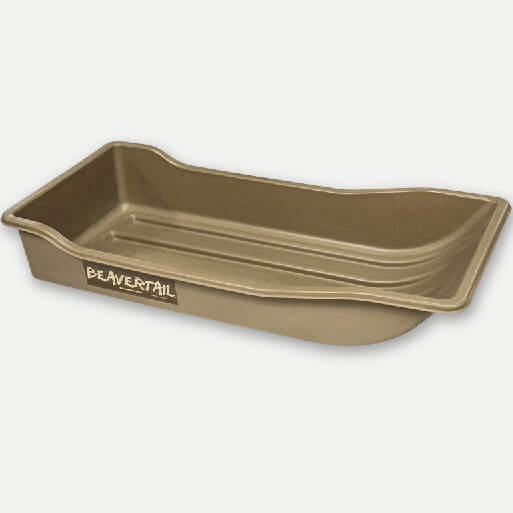 Factor in the average amount of snow you get as well. Snow is your ultimate enemy because it makes pulling the sled a lot harder. If you get a lot of snow you need a nice bucket sled with a wide base like the Beavertail Sport Sled.
How We Tested
There are three main factors to consider with an ice fishing sled. If you get these three right, you won't have to worry about much else because you'll be too busy out on the ice!
Here are the factors I considered when testing these sleds and choosing the best ones.
Capacity: To evaluate capacity, we conducted controlled load tests, gradually adding weights to each sled until reaching its specified limit. We also tested for even weight distribution to ensure stable hauling.
Weight: Our weight assessment involved measuring the sled's unloaded weight for portability. We gauged its impact on maneuverability over various ice conditions, considering ease of pulling and transportation.
Sled Type: Testing sled types included traditional toboggan-style and newer hybrid models. We assessed their performance on both packed snow and icy surfaces, evaluating factors like drag, stability, and adaptability to changing terrains.
Types of Ice Fishing Sleds
Not all ice fishing sleds are created equal and while I only recommend one type, it helps to understand the options available.
Toboggan
The good ol' fashioned ice fishing toboggans are the way to go 99% of the time. This is the traditional style sled with a long rectangular body and they're made from a variety of materials.
You may remember from your childhood; flying down the hills on a wooden toboggan with metal rails and a steering mechanism.
These designs really set the stage for the sleds of today. They're also the reason why we have the curved front design on most sleds to allow the snow to slide under rather than build up in the front.
Tube
If you have a snow tube you could possibly use that as your sled but you might have to get a little creative.
This might be a great way to pull people around so if you're bringing your kids, consider a tube if you don't mind them asking you to pull them around the ice the whole time.
In terms of functionality, I don't know how a tube would work because you'd need to have something in the middle of the donut to prevent everything from falling out.
Crazier things have been done and some people do use these because they glide really well across the snow due to their lightweight.
Saucer
The saucer was the ultimate sled as a kid because they're usually coated with a waxy material to make them shiny and slippery. These things would fly downhills and they didn't stop very easily once you got them going.
A saucer-like the Frost Rush Arctic Saucer could work as an ice sled because it has a low point in the middle and built-in handles out but ultimately, it still can't compare to the toboggan.
How to Properly Gear up Your Sled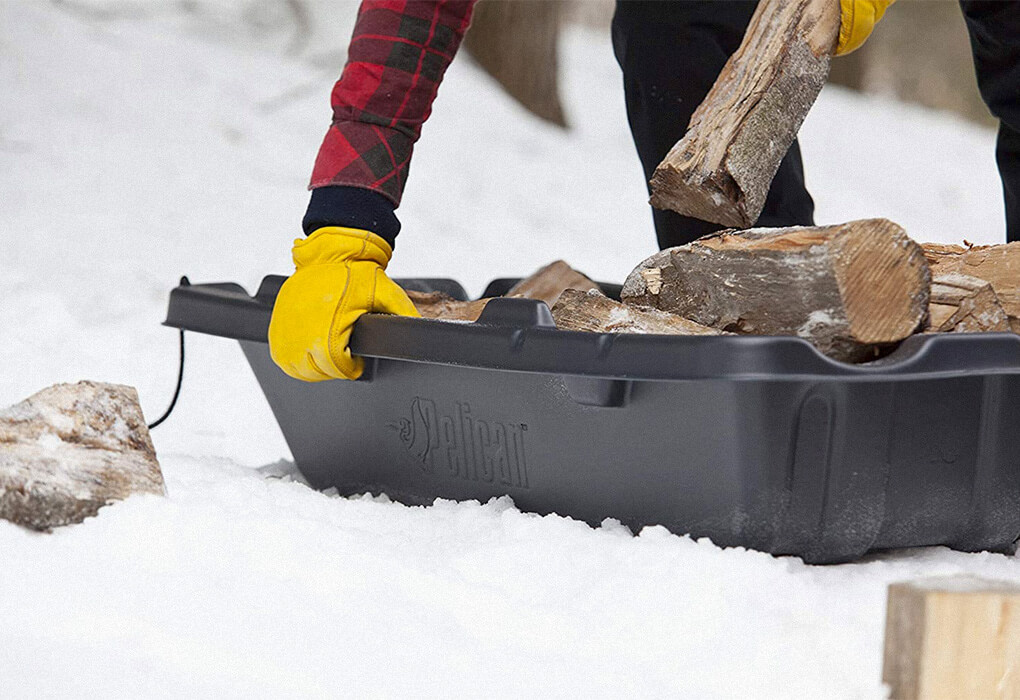 Your sled can be a huge help for carrying your gear onto the ice so allow me to give you some ice fishing tips to make the process even easier.
1. Place your heaviest items at the bottom – While you want to try and stack what you'll use first last, you still want to try and keep the heaviest stuff towards the bottom.
It will help with distributing the weight and you won't have to worry about crushing more fragile items.
2. Pack small items in containers – You don't want small stuff like tackle, line, and bait rolling around. Everything should be well secured, strapped down, or inside of a larger container so it doesn't fall out.
Use bungee cords to your advantage.
3. Utilize all open space – You don't want to leave any room in the sled because items could slide around. If you don't have a cover, things will fall out especially if you're pulling the sled behind an ATV.
Frequently Asked Questions
Here are some of the most frequently asked questions about ice fishing sleds.
Do ice fishing sleds float? 
Many sleds are actually designed to float in case the ice breaks. That said, it'll need to be loaded properly otherwise it could flip over.
I do not recommend using the sled as a floating vessel unless you absolutely have to.
In that case, I would try and unload as much of the gear as possible if I really felt it was a life-threatening situation. 
How to make the sled easier to pull? 
A sled runner kit is the quickest and easiest way to do this. You can install them to the bottom of your sled and it'll help the sled glide better across the snow and ice.
You can also add a set of skis like you see above to really make it easier. 
How can I make my sled faster? 
First, you want a sled that is made with polyethylene. This material is a hard-coated plastic that is designed to slide across the snow.
It doesn't create a lot of friction so it should pull easily without giving much resistance. 
If you find that you're still struggling, it could be because the load is too heavy. 
Final Thoughts
The Shappell sled is my favorite for a few reasons. It has a solid capacity that should do the job for most of you, it's built with durable material and can take a lot of abuse, and it's affordable.
I also like the fact that there are customization options and it looks like adding an ice fishing chair to it wouldn't be too much of a challenge. It sure beats sitting on a gallon bucket in the cold weather.
If you're looking for something just as good, the Otter Sport Sled Pro is a close second. I love the raised back portion to prevent things from sliding out the back and the material is just as good so you know it's durable.
These are the two best ice fishing sleds out there so grab one for your next fishing trip and get out there before the ice melts!