---
We independently research, test, and recommend the best products; you can learn more about our review process here.
When I was a kid, I hated ice fishing. I hated the cold and wasn't a fan of fishing through a hole either.
As I got older, I learned to respect the sport a little more but having the best ice fishing bibs is really what made a difference for me.
My dad believed in "roughing it" and I can't say I share that sentiment. I was freezing and I was tired of it.
If you find it hard to stay comfortable and warm on the ice, you might have the wrong ice fishing suit.
We're taking a look at the best bibs for ice fishing and by the end, you should have the answer to your problems.
Our Top 3 Ice Fishing Bibs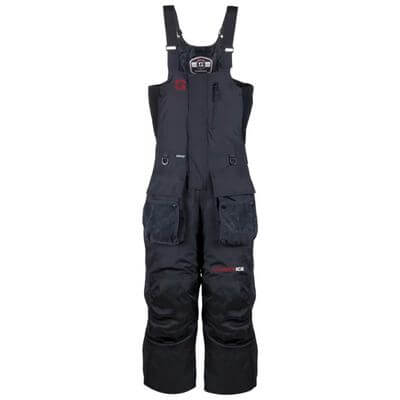 Striker Ice Climate Bibs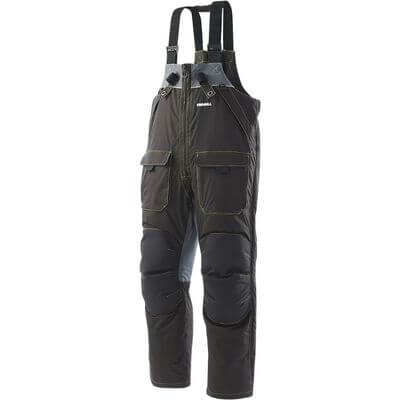 Frabill I-3 Winter Bib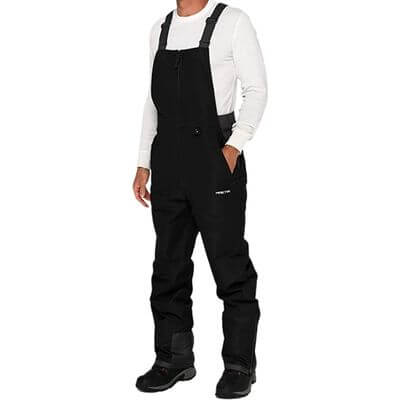 Arctix Men's Essential Insulated Bibs
---
BEST OVERALL
Striker Ice Climate Bibs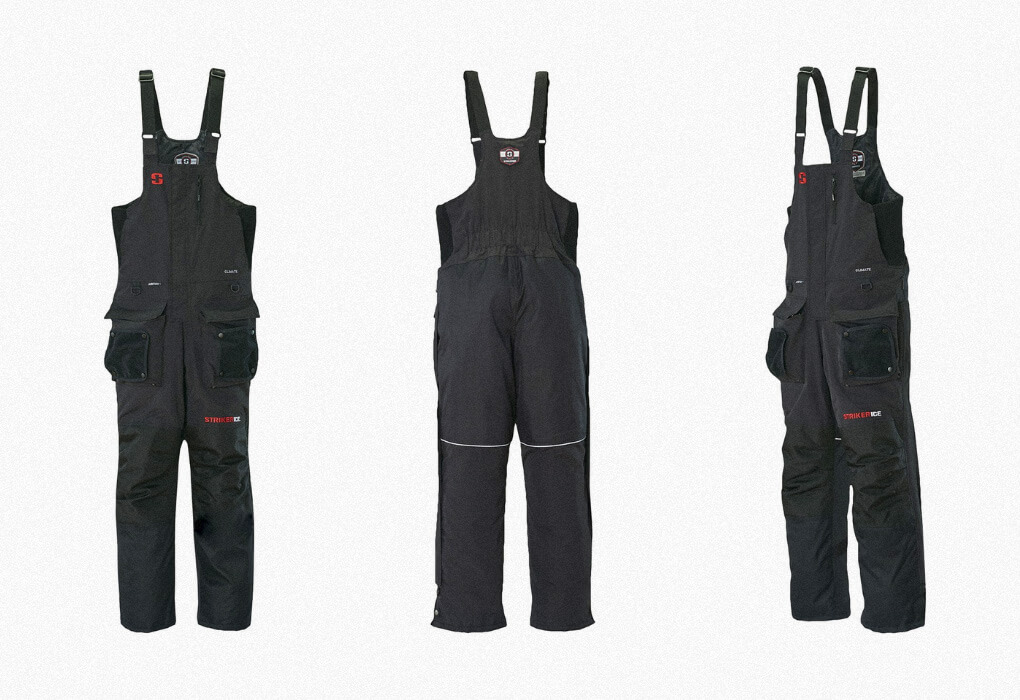 Specs
Material: 320 denier nylon shell with 150g Thermadex inner layer
Floatation: Equipped with floatation
Durability: Reinforced material in high stress points like knees and buttocks
Why We Chose It
When you're out on the ice, the last thing you want to worry about is how cold you'll be. This is a problem that a lot of new ice anglers have when they're learning how to ice fish.
They don't prepare with the right equipment and they say that they hate ice fishing because it's always cold. If you're cold, you're doing something wrong.
Chances are, if you're cold, you don't have these ice bibs.
The Striker bibs use 320D material with fleece lined pockets and a soft touch breast pocket for delicate valuables.
The bibs come with adjustable legs and knees to help ensure you have maximum mobility as well as a comfortable fit when you're on the ice.
To add to the insulation you also get a Hydrapore polyurethane 150g Thermadex coating underneath the outside shell.
This is removable because it is incredibly warm and will have you sweating in no time in temperatures above freezing.
The zippers on this one are magnetically sealed as well so you don't have to worry about them sliding open during intense weather.
Overall, I could sit here and carry on all day about how great these bibs are. That's why I awarded them the best ice fishing bibs on the market right now.
They have everything you need but keep in mind that they're priced according to how much they offer.
Scheels (See Price)
Amazon (See Price)
RUNNER UP
Frabill I-3 High Performance Winter Bib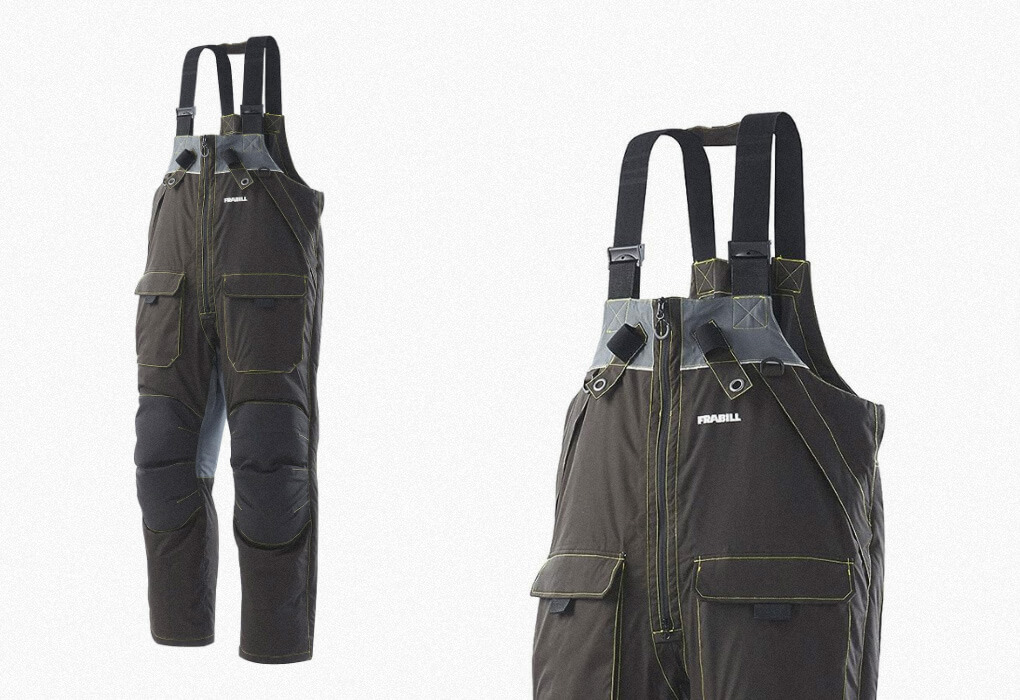 Specs
Material: 500 denier nylon with 150g Thinsulate insulation double layers at the knees, elbows, and other stress points
Floatation: Does not come with a floatation feature
Durability: Double insulated layers at knees and other stress points.
Why We Chose It
Frabill is a well-known company in the ice fishing realm and these are some of the best bibs to ever hit the market.
With 300 denier nylon and 500 at the stress points, these are some of the warmest and most durable bibs out there.
It comes with 150g 3M Thinsulate material for insulation and protection against the wind and your cargo pockets even have hand warmers in them.
Even though the bibs don't come with a floatation feature there are other safety features. Holsters for your ice pick, internal drainage, and reflective material are all included to help with self-rescue if you fall in.
For me personally, my favorite feature is the fact that you can unzip these at the side to take them off and put them on over your boots.
There's nothing worse than wet socks on the ice and keeping your boots on no matter what will help ensure you stay warm and dry.
BEST ICE FISHING BIB FOR THE MONEY
Arctix Men's Essential Insulated Bibs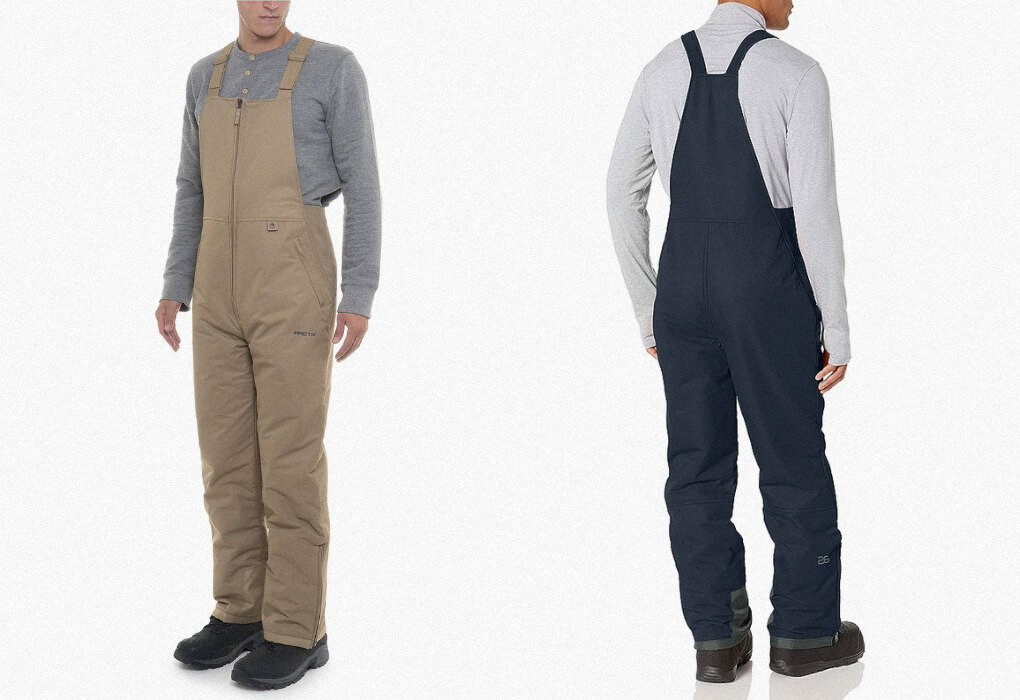 Specs
Material: 600 denier lightweight material
Floatation: Does not come with a floatation feature
Durability: Ballistic material at high stress points
Why We Chose It
One thing that you want to look for in the best ice fishing bibs is something that won't get in the way of your fishing.
We shouldn't be walking around like a toddler dressed up in a snowsuit, it's not comfortable, and it doesn't help your fishing.
Unfortunately, that can be the case with a lot of ice fishing bibs.
They're too puffy, too heavy, and while they keep you warm they're not breathable enough so you sweat your butt off and soak your clothes which can in turn cool your core body temperature making you cold again.
It's not an effective recipe.
The Arctix Essentials bibs are a great choice because they're lightweight and highly breathable so you don't sweat and you don't feel like your movement is restricted.
Best of all, they're one of the more affordable options on this list.
Amazon (See Price)
Walmart (See Price)
BEST FLOATING BIB
Clam Icearmor Ascent Float Bib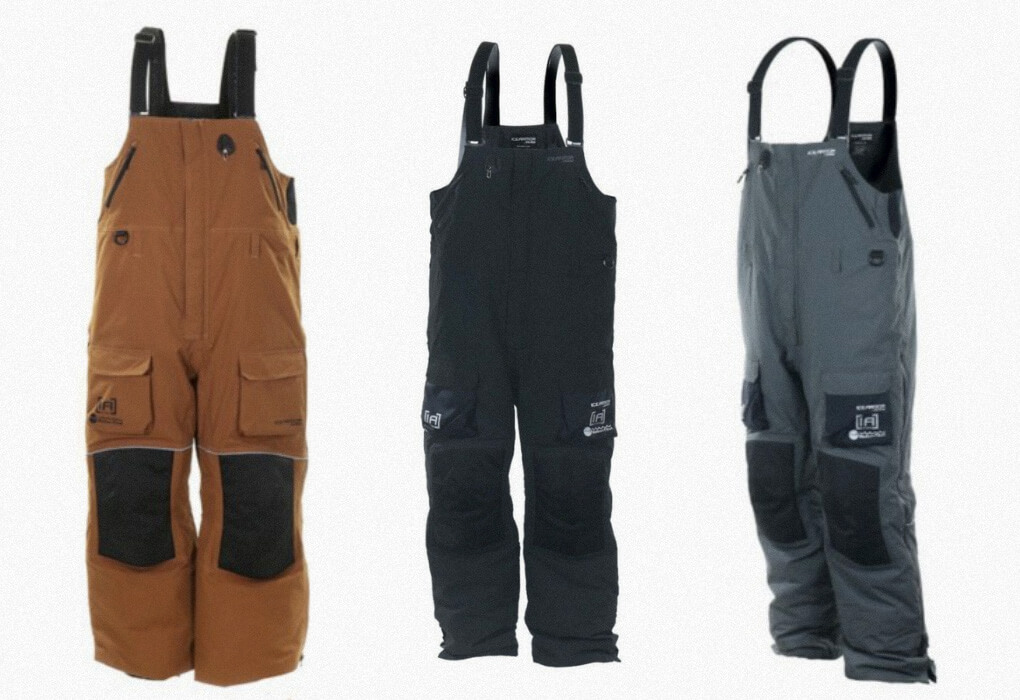 Specs
Material: 300 denier nylon with a removable 150g Thinsulate layer
Floatation: Life saving floatation feature
Durability: Reinforced with 1000 denier nylon
Why We Chose It
I've used a few different Clam products from gloves, ice fishing boots, to ice fishing shelters.
They're well known in this industry and for that reason, I wouldn't be doing the best ice fishing bibs reviews without mentioning some of their products.
It features the industry standard 300 denier waterproof material but it comes with a 1000 denier knee reinforced material which is one of the strongest we have ever seen.
These bibs are built to last a lifetime and as long as you're not too hard on them, they should.
Another thing that I love to see is more manufacturers including the floatation feature in their bibs. This is a life saving feature that I wouldn't feel comfortable on the ice without.
That said, don't get too gutsy thinking it'll be okay if you fall in.
These bibs come with a ton of pockets too. There are fleece-lined pockets with hand warmers, chest pockets, two large leg pockets, and a smartphone holder.
There's plenty of room for you to put the lures and tackle you plan on using right away.
Overall, these are definitely one of the best ice fishing bibs for many different reasons. I highly recommend giving them a more thorough look.
Bass Pro (See Price)
Amazon (See Price)
BEST WOMEN'S ICE FISHING BIBS
Striker Ice Prism
Specs
Material: 320 denier nylon with non-removable Thinsulate layer
Floatation: Features a life saving floatation device
Durability: 1680 denier ballistic material at high stress points
Why We Chose It
I wanted to provide female readers with something they feel is made for them.
As I've mentioned before, a lot of the ice fishing bibs are incredibly bulky so I would suggest this one or the Arctix Men's Essential Insulated Bibs for the ice fishing women out there.
These two options are lightweight but still durable enough to get the job done and stand the test of time.
There are a few downsides to these bibs though. I'm not thrilled about the overall size or quantity of the pockets.
You lack a lot of the storage space you get in some of the other bibs but I supposed that is in exchange for a lighter material.
The biggest problem I have is that you can't remove the Thinsulate layer like every other bib on the market. That factor makes these a tough buy for the temperatures that most people would comfortably ice fishing during.
MOST BREATHABLE ICE FISHING BIBS
WindRider Pro Waterproof Bibs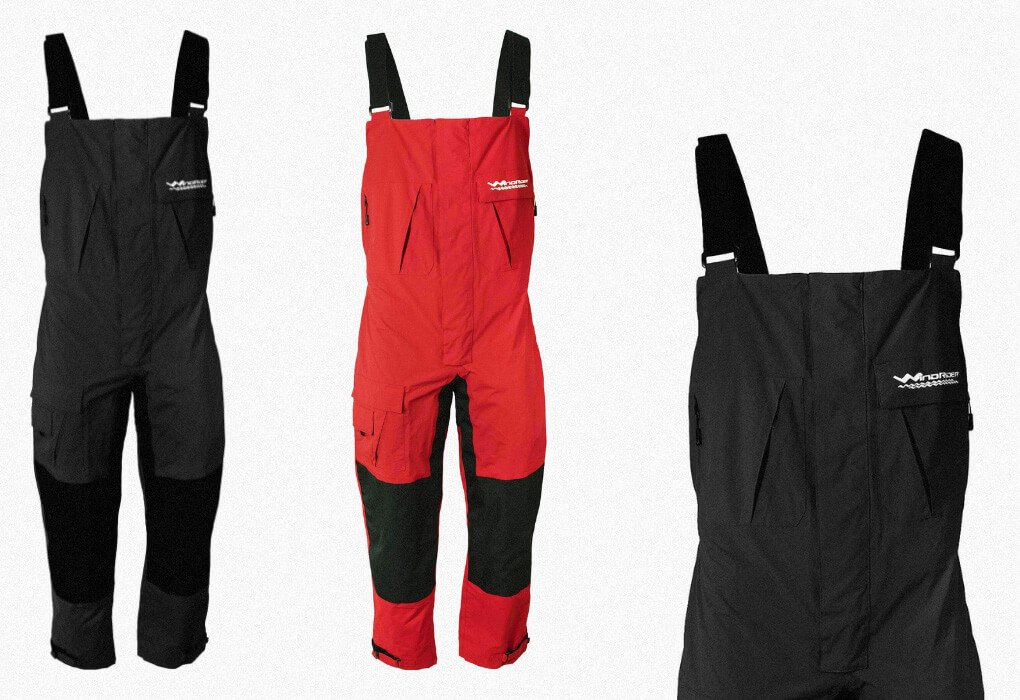 Specs
Material: Lightweight non-insulated fleece
Floatation: No floatation feature
Durability: Cordura reinforced knees, seat, and bottom hem
Why We Chose It
If you're the occasional ice angler and you prefer to fish towards the end of the season when the ice is still thick but the external temperature has warmed up a bit, you don't need these heavy bibs.
A more traditional ice fishing overalls will do the trick. These are lightweight, breathable, and still durable enough to last for a handful of seasons.
My favorite thing about these is the elastic on the legs and waist because it can compensate for the bib not fitting perfectly.
Overall, these aren't the right choice for intense ice anglers who travel in the direction of bad weather but they'll serve as more "all-purpose" overalls for slightly warmer temps.
MOST VERSATILE
ICE Armor Cold Weather Bib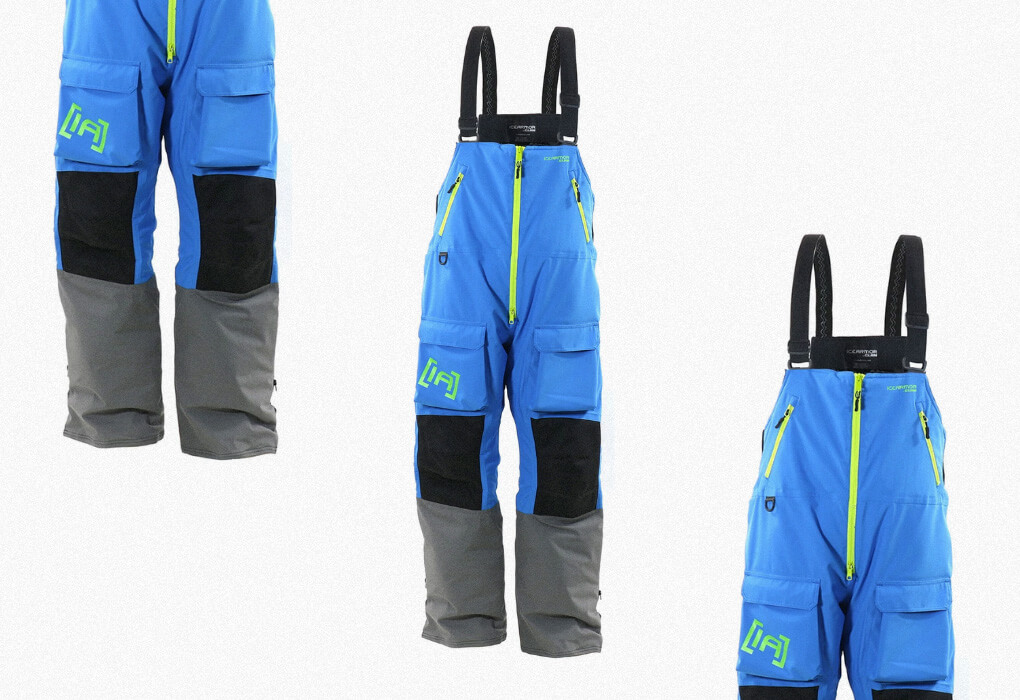 Specs
Material: Windproof and waterproof 300 denier nylon
Floatation: No floatation feature
Durability: 1000 denier knee reinforcement
Why We Chose It
On the quest for the best ice fishing bibs, you want something you can use in a variety of scenarios.
Even though you cannot remove the internal layer of these bibs, I still find them to be a great choice for both extreme and mild weather.
You miss out on a few features like the floatation layer and the smartphone pocket but overall, these are still a great set of ice fishing bibs that will do the trick for most anglers.
BEST FOR EXTREME CONDITIONS
Eskimo Men's Keeper Insulated Bib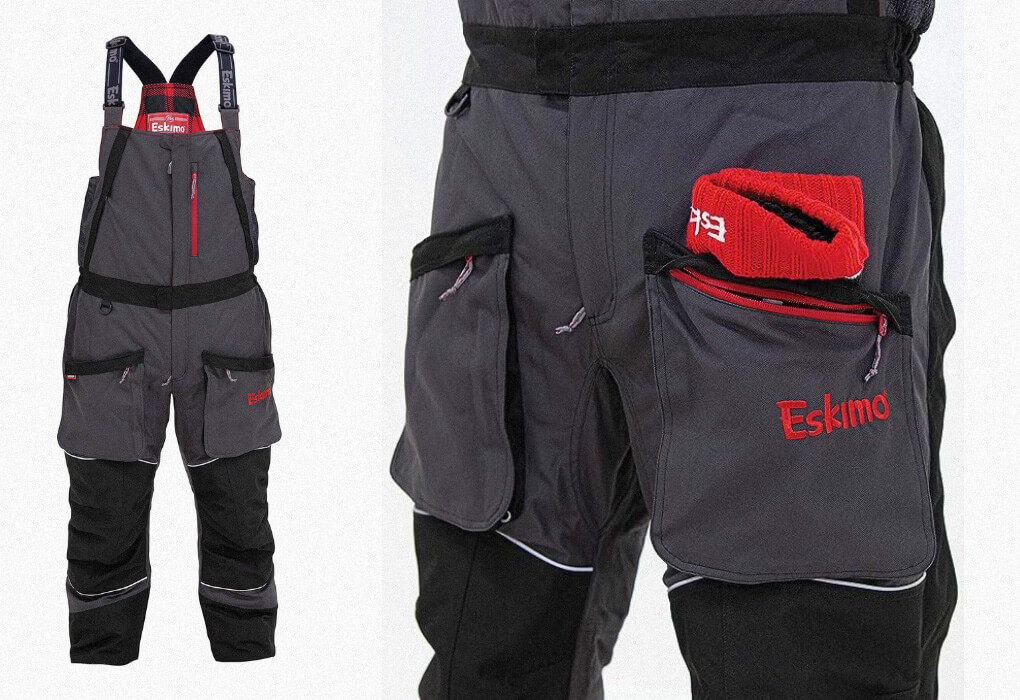 Specs
Material: 600 denier, 800g Thinsulate with fully-taped seams
Floatation: Equipped with a floatation feature
Durability: Fully-taped seams ensure maximum moisture protection and longevity
Why We Chose It
While I've talked quite a bit about versatility in ice fishing bibs, what if you're the kind of person who prefers to fish when the wind is whipping and "booger-cicles" are common practice? You'll want these bibs.
They use a complete 600D Endura shell with a soft interior Thermadex insulation lining. You won't have to worry about any cold air getting inside.
Plus, they have a poly laminate interior which helps prevent excess moisture from sweat so you don't cool your core temperature.
You can slide these right over your boots and they feature two vertical chest zippers for you to store important items.
There aren't as many pockets as I'd like to see and the ones that are there don't offer hand warmers but this is certainly not a deal breaker. These are the best at keeping you warm in extreme temperatures.
How We Tested
The worst thing you can do is buy a bib and find out that it doesn't keep you warm. Here are some of the main things we test in our top choices:
Material: A range of materials commonly used in ice fishing bibs, such as nylon, polyester, and Gore-Tex, were selected to ensure a comprehensive evaluation.

Bibs were tested in real ice fishing environments to assess their ability to withstand abrasion from ice, rocks, and fishing gear, while still allowing freedom of movement.
Waterproofing: Bibs with various waterproofing technologies, such as taped seams, DWR (Durable Water Repellent) coatings, and waterproof membranes, were tested.

We also simulated wet situations such as kneeling down on the ice and even temporary submersion.
Insulation Rating: Bibs with different insulation types, such as synthetic, down, or hybrid insulation, were included in the testing process.

Testers wore the bibs in varying cold temperatures to gauge their ability to maintain warmth and prevent heat loss in freezing conditions.
Choosing the Best Ice Fishing Bibs: Buying Guide
Now that you've seen some examples of the best ice fishing bibs, I want to help you understand some of the criteria that went into making these decisions.
Before we get to that, we need to address one thing first.
Understanding the Ice Fishing Bib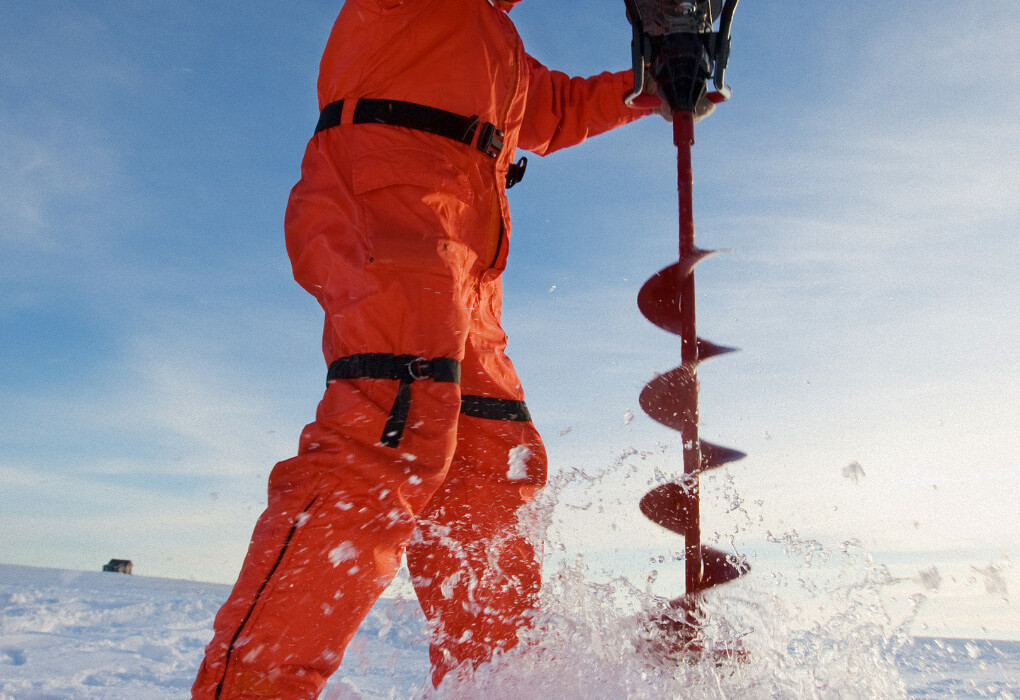 First and foremost, you need to understand that not every pair of cold weather overalls are ice fishing bibs and fishing waders are quite different from bibs.
These require special materials, insulation, padding, and reinforcement to be considered ice fishing bibs.
You can't put your old skiing gear out of the closet and expect it to work up against the frigid wind you'll experience on the ice.
It's a different level of protection that you need and very few pieces of ice fishing gear will get the job done.
When you do search for bibs, you'll find a wide variety. There are bibs designed for skiing and while these might keep you warm and dry, they don't offer the protection you need for kneeling on hard ice all day.
The same goes for snow bibs. These might work perfectly when drudging through high snow but they don't offer the level of reinforcement and wind protection you need when you're not surrounded by trees and snow drift.
The moral of the story is, not all bibs are created equal and you need specific ice fishing bibs if you plan to stay warm, dry, and comfortable when ice fishing.
Waterproofing
One of the obvious factors I look for in ice fishing bibs is waterproofing.
I want to make sure that the material used is the best choice for water-resistance and I also want to ensure that certain areas where water will get in are not vulnerable.
These areas include knees, armpits, and any seams. Water will find its way into these spots so many manufacturers will reinforce these areas with an extra layer of stitching and more material underneath.
Most ice fishing bibs will take care of business when you're on top of the ice but what happens when you fall through?
I hope this never happens to you but it does happen and you want to make sure you have a great internal insulated layer, magnetic zipper flaps, and a floatation feature.
Reinforcement
I've talked about it a lot throughout the article but you want to ensure that you have plenty of material reinforcement in the areas where it matters most.
Your knees and your behind are where you'll need extra knee padding not only to keep you warm but to keep you comfortable so you don't hurt your knees.
You may end up spending a lot of time on your knees skimming the hole, checking tip ups, and drilling new holes.
Kneeling on ice is like kneeling directly on concrete and this is the reason why you can just go out and buy any bibs.
Not only do they not possess the necessary knee reinforcement but they don't have the insulation in these areas either.
This means that the cold can start to work it's way into the close contact with your knees and cool your internal temperature. You'll get cold pretty quickly when you're spending a majority of the time working from your knees.
Warmth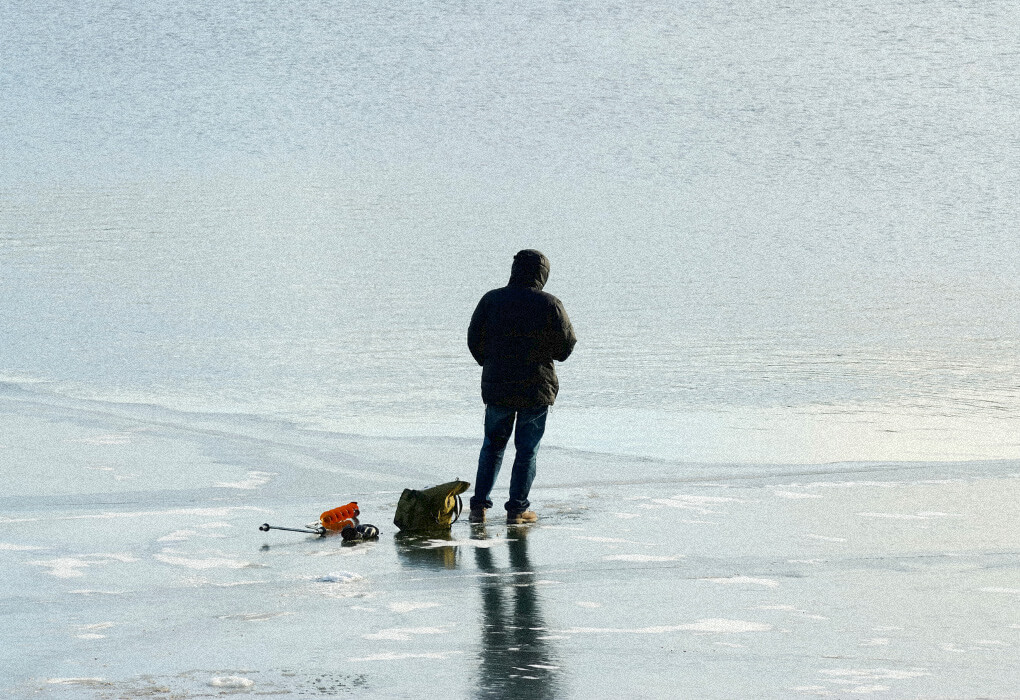 Clearly, we wear these to be warm but do we understand what makes them warm? So, one of the things you see mentioned a lot in this article is a denier rating. It refers to the density of the fabric.
This rating is commonly used in outdoor applications for clothes or materials that are required to keep someone warm or something insulated.
A tent, rain jacket, and sleeping bag are all things that would get a denier rating.
Ballistic nylon is one of the most common materials you'll read about with ice bibs. It's common for most rain jackets and lightweight tents to have a denier rating of around 50.
That should put into perspective how well equipped these ice fishing bibs are to handle the extreme temperatures you'll experience on the ice.
Durability
Any time we buy a piece of fishing gear whether it be a new reel for ice fishing or a fishing backpack, we want to make sure it's going to last us as long as possible and hold up no matter what we do.
You'll be doing quite a number on your bibs each time you hit the ice so you need to make sure that the materials are the best quality and that you're purchasing from a reputable brand.
If you've ever read any of my reviews before, you know how much importance I put on shopping for your fishing gear from only the best brands.
Doing so will ensure you get the highest level of manufacturing quality while also making sure that they stand behind any warranties.
When you buy something from a knock-off brand that no one has ever heard of, you never know if they'll stand by their promise to replace something.
Flotation
The flotation assistance feature in a lot of these products is a great thing to have and you won't know that until it's too late.
Many offer a built-in flotation aid that will help keep you above the water in the event that you fall through the ice.
You hear stories all the time of adults and children falling through ice so when it happens, you need to be prepared.
One of the most dangerous parts of falling through the ice is getting trapped underneath it especially if the water is moving. Having a buoyancy device built into your bibs will ensure this never happens to you.
Fit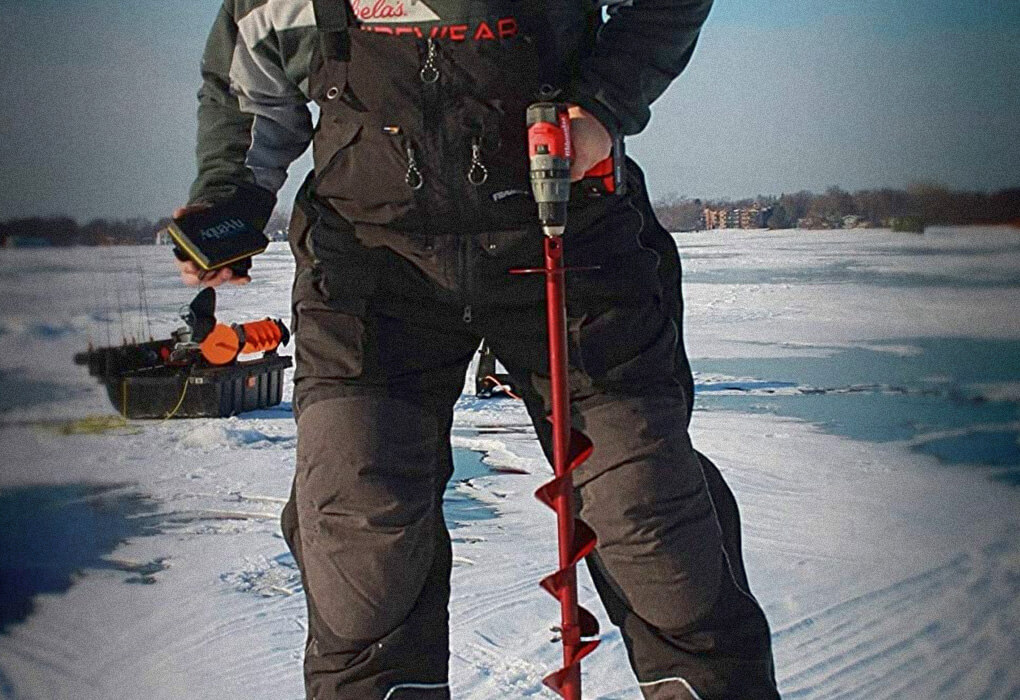 While we're not exactly worried about how we look when we're ice fishing, we still want something that fits comfortably and doesn't get in the way.
Choosing the right size ice fishing bib is difficult because they all fit differently, the sizes rarely match up, and many of the sizing charts are impossible to follow.
Plus, I'm short and a bit on the chunky side so finding something that isn't super tight around my belly and isn't dragging in the snow is impossible.
All in all, there's no right or wrong way to shop, you just have to get lucky and if they're a little too big that's okay. Always go up by one size because you can modify them down but you can't make them any bigger.
Frequently Asked Questions
Are ice fishing bibs worth it? 
They are 100% worth it. You need to stay warm and comfortable when ice fishing and if you're not wearing the right gear you'll get cold fast.
Not only does this make it harder to catch fish but it can actually become a hazard to your health if you're not careful.
Make sure you have properly insulated ice fishing bibs on at all times when ice fishing. 
Can you use snowmobile bibs for ice fishing? 
You can do whatever you want but the better question is, "should you"? Probably not.
While snowmobile bibs would likely be the next best option, they still don't possess a lot of the necessary knee and rear reinforcement that will ensure the cold doesn't get in through your knees and you don't hurt yourself from kneeling all day. 
Are fishing bibs waterproof? 
Only the best fishing bibs are waterproof. I would never buy a pair of bibs that weren't waterproof because as far as I'm concerned, that's half the battle.
If you're fishing during heavy winds, a lot of snow might be blowing around and that will create moisture on the outer shell of the bibs.
If they're not waterproof, that moisture could seep in through the material which will make your clothes wet and put a damper on your fishing day. 
Final Thoughts
Now you understand the importance of having the best ice fishing bibs. There are no substitutes for warmth and comfort on hard water.
It's the only thing that makes it bearable sometimes when you're struggling to catch anything. Give some of the options above a further look and choose for yourself.