---
We independently research, test, and recommend the best products; you can learn more about our review process here.
Few things are more important to ice fishing than gloves. Having the best ice fishing gloves will keep your fingers warm and they'll assist you in feeling each nibble while not preventing you from rigging and jigging.
The KastKing Mountain Mist gloves are the best for this because of the finger holes and limited material. They're not super bulky and they should keep you warm in temps as low as 25 degrees.
In my ten-plus years of ice fishing, I've made a lot of mistakes. I've narrowly avoided falling through, I've broken rods, and I've frozen (plenty of times). Don't be like me.
Go through this guide, take a look at the recommendations, and pick out a pair for your situation. If there's anything you shouldn't sacrifice on, it's your gloves!
Our Top 3 Gloves to Wear While Ice Fishing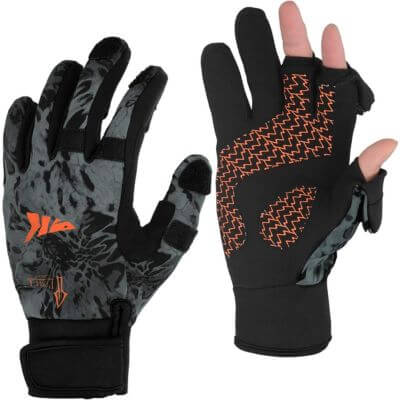 KastKing Mountain Mist Fishing Gloves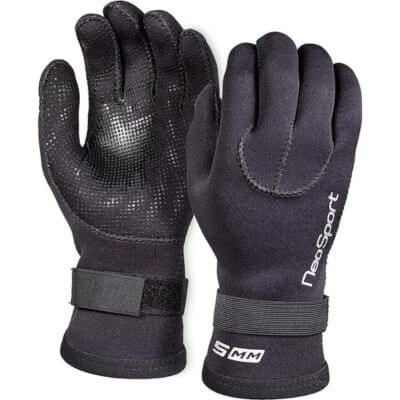 NeoSport Neoprene Wetsuit Gloves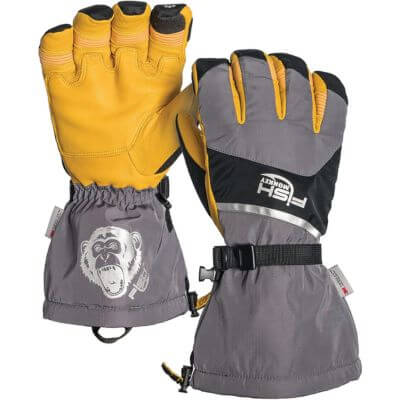 Fish Monkey YETI
---
BEST ICE FISHING GLOVES OVERALL
KastKing Mountain Mist Fishing Gloves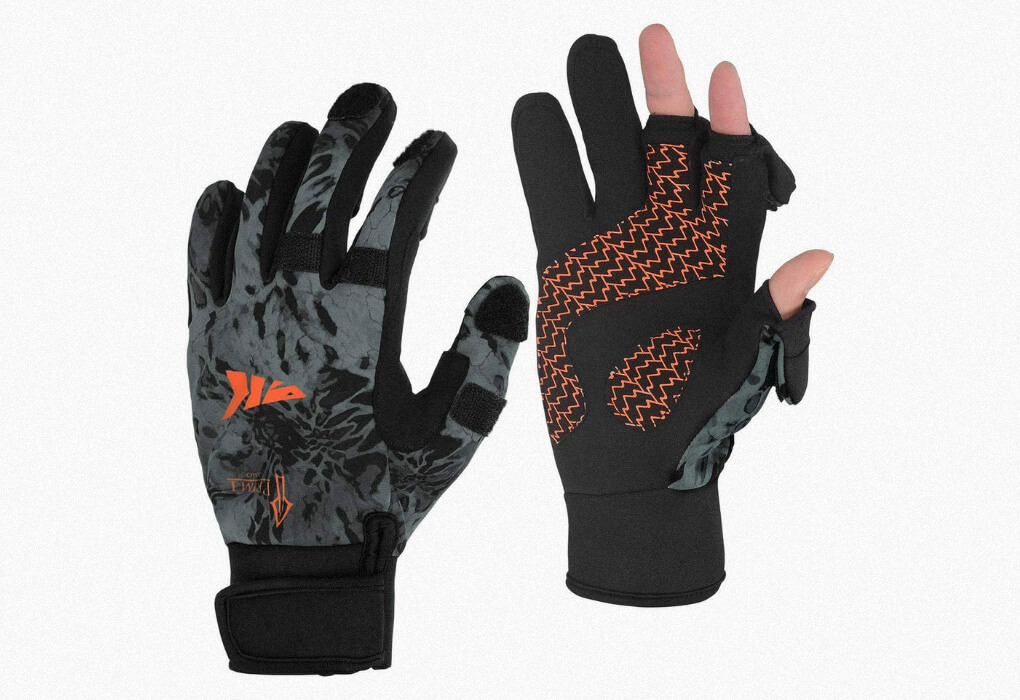 Specs
Material: Neoprene
Closure: Hook and Loop
Key Feature: 3 open finger holes
Why We Chose It
Does it have a snug fit that doesn't make it difficult to rig baits? Yes. Does it have a palm grip to help you pick things up? Yes. Is it warm enough for your average day on the hard water? Yes.
Is it water and frost-resistant? You bet. Can you also get these gloves for one of the most affordable prices on the market? Absolutely.
What more could you ask for?
The KastKing Mountain Mist gloves are really the best ice fishing gloves for all the right reasons. They're lined with a fleece interior which I find to be comfortable on your hands, warm, and doesn't irritate your skin either.
They also have a neoprene outer layer which is the best material to prevent water from breaking in.
The gloves are also built well so you don't have to worry about them breaking down at the seams around the fingers.
The only thing I worry about is the fact that there are three openings for your fingers and the flip over fingertips are prone to breaking off if you use these a lot.
That said, you're getting these gloves for less than $30 so it's not going to be the most expensive piece of gear you bring on the ice.
Next to a high-quality ice fishing auger, these gloves come at a bargain. Get them, you won't regret it.
BEST BUDGET ICE FISHING GLOVES
NeoSport Neoprene Wetsuit Gloves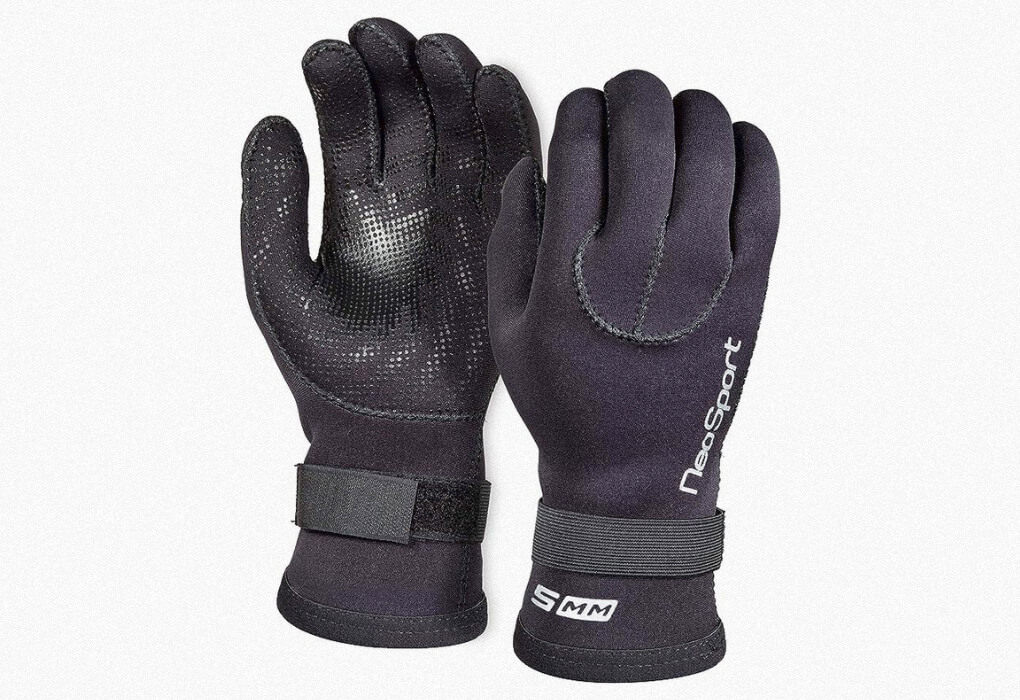 Specs
Material: Neoprene
Closure: Hook and Loop
Key Feature: Gator elastic material for a uniform fit
Why We Chose It
While recommending a bunch of gloves for ice fishing, we have to talk about some gloves that aren't only for ice fishing.
These gloves are actually designed for divers and they're made of the same material that is used on a wetsuit (gator elastic).
They have a hook and loop closure to help keep water out and the gator elastic material is ideal for fitting to the shape of your hand and not restricting your ability to set your ice fishing tip ups, rig your ice fishing line, tie knots, or play with your lures.  
Keep in mind that these are designed to fit the exact shape of your hands so they're not the easiest to get on and they're not waterproof.
If you splash a little water on your hands, they'll still stay dry but you won't be dry if you fully submerge them.
Besides being budget-friendly, they're a versatile option you can use throughout the year in all levels of cold water fishing.
Side note:
While this might be my favorite budget pick, they're only a few bucks cheaper than the KastKing's mentioned above so if you're sold on them, don't let a few dollars keep you from getting the best ice fishing gloves. 
BEST ICE FISHING MITTEN
Fish Monkey YETI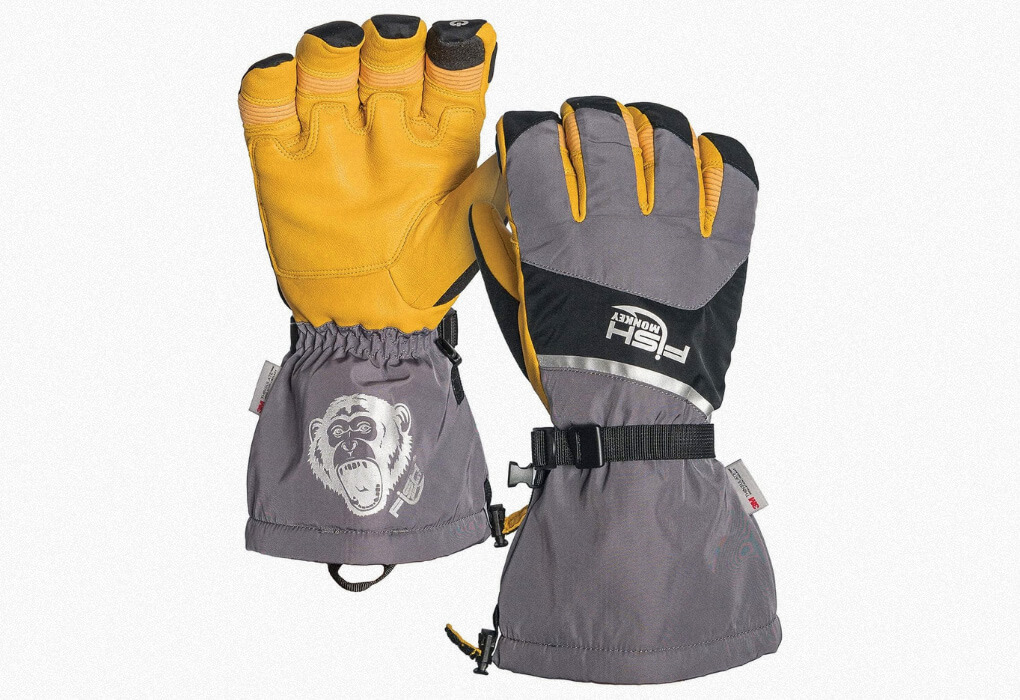 Specs
Material: Thinsulate/Cotton/Goat Leather
Closure: Hook and Loop
Key Feature: Heavy-duty insulation
Why We Chose It
These winter fishing gloves might not be your traditional mitten but I'd still throw them in that category. They're plush, bulky, and don't offer much range of motion in your fingers but they'll keep your hands warm.
Personally, I don't mind these because they're great once you have everything set up and you're ready to fish. They're also great for lugging gear to the hole when the wind is whipping and blowing snow at your hands.
They're long so they come down well past your wrist which prevents snow from getting up under the glove. 
Best of all, these are 100% waterproof and windproof gloves so you'll want a pair of these if you're pulling a lot of fish out of the slush.
No matter what, your gloves will get wet so going with something that isn't completely waterproof isn't always a viable option for some. 
If you're concerned about being able to access your technology they provide a solution for that as well. Most of the neoprene gloves have touch screen fingertips designed into the gloves and these do as well.
Unfortunately, it's only the index finger but that should be enough to work your ice fishing fish finders and phones.
WARMEST FISHING GLOVES
Glacier Glove Pro Angler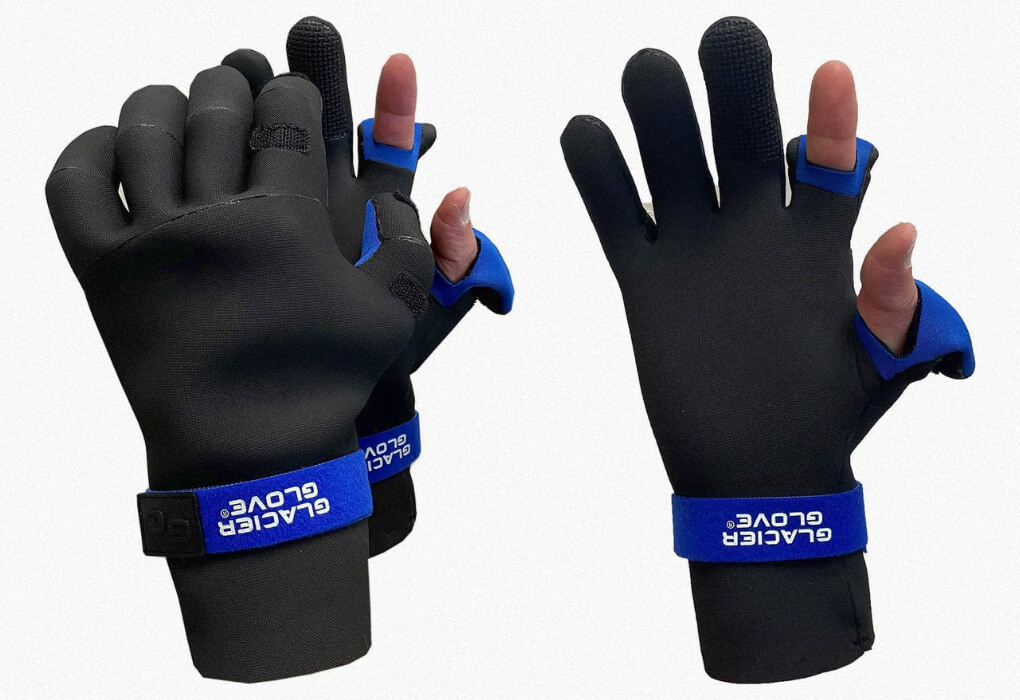 Specs
Material: Neoprene
Closure: Pull On
Key Feature: Designed for extreme temperatures
Why We Chose It
If you want the best winter fishing gloves for serious temperatures, these are it. The Glacier Gloves got their name for a reason.
These are the ultimate ice armor made with 2mm neoprene with a fleece liner, they're 100% waterproof gloves, and they pull over your hand which might make them difficult to get on but trust me, it's worth the effort.
The pull-on design ensures a proper fit around your wrists which prevents cold air and water from getting to your hands.
I'm also a big believer in limiting what can go wrong with your fishing gear. When you're dealing with clasps, velcro, and all that, it creates things that can break and wear down over time.
These gloves aren't necessarily the cheapest so you don't want things that will go wrong. The elastic material will never wear down so you can be sure it will fit properly no matter how often you use them.
Lastly, the seamless palm design helps you grip things without getting in the way. A lot of people say they have issues with the clunkiness of these gloves but I don't see it.
If they're cumbersome to use either you're not using the finger holes or you bought a size that's too big so they don't fit properly.
They should be nice and snug to your hands. 
BEST HALF FINGER GLOVES 
Palmyth Cold Weather Fishing Gloves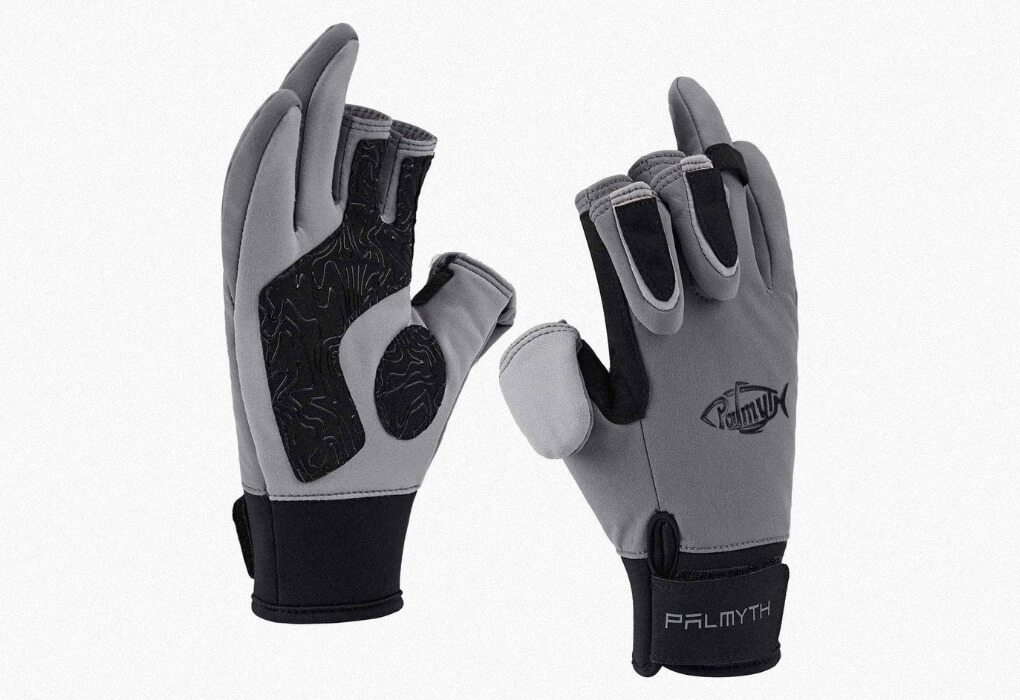 Specs
Material: Faux Leather
Closure: Hook and Loop
Key Feature: 3 Flip over finger holes
Why We Chose It
These are a great pair of fishing gloves for cold weather but they might not be the best choice for bucket fishing in the single digits.
They don't possess a lot of the features you need such as waterproofing, 2mm fleece lining, or neoprene so they're not the right choice for extreme temperatures. 
That said, they have a lot of pros. They're form-fitting to your hand, easy to put on, and they have three split-finger holes making them even easier to work with.
I would recommend these if you're fishing inside of an ice fishing shelter but aren't using a heater.
In that case, you won't be freezing your butt off but you're still not going to be completely warm.
I also think these are a great choice for fly anglers because they'll repel enough water to keep your hands warm and dry when the temps are cold but not cold enough to freeze over. 
BEST FLIP MITT GLOVES
Palmyth Convertible Ice Fishing Mittens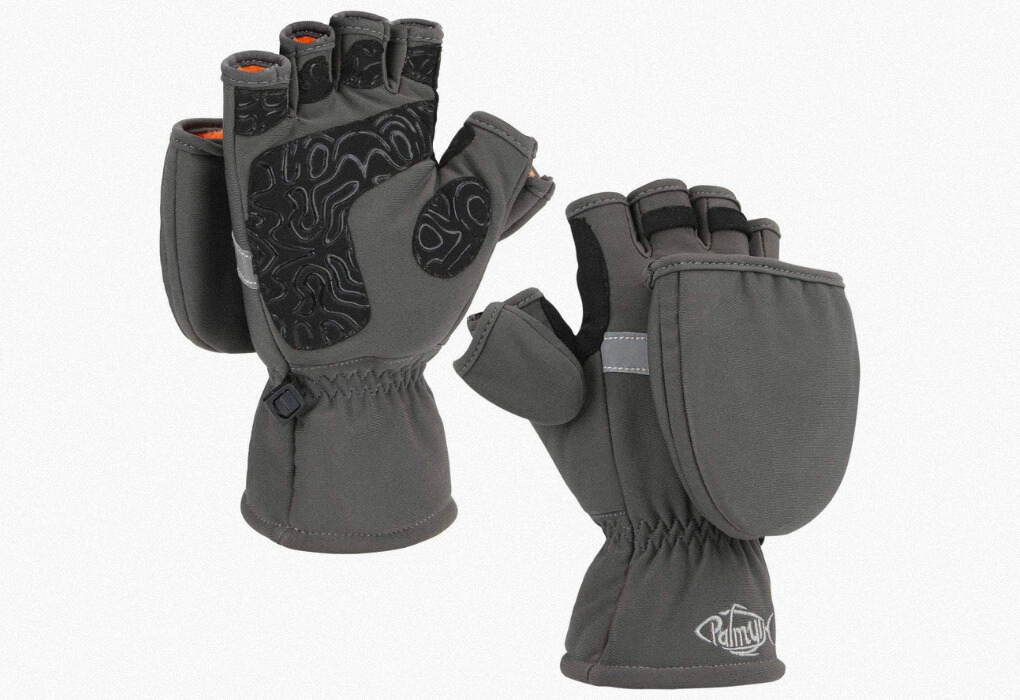 Specs
Material: Polyurethane/ Faux Leather
Closure: Flip over mitten
Key Feature: Flip over mitten to cover hands completely
Why We Chose It
These are probably my least favorite because they're not waterproof fishing gloves, they're kind of clunky, and they don't work well in extreme cold. I personally just don't like fingerless gloves for ice fishing but some do.
I will say, these offer solid mobility when you remove the mitten flap and they're the only glove that doesn't require you to remove the entire mitten flap to access all of your fingers.
Additionally, if you're inside a shelter, you'll benefit. You can rig your ice fishing rod with whatever bait you're using, wipe off your fingers, and put them back into the glove without bringing the gunk and stink along with it.
Second, you have full mobility of your fingers to work your tech.
Third, there's a magnetic holder for the flap so it doesn't just bounce around while you're trying to do things.
Now, for the bad parts.
The gloves lack warmth simply because they're not made with double-layer material like the rest. When you combine neoprene and fleece you get the ultimate warmth and these gloves don't do that.
This may be a silly gripe but it's something I think about as I fish COLD weather a lot here in Pennsylvania.
There's very little abrasiveness on these gloves which makes it hard to pick things up but it also makes it hard to scratch your face. If you've ever been ice fishing, you know that will aggravate you.
All in all, if you're sold on getting a pair of fingerless gloves then I'd grab this pair.
How We Tested
In the process of choosing our best ice fishing gloves we tested many different criteria. Here are some of the main factors we reviewed:
Glove Type: To ensure a comprehensive evaluation, a diverse range of glove types were chosen, including fingerless gloves, mittens, and convertible gloves.
Material: Gloves were selected with different materials, such as neoprene, nylon, and insulated fabrics, commonly used in ice fishing gloves.
Closure: A variety of closure mechanisms, such as zippers, Velcro straps, and drawstrings, were tested on the gloves.
Choosing the Best Ice Fishing Gloves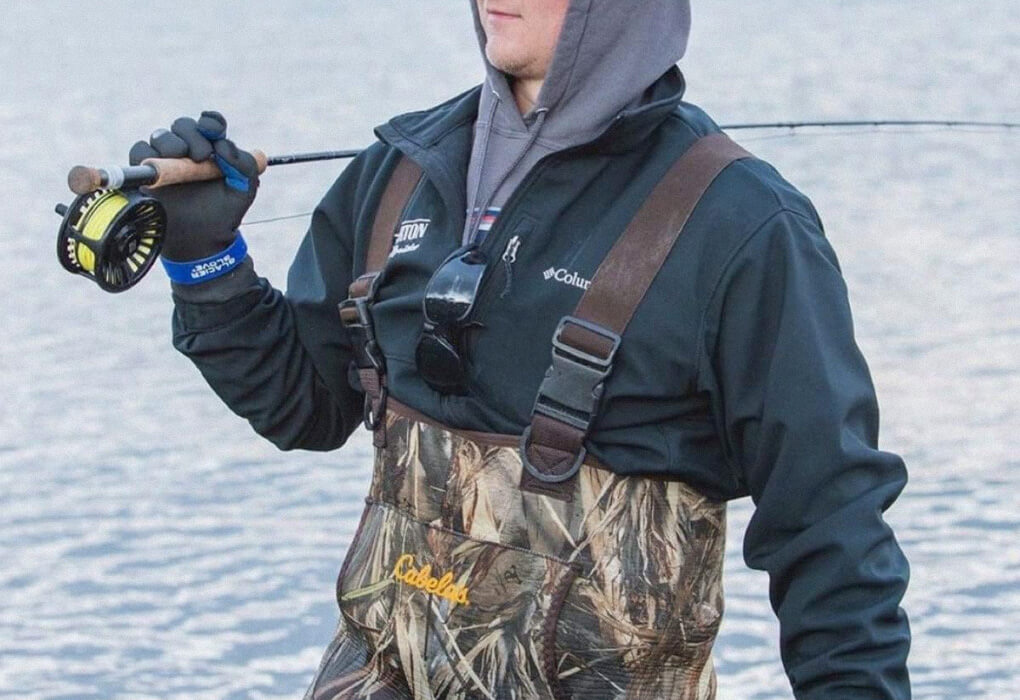 In the following sections, I want to break down the methodology behind making these choices. Let's be real, they're just gloves but when it comes to ice fishing, gloves are an important piece of gear.
You need to keep your hands warm not only for your comfort but for your safety. It's easier and more enjoyable to fish the hard water when your hands are warm and dry.
Here are a few things I thought about when picking these gloves as my favorites. 
Type of Glove
You essentially have three choices. You have a standard waterproof neoprene fishing glove which is my top pick, a split-finger glove, or a flip-over mitten. Let's weigh the pros and cons.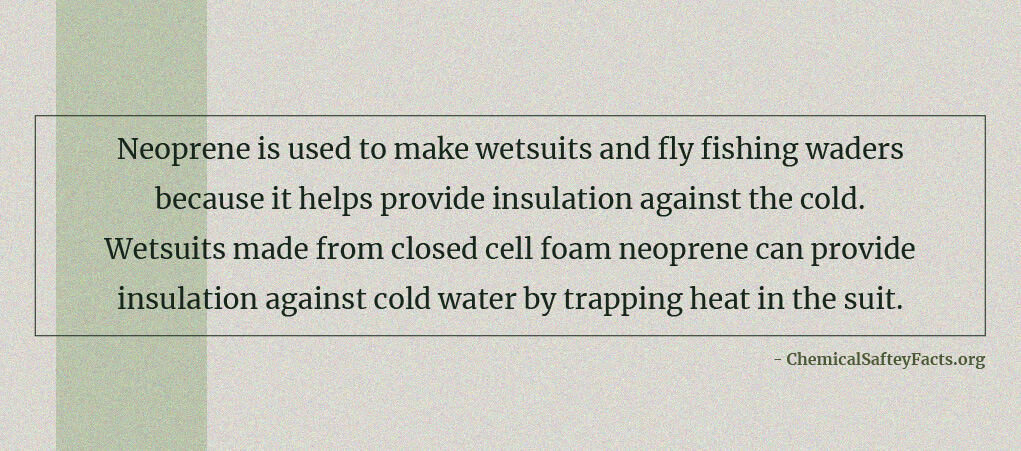 Neoprene Gloves – Neoprene is a synthetic rubber used in things such as fishing boots, ice fishing bibs, gloves, wet suits, masks, and more. The material is so widely used because of its waterproof properties and ability to trap heat inside.
Neoprene is used to make wetsuits and fly fishing waders because it helps provide insulation against the cold. Wetsuits made from closed cell foam neoprene can provide insulation against cold water by trapping heat in the suit.

– ChemicalSafetyFacts.org
These factors make this the best waterproof ice fishing glove type. You'll have the warmest gloves for extreme temperature activities like drilling holes and hauling gear.
Best of all, they're usually form-fitting so they'll match the shape of your hands and won't get in the way of rigging and jigging. 
Split Finger Gloves – These can also be made of neoprene but I want to include them as their own type. Above, in the product reviews, you'll find many gloves that offer holes where the fingers are. But, they're not just holes.
Instead, the tips of the gloves attach to a velcro or magnet for when you want to fiddle with your gear. When you're done, you can reattach the fingertips to cover your fingers and keep them warm.
These aren't the best choice for extreme weather conditions because they create areas where cold air can get in.
But, they're useful in many situations and they prevent you from having to take the gloves completely off for rigging and working your fishing tech.
Flip Over Mittens – The last pair of ice fishing gloves are good ol' mitties. Remember these when you were a kid? Your mom or dad would send you outside with these gloves that were so bulky and ugly that you could barely pick up a snowball.
Those were tough to work with and I'd end up just taking them off and dealing with the cold. You might feel the same way but thankfully the ice fishing mittens of today allow you to flip back the mitten part revealing all your fingers.
It's a great design in concept but it has plenty of flaws and I haven't been able to find a flip-over mitten that I actually loved.
Material
The material is a huge factor that we've talked about a little but I want to elaborate. Neoprene is one of the best materials not so much because of its temperature resistance but because of its ability to handle water.
Waterproofing is such an important factor in ice fishing because no matter what, if you get wet, you're going to be cold because there are very few ways to dry something once it's cold.
Unless you have a heated shelter, you're going to struggle. Another material you want to look for in the best ice fishing gloves is a fleece liner as this will be your warmest material.
Most of the top picks here have a fleece interior liner and Thinsulate. You want this fleece and thinsulate combo because it acts as a second-layer barrier from everything that's happening on the outside of the gloves.
This interior layer will help keep you warm as you battle through slush and snow. 
Wool is not a bad material either and you'll find that in some of the bigger, bulkier gloves like the YETI pick above.
It's an old-school material that might not have all the technology of this new school stuff but it's still warm.
I also look for a grippy material as a gloves feature. Not only do I need to be toasty but my winter gloves need to have an anti-slip material to allow me to pick things up off the ice.
The finger slits help a little but having a good grip outer shell is more important.
Material Sensitivity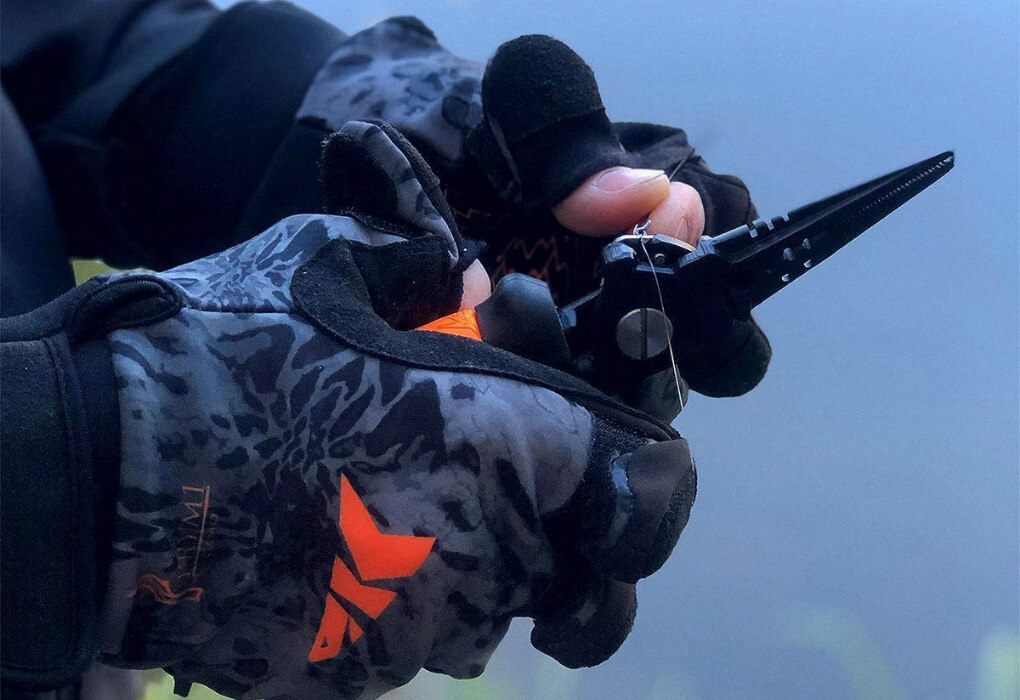 This is a caveat to the previous point but not something I've mentioned yet. We can't forget that we're fishing here and you're basically putting a shock barrier between you and the rod when wearing gloves.
That means that it will naturally be more difficult to feel subtle nibbles. As ice fishermen, we also know that most fish besides muskie and the occasional walleye don't strike as hard in the cold.
So, if you swaddle your hands with a ton of plush material, what will happen? You'll never feel the nibbles.
Keep that in mind as you choose. The YETI gloves I recommended are a great choice for lugging around gear and sitting out in the cold but they might not be the best choice for active fishing.
You'll want something with more dexterity and less material.
Closure
There are few things on this planet that make me angrier than when the snow gets inside of my gloves or my boots.
You spend all this time strapping everything up and no matter what you do, snow still finds its way in and it infuriates me.
My goal is to help you learn from my mistakes. All of these gloves should prevent that from happening. Look closely, they SHOULD prevent that from happening. Doesn't mean they will, but they should.
That said, the hook and loop wrist strap is the most popular option because it's durable and velcro is pretty much not an option when you're dealing with snow.
I'm more of a fan of a form-fitting glove that just pulls over your hands like the Glacier Glove.
I think this creates less that can go wrong because the hook and loop will start to loosen over time.
The last thing you want is to be in the middle of battling a fish and the loop comes undone right as you need to stick your hand into the slush. 
But, you will find that most gloves above are adjustable wrist designs and it's a solid option nonetheless. Are they the best gloves? That's up for debate.
What You Also Need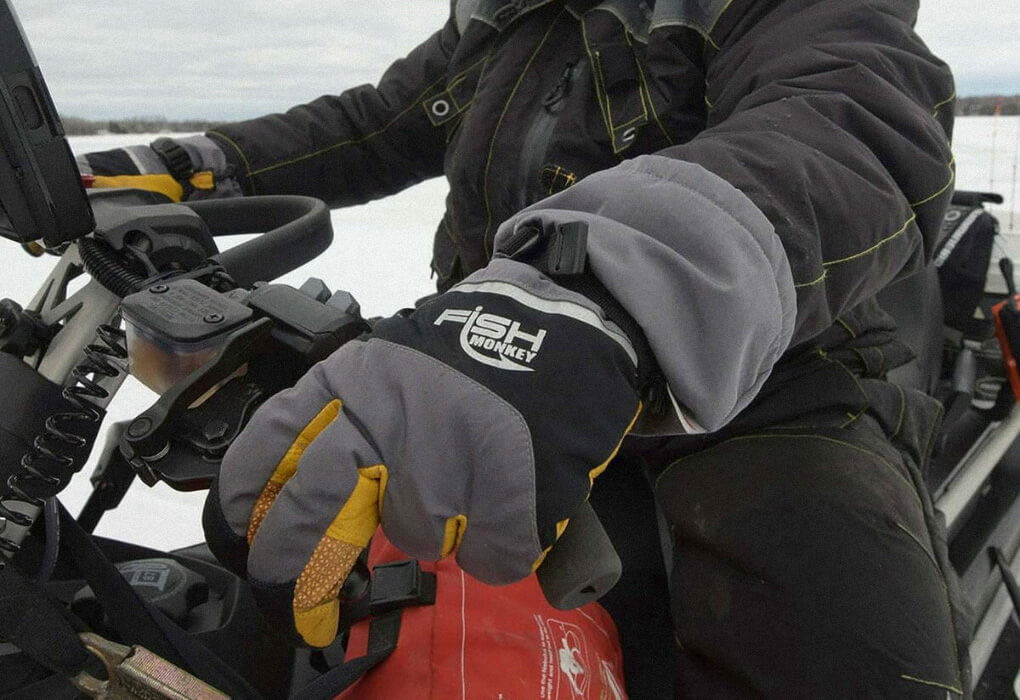 Sometimes ice fishing is a game of money and the people who have the most to invest are the ones who have the most success.
Even if that is the truth, it doesn't mean you need to take out a second mortgage on the house to freeze your butt off on the ice.
I review a lot of ice fishing gear and I always try to marry affordability with top-notch features. That my friend, is the meaning of true value.
Ice Fishing Sled
One of the most misunderstood aspects of ice fishing is how you actually get your gear to the ice.
If you're not blessed with being able to drive your truck out there or if you don't have an ATV or snowmobile, you'll have to drag the gear out and having an ice fishing sled is the only way to do it. 
Ice Fishing Boots 
The best pair of ice fishing boots will complement the best ice fishing gloves. Makes sense, right?
You need to keep your fingers and toes warm out there and the best boots will provide plenty of insulation while ensuring that you grip the ice so you don't fall and hurt yourself. 
Final Thoughts
Ice fishing can sometimes be a dangerous game and those of you who aren't prepared can find yourself in a tough situation if you're not careful.
Playing around with extreme temperatures is no joke but you don't want to sacrifice your success on the ice by bundling yourself up so you can barely move. 
That's why the KastKing Mountain Mist gloves are the best ice fishing gloves. They offer the highest amount of insulation, for the most affordable price, and they aren't too bulky so you can still feel the nibbles and work the bait.
I think getting the Fish Monkey YETI gloves along with the KastKing ones wouldn't be a bad idea. Those would be useful for hauling gear and idle time waiting for tip-ups or just hanging around. 
No matter what option you choose, don't skimp on the gloves. They're all affordable and they'll have a significant impact on your enjoyment. Good luck and be safe!