Last Updated on December 28, 2022
We independently research, test, and recommend the best products; you can learn more about our review process here.
Choosing the best ice fishing rod is easy. There are a few things to consider, but overall, the most important factor to look for is sensitivity.
If your rod isn't sensitive, you won't be able to feel the subtle nibbles from lethargic fish.
I've learned this the hard way over the years, and it took a while to find a great rod like the Shakespeare Ugly Stik GX2 Combo. This one is by far my favorite.
As you make your way through this guide, think about where you plan to fish, what type of fish you want to target, and whether or not you're a beginner.
These factors will help determine your final choice and make sure you grab the right one for you after reading our best ice fishing rods reviews.
Comparison Table – Best Rods for Ice Fishing
---
In-Depth Reviews of Our All-Time Favorite Best Ice Fishing Poles
Shakespeare Ugly Stik GX2 Ice Fishing Reel and Rod Combo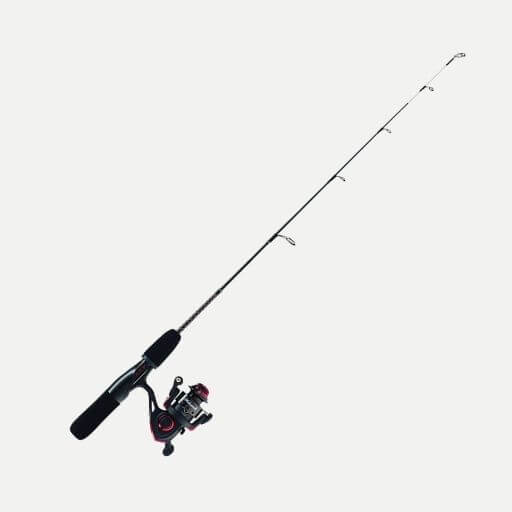 BEST OVERALL ICE FISHING ROD
Specs
Material: Fiberglass
Length: 28"
Action/Power: Light/Fast
Pros
Highly sensitive
Smooth guides for dipping and retrieving
Great brand reputation
Rod and reel combo
Cons
Why We Chose It
If you've ever read any of my reviews, you'd know that while I'm a fan of the Ugly Stik brand, I understand the limitations.
These are ultralight rods with great sensitivity from a respectable brand, but they're simply not cut out for the bigger fish.
That said, this fiberglass ice fishing rod is a great choice for anyone who is dipping their toes into ice fishing and is looking for the most manageable rod and reel combo available for an affordable price point.
In what other fantasyland can you get a quality fiberglass rod and reel combo for less than $50? I don't even know how they make money on these things.
It comes with the clear tip design, which is one of my favorite features ever added to these rods.
The tip enhances the overall sensitivity of the rod, and it does have a solid backbone for pulling a heavy lake trout from the bottom.
If you're only looking for a quality Shakespeare rod but don't need the reel, the Wild Series is a great choice that's comparable to this one.
I included durability issues as a con based on a preconceived notion that this rod would have a lot of the issues that some of the other Ugly Stiks have, but if you're snapping this one, it's simply because you are either expecting too much or you're doing something wrong. 
Berkley Cherrywood HD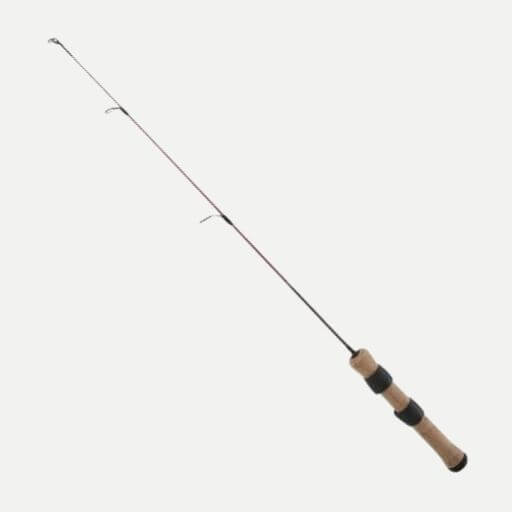 BEST BUDGET ICE FISHING POLE
Specs
Material: Fiberglass
Length: 24-26"
Action/Power: Ultra-light/Medium-light
Pros
Flexible enough to create ideal jigging action
Cheap
Easy-to-grip cork handle
Cons
Can't really think of one
Why We Chose It
I thought for a while about something negative to say about these ultralight ice fishing rods, and I just couldn't come up with anything. Which is why I ranked it as one of the best budget ice fishing rods on the market.
You get what you pay for with a $15 fishing rod; what more can you ask for? The rod bends nicely, which makes jigging in the cold weather a lot easier.
It has a solid level of sensitivity. It's nothing compared to the Ugly Stik but still more than good enough to get the job done; plus, it has a nice backbone too for pulling in walleye and large brown trout.
I'm also a big fan of cork handles in ice fishing rods because they're not as cold as plastic or EVA handles.
I read some negative opinions of the guides on this rod, saying that they're not durable and they break when the ice builds up on them.
That's something that you'll experience with any rod, and if you aren't constantly clearing the slush off the guides, they'll get damaged.
That's general wear and tear with any ice fishing rod, so don't let that hold you back. 
They come in two sizes from 24-26 inches and ultra-light or medium/light action. If you're looking for a cheap ice fishing rod that brings a lot to the table, this is it.
Frabill Panfish Popper Combo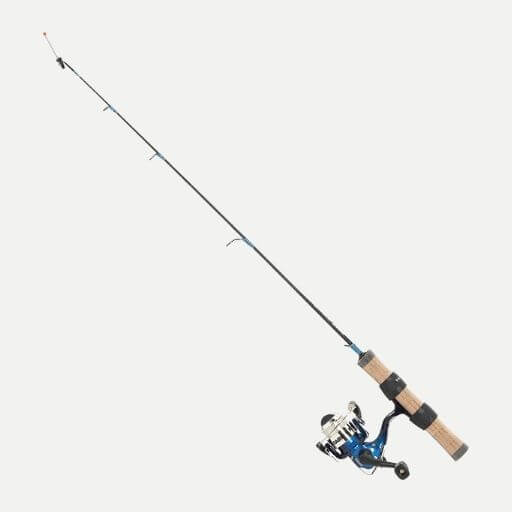 BEST ICE FISHING COMBO
Specs
Material: Fiberglass
Length: 30"
Action/Power: Ultralight
Pros
One-piece fiberglass composite blank for sensitivity
Features a micro-spring bobber (explained below)
Rod and reel combo for an affordable price
Cons
Why We Chose It
The main reason why you'd want the best ice fishing combo is because it's simple, right?
You don't have to go out and find an ice fishing reel that's compatible with the rod and you can make sure that everything is good to go which will get you out on the ice faster.
I find that this is the case with many ice fishing rigs because they're one of the most difficult to pair together.
If you're new to the ice fishing game, I highly recommend going with a rod and reel combo like this one. It has a one-piece construction which adds sensitivity and lessens weak points where the rod can snap.
This one also comes with a highly unique feature which is the micro-spring bobber on the top. If you look carefully, you can see it in the pictures.
This bobber will indicate when you get a bite which is a lot easier to see than the tip of the rod bending and flexing.
Not to mention that the built-in bobber is a lot more effective than your typical ice fishing bobber.
If we turn our attention to the reel, it's your typical "included with purchase" reel. One thing I've learned over the years is that ice fishing isn't as much about the reel as it is the rod.
Since you're not actually casting, the smoothness and functionality of the reel become less important, and it becomes more about the stick you have that's pulling the fish up out of the hole. 
For the price, you really can't go wrong with this combo. It's designed specifically for beginner ice fishing, so if you fit that description, you'll want to give the best ice fishing rod and reel combo a try. 
Fenwick HMG Ice Fishing Rod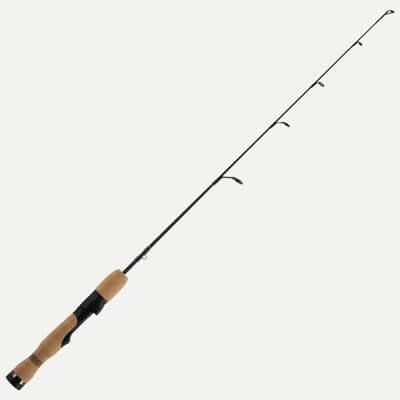 BEST LIGHTWEIGHT ICE FISHING ROD
Specs
Material: Carbon Fiber
Length: 26"
Action/Power: Fast/Light
Pros
Lightweight rod makes jigging easier with less fatigue
Six different size options to appeal to everyone
Fenwick is one of the most respected brands in the business
Cons
Pricey for just a short ice fishing rod
Why We Chose It
First of all, let's get one thing straight. Fenwick is one of the best rod manufacturers in the business, hands down. I assume we're all in agreeance on that.
That said, they do a great job at making ice fishing rods and this is a slight improvement over the previous AETOs rod.
It offers a more durable carbon fiber blank while still maintaining the same flexibility and sensitivity as the previous one.
I'm also a big fan of the cork handle and smooth stainless steel guides with aluminum oxide inserts. Overall, the construction of this rod makes it the best ice fishing pole for a variety of applications.
Fenwick does sell longer rods like the Fenwick Elite Tech, so if you're looking for anything larger than 5-6 lbs, you might want to go with something like that.
Otherwise, this is the best ultralight ice fishing rod.
13 Fishing – Microtec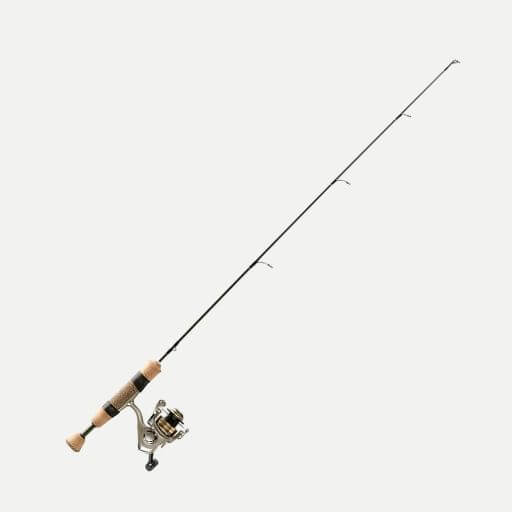 BEST ICE FISHING ROD FOR WALLEYE
Specs
Material: Solid Carbon Blank
Length: 26-28"
Action/Power: Medium
Pros
Built for larger fish
Rod and reel combo
Custom split-grip handle for walleye
Cons
Why We Chose It
Walleye are one of my favorite fish to target, so I had to include one of the best-rated ice fishing rods just for that.
The best ice fishing rod for walleye is going to have a lot more backbone than some of the other options here, and it'll be a bit longer as well.
This 13 Fishing rod and reel combo comes with a split grip cork handle which is great for pulling walleye out from under the ice. If it's not enough for you, a rod butt cushion is a helpful tool.
The rod comes with a carbon fiber blank which is one of the most durable materials you can use in a rod.
Sometimes it lacks sensitivity, though, so the manufacturer molded it with fiberglass for enhanced sensitivity.
It comes with a three-ball bearing reel which is nothing to call home about, and the price is affordable enough for most budgets. I simply couldn't think of a bad thing to say about this combo. Which is why I rated it as one of the best ice fishing rods in 2022. 
St. Croix Mojo Split Grip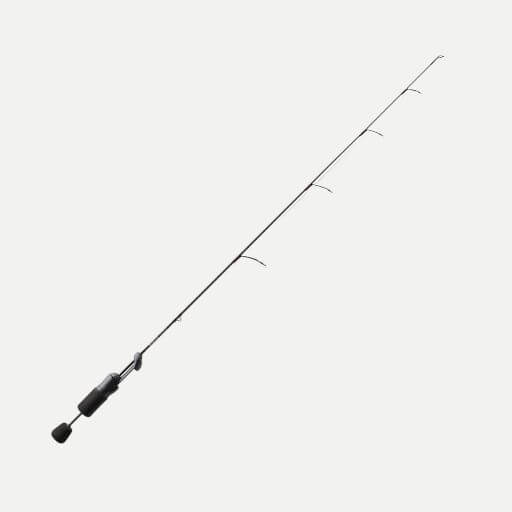 BEST ICE FISHING ROD FOR PANFISH
Specs
Material: Carbon Fiber
Length: 36"
Action/Power: Light
Pros
Highly versatile rod
Great sea guide stainless steel guides help prevent corrosion
Split-grip handle for larger fish
Hand-crafted rod
Cons
Why We Chose It
St. Croix is definitely a brand we all know and love. They have a reputation for putting out some of the top rated ice fishing rods on the market.
This one is definitely a bit expensive, but you're getting high-quality in exchange. 
I chose this as the best ice fishing rod for panfish like bluegill because it's so versatile.
You can catch almost anything because it has the sensitivity to bring in small crappie and perch but the power to handle a walleye or pike.
The split-grip cork handle is a great feature as well that I look for in a lot of my ice fishing rods. It'll help with that vertical pull while also keeping your hands warm and comfortable.
Guides are important in ice fishing because excess ice and slush build-up can freeze up everything pretty quickly.
Quality ice eyes on the rod blank will prevent it. This rod uses specially designed sea guides that are lightweight and corrosion-resistant.
If you're looking for Crappie ice fishing rods that aren't so crappy, this is a great pick.
Choosing the Best Ice Fishing Rods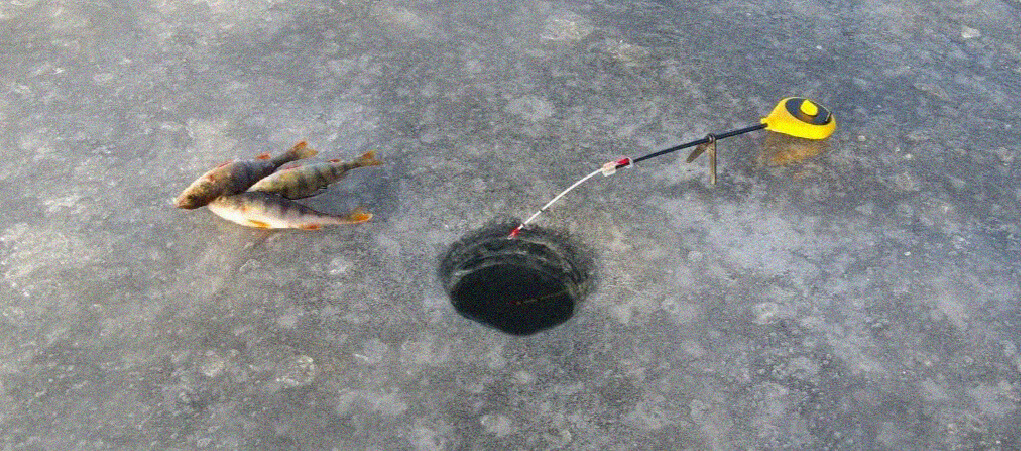 Getting the top-rated ice fishing rods is impossible without understanding some of the criteria used to decide which are the best.
When you're fishing hard water, I find that choosing a rod is a bit easier and it doesn't require as much careful thought.
The reason for this is because you're not actually casting, you're most likely jigging vertically so you don't have to worry about getting the best ice fishing reel as much.
This takes 50% of the thought out of the equation. But, this puts a lot more emphasis on the rod you choose.
In the following sections, we'll take a look at what factors matter most in choosing the best ice spinning rods.
Material
Choosing a material in a fishing rod is challenging to understand.
Keep in mind that only expert anglers will really be able to tell the difference between many of these factors but that doesn't mean you shouldn't pay attention to them.
When you're fishing in specific conditions such as ice, the material you choose will play a bigger role than it would in standard conditions.
Many years ago, they used to make rods from bamboo but in today's world, we pretty much have three different materials to choose from. Let's take a look.
Fiberglass
Fiberglass is the oldest running material used to make fishing rods. It's been around for a long time, it's strong, long lasting, and flexible.
These rods are also the most affordable and most common so you'll find that a lot of fishing rods from the most popular brands are made using fiberglass.
The durability and low price is what makes them a good choice for beginner ice anglers. You can pick one of these up and realize you don't like ice fishing and it won't be too much of a hit to your wallet.
The durability is also an important factor if you're unsure about what you plan on catching.
The biggest problem anglers have with fiberglass is the lack of sensitivity.
Fiberglass rods just aren't that sensitive and when you pair that with wearing ice fishing gloves too, it's hard to feel little nibbles with this material.
That's why you'll see a lot of fiberglass rod manufacturers like Shakespeare or Abu Garcia include a glass tip on their rods.
This sensitive tip is highly fragile so you have to be careful but it offers improved sensitivity so you can see it move with each small nibble.
A lack of sensitivity can sometimes mess with the presentation of your ice fishing lures as well. It'll make for more challenging hook sets because the fiberglass blank doesn't respond as fast to your motions.
Whether we like it or not, fiberglass is going to likely remain the most popular material for fishing rods in general and many ice fishing rods are made using the same material. Expect to see plenty of these.
Graphite
These came into the market in the 70s and have proven to be a superior material to fiberglass (based on who you ask).
Like everything, graphite has some issues as well. You'll see this referred to as "modulus" by a lot of manufacturers.
Basically, the higher the modulus the stiffer the graphite which means they can use less material to produce the same level of strength and durability.
Less material means lighter weight which means better handling. Got all that?
The misconception is that stiffer in material actually means stiffer in feel which isn't always true. It could be true, but that's not always the case.
That said, stiffness is a good thing because it makes the rod more sensitive but they're also more brittle. It's a give and a take because the price will generally be much higher than fiberglass as well.
All in all, graphite is considered to be superior to fiberglass.
Composite/Carbon Fiber
The third material used to make the best ice fishing rods is carbon fiber or a composite mixture. These are the best for serious anglers who aren't afraid to pay a pretty penny to get the best of the best.
It's a mixture of both graphite and fiberglass that boosts your sensitivity while also keeping the rod lightweight and durable.
These versatile rods are a great choice for anglers who want to catch a wide variety of fish without having to use a different rod for everything.
The material isn't that common in ice fishing rods but you can find them if you look hard enough.
Action/Power
When it comes to ice fishing rods, you'll usually find ultralight rods because a lot of newbie ice anglers hit the ice with the intention of catching panfish, perch, and trout. These are common cold weather catches.
Another reason why you can use ultralight gear even with larger fish is because the cold water calms the fish down.
Their metabolism slows during this time which leads to less of a fight and ultimately, less stress on your rod.
As for action, fast action is ideal because of a few reasons.
First, the same reason I just said. Since the fish are more lethargic in the winter, they're not always going to strike your bait super hard.
They're going to investigate it a little more. Maybe they'll nibble on it a bit. Perhaps they take it but really gently.
This means that you'll need to pay a lot closer attention and if you're using a medium-heavy or slow action rod, you'll never feel the nibble because the rod flexes too easily.
With a stiff rod, every little nibble sends a shock down to the reel seat and butt of the rod where your hands are.
As a result, you can feel the small investigative nibbles on an ultra fast action rod when you wouldn't on a medium action rod.
Rod Length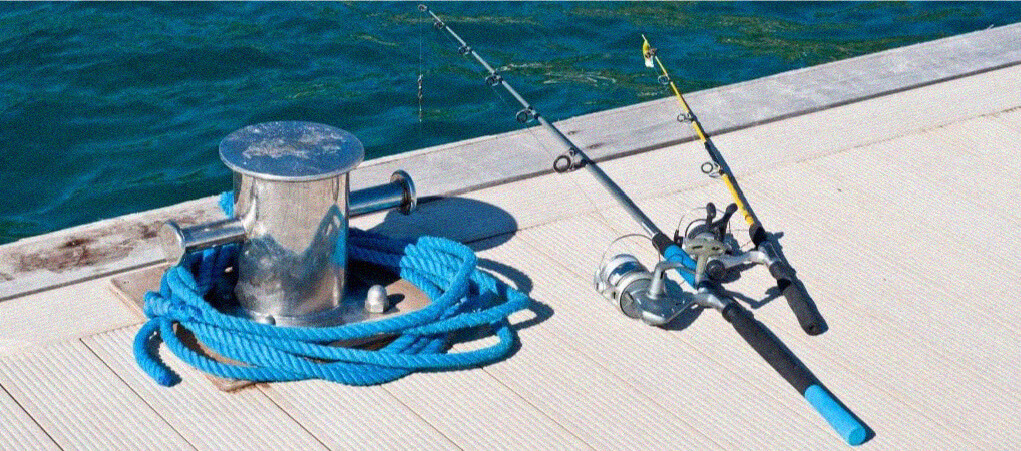 Let's assume you've never been ice-angling in your life. You're used to 6-7 foot spinning rods with 6lb test fishing line and you see this tiny little 2-3 foot rod and wonder what in the world it's for.
Well, it's not for kids, it's for ice fishing. There are a couple of reasons for this.
First, it's because ice fishing rods need to be small enough to fit inside an ice fishing shelter. If you're cramped inside a flip-over shelter you'll barely have room for yourself nevermind a six-foot rod too.
More and more people are starting to use full-size rods for ice fishing especially if they fish out in the open but in most cases, the top ice fishing rods will range in length from 24-40 inches. 
Sight fishing is also a lot easier when you're using a smaller and lighter rod. If you're trying to fish a hole with a six-foot rod, you're a lot farther from the hole, right?
If you're only two or three feet away from the hole, you'll have a better chance of seeing down into the water and being able to set the hook as soon as the fish takes the bait.
What You Also Need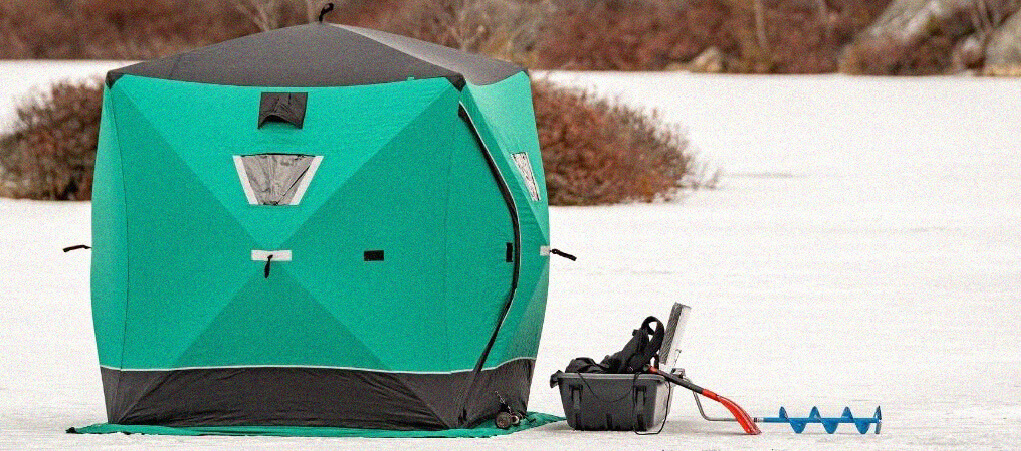 I've said it and I'll say it again, ice fishing is not cheap. If you've never been fishing before, I wouldn't recommend this as your first taste of fishing.
To do it right, you need to spend some money otherwise, you're going to be cold, miserable, and unsuccessful.
Here are some additional pieces of ice fishing gear you'll want to get. 
Ice Fishing Shelter
If you're a long-term thinker and you've been ice fishing a few times, it's time to start considering an ice fishing shelter.
They don't cost as much as you think and you can get one that works for you.
Depending on your needs, you can choose a shelter that houses between one and five people and it will not only help make your fishing trips more enjoyable but they'll be more successful too.
Ice Fishing Bibs
The best pair of ice fishing bibs will keep you warm and safe when the blistering wind comes whipping around the ice. Keep in mind, these are not your standard waders.
They are much better insulated and equipped to battle the worst weather mother nature can throw your way.
If you're not going to get a shelter at least get a proper pair of bibs.
Ice Fishing Fish Finder
Last but not least, a fish finder for ice fishing. Walking all around the ice drilling holes is not the best strategy for ice fishing.
There has to be a rhyme or reason to the madness and if you're fishing somewhere you've never been before, it's impossible to know where to fish.
Even in the winter, fish habits are the same and they hold to the same structure they did during the spring and summer.
The only way to find that structure is with a fish finder that reads through the ice.
Final Thoughts
As I've said, ice fishing is so much more about the rod than the reel so you'll want to pay attention and make sure you get the right rod for the job.
No matter what, I have to go with my favorite, the Ugly Stik, as the best ice fishing rod because you get a rod and reel combo for an affordable price from a brand that always puts out a good product.
If you're new to the game, it's a no brainer.
If you have a little more experience or you're trying to catch big fish, the 13 Fishing Walleye Rod is a great option as well.
I'm not as familiar with this brand but everyone I talk to has nothing but positive things to say and this specific rod is incredible. Either one will get the job done.
Be safe this year and as always, good luck out there!
About Post Author