---
We independently research, test, and recommend the best products; you can learn more about our review process here.
Ice fishing holds a special place in my heart. During the hard water season I would have the opportunity to visit Boom Lake in Wisconsin to visit family.
It was there that I learned just how important it is to have the right ice fishing rod.
Through the years I have tried out numerous rods and have seen my fair share of bad rods.
On the other hand, I have had the opportunity to question the local pros in Wisconsin to find out what the best ice fishing rods were in their opinion.
This past winter I was able to make another trip to Boom Lake to put a few rods to the test. During my trip I looked at key factors like rod sensitivity, backbone, handle comfort, and hookup percentage.
After hours of research I've come up with a list of the top ranking rods in six categories.
Top 3 Ice Fishing Rods on the Market
If you're in a hurry you can take a look at my top three choices for the best ice fishing rods on the market.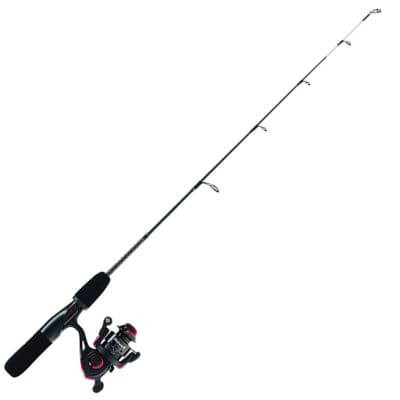 Shakespeare Ugly Stik GX2 Ice Fishing Reel and Rod Combo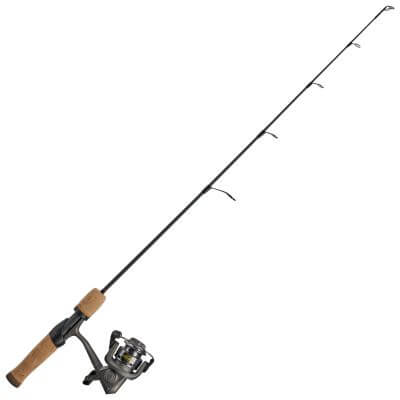 Berkley Lightning Ice Fishing Rod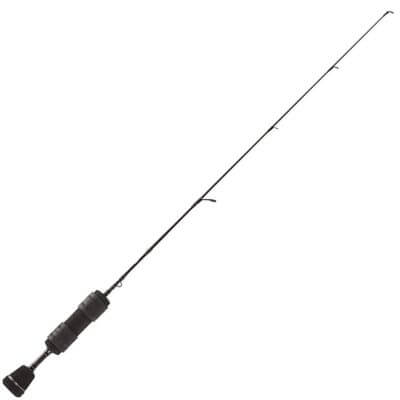 13 Fishing Widow Maker
---
Methodology
I tried out numerous rods during my week at Boom Lake.
The lake is most known for its abundance of panfish but it also has a wide variety of other fish like walleye, muskie, pike, and smallmouth bass, so I was able to test the limits of these rods with larger fish.
While testing out the rods, here are a few factors that I considered:
Rod Strength: The strength of an ice fishing rod may not matter to those catching panfish or crappie, but it makes all the difference in the world when a big muskie comes along and decides to bite!
Sensitivity: Having a rod that is sensitive is probably the most important thing when ice fishing. Let's face it, hard water fishing produces quality fish but hardly ever produces quality bites because of the lethargic nature of these ice water fish.
Rod Holder Fit: About 60% of all ice fishing is done with a rod sitting in a rod holder. I tested out numerous rods to see how they performed when used in a rod holder.
Hookup Percentage: The goal of having a great rod is to catch fish right? I tested all the rods and was able to tally how many fish were missed and how many hooksets landed.
Best Ice Fishing Rod Overall
Shakespeare Ugly Stik GX2 Ice Fishing Reel and Rod Combo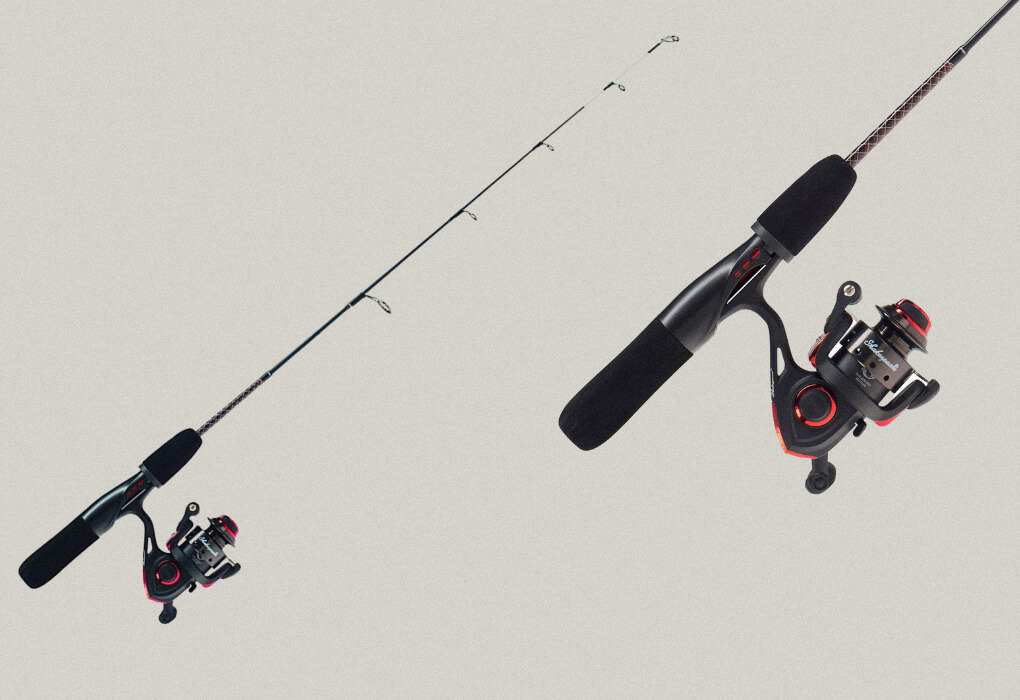 Specs
Rod Length: 26", 28", 30"
Rod Material: Aluminum
Type: Spinning
Why We Chose It
The Shakespeare Ugly Stik GX2 Ice Fishing Rod is everything you need in an ice fishing rod.
Let's start out with rod strength. The rod is made of aluminum which is ultra strong. (I've never had an Ugly Stik break in my lifetime)
I think durability is important when ice fishing because sometimes, you just don't know when that big fish is going to come along and grab your lure.
Another great thing about the rod is that it has one-piece guides which means the guides are part of the rod instead of glued or woven on.
The rod tip was super soft and allowed me to feel fish as small as 5" taping my bait about 40'' down.
During my week on Boom Lake I was able to test this rod and caught numerous panfish and also a 22" pike which came as a surprise while I was almost falling asleep!
During the fight with the "Northern" the Ugly Stik arched beautifully and did most of the battling for me.
The only downside that I can see is that the reel that comes with it is average quality but it's something that can be replaced in the future.
If you're a beginner this is a fantastic rod for ice fishing because it's durable and it is sensitive enough to feel a soft bite from small fish.
The Shakespeare Ugly Stik GX2 Ice Fishing Rod hits on all cylinders and has the potential to be a lifetime rod in the future.
Best Budget Ice Fishing Rod
Berkley Lightning Ice FIshing Rod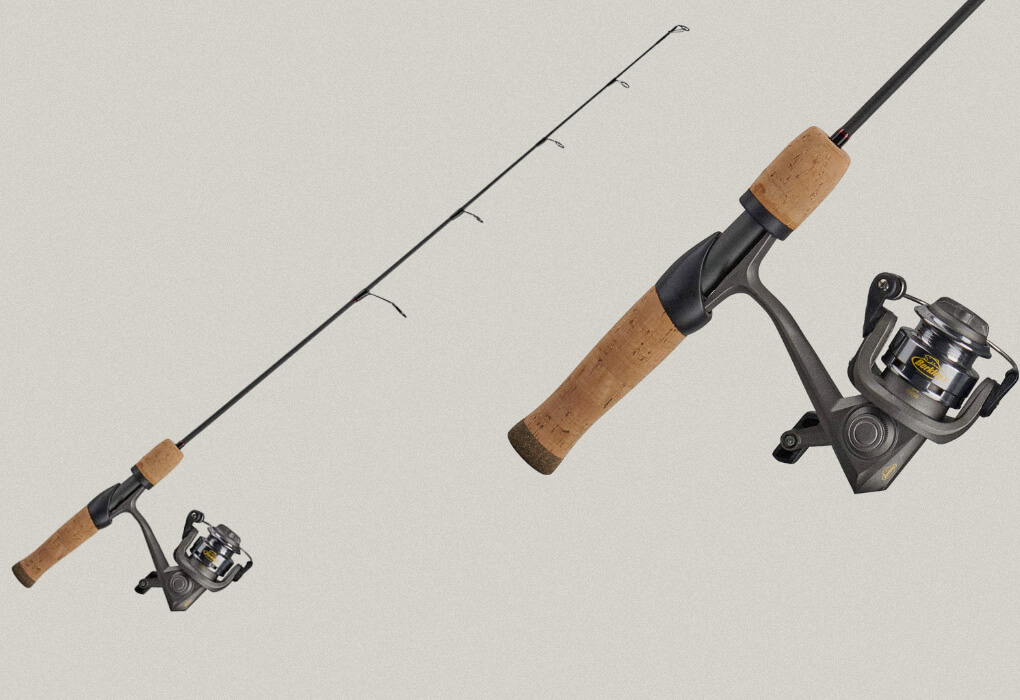 Specs
Rod Length: 24",z 28", 32"
Rod Material: Fiberglass
Type: Spinning
Why We Chose It
The Berkley Lightning Ice Fishing Rod is a combo that comes with a Berkley BLRI-28MLCBO Reel which is great for beginners or those on a budget who want to start ice fishing for under 50 bucks.
The rod is made of fiberglass and comes in three sizes: 24", 28", 32" which are all one-piece rods.
The rod is very light like most lightning rods but this one was more sensitive than I expected from a budget rod. I was able to catch an assortment of fish and it was very versatile.
Now let's look at the reel. I was surprised at how smooth the BLRI-28MLCBO Reel was because reels that come with combos aren't necessarily known for being quality reels if you know what I mean?
This reel actually has 4 ball bearings which really makes a difference with cutting down vibrations.
The reel also has a stem extension which allows the handle to extend farther out aways from the rod.
This came in handy on my fishing trip because I was wearing some pretty stout gloves. The extension allowed me to reel in the fish without taking off my gloves.
The reel also comes with cold gear lube which is great for preserving the reel gears when fishing in extremely cold temperatures.
A small downside to this rod is the low quality cork handle.
I like to drill a hole in the ice and use it as a rod holder and the cork started to rip a little after a 15" walleye slammed my minnow while I was deadsticking.
Overall, I'd recommend this combo for ice fisherman from beginners all the way to veterans as the combo covers all the bases as far as strength and sensitivity.
Not to mention the reel is one of the better reels that I've used on my hard water trip.
When comparing the Berkley Lightning Ice Fishing Rod to the Ugly Stik GX2 there were a lot of similarities, however I liked the fact that the Ugly Stick rod had one-piece guides which makes a difference when these rods come in contact with the ice.
If you're looking for a great base rod for your arsenal, I highly recommend the Berkley Lightning Ice Fishing Rod for your next trip!
Best Ultralight Ice Fishing Rod
13 Fishing Widow Maker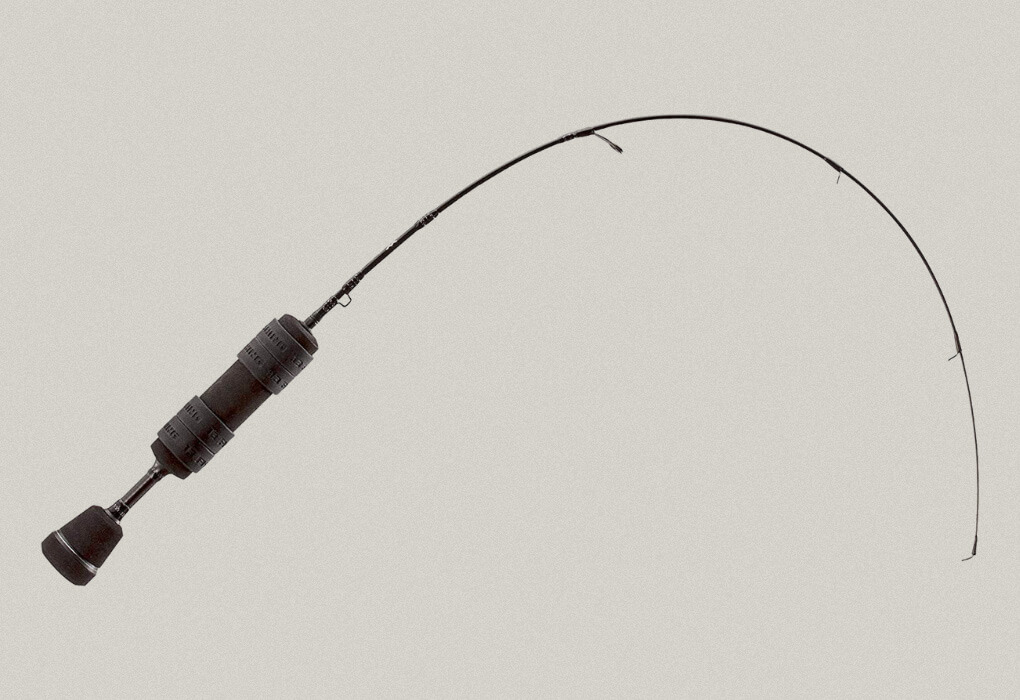 Specs
Rod Length: 24", 25", 26", 27", 28"
Rod Material: Graphite
Type: Spinning
Why We Chose It
13 Fishing has always been known for making quality rods and the Widow Maker ultralight rod is a fantastic addition to their lineup.
The rod is made of 36-ton graphite which is really a feat to accomplish with an ultralight rod.
Usually ultralight rod makers don't bother too much with strength because they figure the types of fish that will be on the other end of the line will be under 10".
But when ice fishing, it's nice to have that added strength when a big walleye jumps on!
Being that it is made of graphite, its sensitivity is off the charts. I was able to catch six lake trout and a 13" walleye on it that were over 50 feet deep!
To have that kind of sensitivity at that depth is a rarity and it undoubtedly was the reason for catching those fish.
The 5A Portuguese cork handle adds a really high-end tough to this rod. The handle is probably the softest rod handle I've ever felt which is nice when fishing in freezing temperatures.
The rod fit snug into all the rod holders that I tried it out on which was a great quality for those dead stickers!
The rod tip was very soft and added to the overall sensitivity of the rod.
I paired this rod with a Pflueger President ice reel and now, it is at the top of my lists for ice fishing rods.
During my test the 13 Fishing Widow Maker was very similar to the St. Croix Legend black rod which I selected as the best rod for panfish because of its sensitivity.
The only downside is that it is made of graphite which is strong but be careful not to bang it on the rod holder too hard or the ice.
I personally don't like to fish with graphite rods with a holder because of how delicate they are when it comes to contact with hard surfaces.
If you are looking for an ultralight rod to take your ice fishing to the next level I highly suggest looking at the 13 Fishing Widow Maker Rod.
It was the best one I have ever tried and am certain that you'll agree!
Best Ice Fishing Rod for Walleye
13 Fishing – Microtec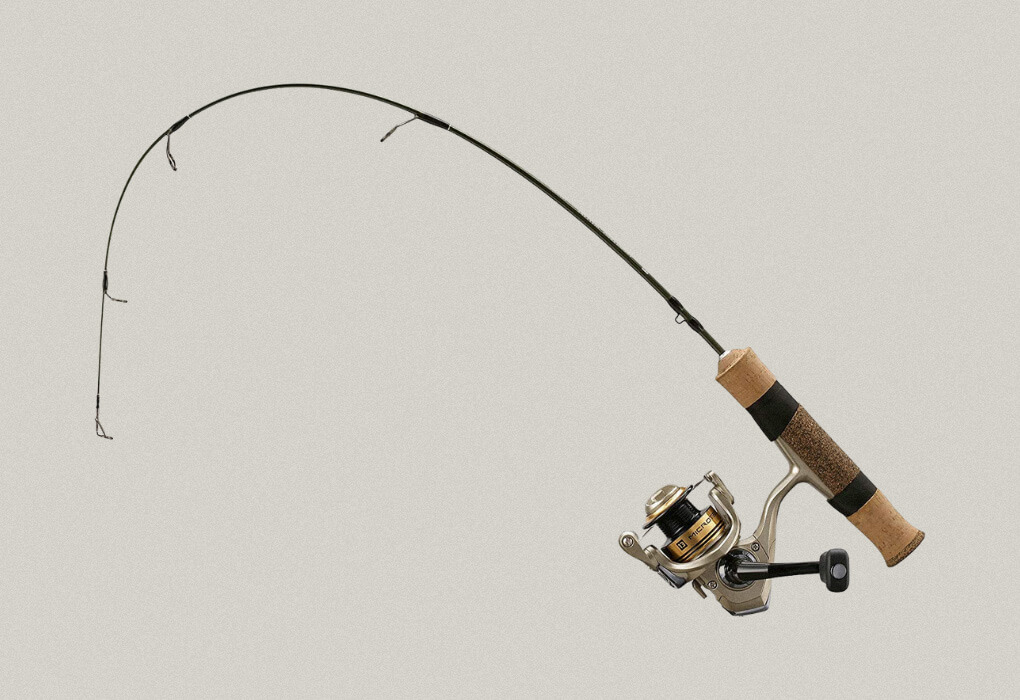 Specs
Rod Length: 28", 36"
Rod Material: Fiberglass
Type: Spinning
Why We Chose It
It's no surprise to see another ice fishing rod on the list from 13 fishing. The company certainly knows what they are doing when it comes to making rods designed to fish hard water.
The Microtec is made of aluminum which means it is strong and this is very important when fishing down deep for walleye.
The handle of the rod is specifically carved for fishing for walleye and fits perfectly into a rod holder.
I will say that the Microtec is designed for dead sticking and that's exactly what I used it for when I fished Lake Boom.
I was able to deadstick from morning until noon and picked up 4 walleye ranging from 12" to 20". The rod was strong and stiff and seemed like it was built to fight big walleye.
The rod comes as a combo with a 3BB reel attached which got the job done but isn't what I would categorize as "high-end." It was an average reel I'd say.
The only downside is that there were only two sizes to choose from: 28', 36'. I'd love to see one of these rods made at 32" but overall it's a great ice fishing rod.
If you are looking for an ice fishing rod specifically designed for catching walleye in hard water, you need to give the Microtec a try on your next walleye adventure!
It's now my go-to rod for catching walleye and I'm pretty certain that it will be yours as well!
Best Ice Fishing Rod for Panfish
St. Croix Legend Black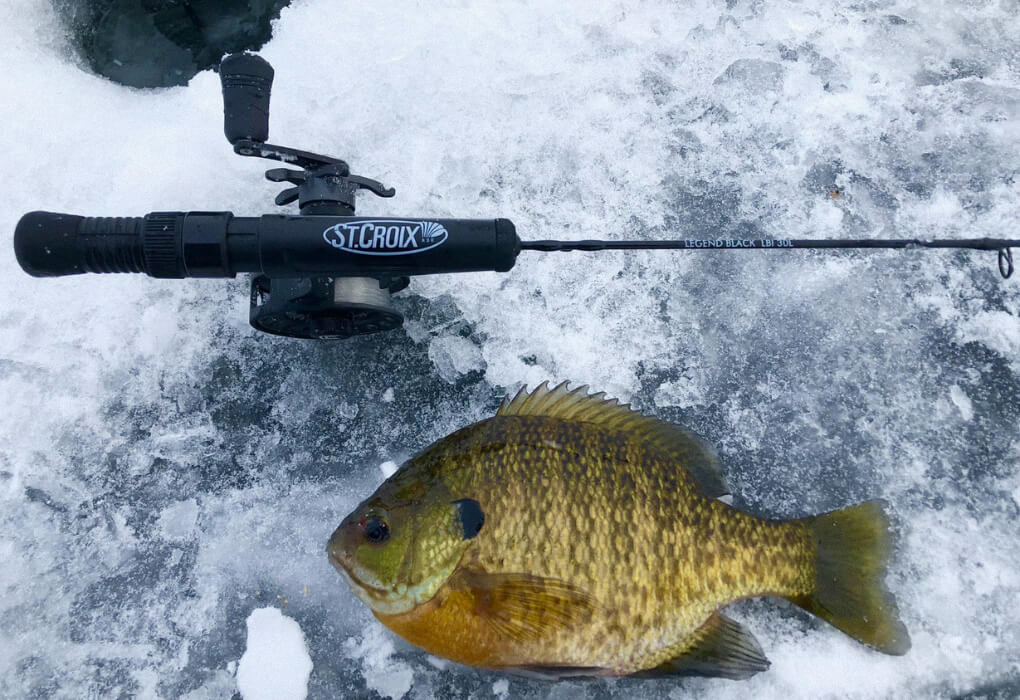 Specs
Rod Length: 17", 24", 30", 48"
Rod Material: Composite
Type: Spinning
Why We Chose It
The St. Croix Legend Black rod comes in a variety of sizes ranging from 17" to 48". It also comes with a high-tension stainless steel strike indicator.
I'll start off with the strike indicator. I remember my first time using this rod and experiencing a bite using a strike indicator.
It is hands down the best I've ever used as the spring is set so high that all it takes is the most subtle bite to trigger.
It's like having a little helper with you helping you catch panfish. During my test this "little rod on the end of my rod" as my wife likes to call it, was triggered eight times and the rod delivered eight fish.
That's a 100% hookup rate. The indicator is virtually automatic!
The rod is made of carbon fiber and isn't the highest quality that is available on the market SCV Carbon but SCll Carbon which is good enough for getting the job done without mortgaging my home.
When compared with the Tuned Up brand of rods, which are known for their sensitivity, this rod falls slightly behind.
The handle is made of EVA (Ethylene-vinyl acetate) which is a type of foam that is firm but supple when holding it.
It really makes a difference if you are one who holds your rod however when deadsticking this rod for panfish it's in a rod holder which may not make much of a difference.
During my test, the St. Croix Legend Black was very similar to the 13 Fishing Widow Maker rod which I selected as the best ultralight rod because of its sensitivity.
The rod comes in a variety of sizes which is great for panfish anglers who like longer rods. I prefer the shortest one they offer which is the 17" because a quick reaction is crucial when setting the hook on small fish.
Overall the St. Croix Legend Black rod is well built using quality materials and is built to last even in extremely cold conditions.
The strike indicator is the best on the market and the variety of sizes offers anglers custom options for their preferability.
It's great for beginners and those looking to take their ice fishing to the next level.
Out of all the rods I've tested I'd say this is the rod you need if you are targeting panfish specifically!
Best Ice Fishing Rod for Large Fish
Clam's Jason Mitchell Meat Stick Rod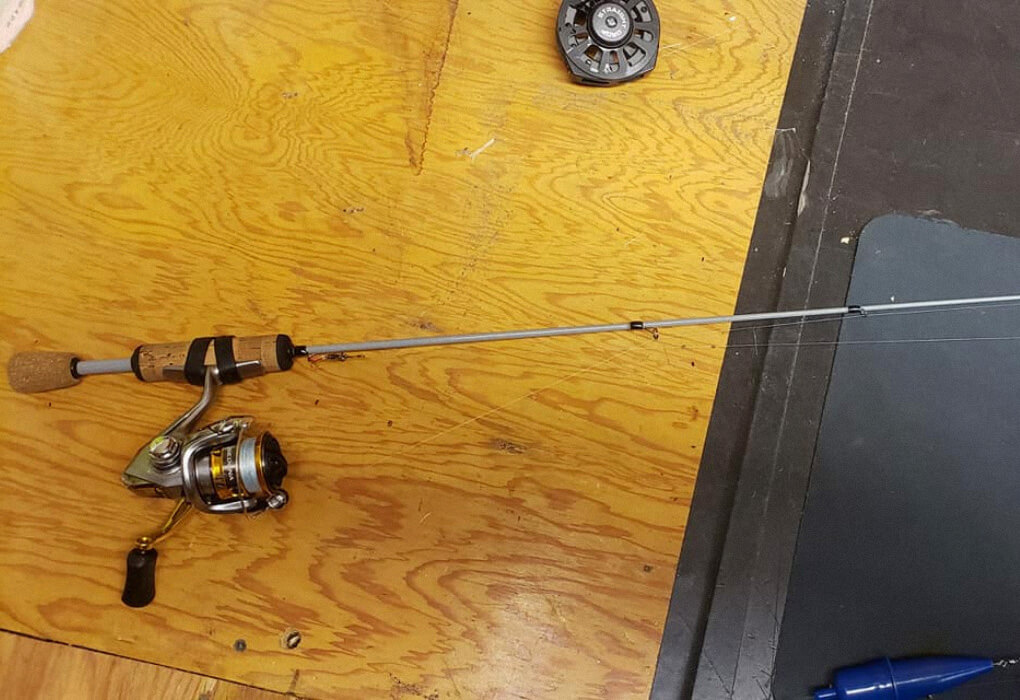 Specs
Rod Length: 32", 36", 40", 48"
Rod Material: Fiberglass
Type: Spinning
Why We Chose It
The Clam Jason Mitchell Dead Meat Ice Rod is rather new to the ice fishing world. It hit the market in 2019 and has been gaining popularity for a variety of reasons.
The rod is made of a solid fiberglass blank which means it's one solid rod from the butt to the rod tip. I find that this helps when holding up to big fish.
The rod sets itself apart from other rods I've used with its sensitive tip that detects a subtle bite but only gives about five inches of softness and then the backbone kicks in.
It's like having a finesse rod with the backbone of a heavy rod.
On the morning I used it I was able to catch several different sized fish but the highlight of the morning was when I was hole jumping and managed to snag a 24-inch pike while jigging a spoon darter really aggressively.
This is where the Jason Mitchell Dead Meat Rod shined!
As I was reeling it up the backbone on the rod made the fish feel smaller than it actually was which is a great sign that your rod is more than capable of handling big fish.
The folks at Clam also did a great job with the tip as far as making it fluorescent yellow with thin red lines that make detecting a bite easy.
One unique feature that I noticed on this rod is the oversized wire guides which helped on the morning that I used it.
It was just below 10 degrees and everything was freezing up. I totally expected to have one of those days where I was clearing the guides out every 15 minutes but never had to do it once with the extra wide guides.
If there is a downside to this rod, it's probably that it's made for mobile fisherman who are hole jumping and not fishing in an ice cabin.
The shortest rod is 32" so if your ice hut is small you may have a problem with this rod.
If you are an advanced ice fisherman who targets big fish when hard water fishing, the Clam Jason Mitchell Dead Meat Ice Rod is the rod for you.
It was a pure joy for me to use and the 24-inch pike I landed with it made it the highlight rod of my trip!
Choosing the Best Ice Fishing Rods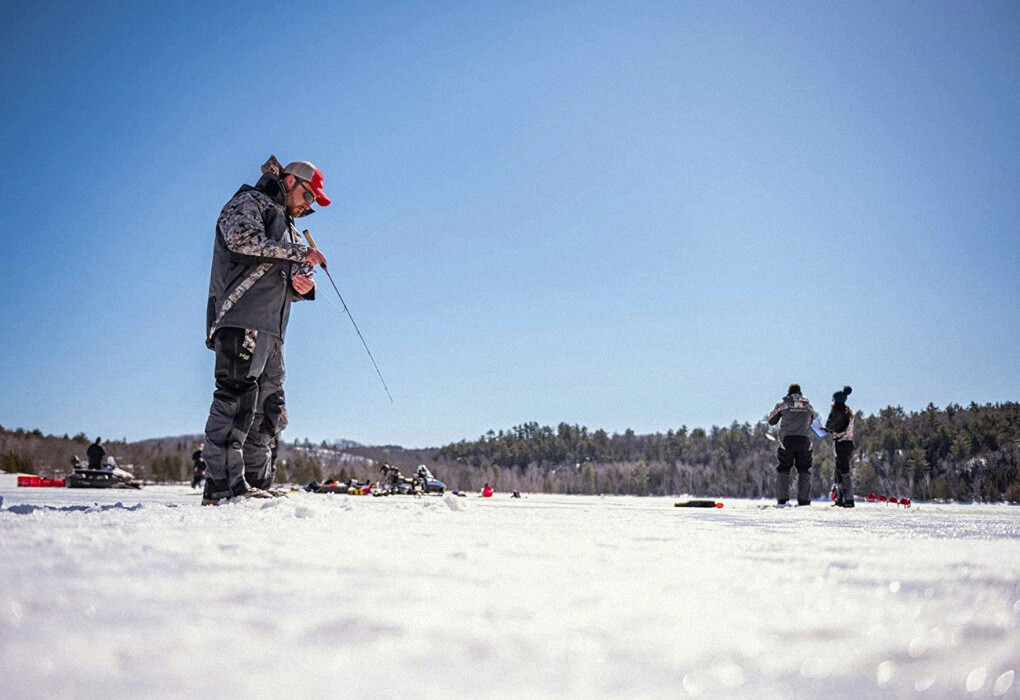 Getting the top-rated ice fishing rods is impossible without understanding how each feature is applied to certain fishing situations.
When you're fishing hard water, I find that choosing a rod is a bit easier because you're not worried about casting distance.
This makes a huge difference and allows you to solely focus on fishing straight down beneath the ice.
But, this puts a lot more emphasis on the rod you choose. In the following sections, we'll take a look at what factors matter most in choosing the best ice spinning rods.
Material
Choosing a material in a fishing rod is challenging to understand. Keep in mind that as you use different rods you will start to see and feel the nuances in different rods made with certain material.
When you're fishing in specific conditions such as ice, the material you choose will play a bigger role than it would in standard conditions.
Let's take a look at the three major kinds of material that manufacturers use when building ice rods.
Fiberglass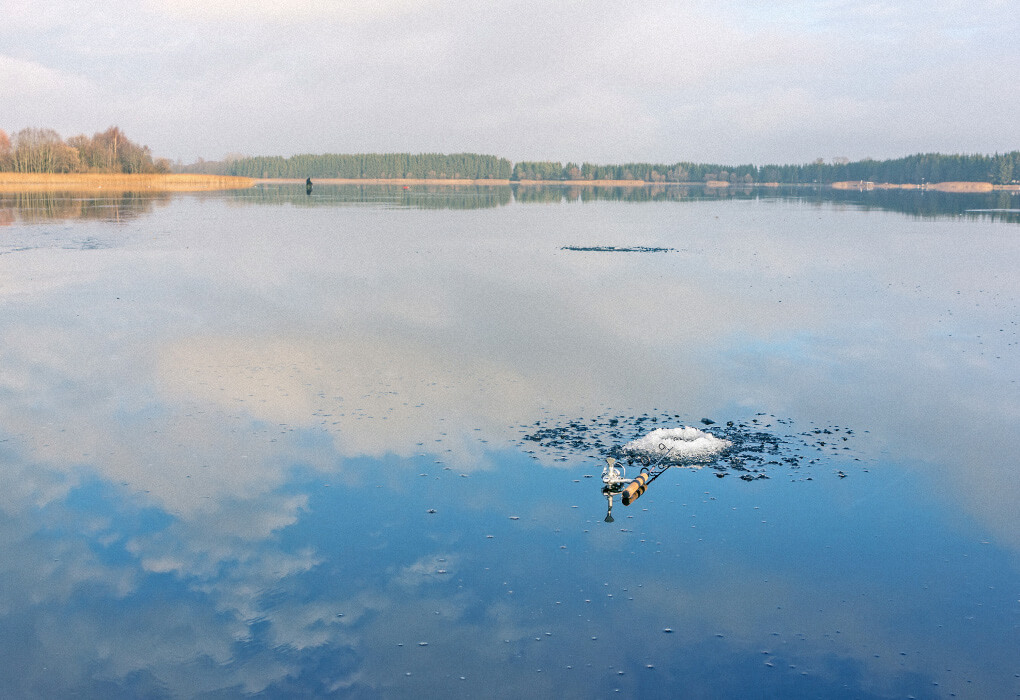 Fiberglass is the oldest running material used to make fishing rods. It's been around for a long time, it's strong, long lasting, and flexible.
These rods are also the most affordable and most common so you'll find that a lot of fishing rods from the most popular brands are made using fiberglass.
The durability and low price is what makes them a good choice for beginner ice anglers.
You can pick one of these up and realize you don't like ice fishing and it won't be too much of a hit to your wallet.
The durability is also an important factor if you're unsure about what you plan on catching.
The biggest problem anglers have with fiberglass is the lack of sensitivity.
That's why you'll see a lot of fiberglass rod manufacturers like Shakespeare or Abu Garcia include a glass tip on their rod.
This sensitive tip is highly fragile so you have to be careful but it offers improved sensitivity so you can see it move with each small nibble.
A lack of sensitivity can sometimes mess with the presentation of the lures as well. It'll make for more challenging hook sets because the fiberglass blank doesn't respond as fast to your motions.
Whether we like it or not, fiberglass is going to likely remain the most popular material for fishing rods in general and many ice fishing rods are made using the same material.
Expect to see plenty of these.
Graphite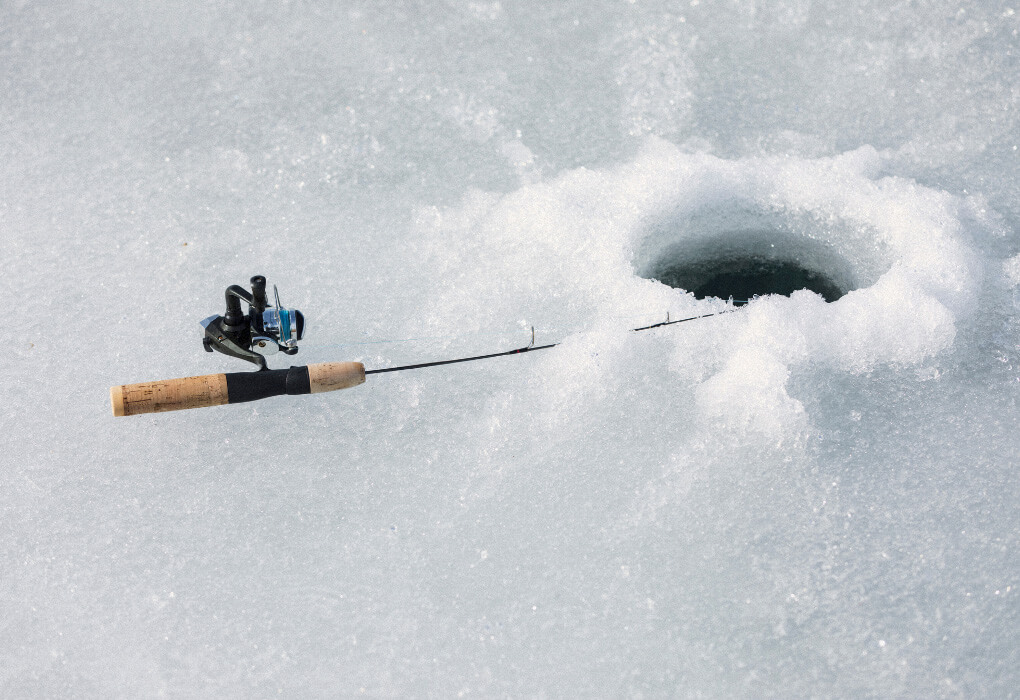 I'll make this really simple. Graphite rods are usually going to be the most sensitive rods available.
When rating the strength on a graphite rod you'll want to look at the modulus rating.
Basically, the higher the modulus the stiffer the graphite which means they can use less material to produce the same level of strength and durability.
The downsize to graphite rods is that they don't react well when contacting other hard surfaces and that's something you have to consider when ice fishing.
That rod is going to hit the ice sooner or later!
Composite/Carbon Fiber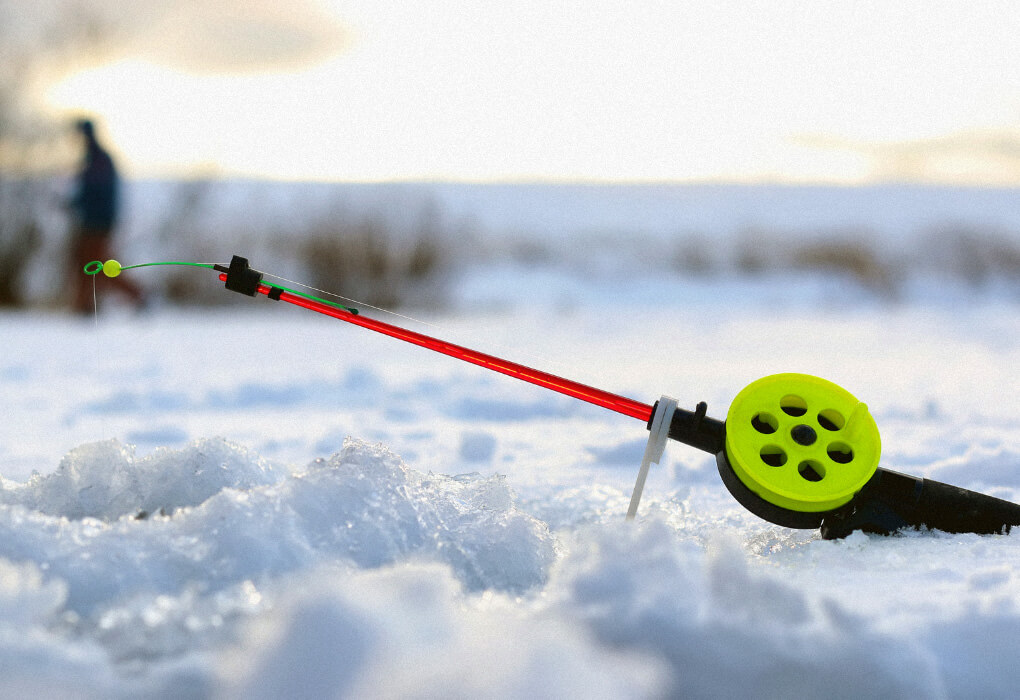 The third material used to make the best ice fishing rods is carbon fiber or a composite mixture. These are the best for serious anglers who aren't afraid to pay a pretty penny to get the best of the best.
It's a mixture of both graphite and fiberglass that boosts your sensitivity while also keeping the rod lightweight and durable.
These versatile rods are a great choice for anglers who want to catch a wide variety of fish without having to use a different rod for everything.
The material isn't that common in ice fishing rods but you can find them if you look hard enough.
Final Thoughts
I certainly learned a lot by taking a variety of rods out on the ice for a test.
The list that I've put together was based on my trip to Boom Lake, but is also a combined analysis of 40 years of ice fishing experience.
So let's review our top pick!
For the best ice fishing rod overall, I choose the Shakespeare Ugly Stik GX2 Ice Fishing Rod. It topped the list for strength, durability, and sensitivity.
Add to it the reel that came with it as a combo and this set up is a very versatile combo that will catch small panfish all the way up to pike.
While the Ugly Stik won overall, you really can't go wrong with all the combos mentioned in this best ice fishing rods guide.
Give them a try and tell us what you think! We'd love to hear from you!