---
We independently research, test, and recommend the best products; you can learn more about our review process here.
The Ulterra is the only Minn Kota self-deploying trolling motor. However, does that mean it's worthy of the $2,500 price tag? Minn Kota has been a leader in the trolling motor industry for decades.
It wasn't until a few years ago, when Lowrance and Garmin debuted their trolling motors, that the Minn Kota Ulterra wasn't considered the best trolling motor on the market.
In my Minn Kota Ulterra review, I explain why I only rated the Ulterra an 8/10, which means if I were buying a high-end trolling motor, the Ulterra wouldn't be my first or second choice. However, it does have several features that many anglers find beneficial to add to their new boat.
---
Minn Kota Ulterra Overview
Pros
Auto-Stow & Deploy
Multiple power options
Multiple shaft lengths
Spot-Lock
Universal sonar
Cons
Expensive
Automatic stow and deploy intermittent
Not a brushless motor
While the Minn Kota may no longer be the king of trolling motors, you can see it still has several features that anglers find incredibly useful.
One significant disadvantage is that the Minn Kota Ulterra is not saltwater compatible. To get the corrosion resistance for saltwater use, you must purchase the Riptide Ulterra trolling motor. However, if you primarily fish the freshwater, you won't need the Riptide version.
What Others Have To Say About The Ulterra
Many people love their Ulterra trolling motor. However, some people have had nothing but problems. So it appears Minn Kota might be slipping on their quality control, and they look for ways to get around their warranty instead of standing behind their product. I'll let you decide for yourself.
Let's start with the good news, the people who love their Minn Kota Ulterra-
I think the most honest Minn Kota Ulterra reviews are those in the middle like this one:
As with any product, some individuals dislike it and manage only to see the problems leaving negative self-deploying trolling motor reviews:
Now you see why I only rated the trolling motor 8/10. It has some problems, which we will discuss in greater detail later, but overall it's a good trolling motor. Let's move on to what you should look for in a trolling motor.
Factors To Consider Before Buying A Trolling Motor
To purchase the best trolling motor for your situation, there are several things you need to keep in mind. Buying the most expensive trolling motor doesn't guarantee you success while on the water, especially if you're not using most of the features it offers.
The following factors are essential for trolling motors in all price ranges. You'll need to determine which are most important to your scenario.
Ease of Use
It must be easy to use whether you're fishing with the cheapest or most expensive trolling motor. Complicated trolling motors make for a frustrating day of fishing. The lowest-end trolling motors are often the easiest to use, so at some point, you do have to choose between having the latest and most significant features and ease of use.
The Ulterra is easy to use despite having many features. The remote is straightforward and turns the Minn Kota Ulterra into a virtually automatic trolling motor. However, if something goes wrong, it is not easily fixed and often requires a visit to the shop of a certified Minn Kota service center.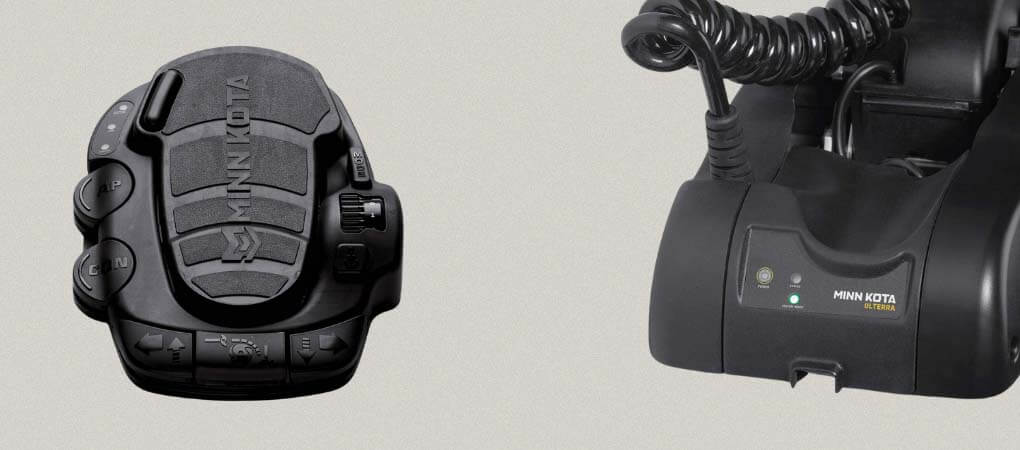 Battery Life
Battery life has to do with the batteries you choose to run and your trolling motor. Some trolling motors use more energy than necessary to propel the boat. Therefore, they drain the trolling motor batteries quicker than they should.
Minn Kota has tried to counteract this with the Digital Maximizer system. They claim Digital Maximizer enables batteries to last five times as long as their competition. However, that's difficult for me to believe when some of their competition uses brushless motors, which are the most powerful and efficient motors on the market.
Quietness
It doesn't matter how robust your trolling motor is if it's loud and spooks fish before you can get within casting range. A trolling motor must be as quiet as possible. Not only should it be silent under the water but also above the water.
Often electric motors make a noise when turning, and though it might be difficult for us to hear, it is amplified underwater. This is another reason to go with a brushless motor when you can; they are virtually silent and don't interfere with sonar, like traditional lower unit motors.
Even though the Ulterra is not a brushless motor, I couldn't find any complaints regarding how loud the motor was, so I'm confident it's not going to spook fish before you can get into casting range.
Standard Features
The standard features are where the high-end bow mount trolling motors separate themselves from the mid-range trolling motors.
However, you won't always need all the fancy features offered by high-end trolling motors, so you must determine which features you will use the most and buy a trolling motor that has as many of those features as possible.
At one time, I would have considered the Minn Kota Ulterra as a high-end feature-rich trolling motor. However, after several years on the market, there have been other trolling motors that can push the innovation of trolling motors further past the Ulterra. That's why I now consider it a high mid-range or low high-end trolling motor.
Features & Benefits Of The Minn Kota Ulterra
Even though the Ulterra is not the best of the best, there are still many benefits to mounting it onto your boat. Minn Kota pioneered the auto-deploy and stow feature, making fishing by yourself much more straightforward. We also can't deny Spot-Lock's innovation when Minn Kota first introduced it.
Several less apparent benefits are worth mentioning:
Multiple Power Options
Having multiple ways to power your trolling motor is an excellent benefit because not everyone wants to buy three of the best trolling motor batteries, and not everyone needs the maximum amount of thrust. Sometimes it is nice to have a spare battery if one dies while you're on the water.
Using 24-volts, the Ulterra is capable of producing 80lbs of thrust. Once you add another 12-volt battery to reach 36-volts, the Ulterra can deliver 112lbs of thrust. Lithium batteries will give you the most extended battery life, especially with Digital Maximizer on the Ulterra.
Multiple Shaft Lengths
Shaft length is vitally important because if the shaft is too short, then your lower unit won't stay in the water, which will cause a significant commotion scaring away any nearby fish. If the shaft is too long, then you'll constantly be hitting submerged structures or stirring up the bottom.
The Ulterra has multiple shaft lengths so that you can find the best one for your new boat. 45″, 60″, and 72″ shafts are available for the Ulterra. It's best to have a shaft that's too long because you can adjust it and raise it off the bottom.
You'll need to pay a little more attention to avoid hitting your rod on the shaft, but that's a minor inconvenience.
I can't fail to mention that Minn Kota claims their composite shaft is indestructible and offers a lifetime warranty on the shaft in case you do run it a little too deep on occasion.
Automatic Stow & Deploy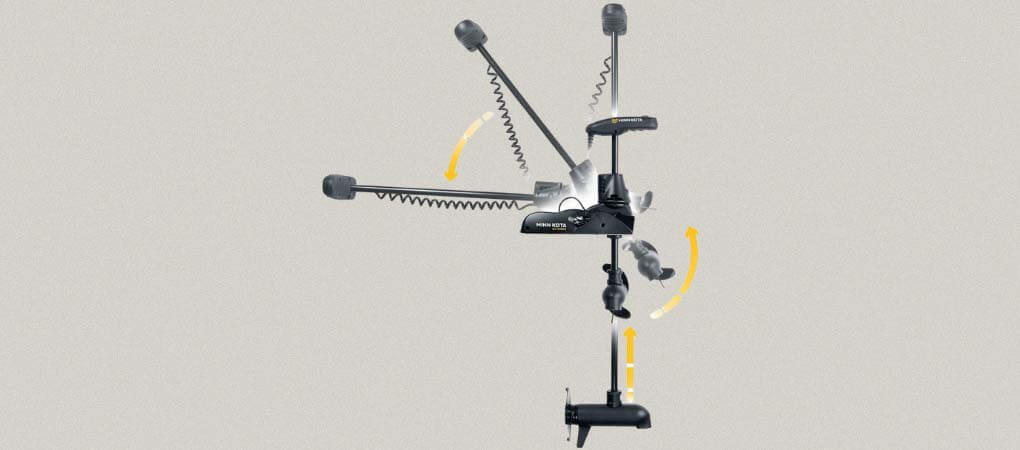 The auto-stow and deploy feature is what makes the Ulterra stand out from the crowd. No other trolling motor on the market has this feature. Gone are the days of pulling up a heavy trolling motor; now, you can press a button, and the trolling motor does the work for you!
This is an excellent feature if you fish by yourself a lot because you can back your boat in and launch it from your truck. Then set Spot-Lock to park your vehicle and drive the boat to the dock using the wireless remote control. This makes loading and unloading the boat much quicker when you're alone.
Just don't forget your remote in the boat before launching! You can also use the foot pedal or Humminbird fishfinder to engage the auto stow and deploy.
Power Trim
Another feature unique to the Ulterra is power trim. Instead of getting on your hands and knees to adjust the knob while holding the head unit up, you can press a button that raises or lowers the unit. This enables you to quickly find the perfect depth and adjust it multiple times throughout the day as you change locations.
There are many days on the water when I wish I would have had this feature because you can keep fishing while you're adjusting the depth of your trolling motor.
Spot-Lock
As I mentioned earlier, Minn Kota Pioneered the Spot-Lock feature or GPS Anchor-Lock technology. Spot-Lock is a game-changer because you can use your trolling motor to stay in the exact location you need to make the perfect cast over and over again.
Or, if you're sitting over a brush pile, it will keep you over the brush pile without drifting way off of it, unlike a traditional anchor.
With Spot-Lock, you don't have to worry about making a splash when you set anchor or the fish getting tangled in the anchor rope. There are no ropes to get tangled in, and you can set anchor with the press of a button. The Ulterra has Spot-Lock, which gives it an edge over the trolling motors that don't.
Mega Imaging Transducer
The Ulterra has a transducer built into the lower unit, so you no longer have to clamp and tape a transducer to your trolling motor. With Mega down imaging and side imaging, you can clearly view the structure underwater.
You also get dual spectrum CHIRP sonar, but you must have Humminbird Electronics for the transducer to function correctly.
Universal Sonar 2
The biggest downfall to the Lowrance Ghost and Garmin Force, the two biggest competitors for the Minn Kota Ulterra, is that they don't offer universal sonar. So you are forced to use their brands respectively or rig the sonar up another way besides the most common method of using the trolling motor.
The Minn Kota Ulterra has an option for Universal Sonar 2, so you can use whichever sonar brand you choose. You won't have to purchase new sonar electronics unless you want to! In that case, I'll need to know how you talked your significant other into both purchases!
Wireless Remote Control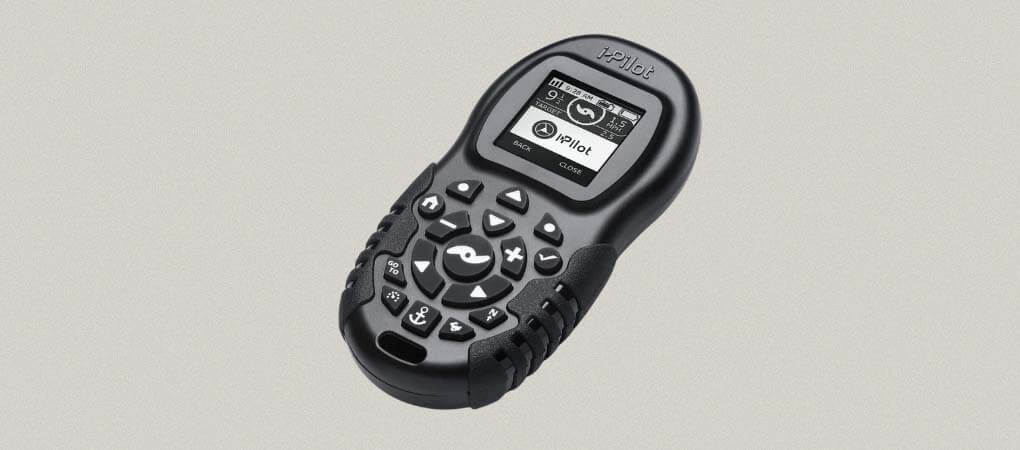 You can control the Ulterra trolling motor with the remote. Engage auto-deploy and stow, Spot-Lock, Power Trim, and many other features using the basic commands on the remote from anywhere on the boat.
The remote comes with the trolling motor.
i-Pilot & i-Pilot Link
i-Pilot and i-Pilot Link give you control over your boat using Bluetooth, with the wireless remote, Humminbird electronics, or your smartphone.
i-Pilot Link is a little more advanced than i-Pilot because it is integrated, so it gives you more options, but both provide anglers with more control over their boat position while on the water.
The Ulterra is compatible with i-Pilot and i-Pilot Link.
One-Boat Network
Using i-Pilot Link, the One-Boat Network gives you control over your trolling motor, Humminbird sonar, and Minn Kota Talons. You can use your smartphone, wireless remote control, foot-pedal, or Humminbird electronics to control everything on your boat.
The smartphone app is free to download, and the Ulterra is compatible with the One-Boat Network if you have i-Pilot Link.
Minn Kota Ulterra Problems
Of all the features that help the Ulterra stand out, it still has its problems. Most notably is the Minn Kota Ulterra stow problems. The trolling motor won't stow or deploy for a variety of reasons. The most common is because of the belt. Most of the time, this can be fixed with a belt conditioner or Armor All. However, if this doesn't work, you will need to see a certified Minn Kota service center.
Because the Ulterra is electronic, sometimes simple fixes can be performed like cleaning the battery cables and plugs. Still, at other times it's a more severe problem like needing to replace the control board, which can be costly.
Alternatives
If the Minn Kota Ulterra isn't your cup of tea, don't worry; there are plenty of other excellent options on the market. Some of these alternatives are more expensive, but they have advanced features that the Ulterra doesn't offer.
Lowrance Ghost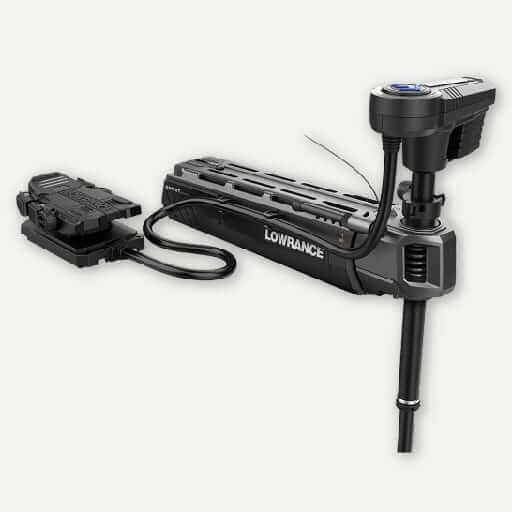 Lowrance saw what Minn Kota was capable of with the Ulterra, and they said, we will one-up you with the Ghost. The Lowrance Ghost is silent and has all the features you'd expect a trolling motor that costs over $3,000 to have, like integrated sonar, anchor-lock, and a customizable foot-pedal, plus many more.

You can see why I think the Ghost and Force are equal contenders for the best trolling motor in my Lowrance Ghost vs. Garmin Force review.
Garmin Force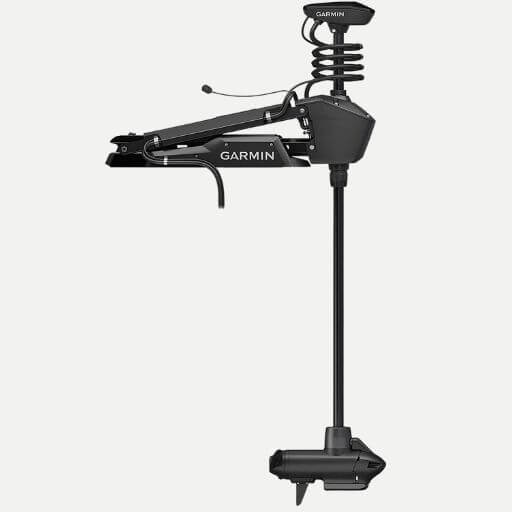 The Garmin Force is another costly bow mount trolling motor that is a viable alternative to the Ulterra. It has futuristic features like gesture steering that are beneficial to anglers. It also has a brushless motor which means it's more powerful and efficient than traditional motors.
MotorGuide Tour Pro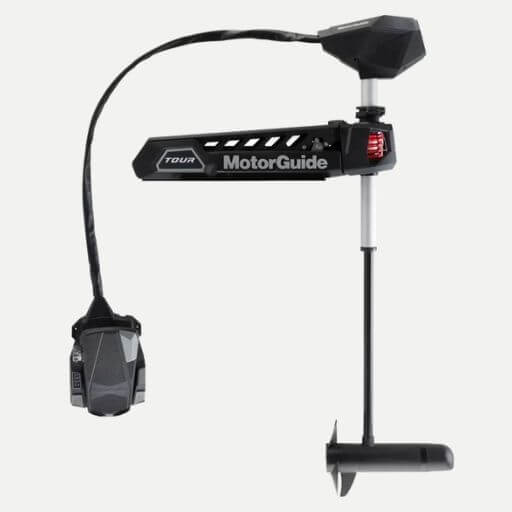 The MotorGuide Tour Pro is closest in price and features to the Minn Kota Ulterra. The main difference is the Tour Pro is a true cable-steer trolling motor, so it doesn't use electric motors to turn like the Ulterra.
One More Cast
The Minn Kota Ulterra was the best trolling motor on the market when it came out. It had all the latest and most remarkable features, but as time has passed, it's been replaced. However, that doesn't mean it's not a high-quality trolling motor that is worth your consideration.
If you have any questions regarding my Minn Kota Ulterra review, feel free to leave them in the comments below! I will answer them to the best of my ability.