---
We independently research, test, and recommend the best products; you can learn more about our review process here.
Motorguide trolling motors have been a fan favorite for many years. The Motorguide x5 bow mount trolling motor arrived with a large amount of hype and expectations because it was supposed to improve upon the Motorguide x3, but has it lived up to those expectations?
Anglers stand on both sides of this debate. You have those who wouldn't trade their xi5 trolling motor for the world, and you have those who swore to never purchase another Motorguide product after owning this one.
The standard features or MSRP of $2,299.99 weren't the focus of the argument. As you will see in our Motorguide x5 review, the quality or lack thereof and poor customer service are the primary complaints we have for the xi5 (and why we rated it a 6/10).
---
Motorguide x5 Bow Mount Trolling Motor Overview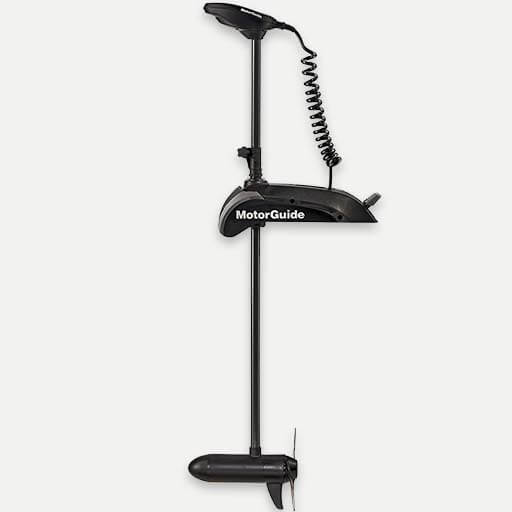 Pros
Freshwater trolling motor and saltwater trolling motor models are available
5 shaft lengths: 45", 48", 54", 60", 72"
Multiple power options: 24 volts or 36 volts
Built-in GPS and universal sonar
Cons
Lightweight foot pedal
Overall quality is questionable
Have to purchase separate models for fresh and saltwater
For a mid-range trolling motor, the Motorguide x5 offers many features that we've come to expect from more expensive trolling motors. However, Motorguide copied many features from Minn Kota's line of trolling motors, and their quality still fell short of Minn Kota.
With that said, let's continue to determine if your hard-earned money is worth investing into this trolling motor.
What You Should Consider Before Purchasing A Trolling Motor
As anglers, a trolling motor has become a tool we can't live without. They help us stay on track or locked in on a specific location and allow us to catch more fish.
While we would all love to have a large fishing budget, many of us are forced to stay within a specific price range, which means we must compromise on some features.
No matter your budget keeping the following things in mind will help steer your trolling motor purchase in the right direction (pun intended).
Quietness
If your trolling motor is noisy above and below the water's surface, you will spook fish, which means fewer fish in the boat. Ideally, your new trolling motor should be silent to avoid this costly pitfall. If you don't purchase a quiet trolling motor, then you will be forced to make longer casts to avoid scaring fish off before you've had a chance to catch them.
Despite the xi5 not being a brushless motor, it still offers anglers quiet operation.
Ease of Use
A trolling motor should be easy to use. Whether that is deploying or stowing it or how easily it steers your bass boat. If you become tired from operating your trolling motor, it will make fishing less fun, and that's a travesty. Fishing is fun and should remain fun!
Battery Life
No matter if you're running your trolling motor on a 24 or 36-volt system, you want the batteries to last at least a full day of fishing. Fishing effectively from a boat without a trolling motor is nearly impossible, so don't purchase a trolling motor that drains your batteries and cuts your fishing trip short.
Standard Features
The standard features for a trolling motor will vary depending on your budget, but you should strive to purchase the features that benefit you the most for the lowest price. Let's be honest, some of the high-end trolling motors would be awesome to own, but how many of the features would you use consistently?
So don't waste your money on features you're not going to use anyways.
Motorguide xi5 Features and Benefits
The Motorguide x5 series of trolling motors are considered mid-range. This means they offer many features that the average angler can benefit from without breaking the bank.
Anglers have the option of a freshwater or saltwater model, various shaft lengths, and a factory weedless propeller as well as many other trolling motor features like-
Saltwater Model
The saltwater models are extra protected against corrosion by sealing the electronics and using corrosion-resistant materials. The saltwater version of the xi5 only offers shaft lengths of 48″, 54″, 60″, and 72″. Besides being white, the saltwater models have the same features as the freshwater models.
Universal Built-in Sonar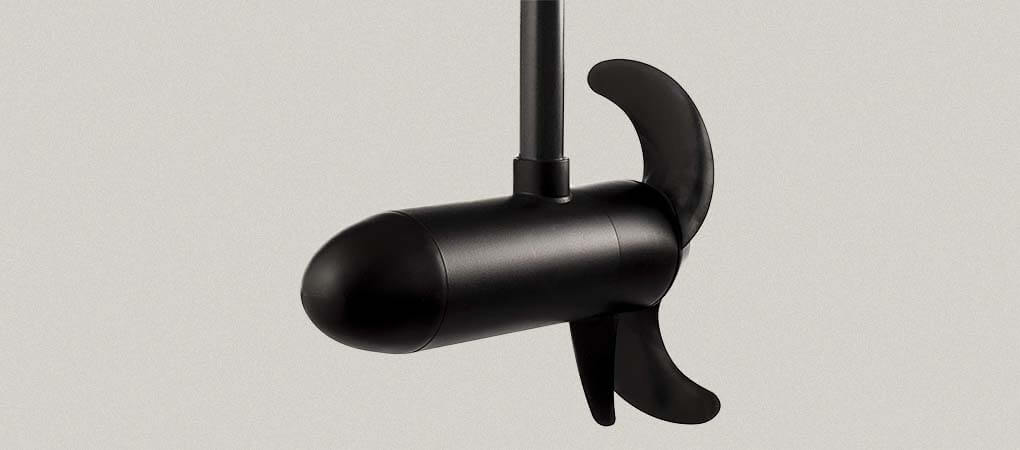 The feature that impressed us the most was the built-in transducer with universal sonar. Very few trolling motors have the capability for universal sonar. Even the high-end trolling motors often require you to use their brand of sonar or be satisfied with fewer features.
This feature means you can use Chartplotter on your Lowrance electronics for complete control of the trolling motor.
Pinpoint GPS
The pinpoint GPS navigation ensures you stay locked into your spot with the GPS anchor. It also aids in cruise control and heading lock to dial in your speed and direction. You can activate the GPS anchor with the foot pedal or wireless remote control that comes with the trolling motor.
Cruise control is excellent for trolling because so many times, the bite depends on the lure moving at a certain speed, and with the xi5, you can lock into that speed no matter the wind or current direction.
Digital Power Management
Because of the digital power management, Motorguide claims your batteries will run 5x longer. Extended battery life is a crucial feature we always look for in a trolling motor, and the xi5 checks that box.
It accomplishes this by only drawing the exact amount of power it needs at the moment, so you're extending your run time instead of wasting your batteries.
Wireless Control
Having the option to control your trolling motor from anywhere in the boat is one of the most significant features of modern trolling motors. With the wireless capabilities of the foot pedal and remote, you can confidently fish from anywhere on your boat and maintain control.
The foot control is constructed from plastic and is very lightweight, so you might have to screw it down to keep it from moving all over your boat, but then that will limit you on where you can use the foot pedal.
Multiple Power Options
Like other trolling motor companies, Motorguide gives you the option to run the xi5 using 24-volts or 36-volts. Using 24-volts, you're going to get 80 lbs thrust. While using 36-volts, you're going to reach 105lbs thrust.
Electric Steering
Electric steering allows the Motorguide xi5 trolling motor to be more agile and responsive than competitors. So basically, you can change direction much easier and quicker because of the variable-ratio steering (VRS).
If you're not careful, you could throw yourself out of the boat, so be sure you have your balance before changing directions.
Tough Composite Shaft
Motorguide claims the trolling motor shaft is indestructible because it's made from a composite material and offers a lifetime warranty to back it up. It might bend, but it won't break after hitting submerged rocks or stumps.
This is fantastic because no matter how cautious you are, there are always submerged structures you didn't see, and you run the risk of hitting them with your trolling motor.
Snap-Back Breakaway Mechanism
This mechanism absorbs most of the force from running into underwater structures. It will allow the shaft to "break away" from its normal position after impacting an immovable underwater object. This adds to the protection of your shaft and motor.
While it's not as handy as the Lowrance version that automatically readjusts after impact, it's still beneficial to have for those inevitable moments on the water.
What Others Are Saying About The Motorguide x5 Trolling Motor
As we mentioned earlier, people either love their xi5, or they won't buy another Motorguide product. You don't have to take our word for it either. We did the hard work of finding and reading the most helpful reviews.
Here are a few of the anglers who love their Motorguide xi5 trolling motor:
Several people complained about the directional indicator breaking and the overall durability of the bow mount trolling motor.
Here are a couple of reviews from anglers who were less than thrilled with the xi5:
We managed to find some reviews in the middle, but they even leaned toward more negatives than positives. Here's one:
As you can see, very few people are on the fence regarding the Motorguide xi5. Most of it boils down to personal preference and how much you expect from your trolling motor. We think you should expect a lot because of the price.
The manufacture expects a lot of your money, so you should expect many properly functioning features in return.
We found this video of the top 5 most common xi5 problems to be helpful:
Alternatives to the Motorguide xi5
If you are still unsure about purchasing a Motorguide xi5, don't worry; there are other alternatives from which you can choose. If you're looking for a higher-end trolling motor, we recommend checking out our Garmin Force review or Lowrance Ghost review because we believe these are the best trolling motors on the market today.
Minn Kota offers two comparable trolling motors in the Terrova and the slightly more expensive Ultrex. You can see why we rated the Ultrex lower than its direct competitors in our Minn Kota Ultrex review.
Minn Kota Terrova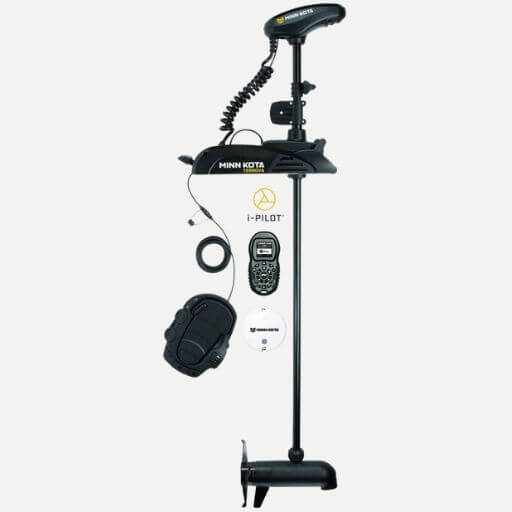 The Terrova is priced similarly to the xi5 at $2,249.99 MSRP. It offers most of the same features as i-Pilot integrated GPS, and that's why many people believe Motorguide used the Terrova as a template to create the xi5.
Check out my Minn Kota Terrova review to further discover this trolling motor and see why I'm such a big fan.
Motorguide Tour Pro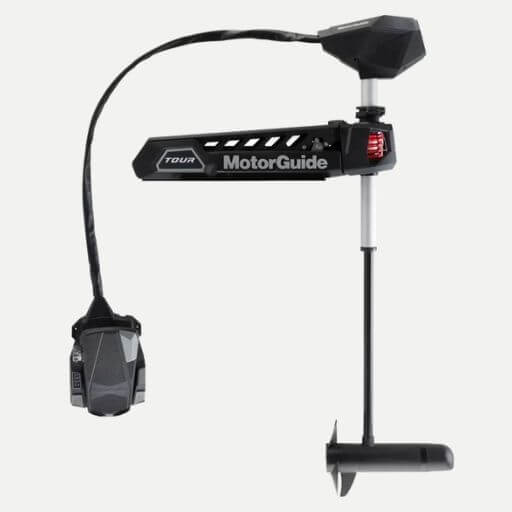 The Tour Pro is Motorguide's attempt at competing with the Lowrance Ghost and Garmin Force. They claim the Tour Pro to be the only true cable-steer trolling motor with a GPS anchor. The foot pedal is metal instead of plastic like the one for the xi5.
If you have a little extra room in the budget and have your heart set on Motorguide, then check out the Tour Pro.
Conclusion
While the Motorguide xi5 is missing several features that we expect from high-end trolling motors, it comes at a much more affordable price. Let's be honest, how often do we use all the fancy features of more expensive trolling motors.
If you're a Motorguide lover and fish for fun on the weekends or only fish jackpot tournaments once in a while, then the xi5 is worth checking out.
However, we highly recommend the Garmin Force or the Lowrance Ghost if you need more out of your trolling motor.
If you have any questions about our Motorguide x5 review, be sure to leave them in the comments below!