---
We independently research, test, and recommend the best products; you can learn more about our review process here.
My grandpa has an old Motorguide on his 1980s Bass Tracker, and I mounted a Motorguide Xi3 onto my fishing kayak.
So it's safe to say I've had lots of experience with this trolling motor brand throughout my years of fishing.
However, is a Motorguide trolling motor worth the investment today, or are they resting on their prior successes?
In this Motorguide trolling motor review, I break down every single trolling motor offered by Motorguide to help you decide if any of them are right for you! Or if you should continue looking into a different electric motor brand.
Grab your favorite beverage and keep reading to learn everything you need to know before buying a Motorguide trolling motor!
Top 3 Picks For Motorguide Trolling Motors
You'll find my top three recommendations for Motorguide trolling motors listed below.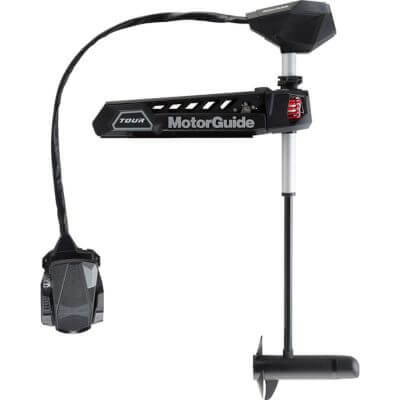 Motorguide Tour Pro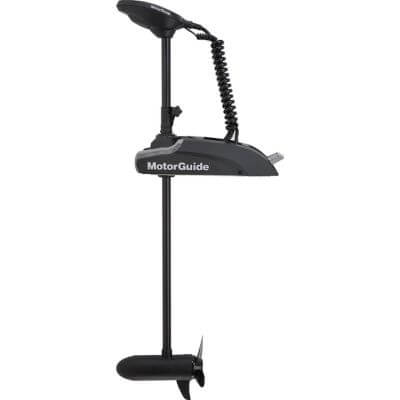 Best Kayak Trolling Motor
Motorguide Xi3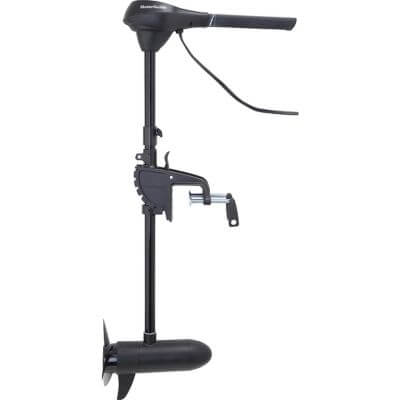 Best Budget-Friendly Trolling Motor
MotorGuide R3
---
Testing Procedure
As mentioned above, I've tested out a few of these trolling motors on fishing trips with friends and family, at outdoor trade shows, and purchased a Motorguide for my kayak.
So I've learned what I like and don't like about these electric motors.
Below you'll see the criteria I used to rank each trolling motor.
Mounting Location: This should be your first consideration because not all trolling motors will fit on every boat.

Some boats only allow you to mount a transom mount trolling motor, while others need a bow mount trolling motor. Personally, I prefer a bow mount trolling motor, but I've used both in various circumstances.
User-Friendliness: Let's be honest, even if a trolling motor is loaded with all the latest and greatest features, if it's difficult to operate, it can't be the best.

When using a trolling motor, I want something that works and is straightforward to use.
Number of Features: Though I want a user-friendly trolling motor, that doesn't mean I don't want all the advanced features.

I've used enough trolling motors to know having the best of both worlds is possible with today's technology.
Price: Budget is always a factor we have to keep in mind, and trolling motors can quickly become expensive. So balancing the features you want with the ones you can afford is something we all must do.

Luckily, Motorguide has a good selection of trolling motors in various price ranges.
BEST MOTORGUIDE TROLLING MOTOR
Motorguide Tour Pro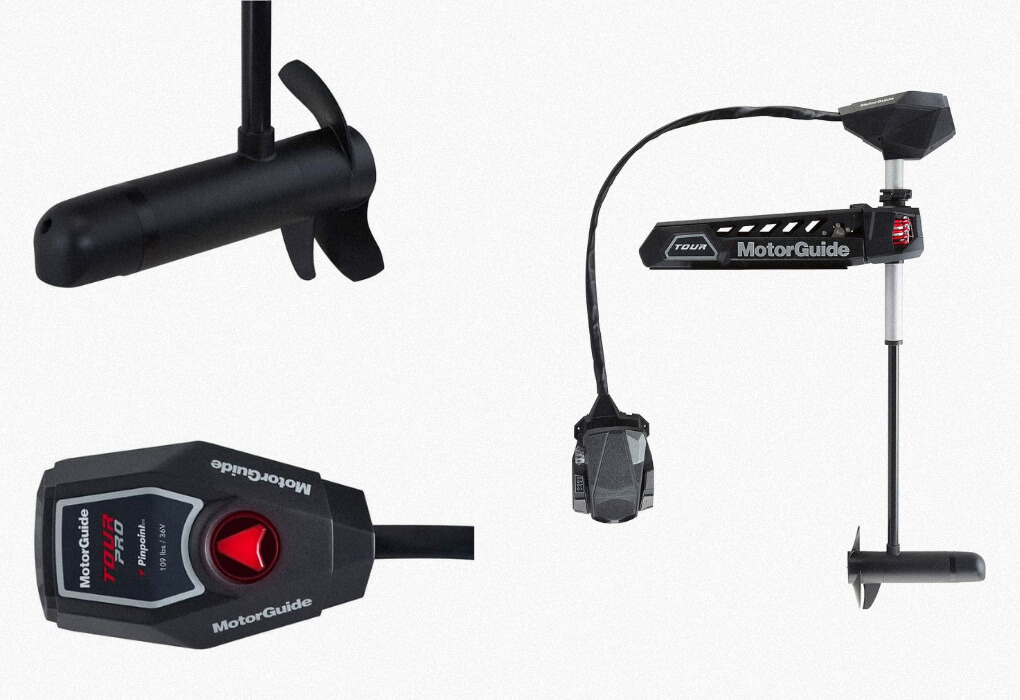 Specs
36-volts or 24-volts
109 or 82 lbs of thrust
45″ shaft length
Bow mount
Footpedal steered
Why We Chose It
The Tour Pro is the top-of-the-line trolling motor for Motorguide. It's crazy powerful, connects to any brand of fish finder, and is super simple to operate.
My favorite feature of any trolling motor is PinPoint GPS, Motorguide's version of Min Kota Spot-Lock. Motorguide vs. Minn Kota Spot-Lock are very comparable.
Both claim to be the most accurate; go figure. Each has its quirks, but they both hold you in a small area to fish.
I've found that PinPoint GPS works best with a little wind or current, but it's been a game-changer for my fishing.
I love having the ability to sit in one spot and thoroughly fish that area without constantly messing with the trolling motor.
Speaking of messing with the trolling motor, since the Tour Pro is a true cable-steer trolling motor. While testing it at tradeshows, it responded to slight movements of the footpedal.
After using digital and cable-steer motors, I prefer the responsiveness of cable steering because I can make micro or macro adjustments instantly depending on what I need at that moment.
I also love the 360-degree breakaway prop system because it protects the shaft and prop if you run into a submerged rock or log in shallow water.
When you hit something, the trolling motor will "break away" from the bracket and then automatically reset itself to the correct position.
So instead of having to buy a new trolling motor or replace a bunch of parts, you get to keep fishing.
You also won't have to buy a new sonar unit when you purchase the HD+ Universal Sonar model because it's adaptable to just about every sonar brand on the market.
You'll get to continue using your favorite fish finder and still get the benefits of having a transducer in the motor.
I think the most underrated features of this trolling motor are the steel pull cables and Zero-G lift assist because you'll never have to worry about your pull cord breaking since it's made of steel, AND the Zero-G lift assist means you put in half the effort of lift assisting features found on other trolling motors.
Even though this is Motorguide's best trolling motor, it has a couple of flaws that I have to be honest about.
Yes, it's less expensive than other high-end trolling motors; however, it lacks several of the standard features of the more costly trolling motors, like the Garmin Force and Lowrance Ghost.
Despite not having all the latest and greatest technology and features, the Motorguide Tour Pro is the best Motorguide trolling motor, with plenty of power to propel any bass boat in strong winds or currents and make your fishing trips much more enjoyable.
BEST CABLE STEER TROLLING MOTOR FOR THE PRICE
Motorguide Tour Edition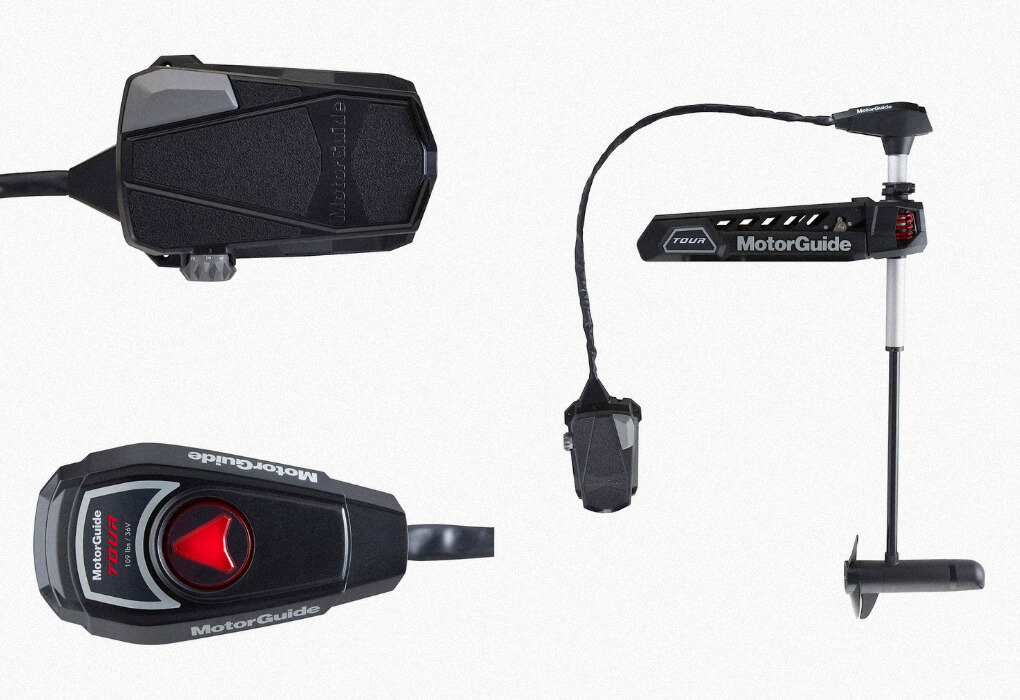 Specs
36v or 24v
109 or 82 pounds of thrust
45-inch shaft length
Bow mount
Footpedal controlled
Why We Chose It
The Motorguide Tour Edition is nearly identical to the Tour Pro, except it doesn't have PinPoint GPS. Which means it's $1,000 less expensive.
The Tour has Zero-G lift assist, which is perfect if you plan to move spots throughout the day frequently. The shocks help you lift the trolling motor, so you don't wear yourself out picking the trolling motor up instead of fishing.
Just like the Tour Pro, the Tour also has the Bulldog latch system, which ensures your motor stays secure during operation, but it easily unlatches when you need it to.
I really like that Motorguide used metal throughout this trolling motor, like on the footpedal, shaft, and other places that are typically plastic on other trolling motors.
Using metal gives the motor a little more strength and durability.
It's also great that Motorguide designed this to be compatible with lithium batteries, which are lighter and more powerful than traditional lead-acid batteries since most anglers are switching to lithium.
Even though the Tour has many of the features of the Tour Pro, it has some downfalls as to why you might think twice about getting it.
The most obvious is the lack of GPS anchoring. One of the features I use the most on my Motorguide trolling motor is the PinPoint GPS, and it's tough to imagine fishing without it anymore.
There were also a few complaints of boaters having to buy extra bolts to secure it to their boat. This isn't a big issue for me, but I think companies should send everything you need to make their product usable on your boat.
Despite the cons, the Motorguide Tour is a solid mid-range trolling motor if you don't need GPS anchoring. It has nearly all the benefits and high-end features of the Tour Pro at a much lower price.
BEST ELECTRIC STEER TROLLING MOTOR
Motorguide Xi5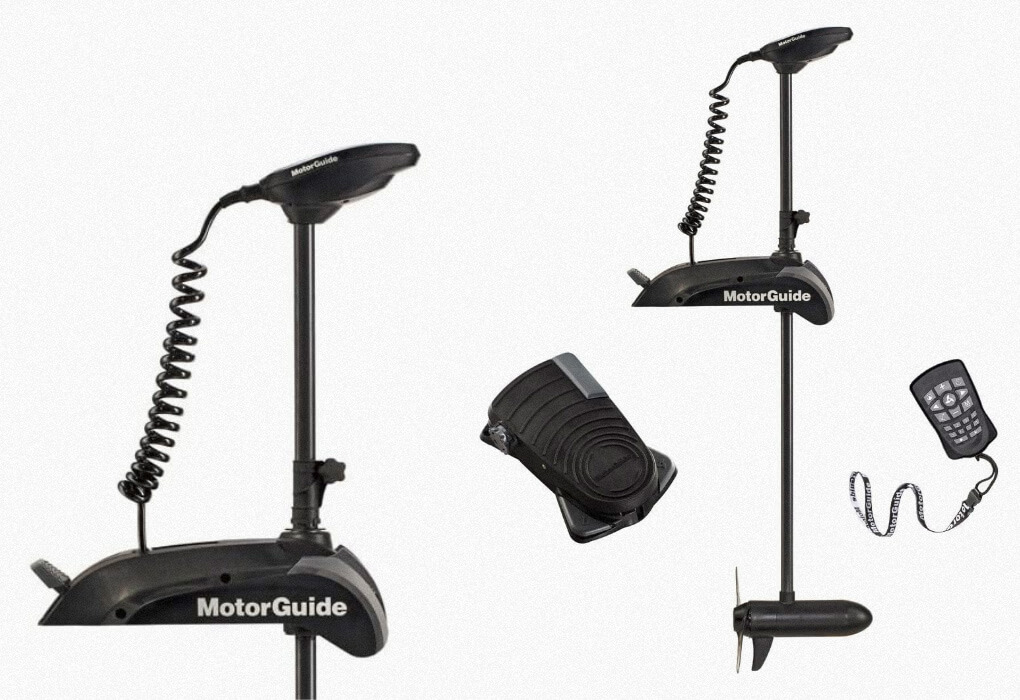 Specs
36v or 24v
105 or 80lb thrust
72″, 60″, 54″, 48″, 45″ shaft lengths
Bow mount
Footpedal or remote steered
Why We Chose It
The Xi5 trolling motor is another mid-range offering from Motorguide. However, there are several differences between the Tour and Xi5 that help separate the two models.
Multi-water anglers will love that the Xi5 can be purchased in a freshwater or saltwater model. So if you live along the coast and plan to fish both types of water, pick up the saltwater one.
Unlike the Tour, it comes with PinPoint GPS to hold your position over the juiciest of spots.
While I'm not the biggest fan of digital steering trolling motors, I love that the wireless foot pedal can be used from anywhere in the boat because you can troll from the driver's seat or let the guy in the back of the boat have a turn at running the trolling motor!
However, that means the Xi5 is not a cable-steer trolling motor like the Tour and Tour Pro.
Though the Xi5 doesn't have the 360-degree breakaway system, Zero-G lift assist, or bulldog latch system like the Tour and Tour Pro, it's still built to last with an indestructible shaft that has a lifetime warranty.
Speaking of the shaft, there are more shaft length options for the Xi5 than the Tour and Tour Pro, so if you have a boat that sits higher out of the water, the Xi5 will be the better option.
There are also a few cons that I think should be brought into the open regarding the Xi5 trolling motor.
The first is I don't like that Universal Sonar is not offered with the Xi5, but adapters can be purchased for different sonar brands.
Another con is how expensive it is at over $2,300. That's a lot of money to be lacking some of the features of the other top Motorguide trolling motors.
The other thing I wasn't impressed with is that there's only a two-year warranty on the entire product. Yes, the shaft has a lifetime warranty, but the rest of the trolling motor is only covered for two years.
Still, considering the cons, the Motorguide Xi5 is a good substitute for the Tour if you prefer electrically steered trolling motors vs. cable-steered ones, especially if you want PinPoint GPS.
For a deeper dive into this trolling motor, check out our Motorguide Xi5 Review.
BEST KAYAK MOTORGUIDE TROLLING MOTOR
Motorguide Xi3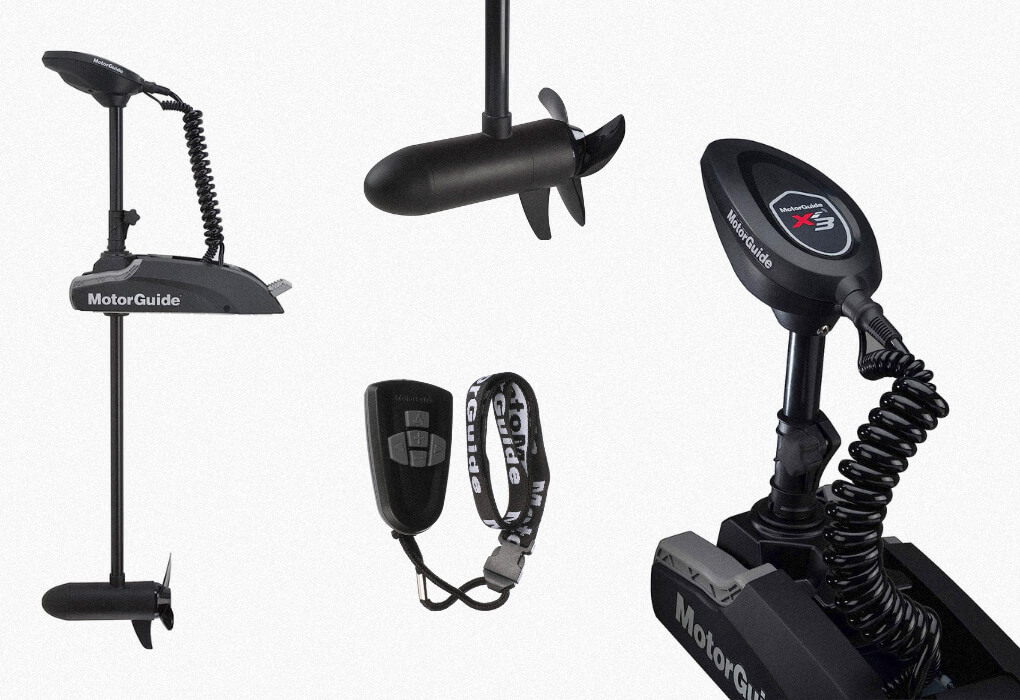 Specs
24v or 12v
55lbs or 70lbs of thrust
60″, 54″, 48″, and 36″ shaft lengths
Bow mount
Remote Controlled
Why We Chose It
I love my Xi3. It has forever changed the way I fish from my yak.
For the price, the Xi3 is impossible to beat. It has features that other electric trolling motors twice the price have.
The Xi3 shines while kayak fishing, as you can see from our best trolling motors for kayaks article. Motorguide is the only company, as of this writing, to design a bow mount trolling motor for kayaks.
This kayak-specific model has PinPoint GPS, which is why so many kayak anglers love it, myself included.
The Xi3 is operated using a wireless remote control, and I love how simple it is to use.
I know I said I like cable steer trolling motors more than digital steer, but this is the exception because I can easily make tiny corrections using the straightforward buttons on the remote.
The SecureStep system allows for easy stowing and deploying from any small watercraft capable of handling a bow-mount trolling motor.
It is a bit cumbersome if you don't have a stable kayak, but I haven't had any problems with it in the year+ I've had it mounted to my Nucanoe Unlimited.
As much as I love my Xi3, there are a few reasons I wouldn't recommend it.
The first reason is that the PinPoint GPS gets wanky. It doesn't happen often, but it has randomly taken off in a direction when I had PinPoint GPS activated. Thank goodness I was standing when this happened!
This feature also doesn't work as well in super calm conditions. I've had the best experiences when there's a little current or wind.
Otherwise, the motor hunts back and forth a lot in little increments, searching for the exact spot where you hit the button.
The other con is the limited number of power options. Now for kayak anglers, there's no lack of power. This only affects those who want to mount it on a larger fishing boat.
For now, I have yet to find a better trolling motor for my kayak than the Motorguide Xi3, and though it isn't intended for large bass fishing boats, it's an excellent choice if you're a kayak angler or Jon boat angler.
MOST VERSATILE MOTORGUIDE TROLLING MOTOR
Motorguide X3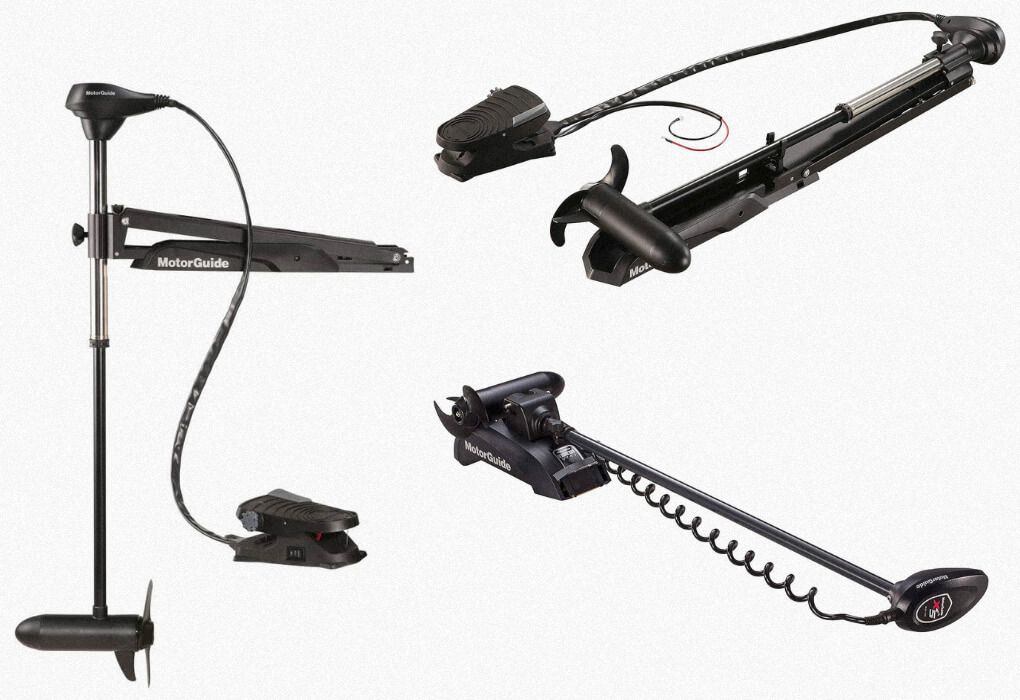 Specs
24-volts or 12-volts
45lbs, 55lbs, and 70lbs of thrust
50″, 45″ 36″ shaft lengths
Bow mount and pontoon mount
Hand-controlled or footpedal
Why We Chose It
If you want options, the X3 has 'em! The X3 comes in several styles, including a pontoon hand-controlled model. All models are bow-mounted, while some are footpedal controlled and others are hand-controlled.
If you choose to purchase the footpedal model, it will be comfortable because of how Motorguide intentionally designed it, but it might be a little tall for some anglers who don't use it in a recessed deck.
I thought the motor was pretty quiet, so you won't be spooking fish as you move through a spot.
I was impressed with the quality of materials used to construct the X3, so it should handle the abuses of fishing in harsh conditions or the weekend warrior.
The cons that I found were expected.
Since it's much less expensive, it doesn't have Pinpoint GPS like the Xi3 or built-in sonar like the Tour.
I strongly recommend the X3 if you're on a budget and don't need all the fancy features because the Motorguide X3 offers plenty of power and durability to anglers in various boats.
BEST TRANSOM MOUNT TROLLING MOTOR
Motorguide R5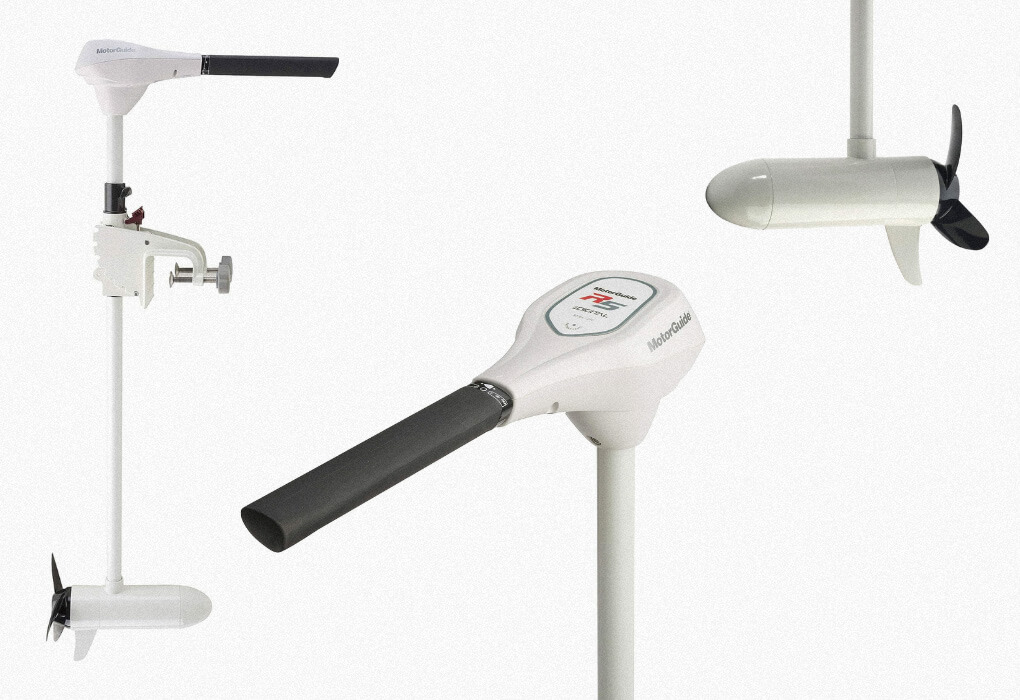 Specs
36v, 24v, or 12v
105lb, 80lb, and 70lb thrust
42-inch shaft
Transom mount
Tiller handle controlled
Why We Chose It
The R5 has a solid selection of power options, meaning more thrust options making it a great choice for a transom mount motor.
Motorguide was smart in offering a freshwater and saltwater model so you can decide which one you need instead of them limiting your options.
The R5 is surprisingly powerful for a tiller-handle trolling motor with 105 pounds of thrust using 36 volts. That's plenty of power to propel any fishing boat, even in the ocean!
Speaking of power, I like that this motor won't drain your batteries since it has the Digital Power Management because it helps conserve power, so your batteries have a longer run time.
The nature of transom-mounted trolling motors means it doesn't have all the features of bow-mount trolling motors, which sucks but is also understandable.
However, I still think it's a little expensive for a transom trolling motor, but that might just be because I'm getting older and want the prices to remain the same as they were when I was a kid.
The Motorguide R5 is an expensive transom mount trolling motor, but it is made of durable materials, very powerful, and has Digital Power Management to help conserve your batteries.
BUDGET-FRIENDLY MOTORGUIDE TROLLING MOTOR
Motorguide R3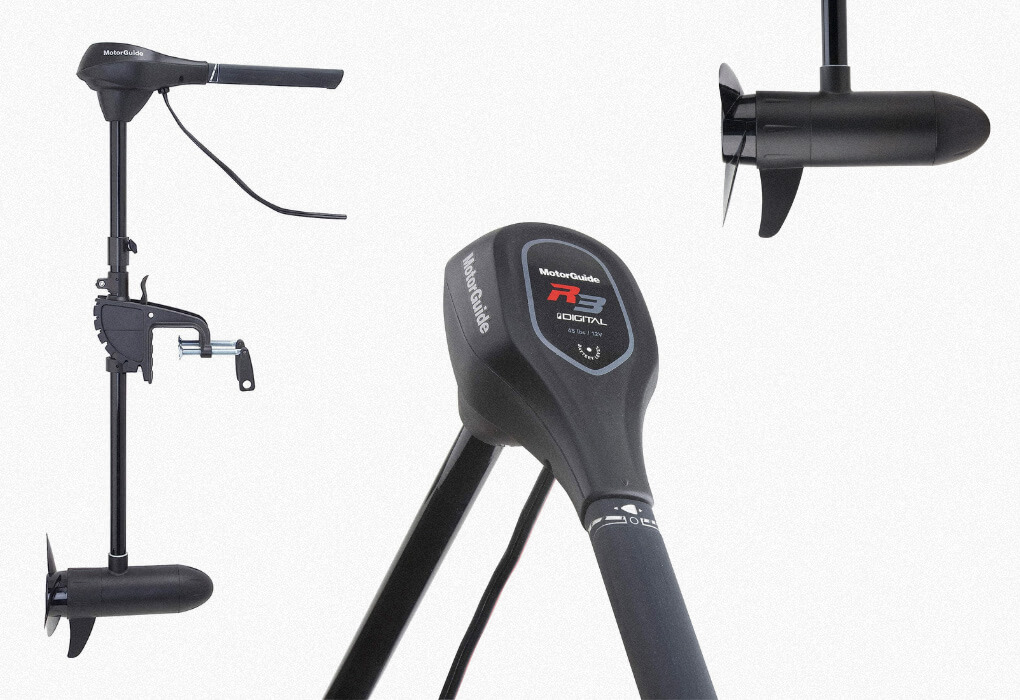 Specs
12v
55lb, 45lb, 40lb, and 30lb thrust
42″, 36″, and 30″
Transom mount
Tiller handle steered
Why We Chose It
The R3 is Motorguide's budget-friendly option. It's constrained on features and power, but it will get you to your favorite spot quietly and for much less money than high-end trolling motors.
Mounting this trolling motor is easy, but check out our how to mount a trolling motor on a kayak article if you have any doubts. Even if you don't own a kayak, the same process is used for all transmon mounts.
Until I used a transom mount trolling motor, I didn't realize how great the extendable tiller handle is because I can find a more comfortable position to operate the trolling motor.
I like that the R3 has a reversible motorhead because it gives you more options for mounting locations. You can mount it on the front or back of the boat, depending on which way you turn the unit.
I especially like that, even though it's inexpensive, Motorguide chose to use quality, durable materials for the shaft and lower unit, so you won't have to be terrified of accidentally running into a log or rock when you're scooting across the water.
Because it's so inexpensive, the R3 has a couple of downsides.
The first is a lack of features. Companies don't pack all their latest and greatest features into transom mount trolling motors. But the R3 has a Digital Management System to help your batteries last longer.
Other anglers will also be disappointed to know that you'll have to step up to the R5 if you want more power. The R3 is intended to be used with smaller fishing vessels, so it only goes up to 55lb thrust.
If you're on a small budget but still need a transom mount trolling motor, then the Motorguide R3 is worth looking into because it's inexpensive, has enough power for most boats, and is reasonably versatile.
Factors To Consider Before Buying A Motorguide Trolling Motor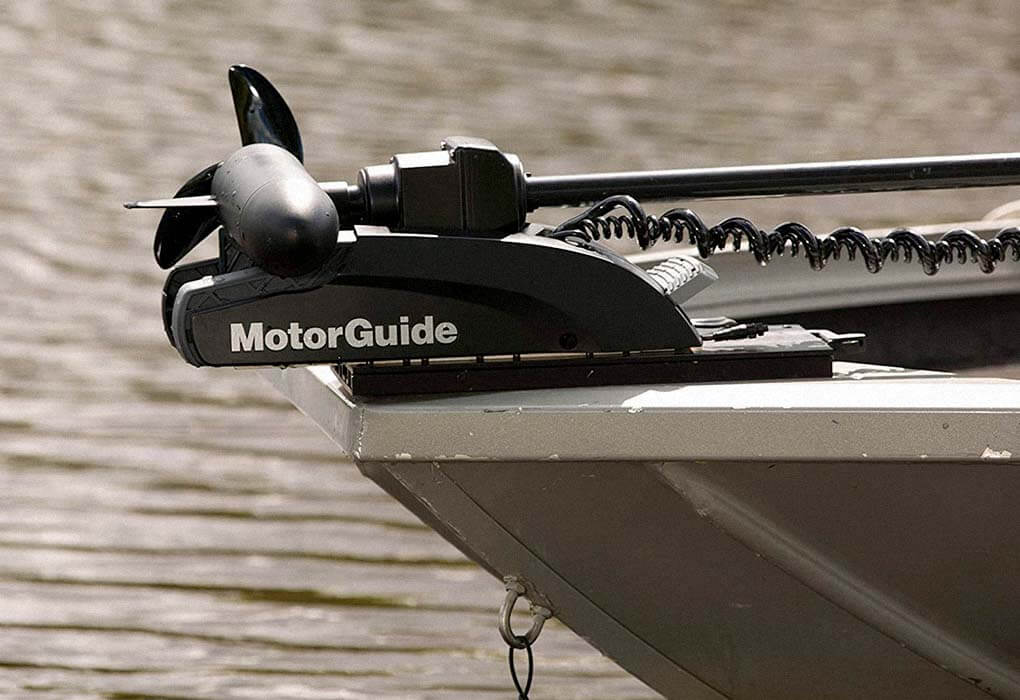 We always want the most bang for our buck, so why settle when purchasing a trolling motor? Here are a few things to keep in mind when looking at Motorguide and trolling motors in general.
Features
Motorguide is comparable to Minn Kota Motors in a few of the features on their trolling motors. However, Minn Kota has features that Motorguide doesn't offer, like auto stow and deploy.
Motorguides' best features are the HD+ Universal Sonar, PinPoint GPS, 360-degree breakaway mount, and Digital Power Management.
Price
Motorguide is very competitive regarding price. They offer prices that can fit just about any budget. The high-end motors have the latest and greatest features, whereas the mid-range and lower don't have as many.
Mounting Style
It's best to decide ahead of time where you want to mount your trolling motor so you can focus on that specific mounting style.
Certain styles only fit certain boats. Bass boats need a bow-mounting trolling motor. Kayaks primarily need a transom mount, but the Xi3 is a popular kayak trolling motor.
Steering Options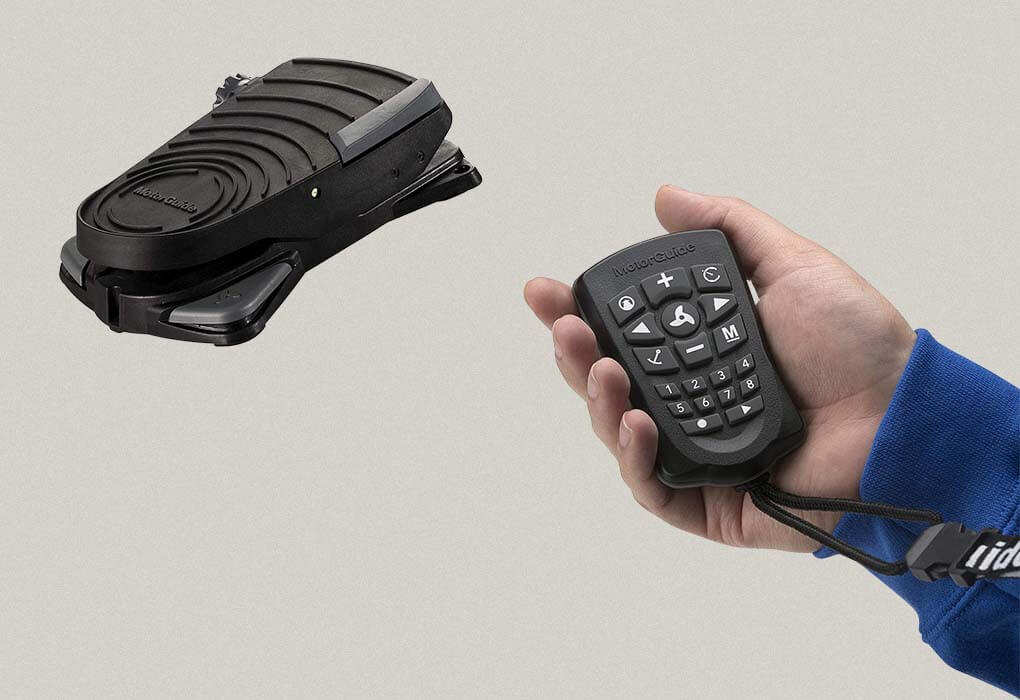 One thing that is of massive benefit to anglers is the variety of steering options that Motorguide offers. This ensures no matter what boat you choose to float in, there is a Motorguide trolling motor that can meet your needs.
The three steering options by Motorguide are foot control, remote control, and hand control.
You'll Also Need
Now that you're purchasing a new trolling motor, you'll need a couple of other things to increase your fish-catching abilities.
Trolling Motor Battery
Understanding which battery to get can be a little confusing, especially with the introduction of Lithium-Ion batteries.
Not all trolling motors are compatible with Lithium-Ion batteries, but these batteries are the best in terms of power, weight, and efficiency.
If you need help choosing a battery, I highly recommend checking out our best trolling motor battery page!
Fish Finder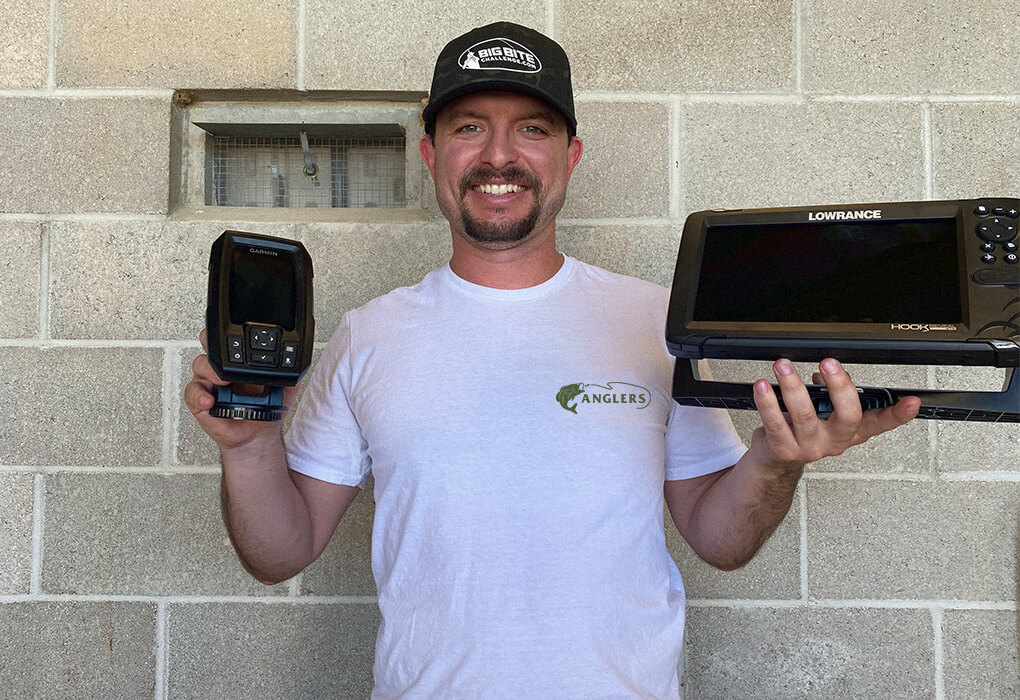 You don't need a fish finder to catch fish, and in fact, I encourage everyone to learn to fish without one.
However, once you've learned how to fish without sonar, it makes it a much more helpful tool because you are not so dependent on it and can use it the intended way.
Frequently Asked Questions
Below you'll find some of the most commonly asked questions we get about Motorguide trolling motors.
What is the difference between Minn Kota and MotorGuide?
The difference between Minn Kota and Motorguide is that they're two separate companies.
Minn Kota is owned by Johnson Outdoors, while MotorGuide is owned by Navionics, the same company that owns Lowrance.
What is the difference between MotorGuide X3 and X5?
The difference between the Motorguide X3 and X5 is the X3 isn't as powerful, has fewer shaft length options, and doesn't have PinPoint GPS.
Does the MotorGuide Xi3 trolling motor have Spot-Lock?
Yes, the MotorGuide Xi3 trolling motor has Spot-Lock, or PinPoint GPS, which is their version of Spot-Lock.
How fast will a 65 lb thrust trolling motor go?
A 65 lb thrust trolling motor will go 6-8mph depending on the size and weight of your boat.
One More Cast
Motorguide is one of the leading trolling motor manufacturers for a reason. They've been in the industry for decades but might have become complacent in recent years.
Instead of leading the market in innovation, they seem to mimic what the other companies are doing in their own way.
With that said, Motorguide is still beloved by many anglers and continues to make quality trolling motors.
Thanks for checking out this Motorguide trolling motor reviews article. If you have any questions about Motorguide products, I'd love to help in the comment section!