---
We independently research, test, and recommend the best products; you can learn more about our review process here.
Motorguide has been a staple in the trolling motor industry for decades. I grew up running a Motorguide on a Bass Tracker, and I currently have a Motorguide on my fishing kayak.
However, is a Motorguide trolling motor worth the investment today? In this Motorguide Trolling Motor Reviews, I break down all the motors offered by Motorguide to help you see if any of them are right for you!
Comparison Table – Motorguide Trolling Motor
---
Reviews Of Motorguide Trolling Motors
Motorguide Tour Pro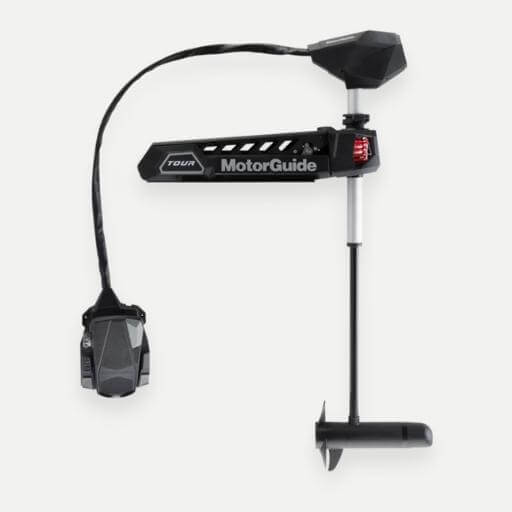 BEST MOTORGUIDE TROLLING MOTOR
Specs
36-volts or 24-volts
109 or 82 lbs of thrust
45″ shaft length
Bow mount
Footpedal steered
Pros
Powerful
PinPoint GPS
360-degree breakaway weedless prop system
HD+ Universal Sonar
Cable steer
Stainless steel pull cables
Cons
Expensive
It lacks features of other high-end trolling motors.
Why We Chose It
The Tour Pro is the top-of-the-line for Motorguide. It's less expensive than other top-of-the-line trolling motors; however, it lacks some of the standard features of the more costly trolling motors.
It doesn't lack PinPoint GPS, Motorguide's version of Spot-Lock. Motorguide vs. Minn Kota Spot-Lock are very comparable; both claim to be the most accurate; go figure. Each has its quirks, but they both hold you in a small area to fish.
The Tour Pro is a true cable-steer trolling motor, which means the motor will respond to slight movements of the footpedal.
I love the 360-degree breakaway prop system, which will protect the shaft and prop if you run into a submerged rock or log in shallow water, and the HD+ Universal Sonar. You won't have to buy a new sonar unit. Unless you want to, I recommend checking out our Best Fish Finder GPS Combo article!
Despite not having all the latest and greatest technology and features, the Motorguide Tour Pro is a great trolling motor with plenty of power to propel any bass boat in strong winds or currents.
Motorguide Tour Edition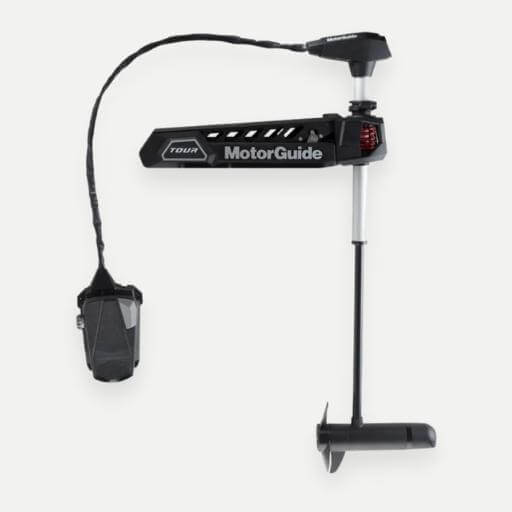 Specs
36v or 24v
109 or 82 pounds of thrust
45-inch shaft length
Bow mount
Footpedal controlled
Pros
Metal and two-piece composite shaft
Bulldog locking latch system
Zero-G lift assist
Integrated bounce buster
HD+ Universal Sonar
No-flex metal footpedal
Lithium-Ion battery compatible
Cons
No GPS anchoring
You might need to buy extra bolts
Why We Chose It
The Motorguide Tour Edition is nearly identical to the Tour Pro, except it doesn't have PinPoint GPS. Which means it's $1,000 less expensive.
The Zero-G lift assist is nice if you plan to move spots throughout the day. The shocks help you lift the trolling motor, so you don't wear yourself out picking the trolling motor up instead of fishing. The Bulldog latch system ensures your motor stays secure during operation, but it easily unlatches when you need it to.
I really like that Motorguide used metal throughout this trolling motor, like on the footpedal, shaft, and other places that are typically plastic on other trolling motors. Using metal gives the motor a little more strength and durability.
The Motorguide Tour is a good mid-range trolling motor if you don't need GPS anchoring. It has nearly all the benefits and features of the Tour Pro at a much lower price.
Motorguide Xi5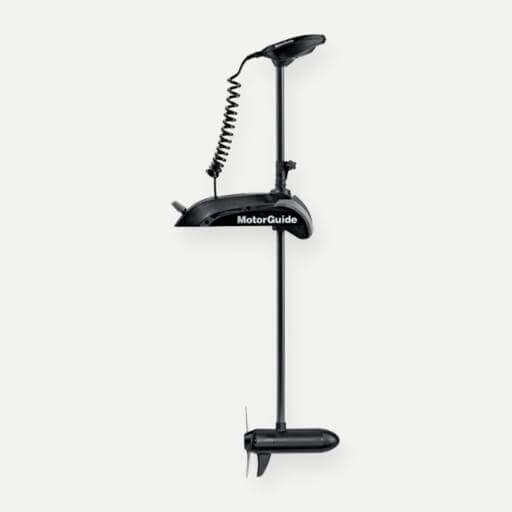 Specs
36v or 24v
105 or 80lb thrust
72″, 60″, 54″, 48″, 45″ shaft lengths
Bow mount
Footpedal steered
Pros
Saltwater and freshwater models
PinPoint GPS
Wireless foot control
Composite shaft
Cons
Must buy adapters for sonar units other than Lowrance
Expensive
Only a 2-year warranty
Why We Chose It
The Xi5 trolling motor is another mid-range offering from Motorguide. There are several differences between the Tour and Xi5.
The Xi5 can be purchased in a freshwater or saltwater model, which is great if you live along the coast and plan to fish both types of water. Unlike the Tour, it comes with PinPoint GPS so that you can use it to anchor.
The wireless foot pedal can be used from anywhere in the boat. The Xi5 is not a cable-steer trolling motor like the Tour and Tour Pro. I don't like that Universal Sonar is not offered with the Xi5, but adapters can be purchased for different sonar brands.
The Motorguide Xi5 is a good substitute for the Tour if you prefer electrically steered trolling motors vs. cable-steered ones. It even has some features that the Tour doesn't! For a deeper dive into this trolling motor, check out our Motorguide Xi5 Review.
Motorguide Xi3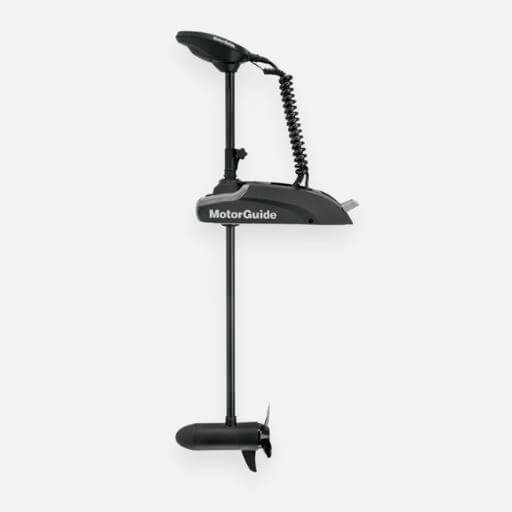 BEST KAYAK MOTORGUIDE TROLLING MOTOR
Specs
24v or 12v
55lbs or 70lbs of thrust
60″, 54″, 48″, and 36″ shaft lengths
Bow mount
Remote Controlled
Pros
Saltwater and freshwater versions
PinPoint GPS options (with select Lowrance units)
Wireless remote control
SecureStep easy stow and deploy system
Kayak-specific model
Cons
No footpedal
PinPoint GPS only works with a few Lowrance units
Why We Chose It
For the price, the Xi3 is tough to beat. It has features that other trolling motors twice the price have.
The Xi3 shines while kayak fishing, as you can see from our best trolling motors for kayaks post. Motorguide is the only company, as of this writing, to design a bow mount trolling motor for kayaks. This kayak-specific model has PinPoint GPS, which is why so many kayak anglers love it, myself included.
The Xi3 is operated using a wireless remote control, and the SecureStep system allows for easy stowing and deploying from any small watercraft capable of handling a bow mount trolling motor.
The Motorguide Xi3 isn't intended for large fishing boats, so it doesn't have as much power as other models, but if you're a kayak angler or Jon boat angler, the Xi3 is an excellent choice.
Motorguide X3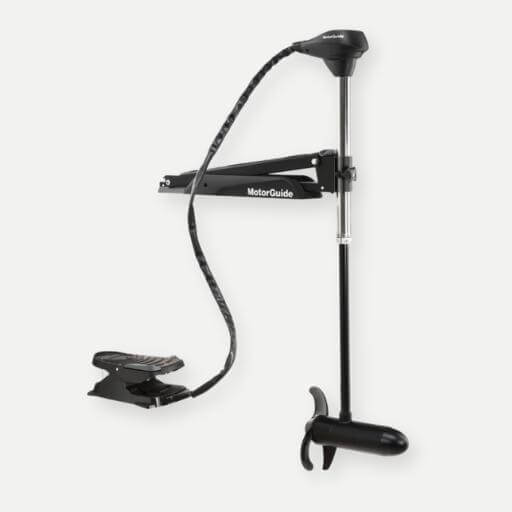 Specs
24-volts or 12-volts
45lbs, 55lbs, and 70lbs of thrust
50″, 45″ 36″ shaft lengths
Bow mount and pontoon mount
Hand controlled or footpedal
Pros
Wide variety of options
Inexpensive
Ergonomic heel-toe pedal
Quiet
Durable
Cons
Limited features
Only a 2-year limited warranty
Why We Chose It
The X3 comes in several styles, including a pontoon hand-controlled model. All the models are bow-mounted, but some are footpedal controlled while others are hand-controlled.
There is no Pinpoint GPS or built-in sonar with the X3, so the overall features are limited. If you choose to purchase the footpedal model, it will be comfortable because of how Motorguide designed it, but I think it might be a little tall for some people.
The motor is quiet, so you won't be spooking fish as you move to the next spot. Motorguide used quality materials to construct the X3, which means it should be able to handle the abuses of fishing in harsh conditions.
If you're on a budget and don't need all the fancy features, then the Motorguide X3 offers plenty of power and durability to anglers in various boats.
Motorguide R5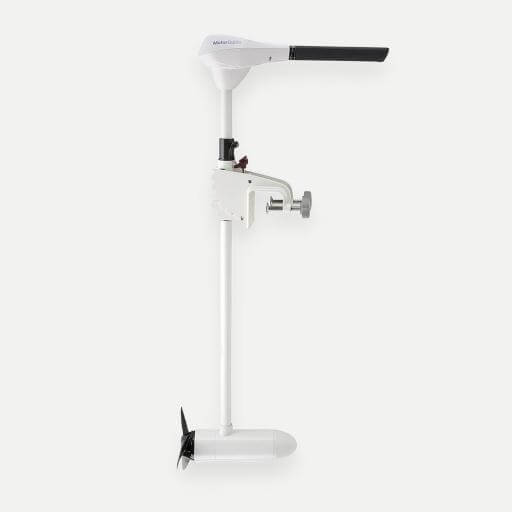 Specs
36v, 24v, or 12v
105lb, 80lb, and 70lb thrust
42-inch shaft
Transom mount
Tiller handle controlled
Pros
Freshwater and Saltwater models
Digital Power Management
Lifetime warranty for the shaft
Extendable twist-tiller handle
Durable aluminum alloy mounting bracket
Cons
Limited features
Expensive for a transom mount
Why We Chose It
The R5 has a wide selection of power options, meaning more thrust options. However, it is limited in features and shaft lengths.
Motorguide was smart in offering a freshwater and saltwater model so you can decide which one you need instead of them limiting your options. The R5 is surprisingly powerful for a tiller-handle trolling motor with 105 pounds of thrust using 36-volts.
Digital Power Management helps conserve power, so your batteries have a longer run time. Though the features are limited in a transom mount trolling motor, they make up for it by using quality materials that should last you for years of fishing.
The Motorguide R5 is an expensive transom mount trolling motor, but it is made of durable materials and has Digital Power Management.
Motorguide R3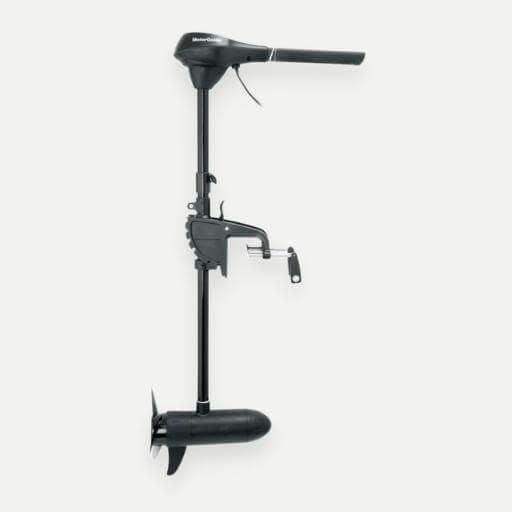 BUDGET-FRIENDLY MOTORGUIDE TROLLING MOTOR
Specs
12v
55lb, 45lb, 40lb, and 30lb thrust
42″, 36″, and 30″
Transom mount
Tiller handle steered
Pros
Inexpensive
Fresh and saltwater models
Extending tiller handle
Five forwards speeds, two reverse speeds
Composite material shaft
Solid aluminum and steel lower unit
Reversible motorhead
Cons
Few features
Limited power
Why We Chose It
The R3 is a budget-friendly option. It's constrained on features and power, but it will get you to your favorite spot quietly and for much less money than other trolling motors.
Mounting this trolling motor is easy, but check out our how to mount a trolling motor on a kayak article if you have any doubts. Even if you don't own a kayak, the same process is used. The extendable tiller handle is great, so you can find a more comfortable position to operate the trolling motor.
The reversible motorhead on the R3 means you can mount it on the front or back of the boat. I especially like that, even though it's inexpensive, Motorguide chose to use quality materials for the shaft and lower unit.
If you're on a small budget but still need a transom mount trolling motor, then the Motorguide R3 is worth looking into for any angler.
Factors To Consider Before Buying A Motorguide Trolling Motor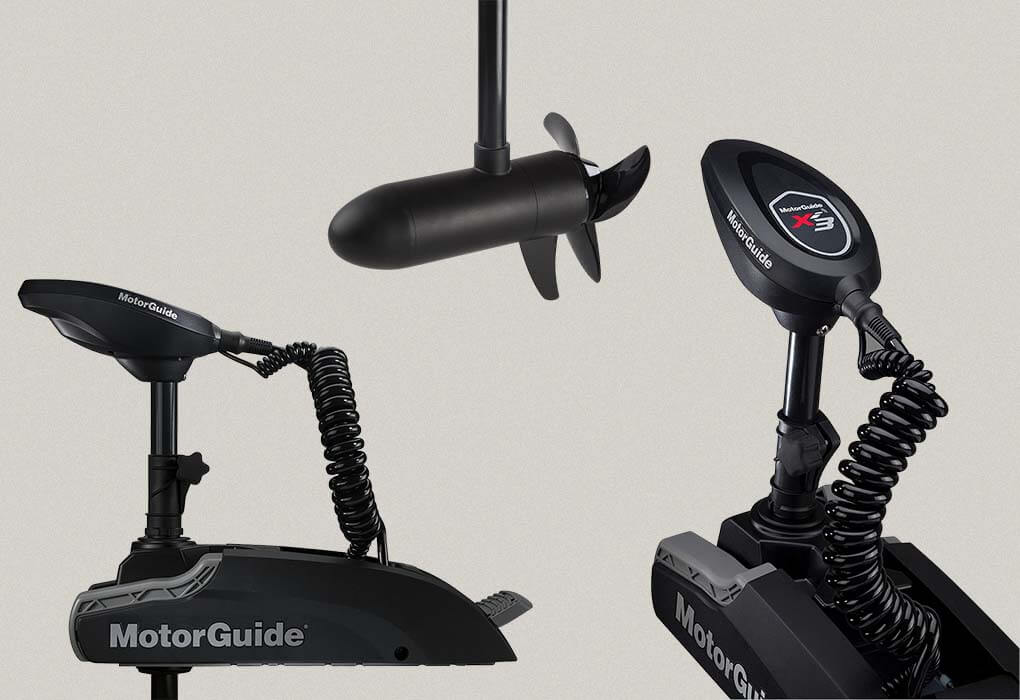 We always want the most bang for our buck, so why settle when purchasing a trolling motor? Here are a few things to keep in mind when looking at Motorguide and trolling motors in general.
Features
Motorguide is comparable to Minn Kota Motors in a few of the features on their trolling motors. However, Minn Kota has features that Motorguide doesn't offer, like auto stow and deploy.
Motorguides' best features are the HD+ Universal Sonar, PinPoint GPS, 360-degree breakaway mount, and Digital Power Management.
Price
Motorguide is very competitive regarding price. They offer prices that can fit just about any budget. The high-end motors have the latest and greatest features, whereas the mid-range and lower don't have as many.
Mounting Style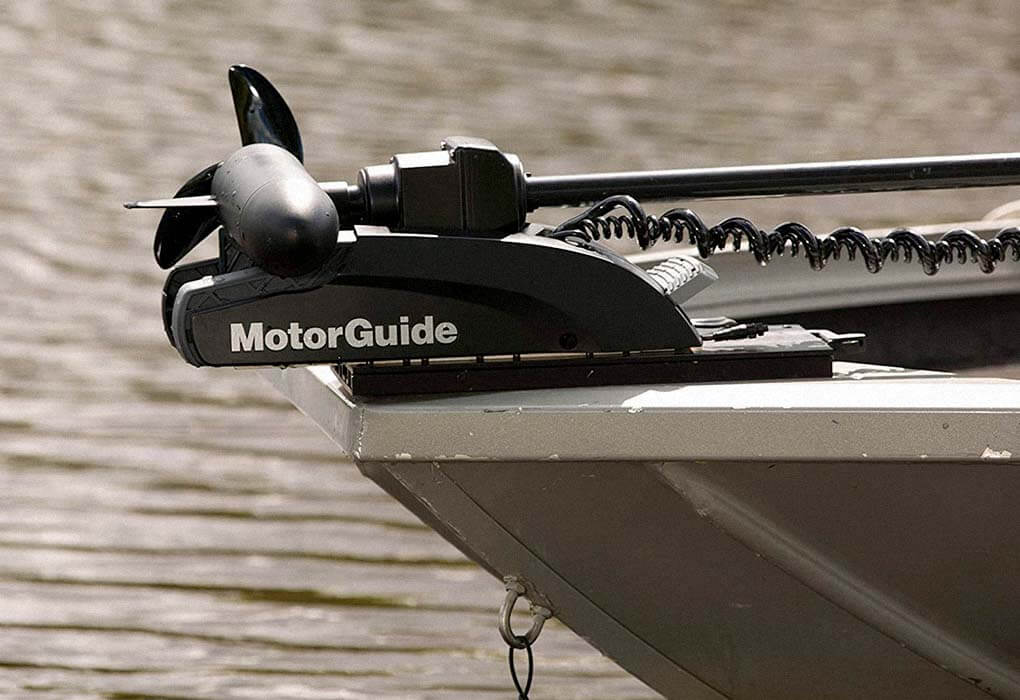 It's best to decide ahead of time where you want to mount your trolling motor so you can focus on that specific mounting style. Certain styles only fit certain boats. Bass boats need a bow mounting trolling motor. Kayaks primarily need a transom mount, but the Xi3 is a popular kayak trolling motor.
Steering options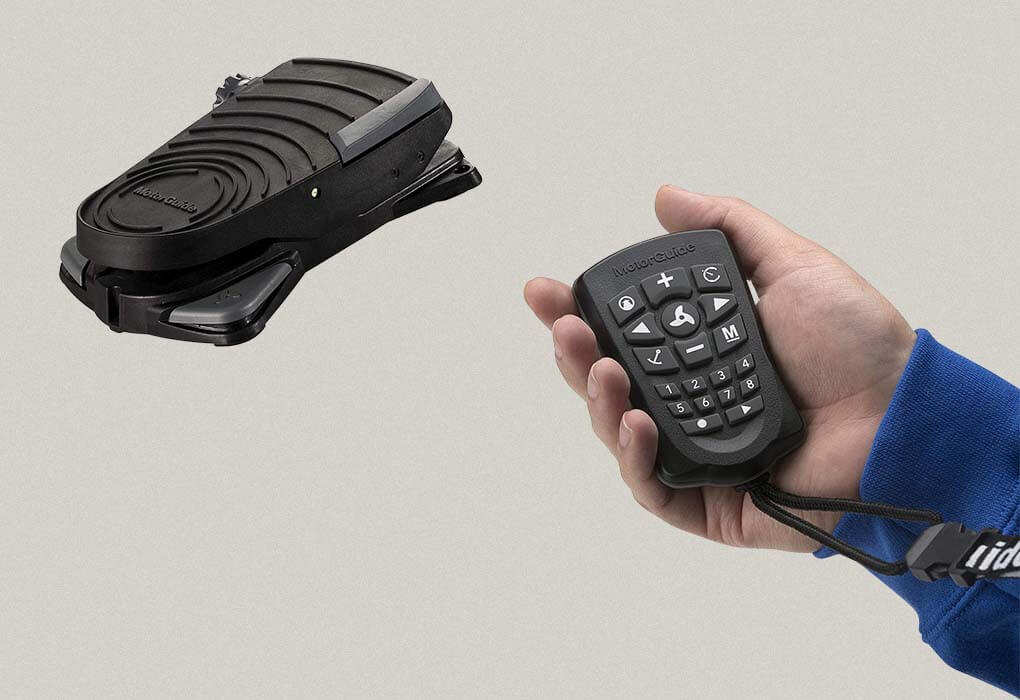 One thing that is of massive benefit to anglers is the variety of steering options that Motorguide offers. This ensures no matter what boat you choose to float in; there is a Motorguide trolling motor that can meet your needs.
The three steering options by Motorguide are foot control, remote control, and hand control.
You'll Also Need
Now that you're purchasing a new trolling motor, you'll need a couple of other things to increase your fish-catching abilities.
Trolling Motor Battery
Understanding which battery to get can be a little confusing, especially with the introduction of Lithium-Ion batteries. Not all trolling motors are compatible with Lithium-Ion batteries, but these batteries are the best in terms of power, weight, and efficiency.
If you need help choosing a battery, I highly recommend checking out our Best Trolling Motor Battery page!
Fish Finder
You don't need a fish finder to catch fish, and in fact, I encourage everyone to learn to fish without one. However, once you've learned how to fish without sonar, it makes it a much more helpful tool because you are not so dependent on it and can use it the intended way.
One More Cast
Motorguide is one of the leading trolling motor manufacturers for a reason. They've been in the industry for decades but might have become complacent in recent years. Instead of leading the market in innovation, they seem to mimic what the other companies are doing in their own way.
With that said, Motorguide is still beloved by many anglers and continues to make quality trolling motors.
If this Motorguide trolling motor reviews article was helpful, I'd love to hear about it in the comments!