---
We independently research, test, and recommend the best products; you can learn more about our review process here.
Today, we're covering the Garmin Echomap UHD2 and, say what you want about Garmin, this is a company that knows how to put out exceptional fish finders.
It's part of what makes Garmin one of the top three leading innovators in Fishfinder/GPS technology. 
One of our own, Wesley Littlefield, got a hands-on presentation soon after the UHD2's release, courtesy of Zack Brown (regional sales manager for Garmin) at Redcrest 2023 in Charlotte, N.C.
Since then, we've spent a lot of time with the Echomap UHD2 (5", 6", 7", and 9" versions). Zack was pretty straightforward with what the UHD2 offers:
"The best of both worlds, Garmin and Navionics all in one platform, and they also work with the ActiveCaptain app."
He was referring to the 5", though Navionics is preloaded (in one form or another) on all the UHD2 platforms. That's just the tip of the iceberg.
Now that we've had more time to delve into the Echomap UHD2, we're here to tell you why this should be on your "next, best fish finder of 2023" list.
---
Overview of the Garmin Echomap UHD2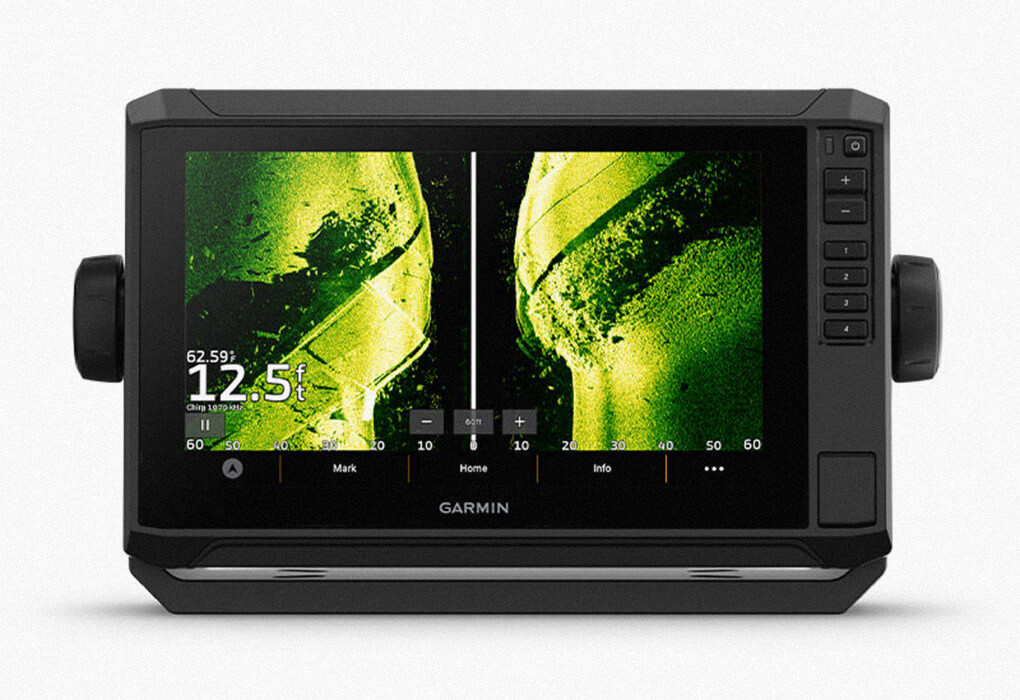 The UHD2 Chartplotter series builds on what Garmin started with the original Garmin Echomap UHD.
I'm a sucker for powerful displays, and Garmin has always set a premium on display visibility and resolution. We were not disappointed with the UHD2.
The devil is in the details and Garmin's focus (with the 7" and 9" versions) on improved clarity, better-viewing angles, and vivid color palettes make those tiny, but important features, stand out.
The display is sunlight readable, and you can make out what's going on, even at a fairly sharp angle.
Even working under the constraints of a smaller screen, Garmin managed to produce a high-definition, bright display with vivid color tones.
The 5" version (53cv) comes with a GT20-TM transducer, along with preloaded Garmin Navionics and US Inland Mapping. It's the perfect kayak companion, as is the 6".
It only gets better from there, with a 9" version including the GT56UHD-TM transducer, ultra high-def Sidevu, Clearvu, (Garmin's version of side and down imaging), and traditional CHIRP, and preloaded Navionics with US Inland Mapping.
Out of the box, the Echomap UHD2 is boxy, with a premium, faded black aesthetic and Garmin's popular tilt mount, quick release cradle (of Ultra Series fame), popularity I can attest to.
The protective cover is a nice add-on, along with the power cable.
We were incredibly excited to know that all of Garmin's UHD2 models are completely compatible with LiveScope. Panoptix LiveScope is Garmins coup de grace, top-of-the-line transducer and Echomap UHD2s are compatible.
The biggest differences, I immediately noted, between the Echomap UHD2 and Echomap UHD, is the size of the UHD2 unit is about an inch thicker, there's a sizeable bump up in terms of resolution, increased power use (up to 3.5A), and the UHD2's Ultra Series cradle.
The thickness is to be expected with the new hardware the UHD2 is packing but the resolution more than makes up for it.
The Ultra Series cradles are fantastic and Garmin's decision to dump its clunky mounts for the Bail Mount Quick Release Cradle is a very welcome addition.
Of course, there's a lot more to those differences when you dig a little deeper, including wireless networking connectivity between units, Navionics mapping series moving to "plus" and the GPS receiver power doubling from 5 Hz to 10 Hz.
Features and Benefits of Garmin Echomap UHD2
The differences between Echomap UHD and Echomap UHD2 are more than standard for a typical upgrade. Garmin went all out to ensure the UHD2 is a clearly separate, unique, and more advanced fish finder than the original UHD.
Garmin markets the UHD2 as 500W of vivid, high-contrast, scanning sonar power. It's a bit of an understatement.
The features and benefits are numerous and you can harness the power of the Echomap UHD2 with the 5" on a kayak or a couple of 9"s on a 30-footer.
Sonar Support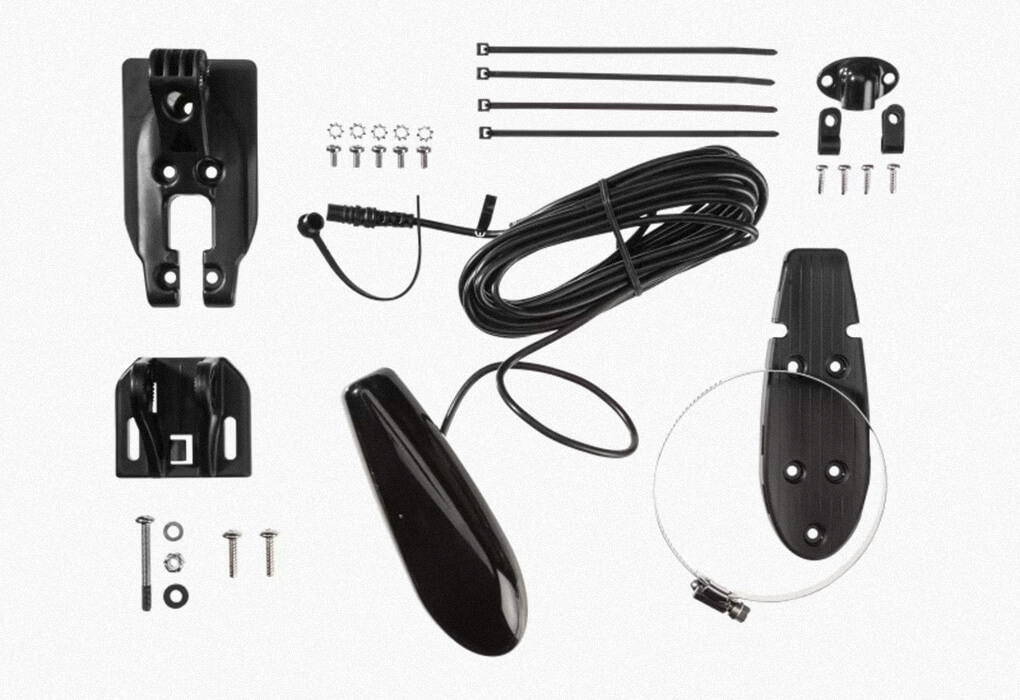 If you're like me, you always get the head unit with the transducer, even if you already have a compatible transducer.
You can never have too many, and it makes sense to bundle them at a lower price than purchasing separately.
The Echomap UHD2 models come with the GT20-TM transducer (for the smaller head units), the GT54UHD-TM (for the 6" model), and the GT56UHD-TM transducer for the 9" UHD2.
Those are your two bundle options, but the GT24UHD-TM is a popular, compatible transducer as well.
The 5" UHD2 is limited to ultra high-def Clearvu and traditional sonar CHIRP. The remaining models come with ultra high-def sidevu, clearvu, and traditional CHIRP.
The 6", 7", and 9" UHD2s are compatible with LiveScope Plus and LiveScope XR systems as well. We love variety and options.
After all, who wants a nice fishing rod that only mounts one, specific reel? These are the options Garmin gives for compatible sonar:
| | | | | | | |
| --- | --- | --- | --- | --- | --- | --- |
| | GT20-TM | GT24-TM | GT54UHD-TM | GT56UHD-TM | LiveScope Plus | LiveScope XR |
| 5" Echomap UHD2 | ✔ | ✔ | | | | |
| 6" Echomap UHD2 | | | ✔ | | ✔ | ✔ |
| 7" Echomap UHD2 | | | ✔ | | ✔ | ✔ |
| 9" Echomap UHD2 | | | | ✔ | ✔ | ✔ |
Wireless Connectivity
The Echomap UHD2 comes with built-in WiFi connectivity and, if there's one thing I would consider a shortcoming with the UHD2, it's the limited compatibility.
You basically need another UHD2 if you want to share data between two or among three screens.
Fortunately, you can still hardwire other Garmin fish finders and they'll work just fine with each other.
Hardwiring is a great idea if you're sticking with a central, large, multi-display because wired will always beat out wireless in terms of speed.
As far as running multiple UHD 2s goes, it's like running dual or triple screens on a home PC—meaning you can share just about everything between two or among multiple screens.
This includes your preloaded charts, sonar, routes, waypoints, user data, and more.
One of our favorite connectivity features is the wireless connection with compatible, Force Trolling Motors (either the 50" or 57" versions).
This connection opens up a variety of additional auto guidance features, including route following, waypoint navigation, and speed controls.
It's also a good way to keep an eye on your battery levels. ActiveCaptain is the pairing app that ties into everything, and it's available on iOS or Android devices.
I typically fish on a kayak, though myself and some fellow anglers occasionally take a 25' Pursuit out into the Gulf.
On a kayak, the fewer the cables, the better, so I appreciate Garmin's wholehearted embrace of wireless connectivity.
Mapping Features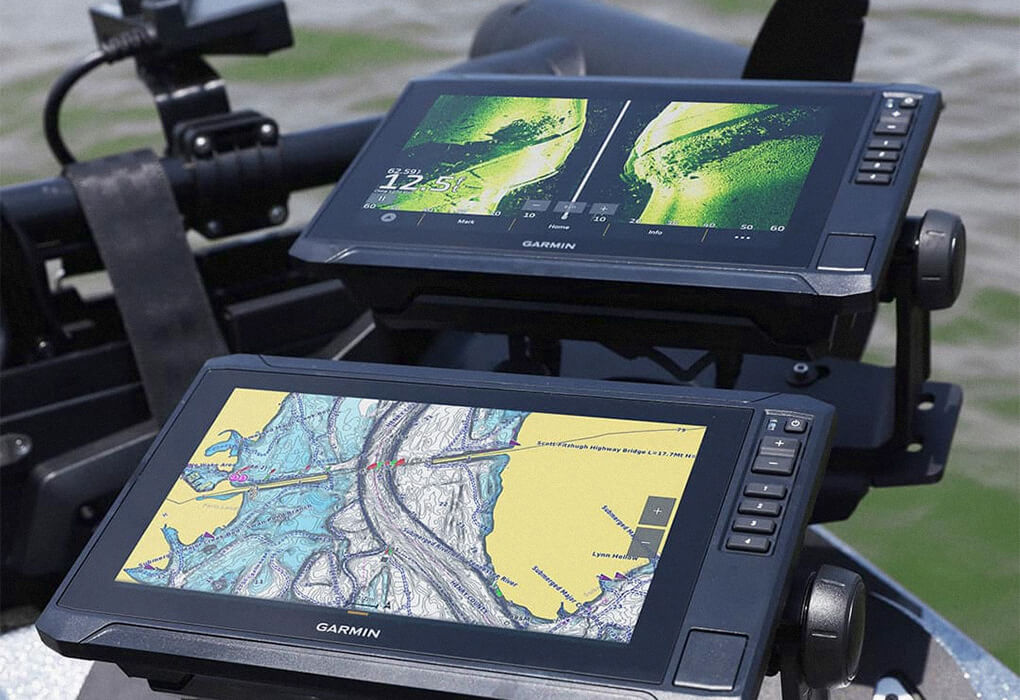 While Garmin says Navionics + is available on "select" models, all four UHD2s come with some variations of Navionics + built-in. My experience with Navionics + was to compare it with older BlueChart G3 software.
Garmin didn't tread too far from familiar territory. BlueChart G3 breaks down into BlueChart G3 and BlueChart G3 Vision. Likewise, Navionics breaks down into Navionics + and Navionics + Vision.
The "Vision" part is a premium model for subscribers that offers more than what you get built-in.
Standard Navionics + offers 4 features that both standard and premium BlueChart G3 lack—daily updates, coastal/lake mapping, dynamic lake level, and sonar imagery³.
However, if you jump onboard with the Garmin Navionics Vision + package, you get those four things plus high-resolution relief shading³, high-resolution satellite imagery³, 3D chart views, aerial photos, and side scan images.
With Navionics +, the visuals pop, regardless of your head unit (though that 9" really looks sweet), revealing creek channels, contour lines, roadbeds, foundations, and more.
The vivid color palettes the ultra high-definition Echomap is capable of carry over into mapping views, and it's an impressive sight.
Of course, you're not really losing BlueChart G3 coastal charts or the Lakevu G3 inland maps as they are both simply upgraded and overlaid under the Navionics + banner.
Garmin Quickdraw Contours generates and contours your maps with liquid speed. It's fun to just sit there and watch it do its thing.
Last, but not least, Navionics + cartography, up to 5,000 waypoints and 50,000 track points, along with up to 100 navigation routes all packed into a 32GB microSD.
Resolution and General Features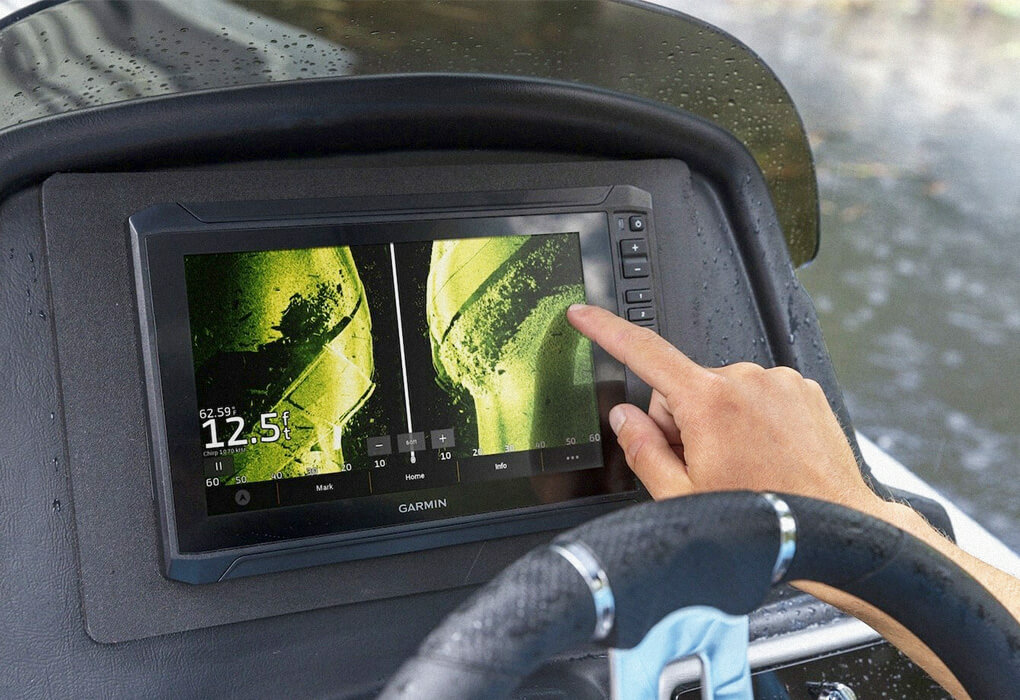 Photo Credit: PRNewswire
If you want to take advantage of 1024 x 600 pixels, you'll have to fork over the cash for the 9" model. The 5", 6", and 7" versions feature 800 x 480 pixels.
On the positive side, the smaller screen size of the 5", 6", and 7" head units maximize the pixel count, and the displays are anything but impressive.
Garmin maintains a keypad on the right side of all four, however, with the exception of the 5" version, all of the Echomap UHD2s are touchscreen.
The touchscreen feature is highly responsive and fluid, even when you have a lot happening on-screen.
The built-in GPS receiver is highly responsive and hums along at 5 Hz, even in areas where reception is fairly shoddy. If there's one thing I never doubt about Garmin, it's the GPS capabilities of their products.
For the ice fishing enthusiasts out there, looking for an Echomap UHD2/ice fishing combo, you're in luck with the 5" and 7" units. They're compatible with Garmin's Ice Fishing Bundle and the Ice Fishing Kits.
Final Thoughts on the Garmin Echomap UHD2
Ever since Garmin announced the release of the Echomap UHD2 and our hands-on moment at Redcrest 2023, the Echomap UHD2 has remained on our sonar.
Here at Anglers.com, we don't place any one product on a pedestal. Our Garmin Echomap UHD2 review is simply to provide you with our experience with the product.
The Echomap UHD2 is undoubtedly a huge step up for Garmin—it's an incredible piece of fishing machinery.
Personally, I really wish it was more compatible with older units or the original Echomap UHDs (if nothing else). If you already have an Echomap UHD, you'll need to hardwire them.
Here's to hoping Garmin will come up with a major software update to make that happen in the future. Upgrade your fishing game and experience the thrill of uncovering hidden hotspots with incredible clarity and detail.
Get your Garmin Echomap UHD 2 now and start reeling in your biggest catch yet!