---
We independently research, test, and recommend the best products; you can learn more about our review process here.
The Garmin Force trolling motor is the first episode of Garmin, a company known for manufacturing high-quality electronics, venturing into the trolling motor galaxy. They make several bold claims of being the most powerful and efficient, all while being extremely quiet.
This almost sounds too good to be true. However, the Force was voted overall Best of Show Winner at ICAST 2019 so maybe there's some truth to their claims.
In this Garmin Force trolling motor review, I break down the features and benefits of the Force, so you know if it's too good to be true or worth purchasing for $3,099.99 MSRP.
---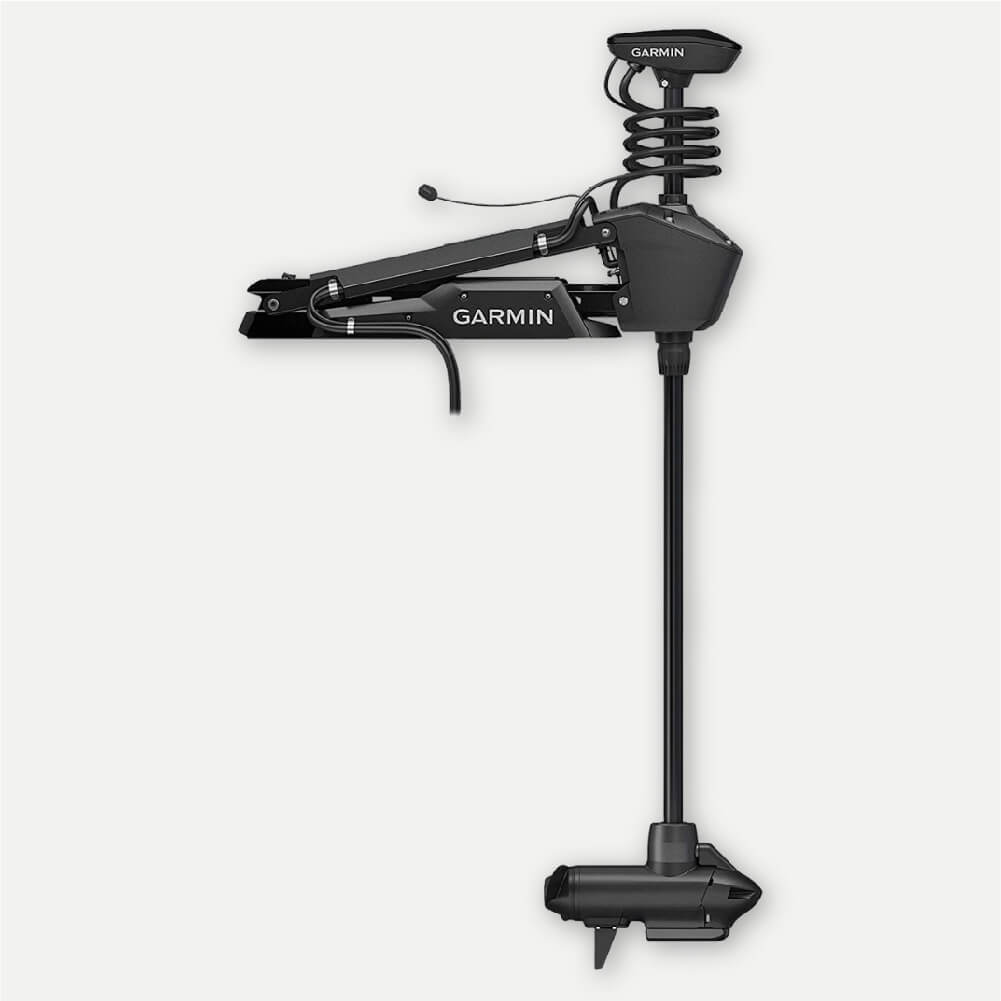 Pros:
It runs on 24 volts or 36 volts
Long battery life
Silent brushless motor
The responsiveness of a cable-steer motor
Great customer service
Cons:
Expensive
Sonar only works with Garmin fish finders
Need to calibrate and recalibrate for Anchor lock.
Only two shaft lengths. 50" and 57."
Early models had latching and software issues (These have been addressed for motors manufactured after 2020)
After all my research, I would rate the Garmin trolling motor 9/10. I believe Master Yoda would approve because the Garmin Force has all the features you expect from a high-end trolling motor.
Such as a high-efficiency brushless motor, anchor lock/spot lock, wireless remote operations, built-in sonar, a wireless foot pedal, and unique remote features that set it apart while being at a comparable price to the competition.
Okay, enough with the Star Wars talk (for now), let's move on to how I determined my 9/10 rating.
Factors To Consider Before Buying A Trolling Motor
I have used many different trolling motors throughout my weekend fishing adventures and learned the incredible value a quality trolling motor offers every angler. Several factors help specific motors stand out above the crowd.
Ease of Use
If I have to spend more time figuring out how to use the trolling motor than fishing, I'm going to get frustrated quickly.
Operating a trolling motor should be straightforward. We're not operating spacecraft here.
Battery Life
In 2013, I fished a tournament that drained my trolling motor batteries. Thankfully, they lasted most of the day, but it still cut into my fishing. I would have loved to of owned a trolling motor that didn't suck the power out of my batteries that day.
Who knows, I may have gone home with a check instead of empty-handed.
Quietness
The main reason an angler uses a trolling motor is to be quiet. If you spook fish with your trolling motor before they come into casting range, it's too loud.
Standard Features
The Garmin Force has the features expected of a premium trolling motor including (but not limited to):
Multiple control options: foot pedal or remote
Sonar Integration
GPS Capabilities
Anchor lock/spot lock
Multiple power options: 24v or 36v
Brushless silent motor
Garmin Force Features and Benefits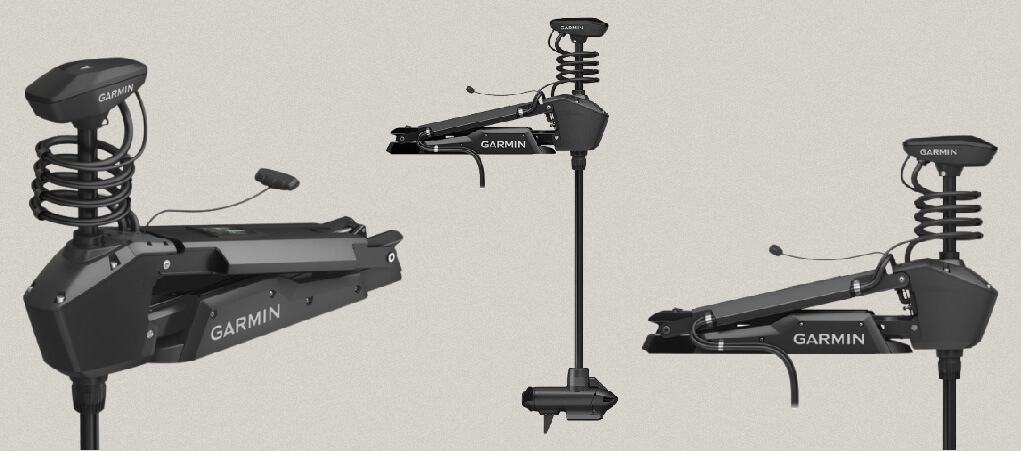 Despite this being Garmin's introductory product into the trolling motor market, it has enough features to rival Luke Skywalkers X-wing. These features increase your chances of having a successful day of fishing.
Suited for Any Water Type
Garmin says as long as the motor is adequately cleaned and maintained, it is safe for use in saltwater, brackish water, or freshwater. So no matter where you live, you will be able to use the Force.
Multiple Power Options
The Force can operate on 24v or 36v. If you have a battery that goes bad while fishing, you won't have to cut your day short. You can hook it up using two batteries instead of three and get right back to using it.
Powerful Yet Efficient
According to Garmin's testing, the Force is 30% more powerful than competitors. Boasting 100lbs of thrust at 24v the Garmin Force is the most powerful trolling motor on the market. If you operate it using 36v, you will add at least another 20lbs of thrust.
While continuously operating this trolling motor, anglers have gotten 48-52 hours of use from lithium batteries.
So you won't have to worry about charging your batteries after every trip because it is an efficient trolling motor.
Multiple Control Options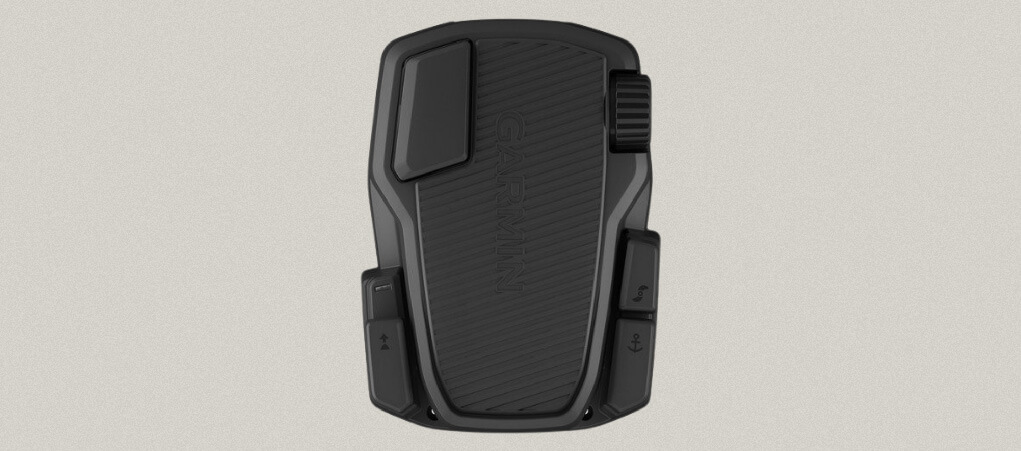 You can control the Garmin trolling motor with two wireless capabilities, a foot pedal, or the remote control.
You can also run in auto-pilot mode, so you don't have to focus on operating the trolling motor constantly. We will also discuss these features in more detail below.
You can adjust the foot pedal to exactly how much pressure you want to steer the motor. This is great because I personally like to have a little resistance when using a foot pedal so that I don't accidentally bump it and throw myself out of the boat.
Futuristic Wireless Capabilities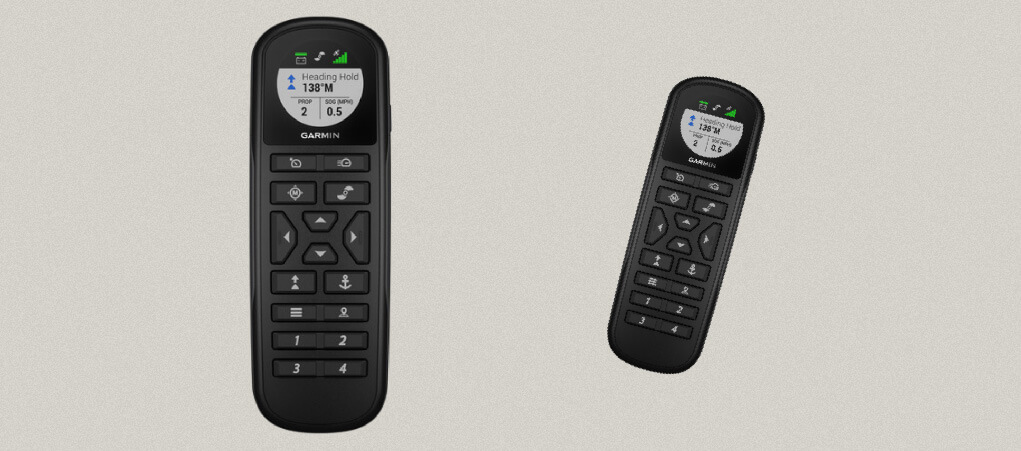 If you prefer the old-school method of having the foot pedal connected to the motor with wires, you still have that option. However, you also have the option of going wireless with the foot-pedal by inserting AA batteries or remote so you can operate your Garmin Force from anywhere in the boat.
The remote is waterproof and floats, which is excellent if you accidentally drop it into the water while pulling a monster fish over the side of the boat. The most remarkable feature of the remote is the ability to use "The Force" to steer the trolling motor with gesture steering.
Simply point the remote in the direction you want to go and hit the appropriate button, and the motor will steer you in that direction.
AutoPilot
In true Star Wars fashion, you can use the autopilot feature to take control of the trolling motor while you fish. It's like having your R2D2 onboard your boat. You design the route you want to travel using your Garmin Chartplotter and then engage the autopilot function.
Built-in Garmin Compatible Sonar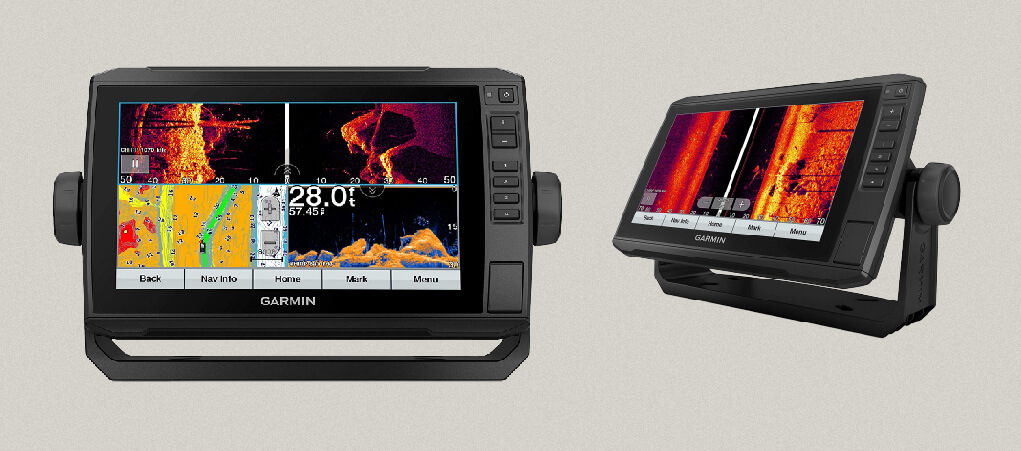 The Force trolling motor comes with CHIRP traditional and Ultra High-Definition ClearVu and SideVu scanning sonars. If you don't run Garmin CHIRP sonar, you can purchase a separate nose cone for different transducers.
Silent Brushless Motor
A brushless motor makes it more powerful, more energy-efficient, and silent. It's the same technology as brushless motor power tools, so it is not untested while it is a new technology for trolling motors.
Minimal Sonar Interference
The brushless motor also means there is minimal sonar interference. You no longer have to worry about your trolling motor causing a disturbance, forcing you to decipher if it's the trolling motor or a fish.
Easy Stow and Deploy
The dual gas springs help you lift the trolling motor when stowing and deploying. They also keep the motor from dropping too fast in either direction.
When you lift the motor out of the water to stow, the lower unit will automatically go into the home position, so you don't have to worry about turning it before lifting.
Incredible Customer Service
Before all the initial kinks got worked out, many people complained about the dependability of the foot-pedal or the software. However, every problem was fully addressed promptly. Garmin is known for their excellent customer service and stands behind the products they make.
Hopefully, you won't need to find out for yourself if the customer service is as good as they say now that they've addressed many of the issues causing customers problems. If you do run into difficulties, Garmin offers a 3-year warranty on the motor and a limited lifetime warranty on the shaft of the Force.
What Others Are Saying About the Garmin Force
While I believe the Garmin Force is a fantastic trolling motor, you don't have to take my word for it.
Everywhere I looked, people were saying great things about it!
I couldn't give an unbiased review without making you aware of some of the opposing arguments against the Force trolling motor. Keep in mind that these were posted shortly after the product launched before Garmin had worked out all the kinks.
As you can tell, there are a few reasons why it's not rated a 10/10; however, now that most of the problems have been addressed in the manufacturing process, I honestly believe it should be rated as high as I rated it.
When you compare the alternatives in a $3,099 price range, it has many of the same features and offers some that the others do not.
Alternatives to the Garmin Force
As great of a trolling motor as the Force is, a few other comparable products are on the market. So if Garmin products aren't for you, you might want to look into these products that offer many of the same specs.
Lowrance Ghost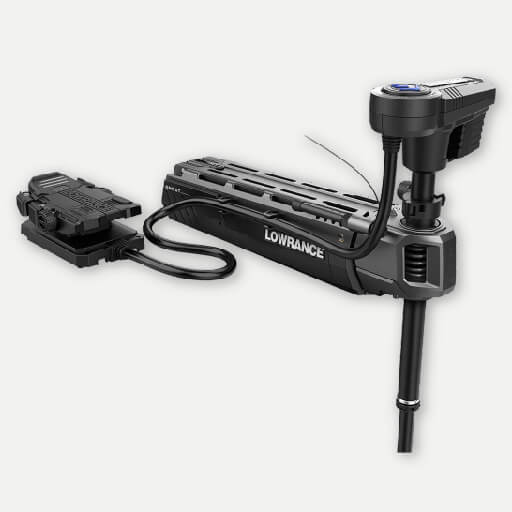 Minimal differences are separating the Ghost and the Force. The two most significant are that the Ghost has a customizable foot-pedal, so you can program the buttons to precisely what you want them to be. The other is the Force can handle saltwater or freshwater, whereas the Ghost is a freshwater-only unit.
If you have Lowrance sonar already, then check out my in-depth review of the Lowrance Ghost because I think it would be a better option for you.
Also, if you were wondering which one is the best, check out my full Lowrance Ghost vs. Garmin Force review!
Minn Kota Ultrex
Another difference is the need for 36v to reach 100lbs of thrust by the Ultrex, while the Force only needs 24v to get 100lbs of thrust.
If you want to dive deeper, check out my full Minn Kota Ultrex Review.
MotorGuide Xi5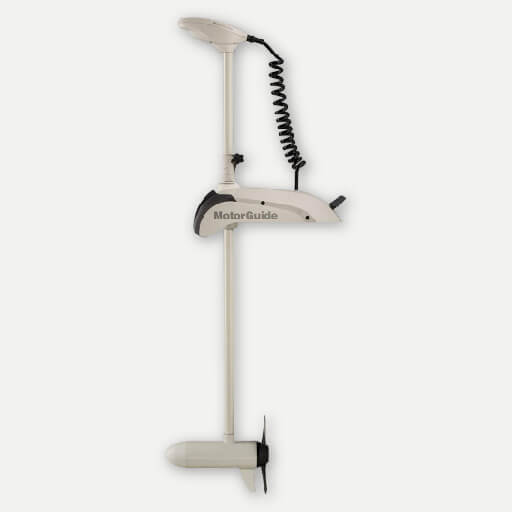 The Xi5 is less expensive than the Force for a couple of reasons but mainly because it lacks sonar integration. This isn't a big deal if you've already got your sonar preference, and it's not Garmin.
MotorGuide also produces different versions of the Xi5 for Saltwater and freshwater, so be careful not to purchase the wrong one. Another reason it is cheaper is that it needs 36v to reach the 100lb thrust threshold. So it's not as powerful as the Garmin Force.
Other than these two significant differences, it has many of the same features as other high-end trolling motors at a less high price.
Motorguide trolling motors have been a fan favorite for many years, the reason why I suggest you to go ahead and check out my Motorguide x5 Review.
Conclusion
The Garmin Force is a trolling motor that stands at the head of its class alongside the Lowrance Ghost.
However, I don't believe every angler needs or should purchase the Garmin Force for their bass boat. Some of the features it offers are designed only with professional anglers in mind, and that's why it comes at a Fishing Jedi Master price point.
I rated the Force a 9/10 because of its ease of use, long battery life, quietness, and, lastly, the features that come standard.
As you can tell, Garmin has brought the future of trolling motors to the present. The Force offers everything you would expect from a high-end trolling motor, and Garmin designed a unique way to steer the motor by pointing the remote in the direction you want to go and holding the correct button.
So if you have some spare change of $3,099 laying around and need a new trolling motor, I highly recommend purchasing the Garmin Force if you're serious about fishing.
"May the Garmin Force be with you."
I'm sorry! I couldn't resist one last Star Wars reference! If you own a Garmin Force, give us your review in the comments below!