Last Updated on February 19, 2022
We independently research, test, and recommend the best products; you can learn more about our review process here.
The Ghost is Lowrance's entry point into the trolling motor market. Known for making excellent fish finders, they spent years thinking through and testing every detail of the Ghost, from how quiet the brushless motor is to the customizability of the foot pedal and everything in between.
After reading this Lowrance Ghost review, you will see how Lowrance has set a new standard for which other trolling motor companies should strive. Yet, something is holding me back from installing it on my boat (and why I rated it 9/10).
The price.
Starting at $3,249 MSRP makes it difficult to justify it with myself (or my wife).
That being said, I am a tight-wad, and compared to competitors, the price isn't outrageous considering the standard features.
Pros
24 or 36 volt

Brushless (quiet) motor

Customizable foot pedal buttons

It doesn't interfere with sonar

360-degree breakaway mount and automatic realignment
Cons
Premium price

Less than ideal prop (aftermarket prop highly recommended)

Freshwater only

Slight sound in the head unit (above the water) while turning
The Ghost offers everything you expect from a premium trolling motor: spot lock, autopilot, silent operation, integration with Lowrance electronics, and easy deployment/stow functions, but what garners the most attention is the small things Lowrance chose not to overlook.
Like the pull cord cable instead of the cheap rope used by other companies. Or the way they keep the wires in place and out of the way. Lowrance designed a trolling motor with many pros and only a few cons.
---
Things to Consider Before Buying a Trolling Motor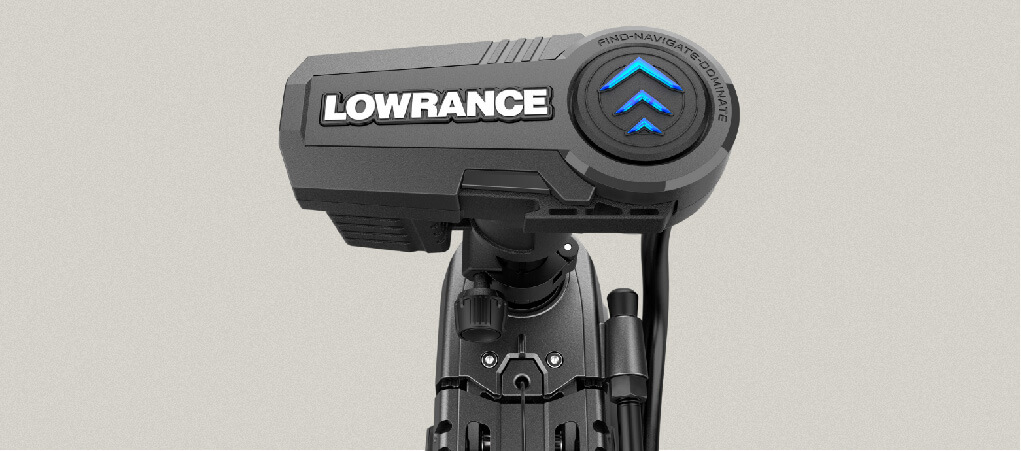 As anglers, trolling motors have become an indispensable tool. I recently was reminded of this when I went out with a buddy who had just bought a new boat and hadn't yet mounted a trolling motor onto the boat. We spent most of our time trying to paddle the boat into alignment instead of fishing.
Even the weekend angler needs a trolling motor, but do they need the Lowrance Ghost?
In my opinion, no, they do not need it.
However, if you're anything like me, you want the most incredible new gadgets with mind-blowing features only seen in Sci-fi movies. The Ghost is undoubtedly other-worldly.
The Lowrance Ghost is ideal for someone who depends on fishing for their livelihood (those competing in MLF), but the average angler can get by with a cheaper model from a competitor that offers fewer features.
Below is a list of several considerations to keep in mind when considering a new trolling motor.
Ease of Use
If a trolling motor is complicated to use, I'm going to purchase one that is easy to use even if it is slightly inferior. Lynard Skynard said it best, "Be a simple man."
Battery Life
Running out of battery while on the water is a disaster, and trolling motors are the most significant drain on batteries. So look for a trolling motor that enables an extended battery life.
Quietness
What good is an electric motor if it's loud and scares the fish away before you catch them? Exactly, it's worthless. That's why you see companies boast about having the "quietest motor on the market."
Standard Features
The standard features are what most often determine the price of the trolling motor. The premium motors will go the extra mile when it comes to common features. At the same time, mid-range trolling motors will offer fewer standard features (more on this below).
Lowrance Ghost Features and Benefits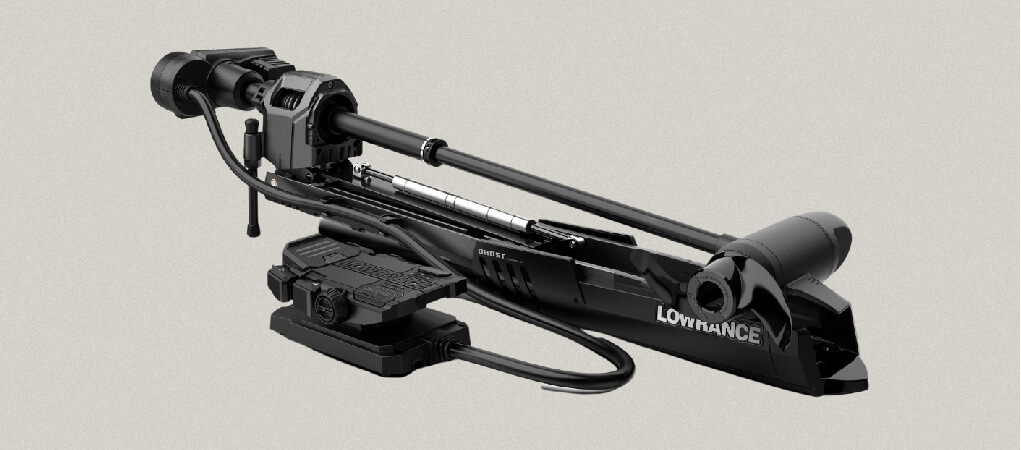 Lowrance didn't just dip their toe into the water to test the trolling motor market. They cannonballed into the deep-end and emerged as a leader with the Ghost trolling motor right away.
The Ghost offers all the features you expect and the ones often underappreciated.
Silent Brushless Motor
We've all used a trolling motor that you can hear the motor running from above the waterline. Well, sound travels better underwater, so if you can hear it, bet the fish can hear it too.
That all changes with the ultra-quiet brushless motor from Lowrance.
A brushless motor is virtually silent, so that means no more scaring fish away as you troll past or before entering casting range. The only sound you will hear is your boat cutting through the water.
Multiple Power Options
Lowrance designed the Ghost to run off of 24 volts or 36 volts with the press of a button. This feature is fantastic if one of your batteries goes terrible while you're out of the water.
Instead of ending the day early, you can simply press a button on the foot-pedal and keep fishing.
Powerful
Boasting speeds up to four miles per hour means the Ghost can quickly get you to the next spot, even in rough waters, without using your loud outboard motor.
Depending on if you're using 24 or 36 volts, the Ghost will deliver 97 or 120 lbs of thrust. 36 volts will get you the most thrust possible.
More thrust comes in handy when you're battling the wind or current all day. You're able to stay in position or charge ahead against the wind and current.
Prolonged Battery Life
Despite being powerful, the brushless motor of the Ghost is not a drain on the batteries. Lowrance boasts a "60% better run-time efficiency," which means you'll run out of snacks before you run out of battery.
Multiple Control Options
The Ghost can be controlled using the foot-pedal, remote, or Lowrance HDS Live, HDS Carbon, Elite FS, and Elite Ti2 fishfinder.
Multiple controllers are excellent for anglers who troll because you can be anywhere in the boat and still control the speed and direction of the boat.
Bass anglers will find this feature helpful as well for the same reasons. Being able to hit spot lock while you fight a fish from the back of the boat means opportunities to put more bass in the boat.
Customizable Foot-Pedal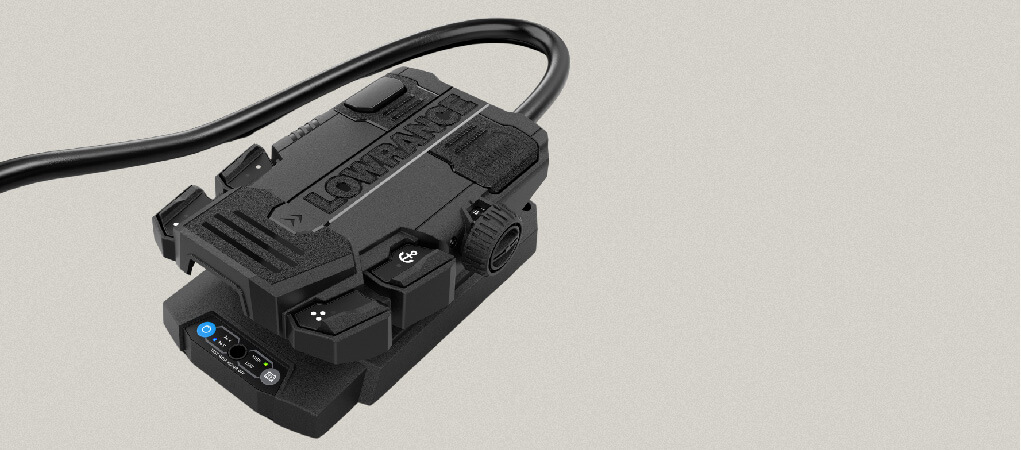 Lowrance made it easy to transfer over from another trolling motor manufacturer with the configurable foot-pedal buttons. Not only can you program some of the buttons to deploy a Power-Pole, set a waypoint, or any other function you might need, you can switch the power button to either side of the pedal.
The ability to customize the trolling motors foot-pedal checks the box on ease of use because you can set it up to the exact way you want to use it.
No Sonar Interference
It's frustrating to see all the chaos on your electronics and think, "oh man, I hit the jackpot! I just found fish schooling." Only then to realize it's your trolling motor interfering with your sonar. Well, with the Lowrance Ghost, you don't have to worry about that happening anymore.
The brushless motor emits zero electromagnetic interference, so your sonar screen will stay as clear as possible, which means you won't be thinking there are fish in a spot when there are not.
Plug-and-Play Lowrance Sonar
Lowrance gives you the option of choosing which sonar technology you want to use alongside your Ghost. You can use the CHIRP, SideScan, or DownScan-imaging with the HDI nosecone package to cover your basic sonar needs.
Or you can enter the underwater world with the Lowrance Active imaging 3-in-1 nosecone that will allow you to see exactly what is below your boat. This is just another way Lowrance is giving you the ability to customize your trolling motor to what best suits your needs.
Breakaway Mount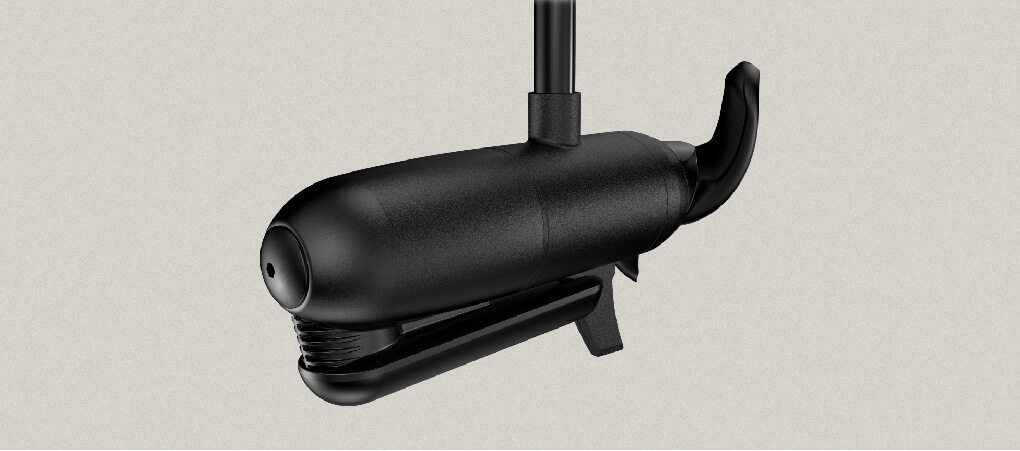 As careful as you strive to be, you will eventually run into stumps or rocks. I've bent a few trolling motor shafts from leaving them down while moving spots or by running into an object at full speed. Either way, it's not good for the shaft.
The breakaway mount means fewer bent shafts and less time repairing the trolling motor after a run-in with a stump. Not only does the Ghost absorb the impact better, it automatically realigns itself after the encounter so you can get right back on track.
That being said, Lowrance offers a three-year warranty on the unit and a lifetime warranty on the shaft.
Easy Stow and Go
By far, one of the most overlooked features is the easy stow and go. The dual-action gas spring stops the trolling motor from bouncing or dropping too fast, meaning there is a slight resistance as the trolling motor is lowered into either position. As you raise the motor towards the stowed position, the lower unit will automatically align, preventing you from fighting it.
This feature protects you against accidentally dropping and damaging the Ghost. It also means while deploying the trolling motor, you won't have to worry about causing a loud thump that scares away the fish.
Mikey does an excellent job breaking down the Lowrance Ghost's featuresGhost, good and bad, in his YouTube video below.
What Others Are Saying About the Lowrance Ghost
During the research process, I found several positive reviews for the Lowrance Ghost. It seemed everywhere I looked, boaters were ecstatic about their new Ghost trolling motor.
Amazon had too many positive reviews to list them all but here are a couple.
If you don't trust the Amazon reviews, even the fishing forums couldn't find much negative about the Ghost.
Clearly, the Lowrance Ghost has many fans.
Alternatives to the Lowrance Ghost
Even at the high price of $3,349, the Ghost has a few competitors that offer comparable features.
Garmin Force
Still, it provides the option to go wireless with two double-A batteries, and the remote can use motion to control the trolling motor when the right button is pushed.
If you run Garmin electronics, then the Force will be the better option for you as they integrate with the Force. You can check out the Garmin Force for yourself here.
Also, if you were wondering which one is the best, check out my full Lowrance Ghost vs. Garmin Force review!
MotorGuide Tour Pro
It will respond much better than other electronically driven trolling motors. It does offer similar features as the Ghost, but the reviews are not as optimistic.
MotorGuide designed the Tour Pro to be sonar universal to work with any significant sonar brand. If you're skeptical of the price of a Ghost, then the MotorGuide Tour Pro might be more your style.
Minn Kota Ultrex
The same company owns Minn Kota and Humminbird fish finders, so the Utrex syncs with the One-Boat Network, meaning you can control your trolling motor from your Humminbird electronics.
If you own Humminbird electronics or a Minn Kota Talon shallow-water anchor, then the Minn Kota Ultrex will be your logical purchase for a trolling motor.
If you want to dive deeper, check out my full Minn Kota Ultrex Review or read about how it compares side-by-side to the Ghost in my Lowrance Ghost vs Ultrex article.
Conclusion
Fishing without a trolling motor is way more work than it's worth. You will spend more time trying to position the boat than you will be fishing.
Been there, done that.
The Lowrance Ghost freshwater trolling motor gives you silent control of your boat so you don't spook fish that might be nearby without sacrificing power or battery life. Plus all the other features we've come to expect from premium trolling motors.
So if you want to put more fish in the boat, be sure to check out the Lowrance Ghost for yourself, just don't be afraid of the high price tag.
Have you bought the Lowrance Ghost? Let us know your thoughts about it in the comments below!
About Post Author