---
We independently research, test, and recommend the best products; you can learn more about our review process here.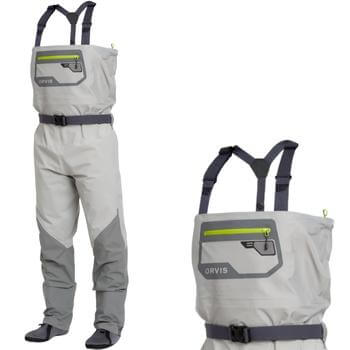 Best Overall Fishing Waders
Pros
Made with a durable and breathable fabric
Convertible into hip waders for hot days
Comes with an integrated tool pouch on the front for lures, hooks, and line
Magnetic strap fasteners making it easier to put them on and take them off
Cons
Straps could use more padding
Sizing is a bit off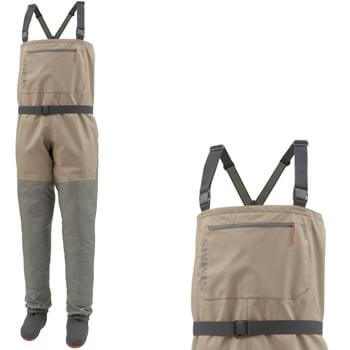 Pros
Great reinforced material with 3-layer upper section for breathability
Stockingfoot design to ensure dry seams and leak prevention
Equipped with an oversized pouch for fly and tackle storage
Comfortable, lightweight, and not overpriced
Cons
Issues with waterproofing – only 60 day guarantee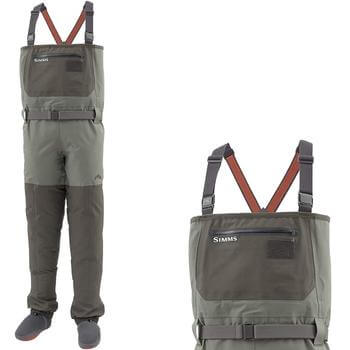 Pros
Great brand reputation
Four layers of protection
Built-in gravel guards
Cons
Choose the size carefully because the boots run small
Price
The best fishing waders won't only keep you dry, they'll prevent you from slipping, offer convenient storage, and help you stay cool when the sun is beating down on the back of your neck.
I've been through quite a few pairs of crappy Walmart waders in my life. You know, the kind that are as thin as a rain poncho but as heavy as an RV cover?
Don't be like me, make the right choice right away so you can spend more time fishing and less time wringing out your socks.
The Orvis Ultralight Waders are a great choice because they don't weigh a ton, yet provide the durability you're looking for.
If the Orvis Ultralights don't work for you, then keep reading as this guide will help you find the right pair for your situation.
---
How to Choose the Best Fishing Waders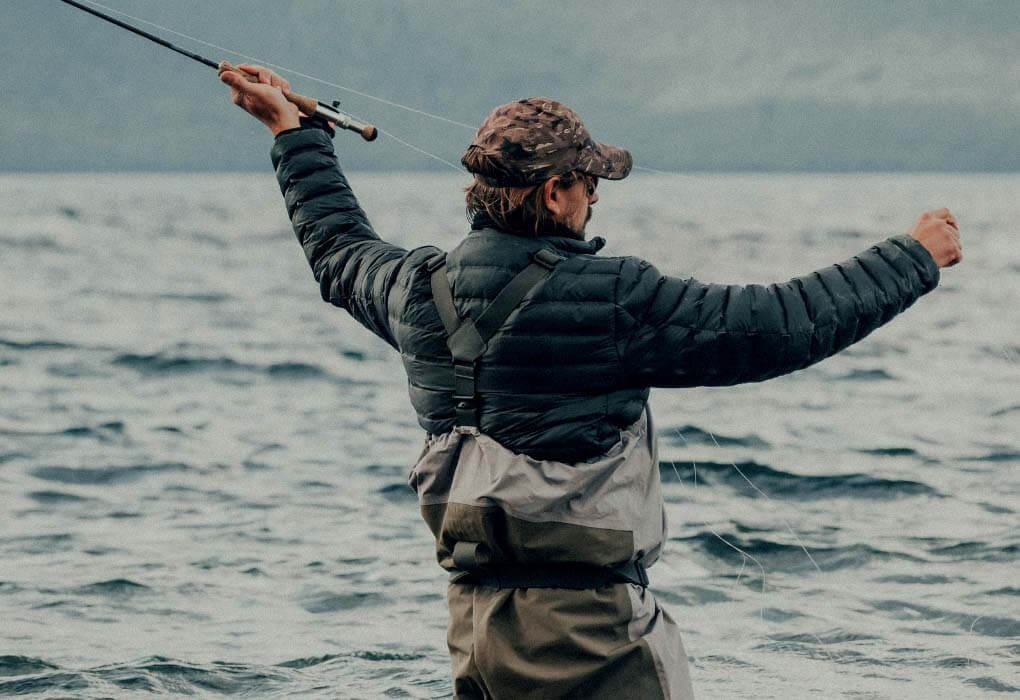 Fishing waders are a really important piece of fishing gear for fly fishermen and all anglers who may have to wade through the water.
In addition to keeping you dry, they also protect you from brush, weeds, bugs, and animals.
For those reasons, I'll wear the waders even if I'm not planning on going into the water. You never know when you'll need to take a few steps in and this way I'm always prepared.
Depending on your fishing style, where you fish, and what trout lures you use; you'll have your own needs when it comes to waders.
Here are some of the things to keep in mind as you shop around for the best waders.
Material
The material and water resistance of it is the first consideration. The whole point of wearing waders is to keep you dry when you're in the water.
If they're not doing that, there is absolutely no point in wearing them.
Waders are usually broken down into two categories:
As you're trying to cast your rod you want to wear something that has lightweight breathable material and is easy to walk in.
This is exactly why most manufacturers make waders from nylon and polyester.
Neoprene is the same material used to make rain boots so you can imagine where I'm going with this.
It's not comfortable, very hot, and harder to walk around in. But, neoprene waders do have their time and place.
Breathability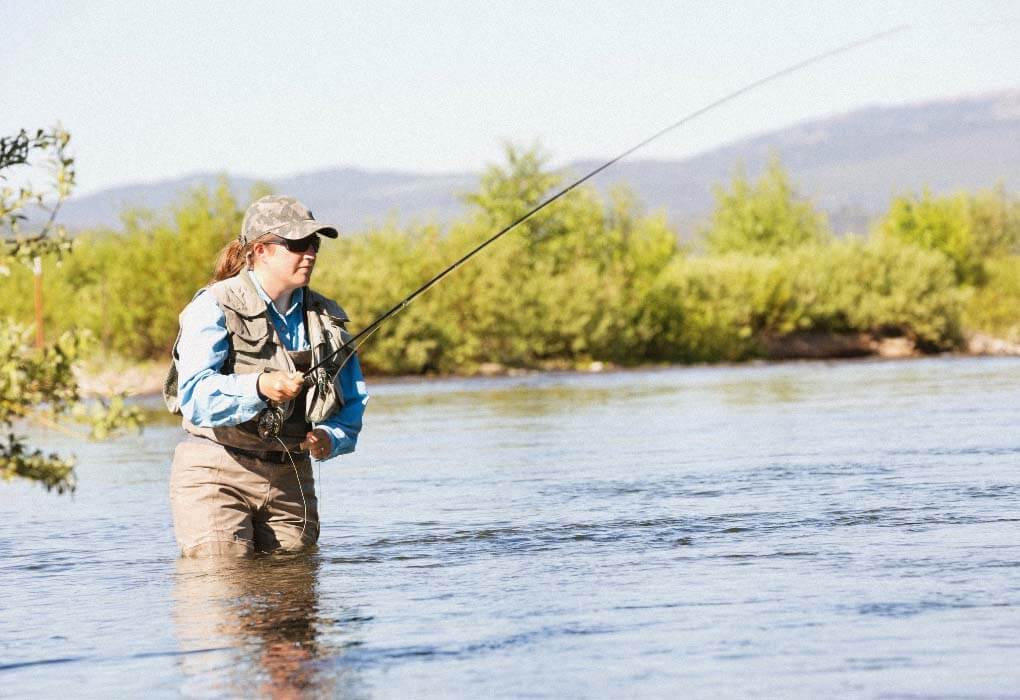 That leads me into my next point, breathability is an important factor for me.
I don't want to be sweaty because it's not only uncomfortable but it makes a lot more work in terms of keeping the waders clean and free of bacteria.
The Simms Gore-Tex brand is well-known for putting together the most breathable waders on the market.
Fit and Sizing
Sizing is a big issue with waders because there are so many manufacturers and everything fits differently.
When you're deciding what size to get, I always recommend going up at least one size because you need to compensate for the clothes you're wearing underneath the waders.
Brand
Brand is always an important factor for me in all my reviews.
When it comes to fishing, I am loyal to certain brands and the same reigns true for fishing waders. Orvis, Frogg Toggs, and Simms are my favorite brands.
They're recognizable, I trust them, and I know that whatever they make it high-quality because they have a strong reputation.
There are other brands as well that we didn't cover in this guide. Cabela's, L.L.Bean, Hodgman, and Patagonia are solid choices as well.
I just think it helps to go with a brand you know because they generally stand by their products.
Best Overall Fishing Waders
ORVIS MEN'S ULTRALIGHT CONVERTIBLE WADERS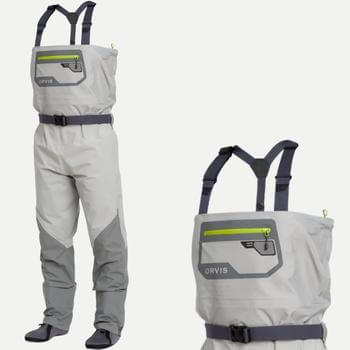 Pros
Made with a durable and breathable fabric
Convertible into hip waders for hot days
Comes with an integrated tool pouch on the front for lures, hooks, and line
Magnetic strap fasteners making it easier to put them on and take them off
Cons
Straps could use more padding
Sizing is a bit off
One of the most important and neglected aspects of choosing the best chest waders is finding ones that are both lightweight but durable and functional.
Orvis did a great job on this by implementing a four layer fabric that doesn't make you feel like you're walking around in a wetsuit.
My other favorite feature is the storage pouch in the front. You can use it for tools, hooks, fly boxes, and whatever else you want to keep close to you.
The magnetic straps are nice but it would be nice if they added a little more padding to them. When the straps are tight and bearing down on your shoulders all day, you can start to feel sore.
Lastly, the coolest feature of these is that you can convert them into hip waders with the removable torso section.
This is especially useful on hot days where you're not wading too deep and you don't need the extra material weighing you down and overheating you.
One downside you'll find with a lot of waders is that the sizing doesn't necessarily line up like the manufacturer says.
I usually go a size bigger because I compensate for having some clothes on underneath my waders.
After a while the straps start to dig into your shoulders as well so you'll want to make sure you have a comfy shirt on underneath these.
If comfort is your main concern, the Foxelli Chest Waders have wide straps and a spacious fit to ensure your maximum comfort.
Best Fly Fishing Waders
FROGG TOGGS HELLBENDER STOCKINGFOOT CHEST WADERS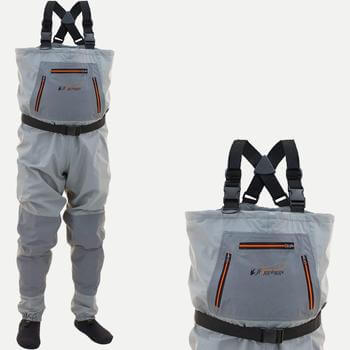 Pros
4-ply reinforced material with double-reinforced knees to keep you dry
Affordable price tag
Huge chest pocket with zippered pockets for storage
Great cleated outsoles
Cons
The pockets aren't waterproof
When it comes to fly fishing, choosing a high-quality and heavy-duty pair of stockingfoot waders is important.
These come in plenty of different sizes and they seem to fit well based on the sizing chart.
I always recommend going a little larger than what you'd normally imagine your size to be because you might have a heavier layer of clothing underneath.
The material itself is 100% 4-ply nylon with double-reinforced knees which is nice to ensure you don't start ripping the knees over time.
This is the section of the waders that will take a lot of abuse so I always look for reinforcement and durable material in the knees.
In terms of storage, you get everything you need. There is a huge flip out pocket on the front that's large enough for you to store all the tackle you need short-term.
Unfortunately, the pocket isn't waterproof. This is the case with a lot of fly fishing chest waders though so I wouldn't worry too much about it.
To make up for it, you get zippered pockets that can serve as extra storage or as a hand warmer during the cold weather months.
One of my favorite features of these chest waders is the cleated outsoles on the boots.
These are great for traction and they're not overly heavy and bulky which is a problem a lot of anglers run into with stockingfoot waders.
Not to mention the fact that you can pick up these waders for less than $100. That's a major plus for me because they're a great brand and they offer everything I could want.
You can compare these to other cheap chest waders and see the difference.
Best Chest Waders
SIMMS TRIBUTARY CHEST WADERS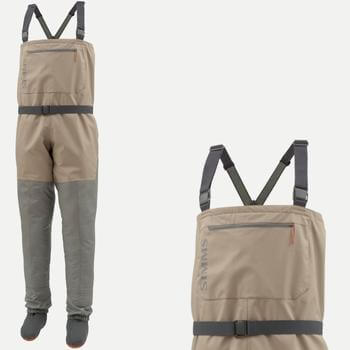 Pros
Great reinforced material with 3-layer upper section for breathability
Stockingfoot design to ensure dry seams and leak prevention
Equipped with an oversized pouch for fly and tackle storage
Comfortable, lightweight, and not overpriced
Cons
Issues with waterproofing – only 60 day guarantee
If I had to pick one brand that really owns this space, it would be Simms.
The company has an exceptional reputation for pumping out high-quality waders and fishing apparel so I really trust their products.
These are the best chest waders because they're highly reinforced with a 3-layer upper section and a 4-layer lower.
I like this design because you don't need the same level of reinforcement on your torso because you're not likely to fully submerge it unless you have to.
When the waders come with a 4-layer waterproof reinforced torso, all that does is add more weight and heat retention.
One issue a lot of fly anglers have is the bulkiness of chest waders. It's one reason why many elect to go with hip waders.
These aren't too overpoweringly heavy and there's a lot of breathability which makes them work with active fly fishing.
The Simms Tributary comes with two wading belt loops and a reach-through handwarmer pocket that's lined with fleece.
Now, even though there are quite a few features and sections dedicated to waterproofing, one thing that rubs me the wrong way is the 60 day warranty guarantee.
A lot of anglers complain about having issues with leaking after the 60 day period.
I think the Orvis Clearwater Waders offer some of the best waterproofing and a brand name you're familiar with like Simms.
Best Hip Waders for Fly Fishing
SIMMS FREESTONE HIP WADERS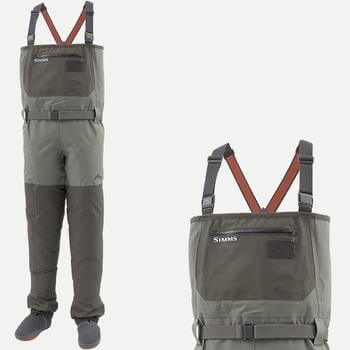 Pros
Great brand reputation
Four layers of protection
Built-in gravel guards
Cons
Choose the size carefully because the boots run small
Price
In many cases, chest waders are too much and you simply don't need the extra material weighing you down and making you hot.
If that's the case then you'll want a pair of hip waders or wading pants, depending on where you live.
Hip waders are about waist-high and are made with waterproof material to prevent water from getting in your boots.
These are from the reputable brand Simms again so you know they're backed by some of the best manufacturers in the world. They're durable, long-lasting, and guaranteed to keep you dry.
The waders come with a two-layer coated fabric on the outside and then a double layer of backing on the inside. That makes four total layers of protection from the water.
They also come with built-in gravel guards to protect you against abrasion and the neoprene booties are well-stitched neoprene with an anti-microbial finish to ensure bacteria and germs don't build up inside your boots.
That said, you pay for premium and the price of these hip waders could possibly turn you away.
Simms does offer to repair your waders no matter what happens but they will charge you if it's general wear and tear over time.
The FishingSir waders are available at a fraction of these cost and should get the job done in most cases.
Best Bootfoot Waders
HISEA CHEST WADERS WITH INSULATED BOOTS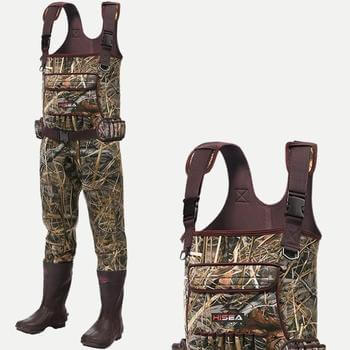 Pros
Rubber welded boots on the waders
Plenty of storage pouches
Non-slip grips for wet rocks
Reinforced for optimal waterproofing
Cons
Most pockets are not waterproof
I am a huge fan of the bootfoot waders in this chest wader review.
I had never used these up until recently because I didn't even know they were a possibility.
Once you try these you might never go back. The bootfoot design is so great because it takes a lot of the thinking out of the equation.
Now, you don't have to worry about fitting your boots inside the waders and being uncomfortable because it comes with everything built right in.
The boots are heat welded at the seam and come with 3M 600G thinsulate material and slip-resistant bottoms.
I also find that the material on stocking waders sometimes promotes slipping on rocks but you won't have that problem with these.
As for the waders themselves, they come with a wide variety of great things like plenty of built-in pockets, precision stitching, reinforced knees, and more.
They also come with something they call "water intrusion resistance" which is likely a fancy way of saying, "water won't leak into your waders."
While water won't leak in, most of the pockets aren't waterproof which means whatever you're storing in there is suspectible to water damage if you end up getting splashed or slip into the water.
Overall, these are the best waders if you want ones that are easy to get on and off without having to worry about boots. The price is right too!
Best Big Man Waders
FROGG TOGGS HELLBENDER GUIDE PANTS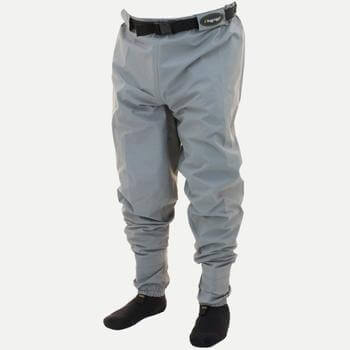 Pros
Great waterproof technology
Oversized pockets
Perfect for bass anglers who occasionally wade
Cons
Sizing issues; boots don't fit right
Wading pants are essentially the same thing as hip waders but I wanted to make sure we included these as well because Frogg Toggs is a heck of a brand and these are a great product.
If you're in need of something that is a bit more "light-duty" I would suggest these.
Even personally, as an angler, I don't wade very much.
If you're a fly fisherman, you'll want to go with the best chest waders because they'll have the storage you need and they'll accommodate the need to be constantly submerged in the water.
For my bass anglers out there, you might still want a pair of stockingfoot waders, even if you're not planning to use them that much.
These are a great way to keep your clothes clean and dry and if need be, you can wade to get the lure in the exact spot you want to cast.
In terms of the product itself, it comes with DriPore Generation 2 technology which includes a breathable and lightweight outer layer, a waterproof middle layer, and a soft and smooth inner layer for comfort and soft contact with your skin.
The waders have double-reinforced knees, oversized pockets, and a 4-ply upper section.
I think these make the best choice for bigger men because they're easier to get on and off. I know, even for myself, I have a hard time taking waders off without help and help isn't always available. These are much easier to handle.
I'd recommend going with a size up from whatever you think you are because they tend to run small like most waders.
The boots also have the same issue and the last thing you want to deal with is a tight fit on your feet.
The Simms Freestone pants are another very similar option if you're not crazy about these.
Best Waders for the Money
FISHING BOOTFOOT CHEST WADERS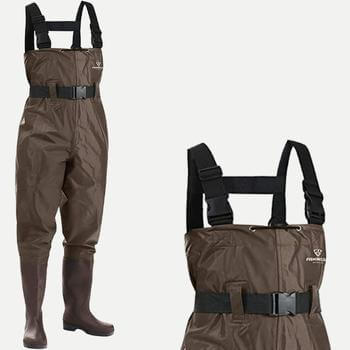 Pros
Great price tag
Bootfoot waders with heat welded boots and non-slip grips
Durable and tough against abrasion
Cons
Can't recognize the brand name
Believe me when I tell you, I've been through it.
I've wanted to get a new reel, updated fish finder, or something else and I couldn't because I just didn't have the money.
It happens to all of us at some point in our life.
The good news is, you don't have to worry because these breathable chest waders are incredibly affordable.
For less than the tank of gas it took you to get to the river, you can pick up these best fishing waders.
They come with an adjustable suspender system which is really wide for something in this price range. Keep in mind that it's a pro and a con.
The wider straps prevent the waders from digging into your skin too much but that means they're also heavier and hotter when the sun is blaring down on you.
They also feature a camo color so they'd work well for duck hunting too.
These are some of the best waders with boots because they're heat welded.
Even though the reputation and reviews around these waders are solid, I would still be a little concerned that the brand isn't a recognized one.
I've never heard of this brand before which likely means it's an Amazon knockoff of something else.
That said, the reputation is solid and the price is right. Even if you only get one season out of these, it's worth it.
Best Fishing Waders for Women
SIMMS FREESTONE Z WOMEN'S CHEST WADERS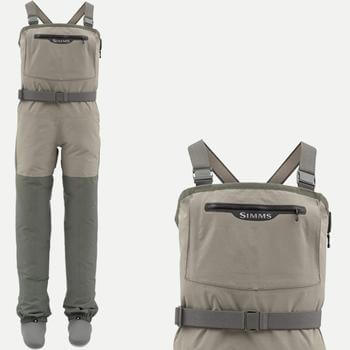 Pros
4-layer waterproofing
Comfortable inner layer
2-layer upper section for breathability and mobility
Oversized pockets located all over the place
Cons
Priced almost double the cost of the mens waders for some reason
First things first, most waders are unisex so for my female readers out there, you can likely go with any of the waders in this review.
You don't need to go exclusively with these. That said, these are exceptional because they're basically a recreation of the Simms Pro waders above but designed specifically for the unique body shape of a woman.
They come with all the same features including the 4-layer waterproofing, 2-layer upper section for breathability, and comfortable shoulder straps that don't dig into your skin.
The waders come in eight different sizes ranging from small to extra large and they have special size variations for short and long based on your height.
Overall, they're almost the same thing as the Freestone mens waders but the unique design makes these the best waders for women. Now I just have to wonder why the price is so much higher.
Best Kids Fishing Waders
REDINGTON CROSSWATER YOUTH WADERS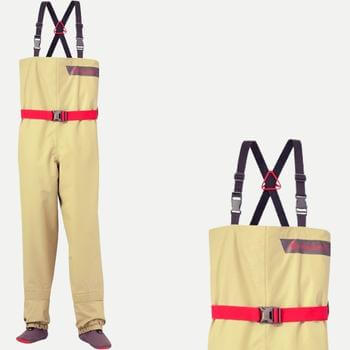 Pros
Great for children under 10
Comfortable straps
Simple design
Cons
No pockets
Unclear product page
Pricey
If you're picking yourself up a pair of waders, why not grab one for your kid as well?
These are a solid choice from a brand I know and love in the fly fishing community.
The one thing that is a bit misleading about these is that even though the product photos show a stockingfoot, the manufacturer is unclear about whether or not it actually comes with the booties or not.
Either way, the feet are only neoprene so you'll still need to have boots but it'd be nice to know what you're getting.
These top waders don't come with quite as much reinforcement and protection as the adult ones so I recommend only getting these if your child absolutely cannot fit into the smallest adult size.
I say this because these are actually more expensive than many of the adult waders so be sure to read the sizing charts and make that determination before committing to these.
Best Stockingfoot Waders
CABELAS PREMIUM BREATHABLE WADERS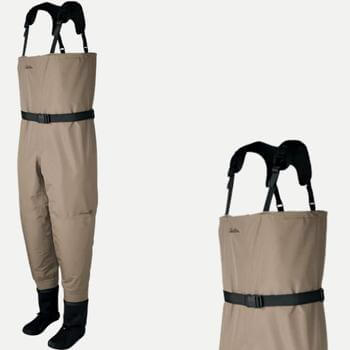 Pros
Affordable value
Plenty of cushion on the straps
Updated fit for enhanced mobility
Cons
Issues with shoulder clasps holding
These are a great pair of beginner waders if you've never bought one before.
They check all the boxes that someone would look for in their first pair.
First of all, they're affordable. You can get these chest waders for less than $200 which is a bargain by most people's standards.
The waders also come with neoprene boots and non-slip rubber to prevent you from sliding around on the rocks as you wade the rivers and creeks.
They also come with a wading belt and a decent amount of storage.
Some of the downsides are the issues with the shoulder straps clasping properly and the fact that there aren't a ton of pockets so you'll want to have a fly fishing vest to go along with this.
Honorable Mention
REDINGTON ESCAPE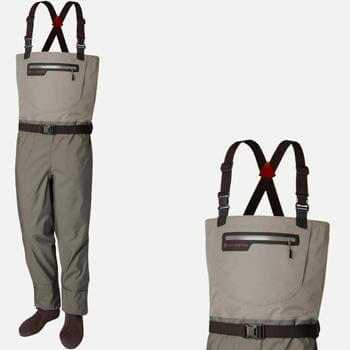 Pros
4-layer legs
Convertible into hip waders
D-ring in the rear to help hook gear
Cons
The Redington Escape chest waders are another great affordable option coming in for less than $200.
These come with a lot of reinforcement with three layers in the upper portion and four in the bottom.
Unfortunately, even with all the excess layers a lot of anglers still complain about issues with leakage around the legs.
These waders are also pretty basic with only one main pocket in the front and a D-ring in the back. The ring is nice because it allows you to hook your net and other tools.
Overall, not a bad option at an affordable price tag from a well respected brand in the fly fishing community.
Types of Fishing Waders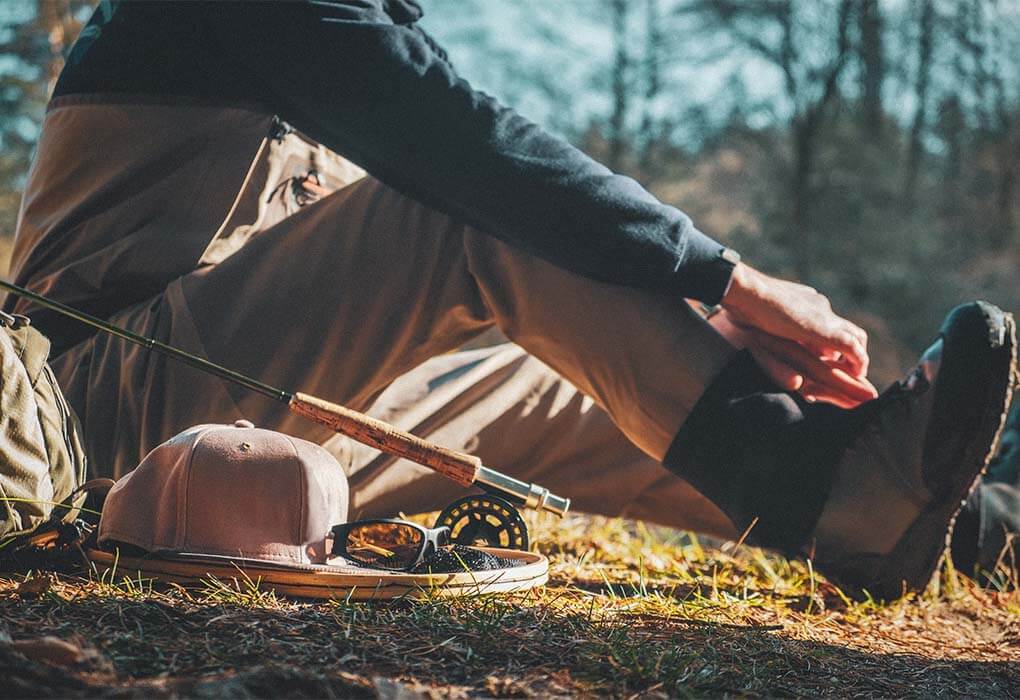 The types of waders you choose is one of the most important decisions and you need to make sure you understand all the different styles of the best waders.
Whether you're fishing with trout rods in the pond or fly fishing in the creek, each fishing scenario has its own set of waders that work best.
Bootfoot Waders
These are most common with neoprene waders because they come as one whole piece with the rubber boots included.
I like these because you don't have to worry about squeezing your boots inside of the stockings and being uncomfortable. There are some downsides though.
First, you don't have as much flexibility when it comes to sizing.
For example, if you're 5'10" but you have huge feet, you might only need a medium-sized wader but you'd like a large sized set of boots. You're out of luck because it comes all-in-one.
Stocking Foot Waders
These are the most common waders for fishing that you'll find. Most fly fishing anglers and ultralight spinners use these for a variety of different applications.
They're usually full chest waders and they come with a set of neoprene socks on the bottom.
To put these on, you'll put your boots and clothing on and slide the waders over everything so the socks protect your boots from getting wet.
Many come with what is called a "gravel guard." These make it easier to put the waders on because you can remove the socks and clip them back on instead of sliding your boot through the entire thing.
Hip Waders/Wading Pants
I've always called them hip waders until I found out that many people call them wading pants. Whatever you call them, they're waders that come with a traditional waist belt that holds the waders up.
They don't come up to your chest and strap over your shoulders, instead you wear them like regular pants.
If you're tossing out your trout bait from the shore and not planning to get in the water much, these are a great way to go.
They'll keep you dry when you need it but they're not going to weigh you down and make you feel hot.
How to Care for Your Waders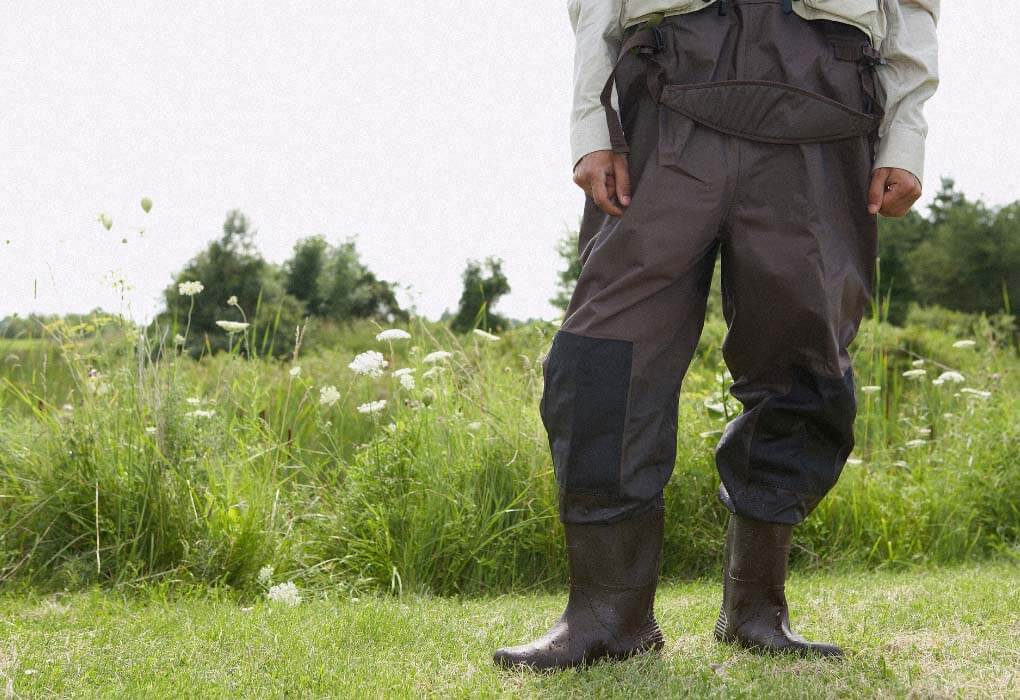 Caring for your waders is very important because it will increase their lifespan, prevent bacteria growth, and save you money in the long run.
Here are my best tips for cleaning and maintaining your waders.
1. Keep them dry – Never ever leave the waders laying around when they're wet, this will kill them. You need to always make sure to thoroughly dry them and store them in a dry place at room temperature.
Most people hang them upside down in a basement as long as it's not damp. This will allow excess moisture to escape.
2. Don't keep them in the car – When heat and sun constantly beats down on the waders they can start to break down, crack, and become discolored.
It's recommended that you store them at a moderate room temperature and out of direct sunlight.
3. Rinse them off – You should rinse all the fishy water off your waders as much as possible. I recommend doing it after each use but every few uses is fine.
It all depends on how hard you're using them. If you're wading through weeds and mud, you might want to wash them after every use.
4. Use water repellent – One of the best tips a fly angler ever gave me was to spray a water repellent coating on my waders so the water would just bead up and slide right off. Well, what do you know it worked like a charm!
Do You Even Need Waders?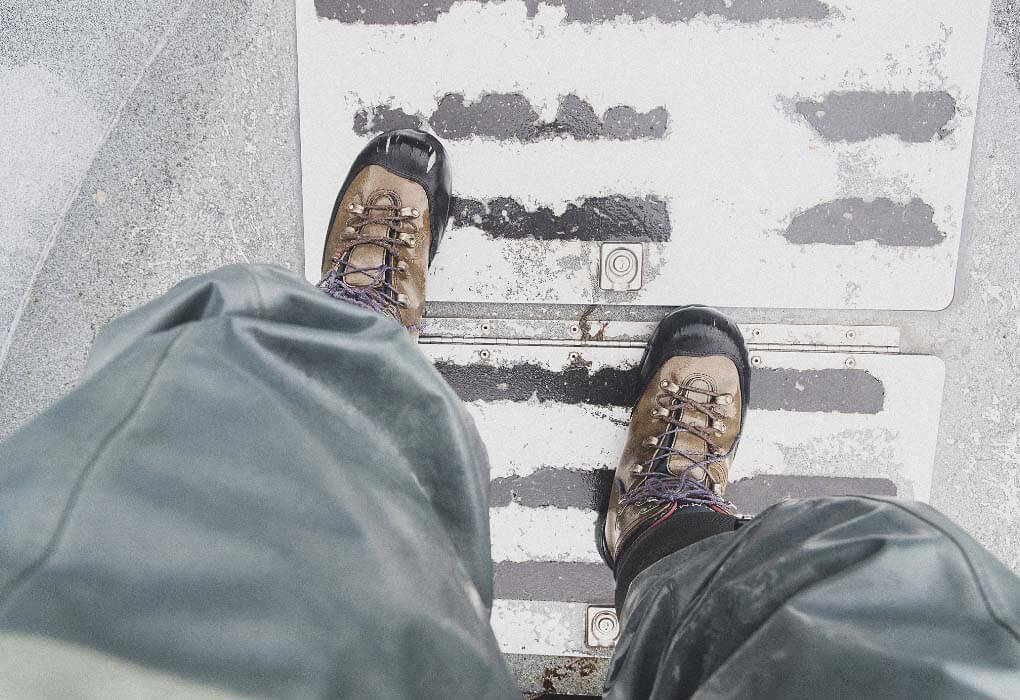 The last point I want to touch on is whether or not you even need waders.
A lot of new anglers enter the game getting told by everyone and their brother that they need this, that, and the other thing but that's not true.
At Anglers.com, we pride ourselves on offering only the best information that is accurate and unbiased.
So, I'm going to always give it to you straight.
No, not everyone needs waders. In fact, I sometimes go years without wading but it all depends.
If you're a frequent fly fisherman or if you want to be, you'll need the best chest waders because fly fishing requires a backcast. This means that you need water in front and behind you to cast.
If you're like me and you only fly fish sometimes but primarily go after bass or trout from the shore, then you can get a pair of hip waders and wear them to protect you from poison ivy and fire ants.
Frequently Asked Questions
What type of waders are the most durable?
Chest waders are more durable than hip waders because they're bulkier and generally made of better materials.
What is the best wader material?
The best wader material is Neoprene because it's been the industry standard for decades, is lightweight, and offers the best waterproofing.
Are nylon or neoprene waders better?
Neoprene is the better material because it's more durable and lighter. You'll find that most of the best waders for fly fishing are made from Neoprene.
Final Thoughts
You've seen the best fishing waders, you've read the buying guide, and now we're ready to wrap it up. All that's left to do is leave you with this.
The best anglers know what they need and how to use it to catch more fish. If you feel like a pair of waders will help you with precision casting, I suggest you get them.
If you simply want them just in case, you should get them.
The most important thing is that you get a high-quality pair of fishing waders and all of the products in this guide should keep you dry for years to come.
Good luck out there!