---
We independently research, test, and recommend the best products; you can learn more about our review process here.
The best fishing backpack is more than a place to store your phone, keys, and wallet. It's your companion on the water keeping your gear safe and dry when things start to go South.
The fishing bags of today are much more than storage.
These backpacks contain rod holders, coolers, drinking water tanks, and even LED lights.
There are many brands to choose from, but no need to worry. We did all the leg work for you.
After hours of research and consulting with the experts, we've put together a list of the 14 best fishing backpacks that will last you the rest of your fishing career.
If you're in a hurry, there's no need to wait to see our top pick, the Wild River Nomad.
However, you will need to keep reading to see why it's the best backpack for fishing.
Our Top 3 Fishing Backpacks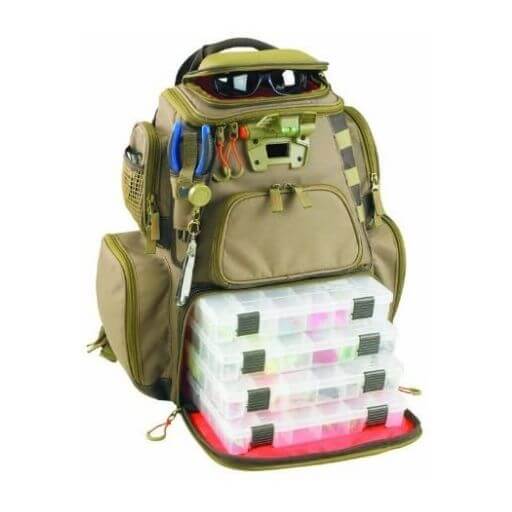 Wild River Nomad By Custom Leathercraft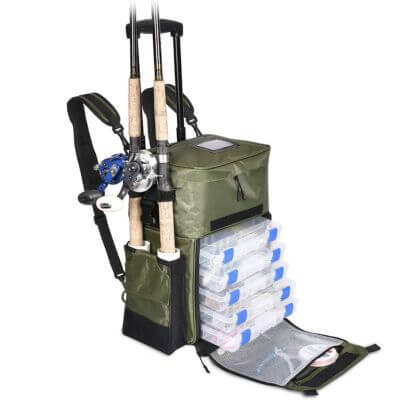 Calissa Offshore Rolling Tackle Box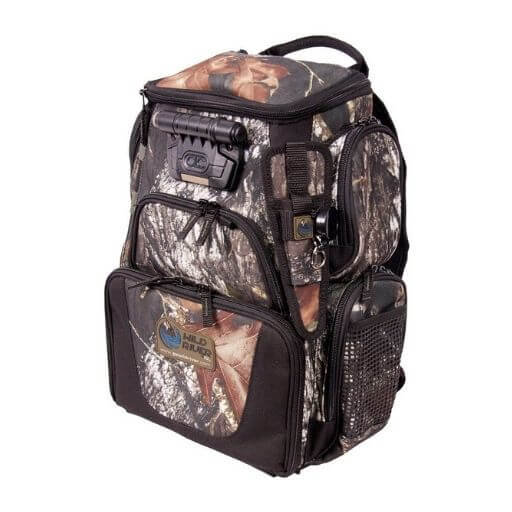 Best Waterproof Fishing Backpack
Wild River by CLC 503
---
BEST FISHING BACKPACK OVERALL
Wild River Nomad by Custom Leathercraft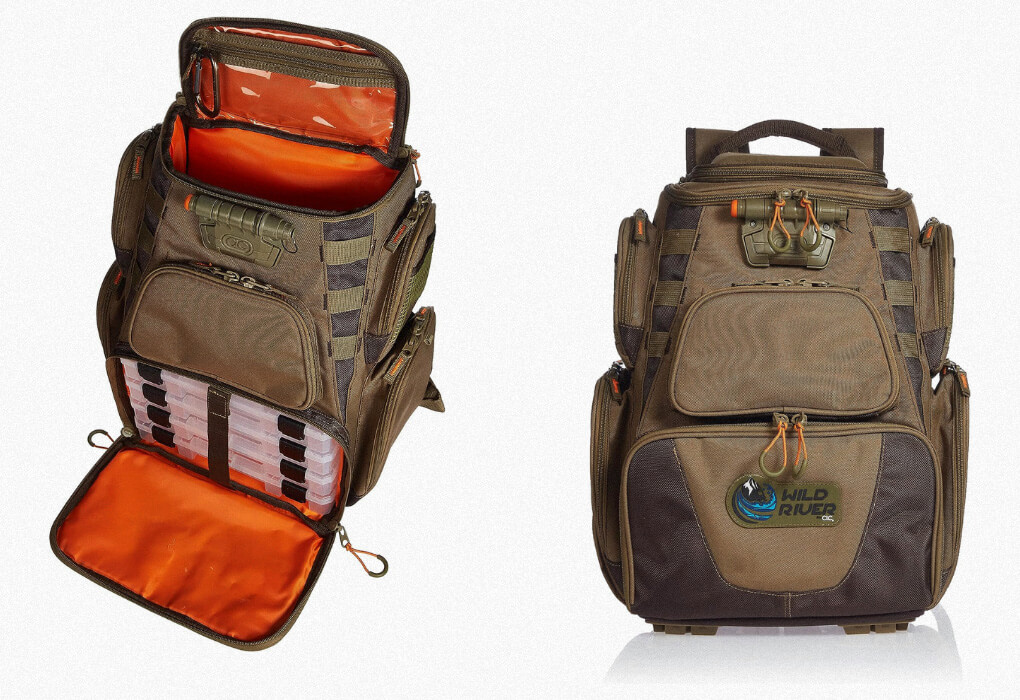 Specs
Capacity: 4 medium trays
Size: 18.5 x 17 x 8.5 inches
Weight: 4.75 lbs
DESIGN AND FUNCTIONALITY
This backpack is made with nylon and has a rust-proof zippered section to help prevent corrosion.
It also comes with large shoulder straps that are comfortable if you have to hike or walk long distances to the fishing spot.
STORAGE AND SPACE
The Wild River Nomad backpack comes with plenty of storage and organizational features to help you keep all of your gear safe.
It features seven different pockets and a large compartment that can accommodate four medium tackle trays.
BUYING ADVICE
It boasts LED lighting and a holder for your fishing sunglasses, which will help you on both rainy overcast and bright sunny days.
Why We Chose It
We chose this backpack as our best fishing tackle bag because of its solid design and comfort. It has base pads on the bottom that help keep everything dry, plus it boasts some of the most comfortable straps on a shoulder bag. 
With plenty of tackle storage on all four sides, you'll have enough room for all your personal gear alongside your lures, rods, hooks, and anything else you might have. Plus, it comes with a removable plier holder and lanyard.
BEST ROLLING FISHING TACKLE BACKPACK
Calissa Offshore Rolling Tackle Box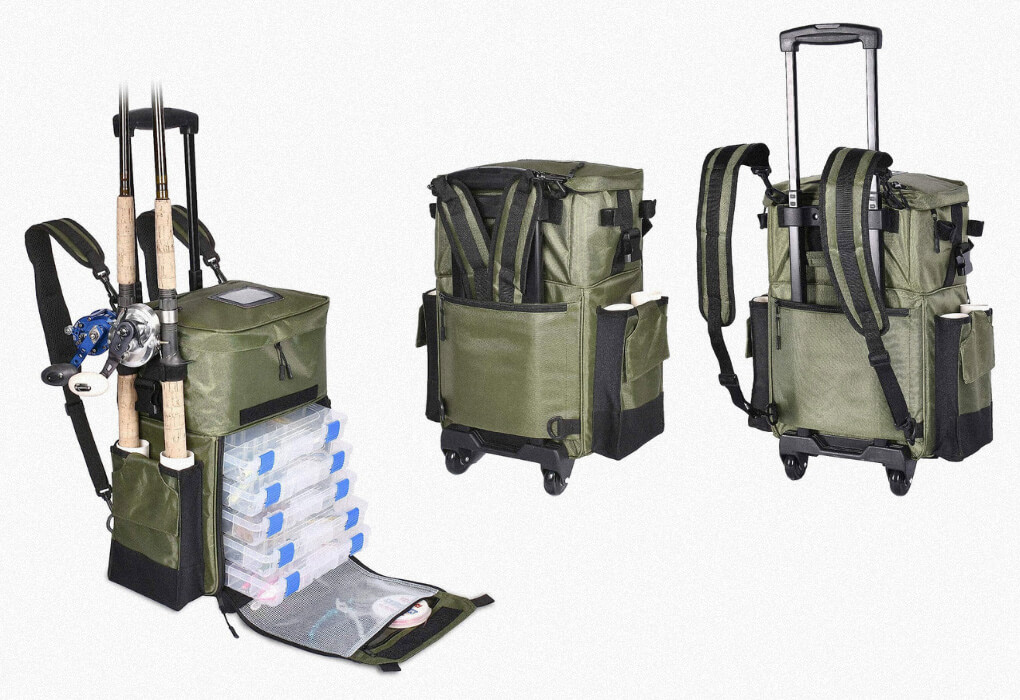 Specs
Capacity: 5 medium trays
Size: 19 x 16 x 10 inches
Weight: 4.25 lbs
DESIGN AND FUNCTIONALITY
This tackle backpack is polyester, which helps reduce the overall weight, and it makes the pack breathable.
It comes with rust-resistant zippers, and it's easy to carry with comfortable shoulder straps. You also get four rod holders with this one.
STORAGE AND SPACE
It's a rolling backpack, so it's a bit bulkier than some other options, but that allows for more storage space.
You can fit five tackle trays through the front compartment. There's also room for a few extra small ones too.
BUYING ADVICE
The pack comes with a rain cover to help keep it dry in heavy rain and salt spray. It comes equipped with five tackle trays, so you don't have to buy any.
Why We Chose It
Having a large fishing tackle bag that you can roll around sounds like a great option at first thought, but after you start to think about it, the desirability goes down.
That said, if you mostly fish larger boats – this is the right backpack tackle box for you.
It's great for saltwater and freshwater fishing, and it comes with four rod holders that allow you to store all your rods, gear, and tackle easily without feeling cramped or overloaded.
BEST WATERPROOF FISHING BACKPACK
Wild River by CLC 503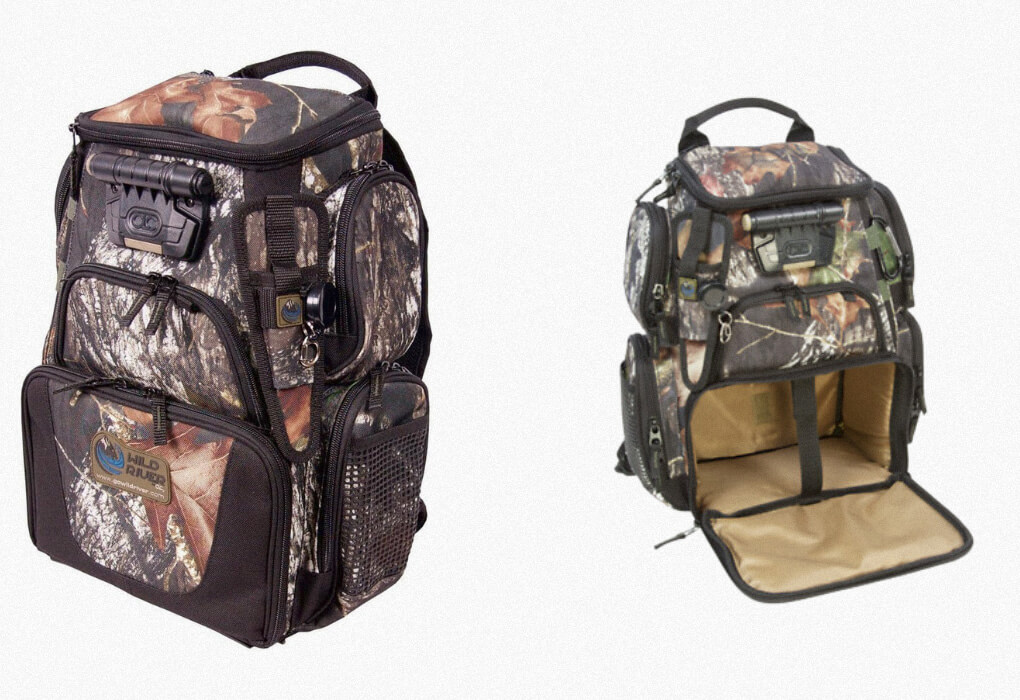 Specs
Capacity: 5 medium trays
Size: 19 x 16 x 10 inches
Weight: 4.25 lbs
DESIGN AND FUNCTIONALITY
This lightweight backpack comes with padded straps and a sternum strap for added support.
It also features a flat bottom with base pads to ensure that everything at the bottom of the backpack stays nice and dry.
STORAGE AND SPACE
There's plenty of storage in this one with multiple compartments and seven easy-access mesh pockets.
The upper section has a large compartment with a removable divider, and you can store tackle trays at the bottom. It has enough room for four trays.
BUYING ADVICE
Features a multi-color LED light for both in and outside the backpack. The main feature that stands out here is the weather resistance due to its protective waterproof cover. It also has a lanyard and plier holder.
Why We Chose It
If you don't have as much gear to take with you, this tackle box backpack will do the trick. It's lightweight, comfortable, and highly functioning.
If you need a waterproof backpack for more than just fishing trips, this is the one for you.
The rain cover and base pads do a great job of ensuring that everything stays dry.
Even though the backpack is a bit smaller than some of the other options, you're still getting large compartments capable of holding up to four tackle trays.
BEST FLY FISHING BACKPACK
Anglatech Fly Fishing Backpack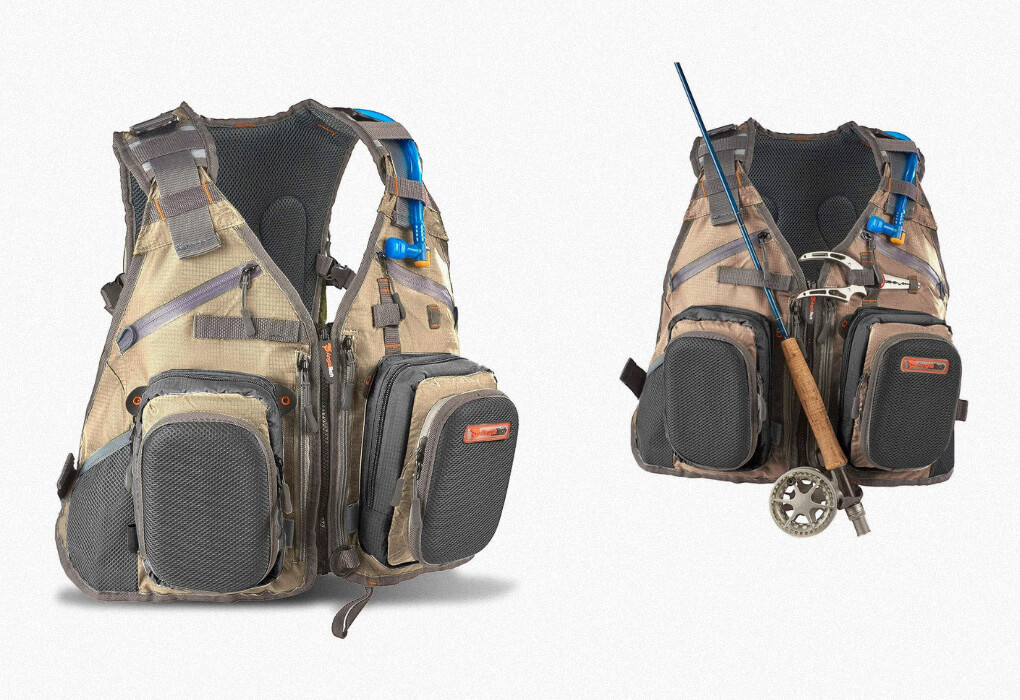 Specs
Capacity: N/A
Size: Adjustable
Weight: 1.52 lbs
DESIGN AND FUNCTIONALITY
The design of this fly fishing vest is totally brilliant. It's a beautiful combination of a fishing vest paired with a backpack.
The backpack is a ripstop nylon material that comes in two colors, and it has durable zippers and comfortable straps for long-term wearing.
STORAGE AND SPACE
Organization is the key to fly fishing, and this vest helps with that.
You have storage for everything, including your rod, flies, line, pliers, reels, and even your phone and keys.
BUYING ADVICE
The standout feature of this piece of gear is the water supply. It has a BPA hydration bladder with 1.5 liters of water, so you don't have to bother carrying anything unnecessary with you in the water.
Why We Chose It
How cool is this thing? You get everything you need from a tackle box but in a fly vest.
Most fly anglers don't need a large tackle bag because all they're using are small flies.
This vest is perfect.
It features breathable mesh pockets and comfortable straps. While that might help, the vest overall is pretty hot, and if you're dealing with sun and 80+ degree temperatures, you're going to sweat a lot underneath this.
BEST BACKPACK TACKLE BAG
Kingdom LYB19 Fishing Tackle Boxes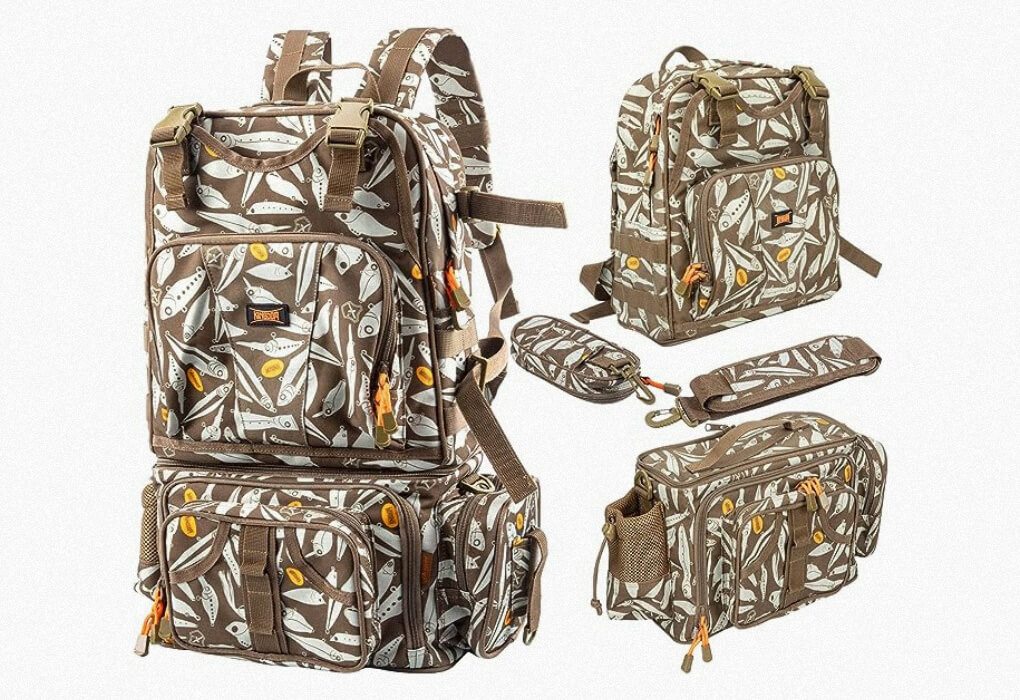 Specs
Capacity: 6 medium trays
Size: 16.93 x 9.45 x 20.87 inches
Weight: 3.55 lbs
DESIGN AND FUNCTIONALITY
This multi-purpose fishing backpack uses high-quality nylon fabric that is both durable and water-resistant.
The bag comes with strong stitching and zippers to provide internal insulation to keep things cool or warm inside of the backpack.
STORAGE AND SPACE
While this one isn't huge, it's lightweight and easy to carry for fishing activities and other things.
It comes with detachable bags so you can take what you need on the bass boat, and it has holders for a fishing rod, pliers, and a water bottle.
BUYING ADVICE
This backpack tackle bag offers 3D decompression ventilation, which means that it promotes airflow throughout the entire pack, so you don't feel fatigued after walking with it for a while.
The detachable bags are also a stand-out feature.
Why We Chose It
The main attractant for this fishing tackle bag is the fact that you can use it for other stuff.
If you're going camping, hiking, fishing, or sleeping over with your in-laws (why would you do that?), you can use this backpack.
The 3D compression technology allows you to stay cool and comfortable, and the detachable bags are what really draw me.
You can leave the entire backpack in your car and fish along the shore with only the lures you plan to use.
BEST SALTWATER FISHING BACKPACK
Talysc Fishing Backpack by Calissa Offshore Tackle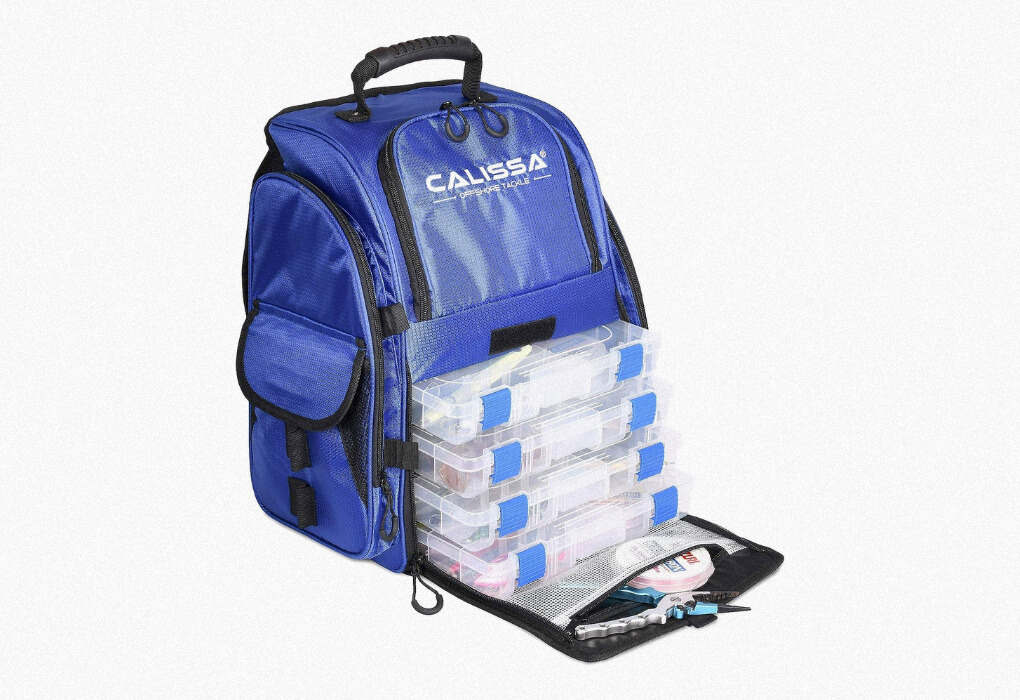 Specs
Capacity: 4 medium trays
Size: 14 x 13 x 8 inches
DESIGN AND FUNCTIONALITY
This saltwater backpack is made from the highest quality materials with breathable polyester. It has a waterproof outer section of material that keeps everything dry even when you're dealing with the harshest salt spray or downpouring rain.
STORAGE AND SPACE
Inside you'll find plenty of storage for the four tackle trays that are included with the bag. You also have plenty of room to store all your personal items.
BUYING ADVICE
The main reason people go for this tackle box is because of its application in saltwater fishing. It's designed to prevent corrosion on the zipper and material by being saltwater resistant.
It also has a sturdy base so you can set it down on a wet deck without worrying about ruining whatever is on the bottom.
Why We Chose It
The key to successful saltwater fishing is keeping everything organized, and this backpack makes that easier than ever before.
The premium material ensures that all your belongings are safe, and the large compartments provide you with plenty of places to put everything.
You also have a few different options for how you'd like to carry this one.
It has a sturdy handle on top if you prefer to just carry your tackle bag in your hand rather than over your shoulder.
BEST SOFT TACKLE BAG
Plano Z-Series Tackle Bag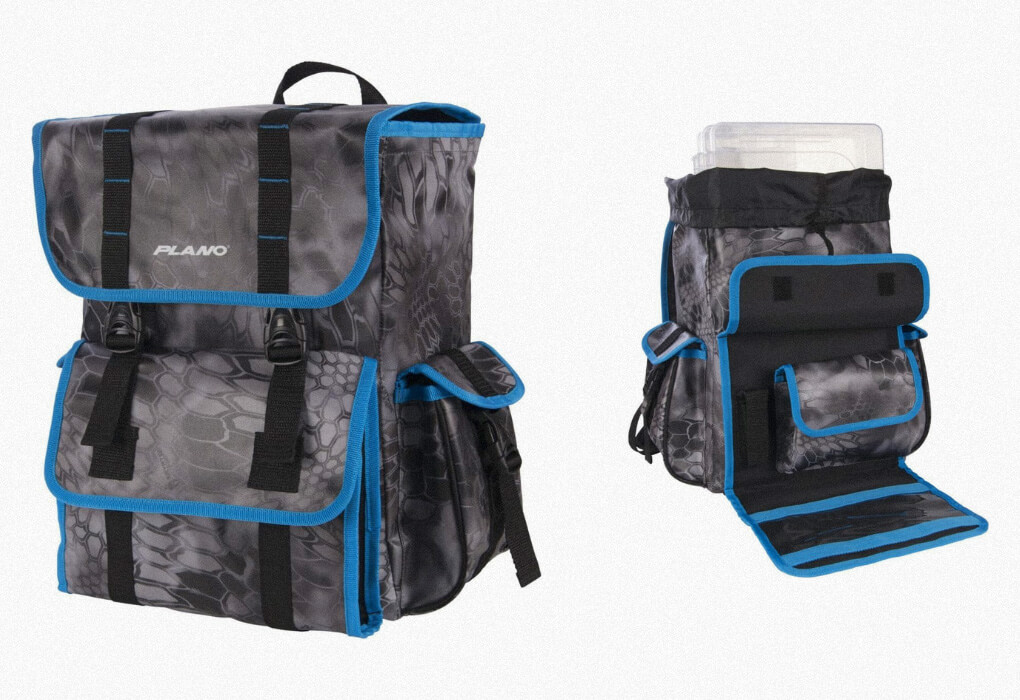 Specs
Capacity: 4 medium trays
Size: 15 x 8 x 15 inches
Weight: 5.8 lbs
DESIGN AND FUNCTIONALITY
My favorite thing about this soft tackle bag is its appearance.
I think it looks awesome and has a lot of cool colors going on.
On a more practical note, it's waterproof, zipperless, and comes with two front pockets that are fastened using velcro.
STORAGE AND SPACE
This is a large bag with a huge front flap connected using two buckles.
The rest is velcro, and it has a transparent pocket so you can see everything inside.
It comes with four tackle trays, and overall the size of the back is standard compared to some of the other offerings.
BUYING ADVICE
The standout feature of this backpack is the zipperless design and application of velcro and drawstrings.
I am not a fan of the velcro because I think it wears down quickly and doesn't stand up as well to water damage as a zipper would.
Why We Chose It
If you're searching for something lightweight, with plenty of storage, that looks great, then this is the right fishing pack for you.
The problem is, it's not the most functional of all the options we have.
The velcro is a major downside for me, and the trays they include aren't the best.
That said, it's a comfortable backpack that doesn't cost an arm and a leg, so as I always say, everything has its negatives.
You just have to weigh the pros with the cons.
BEST FISHING BACKPACK WITH ROD HOLDERS
KastKing Day Tripper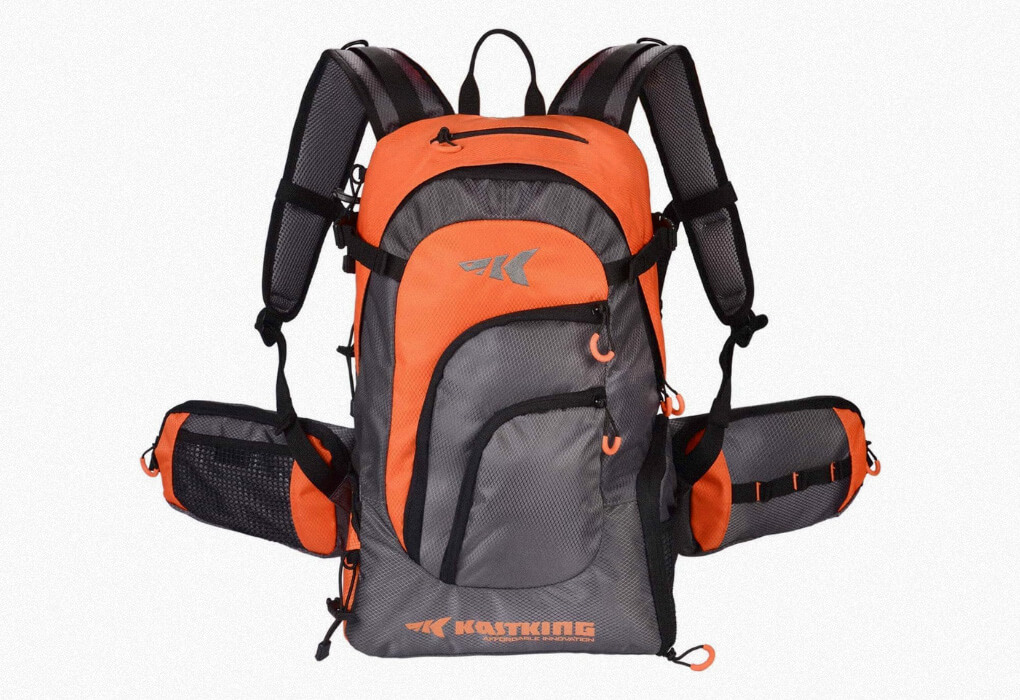 Specs
Capacity: 4 medium trays
Size: 21.25 x 13.4 x 9.25 inches
Weight: 3.09 lbs
DESIGN AND FUNCTIONALITY
This lightweight fishing backpack is very large for how little it weighs.
You get enough storage for your trays, rods, lures, and personal belongings.
It's made using ripstop nylon to ensure maximum durability.
For comfort, you have adjustable shoulder straps, chest straps, MOLLE straps, and waist straps.
I've never seen a backpack with so much padding. While this is nice if you're hauling a lot of weight, it's got to get hot if you're going long distances.
STORAGE AND SPACE
KastKing offers plenty of storage, and there's room for four tackle trays with a full-length storage section inside the waterproof fishing backpack with rod holders.
It contains a total of 11 pockets plus the main storage compartments.
BUYING ADVICE
The most significant feature here is the integrated D-rings that you can use for things like line cutters and pliers.
It also features a sunglasses compartment, so you don't have to worry about dropping them or crushing them in the bag.
Why We Chose It
If you're in the market for a backpack that won't leave you feeling sore even after a long day, this is the one.
It's lightweight even though it has one of the largest capacities we have in this review.
It features a ton of pockets and plenty of padded straps to take some of the weight of your shoulders.
BEST BACKPACK WITH HYDRATION BLADDER
Prospo 40L Military Tactical Shoulder Backpack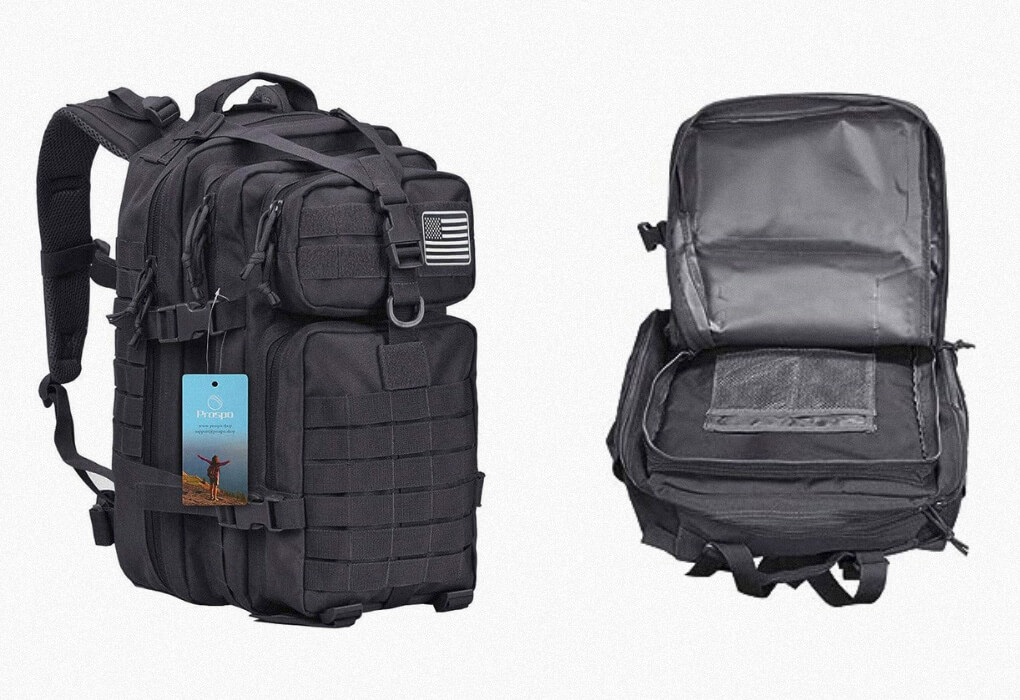 Specs
Capacity: 40 liters
Size: 11 x 18 x 12 inches
Weight: 2.82 lbs
DESIGN AND FUNCTIONALITY
This multi-purpose backpack uses heavy-duty polyester, so it doesn't lose shape.
It features a comfortable padded mesh on the back with shoulder straps and a chest strap for added comfort and support.
The backpack is durable, with double stitching and a secure handle for carrying.
STORAGE AND SPACE
You have a lot of options with this pack. You don't need to use it as a fishing backpack if you don't want to.
It's a tactical backpack for use in hunting, survival, and bug-outs.
The 40-liters amounts to a lot of space, and more than you would need in most fishing applications.
BUYING ADVICE
The main feature of this backpack is the 3-liter hydration bladder.
If you found yourself stuck out on the water for any reason, you would have enough water to last until someone came to help you.
Why We Chose It
You don't always need to have a fishing backpack to go fishing, a survivalist backpack will work just as well!
You can't fit any of the standard-size tackle trays in here, but a combination of the smaller ones will do the trick.
What you do get is a large and spacious backpack that is as durable as they get.
Plus, the hydration bladder isn't something you'll know you need until you need it.
MOST VERSATILE FISHING BACKPACK
3 in 1 Multifunction Fishing Backpack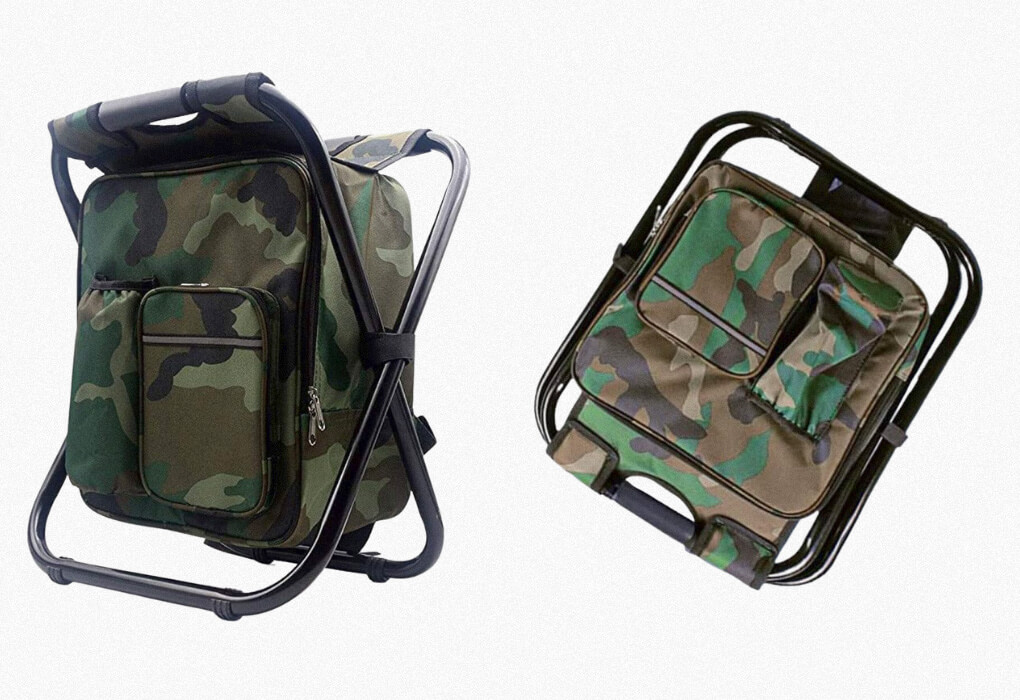 Specs
Capacity: 1.8 liters
Size: 17.32 x 14.17 x 12.20 inches
Weight: 3.3 lbs
DESIGN AND FUNCTIONALITY
You get a three-for-one deal with this multifunctional backpack.
It features a tackle bag, folding chair, and even a cooler.
The backpack chair is 17.32 x 14.17 x 12.20 inches, and it's made with high-quality PVC material and waterproofing features.
The straps are wide and breathable, so you have maximum comfort on long trips.
STORAGE AND SPACE
You can use this backpack for a variety of things, so it works well for picnics, beach trips, and camping.
It's easy to set up the backpack chair because everything unfolds quickly and easily, and you can still access all seven of the storage compartments to get to your gear, wallet, phone, and anything else you might have.
BUYING ADVICE
The built-in cooler is great because you have your very own portable live well to store your catch. If you're not into that, you can use it for food and drink as well.
Why We Chose It
This is great for the angler who likes to get away from crowds but doesn't want to haul a lawn chair four miles down the creek.
I love the versatility of this backpack and the option to rest your feet while fishing in your favorite fishing shoes.
HONORABLE MENTIONS
SpiderWire Sling Fishing Backpack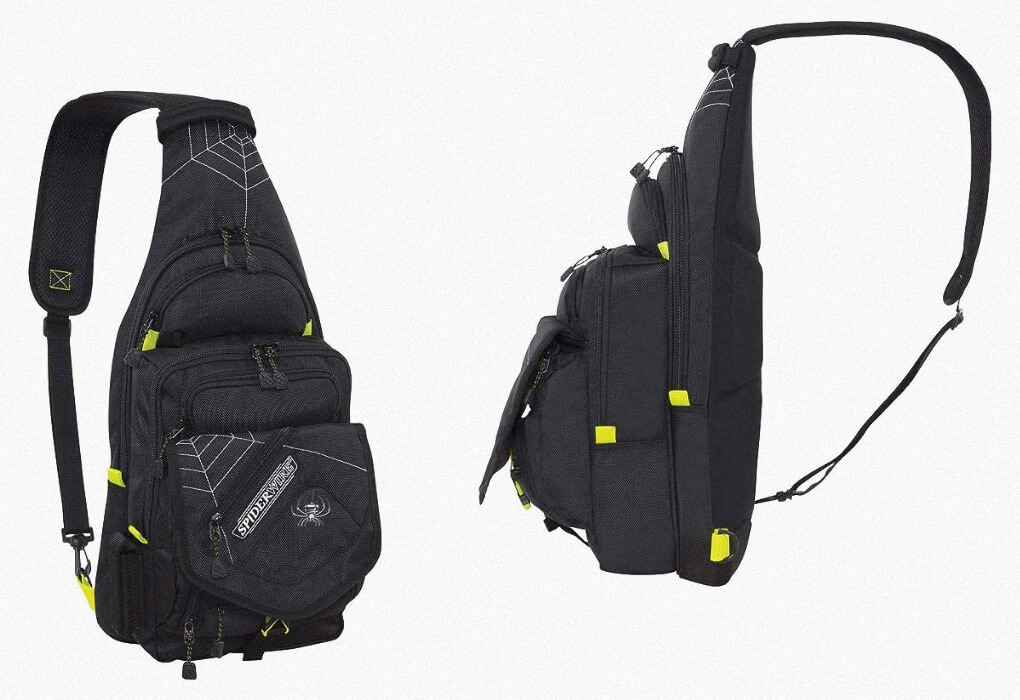 Specs
Capacity: 15 liters
Size: 22.8 x 9.8 x 5.1 inches
Weight: 1.32 lbs
DESIGN AND FUNCTIONALITY
This sling backpack offers a design a little different than some of the previous options.
You can choose where you want to carry this one, and the adjustable padded strap ensures you stay comfortable throughout the day.
STORAGE AND SPACE
SpiderWire offers enough storage for two tackle trays in the main compartment with seven additional side pockets for fishing gear and personal belongings on your trip. It also boasts a sunglasses pocket, organizer, and tool holder with velcro.
BUYING ADVICE
The main selling point of this backpack is it's lightweight and easy-to-carry design. The sling design makes it comfortable to hang off either shoulder, and there is plenty of padding so you won't feel fatigued.
Why We Chose It
If you're looking for a multi-purpose backpack that you can use outside of trips to the lake, give this one a more thorough look.
The backpack looks great, and it's as comfortable as any of the options available in this review.
Plus, you get plenty of pockets and storage areas, so you won't have a hard time finding somewhere to put any of your belongings.
Piscifun Fishing Tackle Backpack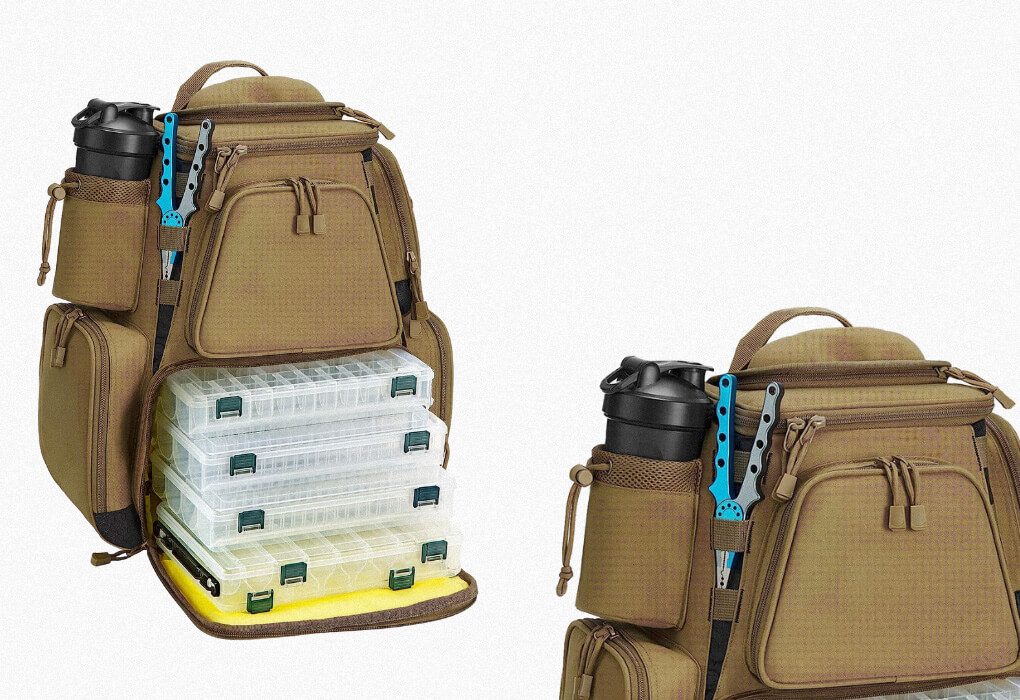 Specs
Capacity: 4 medium trays
Size: 12.6 x 7.9 x 17.7
Weight: N/A
DESIGN AND FUNCTIONALITY
This large tackle bag uses water-resistant high-density nylon with SBS zippers to protect against corrosion and water damage.
You get 18 total compartments in this pack if you separate all of them using the provided dividers.
You can choose to have 18 small sections or 11 large ones. It also comes with thick padding with a breathable design for added comfort.
STORAGE AND SPACE
You can fit up to four medium-sized trays in the main flap on the front, plus you have ten other compartments for a variety of other pieces of gear.
Everything inside the bag is collapsible, so you have complete control over how large or small you want each compartment.
BUYING ADVICE
In addition to all the basic features, you get a sunglasses case, protective rain cover, and reflective strips to help you locate your gear at night.
Why We Chose It
I'm not often left speechless without a bad thing to say about a product we review, but that's the case here.
This fishing pack offers everything you could want from plenty of storage to durable material and even waterproof pockets for things like your phone and wallet.
Blisswill Fishing Backpack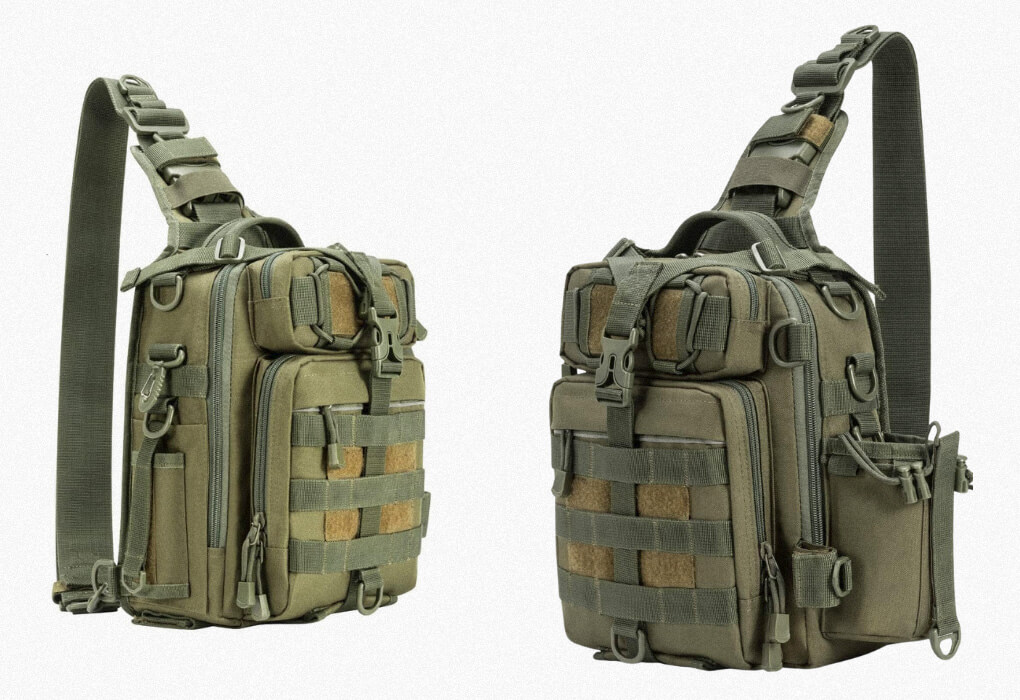 Specs
Capacity: N/A
Size: 12 x 8 x 7 inches
Weight: 1.9 lbs
DESIGN AND FUNCTIONALITY
This is a multifunctional outdoor bag that you can use for a variety of things. The main thing that stands out right away is the durable and rough design. It's made using 1000D nylon fabric. The stitches are extra firm, so this pack is sure to stand the test of time.
STORAGE AND SPACE
While this isn't the biggest fishing backpack we've reviewed so far, it offers plenty of room for you to store your fishing gear.
It also comes with a rod-fixing strap so you can hook up your rod to the pack.
BUYING ADVICE
The standout features of this bag are its durability and ability to take wear and tear. We've seen countless reviews of people talking about what they do with this backpack.
If you're an avid ice angler, this would be a great backpack to use with your ice fishing boots.
Why We Chose It
This backpack offers some of the strongest materials I've ever seen.
It's abrasion and corrosion-resistant.
Plus, it's also waterproof and easy to clean.
While it's not the biggest backpack or one loaded with "fishing-specific" features, it's a great option for a multi-purpose pack.
Ghosthorn Fishing Tackle Backpack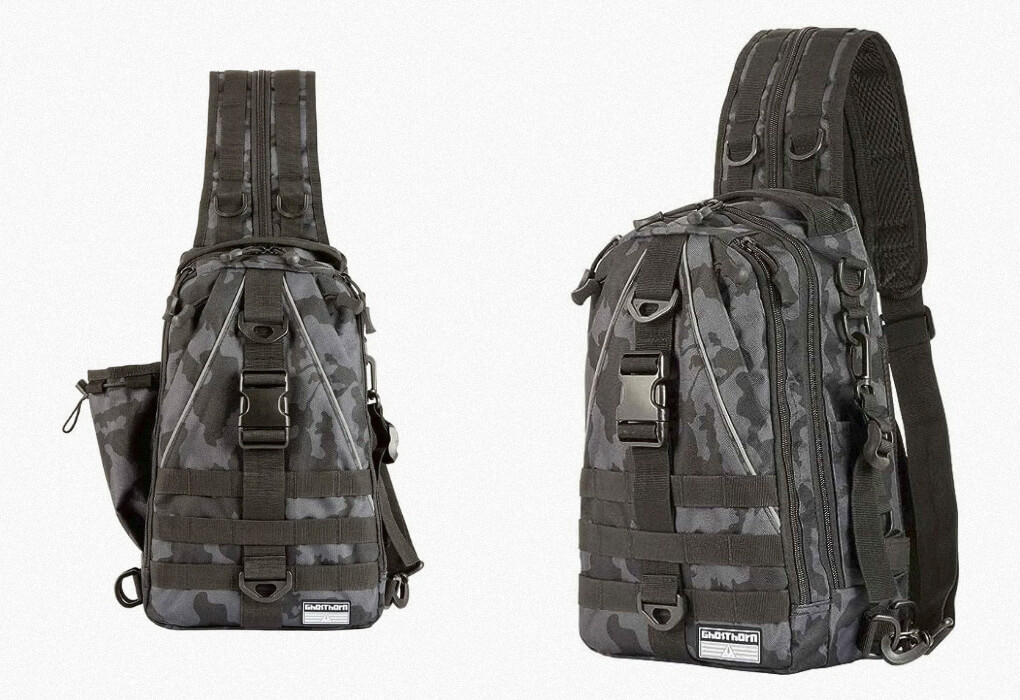 Specs
Capacity: Suitable for 3600 trays
Size: 14.5 x 8.2 x 5.1 inches
Weight: 1.8 lbs
DESIGN AND FUNCTIONALITY
This pack maximizes durability with abrasion-resistant zippers, sturdy material, water-resistant, and mesh-covered foam padding to help with long trips.
It also comes with rod belts on the side, which aren't quite as great as rod holders, but they get the job done for an affordable backpack.
STORAGE AND SPACE
This tackle bag can accommodate 3600 trays, and it does come with an ample amount of storage.
It doesn't come with the tackle trays because it's not a dedicated fishing backpack, but you can use it for a variety of purposes.
BUYING ADVICE
In addition to optimal storage and durability, it features an expandable water bottle pocket and clip buckles that you can use to store a hat, raincoat, or blanket if you can't fit it inside the bag.
Why We Chose It
Our last choice here is a fishing backpack that you can use for a variety of purposes.
Its durability and price are the selling points.
For less than $50 you can get a fully loaded fishing bag with abrasion-resistant zippers and water-resistant material.
It's comfortable, and it comes with a few features that bass anglers will like.
The rod belts are a nice feature and something we don't typically expect for a backpack in this price range.
Plus, the versatile clip buckles are something we look for when finding a bag for long-distance trips.
Finally, the MOLLE webs are always a high-quality feature and something usually seen in premium bags from the best brands.
This low-budget pack offers a safe place for you to store knives, pliers, keys, and flashlights.
Testing Procedure
While researching and testing fishing backpacks, I always look at a few key things. Number of features, quality, amount of storage, and price are the biggest factors I consider.
Features: Yes, fishing backpacks have features like rod holders, water-resistance or waterproof, specialized compartments to keep your gear organized, and some have rollers like a suitcase to make it easier to get your gear where it needs to go.
Quality: I don't want to buy junk; therefore, I don't recommend junk. Since I'm tough on my fishing gear, I always look for products that are made from high-quality durable materials, so you won't be buying another bag after the first or second trip out with it.
Storage: What good is a fishing backpack if it doesn't hold all the gear you need for your fishing trips? It's not any good! That's why I tried to pick out bags that had enough storage for at least a day of fishing.
Price: The budget is always a factor. I understand we all can't afford the most expensive fishing gear. Honestly, most anglers don't need the high-end gear, so I always try to balance price with quality and number of features.
Features to Look For in The Best Fishing Backpack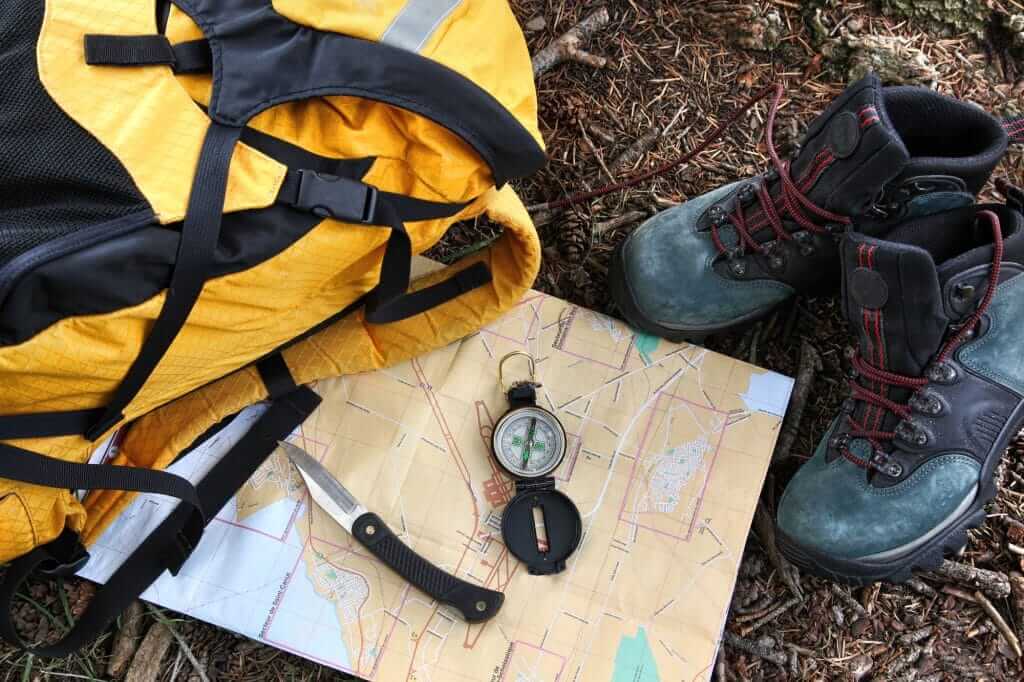 So, you've seen the reviews, and you're considering getting a fishing backpack for yourself; how do you know you're getting the best fishing bag?
I think there are six main components that make up the best fishing backpacks:
Size/Capacity
Organizational Features
Rod Holders
Durability/Waterproofing
Comfort
Fishing Specific Features
Size/Capacity
While you might not need a backpack as big as the next guy, it's important to know what you need.
Think about the typical fishing trip for you or what type of trip you're planning.
If you're taking a day trip, you might not need as much space as someone going on a camping trip lasting three or four days.
Take a look at your gear too.
Personally, I don't travel with a lot of gear. I think it's better to keep it simple so I only take what I need.
So, I wouldn't need a giant fishing backpack, I would prefer to go with something lightweight to accommodate the basics.
If you're the type of angler that has to have all 300 lures at all times, you'll want to keep that in mind when you shop.
Organizational Features
Organization is one of the most important features. Not only does it help you find the things you want, but it helps you to not forget anything.
When you look in your bag, you should be able to see everything. The best backpacks offer plenty of compartments that are easy to access and quick to look in and find something. 
Also, keep in mind again, what kind of gear you have.
If you're a fly angler, you'll need a convenient way to store your flies. Some backpacks offer that, and others don't even come close.
Rod Holders
Rod holders go along with keeping your gear organized.
You'll find in some instances that you would prefer to have your rods secured to the bag instead of in your hands.
This comes in handy when fishing on a rocky back where you need your hands to keep your balance or catch yourself if you fall.
Durability/Waterproofing
I think these two go hand-in-hand. If you're spending a lot of time on the water, anything can happen.
You need a backpack that can hold up against all elements. This includes rain, wind, sleet, hail, snow, intense heat, UV rays, etc.
Make sure the backpack you choose offers reinforced zippers and fastening mechanisms so they won't rust.
If you fish saltwater, we need to take this up another notch. Salt spray and even just salty air will wreak havoc on a poor-quality bag.
Some of the options recommended above have extra protection against salt corrosion.
Comfort
Everyone should have a comfortable backpack, right?
It needs to be lightweight, loaded with padding, and have adjustable straps that allow you to fit it perfectly to your body shape and size.
Almost all the fishing backpacks I've seen have ample padding with plenty of comfort features to prevent fatigue and shoulder strain.
Fishing Specific Features
This aspect is something that a lot of people aren't talking about, but how could we ignore it?
The best fishing backpack will cater to bass anglers who are trying to stay organized and have an easier time transporting gear.
We've all seen that guy who never prepares, right?
He's fumbling his gear together, things are falling out, he forgets stuff all the time, we all have a friend like that.
Having things like rod holders, utility boxes, and compartments for line, hooks, fish finders and extra reels will ensure this never happens to you.
Types of Fishing Backpacks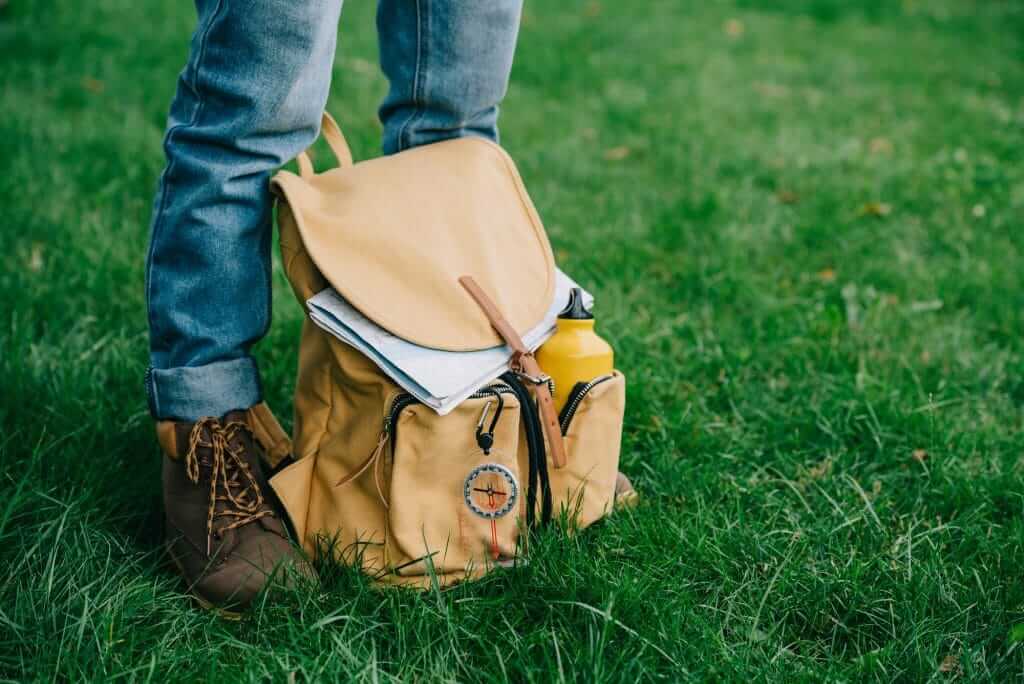 We don't have to go too crazy here, but there are a few different types of fishing backpacks. Knowing each type will help you choose the best fishing tackle bags for your situation.
Maybe you didn't even know there were different types. Check it out! 
Traditional
The standard fishing backpack usually comes with two shoulder straps, and you carry it on your back.
These are bigger than some other bags, so they can accommodate more gear, but they're also heavier.
If you take long fishing trips or you have a lot of gear, I would suggest going with one of these.
Rolling
Rolling backpacks are similar to the traditional backpack, but they have wheels and a handle that usually extends like a suitcase.
These are often even larger than traditional backpacks because they have a square shape that isn't as comfortable on your back.
Much of the time, they do come with straps, but they're quite bulky, and you wouldn't want to carry them long distances.
If you're planning a simple fishing trip where you'll be doing a lot of shoreline fishing and maybe some picnicking, this would be a good choice.
Sling Backpacks
These packs are smaller than both previous options, and they're meant for shorter trips.
You'll drape the backpack over one shoulder with the single strap crossing over your chest.
Since they're smaller, they're usually lightweight, but they don't carry as much gear.
Why You Should Have a Fishing Backpack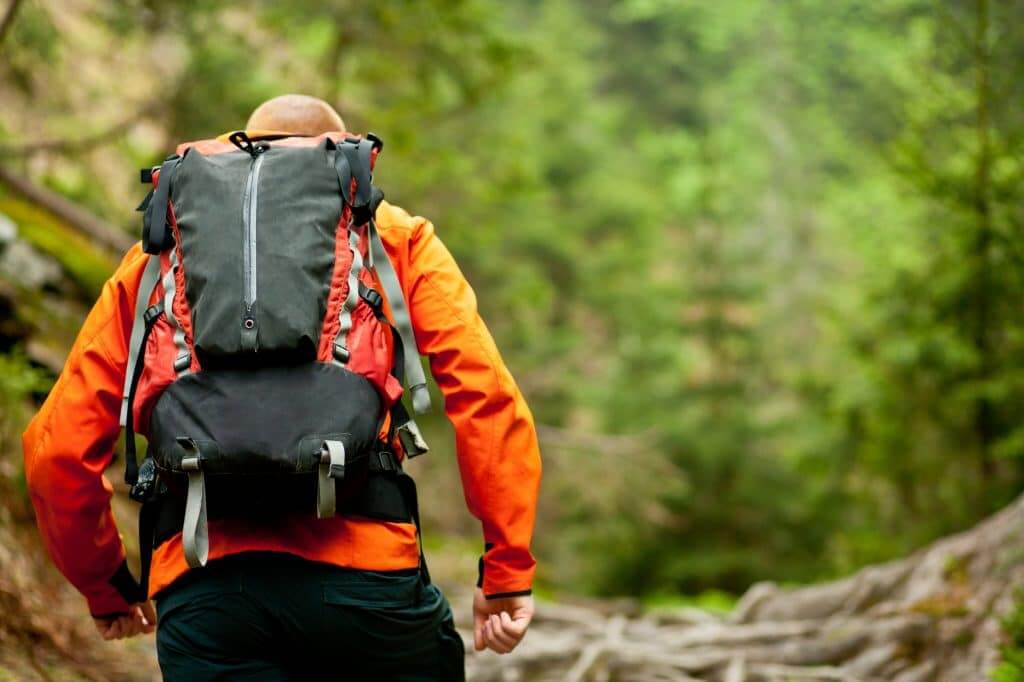 Why even bother, right? It's another added expense and something else that may sit around the garage and never get used.
The bad news is, those two statements are potentially correct.
The good news is, they don't have to be correct.
A fishing backpack is a great way to organize all your valuable gear and make the fishing trip more enjoyable.
We've all faced a situation where we couldn't find something until we didn't need it anymore.
Having a well-organized, fully-loaded fishing backpack ensures you never misplace something, and you can find it right away.
In addition to storage and organization, it's also a comfortable way to carry extra belongings that you might need.
When you're taking a long-term fishing trip, you might be traveling with food, drinks, blankets, and other things.
Some of these packs have straps that allow you to secure things to the top of the bag "backpacking style" if you don't have enough room inside.
Frequently Asked Questions
Who needs a fishing backpack?
All anglers need a fishing backpack. However, bank anglers will find the most benefit from using a backpack for fishing.
What should I pack in the fishing backpack?
You should pack the usual gear you use in the fishing backpack. This includes your tackle trays, fishing sunglasses, pliers, extra fishing line, hand towel, and your rod.
Can you take a backpack ice fishing?
Absolutely, you can take a backpack ice fishing! I highly recommend you bring your backpack when you ice fish because you'll need a place to keep your gear safe.
One trick that I've always used for ice fishing is to bring a sled to slide all the gear onto the ice.
In most situations, you won't be able to drive right onto the ice, so you'll need an easy way to drag everything over to the whole.
Final Thoughts
Now that you've seen the best fishing backpacks for bass anglers, what do you think?
Do you think it's worth purchasing one of these options to try and keep everything a little more organized?
I think it is, and that's the main reason for doing this review.
The best bags will offer a ton of compartmentalized storage that makes it easy for you to find what you need so you can spend more time fishing and less time sifting through all your stuff.
They'll also offer extra features that you might not have originally thought about.
I'm thinking of getting one with the hydration bladder simply because it seems like a cool feature, and you don't have to carry water bottles or risk having plastic bottles blow away or land in the water.
Regardless of which choice you make, ensure that you keep all the buying factors in mind and choose a fishing backpack that suits your needs.
Thanks for reading!