Last Updated on September 9, 2022
We independently research, test, and recommend the best products; you can learn more about our review process here.
Spot-lock is a game-changer for any angler. Having the ability to anchor on a GPS coordinate means more time fishing and less time fighting the wind and current.
However, not all GPS trolling systems are the same and you want to make sure you get the best spot-lock trolling motor for your situation.
If you're looking for the best overall, the Lowrance Ghost is your best bet but you're going to pay the price.
If you need a saltwater trolling motor with GPS anchoring, check out the Garmin Force, and if you're on a budget but still need spot-lock, then the Haswing Cayman GPS will be the trolling motor for you.
If you need more explanation so you don't spend money on the wrong trolling motor, then keep reading!
Best Anchor-Lock Trolling Motor Comparison Table
Image
Features
Features
Price

Best Overall

47", 52" 60" shaft lengths
24v or 36 volt
97 or 120lbs of thrust
Brushless motor

Bass ProCabela's

Best for Saltwater

50 and 57-inch shaft lengths
24-volts or 36-volts
100 or 120 pounds of thrust
Brushless motor

Bass ProCabela's

Best For Kayak

36" composite shaft
12-volt
55lbs of thrust
Wireless Operation

Bass ProCabela's

Best With Universal Sonar

45", 52", or 60" shaft
24v or 36v
80lbs or 112lbs of thrust

Bass ProCabela's

Cheapest

24-volts
48", 54", and 60" shaft lengths
80lb thrust

Amazon
---
Best Trolling Motor With Spot-Lock Reviews
Lowrance Ghost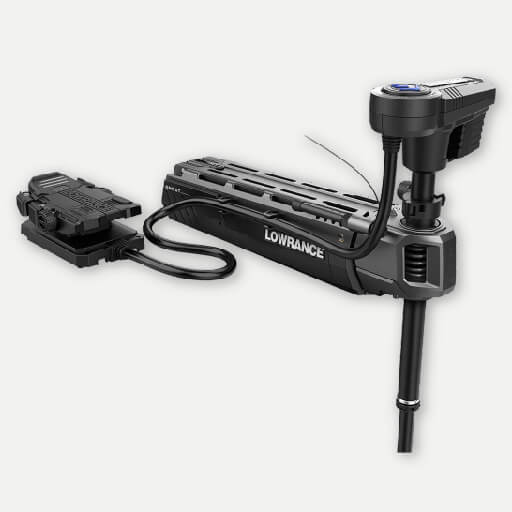 BEST SPOCK LOCK TROLLING MOTOR OVERALL
Specs
47″, 52″ 60″ shaft lengths
24v or 36 volt
97 or 120lbs of thrust
Brushless motor
Pros
Quiet operation
Multiple shaft lengths
Multiple power options
It doesn't interfere with sonar
360′ breakaway mount and automatic realignment
Cons
Freshwater only
Expensive
Only compatible with Lowrance sonar
Why We Chose It
Though Lowrance is relatively a newcomer to the trolling motor market, they stand head and shoulders above every other tolling motor besides the other newcomer, the Garmin Force. Professional anglers have trusted Lowrance electronics for decades, so it's no surprise they delivered an incredible trolling motor with spot-lock.
The Ghost has a customizable foot pedal, so you can choose what each button does, except for the anchor lock button. No matter where you are in the boat, set anchor lock; using the button on the foot pedal, wireless remote, or your Lowrance fish finder so you can continue to make the same cast that just got you a bite.
Once you've set the spot-lock, the GPS will hold you in place with minimal drifting. If you do begin to drift, the silent brushless motor automatically gets you back in place so you can keep fishing without worrying about spooking fish.
While the Lowrance Ghost is the best spot lock trolling motor, it's not for everyone. It's costly, so unless you're making money from fishing, it might not be the best investment.
However, if you don't mind dropping $3,000+ for the latest and greatest trolling motor, then the Lowrance Ghost is for you. Especially if you're using Lowrance electronics as they pair seamlessly.
To learn more about my favorite motor, give my Lowrance Ghost review a read to see a full list of benefits, pros, cons, etc.
Garmin Force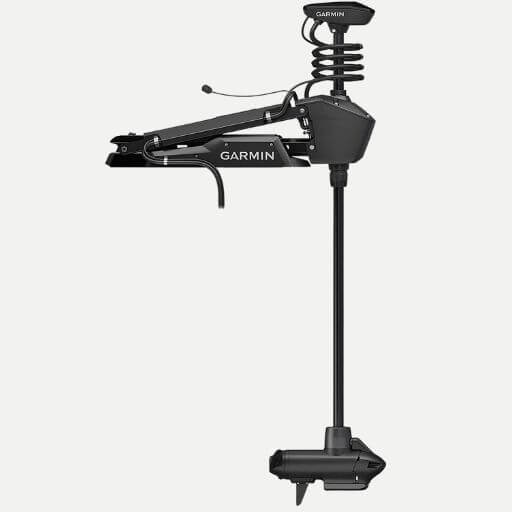 BEST SALTWATER TROLLING MOTOR WITH SPOT LOCK
Specs
50 and 57-inch shaft lengths
24-volts or 36-volts
100 or 120 pounds of thrust
Brushless motor
Pros
Freshwater and saltwater compatible
Wireless Chartplotter connectivity
Multiple power options
Silent
Futuristic features
Cons
Expensive
Only two shaft lengths are available
Must use Garmin sonar
Why We Chose It
Despite being the other newcomer to the market, Garmin delivered arguably the best trolling motor with spot-lock. You can decide for yourself which is better, Lowrance Ghost vs. Garmin Force, after reading my review, but there is no denying Garmin made the best saltwater trolling motor with spot-lock.
One might argue that Minn Kota's Riptide Terrova or Ultrex are worthy opponents but they would be wrong.
Neither Minn Kota trolling motor delivers as much as the Force. The Force has futuristic features like gesture steering using the wireless remote control. Plus, the Garmin Force is quieter, more powerful, and more efficient than the Minn Kota motors.
Like the Lowrance Ghost, the one major flaw of the Garmin Force is that it requires brand-specific sonar to use all the cool GPS functions.
Also, like the Lowrance Ghost, once you hit Anchor Mode, you're locked into place, and if you slightly drift off the spot, the silent brushless motor will get you back into your initial location without scaring fish that are close to the boat.
The Garmin Force is another expensive trolling motor that I would recommend only to the serious angler because most features are cool but unnecessary to the average weekend angler.
I trek much further into the mind-blowing features the Force has to offer in my Garmin Force review, which I'd encourage you to read before spending a couple of grand on this!
Motorguide Xi3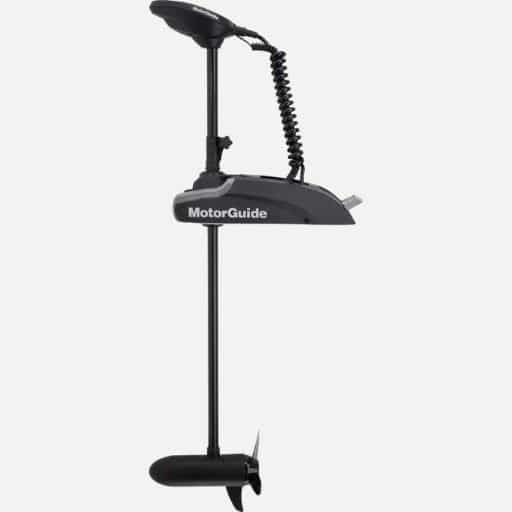 BEST KAYAK TROLLING MOTOR WITH SPOT LOCK
Specs
36″ composite shaft
12-volt
55lbs of thrust
Wireless Operation
Pros
Designed for kayaks
Wireless control
Pinpoint GPS
Middle of the road price
Cons
Occasionally drifts off the spot
Less than ideal quality control
Not a brushless motor
Why We Chose It
Motorguide has been a well-respected name in the trolling motor industry for decades, so when they came out with a kayak-specific Xi3 bow mount trolling motor with GPS, many kayak anglers had high hopes as we also rated it as the best trolling motor for a kayak.
Since the Xi3 was designed for kayaks, it runs off of a 12-volt battery with 55 pounds of thrust so you're not adding much weight but you'll have plenty of power. The 36″ shaft is long enough to keep the motor in the water when riding over waves but short enough to not be in the way while fishing.
I love that the trolling motor easily stows and deploys from a seated position this is important for kayak anglers because sitting down while stowing or deploying the trolling motor is much safer than standing. Instead of a foot-pedal control, the wireless remote is used to steer the motor and initiates spot-lock clearing up your deck.
The main con here is that Motorguide has been on a bit of a downside with its quality control and customer service the past few years. I sure hope they recognize it's bad for business and begin to exceed expectations again.
The Motorguide Xi3 is for serious kayak anglers looking for the best 12-volt trolling motor with spot lock. If you want to know more about the newer Xi5, my Motorguide Xi5 review is worth checking out, but keep in mind that the Xi5 doesn't have the shorter shaft designed for kayaks and canoes.
Minn Kota Ultrex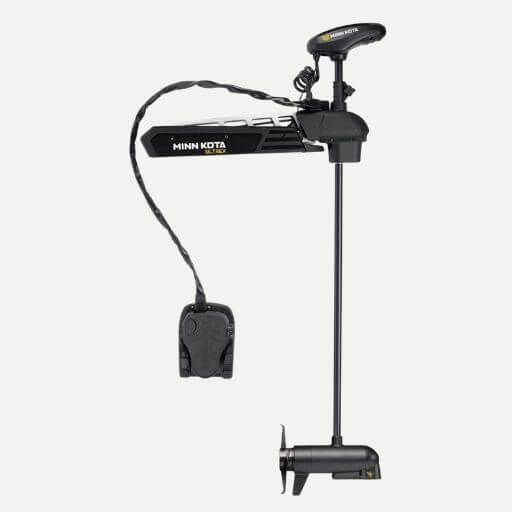 BEST SPOCK LOCK TROLLING MOTOR WITH UNIVERSAL SONAR
Specs
45″, 52″, or 60″ shaft
24v or 36v
80lbs or 112lbs of thrust
Pros
i-Pilot integrated GPS
Universal Sonar
Digital Maximizer
Bluetooth capabilities
Cons
Expensive
Not a brushless motor
Freshwater only
Why We Chose It
Minn Kota is one of the first names anglers think of when someone mentions trolling motors. They've proven they're dedicated to improving their products year after year. However, they still have a ways to go to catch Lowrance and Garmin.
Minn Kota was the first to introduce spot-lock, and though many anglers were skeptical at first, everyone now sees the benefits that Minn Kota pioneered. Since Minn Kota has had spot-lock on their trolling motors for so long, they offer some of the most accurate GPS anchoring on the market.
The Ultrex has one feature that Lowrance and Garmin don't yet offer, Universal Sonar. This means the transducer in the trolling motor is compatible with virtually any sonar brand. So if you want new features from your trolling motor but don't want to buy a new sonar system, then the Minn Kota Ultrex might be your answer.
The Minn Kota Ultrex is a little pricey for the average angler but, because it has spot-lock and universal sonar, you can easily talk your significant other into purchasing it.
If they need a little more convincing, have them check out the Minn Kota Ultrex review I previously wrote.
Haswing Cayman GPS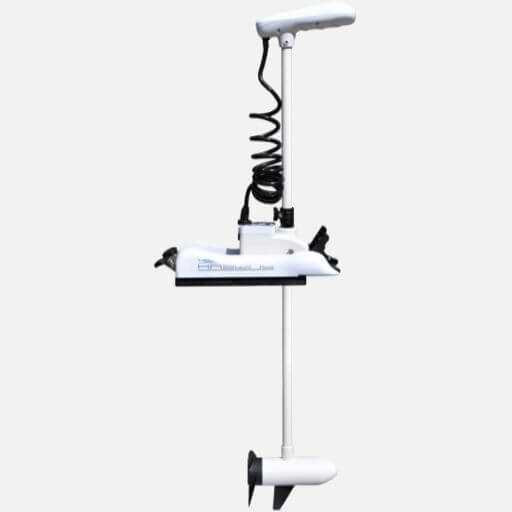 CHEAPEST TROLLING MOTOR WITH SPOT LOCK
Specs
24-volts
48″, 54″, and 60″ shaft lengths
80lb thrust
Pros
Inexpensive for a GPS trolling motor
Multiple control options
Quiet electric motor
Cons
The boat drifts up to six feet away from the GPS anchor spot
Only compatible with Helmsman app on your tablet or phone
Randomly loses connection
Why We Chose It
The Haswing Cayman with GPS is the cheapest trolling motor with spot-lock capabilities. Haswing is known for making inexpensive trolling motors which you can find out more from my Haswing Trolling Motor review.
The Cayman GPS connects to your phone or tablet through the Helmsman app. You can mark waypoints, set routes, and initiate spot-lock from the app. While this means it's universal for Apple and Andriod users, you will need to have a way to charge your phone if it dies on the water.
Haswing offers several control options, so you can choose between a wireless remote, foot-pedal, or the app to control your boat. Pay attention when you anchor so you know if you lose connection or begin to drift off of your GPS anchor.
If you're on a budget, I recommend you check out the cheapest 24-volt trolling motor with spot-lock, the Haswing Cayman with GPS. No other trolling motor offers these features at this low price and it's also one of my favorite trolling motors for jon boats.
Buying Guide: Factors To Consider Before Buying A Spot-Lock Trolling Motor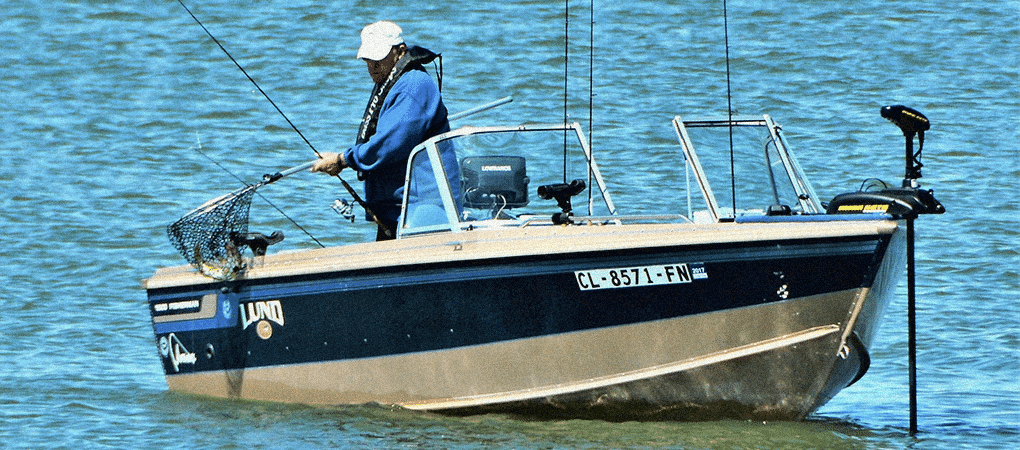 If this is your first time buying a trolling motor, it can be overwhelming trying to figure out which one is best for you. While it would be easy to say go with the latest and greatest most expensive trolling motor, that would be dishonest of me.
You might not need all the fancy features the high-end trolling motors offer. If you do, then great, but if not, the following qualities are the ones that will be most important to you as an angler.
Quietness
Even though all our recommendations are electric trolling motors, they still have varying loudness levels. When I buy a trolling motor, I want it to be as quiet as possible. I've owned trolling motors that are loud when they turn and loud while they're running, and it spooks more fish than I catch, which makes for a frustrating day.
If you need a silent trolling motor, then one with a brushless motor is what you need. Because brushless motors are quieter than traditional electric motors. Brushless motors have been used in power tools for a long time now but only recently turned into trolling motor manufacturing.
Power
Your trolling motor needs to be powerful enough to propel your boat forward in strong currents and winds. You can think of thrust as how powerful your trolling motor is, even though there is not an industry-standard more measuring thrust.
36-volt systems will be more powerful than 24v, which is more powerful than 12v systems. Thrust isn't everything, though, because the size and weight of your boat factor into the equation as well; the larger your boat is, the more thrust you will need to propel it forward.
Efficiency
The efficiency of your trolling motor goes hand in hand with your trolling motor's power. Once during a long day of fishing, I ran out of battery because the trolling motor wasn't efficient. It didn't matter how powerful the trolling motor was because my battery was dead. Please don't make the same mistake I did!
Finding a balance between power and efficiency is a delicate act. Still, with today's technology, it's becoming easier to find trolling motors that offer both, especially with the introduction of brushless motors.
Ease of Use
The great thing about inexpensive trolling motors is that they don't have a lot of features to figure out. They're simple to use. The best trolling motors have incredible easy-to-use features. What's the point in having great features if you don't know how to use them or it's easy to fish without them?
Please don't waste your money on features you don't need. They'll only complicate your fishing.
How Well It Holds the Spot?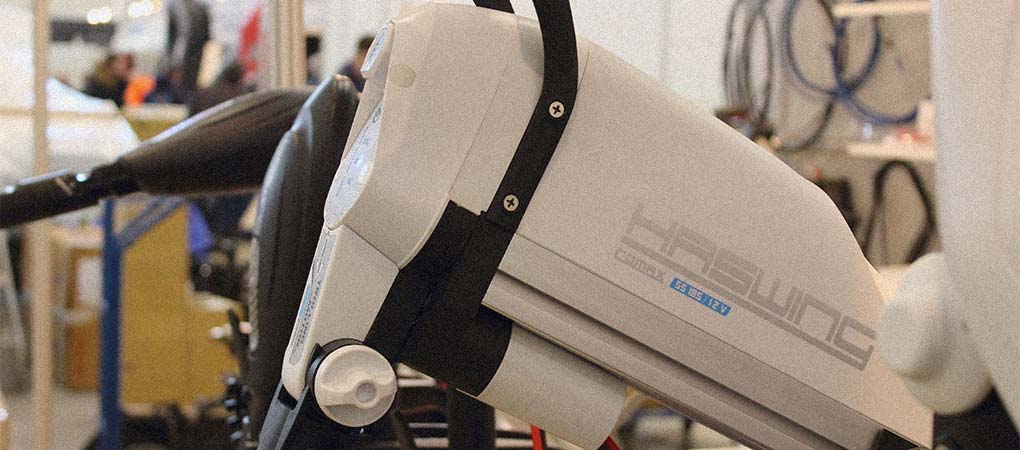 When you're considering a spot-lock trolling motor, your primary concern is how well it will keep you in the spot in which you anchored. All GPS anchors will have a slight drift, but the best move from the starting spot is very little before the trolling motor will jog back in its original position.
The cheapest trolling motor with spot-lock can get up to six feet off the original spot, so more expensive trolling motors should have a smaller range than that does.
How Many Different Ways Can You Initiate the GPS Anchor?
When you're in the back of the boat landing a fish, it's very convenient to press a button and anchor your boat in position—the best trolling motors with spot-lock offer multiple ways to engage the GPS anchor.
Look for a button on a wireless remote control, the sonar, the wireless foot-pedal, or an app to turn on spot-lock at your favorite fishing spot.
Standard Features
Spot-Lock is the main feature to be concerned with; however, that doesn't mean you should overlook the other features. In theory, more expensive trolling motors should have more and better features, and this theory rings true most of the time.
It would be best to determine which features are most important to you and the ones you will use most often before deciding on which trolling motor to buy.
Price
We all have a budget, for some of us, it's a little smaller than others, but it's essential to stick to the price you can afford. GPS trolling motors are expensive in general, so be prepared to spend at least $1,000 or more.
You'll Also Need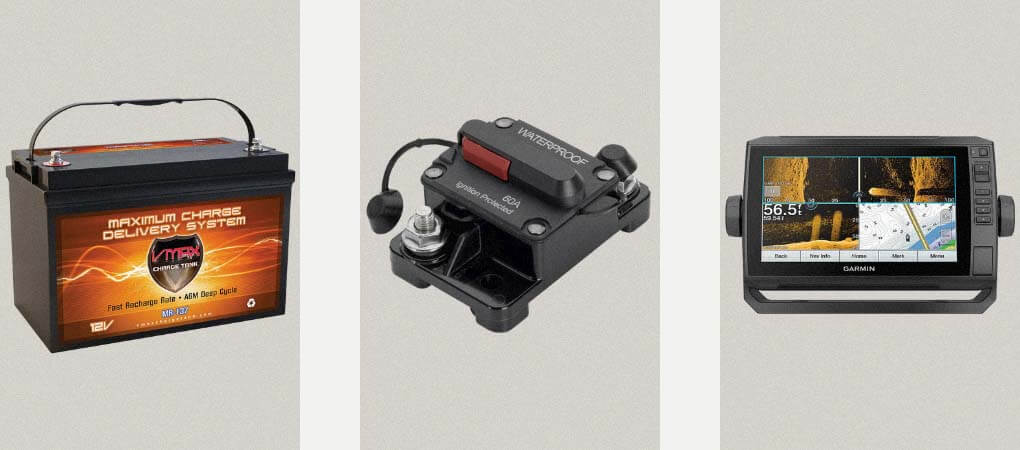 Once you have your trolling motor picked out, you'll need a few other things before you're ready to go fishing. I know, there's always something else!
Trolling Motor Batteries
A trolling motor won't run without a power source! It would be best to have a high-quality deep cycle or marine battery. Lithium batteries are the most powerful and efficient batteries on the market, but they're also the most expensive.
If you're own a bass boat running a trolling motor that requires 24-volts, then you'll likely need two batteries unless you purchase a 24-volt battery. 36-volt trolling motors generally require three batteries.
If you need help choosing a marine battery, check out my article on the best trolling motor battery, where I go into great detail on what battery is best for each situation.
Circuit Breaker/ Fuse
Install a circuit breaker or fuse to protect your trolling motor from a power surge. It's much easier and cheaper to flip a switch or replace a fuse than replace a trolling motor!
High-Quality Fish Finder
Most trolling motors with spot-lock can integrate with sonar, so purchasing a good fish finder is beneficial. Some trolling motors require you to buy brand-specific electronics, while others like Minn Kota offer Universal Sonar 2, which will adapt to most major sonar brands.
Final Thoughts
By now, you should understand why the Lowrance Ghost is the best spot-lock trolling motor overall, and the Garmin Force is my pick for the best saltwater trolling motor with spot-lock.
Choosing a spot-lock trolling motor doesn't have to be complicated if you decide on the other essential features and stick to your budget!
I'd love to hear what your favorite spot-lock trolling motor is; in the comments below!
About Post Author