Hey, Hollywood, if you're looking for a good storyline, you might consider talking to Skeet Reese.
He isn't your typical good ol' boy pro bass fisherman who talks with a Southern drawl. He is a California kid who ascended to the top of the pro ranks in a very non-traditional manner.
Skeet went from being a break-dancing, flip-flop-wearing high-school dropout to one of the top all-time money winners in pro fishing.
We talked to Skeet at Redcrest 2022, the championship event for Major League Fishing's Bass Pro Tour, and got the story on his unlikely path to fishing's big leagues.
I'm closer to being a grumpy old man than a Valley Boy, but I really enjoyed visiting with him. I hope that comes through in this article.
---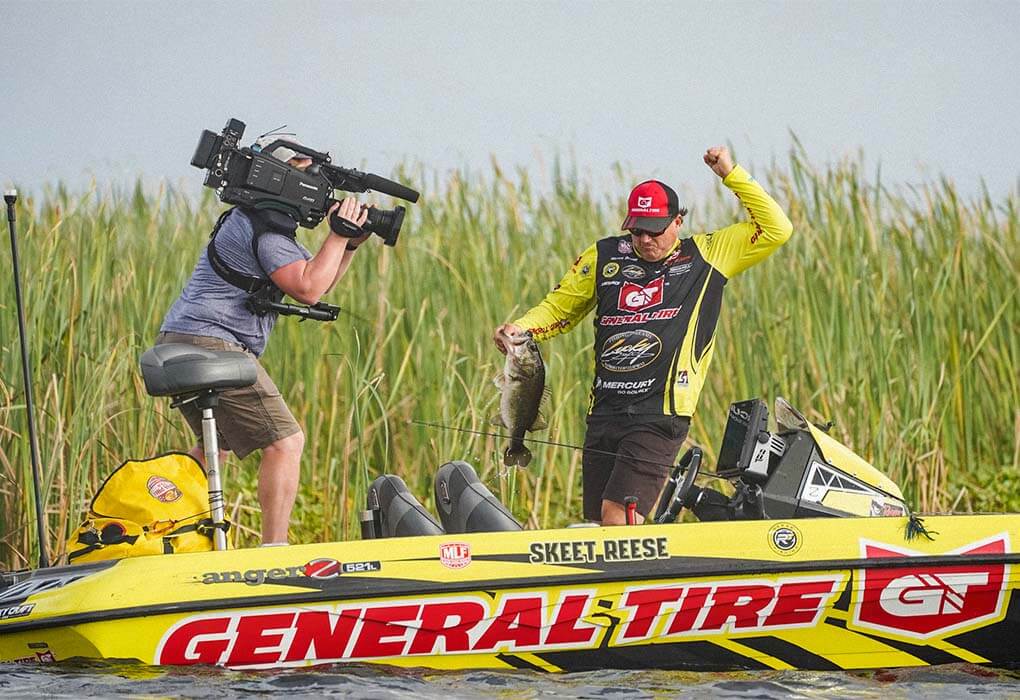 Skeet Reese is known for his flamboyant personality and bass-catching skills. (Photo by Rob Matsuura/Major League Fishing)
Skeet's Evolving Life
The Skeet Reese you see today is in direct contrast to what he was in his teenage years.
In our interview, he was unassuming, humble, and likable. There were few signs of the hip-hop loving, breakdancing, troubled background he once had.
In his teenage years, he discovered the club life. And he quickly learned that the guys who were the best dancers got the girls. So he taught himself. He did so well that nightclubs hired him to be a dancer.
But another early influence–bass fishing– was a lifesaver. He would go out with his dad and fish from a small johnboat on northern California lakes at a young age.
Eventually, Reese bought a float tube and learned how to self-propel himself to big bass. He became so avid about that fishing style that he and his friends formed a float-tube bass club.
"It was a fun way to fish," Reese recalled. "You didn't need a big bass boat or expensive electronics. You could sneak up on the bass. Because most of the lakes we fished were only 100 acres or so, we could cover a lot of water."
Reese and his friends eventually found a small boat to fish out of, and Skeet joined a bass club when he was only 14.
"I remember my first tournament," he said. "We had three guys in a 14-foot boat. We didn't catch a single fish, but it was a learning experience."
That only inspired Reese to learn more about bass fishing. He began spending every spare moment he had on area lakes.
"I spent more time fishing than I did in school," he said. "I dropped out of high school after my sophomore year."
Many might consider that a significant risk, but Reese made it work. Today, he is one of the top all-time money winners in the history of pro bass fishing.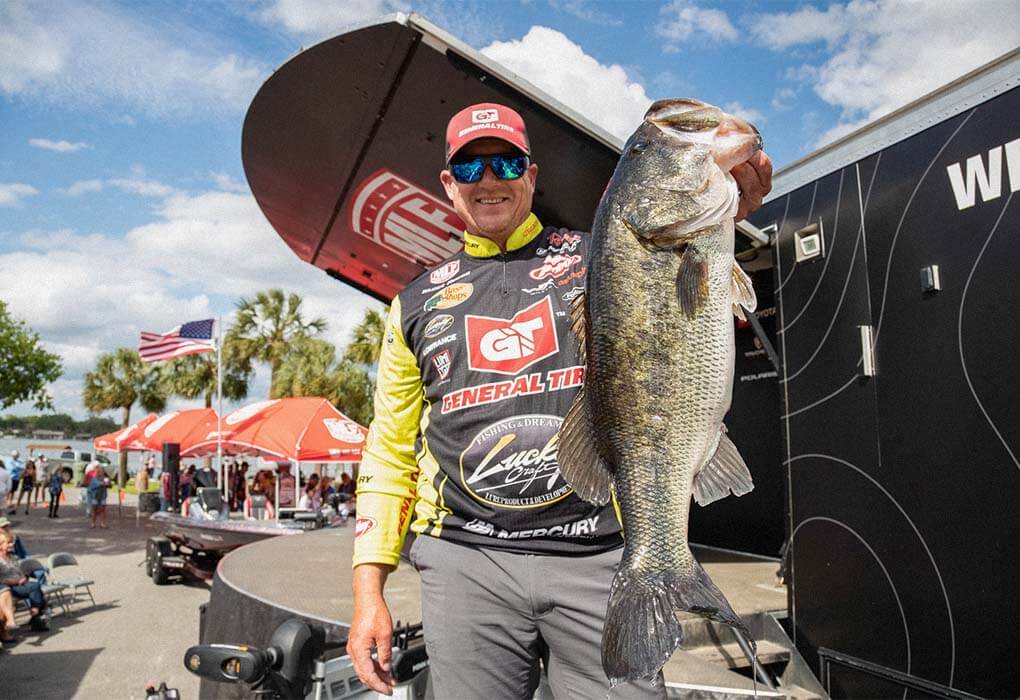 Skeet Reese showed off one of the bass that has made him a legend in the pro game. (Photo by Cobi Pellerito/Major League Fishing)
First Things First
Most anglers make sure they have a vehicle powerful enough to tow a boat before they buy a bass boat. Not Reese.
He purchased his first bass boat when he was 18, then hitched a ride to the lake for a while."I would call friends and ask them if they wanted to go fishing," he said. "If they said yes, I would tell them, ' OK, but you'll have to tow my boat.'
"I didn't have a truck that I could tow it with. But as I remember, I always got somebody to go."Part of it was that they knew they would catch fish if they were with Reese.
He spent hours on the California lakes and soon became known for his bass-fishing prowess. Once he got his own tow vehicle, he was constantly fishing.
He learned how to flip and pitch — two of his favorite tactics to this day–from the best. Dee Thomas, a legend at the tactic, taught Reese much of what he knows.
"I consider myself a shallow-water power fisherman," Reese said. "But more than anything, I think fishing in California taught me to be versatile.
"It's one of the most diverse bass fisheries in the country. I've learned to catch bass on everything from a spinning rod to a flipping stick, a jig, a big swimbait, or a finesse bait."
Reese fished during the heyday of California bass tournaments. He remembers years when he would fish 15 to 20 tournaments a year in which the champion won a bass boat.
"If you won one or two boats a year, you could bankroll your year," he said.But it's not like that anymore, Reese said.
"There aren't nearly as many tournament trails," he said. "And no one gives boats for prizes."Those days were enough to propel Reese's path to the big time, though. He started fishing B.A.S.S. events in 1999, and he quickly established himself.
He has taken most of bass fishing's major honors, winning the Bassmaster Classic (in 2009), B.A.S.S. Angler of the Year (in 2007) and 11 national tournaments.
He moved to Major League Fishing's Bass Pro Tour in 2019 and has continued his successful ways.
He even brought part of his past life–his dancing–to the weigh-in station at Bassmaster tournaments a couple of times, much to the delight of bass fans.
But that's in the past, he said."I don't do that anymore," he said. "It's too much of a distraction from what I'm really here for."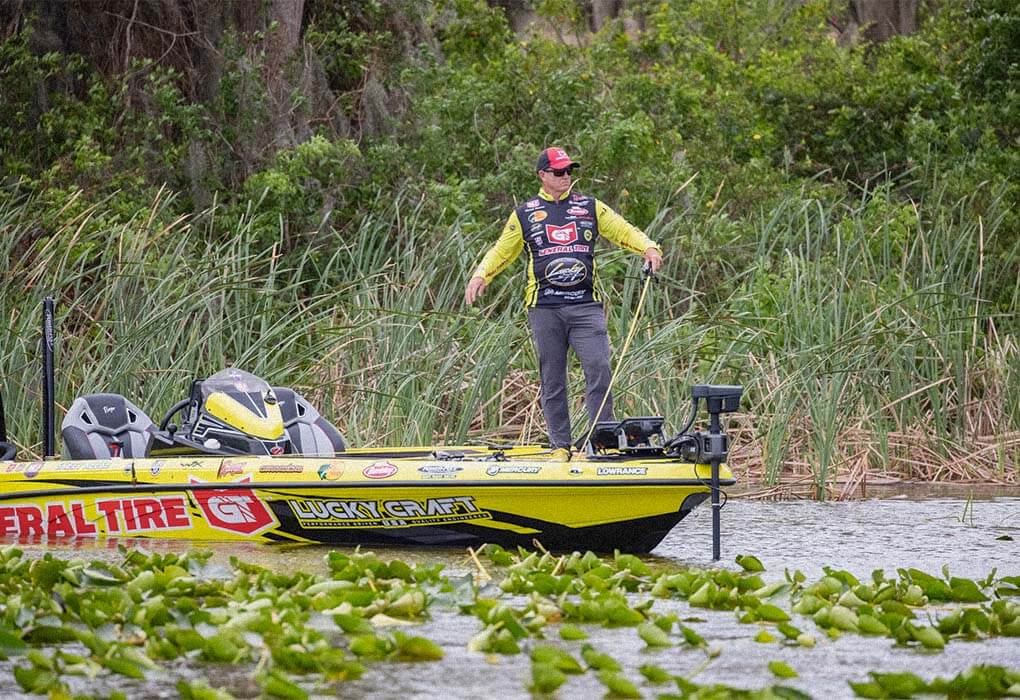 Skeet Reese has made a living catching bass from shallow cover. (Photo by Cobi Pellerrito/Major League Fishing)
Overcoming The Down Times
The pro game has changed. The young bucks are coming into the sport much better educated, more tech-savvy, and better prepared for the rigors of the tournament schedule.
That has created a more competitive field and reduced chances for anyone dominating. That has required an adjustment for veteran pros such as Reese.
"In any sport, trying to stay on top and stay relevant is the hardest thing," he said. "I just put way too much pressure on myself. I was trying to please the sponsors, the fans, everyone, and it took a toll on me.
"I struggled with depression. I just wasn't enjoying competing as much anymore."But Reese found help. He received therapy and found a new mindset. He enjoyed a good year in 2021, which has carried over to 2022.
"I'm enjoying being back out there again," he said.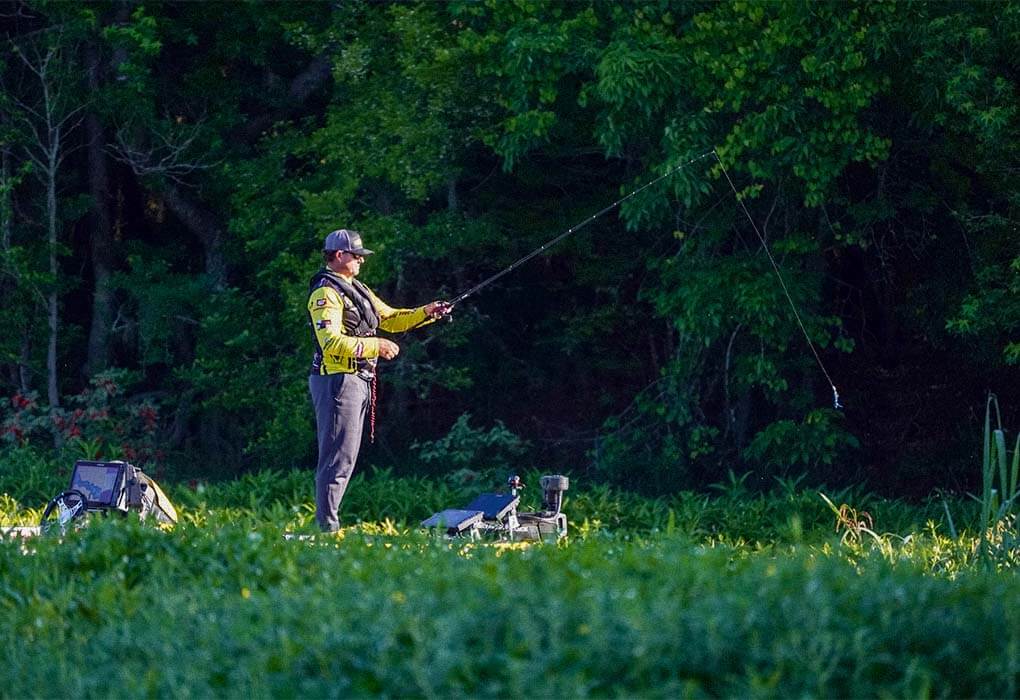 Flipping or pitching to shallow cover is one of Skeet Reese's favorite ways to catch big bass. (Photo by Rob Matsuura/Major League Fishing)
Flipping For Bass
Reese learned early on that there are always bass hiding in shallow cover. And the best way to catch those fish is by presenting a bait to them in a stealthy manner.
That's where flipping and pitching come in. Both methods are pendulum-like underhanded casts that present the baits without making much of a splash.
Flipping is designed for close-up presentations when the water is murky, and the bass' vision is limited. Pitching is more effective when the water is relatively clear and anglers aim at a target up to 30 feet away.
Reese likes to use an 8-foot flipping stick and a high-speed reel. The longer rod gives him leverage for getting big bass out of tangled cover.
The high-speed reel cuts down on wasted time when making multiple casts. He prefers a 25-pound test fluorocarbon line.
Reese often uses a 3/8th- to 1/2-ounce jig with a plastic trailer. But he also will use a wide range of straight plastic baits if the conditions demand.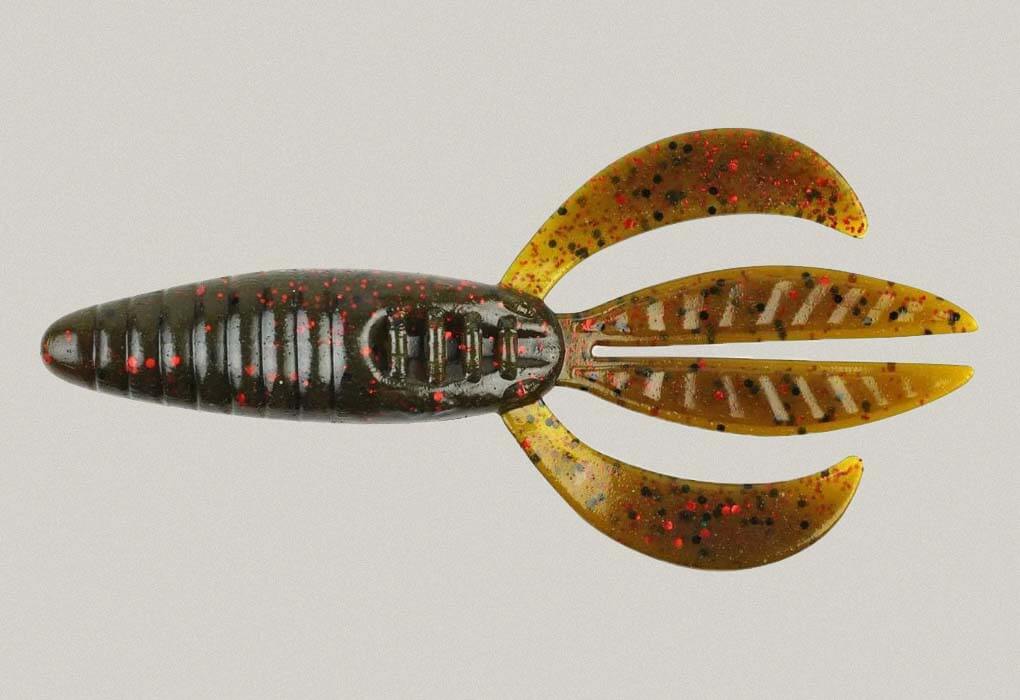 A Lure To Flip Over
When Berkley asked Reese to develop the ideal bait for flipping, he designed the Havoc Pit Boss.
Reese said that the plastic bait can be used in multiple situations with its streamlined body style and multiple appendages.
He often uses it as a jig trailer, but he also swims it, flips it rigged Texas-style, or uses it on a wobble head.
"I've caught a lot of bass on that bait," he said.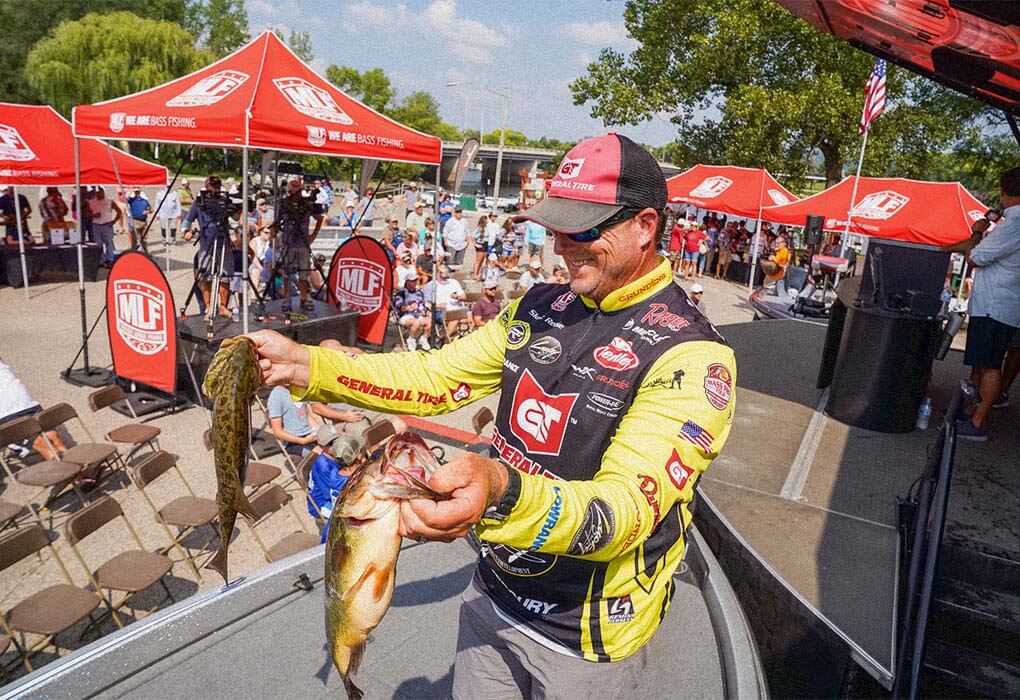 Skeet Reese knows there is no substitute for spending time on the water. (Photo by Rob Matsuura/ Major League Fishing)
Fishing Tip From A Pro
This is the information era for anglers. YouTube, social media, and websites are filled with tips on how to catch bass.
But Reese warns anglers not to rely too much on that information. There's still no substitute for time on the water.
"You still have to be able to apply all of that information," he said. "We all learn from our mistakes. Learning how to adjust and change make you a better angler."
In particular, Reese said, is being able to adjust to Mother Nature.
"Everything changes in the course of a day," Reese said. "Just because you caught them on a spinnerbait yesterday doesn't mean they'll bite it today."
"You have to learn how to adjust and make the right decisions."
Conclusion
Now 52, Reese is quite a bit different than his younger self. He is a family man living with his wife and two daughters in Auburn, Calif.
But one thing hasn't changed. He still has a burning desire to compete.
He has found success with an exceptional work ethic. Good things happen to pros who spend a ton of time on the water.
That applies to average anglers, too. Even when the fishing is slow, force yourself to try different lures and tactics.
Follow the pros' advice but put your own wrinkles on it. It might pay off with more bass in the live well.
In the comment section, we'd love to hear what technique you're currently working to improve on!