Whether you're new to the game or an expert, all anglers can benefit by getting a few tips from the pros.
Whether it is a way to get started or put a new wrinkle on an old method, you can put more bass in the live well by following their advice.
I attended the Redcrest Expo in March 2022 and had the opportunity to visit with the Bass Pro Tour's top anglers. The result? A wealth of information on how to fool those green fish.
Let me share.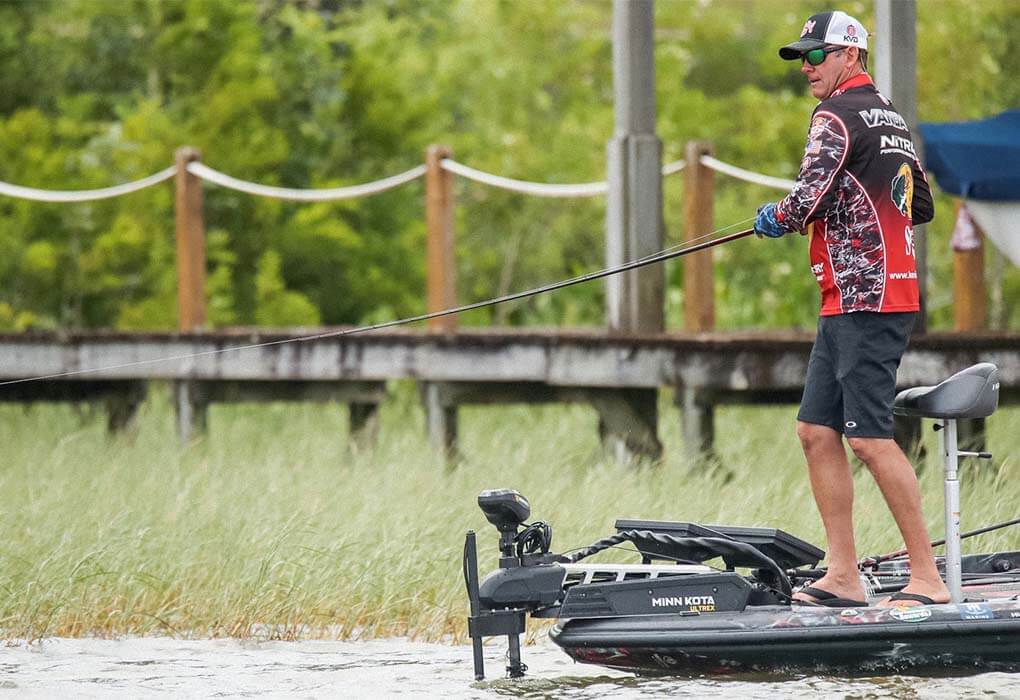 ---
Kevin VanDam: Casting
"The first step toward becoming a good bass fisherman is learning how to cast accurately," said Kevin VanDam, one of the sport's all-time best.
"You get a lot of reaction strikes just by putting your bait where the bass are hiding," he said. "And to put it there quietly is key."
"Learning that underhand roll cast is important so that your lure will land softly."
VanDam credits much of his success to his casting ability. He is known for his rapid-fire casts and mobile fishing style.
"I just try to cover a lot of water," he said. "I improve my odds when I have a target to throw at,"VanDam advises beginners to practice in their backyard, setting up a course of paper plates and cups to aim at. Once they are proficient in casting, flipping, and pitching to those targets, it will usually translate to success on the water.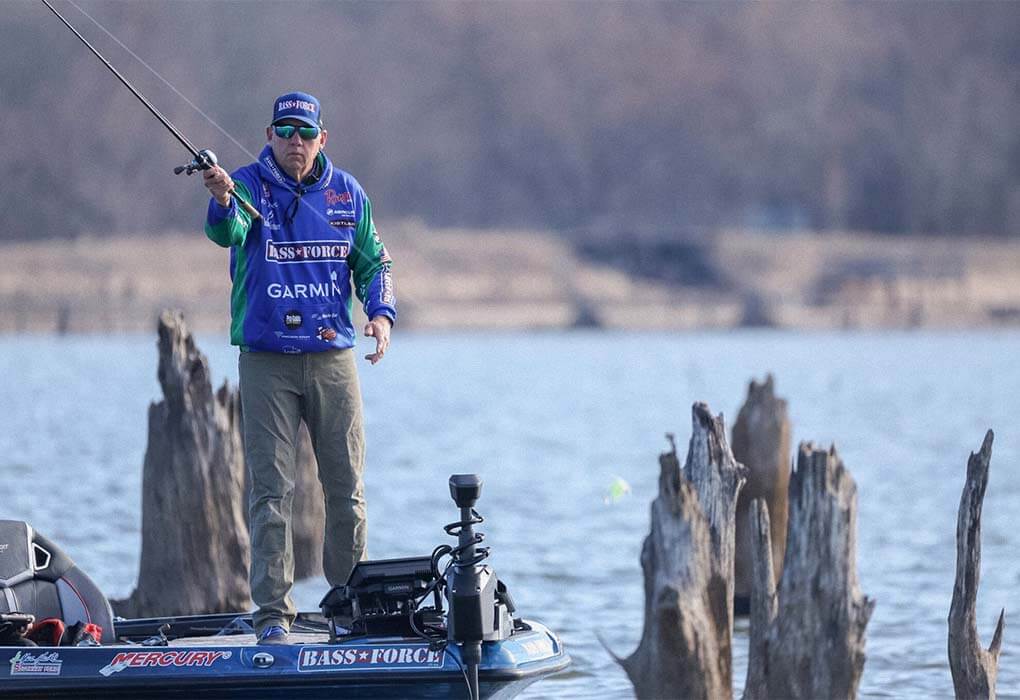 Alton Jones: Sight Fishing
When big bass move onto their spawning beds, Alton Jones knows how to catch them.
Sight-fishing is his specialty. Once he spots a keeper fish hovering over a nest, he flips a soft-plastic bait past the crater and swims it into the strike zone.
"I don't want to make a splash with my cast; that's why I'll use a soft plastic bait," Jones said. "I'll swim it instead of dragging it because I want to drop that bait right in front of her. Sometimes the element of surprise will get her to hit if it's dropped right in front of her."
Jones' favorite bait? A Texas-rigged tube bait. He has found the most success with a green pumpkin, purple flake color pattern. Jones tries to "read" the fish before he starts working to get her to hit. He'll begin casting if she looks active enough to snap at something dropping on her nest.
"Each fish behaves differently," he said. "Some fish will hit right away. With others, you might have to work them a while before you aggravate them into hitting."
In most cases, the bass aren't eating. They are protecting their nests from intruders.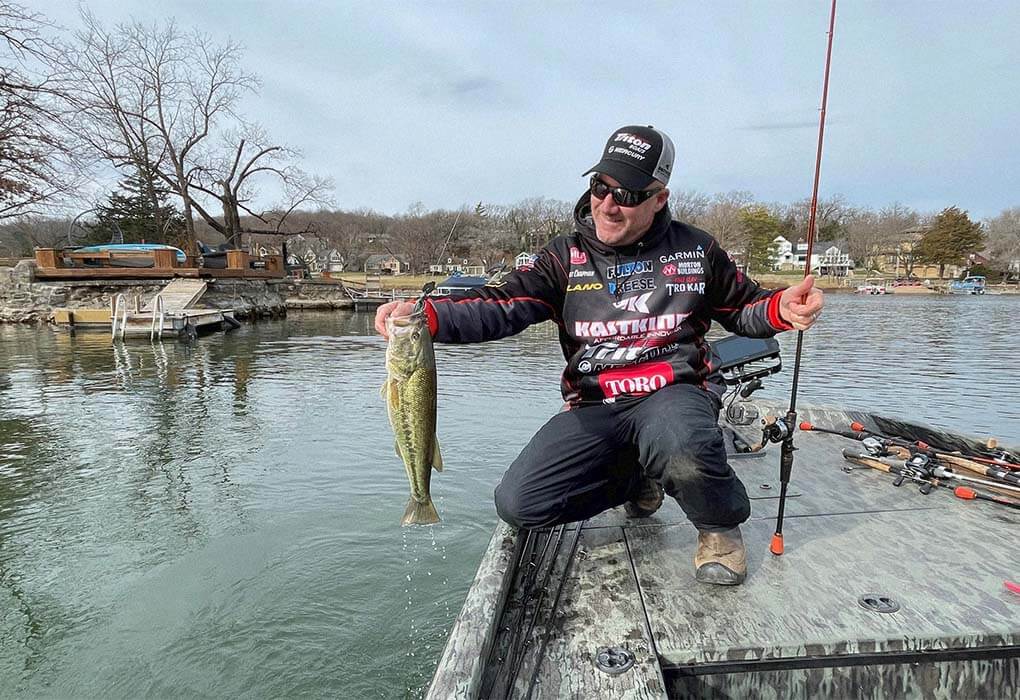 Brent Chapman: Fishing Bladed Jigs
When the water temperature climbs to near 60 degrees, it's game-on for Brent Chapman. He knows the bass will be in the shallows, preparing to spawn. He also knows he will usually be casting a bladed jig at shallow cover.
"Using a bladed jig is a shallow technique that allows me to cover a lot of water," said Chapman, one of the top anglers on the Bass Pro Tour. "It's usually best in stained water or in areas that are picking up some wind."
"It's one of my confidence baits. It's helped me through some slow times."Chapman uses a 7-foot-6 Kastking Speed Demon Pro swimbait rod and a Kastking reel that allows him to cast far and slow his retrieve down at times when fishing is tough.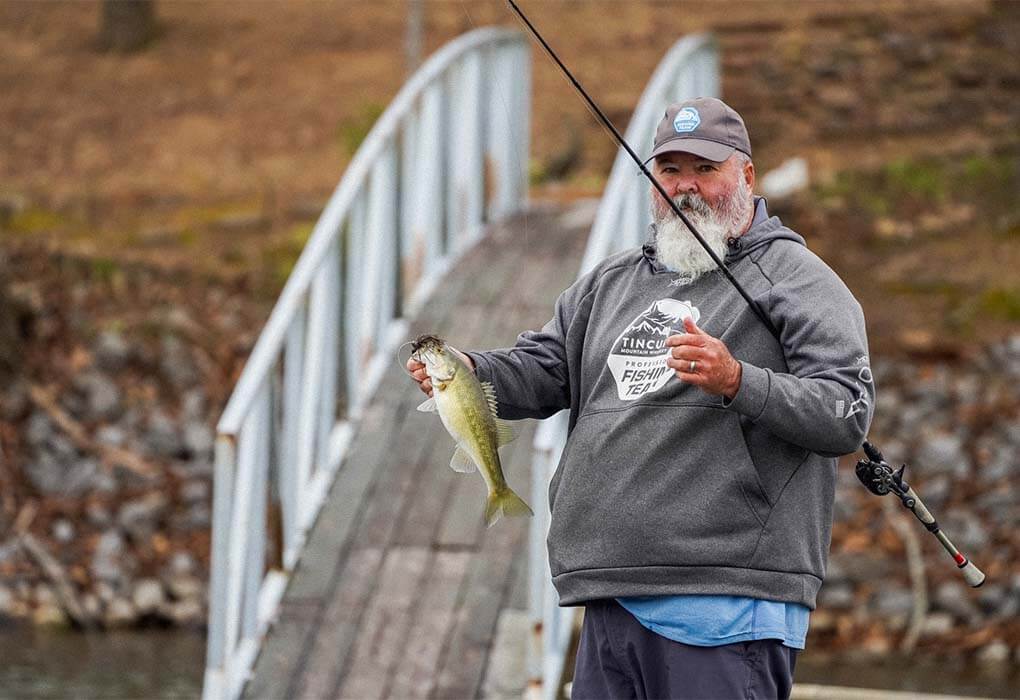 Dion Hibdon: Let Nature Guide You
Dion Hibdon pays attention to nature's clues when he goes bass fishing. He believes in the Solunar Tables, which indicate peak times of wildlife activity, and often see them at work at the lake.
"I've definitely seen periods of time when the fishing picks up for a while, then slacks off," he said.
If the cows are inactive and laying down in the fields while driving to the lake, Hibdon knows he is in for a long day. Similarly, if the lake is quiet and there is little activity on the surface, it's a clue that he might have to downsize his baits and take a more subtle approach.
Hibdon also pays attention to what is going on in the water. If blue herons are perched on a laydown over the water, he knows there usually are shad nearby. And if baitfish are active, he knows that Alabama rigs, which imitate schools of shad, might be a good lure choice.
"The A-rig mimics shad regathering after a gamefish has run through them," Hibdon said. "The baitfish will scatter into little bunches, but they want to get back together again. That's when those A-rigs are effective."
The A-rigs are so effective that some tournament circuits have banned them. But they are still legal for many smaller tournament circuits and recreational fishing.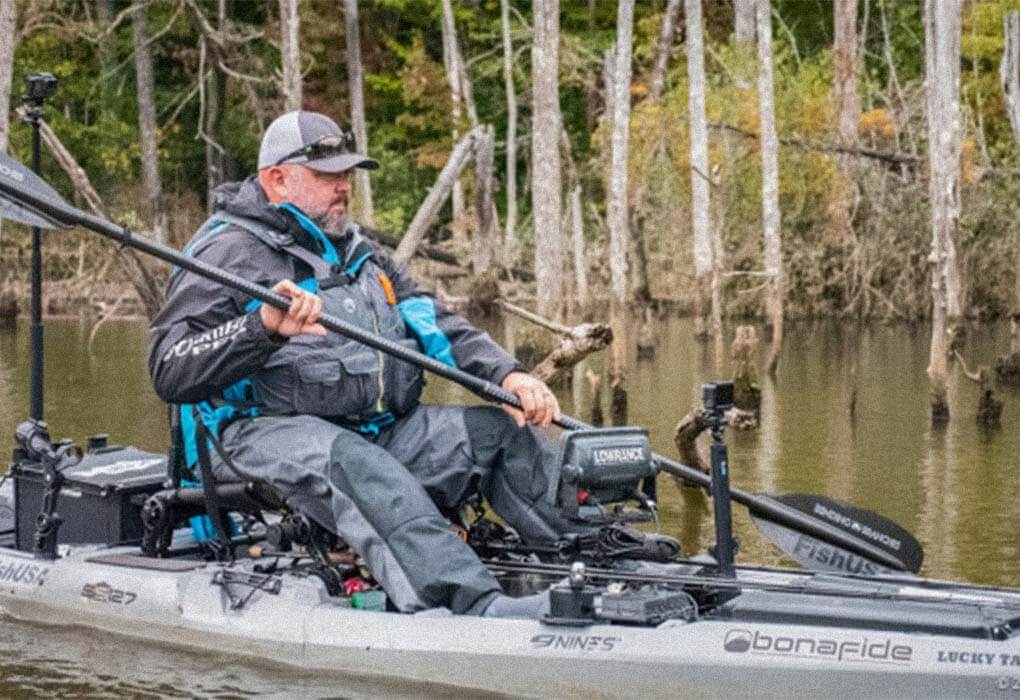 Chad Hoover: Kayak Fishing
Chad Hoover has learned to slow down when he goes bass fishing. He really doesn't have much of a choice. He fishes out of a kayak, so he is limited to the water he can cover. But that's fine with him. That slow, stealthy approach allows him to get to places other anglers can't go.
"It changes the way you fish," said Hoover, a nationally known authority on kayak bass fishing. "It's just like bow hunting changes the way you deer hunt."
"It allows me to get close and really get a good look at the behavior of the creature I'm trying to catch. I can watch that bass' body language and determine whether I'll be able to catch it."
For example, Hoover relates a story about how he pulled into the shallows one day and found bass using old spawning beds as cover long after the nesting season ended.
"They were dormant, just sitting there," he said. "I knew they wouldn't eat, so I decided to come back a couple of hours later when they might be more active."
Hoover also can get a close look at how bass reacts to bream, his kayak, and other fish.
James Watson: Topwater Fishing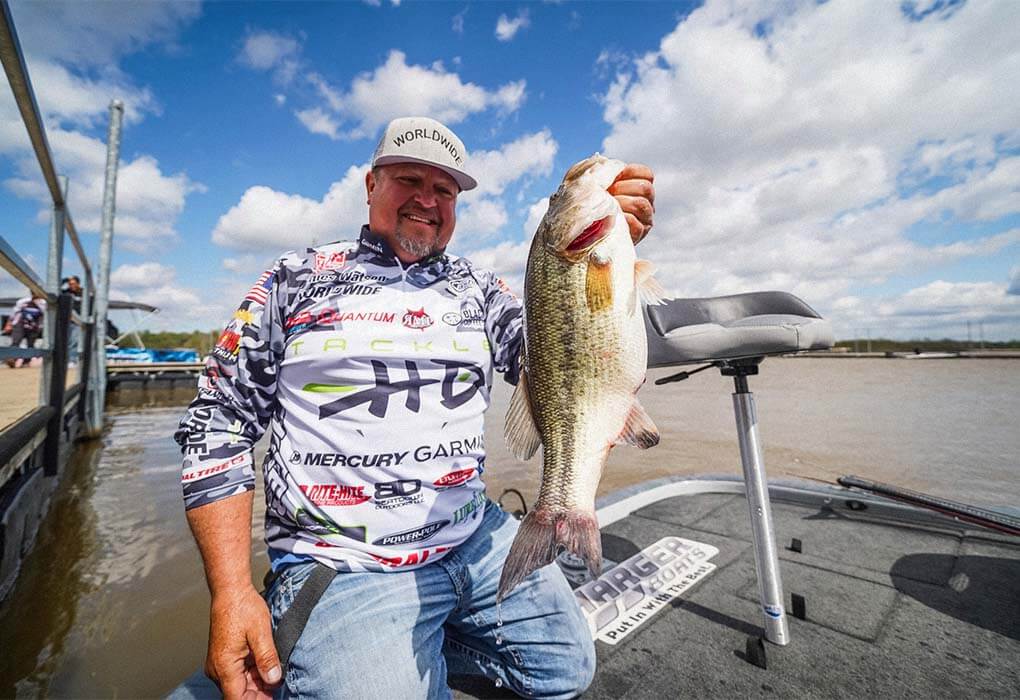 Anytime the water temperature is over 55 degrees, you'll see James Watson casting a topwater lure.
One of his favorites is the Whopper Plopper, a bait he rose from obscurity in 2015 when he won a Bassmaster Central Open on Table Rock Lake.
The bait, which has a revolving tail section that churns the water like a buzzbait, has resulted in some of Watson's largest sacks of fish. It's no longer a secret, but Watson still uses it to catch big bass.
"It's most effective around schools of big gizzard shad," the Missouri pro said.
But that isn't the only topwater that Watson uses. His confidence bait is a buzzbait, throwing around boat docks, shoreline cover, and vegetation. He even has his signature bait, the Tackle HD World Wide Buzzer.
Watson also uses wake baits, walking baits, and prop baits, depending on the baitfish surface activity. One of his favorite times to use topwater lures is during the post-spawn period when the bass have recovered and are chasing schools of shad to the surface.
Conclusion
We hope you try some of these tactics and that they help you put more bass in the boat this year.
One of the most significant weaknesses many bass anglers have is staying with a confident bait too long and not trying other baits or methods. The next time the bass are biting, force yourself to try something different. If it works, you will have expanded your arsenal.
Let us know if these tips work for you!
Tight lines!