Last Updated on June 21, 2022
We independently research, test, and recommend the best products; you can learn more about our review process here.
Choosing the best bass fishing rod is a lot like going on a blind date.
You can read reviews, listen to your buddies, and even hold it in your hands in the store but you never know what to expect until you show up and try it on the water.
While your reel is incredibly important you can't forget that you need to pair it with a high-quality, durable, and sensitive rod from a company that you know and trust.
So, how do you make that decision? You've got a few different choices.
One you could go to your local pro shop and play Russian Roulette with the salesman who hasn't likely picked up a rod once in his life – or, you could let us offer you our honest opinions based on experience, research, and years of trial and error.
Let's go with the latter!
Comparison Table – Best Bass Fishing Rods
---
In-Depth Reviews Of Our Favorite Rods For Bass Fishing
St Croix Triumph Spinning Rod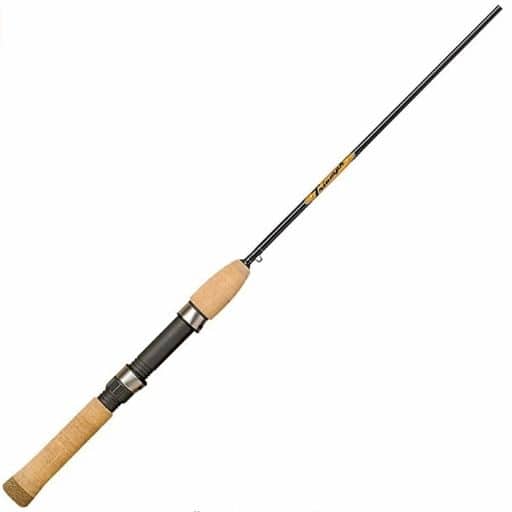 BEST OVERALL
Specs
Length: 6-7 ft
Power: UL/ML/MH
Action: Fast
Type: Spinning
Pros
Mid-modulus graphite is the best material for both sensitivity and strength
Premium cork handle to reduce shock and ensure grip
Very affordable price tag for beginner bass anglers
Cons
Issues with loose reel seat
Broken materials during shipment
Rod is very light (could be a pro or a con)
Why We Chose It
If you love spinning rods and you love bass fishing then you shouldn't have to look past the St. Croix Triumph. You can get it as a one or two-piece rod and it comes in a variety of different actions and sizes all coming with the top of the line graphite construction.
The graphite on this rod is the main reason why it beats out the rest. It's SCII mid-modulus graphite which is fancy terminology for a rod that is extremely sensitive to the nibble but durable and strong enough to battle large fish.
I'm also a fan of the cork handle and I think more rod manufacturers should return to that construction. It's great to grip on and the handle is big enough to allow you to cast with two hands offering more control and a longer casting distance.
UglyStik GX2 Spinning Rod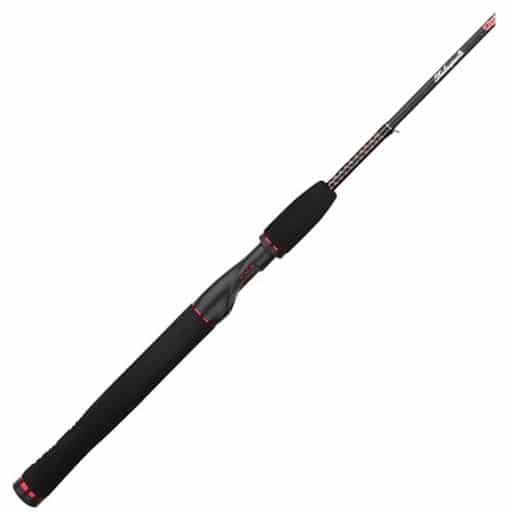 BEST BASS FISHING ROD FOR THE MONEY
Specs
Length: 6-7 ft
Power: M/ML
Action: Fast
Type: Spinning
Pros
Graphite and fiberglass hybrid design for sensitivity and strength
Glass tip design takes sensitivity to a whole new level
Comes with a seven year warranty
Cons
Concerns over durability with the entire Ugly Stik brand
A bit heavy for a bass rod
Why We Chose It
Here's one of those rods that you really can't go wrong with. Very few people can say anything negative about the Ugly Stik GX2 because you know what you're getting. You're getting an affordable rod that gets the job done day after day. But, with the introduction of the new GX2 design, Shakespeare has stepped it up a notch.
Now you get a hybrid blank including both graphite and fiberglass. The combination makes this rod nice and sensitive to help catch the smaller bass that like to nibble. They still have their signature glass tip too which improves your sensitivity even further. I also love the one-piece guides, these will help with catching anything and they'll improve the overall life of the rod.
The only reason I didn't choose the Ugly Stik as the winner is because I think it lacks durability compared to the St. Croix rod. These Shakespeare spinning rods are designed to be budget-friendly and while the St. Croix isn't even that expensive, they still pack more value into the low price than Shakespeare.
Entsport E Series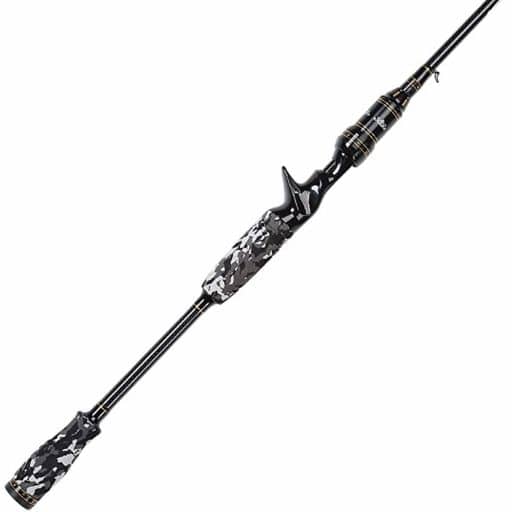 BEST BASS CASTING ROD
Specs
Length: 7 ft
Power: M/MH
Action: Fast
Type: Casting
Pros
Comes with interchangeable tips to adjust the rod power
Friction reducing guides increase casting distance and control
Made with 24-ton carbon fiber which is both lightweight and durable
Cons
Many issues with reliability and strength
Heavy and bulky for many bass fishing applications
Why We Chose It
Entsport might be less of a household name than some of the others on here but they make some of the best casting rods on the market. This rod pairs sensitivity with a solid carbon fiber construction that reduces the overall weight while maintaining a rod that has everything you need to catch bass.
While the rod is a bit large for bass fishing I find that it's useful for targeting those hidden pockets on the water where the larger bass are hanging out. If you're on the water to catch a photo-worthy bass, you don't want something lightweight like the Ugly Stik, you need something with a backbone. Although there are a lot of issues with breakage, I still think the Entsport can hold its own.
Want to see some more of the best baitcasting rods for bass? We have plenty of other options to choose from!
Lew's Custom Lite Baitcasting Rod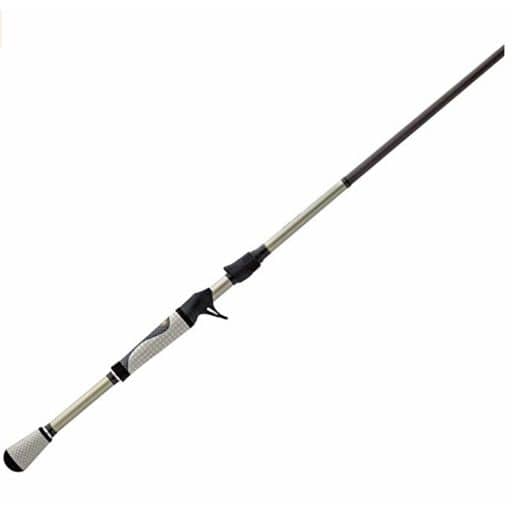 BEST ALL-AROUND BASS ROD
Specs
Length: 7.4 – 7.11 ft
Power: MH/H
Action: Moderate/Mod-Fast/Fast
Type: Casting
Pros
Tournament-grade rod designed to be the cream of the crop
85-million modulus graphite blows most rods out of the water
Stainless steel guides provide no friction against the line
Cons
The price tag might scare you a bit
Why We Chose It
We're not all on a budget right? What if you're really looking for the absolute best all-around bass rod and you don't care what the price is. Well, I have a treat for you. If you know anything about fishing, you know that Lew's is the top of the line and everyone else is an imitator.
This rod is made with 85-million modulus graphite which essentially means that there are tons of layers of super thin graphite layered on this rod so you have less material resulting in less weight. The goal is to have a lightweight rod that doesn't perform like one, this is it.
It comes with everything you'd want. Stainless steel guides for smooth casting and optimal distance, polymer handle grips for cranking, and optimal sensitivity for the nibblers. The Lew's Custom Lite rod is about as good as it gets.
Pflueger President Spinning Reel and Rod Combo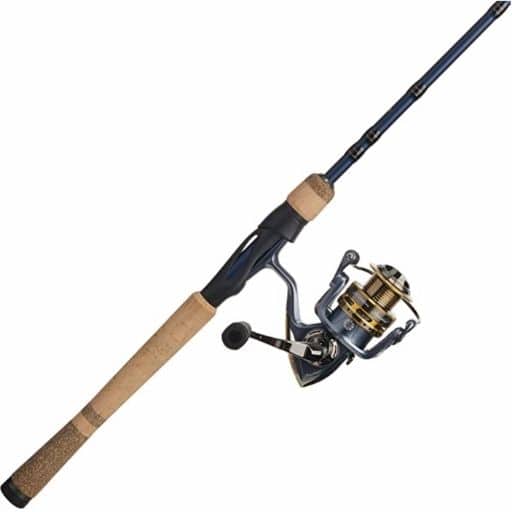 BEST BASS ROD AND REEL COMBO
Specs
Length: 5.6 ft
Power: M/MH
Action: Ultralight
Type: Spinning
Pros
One of the best spinning reels on the market
Rod is made using IM8 graphite which is great for strength and durability
10 bearing system for a buttery smooth cast and retrieval
Cons
The rod leaves a bit to be desired
Only works best with shorter rods (less than 7ft)
Why We Chose It
Pflueger has built a strong reputation over its history as a rod and reel manufacturer that does business with care and precision. They've really shown that in the production of many of their reels as well as their rods. The Pflueger President is somewhat like their flagship product. The reel has a graphite body and rotor with 10 corrosion-resistant bearings so you can cast and retrieve this bad boy like running your hands across a silky smooth blanket.
The rod leaves us wanting a bit more but in terms of the combo, it's a solid choice. Worst case scenario is you might want to pair this up with one of the other options on this list so long as you can find one that is short enough. If you want to check out some of our other recommendations for the best bass rod and reel combos, click here.
St. Croix Premier Series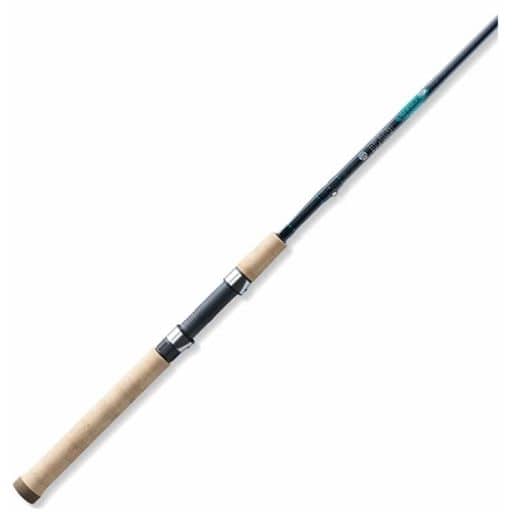 BEST LIGHTWEIGHT BASS FISHING ROD
Specs
Length: 4.6 – 8.6 ft
Power: UL/L/M/MH/H
Action: Fast/Moderate
Type: Spinning
Pros
No friction aluminum oxide guides for a smooth cast
Made with St. Croix premium SCII graphite
Very light, great for beginners
Cons
Issues with broken tips
Not cheap
Why We Chose It
Lightweight means a few things in the world of bass fishing. It means that the rod is actually lightweight (of course) but it also generally means that the rod is beginner-friendly. Lightweight finesse rods are designed for beginners using simple methods like jigging and suspending live bait from a bobber.
The St. Croix Premier comes in a wide variety of sizes and specifications ranging from a rod that a 12 year old could handle to something that a semi-pro would use on a boat. Best of all, you get the St. Croix name plus the incredible five year warranty to back it up. The rod is sensitive, light, and easy to use for anglers of all ages and skill levels.
Penn Battalion II Surf Spinning Rod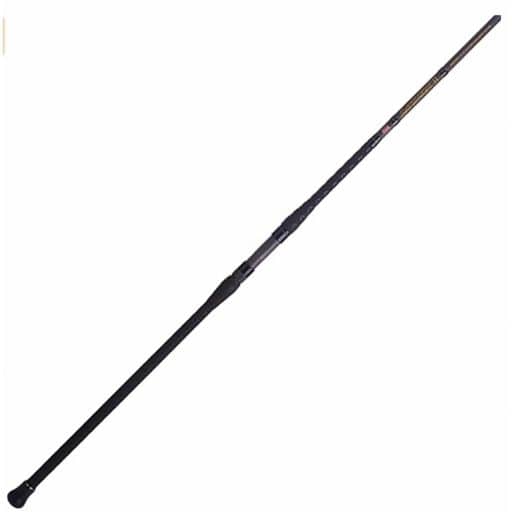 BEST ROD FOR STRIPED BASS
Specs
Length: 8 – 12 ft
Power: ML/M/MH/H
Action: Moderate
Type: Spinning
Pros
Lightweight and affordable for a surf rod
Great choice for a beginner dabbling in surf fishing
Rubber shrink tube handles for optimal grip
Cons
Light for a surf rod
Two-piece blank compromises durability
You won't only find bass in the murky and mucky ponds, you can also find them in the salt as well. One of the most popular ways to fish for striped bass is through the surf and while it takes a lot of practice to learn, it's one of the most enjoyable ways to fish. This Penn Battalion II is a two-piece graphite composite rod with 30% fiberglass so you're essentially getting a hybrid.
It comes with aluminum oxide guides to help you cast beyond the surf and the rubber shrink tube handles are ideal for battling large fish on the beach. Plus, while you're dealing with the salt spray you won't have to worry about your hands slipping off. It's a great option for those looking to catch striped bass in the surf.
Introduction To Bass Fishing Rods
If you've never fished a day in your life, this might be a little overwhelming but there's no need to worry. Understanding the purpose of a bass fishing rod is very simple. The rod is made up of a few parts not limited to the butt, the blank, the reel seat, and the tip. Some rods will come in one full piece while others are split apart to make it easier to transport.
The butt of the rod is on the bottom and this will supply you the necessary leverage needed to handle a big fish. If you've got a six-pound bass on the hook you'll need something to hold onto so the rod doesn't fly out of your hands, this is where the butt comes in.
Next, you've got the reel seat. The seat is usually two corkscrew like sections that you can crank back and forth to secure the reel in place. This part of the rod allows you to remove the reel without having to scrap the rod.
The blank is the majority of the rod and it's everything from the reel seat to the tip. These are fiberglass, graphite, or a hybrid mixture of the two. The blank is also where you'll find the guides or eyes. These are the round loops that your line will run through when you cast and retrieve. The heavier the fish, the heavier line you need.
Finally, the tip is another guide that is usually molded to the blank or welded in place. Many rods have removable tips so they can break and be easily replaced.
How to Choose the Best Bass Fishing Rod
Now that you understand the components of a bass fishing rod, let's talk about some of the special features or unique specs you should look for before committing to one.
Durable Construction
Let's focus on the two primary rod blank materials. Those would be graphite and fiberglass. Fiberglass is incredibly flexible and it's heavier than graphite but it has some disadvantages.
You'll sacrifice some durability and sensitivity with fiberglass. These rods are usually more affordable and many consider them to be a "bottom shelf" rod. That said, if you're just starting out fiberglass is a great place to start.
Graphite is where most anglers want to be. This material is durable and more sensitive so you'll be able to pick up on every little nibble. Plus, graphite comes with something called a "modulus rating" which refers to how stiff the rod is based on what strain of graphite it is.
Rod Action vs. Power
When you see that a rod has fast action or heavy power, do you know what that means? Some anglers who have been fishing for years still don't understand what it means. It's not the easiest thing to understand.
Action on a spinning rod refers to the location on the blank at which the rod bends. For example, a fast action rod will bend about 15% down the blank from the tip. This makes the rod more sensitive for smaller fish but more liable to break for larger fish.
Power refers to the amount of pressure you need to apply to make the rod bend. So, for example a heavy power rod will require a lot of pressure from a heavy fish to bend the rod.
With that knowledge in mind. Fast action, medium power rods are ideal for bass in my opinion. You don't need to get too carried away with the power of your rod but fast action is always a good way to go.
Brand Reputation
I'm a big believer in saving a buck and going with generic products in my life. If it's five dollars cheaper to buy the off-brand detergent, you know I'm doing it.
I won't do that with my fishing gear though. You need to stick to brands you can trust. We recognize names like St. Croix, Ugly Stik, Penn, and Entsport because they have a reputation for building quality fishing products.
As a result, we continue to do business with them. I would pair reviews that you read with brand reputation and use that to guide your decision.
What Rods do I Need for Bass Fishing?
When it comes to the types of rods that you need, there are three types that you will want to consider: a baitcasting rod, spinning, and combination rods.
However, it is important to mention at this time, that for the greatest level of success, experienced anglers will recommend that you have at least one of each.
Combination Rod
Combination rods are a good option for new anglers and those who don't want to mess with switching reels between rods.
Combination rods come complete with a matching reel that allows you to adequately fish for bass without the questions about which rod and which reel go together.
Combination rods are also a good option if you don't want to make a big investment on a rod and reel until you are certain that this is a sport or hobby that you are going to enjoy.
Spinning Rod
The main difference between a combination rod and a spinning rod is the fact that you can only use a spinning rod with a spinning reel. With spinning rods, the reel seat is on the bottom and the eyelets are on the bottom as well. This ensures that the line flows smoothly off the reel through the eyes so you can get a fluent cast.
For most anglers, a spinning rod is deemed as a lightweight rod best used for bass fishing, trout, panfish, walleye, and other fish you'd find in lakes or inshore fishing. They are used in offshore saltwater fishing like the Penn Battalion recommended above, but it's less common.
I always recommend spinning rod and reel setups for anyone who is learning how to catch bass because they're easier to manage and they don't tangle as much. When you're fishing with a baitcasting setup, nesting becomes a real problem, and spinning rigs make that much easier to manage.
Casting Rod
Lastly, you have the casting rod. You'll find a few of these recommended above and they're a great choice because they often provide a bit more durability than their spinning counterparts but what you gain in strength you often sacrifice in weight as well.
The main difference between a spinning rod and casting rod is the location of your reel. A casting rod will have the reel on top of the rod with the line guides on top. That's because the line flows from the reel, through the guides, and off the rod on the top portion of the rod rather than the bottom.
I find that casting rods are more commonly used in bass fishing tournaments and they're recommended by pro anglers because of their added sensitivity and mainly because of the reels they're able to work with. Professionals feel that baitcasting reels provide more sensitivity which allows them to work the lures better and create the ultimate presentation. For a beginner, it's difficult to use these reels and that's why I recommend spinning gear when you're starting out.
A quick note…
It is also helpful to mention that there is also a fourth rod, the fly rod, that you can use for bass fishing, but it is not as popular and requires a completely different technique for fishing.
Why Is Action Important To Bass Fishing
Before you can understand why action type is important to selecting a bass fishing rod, it is helpful to understand what "action" is referring to in the description of a fishing rod.
In the case of a fishing rod, action is a description of how much the rod will bend when pressure is placed on it.
Rods that bend a lot are considered parabolic, or that they bend consistently along the length of the rod. Rods that have a parabolic bend are generally slow action rods.
When you are bass fishing, a slow action rod may not pull back a hook fast enough to keep the fish from fully swallowing the hook.
Slow action bass rods can also cause some types of lures to tear from a strong fish's mouth, causing damage to the fish.
In general, slow action rods are not a good choice for bass fishing, but they can be used with careful consideration of hook and lure type.
Because even small bass can be very strong, and can give even the most experienced angler a run for their money, it is important that you select a rod that has no less than medium-fast action.
These bass rods still have a good amount of bend, and if you are doing more shore fishing than boat fishing, medium-fast action will give you increased casting distance.
Medium-fast action bass rods are great for crankbaits and spinnerbaits.
However, in most cases, the best bass rod action is fast to very fast. Rods with this level of action will only bend near the tip of the rod. This will allow you to set a hook easier without having to do a lot of work.
Fast baitcasting rods are good for fishing locations where your casting distance is shorter. Also, if you are using a single hook lure such as a live bait lure or bait jigs.
What Size Fishing Rod Should I Use?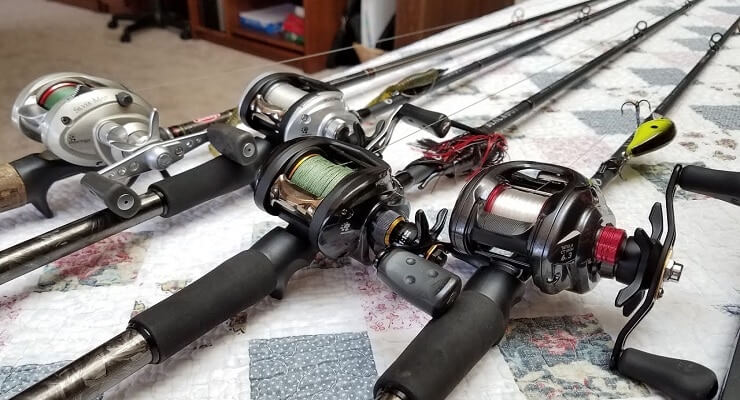 Fishing rods come in a range of lengths, and in general, the length that you choose depends on the type of fishing that you will be doing.
A good rule of thumb to remember is that shorter rods are good for short casting distances while long rods have a greater casting distance.
On the small end, a tiny 4 foot rod can serve you well for close-in fishing. Short rods also have a lot less bend, so if you are fishing for big, trophy size fish, you may want to think about using a shorter rod.
Your on-lake transportation also plays a part in length selection. While you can be comfortable using a longer rod from a power boat, if you are fishing from a kayak or canoe a shorter rod will be easier to transport.
Long rods are great for open water fishing for covering a lot of water quickly. Longer rods are also great for fishing in deeper water.
Just keep in mind when you are selecting a longer rod to consider the action of the rod. Select a faster action for longer rods to protect your catch and to have the greatest level of control.
Conclusion
The best bass angler always knows how to choose the right rod for the job!
Bass fishing is such a diverse sport that most anglers will benefit from a couple of different rod options.
Doing your research before you shop will ensure that you select the right rod for the conditions that you are most likely to encounter.
Our goal with this buying guide was to help make this research easier and shopping for bass fishing rods more enjoyable.
About Post Author