Dion Hibdon tears up when he looks back on a special moment with his dad Guido. It was 2018, shortly before Guido passed away after a long battle with cancer, and Dion was at his father's side as always.
In an attempt to cheer Guido up, Dion pushed his dad's wheelchair down to the pond where he could watch his great-granddaughter Piper fish.
The family encouraged Guido to make a cast, and he did. Minutes later, he caught a 2-pound bass, which turned out to be the last largemouth he would ever land.
---
Guido, widely recognized as one of the world's best bass fishermen, died March 10 of that year. But his legacy, including that special moment, lives on.
"It was terrible watching him go downhill," said Dion, a bass-fishing great in his own right. "But I had to be there for him. I was with him for six or seven hours a day when he was in the hospital and then in a nursing home."
"He was more than just my dad. He was my best friend."
That's just a snapshot in the life of fishing's first family, the Hibdons. Fishing has always been their family business, from the days when Guido Sr. was a renowned guide on Lake of the Ozarks to the present day, where Dion and his boys Lawson, Payden, and Connar compete in tournaments.
"It was hard to lose dad. There isn't a day that goes by when I don't think of him," Dion said. "But he would want us to go on."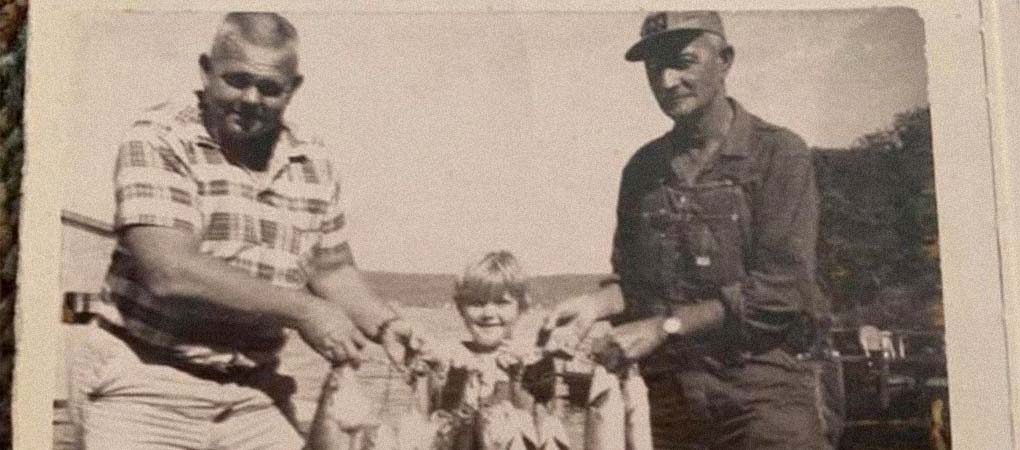 Guido Hibdon Sr. (right) was his family's patriarch, a legendary guide during Lake of the Ozarks' early days. (Photo courtesy of Dion Hibdon)
A Family Dynasty
Long before high-powered bass boats, trolling motors, and fish finders came on the scene, Guido Hibdon Sr. (nicknamed Gete) guided customers to bass at Lake of the Ozarks.
He would row his clients across the newly built reservoir in the 1930s, and he didn't cover much water. But he didn't have to.
Gete knew how to catch bass like no other. And he soon earned a national reputation for his guiding ability.
"My dad was the best fisherman I have ever seen," Guido once told me. "He had a way of catching fish when no one else could."
"Fishing was how he fed his family. And he was darned good at it."
Guido Jr. inherited his dad's love of the sport. By the time he was 12, he was guiding customers on his own, rowing them to hot spots on Lake of the Ozarks.
Guido Jr. kept guiding into adulthood and followed in his father's footsteps. He earned a national reputation for his uncanny ability to find and catch bass, and he was in demand as a guide.
In 1980, a national B.A.S.S. tournament came to Lake of the Ozarks, and Guido's customers talked him into entering. He won that event, and a storybook career was launched.
He took the championship with a lure he tried to keep secret. A year later, it came out. He used a plastic bait that his son Dion made in a fifth-grade school project.
"We had to make something found in nature," said Dion, 54, who lives near Lake of the Ozarks in central Missouri. "Some kids made drawings, others made things out of paper Mache, but I thought it would be cool to make a fishing bait.
"I caught a crawdad in a creek, put it in plaster of paris, and had a mold. I painted it and showed it to dad, and he said, 'I can catch a fish on that.'
"We started making them out of a mold, and it became a great fish catcher."
That bait, called the Guido Bug, has become one of the most popular crawdad imitations ever made. Today, a similar version of the soft-plastic bait is manufactured by Ledgerock Lures, and Dion still uses it to catch big bass.
Dion carved out his own niche like the two generations of family before him. He became an instant success on the B.A.S.S. circuit and later excelled on the FLW Tour.
He became one of the few fishermen in history to win both of professional bass fishing's major titles –the Bassmaster Classic (in 1997) and the FLW Forrest Wood Cup (in 2000).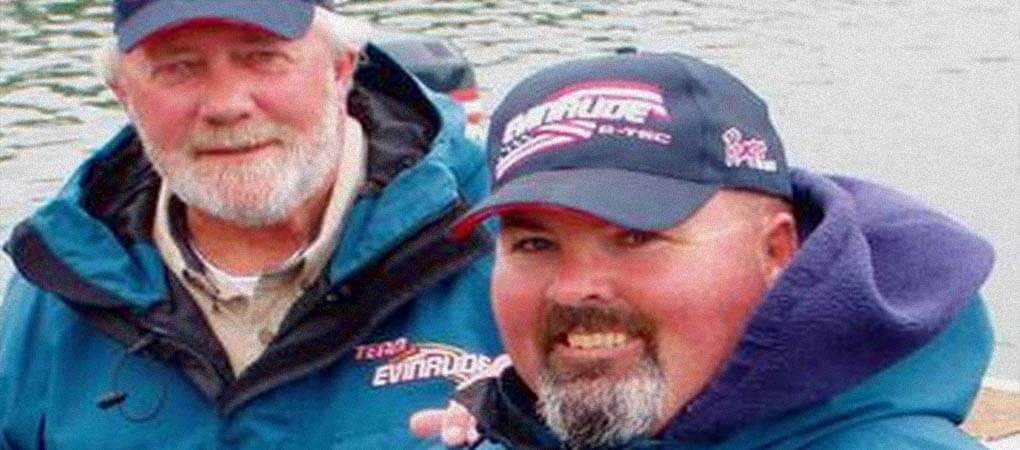 Guido Hibdon (left) and his son Dion were a dominant father-son team in the 1980s and 1990s. (Photo by Brent Frazee.)
Like Father, Like Son
When the Hibdons were in their prime, they were masters of the bass fishing game.
Guido earned a reputation as one the sport's best finesse fishermen, using light line and small plastic baits to catch countless bass, even on days when others struggled to get bites.
Dion became known as one of the sport's best jig fishermen, specializing in catching fish everywhere from boat docks to deep structure.
Starting in the mid-1980s, the Hibdons were on the road constantly, competing in four pro circuits–B.A.S.S., two divisions of U.S. Bass, and the Red Man Golden Blends.
One year, Guido won Angler of the Year in all four circuits. The next year, he won three of the four. The only time he finished second, he lost out to his son.
"Dad never made a cast the last day of the final tournament because he wanted me to win Angler of the Year," Dion said.
Guido won the Bassmaster Classic in 1988. When Dion took the Classic championship in 2000, the Hibdons became the only father and son in history to win the prestigious tournament. Dion gave most of the credit to his dad.
"Dad realized early that he would do well in tournaments if he could catch his limit every day," Dion said. "He would use a spinning rod and light line, but he wasn't afraid to cast anywhere. He would throw behind boat-dock cables, into brush, anywhere."
"He knew he had to get the bites first, then worry about how to get the fish in."But Guido was far from being a one-trick fisherman. He could do it all despite his knack for catching bass on finesse tactics. And Dion strived to follow him.
"When I won the Classic in 2000, some writers said that I had finally escaped my dad's shadow," Dion said. "Well, that was never a goal of mine. I was happy to be in his shadow."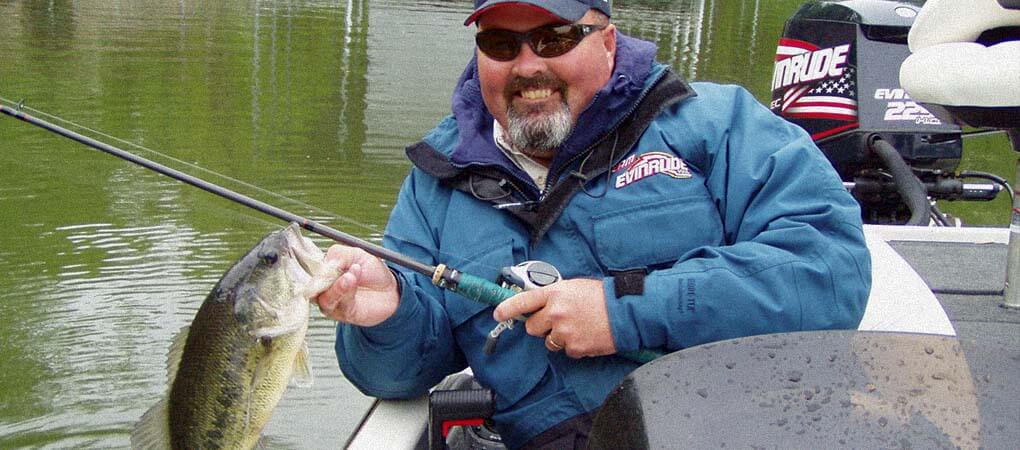 Dion Hibdon follows in the footsteps of his famous father Guido, catching bass and placing high in tournaments. (Photo by Brent Frazee.)
Starting Over
When Guido was diagnosed with cancer, Dion's fishing career came to a temporary halt.
He weighed his options, and being close to his dad was a higher priority than being on the road fishing tournaments.The same was true of his sons Lawson, Payden, and Connar, who also put their budding tournament careers on hold.
"We wanted to be there for him," Dion said. "I got used to YouTube. He always wanted to watch fishing, so we played a lot of videos when he was laying there."
After Guido passed away, there was a period of mourning. But the Hibdons decided it was time to get back at it.Dion returned to the Major League Fishing circuit last year, but he found that it wasn't easy to take up where he left off."I did terrible last year," he said.
"I didn't make a check."
"I won some regular tournaments close to home in the time when dad was sick, but it was hard to return to the national circuit."
Lawson, meanwhile, had a great year on the Major League Fishing Tackle Warehouse Pro Circuit, finishing in the top 10 in several tournaments.
Now, Dion and Lawson are headed back to B.A.S.S., where their sponsors feel they will get better exposure. Payden will still compete on the Major League Fishing Toyota Series.
"I got back in it mainly for the boys," Dion said. "They missed out on 2 1/2 years while dad was sick, and I want to help them however I can."
"But I'm looking forward to competing, too. I can still catch 'em, and I feel like I have something to prove."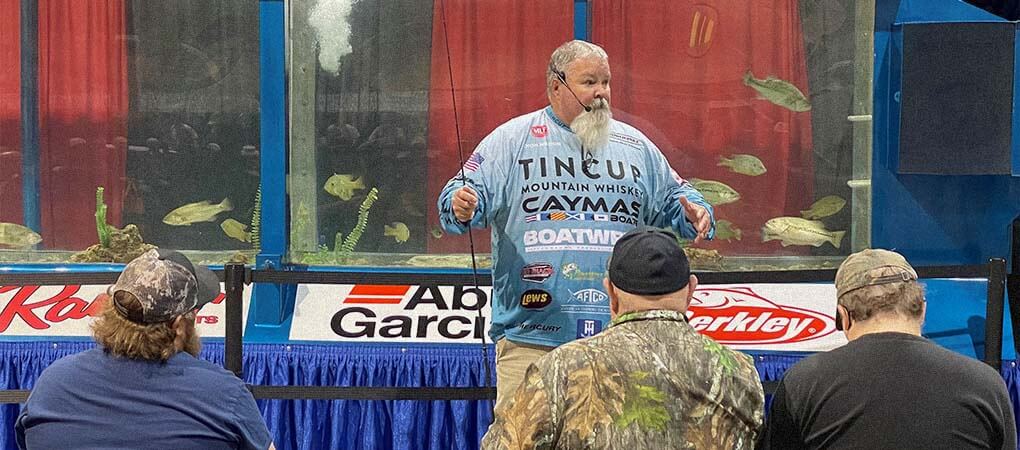 Dion Hibdon is still in demand as a seminar speaker. He spoke at the Open Season Sportsman's Expo in Overland Park, Kan., in March 2022. (Photo by Brent Frazee)
Fishing Tips From A Pro
Big bass can't hide from Dion Hibdon.
Even when they retreat far under a boat dock, he knows he can present a lure to them by skipping it with a sidearm cast.
"Most fishermen just fish the edges of that dock," Dion said. "But a lot of times, they'll get way back under that dock, where they have shade, and they don't see a lot of lures."
"If you learn to skip that bait, you can get to some of those fish."
Hibdon often uses a small bass jig that he hand-ties and couples it with a plastic trailer from Ledgerock Lures. He will also use a variety of plastic baits to imitate the crawdads, baitfish, and bluegills the largemouths feed on.
The skipping action often looks natural to the bass and won't spook them like the loud splash of a lure that was cast. But Dion also uses heavier, full-sized jigs in deeper water to catch bass. He won one tournament using a 1 1/2-ounce football jig in 40 feet of water along a bluff wall.
"Crawfish are like potato chips to bass," he said. "That's why jigs are so effective."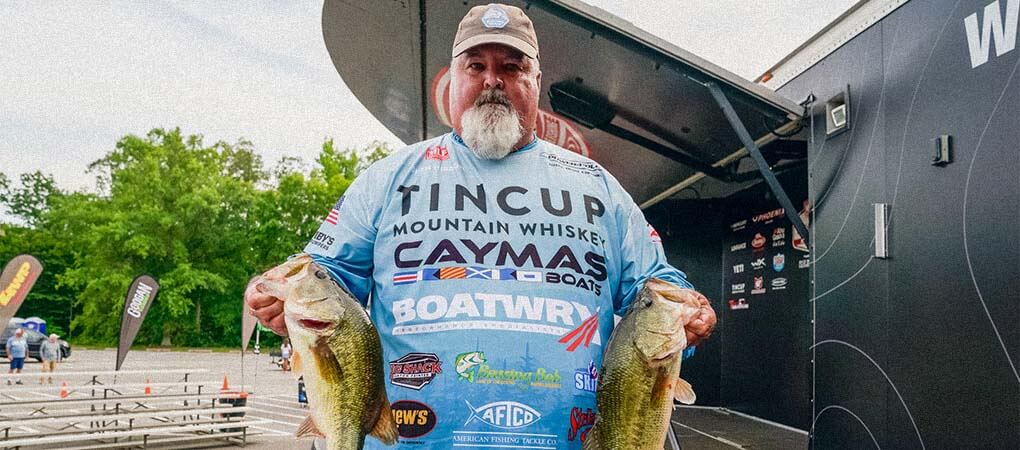 An ability to get reaction strikes is the key to catching more bass, Dion Hibdon advises. (Photo by Major League Fishing.)
Tips For Beginners
Bass aren't actively feeding all the time. In fact, they seldom are. That's the challenge for anglers–getting them to strike when they're really not hungry.
"Anybody can catch them when they're feeding," Hibdon said. "But they're feeding for a very short period of time."
"The rest of the time, you have to get reaction strikes, either by using an (erratic) retrieve or dropping down to a smaller bait. Even when they're inactive and have a belly full of shad, they won't turn down a little bait that comes right past them."
Conclusion
The Hibdon's made their name by paying attention to nature's ways. For example, they would try to "match the hatch" and use lures that would most closely imitate the size and color of the bass' forage.
"In clear water, I use crawdad imitations that are green or brown almost always," Dion said. "When I'm trying to imitate shad, I'll use a white hard bait."
"That's what their natural prey looks like."
"If you're casting that natural-looking bait in a good-looking spot, you'll know in a hurry if the fish are there," Dion said.
"I'll give it ten casts, and I'm either changing to something else or moving," Dion said.
And don't be afraid to go light. Try using a medium-action spinning rod with 6-pound test line and small plastic baits when the action is slow. You'd be surprised at how quickly things pick up.
If this helps, let us know below. We'd love to hear from you!