When Jordan Lee enrolled at Auburn University; he had a clear idea of his career path.
He majored in marketing but hoped college life would help him prepare for another pursuit–becoming a professional bass fisherman.
At the time, he was a hot-shot teenager whipping up on some of Alabama's best adult fishermen in tournaments.
He wanted to carry it one step further and compete on Auburn's nationally-known bass fishing team.
"I was always a big Auburn fan growing up, and it was my goal to go there and fish," said Lee, who is from Cullman, Ala. "They didn't give out scholarships for fishing; it was a club sport.
"There weren't any classes in bass fishing or anything like that. Still, the team traveled nationwide, competing in big tournaments. I figured it would be a great experience.
"I gave myself two years after I graduated from Auburn to see if this was right for me. If not, I would do something else."
As it turns out, Lee used his college "education" to launch a successful career. He is among the few pro anglers to win back-to-back Bassmaster Classic championships.
At age 32, he is one of the youngest members of the Million Dollar Club (for career winnings).
Now one of the top pros on the Major League Fishing circuit, he is already piling up honors there.
In 2020, he won the circuit's Angler of the Year honors and took the championship and a paycheck for $200,000 in the Heavy Hitters Tournament.
We'll look at Lee's rapid rise to stardom, his college life, and what that taught him about bass fishing.
Plus, he will cast out some tips to help you put more fish in the boat.
So, hop into the boat and put on your life vest. One of the best in the game will give us some pointers.
---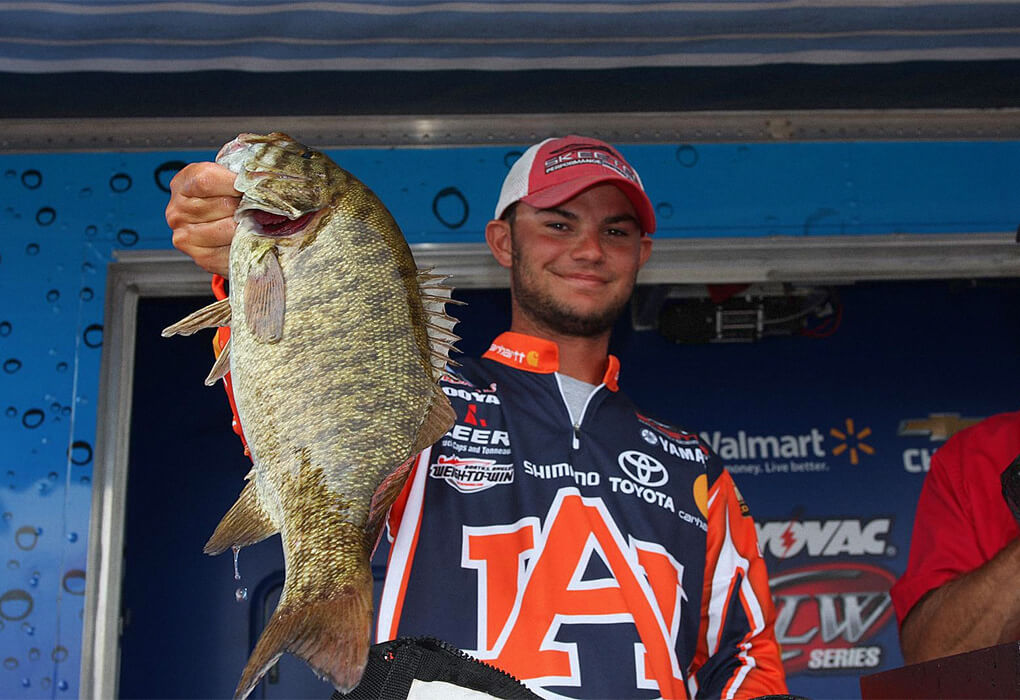 His college days at Auburn University helped Jordan Lee prepare for a career in the pros (photo by Don Johnson)
'Bama's Boy Wonder
Growing up in Alabama, kids were as likely to aspire to be a pro fisherman as a pro football player.
At least, that was Lee's aspiration.
He grew up about 45 miles west of the famous Lake Guntersville. His parents had a summer place there, which amounted to plenty of time on the water as a youngster.
He and a friend started fishing buddy tournaments on small lakes with a horsepower restriction, and Lee immediately caught the bug.
"It was really exciting to me," he said. "It was an adrenaline rush."
"By my junior year in high school, I was fishing as a co-angler in Bassmaster Weekend Series tournaments. By my senior year, I was a boater and won the points race and the last tournament of the year."
"I was only 17 at the time, competing against the best adult bass fishermen across Alabama."
How did he find success at such an early age? Many adults he competed against credited Lee with being "a natural."
"It just came fairly easy for me," he said. "I just fished off instinct.
"No one put me on fish or anything. I just figured out where the bass should be and why they were there."
It didn't hurt that Alabama bass fishing was in the middle of its boom phase.
"I grew up in the right state," Lee said. "Bass fishing was better back then.
"We didn't have the electronics that we do today, but the fishing was easier because the bass didn't get as much pressure."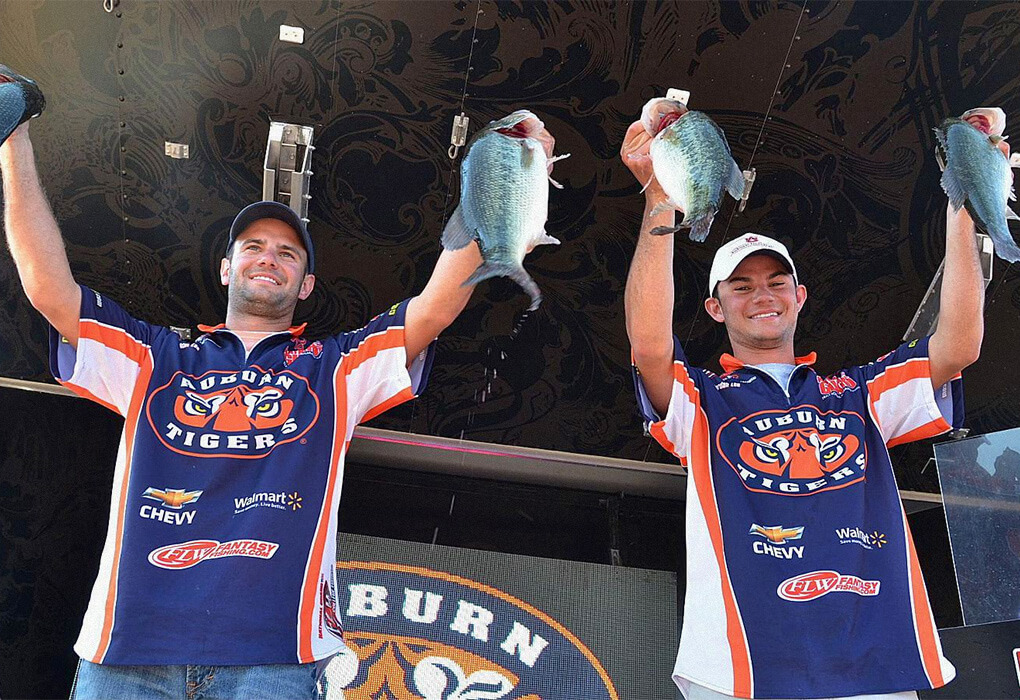 Jordan Lee (right) and his brother Matt were a team to be reckoned with when they fished for Auburn University (photo by Gary Moretenson)
Brothers on the Water
Jordan Lee will never forget the day he lost to one of his closest allies–his brother Matt.
The Lees finished second in the team competition in the Bassmaster College National Championship in 2012.
Then they each advanced to the finals of the Classic Bracket to compete against each other in the individual competition.
Matt won and earned the right to compete in the 2013 Bassmaster Classic, every college angler's dream.
Jordan, meanwhile, was shattered.
"It was heartbreaking," he said. "That was a dream of mine, to fish in the Classic. Then to lose out to your brother…well, I was happy for him, but it was hard."
Jordan was a class act, though, and was one of Matt's biggest fans at the Classic. Matt finished 46th in a field of 53 anglers.
From that valley, Jordan soared to a peak the following year. When the Bassmaster Classic College Bracket was held at Jordan's home lake, Guntersville, he made the most of his second chance.
Fishing with another partner, Shane Powell, Jordan won the individual championship in 2013 and qualified for his first Bassmaster Classic.
"That really got my career started," he said. "I got to fish against the biggest names in the sport and found that college fishing really prepared me."
Jordan finished sixth in that (2014) Classic and earned $22,000. Just as important, he got national sponsors such as Carhartt, which provided him with a truck and a boat to use for a year.
Meanwhile, Matt hasn't done too badly for himself, either. He, too, competes on the Major League Fishing Bass Pro Tour.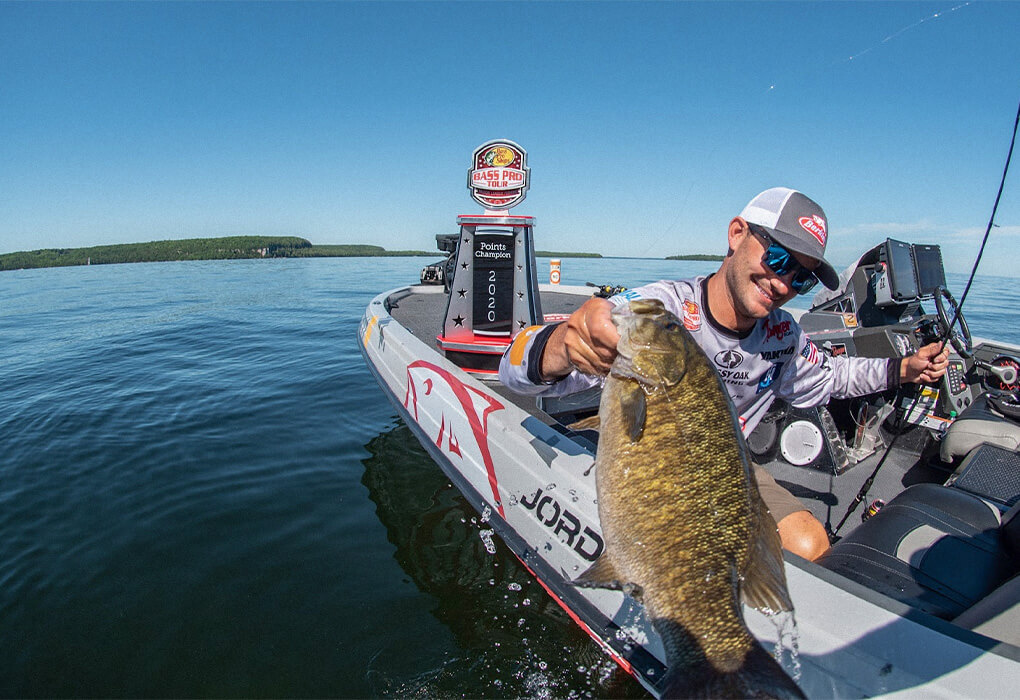 Big bass and big trophies–that's Jordan Lee's life (photo by Garrick Dixon/Major League Fishing)
Staying On the Move
It's not Jordan Lee's style to stay in one place when the bass aren't hitting.
He likes to burn gas and move from spot to spot until he locates hungry fish.
The 2017 Bassmaster Classic was a prime example of how his fishing style often pays big dividends.
Fishing on Lake Hartwell in South Carolina, he stayed on the move on the final day until he found a pocket with warmer water that had active bass.
"I just wanted to cover as much water as I could to give myself the best chance of putting a bait in front of a fish," Lee said in an article by Bryan Basher of B.A.S.S.
"On this lake, I knew boat docks would play because they always do–and that's what I like to do."
Lee hit the jackpot when he reached one of those spots to remember–a set of docks harboring a big school of bass in the back of a cove.
Casting soft-plastic lures to those docks, he enjoyed a flurry of activity that pro anglers dream about.
Today, Lee continues to promote that mobile style of fishing and advises others to adopt it.
"The biggest mistake I see anglers doing is that they're not covering enough water," he said.
"I don't sit around and wait for the bass to come to me. I cover a ton of water until I find them.
"I'll throw moving baits like spinnerbaits, Chatterbaits, and crankbaits, and I'll keep casting."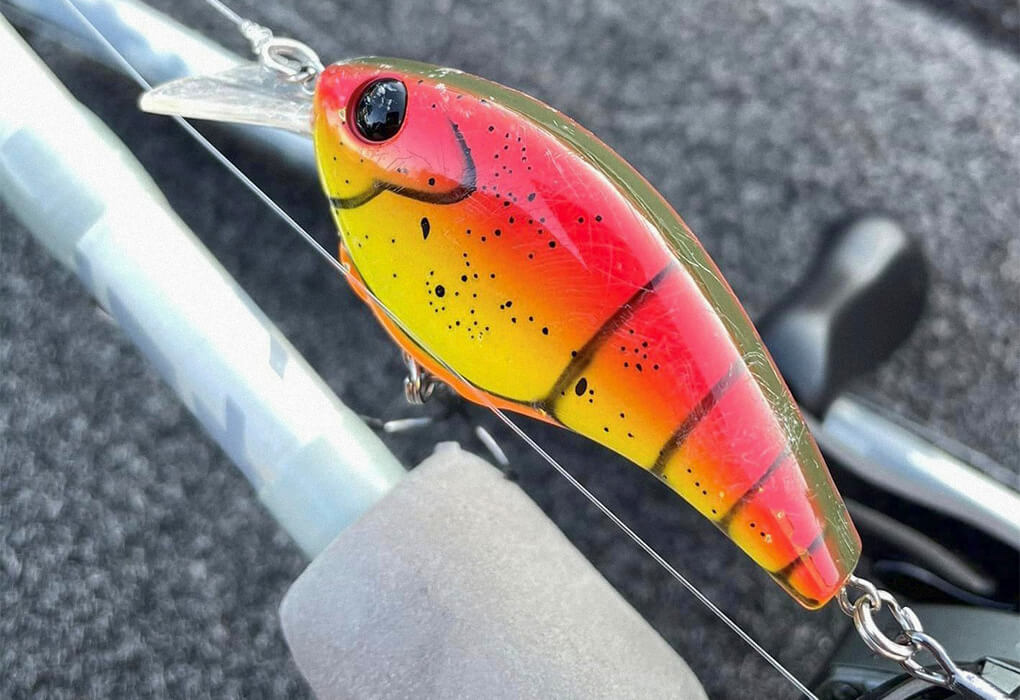 The Frittside is one of Berkley's crankbaits that Jordan Lee uses to catch big bass (photo courtesy of Jordan Lee)
Berkley's Impressive Lineup
Lee has no trouble promoting his longtime sponsor, Berkley, and its impressive line of hard baits.
Whether it be a crankbait or a jerkbait, the company offers lures that will catch big fish, Lee said. He has proved it in major tournaments.
"Berkley has come a long way in the last five or six years in the hard-bait line," Lee said. "They have come up with some of the best baits on the market."
Some of Lee's favorites: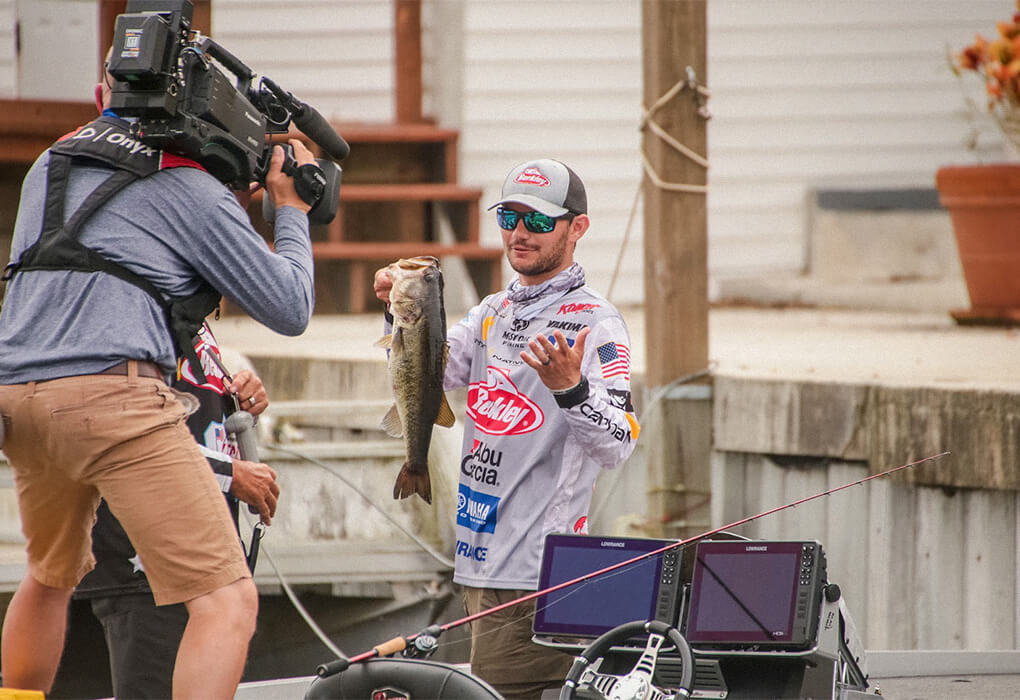 Jordan Lee is often in a photographer's focus when he competes in major bass tournaments (photo by Garrick Dixon/Major League Fishing)
Learn From Your Mistakes
Looking for one of the main reasons Lee has succeeded at pro bass fishing at such a young age? He learns from his mistakes.
I look at my mistakes, remember them, and try not to make them twice," he said.
"I can't remember what I ate for breakfast yesterday, but I remember a tournament eight or nine years ago and what I did wrong, and I try not to repeat it.
"I'm always learning."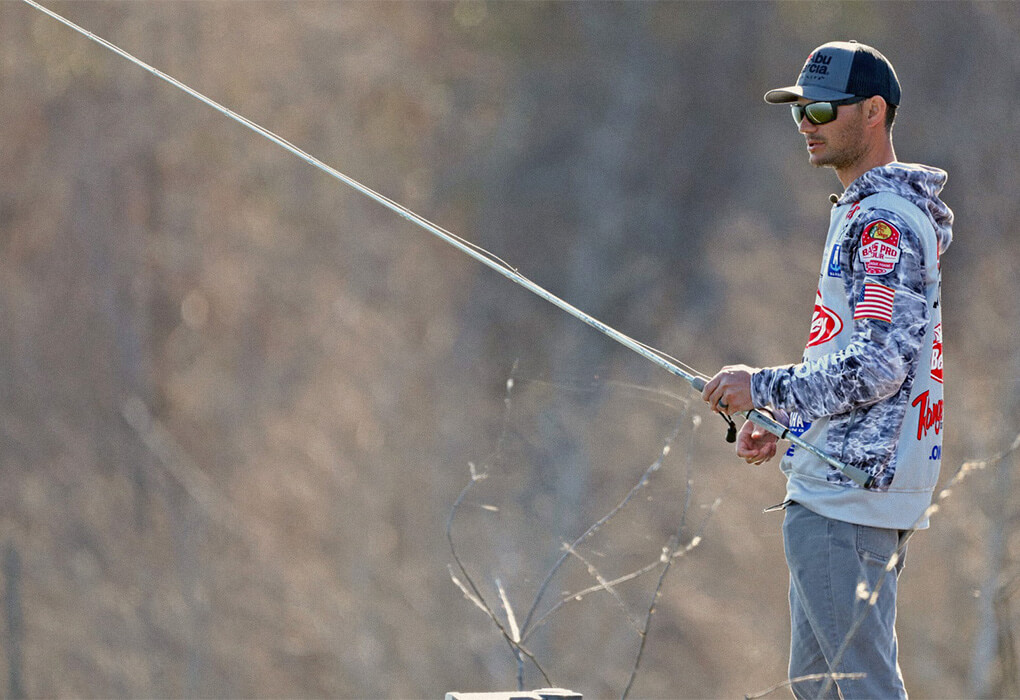 Jordan Lee is comfortable fishing shallow cover, but he strives to be adept at catching off-shore bass, too  (photo by Phoenix Moore/Major League Fishing)
Old School or New School?
Lee sounds like a veteran pro when he talks about the changes forward-facing sonar has brought to professional bass fishing.
Modern electronics show anglers real-time movement of bass, taking some of the guesswork out of locating fish and presenting baits to them.
Forward-facing sonar has really changed the sport," he said. "I'm an old-school fisherman, but I've had to mix that into my game.
"These days, it's hard to compete without it."
But that's not to say that Lee relies entirely on new technology.
"Certain anglers really have it dialed in," he said. "It's hard to compete without using it.
"But sometimes, I just like to fish old-school–just figure out where they will be and come up with a way to catch them."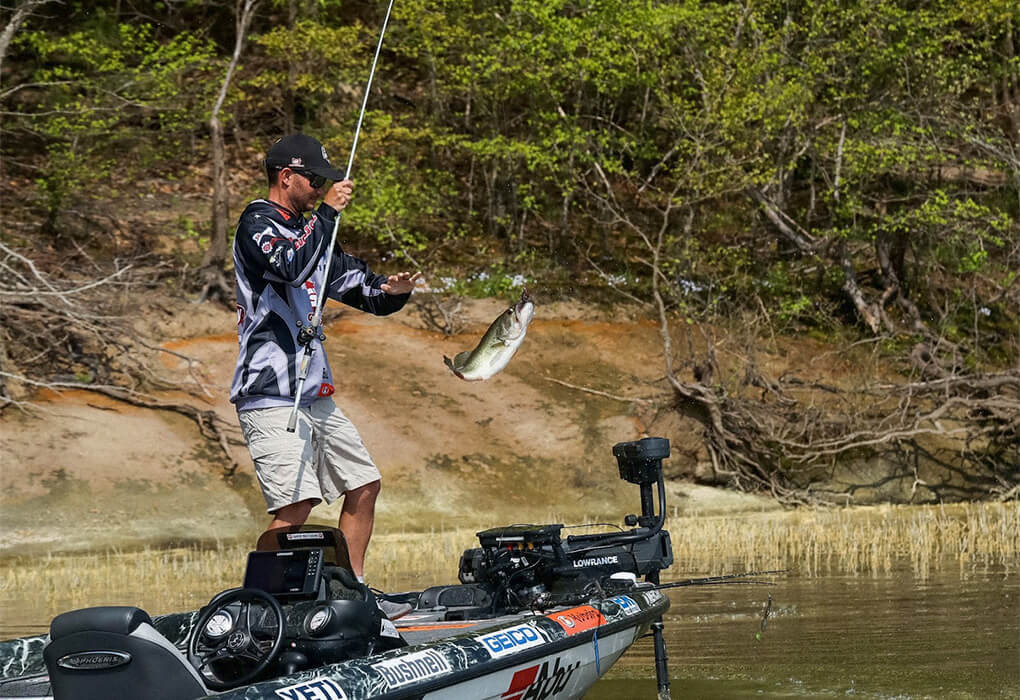 Whether they be shallow or deep, bass can't hide from Jordan Lee (photo by Josh Gassmann/Major League Fishing)
Beginners' Corner
Lee advises inexperienced bass fishermen to come up with a game plan before they even hit the water.
Look at the time of the year, the water clarity, and the history of what types of baits are effective at that time of the year.
"Beginners need to consider how important water clarity is," Lee said. "The dirtier the water, the shallower I will be fishing."
Lastly, Lee advises fishermen to devise a game plan before hitting the water each day.
"Do your homework," he said. "There is so much information out there these days."
That's a Wrap
College fishing has advanced to the point where bass anglers can get an education and be ready for the pros before earning a degree.
That's how Jordan Lee took a fast track to become one of the best pros in the nation.
But even if you're not college material, you can learn from Lee's approach.
He is super vigilant of the clues nature will provide as to where the bass will be. And he isn't reluctant to burn up gas in his boat.
"The biggest mistake I see anglers make is not covering enough water," he said. "Do your homework, and don't be reluctant to move.
"The conditions on one end of the lake –including water temperature and clarity–might be a lot different than the end you are fishing."
Keep Lee's approach in mind the next time you go out. We'll see you next week.
Here's hoping the big ones will bite the next time you get out.