The excitement of casting a line for cash is something that many bass anglers find incredibly alluring, myself included, which is why bass fishing tournaments are incredibly popular.
However, like any other activity, anglers must seek knowledge before engaging in such tournaments.
This makes many bass fishing beginners scared of looking like a fool because they don't know the ins and outs and how to start fishing tournaments.
Keeping the basics in mind while you go through the process is vital for a person who has just started fishing tournaments.
This is why we will provide you with a complete guide to the best bass fishing tournaments for beginners.
---
Am I Ready for a Bass Fishing Tournament?
In this YouTube video, Anglers.com Community Manager Wes Littlefield gives his experience fishing in bass fishing tournaments.
One crucial aspect of bass fishing tournaments for beginners is being able to tell whether you are ready for a competition. It will ensure you get your skills right and know all the best tactics.
Now, if you don't know the criteria to determine this, here are two significant determinants to help you out:
Do you have a compelling passion always to compete?

Do you consistently catch bass?
We will look at these two determinants in detail to be sure that you are in a position to compete.
What Does It Mean To Have A Compelling Passion?
When contemplating how to get into bass fishing tournaments, the most important thing is the desire to test yourself regularly rather than looking out to compete for simply winning prize money.
If you are a beginner, you want to constantly test your skills, learn from your mistakes, and make sure you regularly improve. You can do this by researching and trying out new techniques or testing different types of water.
When this is your focus, it is more than likely that you are ready for a competition. This is because, in bass fishing, tournament anglers must figure everything out on their own to succeed.
The urge to better oneself will stand you in good stead when casting your baits.
Do You Catch Bass Regularly? Sizeable Bass?
The second most important thing when contemplating how to fish bass tournaments is considering whether you catch bass regularly.
Many have caught smallmouth or largemouth bass on different occasions, but the frequency and size of the fish you catch matters most.
If you catch a few big bass occasionally and then catch nothing for an extended period, you are not ready for a competition.
However, it is essential to note that it always gets better in bass fishing. If you are genuinely determined, you will see growth in your ability to catch fish and even start winning competitions.
You must keep practicing different tactics and use the ones that prove successful. With time, you can look back and notice the increase in your ability.
What Level Should I Compete At?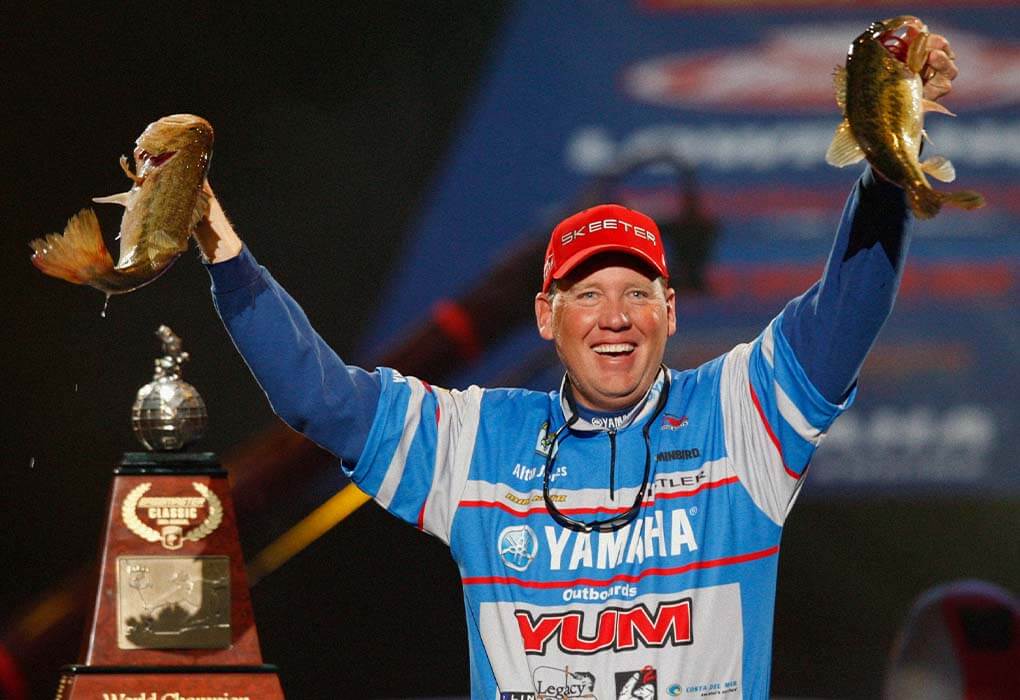 Alton Jones won the 2008 Bassmaster Classic by abandoning his shallow-water tendencies and fishing deep (Photo by B.A.S.S.)
Before figuring out how to start fishing tournaments, you need to understand that bass fishing incorporates different levels when it comes to competitions. Some of these levels include the following:
Local club events are typically smaller and informal. They're sometimes called "Jackpots". You'll often meet at. the boat ramp on the specified time and day to compete.

Regional circuits: These are typically bigger and more formal. They are often held in a controlled area to ensure everyone is on an even playing field.

Professional tournament circuit/ Invitation only events: These are the granddaddies of all fish competitions. They are incredibly competitive and cater to the best anglers in all settings, such as MLF Bass Pro Tour and B.A.S.S. Elite.
The answer to what level you will compete at depends on several crucial factors. These include:
Budget
Budget is essential when deciding what level you should compete at. After all, you can only compete at the level you can afford.
While some anglers have the resources to attend big-time fishing tournaments, others can only afford bass rigs for local club events.
However, for beginners, it is always good to start small as a non-boater or co-angler and work up to the more significant events, which have the advantage of testing new waters and socializing with an extensive circle of anglers.
Additionally, it would be best if you understood that bass tournament budgeting, apart from the entry fee, includes other important things such as travel and accommodation costs.
Therefore, before attending any event, you should carefully research the event you're planning to compete in, whether that's using Facebook by asking other anglers who have previously competed or watching videos of fishing tournaments. Then attend one with an entry fee that is within your budget.
Payouts
Another crucial thing to consider when figuring out how to start fishing tournaments is the payouts. Competitions have different reward structures, which can affect your ability to compete.
While some competitions offer high payouts, others have little payouts. If you are a beginner, it is recommended that you stick with contests that offer reasonable rewards before signing up and casting your baitcaster.
This prevents you from spending too much of your time on the road and your bankroll while ensuring that you have enough to ensure constant attendance.
Kayak vs. Bass Boat Tournaments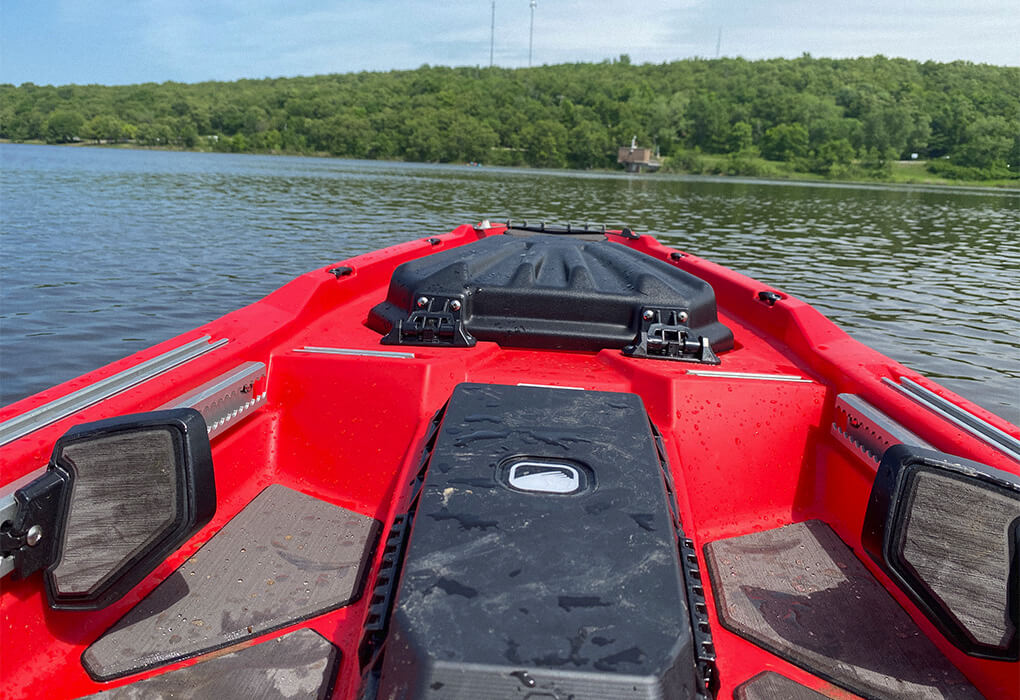 Bass boat and kayak fishing tournaments offer a variety of styles, but these are the most common.
Kayak bass fishing has become popular in recent years. Different tournament organizations have incorporated complete circuits for kayak anglers, making this tournament more popular.
Kayak tournaments are catch-photo-release tournaments. They take your five longest fish, measured on an approved board, and whoever has the longest five fish wins.
Whereas bass boat tournaments are either, whoever catches the five heaviest fish or the most scorable fish, such is the case on the MLF Bass Pro Shops Tour.
How to Get Into Bass Fishing Tournaments
If you are a beginner and want to enter bass fishing tournaments, you must understand that you must meet specific requirements before being eligible for competition. These requirements include:
Understanding the rules of the tournament: Different tournaments have different rules. Understand the tournament rules before entering. Some tournaments may allow nets.

Some kayak competitions don't allow trolling motor(s), and others do.
Getting the required gear: Bass fishing gear is essential. You need rods, reels, lures, etc.
Fishing licenses: You must have the proper fishing license to attend competitions without legal restrictions.
Insurance: Most tournaments require that you have insurance coverage before entering a bass fishing competition to avoid legal issues and complications.
What Does a Tournament Week Look Like?
Well, different fishing tournaments have different schedules. Additionally, big-time competitions have many events in saltwater or freshwater, while small-time ones will have only one or two.
Tournament week is crucial, and activities will differ depending on the actual days of competition. For instance, if anglers attend a three-day event that will begin on Thursday, they will arrive the Sunday before.
They will use Monday and Tuesday for their practice. Practice allows the angler to learn new tactics, work on accuracy, and perfect the pattern of their rod and lures.
After practice, tournament organizers will hold pre-tournament meetings the next day (Wednesday) before the official competition begins on Thursday.
The meetings will also go over the pairing in the case of Pro-Am events that incorporate competition between amateurs and professional career athletes that attend professional bass fishing like the Bassmaster Classic or The Big Bass Bash.
What Happens on Tournament Day?
The tournament day in bass fishing or walleye fishing is quite exciting for anglers. The rules usually govern this day.
There are other unwritten rules common to anglers.
For example, anglers in contention to win are offered rights to an area over their competitors; this is less the case now, as the first person to the spot gets the spot.
Moreover, during tournament day, the anglers in the competition must always keep their eyes on the clock. Most events enforce strict penalties for anglers coming late during check-in.
You should also be aware that disagreements regarding fishing space sometimes arise.
When this happens, the event organizers do their best to solve them to ensure everyone participates equally.
Weigh-In Process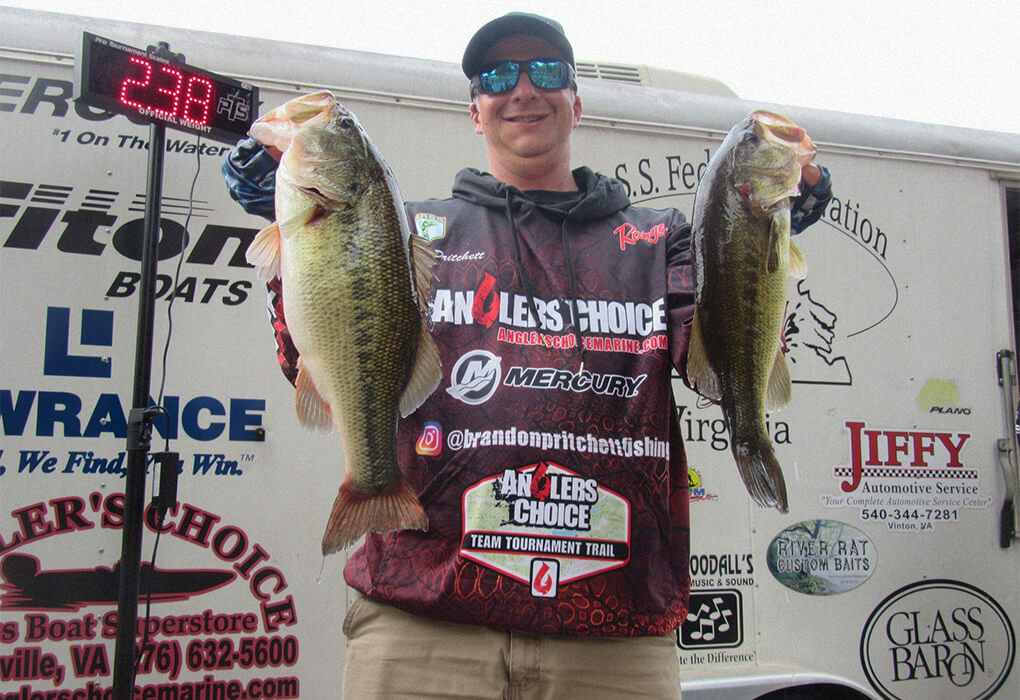 Photo credit: BASS Nation of Virginia
A weigh-in process is a special event in the tournament that determines whether you will cash a check or not. The weigh-in process is held after the competitors have fished the allotted time.
In traditional format events, anglers will get a weigh-in bag during check-in.
After the tournament, anglers will bag their fish and head on to a similar weigh-in stage.
The stage will incorporate tanks where competitors can hold their bags and ensure that the bass remains in utmost good condition.
After weighing the fish, anglers will take the bass (small or big bass) back to a release boat, releasing them back into the water.
The same procedure will follow for the next few days if the competition runs for more than one day.
Here, you will notice that in most bass tournaments, the club will only allow the top anglers to fish on the last day.
After all the anglers have gone through the weigh-in process, only the top anglers will proceed.
Most competitions will take the top 50 to move to the next round.
Factors To Consider Before Enrolling in a Tournament
Tournaments will have different requirements you need to consider. Let's take a look at them.
Insurance
Most clubs and organizations will require all their members to have insurance. Anglers must also show their proof of insurance when registering for the competition.
The primary purpose is to ensure everyone is protected in case of an accident.
Additional coverage will also be necessary if the events are scheduled on the Great lakes.
Registration
The registrations will differ depending on the competition levels.
The tournament directors will handle registrations for most local club events, but significant events will incorporate a deposit and registration deadlines.
Also, anglers fishing an entire series will be given priority to register first, while those attending single events will register later.
Rules
The rules are a shorter list that determines how the competition will be conducted.
Therefore, if you are planning to attend a tournament in your area and need to learn about it, then you should inquire about the tournament schedule and rules.
Rules will also enable you to understand the official format for your tournament.
Frequently Asked Questions
There are many questions about bass tournaments that frequently come up. Below are some of the common questions that you will come across:
What are the five rules for a bass tournament?
The five rules for a bass tournament are as follows:
1. Fishing licenses are a must for all the waters you will be angling. For instance, if you are fishing in the Ozarks, you will need licenses from Missouri and Arkansas.
2. The tournament trail, for instance, FLW, may or may not require nets.
3. There will be an assessment of the penalty at the Livewell in case a bass dies. All competitors must take care of the fish they catch.
4. Life jackets are mandatory for anyone participating in a tournament.
5. Foul hooking is a crime, especially during the spawning season.
How do I join the Bassmaster tournament?
Joining the Bassmaster tournaments is simple.
Just contact the B.A.S.S. nation using their toll-free numbers. The B.A.S.S. nation will then connect you with a representative in your state, let's say in Wisconsin or Alabama.
After this, the representative will ask you several questions and inform you of the next meeting date.
Afterward, when you attend your first meeting and pay your dues, you automatically are a member of the B.A.S.S. Nation.
How many bass do you keep in a tournament?
Most competitions incorporate a set limit of five fish, and then through culling, the bass anglers upgrade their catch.
What is the typical length of a bass fishing tournament?
Although this question depends on the type of tournament you are participating in, most tournaments will run for approximately 8 hours, though some run up to 10 hours.
Some tournaments run multiple days, while others are only one day long.
Last Cast
Bass fishing tournaments for beginners can be exciting. The anglers enjoy fishing and making new friends while competing against each other.
The tournaments will also teach you more about bass fishing since they frequently incorporate catch and release.
They will also show you how to increase your skill and catch more while simultaneously showing all this in an exciting way.
I'd like to know what's your favorite tournament format?