South Carolina is known for many things, including fabulous beaches, immaculate golf courses, charming and eclectic places like Charleston and Savannah, and world-class fishing.
No matter the preference, fresh or saltwater, using flies, live bait, or lures, anglers can find just about every freshwater gamefish somewhere in the state or off its coast in the Atlantic Ocean.
The state is best known for its premier largemouth and smallmouth bass fisheries.
Trophy largemouth bass fishing in South Carolina is legendary, but anglers also stand a great chance of landing a good-sized smallmouth bass in nearly every lake or river in the state.
While finding a pond, river, or lake that will not produce sizable amounts of fish is challenging, some bodies of water stand out as better than others.
The following is a rundown of the Top 10 best bass fishing lakes in South Carolina known for producing big bass in the Palmetto State. The list of lakes is in no particular order.
Going fishing in South Carolina? Then give a read to our South Carolina Fishing License guide.
---
Lake Murray
Lake Murray is in the heart of the state and is one of the best places to fish in South Carolina. Known for largemouth hogs, the lake also holds ample bream, sunfish, crappie, bluegills, and striped bass.
Murray has distinct regions, and where you fish determines the best bass lures and presentation strategies.
Near the Saluda River, largemouth bass chase blueback herring, although those fish tend to roam and are infamous for "going missing" for days at a time. The bass follow more familiar patterns in the lake's main part.
Switching baits based on the time of year and targeting creek openings and coves to mimic baitfish like shad yields the best result in that portion of Lake Murray.
The reservoir is owned by SCE&G and was created to produce hydroelectric power. It currently supplies the 205 Mega-Watt Saluda Hydroelectric facility.
South Carolina Natural Resources administrates the fishery and any adjacent property that provides access to the public. The lake has eight access locations, six marinas, and limited boat rental opportunities.
Lake Wylie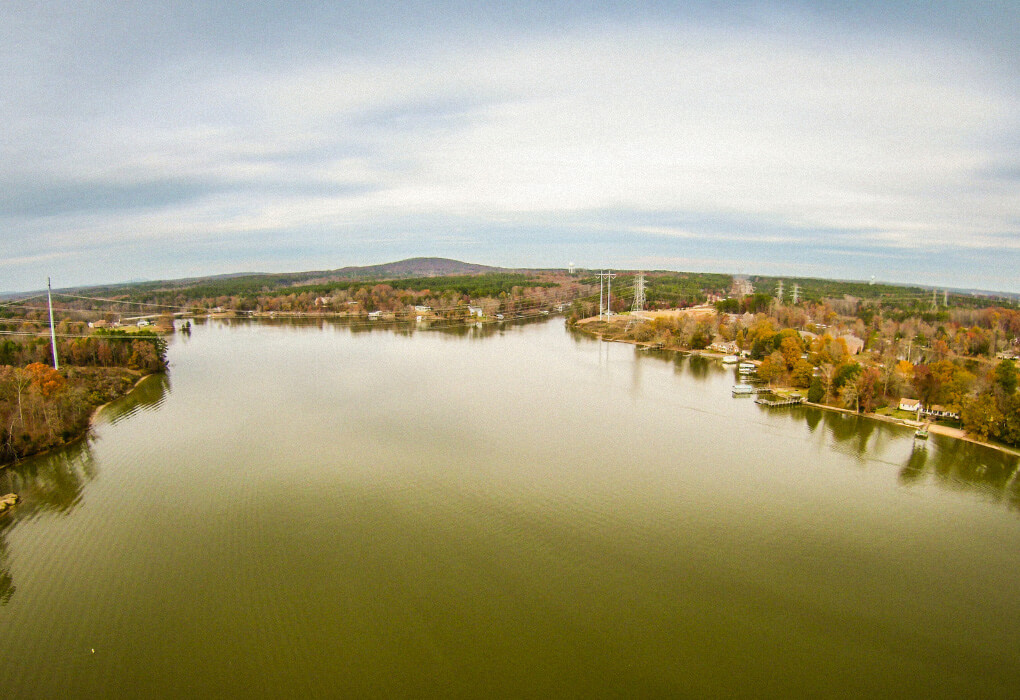 Bordering and expanding into North Carolina, Lake Wylie spans over 12,500 acres and over 325 miles of shoreline on the Catawba River.
The lake is renowned for some of the best bass fishing in South Carolina, including largemouth and smallmouth bass, stripers, spotted bass, and white bass. It is not unheard of to catch the occasional walleye, either.
Wylie is a deep lake by South Carolina standards, diving to 82 feet deep and maintaining an average depth of 25 feet.
Multiple inlet streams, creeks, and the river add to the diversity of the ecosystem and fish species.
Baits that work well include a variety of crankbaits and spinnerbaits patterned to match the local bait fish.
Plastic baits on a Carolina or Texas rig are very popular in the spring and late fall.
Jigging for crappie is also popular if the bass fishing is slow.
There are four public boat ramps and three marinas.
Santee Cooper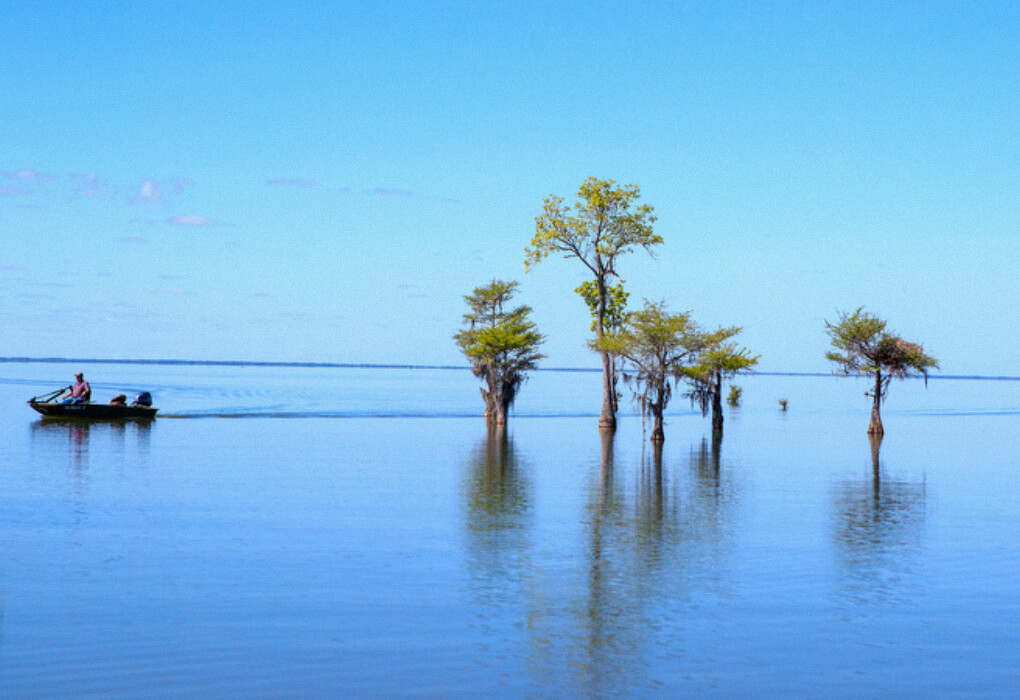 The Santee Cooper lakes include Lakes Moutrie and Marion, which make up the largest expanse of lakewater in the state.
They have been named by Bassmaster as one of the top bass fisheries for South Carolina and are known as two of the best lakes in the south.
The entire system encompasses several lakes, all presenting different and challenging fishing environments.
Originally, the US Army Corps of Engineers diverted the Santee River into the Cooper River and created an impoundment through a series of manmade dams.
As trends drifted away from the practice of diverting rivers and creating huge reservoirs, the Santee River was rediverted to its original course via a canal.
The result has been extraordinary fishing for multiple species.
Whether you are looking to catch bass in shallow water during spring spawning, in deeper water during the hotter months, or in between in the fall as bass stock up for winter, the Santee Cooper lakes provide some of the best bass fishing in the nation.
These lakes have hosted many Bassmaster tournaments.
The introduction of channel and blue catfish has resulted in incredibly large catfish cruising through all its iterations of impoundments.
Additionally, multiple sunfish call the Santee Cooper fishery system home, and freshwater striped bass have made the fishery a fun experience all year.
Wateree Lake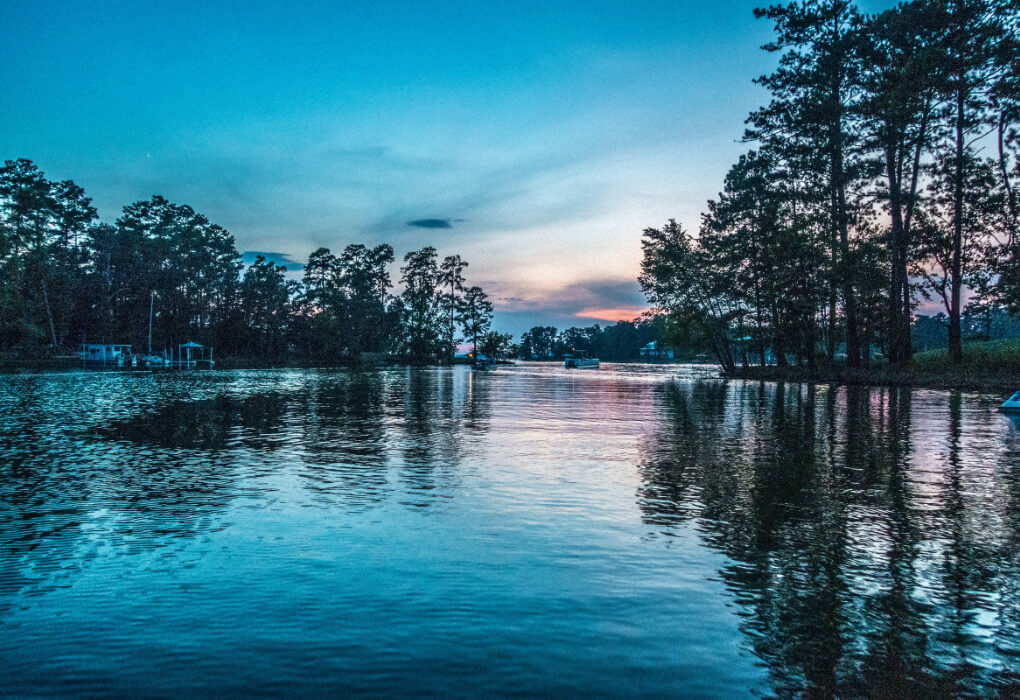 Wateree Lake, located about 40 miles northeast of Columbia, is known for some of the best fishing in the state for multiple fish species.
The lake has several boat ramps and boat rentals, and Lake Wateree State Park is a popular place to enjoy the lake and witness wildlife.
Adjacent to the lake is the Lake Wateree State Recreation Area, a bird refuge.
There are 14 water access entry points and eight public boat access areas. There is also one boat access point below the dam.
The lake Wateree State Recreation Area is privately and publicly owned and provides bank fishing opportunities. Five of the areas are privately owned and operated.
The lake covers about 13,000 acres and is home to largemouth and smallmouth bass, crappie, bluegill, perch, and chain pickerel.
Largemouth bass are the most targeted species, but as the water temperature lowers in fall, any fish on that list are plentiful.
Fall smallmouth are also very popular, particularly as the water cools and the bass relocate in the shallows.
Clarks Hill Lake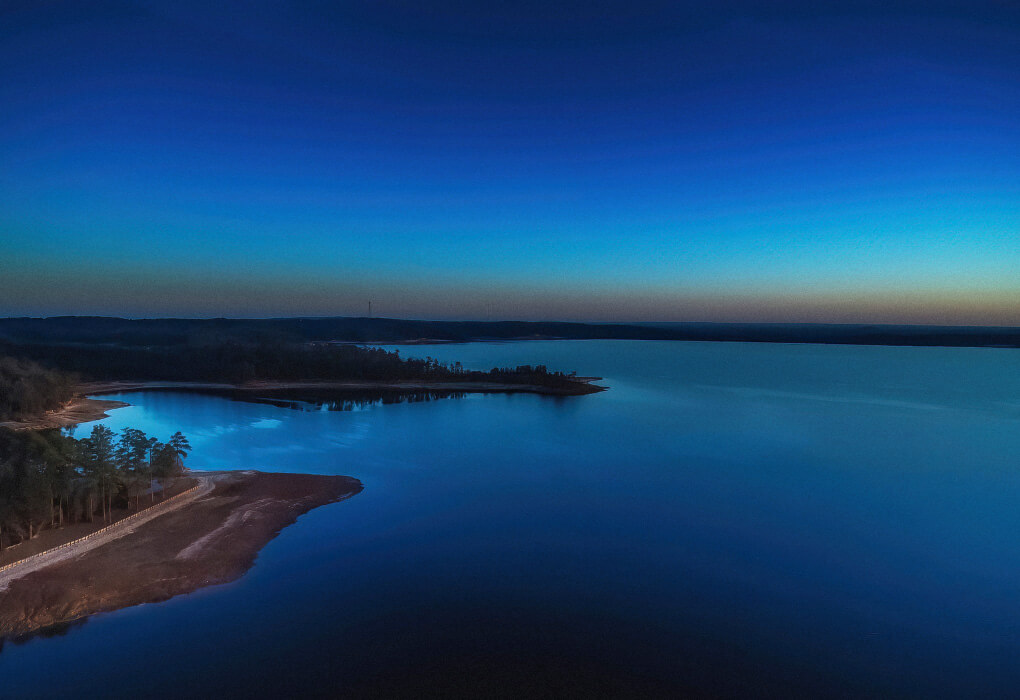 Clarks Hill Lake has a reputation for large fish. Catfish, bream, crappie, and just about every other type of panfish, call Clarks Hill Lake home, and some grow to a tremendous size.
There is also a very healthy largemouth and smallmouth population in the lake, and catching your personal best is not out of the question.
Clarks Hill Lake is best known for its striper. Stripers grow to incredible sizes throughout the fishery, and their presence draws anglers from all over the state and abroad.
It is not uncommon to be able to hook into a trophy striped bass and, later in the day, haul in a lunker largemouth.
The reservoir straddles the border with Georgia and boasts over 1,200 miles of shoreline, 800 of which fall on the Carolina side.
While most of the lake shore is accessible only by boat, there are places for kayak and canoe portage. There are 20 boat launch ramps open to the public, and several organizations offer pontoon, fishing, and family boat rentals.
Another benefit of Clarks Hill Lake is that it is in the heart of vacationland, which means there are plenty of places to stay, have fun and eat.
Tackle shops, camping, including several campgrounds with RV hookups, marinas, and shopping are all within a short drive from just about anywhere on the Carolina side of the lake.
Lake Russell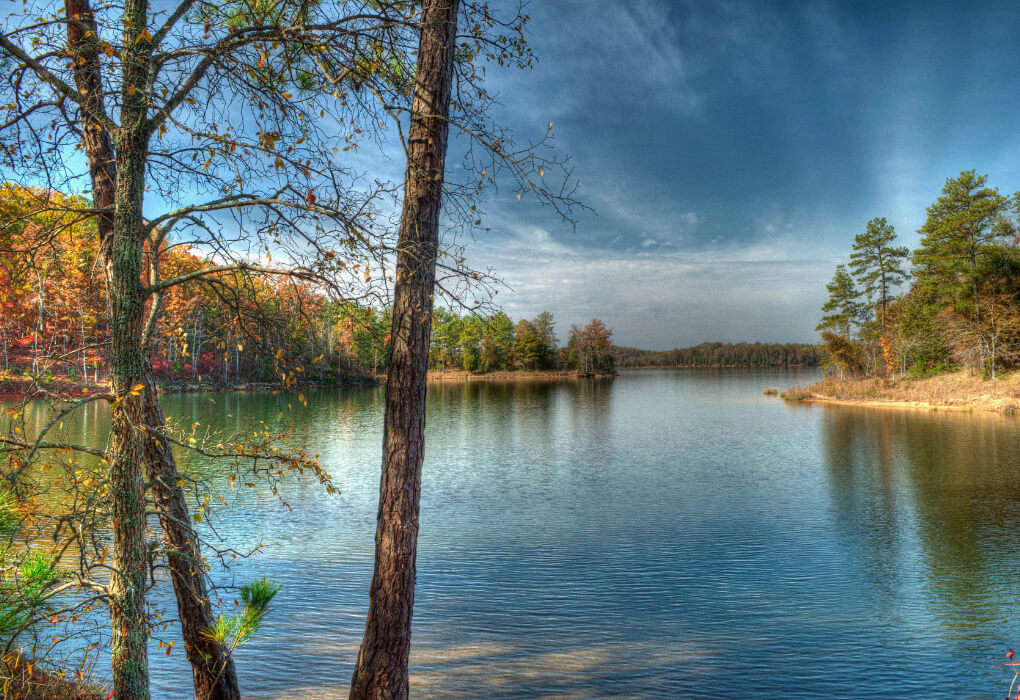 Lake Russell is a product of the Richard B . Russell dam on the Savannah River. The lake is 30 miles long, running all the way up to the Lake Hartwell Dam. For its part, Lake Russell has almost 27,000 acres of lake water.
The skilled sportsman can enjoy catching trophy smallmouth and largemouth, as well as huge crappie and catfish.
The lake is a "conservation lake," which means no private development can occur on its shorelines. Additionally, the lake is protected by a 300-foot collar of public land, ensuring a pristine environment for the length of the lake.
Another distinguishing characteristic of the lake is that it provides a home for warm, cool, and cold-water game fish.
Diversity of water temperature means that anglers can target fish based on their preferred habitat versus making seasonal assumptions that might not be correct for every lake.
For example, finding cold water throughout the lake means the likelihood of catching trout increases.
Likewise, finding cooler water in the heat of summer is a good strategy for locating smallmouth.
Lake Hartwell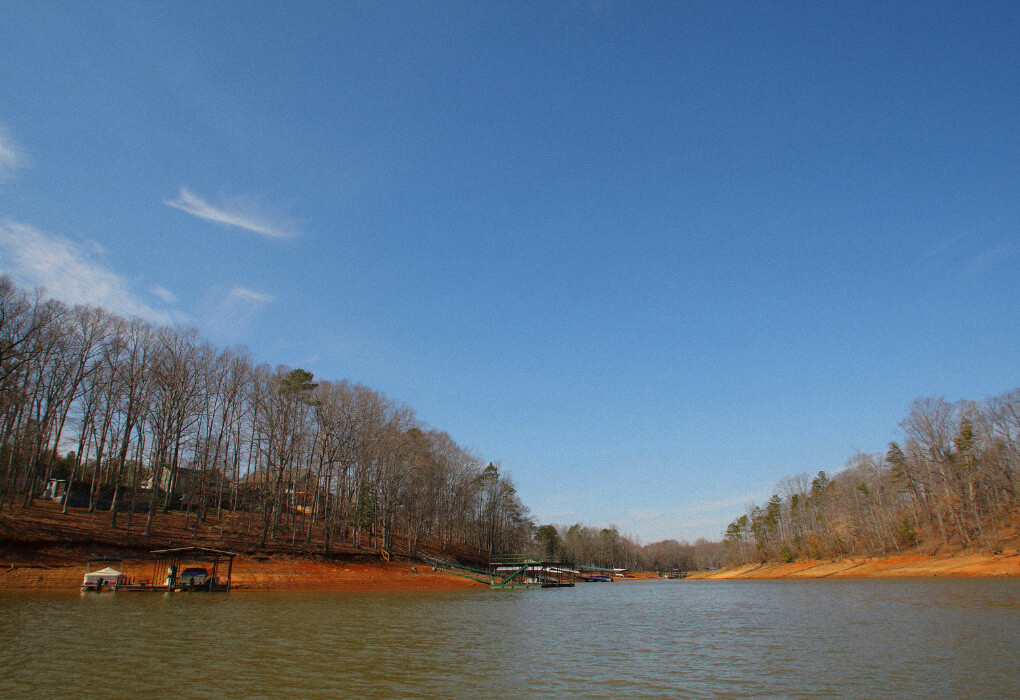 A reservoir created by Hartwell Dam, Lake Hartwell is huge and exceptionally diverse from an ecosystem perspective.
The lake sits on the border between Georgia and Carolina and offers over 56,000 acres of lakewater with depths that plunge to over 180 feet and an average depth of 45 feet.
Blueback herring drive most of the fishing in Hartwell, so the trick is finding them first.
Once you do, silver and white baits with splashes of gray and black work best. Fish those colors on crankbaits, jaywalkers, spinnerbaits, or a jig.
There are also multiple species of freshwater fish throughout the lake so if the bass fishing is slow, targeting another type of fish is easy. The lake is under an hour outside of Greenville.
Rentals are available on the lake. There are 45 boat ramps and five marinas that sell fuel.
The US Army Corps of Engineers owns and manages the lake, while the Department of Natural Resources oversees the management of fishing.
Lake Keowee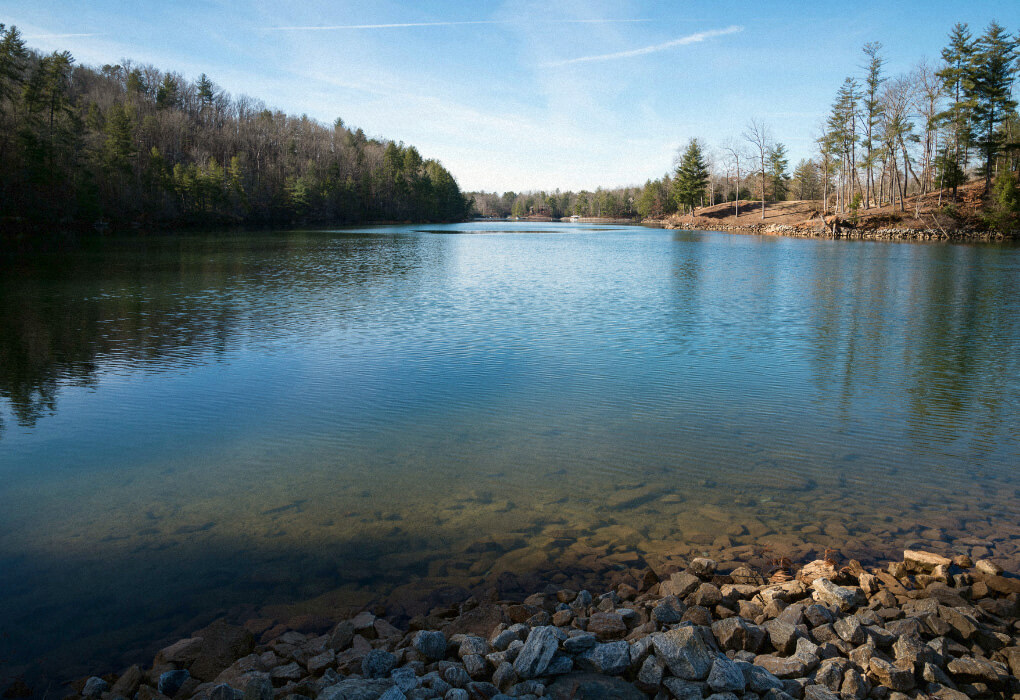 Lake Keowee is a manmade lake and a cooling reservoir for the Oconee Nuclear Station.
The lake was formed by damning the Little and Keowee rivers and has a reputation for clear, deep waters.
Lake Keowee is 26 miles long, 3 miles wide, and has an average depth of over 50 feet. Keowee backs up to Lake Jocassee and feeds out into the Seneca River.
Keowee has a reputation for being a difficult place to catch fish.
It has earned its reputation because there is little structure, and much of the lake is incredibly deep.
When you do hook one, however, chances are what is on the end of your line is big. In 2020, an 80-pound catfish was caught out of Lake Keowee.
Huge crappie, largemouth, and smallies call Keowee home as well.
Lake Moultrie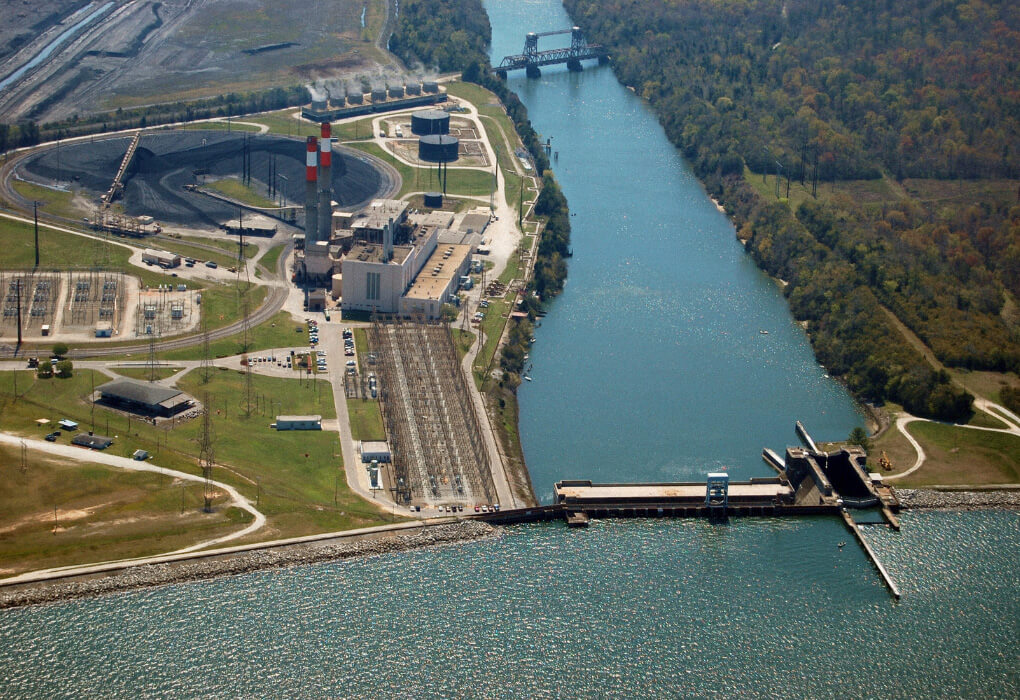 A coastal impoundment, Lake Moultrie is part of the Santee Cooper lakes system. As the third largest lake in the state, Moultrie boasts over 60,000 acres of water.
A sea lift at the St. Stephen Dam allows sea fish to run upstream, which ensures a population of blueback herring and shad.
Submerged timber in its shallower waters creates a vibrant environment for multiple fish species which means we, as anglers, must keep an eye out to protect our trolling motor.
While its sister lake, Marion, holds the state largemouth record, Moultrie is no slouch when it comes to trophy bass.
Big smallies and largemouth frequently weigh 7 to 10 pounds here. The lake also has a striped bass population that is currently part of a rejuvenation project.
Lake Marion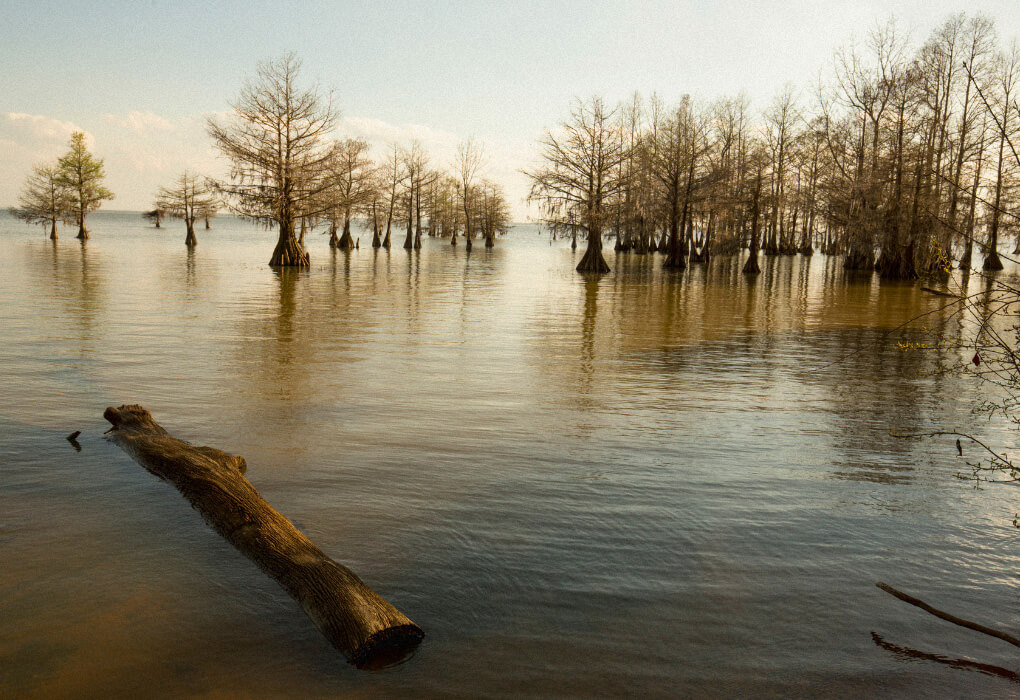 Lake Marion is home to the largemouth bass state record at 16 pounds, 2 ounces, and has over 110,000 surface acres of water.
It is a sister lake to Lake Moultrie and is the largest lake in South Carolina.
Created by damning the Santee river, Lake Marion offers opportunities to land lunker largemouth, catfish, striped bass, crappie, white bass, pickerel, perch, and multiple types of panfish.
The ecosystems around Lake Marion range from flats that make for perfect kayak, pontoon boat, and canoe fishing to the main channel, which is ideal for larger boats to troll through.
Several organizations offer boat rentals around the lake, and the Santee Cooper Lakes is home to numerous fishing guide services.
Last Cast
There is no doubt about it; bass fishing in South Carolina is some of the best you will find anywhere in the southern United States.
Around every lake that made the cut, lodging is easy to come by. The state also offers multiple major airports and highways, making transportation seamless.
Given the production of the average lake on this list, it is a pretty good bet that you can land your personal best and possibly set that record a few times over.
Speaking of personal best, what's your PB smallmouth?