The sunshine state of Florida is famous for amusement parks, beach resorts, and countless water activities, including some of the best fishing and fishing charters in the United States.
With endless coastlines to enjoy from North Florida to Key West, where can anglers find the best bass fishing in Florida? When it comes to freshwater lakes, Florida has dozens of options!
If you're curious as to where you can find the best bass fishing in Florida, we're here to help.
Read on for ten of the best lakes and ponds to cast your line in Florida.
Going fishing in Florida? Then give a read to our Florida Fishing License guide.
---
Best Lakes for Florida Bass Fishing
Bass anglers have no shortage of options for bass fishing lakes. All across Florida, you can find fantastic fishing without much hassle.
That said, the following list isn't in a specific order; any of these lakes will make a fantastic day trip, depending on your budget, gear, location, time of year, and other factors.
Look into each to decide where you'd most enjoy your time!
Some may also provide different needs for your fishing.
Baitcasting with the proper pound test line is required for some of the larger fishing areas, whereas using a lighter line and finesse fishing may be all the more relaxing areas require.
This list of Florida lakes offers some of the best, but certainly not your only options. Take a look at which of these lakes is closest to you and from which you can benefit.
If you want to tour the state's fishing, these ten spots are places you'll want to stop and drop a line in.
Here are our top ten lakes and ponds in Florida!
Rodman Reservoir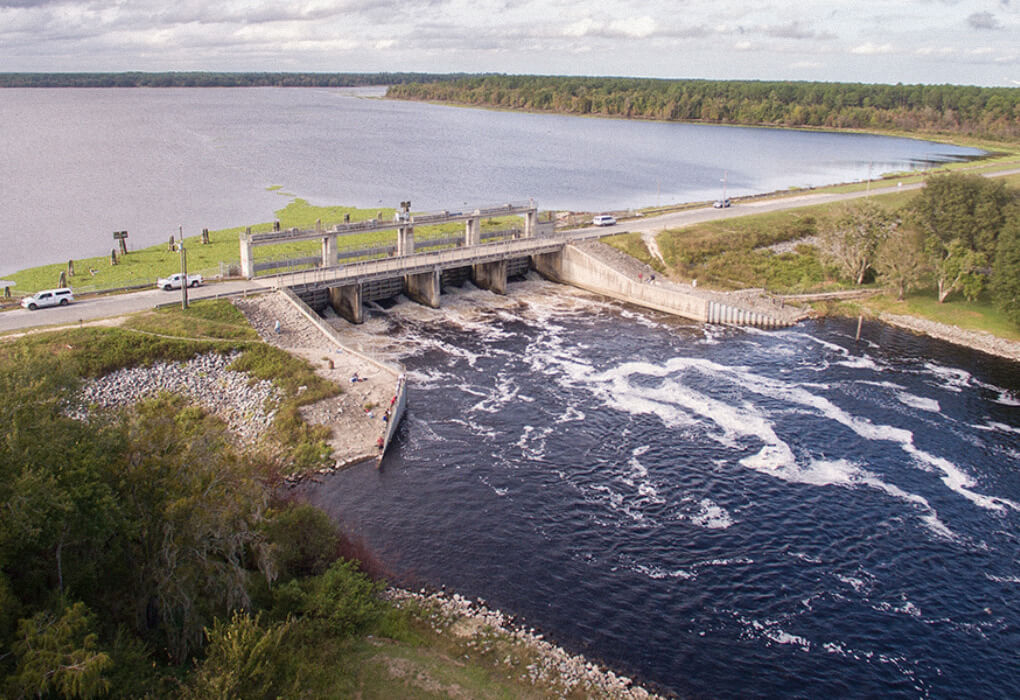 First on our list is the Rodman Reservoir. Located on the former Rodman Dam in Palatka, Florida, the Rodman Recreation Area has some of the best fishing you can find.
One of the greatest draws of Rodman Reservoir is that it's completely public, with no fees required to enter. Additionally, the park is open from 8 A.M. until sundown every day of the year, including holidays!
This reservoir is excellent if you're looking to catch bass, but other species, such as bream, catfish, and mullet, call this lake home.
Bank fishing takes place here, and Rodman Reservoir has earned a name as one of the must-fish areas of Florida for freshwater anglers.
There are also two accessible recreational piers for anglers wanting to step off the bank.
One is a wooden pier on the eastern side of the spillway discharge channel, and the second is an aluminum pier on the western side.
Fishing over the channel helps catch more fish as they funnel into the spillway and past the piers.
Boat fishing and paddling enthusiasts also have options if they don't want to spend their fishing day on a pier or bank.
Boat ramps provide access to the Ocklawaha River, which flows about nine miles downstream from the dam and leads into the St. Johns river!
The Rodman Reservoir is a fishing opportunity you can't miss. Launch a boat or stand on a pier for some of the best fishing you'll ever enjoy.
Lake George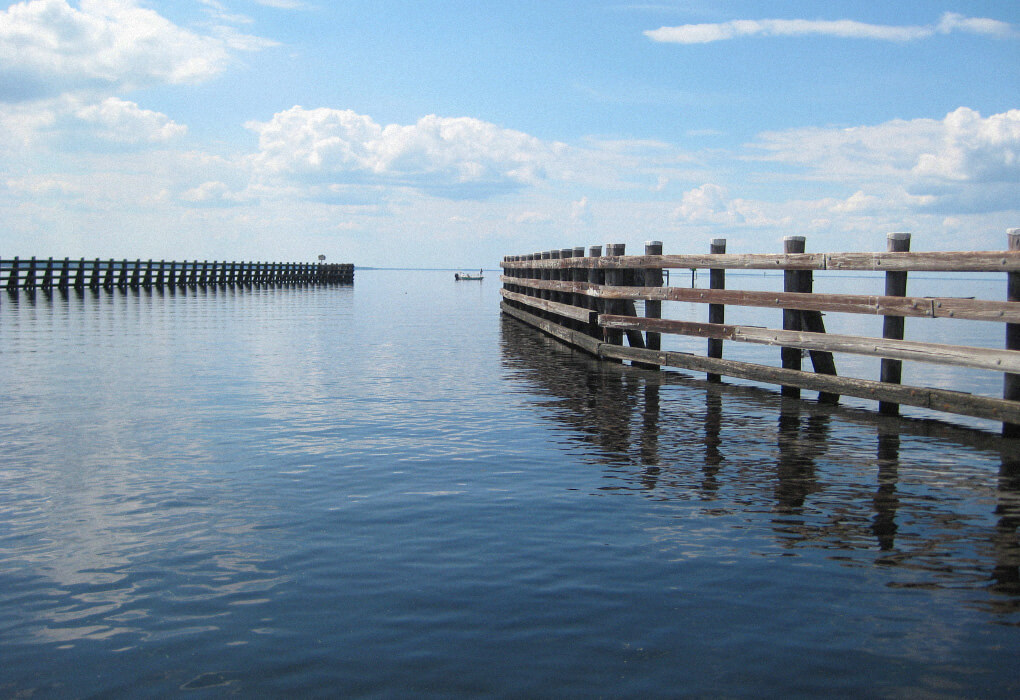 Second on our list of best bass fishing in Florida is Lake George, which you shouldn't confuse with New York's Lake George!
Also called Lake Welaka, Lake George is a broad, shallow brackish lake. This lake is also near St. Johns and is six square miles wide, with an average depth of about eight feet.
Despite the shallow depth, many people still choose to bring boats onto the lake. However, be cautious, as you can find larger boats scraping the bottom when the water turns shallower.
With its size, Lake George is the second largest lake in Florida, beaten only by Lake Okeechobee. But what does this mean for fishing?
Depending on the time of year and water temperature, you can find migratory water birds, alligators, blue crabs, mullet, and striped bass.
Home to one of the world's only freshwater blue crab fisheries, many anglers come here for the mullet and the bass fishery.
Due to the teeming wildlife, caring for your fishing line is crucial. Ensure any fishing line, broken jigs, and other fishing accessories are disposed of properly.
The lake is large enough to support entire communities. There are multiple boat ramps, marinas, hotels, restaurants, and camping grounds to explore.
Whether you're there for the crabs or the bass, Lake Welaka will give you one of your most peaceful fishing experiences.
Fellsmere Reservoir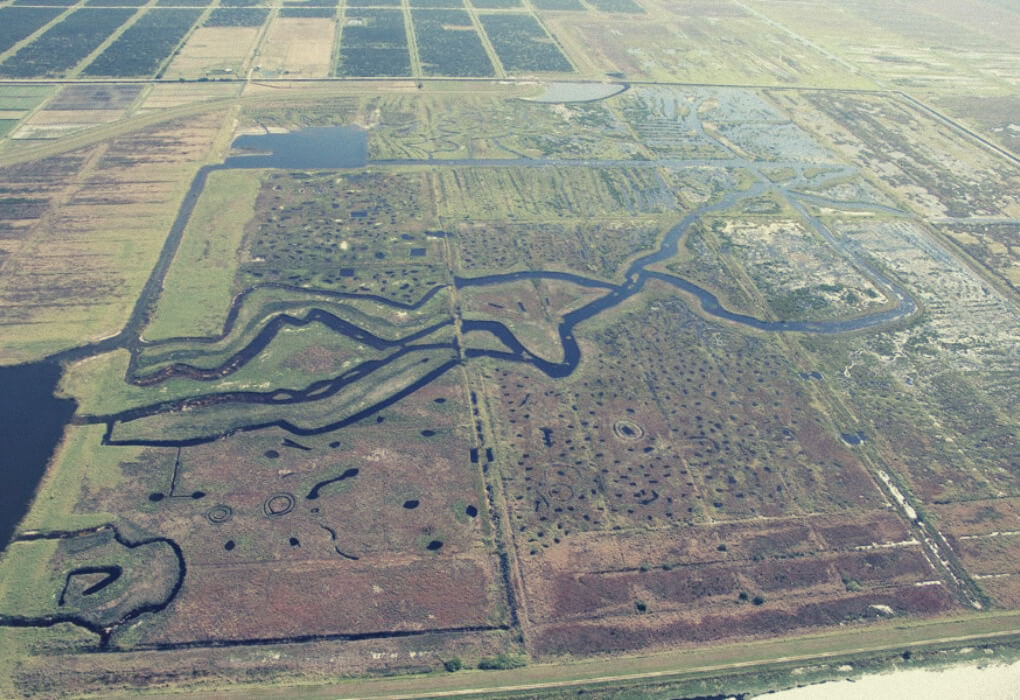 Also known as Headwaters Lake or Lake Egan, Fellsmere Reservoir is a ten thousand acre manmade lake. Located in Indian River County, this artificial behemoth of a lake is one of the greatest fishing locations in Florida.
With an average depth of approximately six feet, some areas of the lake reach deeper than thirty feet.
The lake was built specifically with bass fishing in mind, and underwater structural features and areas create the perfect habitat for bass dot the lake.
Because of this, it's one of the most active bass fishing areas. You'll want to prepare for big fish with a 10-pound test or even a 12-pound test braided fishing line.
Artificial lures, such as topwater, jerkbaits, and stickbaits, are often the ticket on the lake.
Located off of I-95, the massive lake is one of the most can't-miss attractions of Florida for any angler. As far as the best bass lakes in Florida, the Fellsmere Reservoir is tough to beat.
Lake Tarpon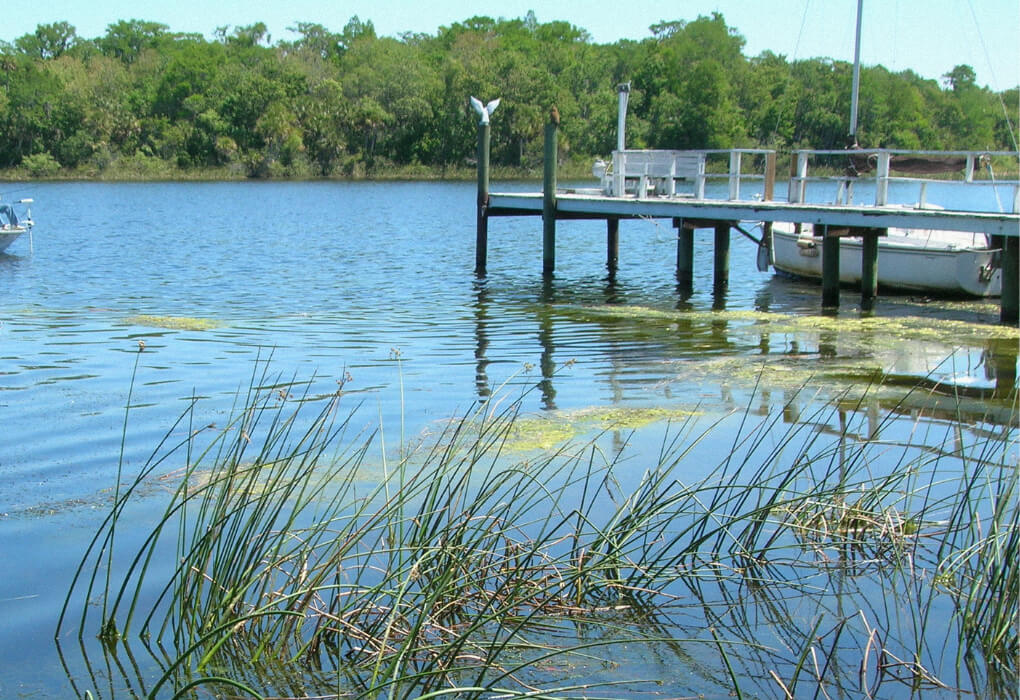 Located in Tarpon Springs of Pinellas County, Lake Tarpon is voted one of Florida's top ten bass lakes by the Florida Fish and Wildlife Conservation Committee.
That said, fishing pressure is relatively low in this area.
The Florida Fish and Wildlife Conservation Commission, or FWC, regularly samples the bass from this lake in regional samples.
Anglers will find Florida-strain largemouth bass, and many of them lunkers in the weeds, bulrushes, and grass beds near the lake's shorelines.
Anglers can find public boat ramps across the lake. As a public lake, Lake Tarpon is open from sunrise to sunset. Fishing piers also dot the lake's edges in multiple areas to make fishing more accessible.
Though largemouth bass are the most common fish, you can also find bluegill, redear sunfish, shad, and black crappies.
This means you can use a baitcasting reel with spinnerbaits, crankbaits, or spinning gear for finesse fishing.
Lake Tarpon is a great place for a calm, relaxing fishing trip.
The Butler Chain of Lakes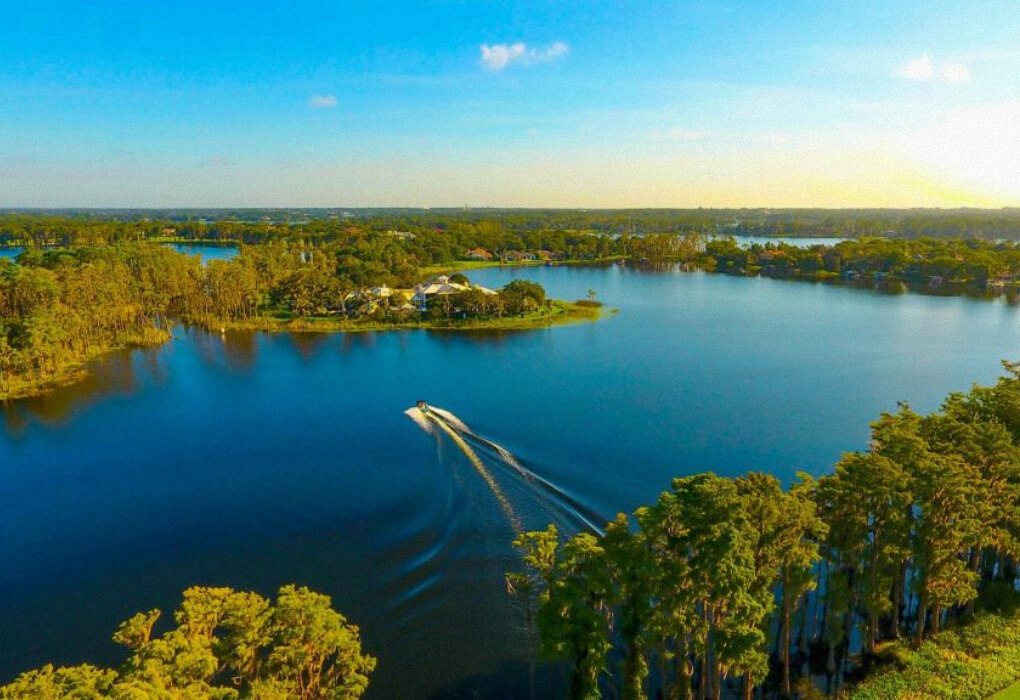 As you may expect from the name, the Butler Chain of Lakes isn't a single lake. Instead, the Chain of Lakes consists of thirteen different lakes! These include:
Lake Down
Little Lake Down
Wauseon Bay
Butler
Louise
Isleworth
Blanche
Chase
Tibet-Butler
Sheen
Pocket
Fish
These twelve lakes are the most well-known and visited of the thirteen. Despite being part of the chain, the thirteenth lake is unnamed.
But which of these offers the best fishing? That's a complex question and one that takes a bit of digging. Many of these are more difficult to access than others.
Lake Isleworth, for example, borders the Isleworth community, a wealthy private community in the Greater Orlando area.
Because of this, you may have difficulty visiting it.
Wauseon Bay is the most well-known as far as bass fishing goes. Located on the southeast edge of Lake Butler in Windermere, the lake has a channel that connects it to Lake Down.
Because of this connection, experienced kayakers can take their trip from Butler to Wauseon to Lake Down and snag a bass from each one!
The Butler Chain of Lakes spans much of Central Florida. Lake Pocket spans Apopka Vineland, which many recognize as connecting to Disney.
The farthest east lake, Lake Crescent, spreads past Windermere.
Visiting these lakes gives a varied experience, meaning you should bring various gear. Inshore spinning reels, baitcasting reels, extra fishing line, and anything else you can think of!
With so many different lakes, you'll need as much as you can carry.
With so much territory covered in this system of lakes, anglers will have no shortage of places to visit.
Channels connect these lakes to make sure you can enjoy your fishing trip uninterrupted.
Check the local map to figure out where the boat ramp of your favorite lake is, and get started on your tour of the Chain of Lakes!
Lake Okeechobee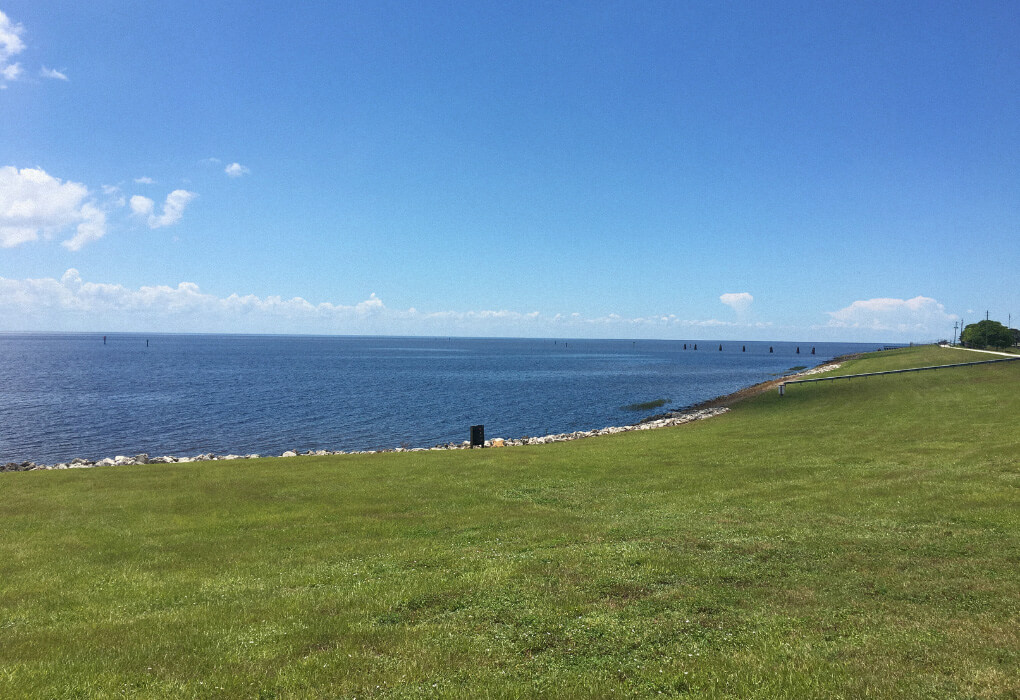 Lake Okeechobee has had many names throughout history, such as Mayaimi and Laguna del Espiritu Santo. The most well-known name, Okeechobee, is from two Seminole words.
The name translates to "Big Water," a name well-earned for the biggest lake in Florida, earning Okeechobee the nickname of Florida's "Inland Sea."
When it comes to the fish, Okeechobee boasts some of the greatest bass fishing in the world. Its ecology is lively enough to support commercial and local game fishing.
Panfish like black crappie, sunfish, catfish, pickerel, bowfin, and gar call the lake their home.
If you catch a giant bass, consider joining the TrophyCatch and Big Catch programs. The TrophyCatch and Bassmaster program is the FWC's effort to gather data on fish.
Trophy bass is particularly sought after, and they encourage catch-and-release fishing. You can register with the system for a chance to win a boat!
Big Catch is for glory, serving as Florida's "Angler Recognition program." You can pick from categories of fish and experience, catch your biggest fish, and send a photo of your catch.
Big Catch's site holds the state records for everyone's catches.
Find one of the dozens of docks, piers, boat ramps, and river banks to drop your line.
This massive body of water presents everything you need for one of the most unforgettable freshwater fishing experiences in the continental United States.
Lake Ida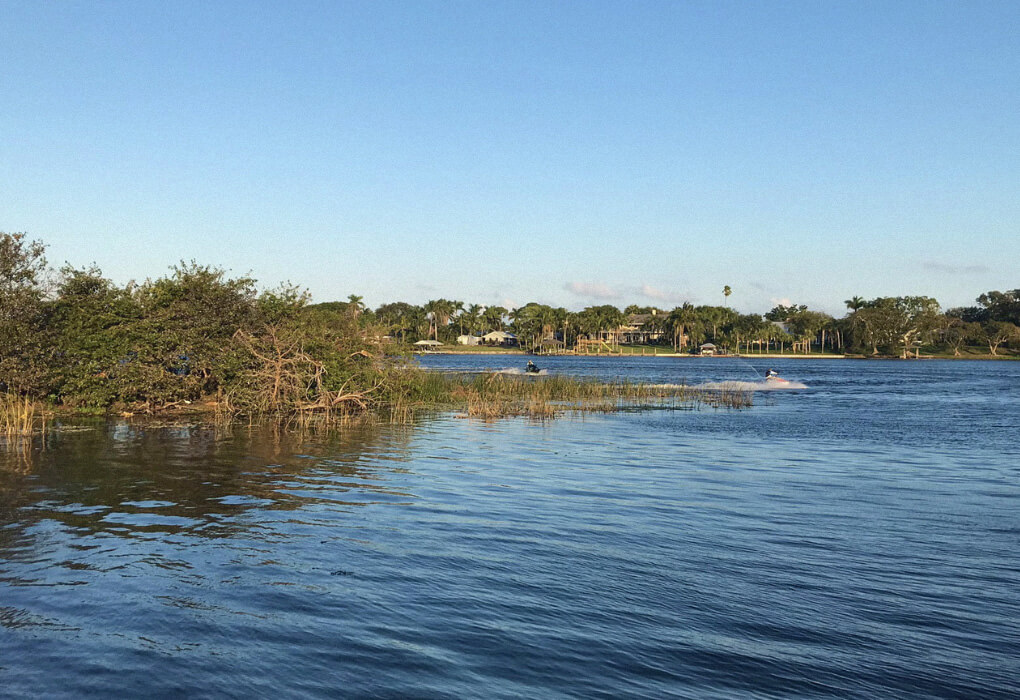 Located in Palm Beach, Lake Ida is a splendid place to go for a day trip with your family. Lake Ida doubles as a dog park, meaning you can bring your best friend along with you!
There are also bicycle and hiking paths, playgrounds, picnic areas, boat launching ramps, kayaking, and more!
As far as the fishing goes, Lake Ida is a strong contender for one of the best fishing areas. Though it's a family-centric nature area, it remains excellent for bass fishing.
A lake observation platform gives you a wonderful place to see the lake and the surrounding areas to decide where to fish.
Freshwater fishing from the banks can provide a serene setting, but fishing from the piers and docks can help increase your casting distance.
Lakeside lily pads are great, but you'll want to be careful with your line and lure choices as they present many snagging hazards.
Consider using braid with a leader to reduce the chance of snapping your line. A Texas rig will help keep you from constantly getting hung up.
Complimenting multiple different types of fishing, Lake Ida is perfect for a day of quiet solitude or a family trip.
Miami Airport Lakes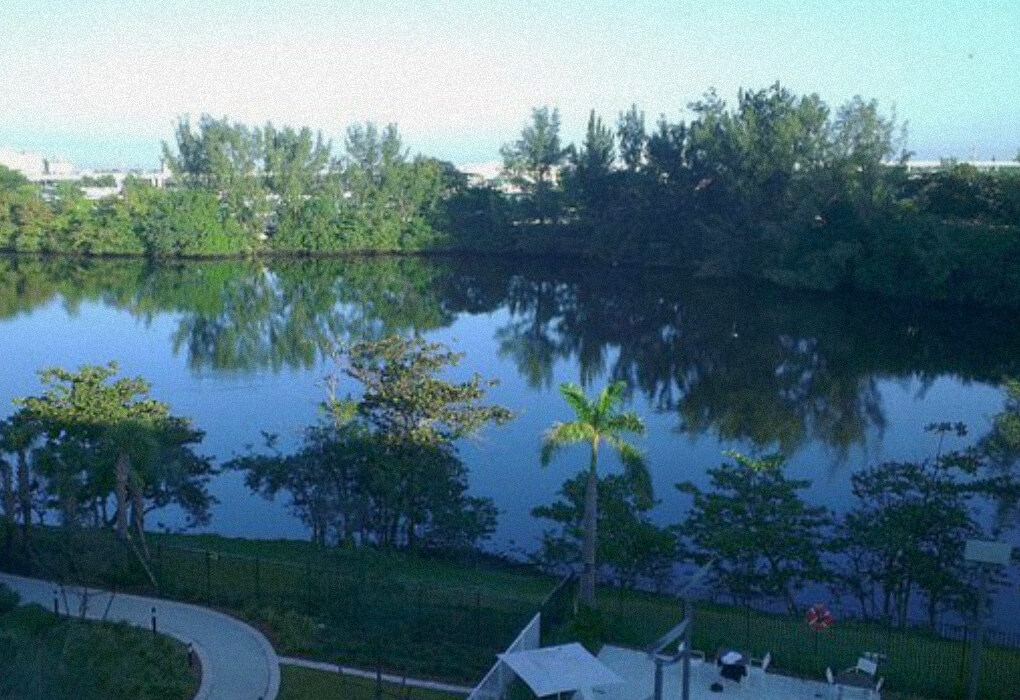 Many of us don't think of airports as great places for fishing. The Miami Airport Lakes help to disprove this notion!
The Miami Airport Lakes are near the airport; unfortunately, this proximity leads to a noisy and frequently highly-trafficked area.
Because of this, you shouldn't go into these lakes expecting a serene, relaxing day of fishing for peacock bass.
But if you've got a flight to catch and want to spend some time in nature before you leave, the Miami Airport Lakes is a fantastic option.
Being so close to civilization, you can stock up on your favorite Seaguar lines without having to drive miles to the nearest store.
You can travel west a bit to get away from the airport and reduce the noise. The Coral Gables Canal will provide wonderful fishing without having to hear traffic too loudly.
The further into these lakes you go, the more serene you can expect your trip. While this isn't our first choice on the list, it's a fantastic option if your proximity to them makes them an easily-accessible choice.
Lake Istokpoga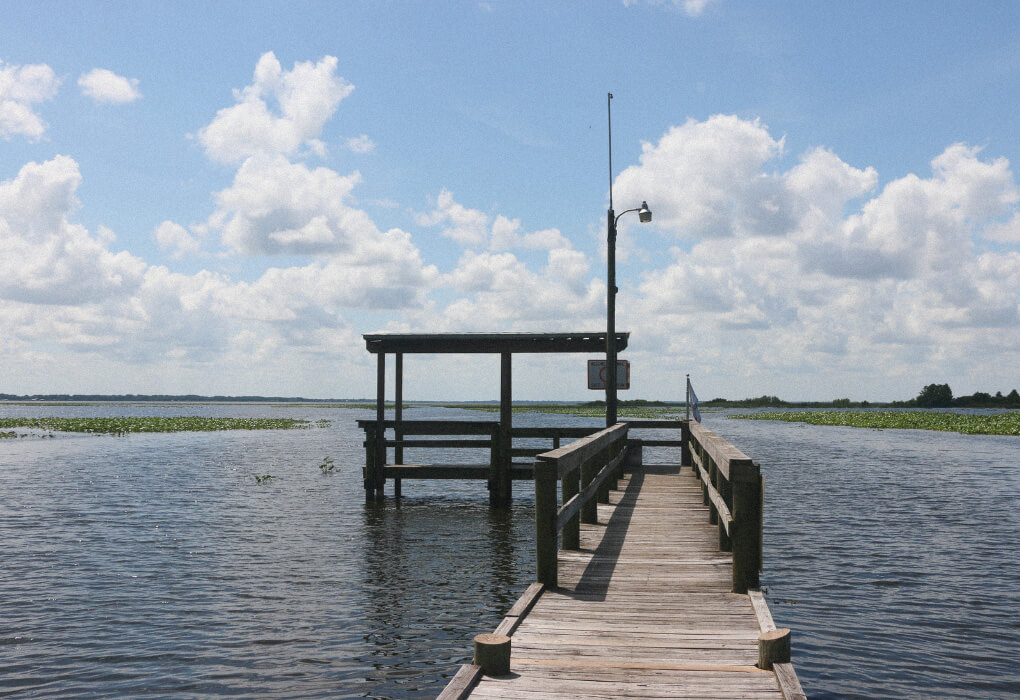 Just five miles northeast of Lake Placid, we have Lake Istokpoga. This beautiful locale has one of the highest catch rates for largemouth bass population in all of Florida.
Black crappie, locally called specks, largemouth bass, and many other fish bite in Florida's Lake Istokpoga.
The banks of this lake hold a thick cover of bulrushes, cattails, lily pads, eelgrass, hydrilla, and other water plants.
Live bait, such as shad, bluegill, shiners, or other baitfish, is often the best choice to get a bite.
From the piers and docks, you have plenty of room to fish. Whether you want to launch a boat onto the calm lake or hang off of the dock, any of your favorite fishing techniques can work efficiently.
Lake Tohopekaliga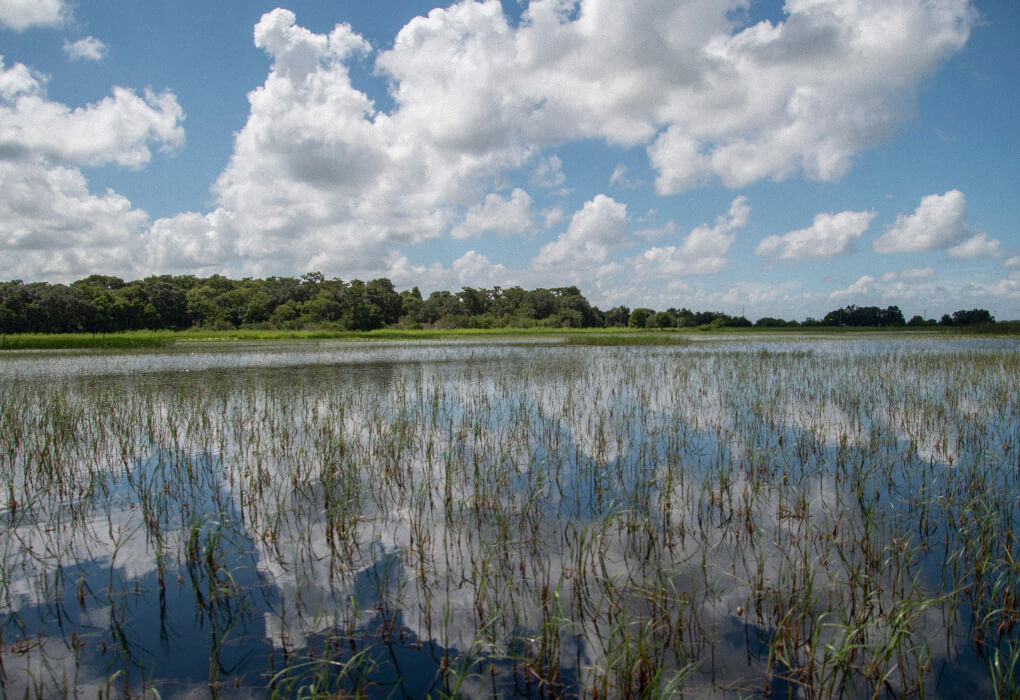 Last on our list of best bass fishing lakes in Florida is Lake Tohopekaliga, more commonly called Lake Toho. This historic lake is the largest in Osceola County, bordering Kissimmee and flowing into Orlando's Shingle Creek.
Lake Toho has artificial fish attractors, helping to popularize its reputation as a key fishing area.
The lake's management team publishes these fish attractors on a map for visitors so that you can input them into your best fish finder.
By following this map, you can find the best possible fishing spots on the lake! Florida largemouth bass are central to the waters; you can also find bluegill, black crappie, and redear sunfish.
Docks and piers help you fish over open water. Consider bringing a heavier line, as thick foliage and plant life near the banks can easily snag your line.
Buzzbaits, swimbaits, and crankbaits all find great success on Lake Toho. Fill your tackle box with your favorite lures and make your way to the lake for a serene day of fishing over calm, clear water.
Tackling the Best Big Bass Fishing in Florida
If you're a bass fisherman, these ten lakes provide some of the best fishing in Florida, but the list is far from exhaustive.
You should explore the area around you or the locale you'll be visiting to see what best fits your schedule and location! Regardless of location, journeying to these ten lakes will surely give you some of the best fishing of your life.
If you have any questions or suggestions, leave a comment below!