We independently research, test, and recommend the best products; you can learn more about our review process here.
The best inshore spinning reel is smooth, durable, and well protected against the salt and sand. If you're an inshore saltwater angler and you're looking to step up your game, we've got six incredible reels below that are both beautiful and backed by some of the best brand names in the game.
A recent trip to South Florida really got me thinking about inshore fishing because for many years, I've used the same saltwater rod and reel setup without thinking about the difference between inshore and offshore fishing.
Having a dedicated saltwater reel for inshore fishing will help you step up your game with just the right features to catch the fish you want.
Comparison Table – The 6 Best Inshore Spinning Reels
Image
Product
Rating
Price

Best Overall

Gear Ratio: 6.0:1 – 6.2:1
Weight: 5.6 ounces
Bearings: 6+1
Line Capacity: 10/95, 15/85, 20/65 – 2/270, 4/140, 6/110

Amazon

Best Runner-Up

Gear Ratio: 6.2:1
Weight: 10.3 ounces
Bearings: 5+1
Line Capacity: 255/6, 175/8, 140/10

Amazon

Best Budget-Friendly

Gear Ratio: 5.0:1
Weight: 9.5 ounces
Bearings: 7+1
Line Capacity: 8/360, 10/290 – 30/205, 40/165

Amazon

Best Saltwater Reel

Gear Ratio: 6.2:1
Weight: 10.1 ounces
Bearings: 9
Line Capacity: 200/8, 165/10, 120/12 – 250/15, 180/20, 130/30

Amazon

Most Rugged

Gear Ratio: 5.6:1
Weight: 13.6 ounces
Bearings: 6+1
Line Capacity: 8/170, 10/140 – 20/170, 30/120

Amazon

Best For Surf Fishing

Gear Ratio: 4.8:1
Weight: 19.2 ounces
Bearings: 3+1
Line Capacity: 10/300, 12/265, 16/170 – 30/245, 50/210, 65/130

Amazon
---
Dive Deeper: In Depth Reviews of Our Favorite Inshore Spinning Reels
Shimano Stradic Ci4+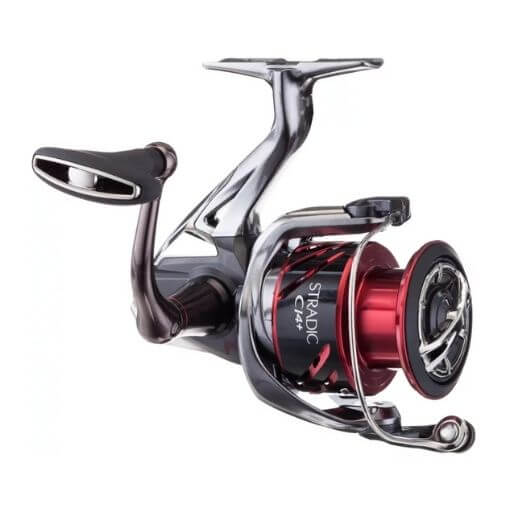 BEST OVERALL
Specs
Gear Ratio: 6.0:1 – 6.2:1
Weight: 5.6 ounces
Bearings: 6+1
Line Capacity: 10/95, 15/85, 20/65 – 2/270, 4/140, 6/110
Pros
Extremely smooth
Premium materials
Increased corrosion protection
Cons

What Do We Like?
The Shimano Stradic is the best inshore spinning reel for a variety of reasons. First, you get the latest and greatest technology from one of the leading manufacturers in fishing. They've made the reel lighter than ever before and smoother as well.
X-Ship technology improves the friction between the gears and spool which helps enhance the overall smoothness and performance of the reel. What this means is that you'll be able to cast longer distances because the reel won't be working against itself to work with your momentum. If you fling it, it'll go.
You also get the best Hagane gearing and body that will not only last long but it will continue to perform for years to come. This design reduces flexing on the internals when you're battling a larger fish than you bargained for.
For example, you just so happen to pull in a 30lb snook that you weren't expecting while fishing for peacock bass. When something like that happens we tend to try for a little until either the line snaps or we cut it ourselves because we know we're not bringing it in and we don't want to burn up the reel.
You won't have that problem here. Between the Hagane body, 20lb drag, and Coreprotect technology, you're getting one of the most perfect inshore reels ever made.
What Needs Improvement?
The main issue we see with this reel is the lack of an anti-reverse switch. Something like this wouldn't bother me personally especially for inshore fishing because you may want the drag to engage rather than trying to back reel. Anti-reverse switches are more applicable with smaller fish in my opinion when you're trying to get a really solid hookset.
Price could also be an issue for some with this reel. It's a premium product thus meriting a premium price. The good news is, you won't have to worry much about going with the Shimano Stradic and I've always put this reel on a pedestal as one of the best spinning reels in general.
Overall Summary
What can I say that I haven't said already? It's the best inshore spinning reel, no contest. Shimano packs a lot of technology into this reel and not to mention the fact that it looks incredible. It's eye-catching, functional, high-performing, and long lasting from a brand I love. Go for it, you won't be sorry!
Penn Battle II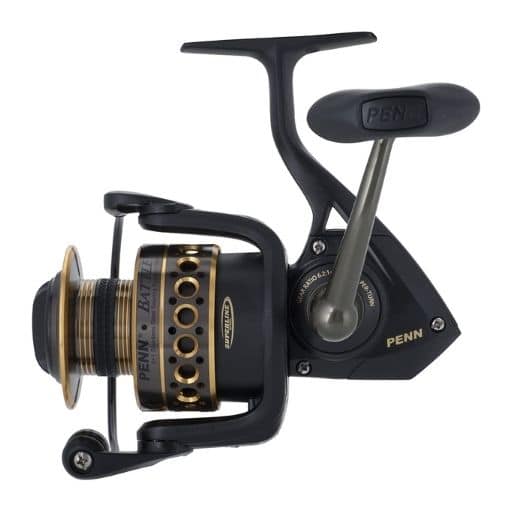 Gear Ratio: 6.2:1
Weight: 10.3 ounces
Bearings: 5+1
Line Capacity: 255/6, 175/8, 140/10
Pros
Exceptional drag and capacity
Smooth operation
Great anti-reverse
Cons

What Do We Like?
If you know anything about me, you know that I'm a big fan of Penn fishing products and the Penn Battle is a line of reels that is always on my radar. It's a bit bulkier than the Shimano Stradic but that doesn't come without its benefits either. All the washers use a performance-based saltwater grease so they won't break down or corrode over time.
You also get the strong and durable metal side plate and body. The entire thing is complete metal from top to bottom with a heavy-duty bail that you can tell by looking at it, is made for saltwater anglers.
Penn continues to pull out all the stops by throwing in a high-quality anti-reverse bearing that will snap quickly allowing you to set the hook and move on without feeling like there is an interruption in your retrieval.
Best of all (if all of this wasn't good enough for you) this reel comes in less than $200 so it's pretty affordable as well.
What Needs Improvement?
Penn freshwater spinning reels and saltwater reels are great but there's one primary reason why this reel took second place. It's heavy. It's double the weight of the Shimano Stradic and it's one area that I've noticed Penn doesn't address as much as some of the leaders like Shimano, Daiwa, and Lew's. Penn lags behind in terms of reducing the weight of their reels.
That said, some people prefer inshore spinning reels with a big more bulk to them. It'll make you feel more confident if you're chasing larger fish and they have a number of different model sizes to help you choose the right one for you.
Overall Summary
The Penn Battle II easily earns its spot as one of the best inshore spinning reels because it comes from a reputable company, is extremely durable, great performance, and comes at an affordable price that fits into most budgets.
KastKing Megatron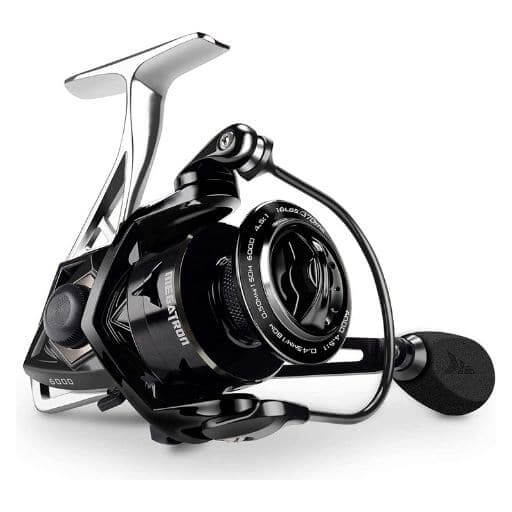 Gear Ratio: 5.0:1
Weight: 9.5 ounces
Bearings: 7+1
Line Capacity: 8/360, 10/290 – 30/205, 40/165
Pros
Five different model choices
Rugged design
33 pound max drag
Very affordable
Cons
A lot of plastic on the reel

What Do We Like?
With a name like "Megatron" you're probably expecting something from Daiwa but nope, we have a KastKing reel here for you. It has a little slower of a gear ratio than some of the others we've recommended so far which is becoming of a saltwater reel anyway so that's not a big deal.
It's also got a bit of weight but that's because you have quite a few different model options to choose from. I'm reviewing the 3000 size so that's where I'm getting these numbers from but 9.5 ounces isn't unreasonable, but it's not the most desirable.
You do get a 7+1 bearing system which is buttery smooth and the rigid aluminum frame is built to last long and also look great.
I think the most impressive feature of this reel is the 30 pound max drag and from my research and experience, it doesn't look like anyone has any complaints about the drag system. 30 pounds is wildly impressive for a reel that costs less than the tank of gas that gets you to the lake.
What Needs Improvement?
Improvements? There's a little more plastic on the reel than I'd like. The handle is mostly plastic and much of the hardware holding the handle in place is plastic as well. I feel they had a chance to really take this reel to a level I've never seen from KastKing but they fell just short. But, keep the price in mind when considering this as a major or minor con.
Overall Summary
It's an incredible reel, let's get that straight. It's built for saltwater fishing and inshore is the right choice. If you want to step up to the 5000 or 6000 model size you're going to increase the weight but also increase the max drag to 39.5 pounds to handle larger fish. It's a durable and high-performing reel that comes at a price that's hard to even believe.
Penn Clash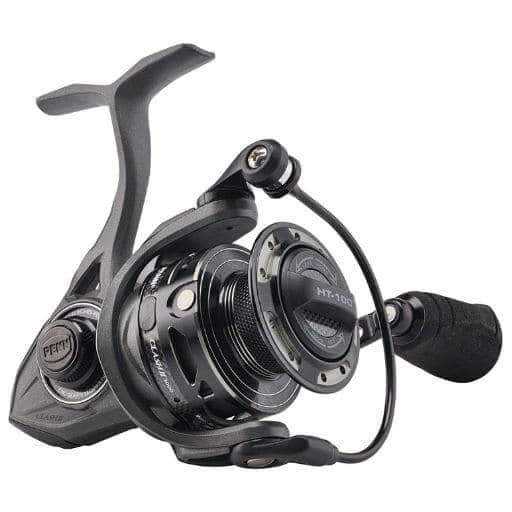 Gear Ratio: 6.2:1
Weight: 10.1 ounces
Bearings: 9
Line Capacity: 200/8, 165/10, 120/12 – 250/15, 180/20, 130/30
Pros
Lighter than the Battle II
Solid drag system
Durable CNC machined internals
Cons
Lacking the durability of the Battle II

What Do We Like?
This is the ultimate battle of the Penn inshore spinning reels because everywhere you look you'll find a review that compares the Battle to the Clash and we're going to do the same. If you're looking for something that's a little lighter and easier to handle, the Penn Clash is the way to go. It's got a nice smooth drag system and it's still durable and well-built.
It comes with something they call Computer Numerical Control gears which means that the gearing is said to be more precise which results in a smoother and softer retrieval. This is interesting because I didn't notice this and a lot of other reviews say that the gears grind and it doesn't feel as smooth as they had thought.
One feature I enjoy is the Leveline Oscillation System which helps ensure that the line wraps evenly on the spool and it prevents tangles and backlashing if you're fishing in the wind.
What Needs Improvement?
There are two primary issues with this reel. First, it doesn't possess the same power and durability as the battle. There's no arguing that and it's not designed for that, it's meant to be lighter and more versatile.
Number two is the max drag. You're only getting 20-25 pounds of drag on a good day which is a bit less than the Battle II and something you should consider.
Overall Summary
Regardless of the negatives, if you can put yourself past them – this is a solid inshore spinning reel. I'm a fan of Penn products and I think that this reel is just the right balance of weight and power for most people.
Daiwa Saltist Back Bay LT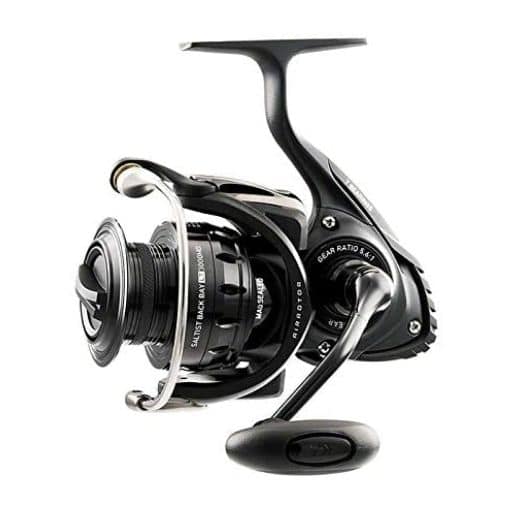 Gear Ratio: 5.6:1
Weight: 13.6 ounces
Bearings: 6+1
Line Capacity: 8/170, 10/140 – 20/170, 30/120
Pros
State of the art technology
Stainless steel construction
Super smooth
Cons
Weight
Issues with saltwater corrosion

What Do We Like?
I wanted to include the Daiwa Saltist Back Bay LT in this saltwater spinning reel review because this is personally one of my favorite reels to use for inshore fishing. While it might not fit the bill that everyone is looking for, it's a great choice for a number of reasons.
First, it has a unique design with the air bail system that optimizes its performance against larger fish by preventing any sort of flexing or moving of the internals. The result is a smoother retrieval making it easier for you to pull larger fish into the boat.
The primary shaft has magnetic oil which helps repel saltwater. If you've never seen this before, it's one of the coolest things I've ever seen. The oil clings onto the internals and creates a protective barrier against corrosion.
Whenever you see the letters LT after a Daiwa reel it means that it has the light and rigid design concept that reduces the overall profile of the reel while maintaining a certain level of strength and durability.
What Needs Improvement?
The downside here is that this reel does have quite a few issues that could be a problem. It weighs a bit more than we would like at 13.6 ounces even with all the special weight reducing technology.
There are also some issues with saltwater getting in and impacting the internal bearings and washers. If that happens, the reel is as good as done and will require repairs. In most cases, the manufacturer warranty will cover that but it's still something you don't want to have to worry about.
Overall Summary
Overall it's one of the best reels ever made. I think it's a great option for both salt and freshwater fishing and it boasts some of the best reel technology to hit the market in a long time.
Shimano Baitrunner OC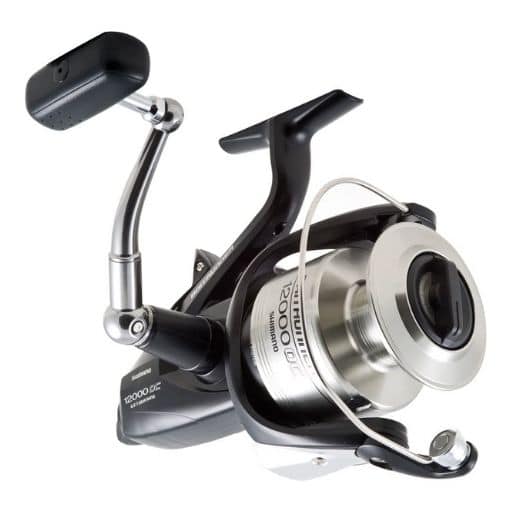 Gear Ratio: 4.8:1
Weight: 19.2 ounces
Bearings: 3+1
Line Capacity: 10/300, 12/265, 16/170 – 30/245, 50/210, 65/130
Pros
Sturdy and durable
Stainless steel ball bearings
Well-balanced
Cons

What Do We Like?
Let's say you're looking for something a little different. The little Shimano inshore reels aren't cutting it and you'd like something with a little more meat on it. This is that reel. The Shimano Baitrunner is the ultimate surf reel that comes in three different sizes with a nice and slow 4.8:1 gear ratio. It's easy to maintain and the aluminum spool offers durability to help with battling larger fish that you'll encounter offshore.
You still get some of those small reel features though like the Leveline Oscillation system and the Dyna Balance which helps balance the reel out and distribute the weight of the rotor to create a smoother operation.
What Needs Improvement?
The first thing to address is weight. It's the heaviest reel on this list but that's because we're not expecting you to go chasing largemouth bass with this. It's a surf reel or something you could fish inshore canals for snook and tarpon.
Overall Summary
If you're in the market for a reel that is easy to maintain, large, durable, and sure to hold up against almost anything, this is your guy. You can use it for both inshore and offshore fishing. If you're trying to dabble in both, you could kill two birds with one stone by picking up this reel.
What Are Inshore Spinning Reels?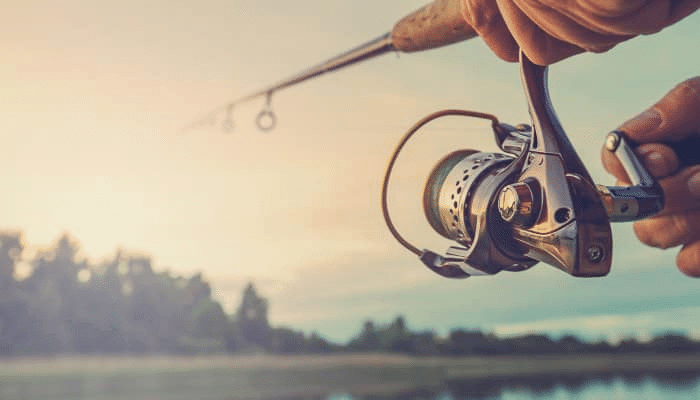 Now that you've seen the best inshore spinning reels, let's talk about them. In fishing, we have a few different styles based on the type of water you're fishing. Anyone who fishes for small panfish and bass in ponds and lakes is generally referred to as a "backwater" angler.
If you fish saltwater canals and lakes but don't fish off the coast in the open water, that's called "inshore" fishing.
Fishing off the coast in large boats with big tackle like you see in the TV shows is called, "offshore" fishing.
Those who fish using long poles and super heavy tackle to get past the waves on the beach are called "surf" fishermen.
There are a variety of different terms to describe all these fishing styles but that is the general overview.
So, if we're talking about an inshore spinning reel, we're talking about a reel that anglers will use to fish saltwater canals and lakes. This piece of fishing equipment comes with its own set of unique characteristics and attributes.
What to Look for in the Best Saltwater Spinning Reels?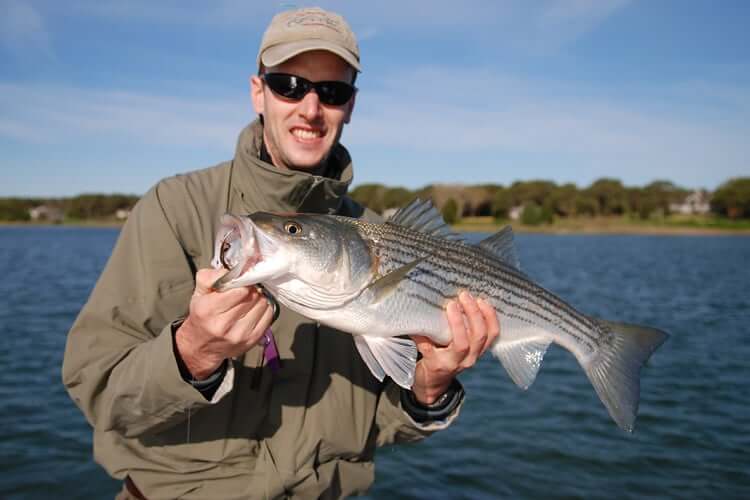 What exactly are some of the characteristics and features you should look for in an inshore spinning reel? Let's break those down to help you make the most informed decision possible.
Material/Sealant
The most important thing to consider when fishing saltwater is the material of the reel and how well it's sealed to protect against saltwater. Stainless steel, aluminum, and graphite are the most popular materials but most saltwater reels will be stainless steel.
When I say sealant, I'm referring to the reels ability to keep saltwater, muck, and sand out of the internals. When you're using a spinning reel, you don't have as much protection as you would with the best baitcasting reel. Those are partially closed so it's harder for anything to penetrate the gear system.
Having a reel that contains the best corrosion-resistant materials is important. A hardened aluminum body, carbon fiber drag and drag washers are the best for optimal corrosion resistance.
One of the upsides of using a spinning reel for saltwater fishing is the fact that it's easier to rinse and flush because they're easier to tear down.
Drag
Having optimal and smooth drag is an important feature for all spinning reels. What's most important is that you have a sealed drag so the salt and sand doesn't get in. Ideally, you're looking for a max drag rating somewhere between 15-25 or higher. Keep in mind that as you get higher the reels generally get larger and heavier.
If you choose an inshore spinning reel with a drag rating that's too low, it decreases the overall size of the fish you'll be able to manage. If you're after big fish, you might want to size up your reel to the next model level to not only increase the drag but the drive gear and metal body as well.
When it comes to spinning reels and most types of fishing reels in general, the drag is always something that you'll have to play around with to figure out what suits your style and the fish you're chasing. There are many other features that are more important so don't let max drag deter you.
Line Capacity
The total line capacity is an important feature but not usually something inshore anglers need to think too much about. Chances are you're fishing in canals and lakes that won't carry any monster fish anywhere. The larger the fish you're targeting, the more capacity you'll need because the line will be thicker and you'll need more of it to give the fish some space to operate before hitting the spool.
Make sure you understand the difference between mono and braided line capacity as well. All reels will provide you with a monofilament rating that is separate from the braided one. The reel will not handle the same amount of braided line as it does mono.
Brand
Last but not least, I find brand to always be an important factor. When I'm shopping for food, drinks, cleaning supplies, and even appliances – brand isn't that important to me. But, when it comes to my fishing gear I care tremendously about the name behind the reel because there's a lot of history, expertise, and knowledge that goes into designing this gear.
Certain companies like Shimano, Penn, Daiwa, Abu Garcia, Pflueger, KastKing, and Okuma are so popular because of their reputation for putting out only the best of the best. Of course, there are hiccups here and there with every product but as a whole, these companies will give you the best chance of catching fish and they'll back up their products if they don't.
Final Thoughts
You've seen the best inshore spinning reel, you understand what these reels are, and you know what features to look for; now it's up to you. If you're in the market for an inshore spinning reel, any of the options above will do the trick, you just need to decide what features and characteristics are most important to you.