---
We independently research, test, and recommend the best products; you can learn more about our review process here.
Like kayaks, Jon boats are designed for small water fishing, such as ponds and creeks, but unlike kayaks, they weren't intended to be paddled. That's why a trolling motor is essential for fishing from a Jon boat.
This article will help you choose the best trolling motor for a Jon boat. There are several high-quality trolling motors, but the best Jon boat trolling motor overall is the Minn Kota Traxxis.
Before we get into the reviews, you should know I grew up fishing out of a Jon boat. I love how close you are to the water and the sounds of nature all around you. Just because it's a small boat doesn't mean you won't catch big fish!
Alright, I'm finished reminiscing.
Let's get going.
Top 3 Box Best Trolling Motors For A Jon Boat
In case you're in a hurry and just need to know what our best picks are, here are the top three, including our best overall, budget buy, and the trolling motor we feel worked best with a 12' Jon boat.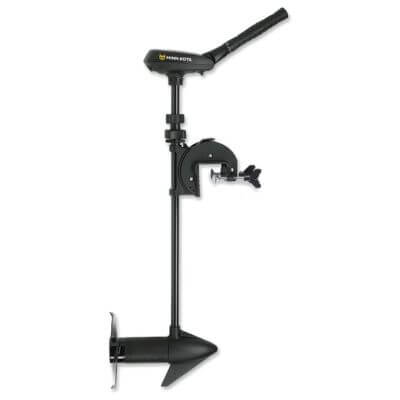 Best Trolling Motor Overall
Minn Kota Traxxis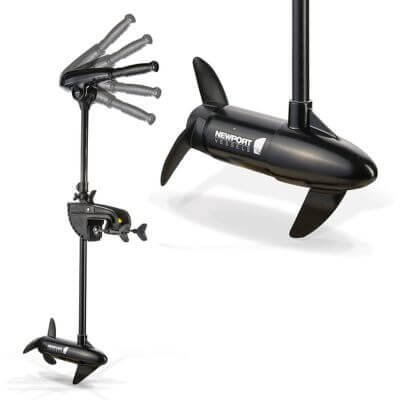 Newport Vessels X-Series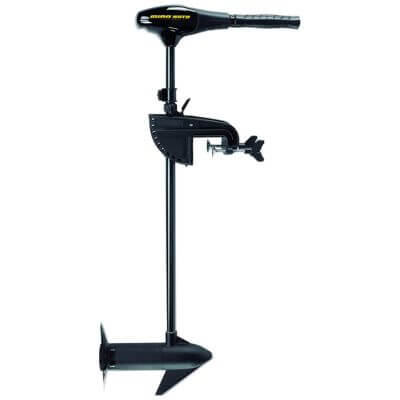 Minn Kota Endura C2
---
How We Selected Our Favorites
Unless you have yours loaded down, there's not too much to a Jon boat. Their flat hulls and light weight allow them to push into shallow areas with ease.
Trolling motors are the perfect size for this kind of watercraft but not all trolling motors are created equal.
Responsive steering, thrust versus weight, reliability and durability, and mounting capability are always at the top of our lists.
Additional features are nice, but if the thrust is so weak you can't tackle a swell, the steering is ponderous, or the motor is falling apart in a month, things like Anchor Lock and GPS mean nothing.
Thrust Capability: The general rule of thumb is 2 lbs of thrust for every 100 lbs of weight. Of course, weight is malleable, and we think about it from a fully loaded boat point of view.

Hull is important as well because the amount of drag it creates affects the thrust capability of the trolling motor.
Battery Power: For Jon boats, exceeding a single 12v is pretty rare and anything with up to 55 lbs of thrust is fine on a single, 12v setup. We're focused on what the trolling motor offers without having to pack the boat with batteries.
Durability: A trolling motor that's falling apart after a few months of use is an absolute failure. What materials go into the design?

Are they corrosion-resistant? Is the shaft flimsy? We're simply not in the business of promoting garbage.
Connectivity and features: A trolling motor that connects to your smartphone, has built-in GPS, a built-in transducer, and more is great but it's lower on the list because the performance and build come first.

This stuff is the icing on what should already be an excellent cake.
Price: Some of us just want to go fishing and have a reliable trolling motor. Not everyone wants to sell one of their kidneys on the black market to afford one of these things.

We include budget alternatives that don't compromise on durability and capability.
Best Trolling Motor Overall
Minn Kota Traxxis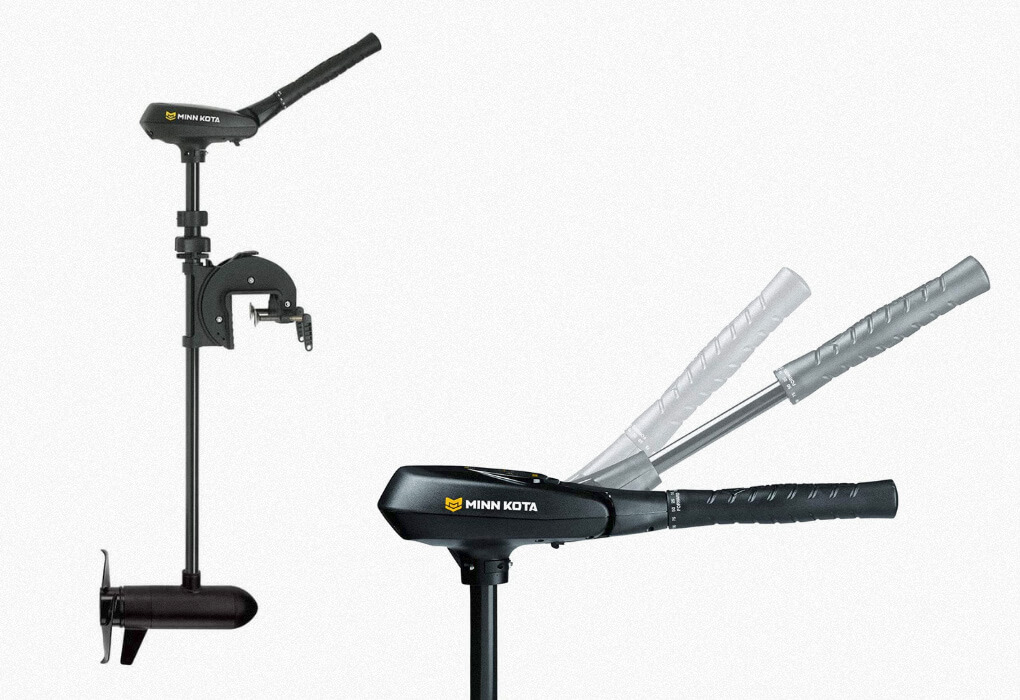 Key Features
36″ or 42″ Shaft
12-volts
55 lbs of thrust
Adjustable tiller handle
Why We Chose It
Minn Kota has been a staple in the trolling motor market for decades. Their products are trusted by professional anglers and weekend anglers across the globe. The Traxxis is time-tested and has proven itself again and again.
The Traxxis offers 55 lbs of thrust with 12v, so you won't have to lug around multiple deep-cycle batteries to get the power you need to propel your Jon boat.
The Digital Maximizer ensures your battery lasts as long as it possibly can by only drawing the exact amount of energy the motor needs at the moment.
If you're fishing in a small Jon boat, you're likely fishing areas with rocks and stumps, so the indestructible composite shaft will be one less thing you have to worry about while in the sketchy fishing holes.
I like the one-handed stow feature offered by this Minn Kota Motor because it's easier to stow and deploy. Work smarter, not harder!
If you've run a tiller handle trolling motor for very long, you know they can put you in an uncomfortable position.
That's why I love when trolling motors come with adjustable and extendable tiller handles because you can find a more comfortable place to operate the trolling motor.
The latch disengage and single-movement deploy and stow make this trolling motor so easy to work with
The tension control collar gives you a customizable level of control by tightening the steering performance when you need a hands-free moment and loosening it for ease of operation
The Quick-Lock Cam provides you with instant depth adjustments on the fly
Better battery and power control with the Digital Maximizer's extended run-time experience
Vegetation is no longer an issue with the Weedless Wedge 2 Flare propeller design
I recommend the Minn Kota Traxxis to anyone who owns a Jon boat because it offers all the essential features you need without breaking the bank. That's why I rated it as the best electric trolling motor for a Jon boat overall.
Upgrade your boating game with Minn Kota Traxxis. Buy now and experience the power and precision for yourself!
Best Budget Option
Newport Vessels X-Series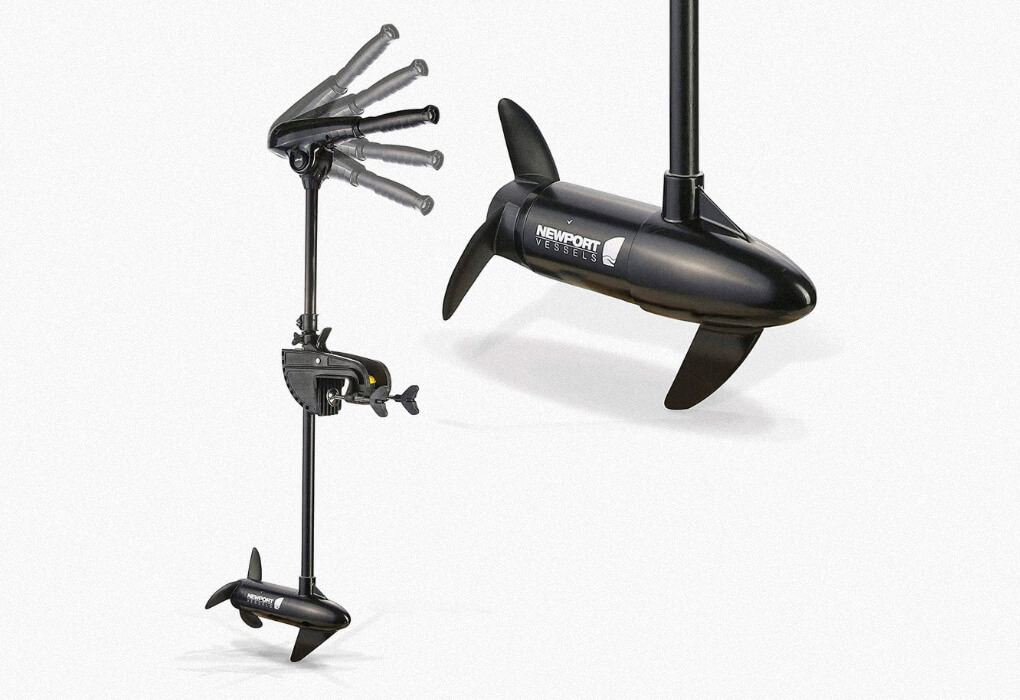 Key Features
36″ Fiberglass shaft
12v
55lb thrust
Eight speeds: Five forward speeds and three reverse speeds
Saltwater and freshwater capable
Why We Chose It
Newport Vessels is a relative newcomer to the trolling motor market. They also manufacture inflatable boats most trolling motors are designed to fit.
While I'm fine with inflatable boats, its not my cup of tea. Fortunately, the X-Series feels right at home on a jon boat.
The Newport Vessels X Series has 55 lbs of thrust at 12 volts, so you won't have to worry about having enough power.
You won't have to guess how much time you have left on your battery with a glance at the 10 LED battery indicator.
The five forward speeds give you the ability to find the speed you need to push against the wind or current. The three reverse speeds will back you out of an area as slowly or quickly as you need.
The telescoping handle and adjustable head unit keeps you comfortable while operating the trolling motor so you can relax and fish.
I never caught myself doing donuts out on a lake with an X-Series but, the point is, the versatility and speed options give you some extra finesse and control on the water.
The telescoping handle and tilting head provide comfort and control with a one-handed operation
It's built with corrosion-resistant materials, making it the perfect choice for coastal residents who navigate fresh, brackish, and saltwater or for saltwater-only anglers
The battery meter is great for anglers who like to go out on long fishing excursions and need a detailed battery level
The five forward and three reverse speeds offer a level of versatility in several fresh and saltwater environments
There's a Mossy Oak Camo version that offers a more complete camouflage package for waterfowl hunters
The Newport Vessels X Series is for any Jon boat owner needing a transom mount trolling motor.
I love that if you have any problems with your Newport Vessels products, their customer service gets you taken care of as quickly and hassle-free as possible. It's great that they stand behind their products.
It's not quite as versatile as the Minn Kota Traxxis and the X-Series lacks the rapid depth adjustment capability of our top pick but it's still a formidable trolling motor in its own right.
Don't settle for less. Upgrade your Jon boat with the reliable Newport Vessels X-Series trolling motor today. You'll get hassle-free customer service and a product backed by a company that truly stands behind it.
Read our full review here: Newport Vessels X-Series Trolling Motor review.
Best of the Rest
Minn Kota Endura C2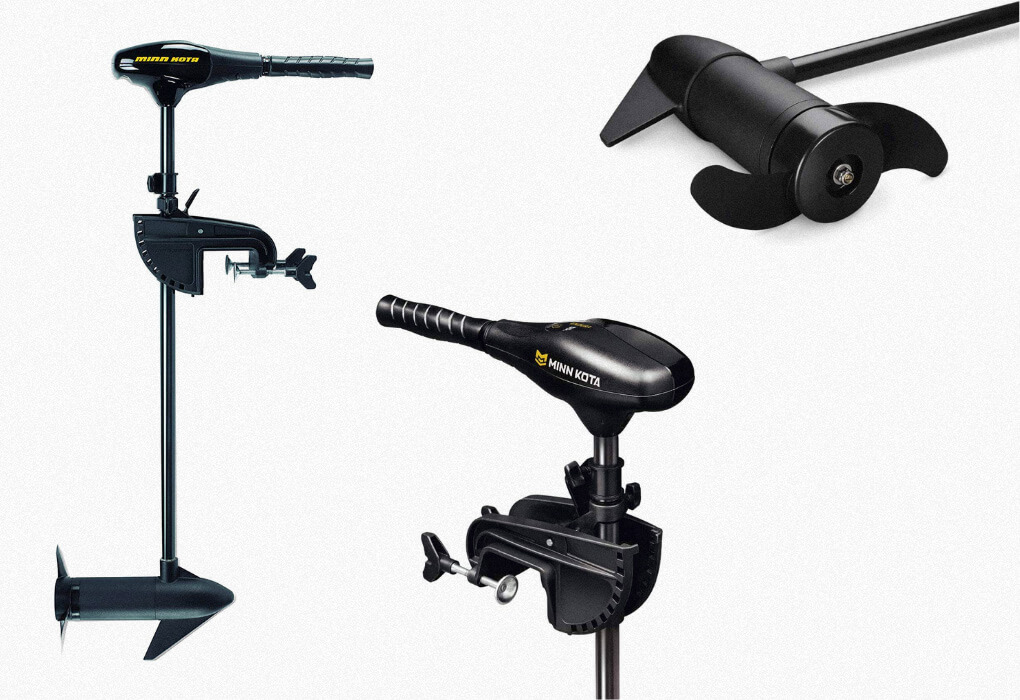 Key Features
12v
34, 40, 45, and 55 lbs of thrust
36″ shaft
Five/three-speed hand-control
Why We Chose It
Minn Kota has led the trolling motor market for decades, and it was only recently that they were overtaken by the Lowrance Ghost and Garmin Force for the top trolling motor.
Despite this slight setback, Minn Kota has many loyal customers who love its products, including the Endura C2.
The Endura C2 is very budget-friendly, so you don't have to worry about running it aground or hitting submerged structures, especially with the virtually indestructible composite shaft.
It's lightweight and runs off of a 12-volt battery so that you will save room and weight in your 12′ Jon boat.
I like a trolling motor with options and the Endura C2 comes in 30, 40, 45, 50, and 55-lb thrust choices. More freedom to match what you need on your particular Jon boat is always a good thing.
The 10-position, Lever-Lock Bracket features a quick release for rapid, multiple-angle adjustments on the fly, providing you with simple and effective control
The telescopic tiller pops out for an additional 6" so you have more reach and comfort level as you move around on the boat.
It's a very quiet trolling motor for anglers who prefer silence and are after fish that spook easily
The indestructible shaft is perfect for first-time boaters or newbie anglers who aren't used to trolling motors or running a boat on the water. It can withstand a great deal of punishment
A total of eight-speed controls (five forward and three reverse) offer versatility with lighter and heavier loads or in sticky situations
I wouldn't hesitate to put it on a 12-foot Jon boat because you don't need many features while fishing from a Jon boat. Upgrade your Jon boat without breaking the bank!
Get the affordable and reliable Minn Kota Endura C2 trolling motor today and enjoy fishing with just the needed features. Don't pay for what you won't use!
Newport Vessels NV-Series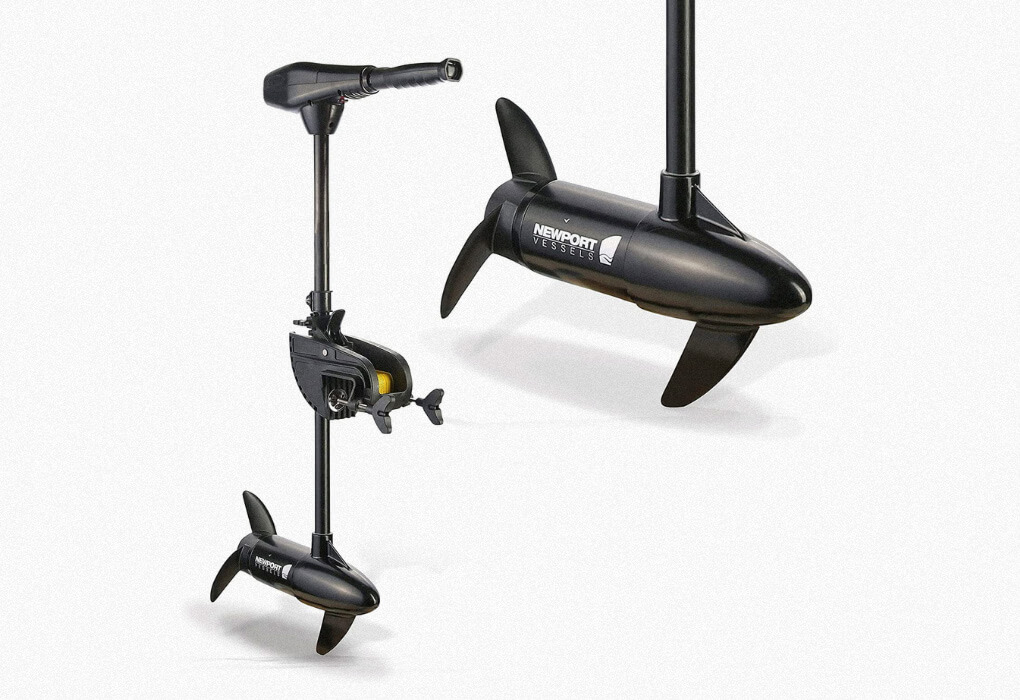 Key Features
12v or 24-volt
36lbs, 46lbs, 55lbs, 62lbs, and 86lbs of thrust
30″ or 36″ shaft
Eight speeds
Why We Chose It
Newport Vessels offers many excellent trolling motors for small boats and kayaks.
Their customer service is above average for the industry, so you can rest assured their warranty means something if you encounter problems.
The NV-Series trolling motor was originally created for Newport Vessels inflatable boats, but guess what? It's not just limited to that! Even if you have a 14′ Jon boat, this bad boy will work like a charm.
Jon boats and inflatables share so many similarities, including their weight capacity that surpasses that of kayaks and other small boats.
This means you'll have plenty of space to load up on multiple batteries, giving you more power and more fun on the water
This trolling motor model gives you plenty of options so you can choose which best suits your needs, and with a 14′ Jon boat, that often means you need more thrust.
82 lbs of thrust are more than enough to efficiently move your boat against the wind and current in any conditions that are safe to be in with a small boat.
Like many of Newport Vessels' trolling motors, the NV-Series is saltwater compatible, making it the perfect option for anglers who stride the line between fresh and saltwater
The solid, fiberglass composite shaft can take a beating, and it's completely adjustable for your depth needs
You have plenty of options with the 86, 62, 55, and 36-lb thrusts, so there is plenty of cruising speed for heavy to lightweight Jon boats
The built-in battery meter is a five-LED display on the top of the head for ease of access, and instant battery charge reads
You'll have plenty of versatility with the 8-speed control system and the 6", telescoping handle for easy operation and maneuverability
The minor flaw of the NV-Series is that the head unit isn't adjustable so it won't be as comfortable as the X-series.
That shouldn't stop you if you need the power to propel a 14′ or larger Jon boat. I highly recommend the Newport Vessels NV-Series to anyone with a 14′ Jon boat.
Read our full review here: Newport Vessels X-Series Trolling Motor review.
Factors To Consider Before Purchasing A Jon Boat Trolling Motor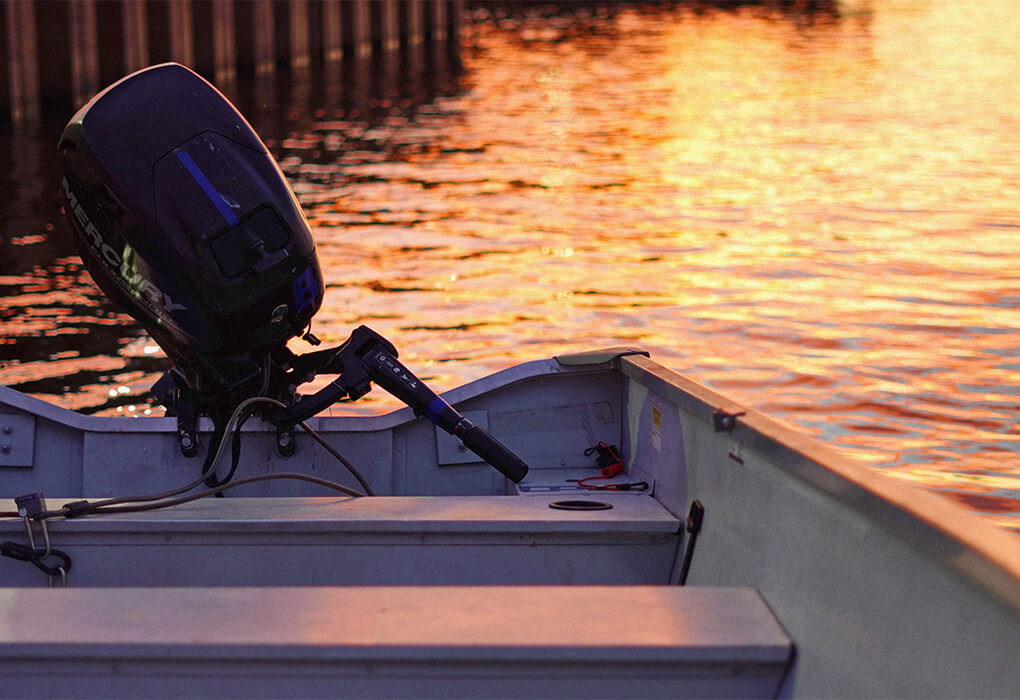 Jon boats aren't designed like bass boats because they're meant to be used differently. This means you'll have different needs than someone using a trolling motor mounted to a larger boat.
The following are a few reminders of what matters when buying a trolling motor for a Jon boat.
What Size Trolling Motor For A Jon Boat?
The ideal Jon boat trolling motor size is a 42″ shaft and 55lb thrust. Jon boats are relatively light, so it doesn't take much power to move them across the water, and you don't want a long shaft that ends up getting in the way.
Weight
The weight of the trolling motor won't matter because Jon boats have a decent weight capacity. However, the weight will add up, especially if you're using Lead-Acid Deep Cycle Batteries.
Also, keep in mind the more weight that's in the boat, the more your trolling motor must work to move the boat. So keeping down the total weight in the boat is very important.
Shaft Length
The shaft length is significant for two reasons. It would be best if you had a shaft long enough to fully submerge the lower unit so you could get the maximum amount of power and be as silent as possible.
If the shaft is too short, you'll hear the propeller splashing, and so will the fish.
The other reason is if you get a shaft that's too long, it will get in the way of your fishing and be less comfortable to operate. I would rather have a shaft that's too long than not long enough, so err on the side of caution.
Thrust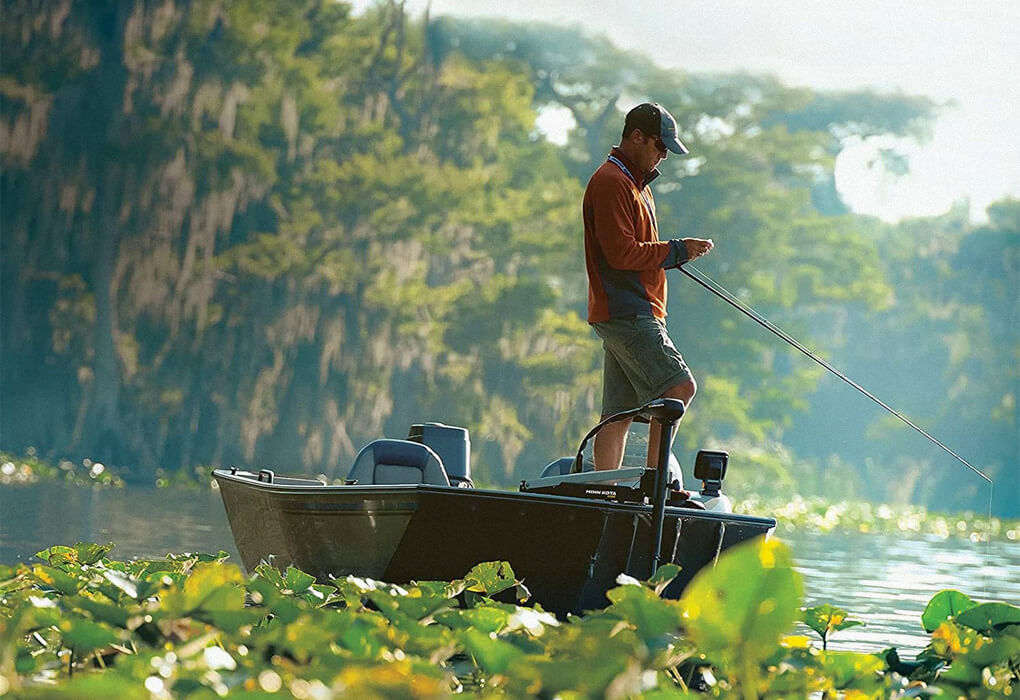 Thrust is the measurement of power the motor will exert in the water to propel you forward or backward.
The more thrust a motor has, the faster the boat will go; however, the motor will use more power from the battery and shorten the battery life.
12-volts usually offer a maximum of 55 lbs of thrust. You will likely have to go to a 24-volt system to get more thrust. This means you'll need another battery, which adds weight and takes up space.
Ideally, it would be best to choose a thrust that doesn't drain your battery after a day of fishing, and that's why I like the 55lb thrust range.
There's enough power to move you in nearly every condition, but a decent trolling motor shouldn't deplete your battery life after a few hours of fishing.
Standard Features
I love fishing from Jon boats because they are simple, and I believe the Jon boat trolling motor should be simple.
So, I don't think you need the latest and greatest trolling motors, as you'll find in my Lowrance Ghost vs. Garmin Force Review.
However, it would help if you still strived to get your money's worth and buy the best trolling motor for the price. I look for a trolling motor with the following features:
Adjustable Head Unit
An easy-to-read and access battery meter
Multiple forward and reverse options that don't drain the battery
Durability—a good trolling motor should withstand the tests of time and use
A telescoping handle so you can adjust your position in the boat without sacrificing control
Enough thrust to match my weight-load preferences and still get me up to a solid cruising speed
All the other features are a bonus!
You'll Also Need
Before you can head out on the water and enjoy a day of fishing, there are a few other items that you should purchase to make your day more enjoyable and keep your trolling motor properly functioning.
Trolling Motor Battery
Your electric trolling motor needs a source of power, and that's where a deep cycle or marine battery is helpful.
They are designed to be charged and drained just like your trolling motor will do. Trolling motor batteries come in various sizes and power ranges, so find the one that best fits your needs. That might be a 50Ah 12v or a 100Ah 24v.
Circuit Breaker
A circuit breaker will protect your trolling motor from power surges. Instead of replacing your trolling motor, you only have to press a button or flip a switch.
A 50 amp circuit breaker or fuse is what most manufacturers will recommend.
Battery Box
A battery box will protect your battery from the sun and water splashing onto it. It's not a must-have, but I would rather have one than not. Some Jon boats will have a built-in battery box, so you might not need it.
Jon Boat Trolling Motor Bracket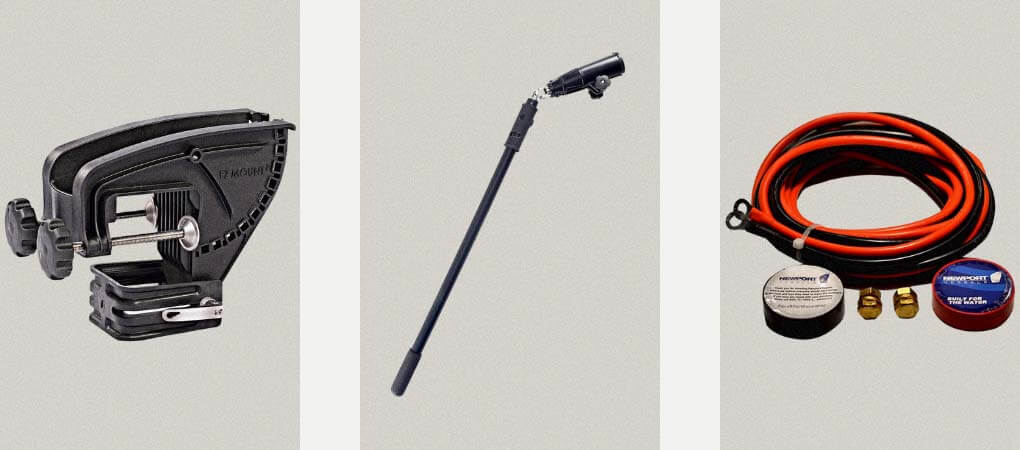 You might need a Jon boat trolling motor bracket if your transom is flimsy or too thick for the mounting bracket on the trolling motor. They're relatively inexpensive and convenient if you happen to need them!
Tiller Handle Extension
Sometimes the tiller handle on the trolling motor doesn't extend far enough out. That's when the tiller handle extension is a lifesaver.
While any extension is better than none, I prefer a U-joint for added comfort during operation.
Battery Cables
Battery cables are another item you may or may not need. It depends on how far apart your trolling motor and trolling motor battery are from each other.
Measure the distance between the two spots to ensure the factory cables will work if they don't, then order some battery cables.
Final Thoughts
The addition of a trolling motor to your Jon boat will change the way you fish. Purchasing the best trolling motor for a Jon boat, AKA the Minn Kota Traxxis, means you'll be ahead of the game.
However, if you need a trolling motor with a lot of power to push a large Jon boat, then the Newport Vessels NV-Series is the one you need.
Elevate your boating experience today! Choose from the best trolling motor options on the market – Minn Kota Traxxis for top-tier performance, Newport Vessels X-Series for budget-friendly quality, Minn Kota Endura C2 for affordability without compromise, and Newport Vessels NV-Series for the ultimate in power and versatility.
Upgrade your boat and maximize your fishing potential today!
Convinced I didn't list the best Jon boat trolling motor? Let me know below in the comments!