Last Updated on January 13, 2023
We independently research, test, and recommend the best products; you can learn more about our review process here.
Fishing from a pontoon is gratifying.
Well, if you ask me, fishing from anywhere is enjoyable!
The only thing that can enhance pontoon fishing is adding a trolling motor.
Don't worry if you're in a hurry.
I'm not going to sucker you into scrolling any further.
The best trolling motor for pontoon boats is the Garmin Force because it offers the latest features available.
A budget-friendly pontoon trolling motor option is the Haswing Cayman.
It has GPS Anchor and is half the price of the Garmin Force.
Now let's keep scrolling to discover the rest of the top five!
Comparison Table – Trolling Motor for a Pontoon Boat
---
Pontoon Boat Trolling Motor Reviews
Garmin Force
BEST TROLLING MOTOR FOR PONTOON BOAT OVERALL
Specs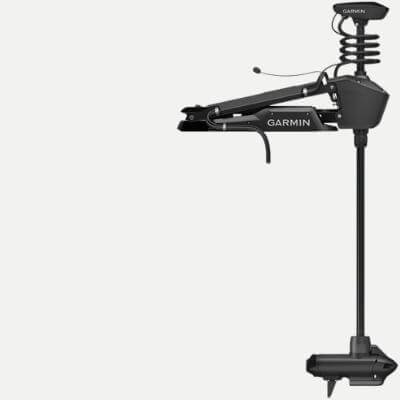 Thrust: 80lbs or 100lbs
Shaft length: 50″ or 57″
Volts: 24v or 36v
Mounting location: Bow
Control options: Wireless footpedal and wireless remote control
Pros
Powerful and efficient
Integrated sonar, ClearVu, and SideVu
Silent steering and operation
Anchor Lock
Cons
Expensive
Overkill for most anglers
Why We Chose It
Garmin has manufactured fish finders and many other electronics for decades. It wasn't until recently that they took the trolling motor market by storm.
The Garmin Force is a top contender for the best trolling motor ever created, but it comes at a very high price.
With 80 pounds of thrust, you'll be able to nearly ski behind your pontoon!
Okay, that might be a slight exaggeration, but you get the point. You will have more than enough power to propel your boat.
The best thing is that this power doesn't cost you efficiency, so your batteries won't run down as quickly as other trolling motors.
Since it's a bow mount trolling motor, you'll likely need the longer 57″ shaft.
Be sure to determine the proper shaft length before deciding on a trolling motor for your pontoon.
I love how silent it is so you won't spook fish, whether using the remote or foot pedal.
The Anchor Lock mode is easy to activate with a push of a button and holds you in place to check out what's below the surface with your Garmin fishfinder using ClearVu or SideVu technologies.
The biggest problem with the Garmin Force is the price tag. It's difficult to justify spending over $3,000 on a trolling motor that you're unlikely to use to its full potential.
Despite the expense, it's tough to argue against the Garmin Force being the best trolling motor on the market. The Lowrance Ghost is the only trolling motor that compares.
Newport Vessels Pontoon Series
BEST BOW MOUNT PONTOON TROLLING MOTOR
Specs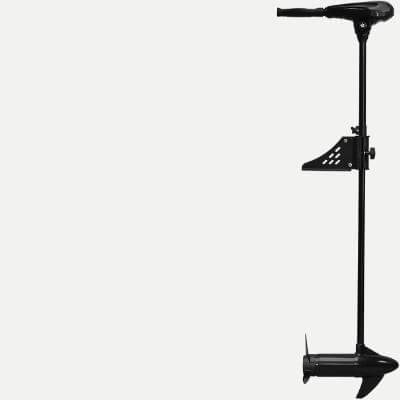 Thrust: 55 pounds or 86 pounds
Shaft length: 55 inches
Volts: 12-volt or 24-volt
Mounting location: Bow or Transom
Control options: Tiller handle
Pros
Inexpensive
Plenty of power
Designed for pontoons
Fiberglass composite shaft
Saltwater corrosion-resistant materials
Cons
Only tiller handle steering
Battery cables might be short
It doesn't allow for folding or tilting
Why We Chose It
Newport Vessels has manufactured quality trolling motors at an affordable price for over a decade.
I appreciate that they offer excellent customer service if you have a problem or concern. It shows they're dedicated to their customers.
The NV Pontoon Series has enough power to propel a large pontoon and a long enough shaft to keep the lower unit in the water when you encounter rough water.
It's designed for the bow or transom of a pontoon, so it has a tiller handle control. Depending on your preference, this can be a positive or negative feature.
Newport Vessels uses high-quality materials that are corrosion resistant so that you can use their products in saltwater or freshwater.
However, you might find the battery cables a tad short depending on where you're trolling motor batteries are located.
The mount also does not allow the trolling motor to fold or tilt, so you will have to raise it out of the water when it's not in use.
The Newport Vessels Pontoon Series is a budget-friendly option for the best bow mount pontoon trolling motor.
If you're looking for a feature-rich bow mount trolling motor, look into the Motorguide Xi5. It's much more expensive, but it has more features than the NV Pontoon Series.
You can check out a review on the Motorguide Xi5 here.
Motorguide R5
BEST TRANSOM MOUNT TROLLING MOTOR ON PONTOON
Specs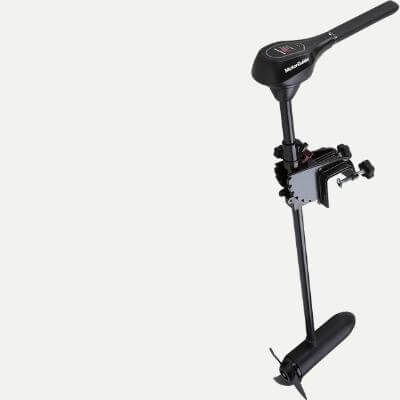 Thrust: 70lbs, 80lbs, or 105lbs
Shaft length: 42″
Volts: 24v or 36v
Mounting location: Transom
Control options: Tiller handle
Pros
Inexpensive
Digital Power Management
Seven position mount
The lower unit is constructed of solid steel and aluminum.
Cons
Subpar customer service
Short shaft
It might be difficult to mount to a pontoon
Why We Chose It
Anglers have trusted Motorguide for decades, and until recently, they've taken excellent care of their customers.
With 80 or 100 pounds of thrust, the R5 has more than enough to propel any pontoon boat against strong winds and currents.
Motorguide claims Digital Power Management increases the efficiency of the trolling motor by five times, so you shouldn't have to worry about running out of juice.
The materials that Motorguide uses are excellent, and the mount adjusts to the best fit, but the shaft might be short for some pontoons, and not all pontoons allow for a transom mount trolling motor.
The Motorguide R5 is inexpensive for a hand control transom mount pontoon trolling motor compared to the Newport Vessels L Series.
They're both equally priced with great customer service.
Haswing Cayman 24V Electric Trolling Motor
BEST SPOT-LOCK TROLLING MOTOR FOR PONTOON
Specs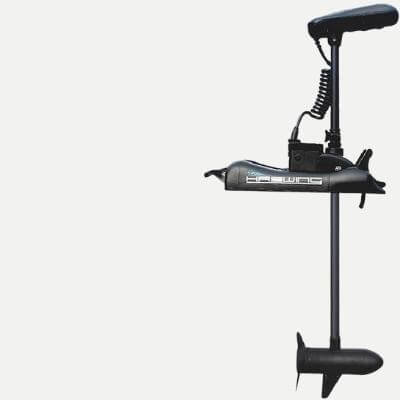 Thrust: 80lbs
Shaft length: 60″
Volts: 24v
Mounting location: Bow
Control options: Wireless footpedal and wireless remote
Pros
GPS Anchor mode
Multiple control options
Quiet electric motor
Powerful
Cons
Intermittent GPS reliability
Must use your phone for navigation
Why We Chose It
The Haswing Cayman has a few of the features of high-end trolling motors for an affordable price. The standout feature is the GPS Anchor Mode.
This is Haswing's version of Spot-Lock.
Using the trolling motor and your phone or another smart device, you can keep the boat locked in position while you fish.
You can activate the GPS Anchor Mode using the remote or your phone.
I'm not a fan of Haswing forcing anglers to use the Helmsman app on their smart devices for this feature to work, but it is better than not having the feature.
Depending on the package you select, you can purchase a foot pedal, remote, or both, so you have a plethora of control options on your pontoon.
Even though the Cayman is quiet during operation, it still has plenty of thrust, 80lbs actually, to propel you against strong currents and winds.
Some customers reported intermittent reliability with the GPS anchor. It would randomly disconnect from the Helmsman app, which is extremely frustrating while you're fishing.
The Haswing Cayman is one of the least expensive trolling motors to offer the Spot-Lock feature.
I know Haswing is a relatively unheard-of company, so if that makes you nervous, you might check out the Motorguide Xi3, which is also the best trolling motor for a kayak.
The Xi3 has a slightly shorter shaft and less thrust, but it also has a quick-release bracket and costs less.
Minn Kota Terrova Bow Mount with iPilot and Foot Pedal
BEST REMOTE CONTROL TROLLING MOTOR FOR PONTOON BOAT
Specs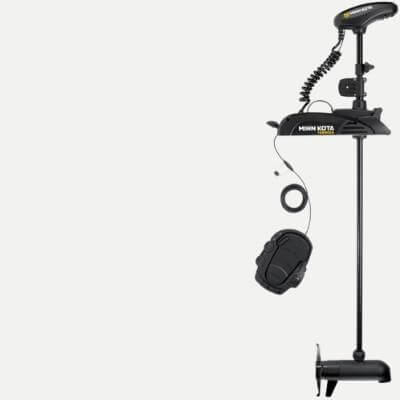 Thrust: 55lbs, 80lbs, 112lbs
Shaft length: 45″, 54″, 60″
Volts: 12-volts, 24-volts, 36-volts
Mounting location: Bow
Control options: Wireless remote or foot control
Pros
iPilot US2
The large LCD screen on the remote
The remote controls the motor, Spot-Lock,
iTrack Record/Playback, Backtrack, Cruise Control, and more
Lift-Assist
Digital Maximizer
Cons
Only a two-year warranty.
Expensive
Subpar customer service
Why We Chose It
Minn Kota was the leading trolling motor manufacturer for years until the Garmin Force and Lowrance Ghost entered the market.
Even though their product quality and customer service have suffered in recent years, they're still prevalent amongst anglers.
The Minn Kota Terrova with iPilot US2 offers one of the most advanced remotes for a trolling motor.
The large LCD screen makes controlling your trolling motor much easier because you clearly see the settings and options even in the sun.
Lift-Assist is perfect if you often change locations or don't like to lift a heavy trolling motor. It makes it easier to stow and deploy.
Digital Maximizer is Minn Kota's version of conserving battery life up to five times the standard length so you can stay on the water longer.
Since Minn Kota packed the Terrova with so many features, it comes at a high price.
Since you're spending thousands of dollars on a trolling motor, one would think that you'd receive excellent customer service.
Sadly that's not the case for many new Minn Kota customers.
So if you do have a problem, it could be a hassle to get it fixed, especially if it's after the warranty is expired.
Considering all of that, the Minn Kota Terrova still offers a tremendous remote control trolling motor.
Another remote-controlled Minn Kota trolling motor worth looking into is the Ulterra if you're looking for the most advanced trolling motor with auto-deploy and stow.
You can use the Ulterra remote to initiate deployment or stowing; this feature adds to the price, so the Minn Kota Ulterra costs more than the Terrova.
Buying Guide: Trolling Motors for Pontoon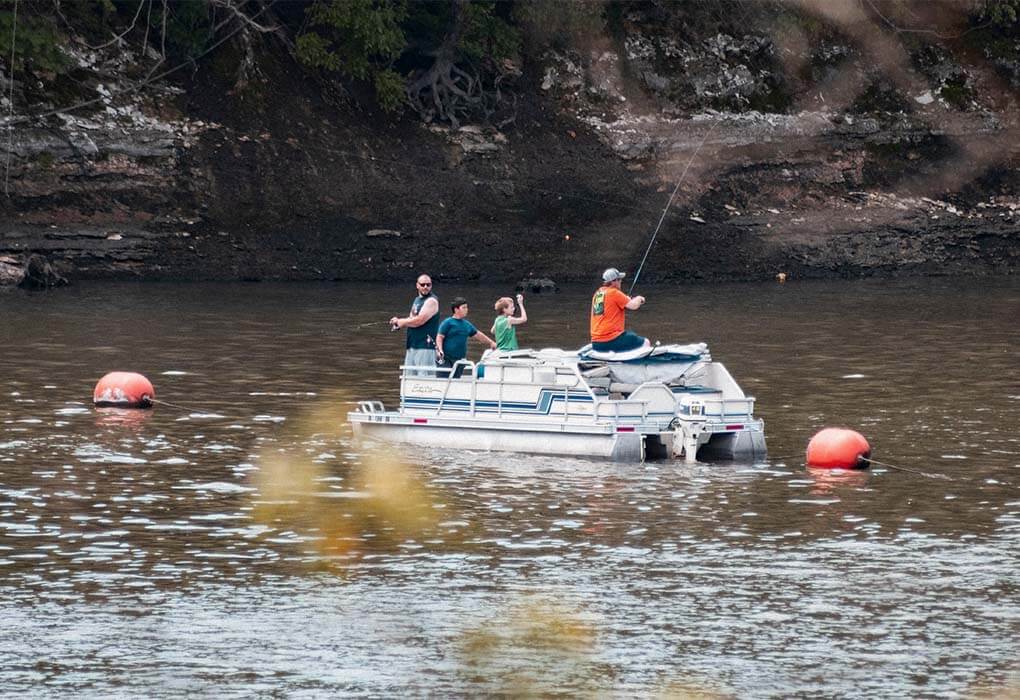 If you keep these considerations in mind when buying a trolling motor for pontoon fishing boats, you'll make a purchase you won't regret.
Thrust
The voltage of the trolling motor determines the maximum amount of thrust you can get out of the trolling motor.
So a 36-volt trolling motor and battery are more powerful than a 24-volt trolling motor and battery.
Eighty pounds of thrust is ideal for a pontoon boat. That way, you have enough power to overcome the wind and current when you encounter them.
A 12-volt 55lb thrust trolling motor will work, but it might struggle in windy conditions.
Shaft Length
Shaft length is critical because if you have a shaft that's too short, your lower unit will cause a commotion and spook the fish.
Plus, you'll lose thrust, so you won't have as much control over your boat as you'll need.
The ideal trolling motor shaft length depends on the height of your boat and mounting location.
Typically, you want your lower unit one foot under the water's surface.
For most pontoons, a 60-inch shaft will suffice.
Mounting Location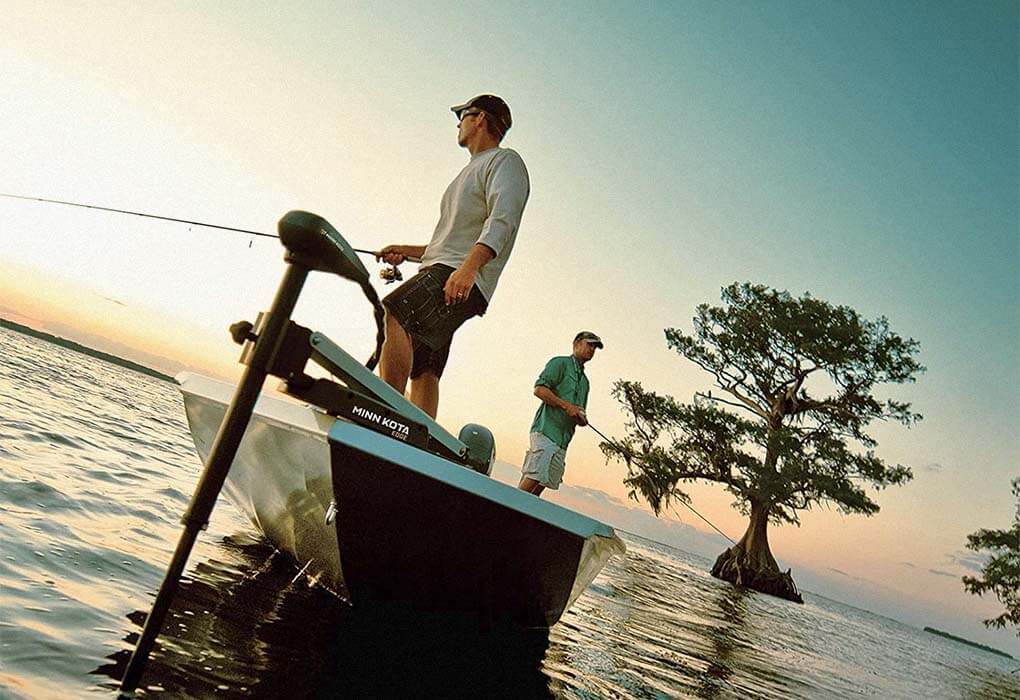 Where you want to mount your trolling motor will determine the features and price.
Bow mount trolling motors are generally more expensive because they have more features than a transom mount tiller handle trolling motor.
Features
The features are the primary determining factor for the price.
Suppose you want integrated sonar, remote control, autopilot, or GPS anchor.
In that case, it will cost more than a simple hand-operated trolling motor with an ergonomic telescoping handle, even if it has a battery meter.
If you plan to fish often, I recommend buying a trolling motor that has the option to upgrade to better features when you're ready.
Price
Stay within your budget if you have to wait and save up to purchase a trolling motor.
I know we all want the latest and greatest toys, but if we're honest with ourselves, we don't always need them and could catch just as many fish without them most of the time.
You'll Also Need
Once you've purchased a trolling motor, you'll likely need a couple of other items to make the most of your time on the water.
Trolling Motor Batteries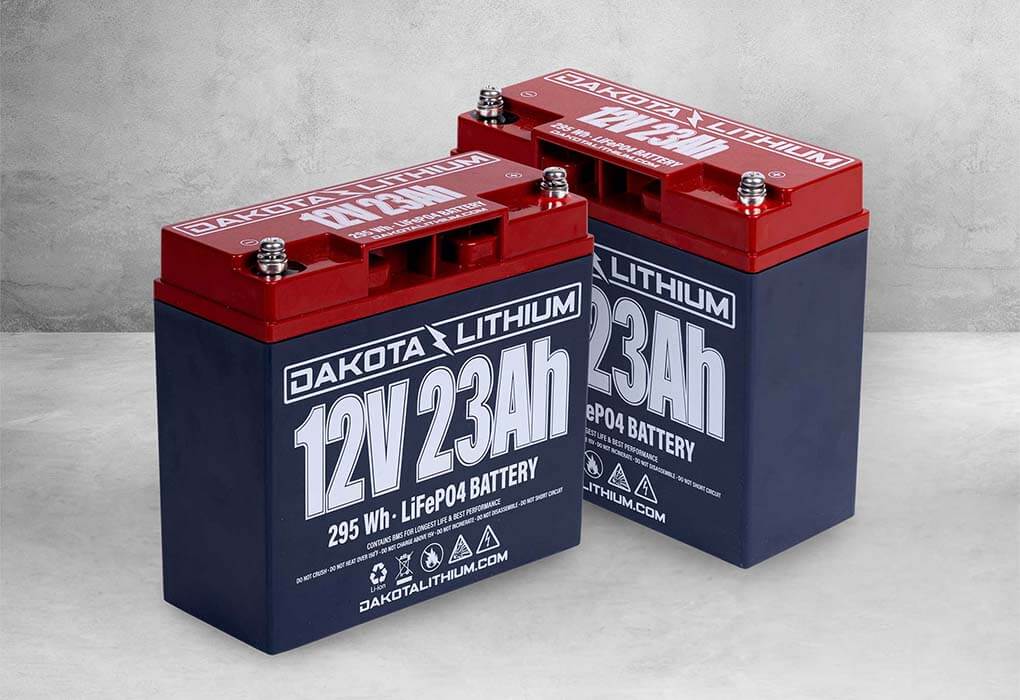 Unless you plan on using your trolling motor for a hood ornament, you'll need a way to power it!
We made it easy to decide which is the best trolling motor battery in this article, so go ahead and click that link so you can get on the water faster with a deep cycle battery.
I think Lithium-Ion batteries are the best on the market, but not all trolling motors are compatible, so you need to check and see before purchasing a marine battery for your trolling motor.
Fish Finder
Fish Finders don't guarantee that you catch more fish, but they sure make it easier to locate fish quickly.
Adding a fish finder to your pontoon can help you some days if you know how to read it correctly.
Lucky for you, we wrote the article how to read a fish finder like the pros to cut down the learning curve.
Final Thoughts
There are several excellent trolling motors on the market.
However, when it comes to the best trolling motor for pontoon boats, it has the be the Garmin Force interchangeable with the Lowrance Ghost.
Or, if you're in search of a basic trolling motor, you can't go wrong with the Newport Vessels Pontoon Series.
We rated it as the best bow mount pontoon trolling motor because it's inexpensive and gets the job done.
We love hearing from you, so don't forget to leave your questions or comments below!
About Post Author