---
We independently research, test, and recommend the best products; you can learn more about our review process here.
The best trolling motor for pontoon boats is the Garmin Force because it offers the latest features available.
The Garmin Force is a powerful trolling motor with a built-in, high-end transducer including Ultra High-Definition sonar.
Garmin took its best fish-finding technology and effectively merged it with a whisper-quiet, trolling motor with 80 lbs of thrust.
The trade-off is, of course, the high price point.
However, price points aside, we chose these trolling motors because we understand the hydrodynamics at play with a pontoon boat (whether it features planing or displacement hulls), and the trolling motors necessary to move them.
Top 3 Trolling Motors for Pontoon Boats
Don't worry if you're in a hurry. I'm not going to sucker you into scrolling any further.
Though my experience with the Garmin Force leads me to believe it's the crown jewel of the trolling motor industry, it's not the only trolling motor we've put our hands on.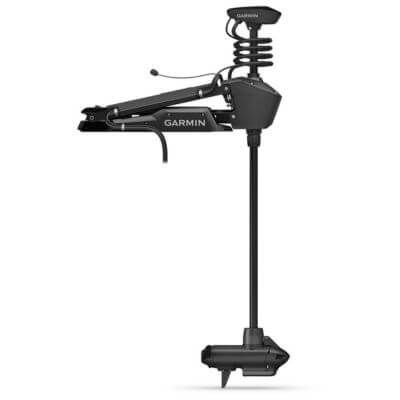 Best Overall Trolling Motor
Garmin Force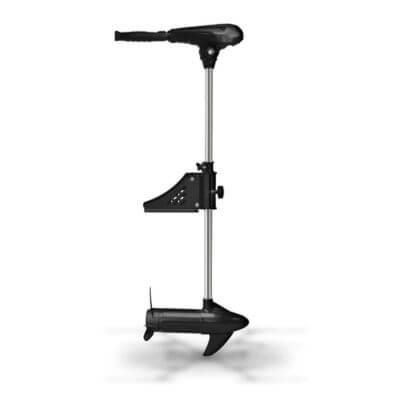 Newport Vessels Pontoon Series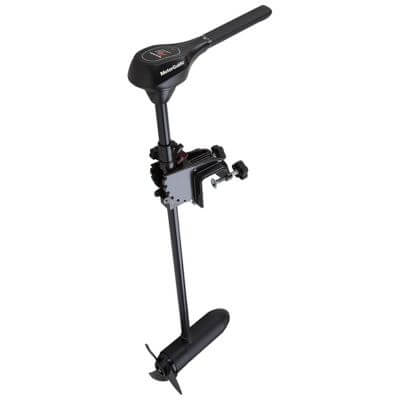 MotorGuide R5
---
How We Selected Our Favorites
The best way to test a trolling motor is to hook it up to a solid battery, mount it, and put it in the water.
Most pontoon boats feature displacement hulls (planing hulls are a growing commodity) and there's a lot more boat-water contact friction/drag than you'll get on a kayak.
That was foremost in mind while testing these motors.
Brand– You can't escape this one. Sure, there are a lot of things out there that sell on the power of the brand alone. However, companies like Garmin, Minn Kota, Motorguide, and Newport Vessels have proven track records.

Plus, as experienced anglers, we know the value of brand loyalty out there.
Mount and Mount Location – It can't be a convoluted mess. The fact is, most trolling motors mount best on the bow (pontoon boats specifically) but it's not just about the "where."

No one wants to drop $3k and then spend countless hours trying to finagle the trolling motor onto the boat, regardless of where it mounts.

Shaft Length – While it has little to do with the capabilities of the trolling motor, it's something we strongly consider. Pontoon boat decks are often higher, necessitating longer shafts that still have to retain a level of quality and rigid design.

Thrust – It's all about the hydrodynamics and pontoon boats don't have great hydrodynamics. Even with planing hulls, there are still a lot of boats touching water.

Always take the total weight of your pontoon (passengers and all), divide it by 100, and multiply the result by 2 to get your thrust.
Best Trolling Motor For Pontoon Boats Overall
Garmin Force
Arkansas Pro Angler, Fred Roumbanis, "I had five guys on the boat the other day and we got it up to 4.4 mph. That's really fast. The best part of that is that the motor uses 30 percent less power."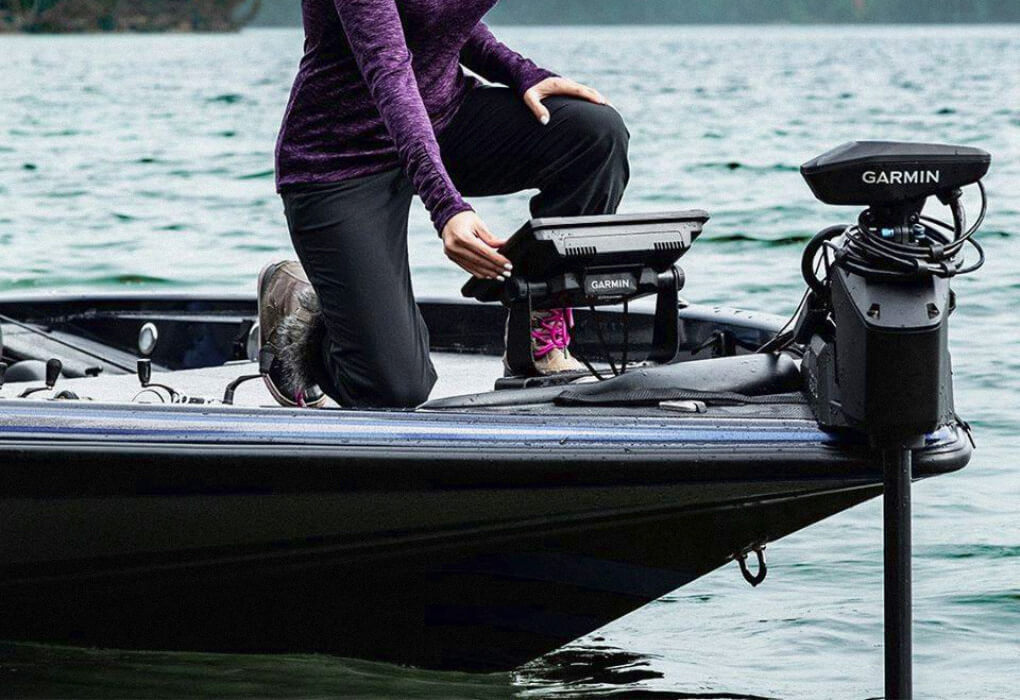 Key Features
Thrust: 80lbs or 100lbs
Shaft length: 50″ or 57″
Volts: 24v or 36v
Mounting location: Bow
Control options: Wireless foot pedal and wireless remote control
Why We Chose It
Garmin has manufactured fish finders and many other electronics for decades. It wasn't until recently that they took the trolling motor market by storm.
The Garmin Force is a top contender for the best trolling motor ever created, but it comes at a very high price.
With 80 pounds of thrust, you'll be able to nearly ski behind your pontoon! Okay, that might be a slight exaggeration, but you get the point. You will have more than enough power to propel your boat.
The best thing is that this power doesn't cost you efficiency, so your batteries won't run down as quickly as other trolling motors. Since it's a bow mount trolling motor, you'll likely need the longer 57″ shaft.
The features and benefits of the Garmin Force are numerous, which is the driving force (pun intended) behind the high price point.
The Anchor Lock mode is easy to activate with a push of a button and holds you in place to check out what's below the surface with your Garmin fishfinder using ClearVu or SideVu technologies.
The biggest problem with the Garmin Force is the price tag. It's difficult to justify spending over $3,000 on a trolling motor that you're unlikely to use to its full potential.
However, the built-in sonar, autopilot, and GPS also offset the cost of having to purchase separate devices.
It also comes with a simple-to-use remote which allows you to control every aspect and feature of the Garmin Force.
Despite the expense, it's tough to argue against the Garmin Force being the best trolling motor on the market. The Lowrance Ghost is the only trolling motor that compares.
You can see how these two stacked up against each other in our Lowrance Ghost vs Garmin Force review!
Read our full review here: Garmin Force Trolling Motor review.
Best Bow Mount Motor for Pontoon Boats
Newport Vessels Pontoon Series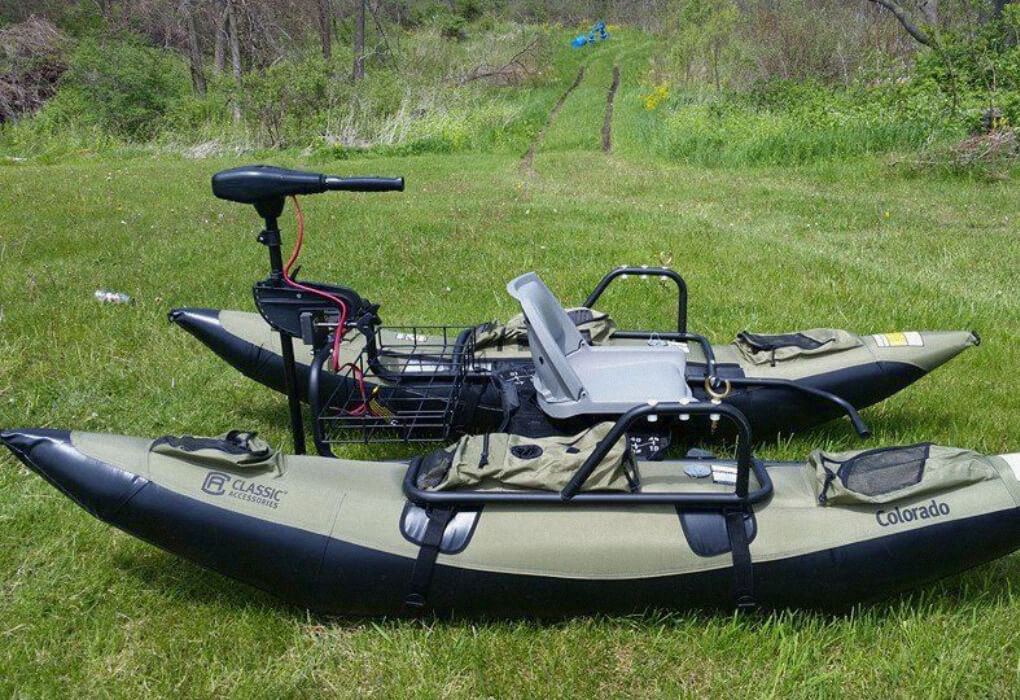 Key Features
Thrust: 55 pounds or 86 pounds
Shaft length: 55 inches
Volts: 12-volt or 24-volt
Mounting location: Bow or Transom
Control options: Tiller handle
Why We Chose It
The NV Pontoon Series has enough power to propel a large pontoon and a long enough shaft to keep the lower unit in the water when you encounter rough water.
It's designed for the bow or transom of a pontoon, so it has a tiller handle control.
Newport Vessels has manufactured quality trolling motors at an affordable price for over a decade.
I appreciate that they offer excellent customer service if you have a problem or concern. It shows they're dedicated to their customers.
Depending on your preference, this can be a positive or negative feature. Newport Vessels uses high-quality materials that are corrosion resistant so that you can use their products in saltwater or freshwater.
However, you might find the battery cables a tad short depending on where you're trolling motor batteries are located.
The mount also does not allow the trolling motor to fold or tilt, so you will have to raise it out of the water when it's not in use.
Newport Vessels Pontoon Series may lack some of the more technological benefits of the others on this list. But it makes up for it in durability and versatility, like its compatibility with salt or freshwater excursions.
For those who live near the coast, it's an easy thing to transition from freshwater to brackish water to salt water in a matter of minutes.
A quality trolling motor that is compatible with either environment is invaluable for those living close to the ocean or gulf.
The Newport Vessels feature a 30° tiltable head so it's a simple matter to ease up and cast without having to move yourself or shift around the motor.
The 55" shaft is more than enough to get in the water with some solid depth and the nearly 6' cable is more than enough to reach the battery.
We talked about durability and convenience above and it's important to reiterate it here. We love how solid this motor feels and it is singularly designed for bow-mount usage and convenience.
It didn't take long to set up and using it was a breeze.
The Newport Vessels Pontoon Series is a budget-friendly option for the best bow-mount pontoon trolling motor.
If you're looking for a feature-rich bow mount trolling motor, look into the Motorguide Xi5. It's much more expensive, but it has more features than the NV Pontoon Series.
You can check out a review on the Motorguide Xi5 here.
Read our full review here: Newport Vessels Pontoon Series review.
Best Transom Mount Motor for Pontoon Boats
MotorGuide R5
According to Bass Pro Tour Stage 2 winner, Jacob Powroznik on MotorGuide, "Hat's off to MotorGuide for building a heck of a trolling motor. I think it was a big plus in my getting a win this week."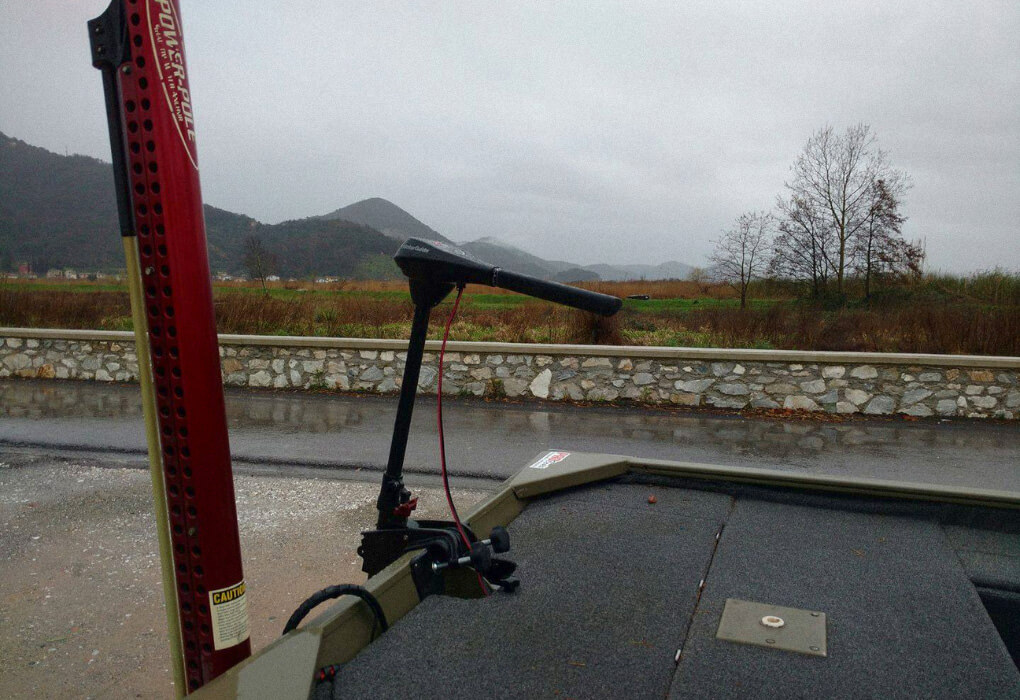 Key Features
Thrust: 70lbs, 80lbs, or 105lbs
Shaft length: 42″
Volts: 24v or 36v
Mounting location: Transom
Control options: Tiller handle
Why We Chose It
With 80 or 100 pounds of thrust, the R5 has more than enough to propel any pontoon boat against strong winds and currents.
Digital Power Management increases the efficiency of the trolling motor by five times. With far less draw on the battery, your time on the water is greatly extended
The materials that Motorguide uses are excellent (solid steel and powder-coated aluminum), and the mount adjusts to the best fit.
The shaft might be short for some pontoons, and not all pontoons allow for a transom mount trolling motor. Its worth checking your pontoon measurements and whether or not its fit for transom-mounted trolling motors.
The level of durability on the MotorGuide R5 is bar none, with an aluminum alloy construction and stainless steel pins, you're not going to break this thing unless you actively try.
The built-in computer module tracks both heat and amp draw, making tiny adjustments where necessary to produce effective thrust while maintaining maximum battery power.
This has got to be the simplest and most efficient transom mount I've ever put my hands on. It's very easy to set up and the durability is phenomenal.
The ease of use is a huge bonus as well, thanks to the seven-position mount. IT gives you plenty of leeway for mounting the motor to your own standards.
Another convenient feature comes into play once you've been using the MotorGuide R5 for a while. Once you learn what's best for you and saves the most power, you can set your own speed.
It gives you some control over power savings in tandem with the module.
Last but not least, the MotorGuide R5 includes an adjustment collar which makes lengthening and shortening the shaft very easy and convenient.
The Motorguide R5 is inexpensive for a hand control transom mount pontoon trolling motor.
However, the Newport Vessels L Series is comparably priced, and they have excellent customer service, but it also has a short 40″ shaft.
Read our full review here: Motorguide Trolling Motor review.
Minn Kota Terrova Bow Mount with iPilot
Minn Kota Bassmaster Elite Pros competitor, Mike Huff, on the Minn Kota spot-lock feature: "Spot-Lock was huge for me fishing the way I was in these areas."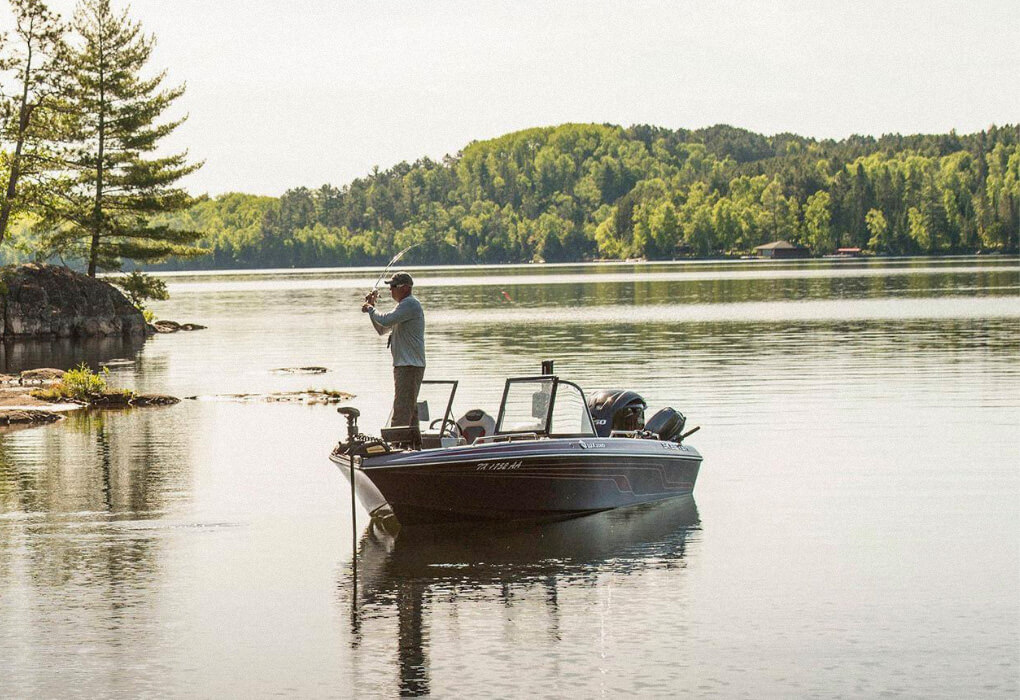 Key Features
Thrust: 55lbs, 80lbs, 112lbs
Shaft length: 45″, 54″, 60″
Volts: 12-volts, 24-volts, 36-volts
Mounting location: Bow
Control options: Wireless remote or foot control
Why We Chose It
The Minn Kota Terrova with iPilot US2 offers one of the most advanced remotes for a trolling
Motor. It places control of the built-in sonar, the automated navigation, spot-lock, GPS, and nearly every one of the Terrova's features in the palm of your hand.
The large LCD screen makes controlling your trolling motor much easier because you clearly see the settings and options even in the sun.
Lift-Assist is perfect if you often change locations or don't like to lift a heavy trolling motor. It makes it easier to stow and deploy.
Digital Maximizer is Minn Kota's version of conserving battery life up to five times the standard length so you can stay on the water longer.
Since Minn Kota packed the Terrova with so many features, it does come at a high price.
Overall, the Minn Kota Terrova offers a tremendous remote control trolling motor.
Minn Kota is no stranger to trolling motors and has long led the way in the industry. There's some serious competition out there these days but Minn Kota remains a top pick.
I'm always excited when I can connect my smartphone via Bluetooth and the iPilot integrated GPS is the perfect combination.
With a smartphone, the provided remote control, and the connectivity options, you have mastery over every aspect of the motor and you can truly take advantage of the GPS capabilities.
It's nice to have a remote with an LCD screen and, with the Terrova, Minn Kota reckoned that bigger was better, increasing the LCD screen size by a third.
Power is everything when you're a long way from the dock. I feel much better when I know exactly how much power I'm using and have remaining, and I can check it as many times as I want.
I can't say enough about the convenience of mounting and functionality. It can make or break a day before you go anywhere. Fortunately, the Terrova features a "One-Step Stow and Deploy" lever that works perfectly.
Another remote-controlled Minn Kota trolling motor worth looking into is the Ulterra if you're looking for the most advanced trolling motor with auto-deploy and stow.
You can use the Ulterra remote to initiate deployment or stowing; this feature adds to the price, so the Minn Kota Ulterra costs more than the Terrova.
Read our full review here: Minn Kota Terrova review.
Buying Guide: Trolling Motors for Pontoon Boat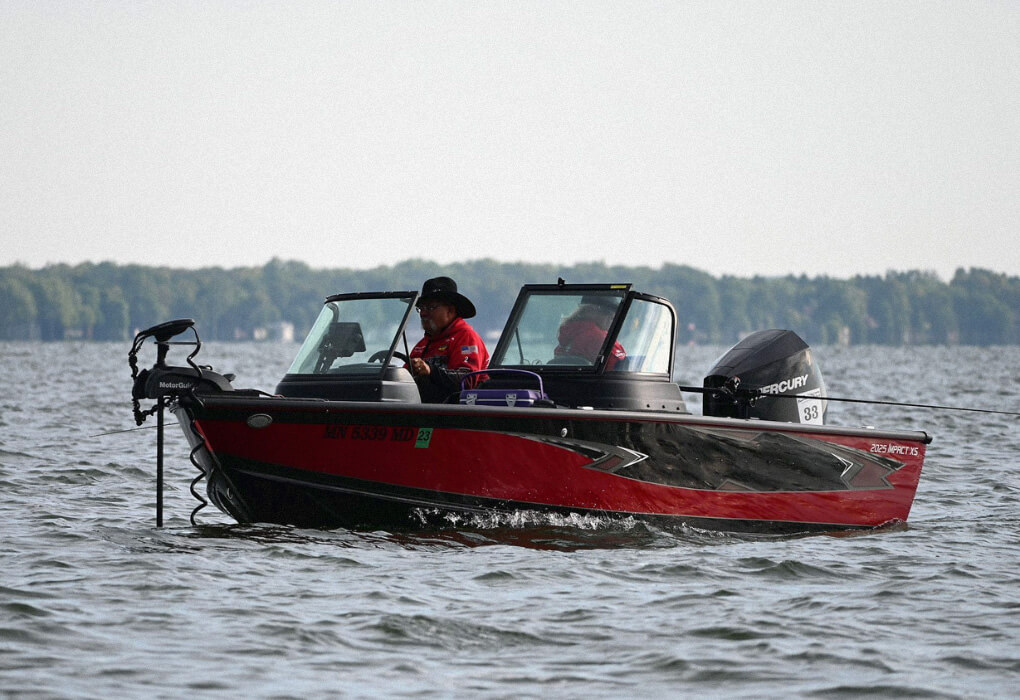 If you keep these considerations in mind when buying a trolling motor for pontoon fishing boats, you'll make a purchase you won't regret.
Thrust
The voltage of the trolling motor determines the maximum amount of thrust you can get out of the trolling motor.
So a 36-volt trolling motor and battery are more powerful than a 24-volt trolling motor and battery.
Eighty pounds of thrust is ideal for a pontoon boat. That way, you have enough power to overcome the wind and current when you encounter them.
A 12-volt 55lb thrust trolling motor will work, but it might struggle in windy conditions.
Shaft Length
Shaft length is critical because if you have a shaft that's too short, your lower unit will cause a commotion and spook the fish.
Plus, you'll lose thrust, so you won't have as much control over your boat as you'll need.
The ideal trolling motor shaft length depends on the height of your boat and mounting location.
Typically, you want your lower unit one foot under the water's surface. For most pontoons, a 60-inch shaft will suffice.
Mounting Location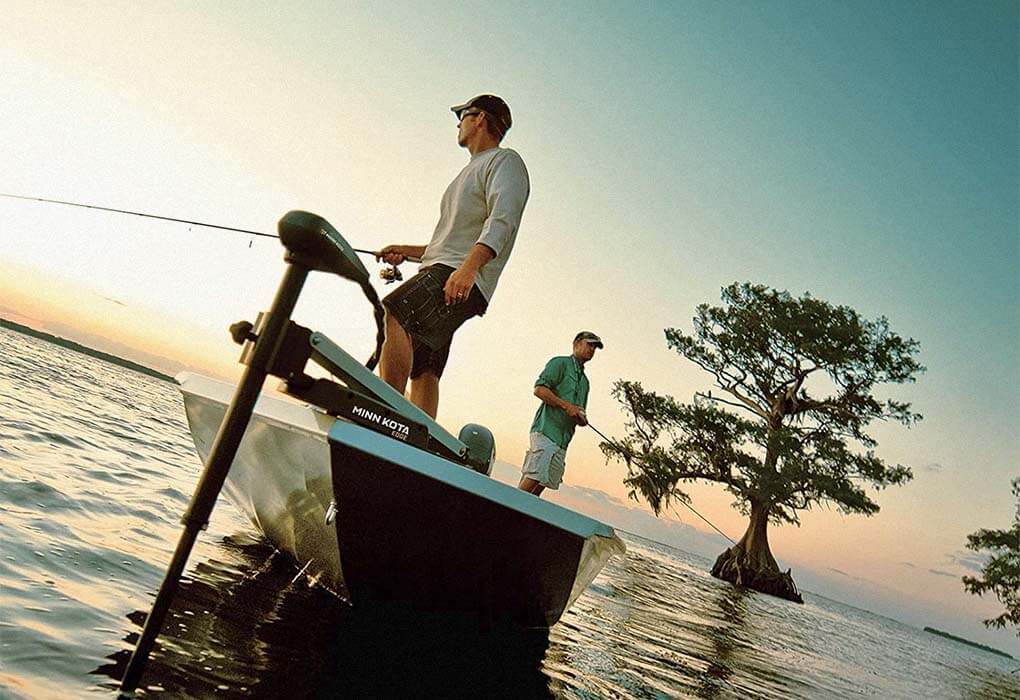 Where you want to mount your trolling motor will determine the features and price.
Bow mount trolling motors are generally more expensive because they have more features than a transom mount tiller handle trolling motor.
Features
The features are the primary determining factor for the price.
Suppose you want integrated sonar, remote control, autopilot, or GPS anchor.
In that case, it will cost more than a simple hand-operated trolling motor with an ergonomic telescoping handle, even if it has a battery meter.
If you plan to fish often, I recommend buying a trolling motor that has the option to upgrade to better features when you're ready.
Price
Stay within your budget if you have to wait and save up to purchase a trolling motor.
I know we all want the latest and greatest toys, but if we're honest with ourselves, we don't always need them and could catch just as many fish without them most of the time.
You'll Also Need
Once you've purchased a trolling motor, you'll likely need a couple of other items to make the most of your time on the water.
Trolling Motor Batteries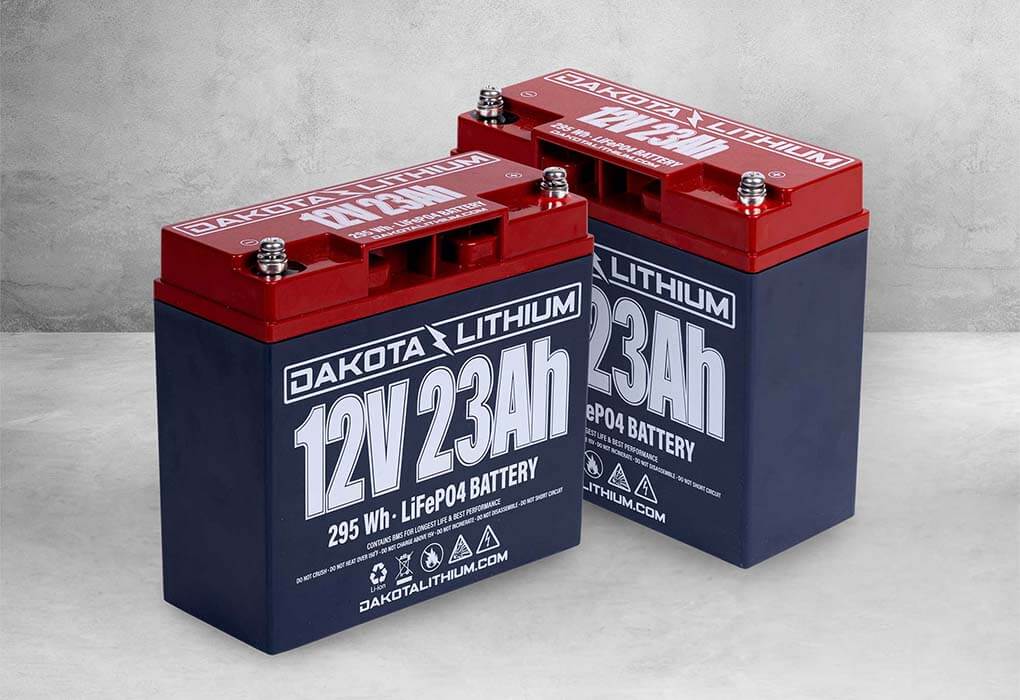 Unless you plan on using your trolling motor for a hood ornament, you'll need a way to power it!
We made it easy to decide which is the best trolling motor battery in this article, so go ahead and click that link so you can get on the water faster with a deep cycle battery.
I think Lithium-Ion batteries are the best on the market, but not all trolling motors are compatible, so you need to check and see before purchasing a marine battery for your trolling motor.
Fish Finder
Fish Finders don't guarantee that you catch more fish, but they sure make it easier to locate fish quickly.
Adding a fish finder to your pontoon can help you some days if you know how to read it correctly.
Lucky for you, we wrote the article How to Read a Fish Finder Like the Pros to cut down the learning curve.
Final Thoughts
There are several excellent trolling motors on the market.
Don't settle for a subpar trolling motor on your pontoon boat!
Upgrade to the best with the Garmin Force, or the Lowrance Ghost. If you're looking for a more basic option, check out the Newport Vessels Pontoon Series.
Invest in a quality trolling motor for your pontoon boat today and enjoy a smoother, more efficient boating experience.
We love hearing from you, so don't forget to leave your questions or comments below!