---
We independently research, test, and recommend the best products; you can learn more about our review process here.
Garmin paves the way for fish finding technology and after this Garmin Panoptix Livescope review, I'm only more convinced of this. I've tried so many fish finders over the years and it takes a lot to impress me. This impressed me.
The Garmin Panoptix Livescope brings live and real-time imaging to life right on your screen. It's the closest you can get to playing a real-life fishing video game on your boat. In this guide, we're breaking down the features, benefits, and some of the drawbacks of this incredible piece of equipment.
---
Garmin Panoptix Livescope Review: What Is It?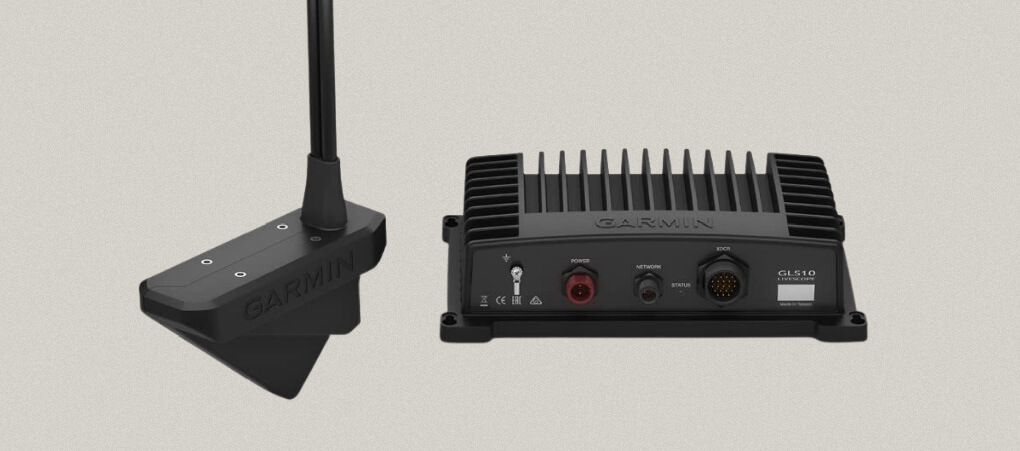 From the outside looking in, you might think that the Garmin Panoptix Livescope is just like any other fishfinder. If you're thinking that, you're wrong. This fish finder uses revolutionary technology to provide a constant sonar feed resulting in 100% live imaging of fish swimming and everything happening in the water.
Now, there are fish finders out there that offer "live" imaging such as the Lowrance Elite FS and the Lowrance HDS Live. BUT, there is one main caveat and it requires you to really understand sonar and the way it works.
For your average everyday bass angler, you don't need to know that much. The best way I can explain it is that it's using a constant sonar feed so there's no lapse in time. Whereas most fish finders send sonar rays down into the water and wait for them to return to the receiver, this fish finder is constant.
The Garmin Panoptix Livescope system is about as close as you can get to an actual underwater camera but without all the downsides of using a camera such as low range and cloudy images. 
If you prefer video format then take a look at Anglers.com's very own Garmin Livescope review video on Youtube where Wesley takes it out on the water and walks you through all the pros and cons.
Features of the Livescope Fish Finder
To better understand what makes the Livescope so different, let's talk about some of the main benefits of this unit compared to a more traditional fish finder.
Real Time Imaging
If you didn't get that in the first section, the Livescope provides live imaging in the form of the actual video. You can clearly see structure, fish, your bait, and anything else in the water in real-time. This allows you to react accordingly to a strike and also identify how the fish are taking your bait.
After a while, if you notice the fish are sniffing around but retreating, chances are you're intimidating them or you're using something they're not interested in. Having this type of information allows you to easily adjust your presentation based on what you're seeing beneath the boat.
Three Modes
We've all heard of downscan, sidescan, and structurescan. If you haven't, you'll want to check out some of my Lowrance and Humminbird fish finder reviews.
To sum it up really quickly, the Livescope depth finder offers you three different viewing options based on where you're fishing and what you're targeting.
You can scan outward and away from the boat to see everything around you. This works great if you can't access certain areas around the boat and near the shore. You'll be able to scan up to the shoreline to identify holding areas that you wouldn't be able to reach otherwise.
The Livescope also allows you to scan down to see what is happening directly beneath the boat. This is a more traditional down-scanning sonar that scans a vertical column beneath you.
The Panoptix Livescope also comes with a "perspective mode" which requires you to purchase a separate mount. This takes things to a whole new level and the mount is only an extra $100 so it's worth it if you're going to shell out for the whole unit.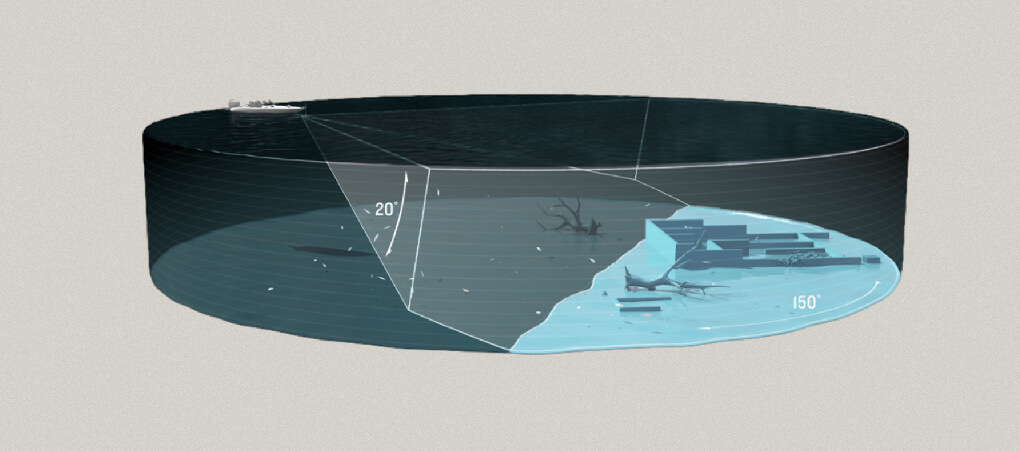 Essentially, this perspective view combines both livescope down and side scanning sonar into one. Garmin says it works best in shallow water of 20 feet or less and provides some of the most comprehensive fish finding imagery on the planet. You'll be able to identify the species of fish, see your jig, and plan out other fishing techniques all while scouting the water.
Exceptional Range
Range is especially important when you're using different modes such as the sidescan. The Livescope has a range of up to 200 feet but as you can imagine, I expect the quality of imagery to drop dramatically at ranges over 100.
Still, this is some of the best quality imaging you can get at such long ranges and should be more than most people will ever need.
Image Stabilization
One issue that a lot of people experience is low-quality imaging when conditions are less than perfect. It's not often that you take to the water and everything goes exactly as you planned. If:
The water is murky
There is heavy veg
Your fishing during inclement weather
These factors will impact the quality of your sonar image as well as the accuracy of your chartplotting. The Livescope transducer comes with image stabilization which helps ensure a high-quality image no matter what you're dealing with.
The unit uses something called attitude heading reference system or AHRS to stabilize the view.
Customizable Views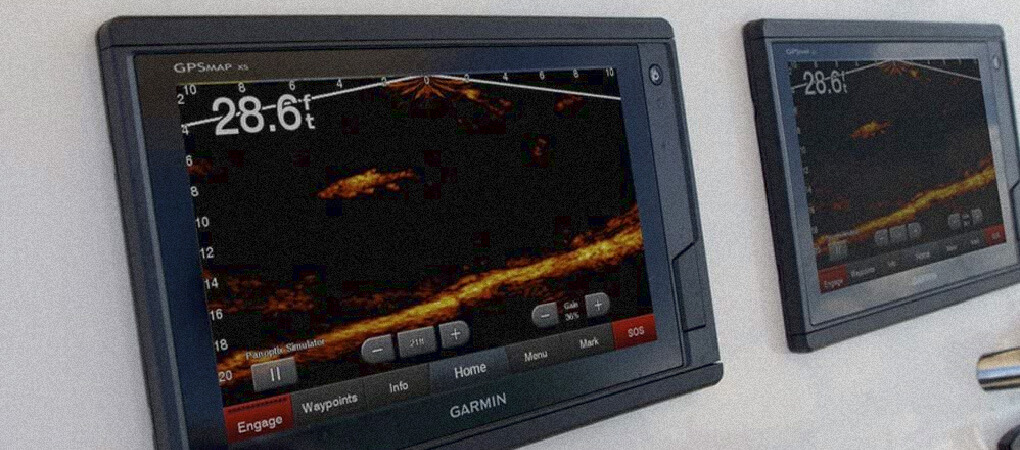 You have a ton of options with this fish finder and you can customize what you see to fit your needs. You can change the layout, hide certain features, change the grid angle, and split the screen up to fit your fishing style. Keep in mind that this only works on compatible devices which we will talk about shortly.
Vivid Color Palettes
Color is important because it will impact your ability to see what is going on based on the contrast and clarity against the current conditions. You can choose between a few different color contrasts including aqua, caribbean, and lava. Experiment with these and figure out which one works best for you.
Factors to Consider in this Panoptix Livescope Review
While I definitely love this fish finder, there are some things you'll want to consider. It's not the cheapest fish finder on the market for sure and there are some hidden caveats that you need to fully understand before buying it.
Compatibility
First and foremost, a really important thing to understand is that this fish finder does not come with a display. It is a transducer and mount ONLY.
This means that you must already have a compatible Garmin fish finder or you'll have to purchase one in addition to the cost of the transducer. This is what makes this such a costly investment.
Here is an exhaustive list of every fish finder you can use with the Garmin Panoptix Livescope: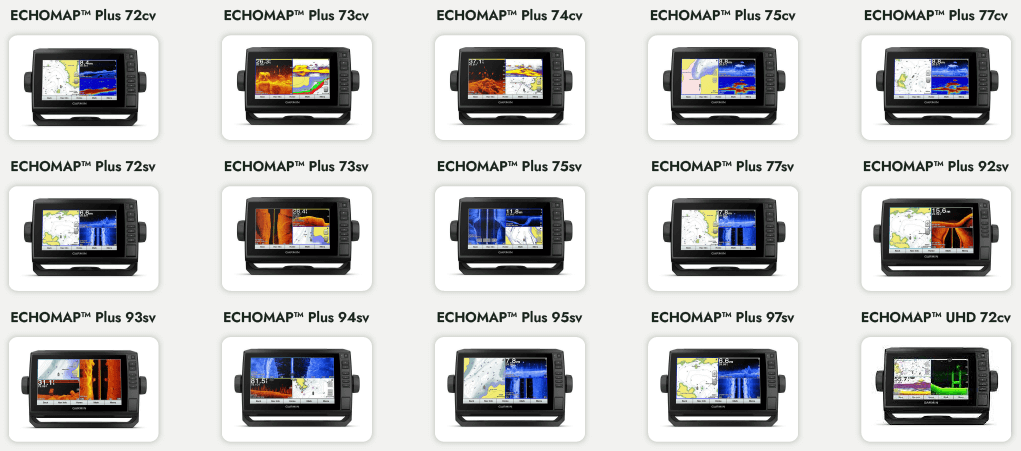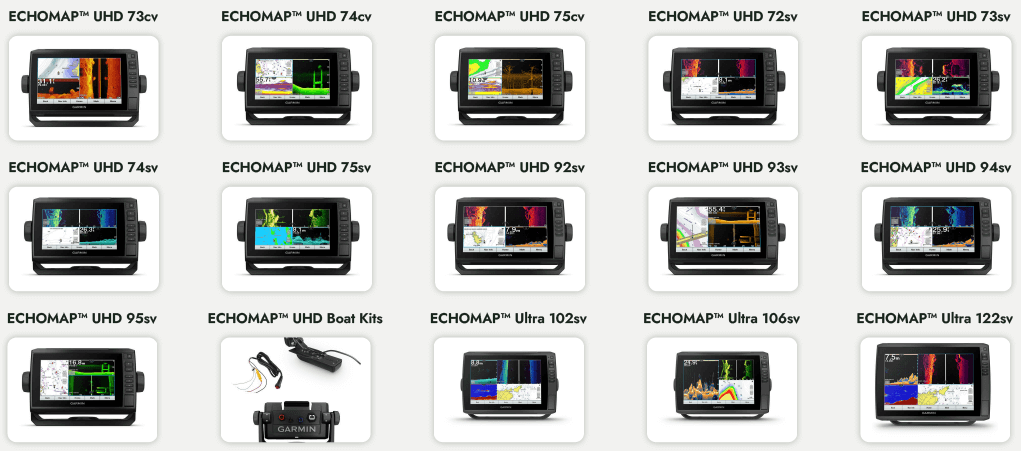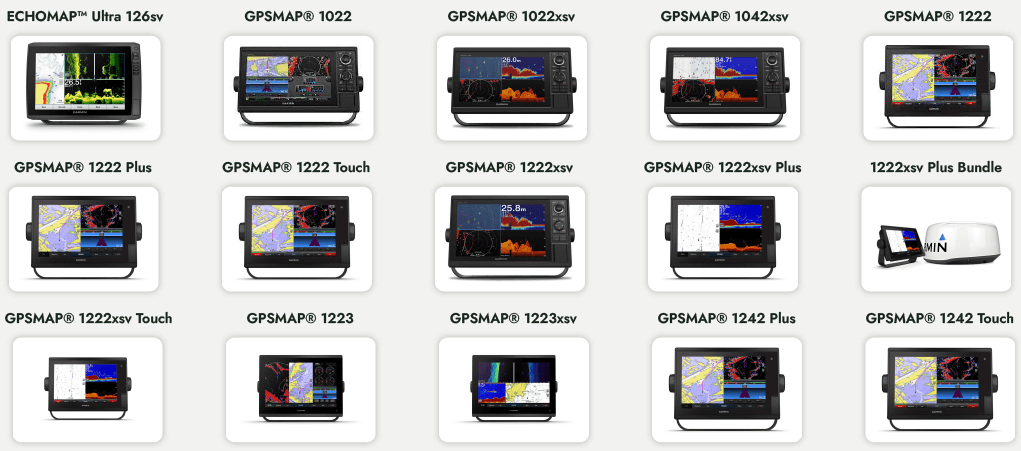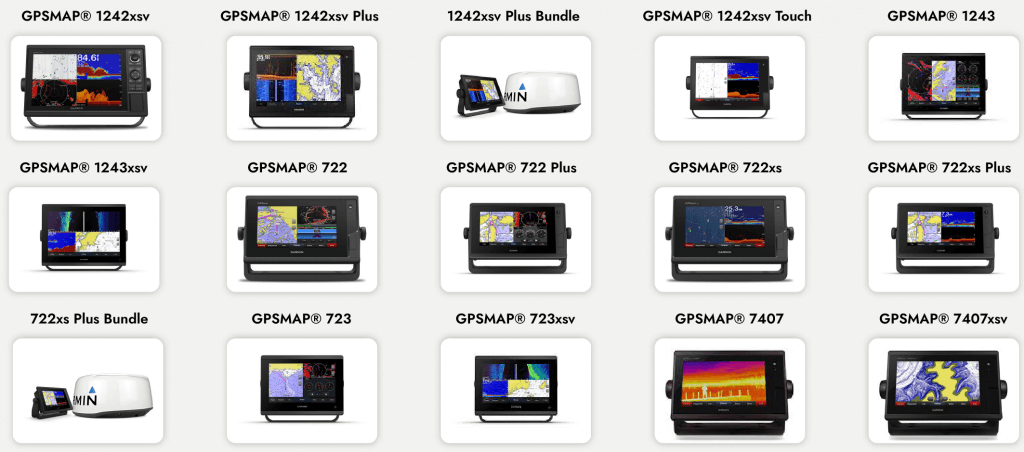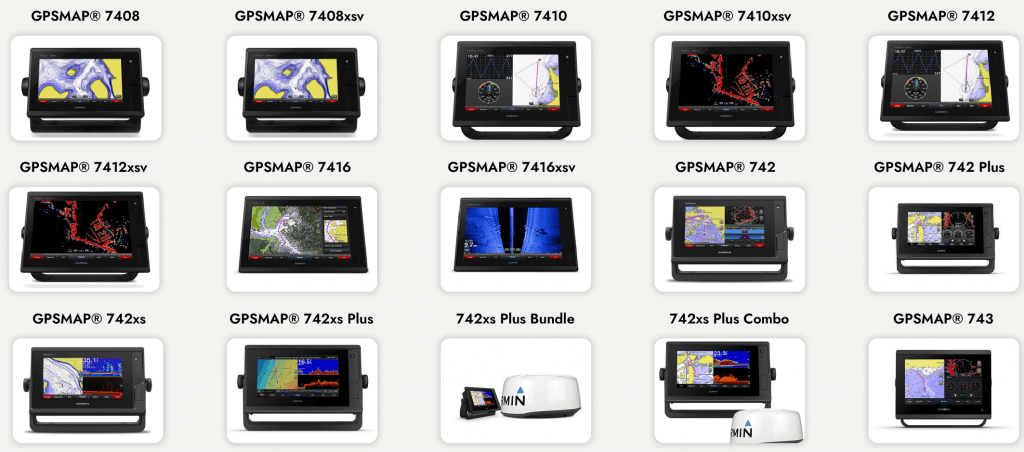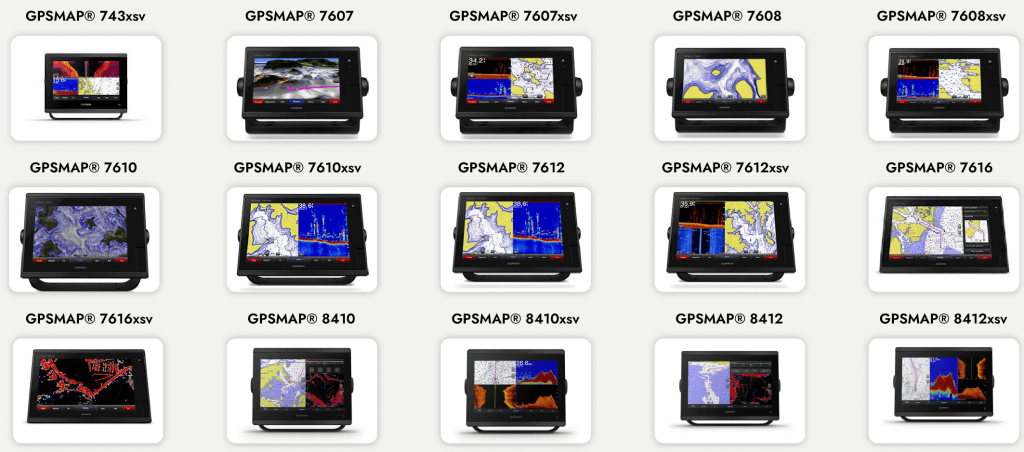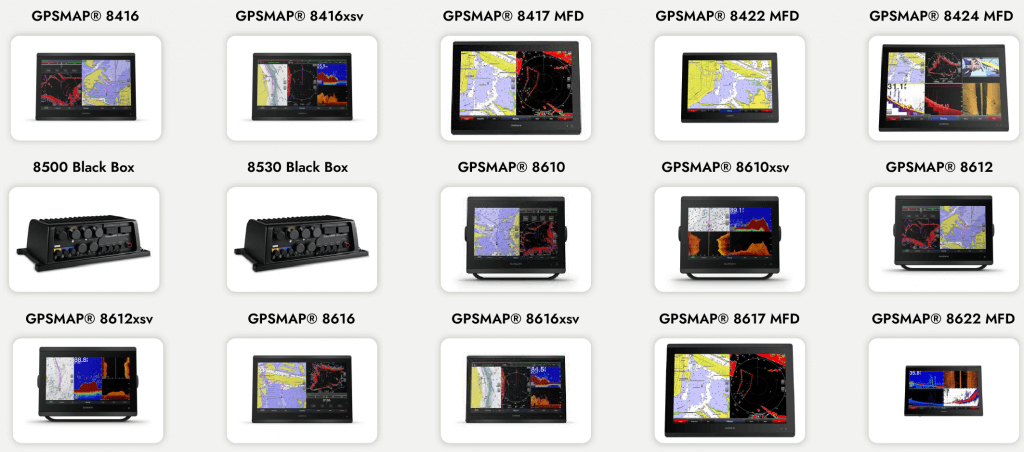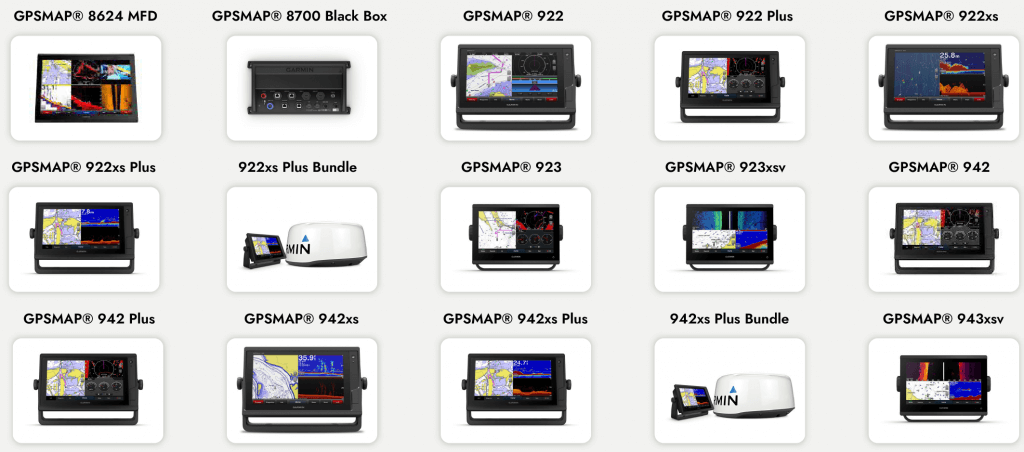 Keep in mind that you'll need to integrate with a compatible Garmin chartplotter for mapping and the same goes for ice fishing fish finders. You'll take a lot of the features from the unit you equip with the Livescope sonar system. You can find plenty of adapters to work with the Echomap Plus sonar technology.
Ease of Use
Unlike a lot of fish finders, this one isn't necessarily designed to be a simple plug-and-play solution. It requires a bit more installation and a little more tech-savviness than you might be comfortable with. This is because you need to install the technology onto the compatible fish finder that you have already or need to purchase.
That said, if you feel confident or you have experience doing this in the past, it shouldn't be a problem. I have no problem doing this and I'm not a tech "guru" but I'm also not inept.
Saltwater
We all know that saltwater can throw a wrench into your plans with a lot of fish finders but more and more people are finding that to be the case with this one as well.
Saltwater is more dense than freshwater so it makes it more difficult to get accurate readings at further distances. Most people claim that you'll be lucky if you can get a reading any deeper than 50 feet.
My honest recommendation is… if you fish mostly saltwater, you might want to pass on this fish finder.
Installation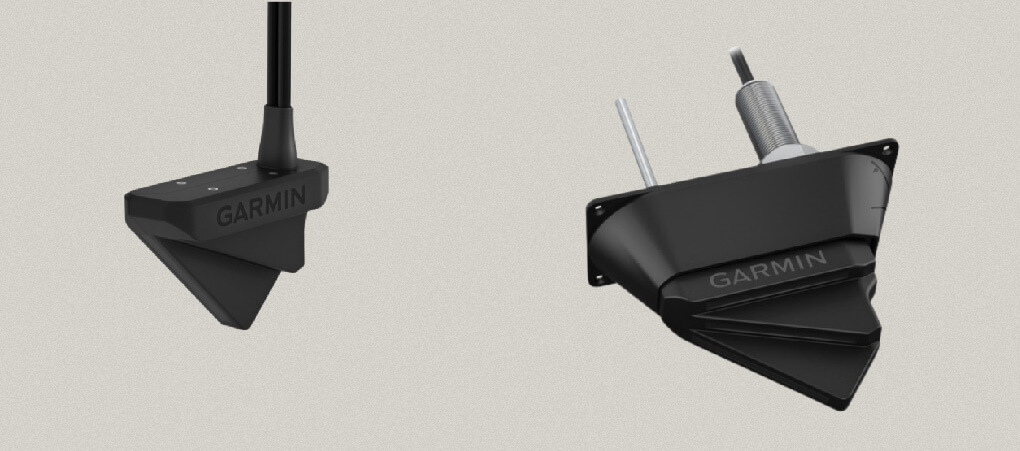 As I mentioned, installation can be a challenge but if you've installed a fish finder before, you shouldn't find anything too unusual with this one. You'll install the LVS32 transducer. It's a standard transom mount with a trolling motor attachment. There isn't anything out of the ordinary there.
Where the differences come into play is with the installation and compatibility of the fish finder unit itself. While the list of compatible devices above is directly from the Garmin website, there's still no guarantee that it will work.
Final Thoughts
Is the Garmin Livescope worth it? My answer is, absolutely. I think it takes fish-finding technology to a whole new level and if you're the kind of person that appreciates that, you'll love this piece of equipment.
If you're more old school, you might find it to be a little too much both in price and action. This Garmin Panoptix Livescope review is also not the gospel. The bottom line is, if it's going to make fishing more enjoyable for you, it's always worth it.
Good luck out there!
Garmin Livescope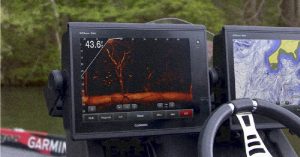 In this Garmin Panoptix Livescope review we take a look at one of the most advanced fish finders. Click here to read the complete review.
Product Brand: Garmin
Pros
Real-time imaging
Downscan, sidescan, structurescan
Range of up to 200 feet
High-quality image stabilization
Customizable views
Cons
Price - very expensive
Must have a compatible fish finder
Learning curve due to all the advanced features
Not great for saltwater fishing