Penn Fierce Reviews: Strong and Steady but a Little Heavy
Last Updated on January 3, 2023
Penn is an exceptional manufacturer that has been around for decades. In 2015 they released the Penn Fierce II and in only four years had enough success with that model that they upgraded to the Penn Fierce III to meet more of the angler's needs. 
I'm conducting Penn Fierce reviews in this article and taking a deep look at both models. I've fished dozens of Penn reels over the years and I've combined my experience with that of a few other anglers to give you my take on the Penn Fierce line of reels. 
During this review I'll touch lightly on the Penn Fierce II spinning reel but the majority of the review will focus on the Penn Fierce III since that's the newest model level and it's affordable enough to consider upgrading anyway. 
Both models come in a variety of sizes ranging from a 1000 size to 8000. They're primarily intended for inshore fishing and come with a full metal body with sideplate. The reel features Penns HT-100 carbon fiber drag washers which we'll expand upon down below. Plus, you get a 4+1 shielded stainless steel ball bearing setup to help provide buttery smooth retrievals while protecting you from saltwater corrosion.
Here is a complete breakdown of the Penn Fierce II and III: 

Model

Mono

Braid

Bearings

Max Drag

Gear Ratio

Retrieval Rate

Weight

FRCII1000

275/2
135/4
105/6

160/6
130/8
110/10


4+1

7

5.2:1

22

7.8

FRCII2000

240/4
180/6
125/8

210/8
180/10
165/15


4+1

7

6.2:1

30

9.3

FRCII2500

255/6
175/8
140/10

240/10
220/15
160/20


4+1

7

6.2:1

33

9.7

FRCII3000

200/8
165/10
120/12

250/15
180/20
130/30


4+1

10

6.2:1

35

11.7

FRCII4000

270/8
220/10
165/12

360/15
260/20
185/30


4+1

13

6.2:1

37

12.3

FRCII5000

225/12
200/15
135/20

420/20
300/30
240/40


4+1

20

5.6:1

36

19.6

FRCII6000

335/15
230/20
210/25

490/30
390/40
335/50


4+1

20

5.6:1

41

21.2

FRCII8000

340/20
310/25
230/30

475/50
390/65
345/80


4+1

25

5.3:1

44

28.4
Model

Mono

Braid

Bearings

Max Drag

Gear Ratio

Retrieval Rate

Weight

FRCIII1000

275/2
135/4
105/6

160/6
130/8
110/10


4+1

8

5.2:1

22

7.8

FRCIII2000

240/4
180/6
125/8

210/8
180/10
165/15


4+1

10

6.2:1

30

9.3

FRCIII2500

255/6
175/8
140/10

240/10
220/15
160/20


4+1

12

6.2:1

33

9.7

FRCIII3000

200/8
165/10
120/12

250/15
180/20
130/30


4+1

15

6.2:1

35

11.7

FRCIII4000

270/8
220/10
165/12

360/15
260/20
185/30


4+1

25

6.2:1

37

12.3

FRCIII5000

225/12
200/15
135/20

420/20
300/30
240/40


4+1

20

5.6:1

36

19.6

FRCIII6000

335/15
230/20
210/25

490/30
390/40
335/50


4+1

25

5.6:1

41

21.2

FRCIII8000

340/20
310/25
230/30

475/50
390/65
345/80


4+1

30

5.3:1

44

28.4
Penn Fierce Reviews: Model 2 and 3 Broken Down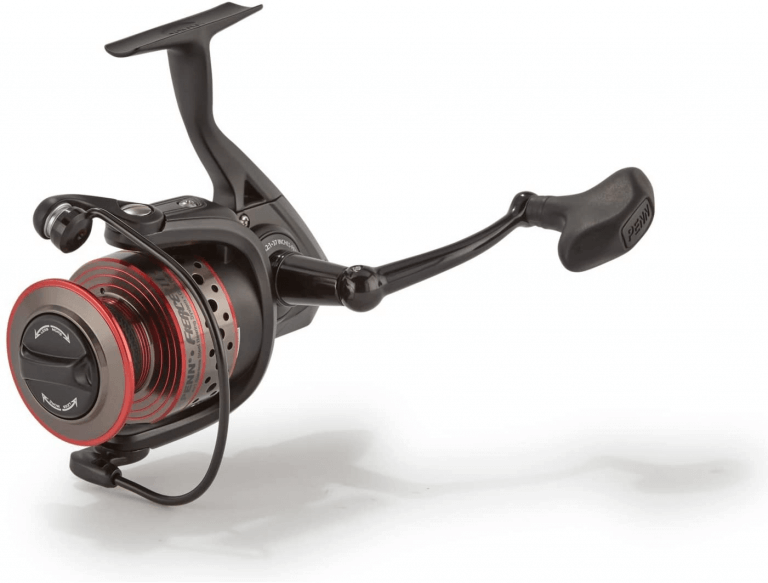 Now that you've seen all the specs, let's talk more specifically about the reels and some of the features that make them stand out. Whether you find a refurbished or used Penn Fierce II or you go for the Penn Fierce III, many of these features can be found in both. 
Full Metal Body – The point of a hardened metal body is to improve the rigidity of the reel and limit the amount of flexing and bending that it does. This helps keep the gears aligned and performing at their best.
A feature like this is especially important when we're talking about inshore or offshore fishing where you might battle big fish like tarpon or redfish. It'll help extend the life of the reel while ensuring you get the best performance every step of the way. 
Techno-Balance – The techno-balanced rotor is a feature unique to the Penn brand alone. The reel is designed to have an extra smooth retrieval which can help you ensure you're creating the best possible presentation. The Penn Fierce III spinning reel is very smooth and I find very little reason to complain about it's performance. 
4+1 Shielded Bearings – The Fierce model is an upgrade from the old Penn Pursuit which you can still find but that is a very low budget reel. The Penn Fierce III falls somewhere in between the Battle and the Pursuit. The point is, they've upgraded to a 4+1 shielded ball bearing setup which impacts the overall performance of the reel. 
Superline Spool – The Superline spool is another feature unique to the Penn brand. They essentially lay rubber in the spool which means that it's braid ready without having to back it with mono, plus the superline design helps ensure an even line lay so it flows smoothly during a cast. This increases your casting distance while offering maximum control over your precision. 
HT-100 Drag Washers – HT stands for high tech and the 100 means that they've tested these washers against 100 miles of fishing line to see if there are any changes to the drag washers. They make them using a carbon fiber that gets laminated with fiberglass.
The result are drag washers that are large, stiff, and extremely durable. They use this material to produce drag washers of variable sizes based on the model you get. The reason these are such a sought-after component is because the carbon fiber reduces the amount of friction created when a fish is running your line out. Compared to the outdated asbestos-based washers, the difference is night and day.
Penn Fierce 4000 Reviews: My Personal Take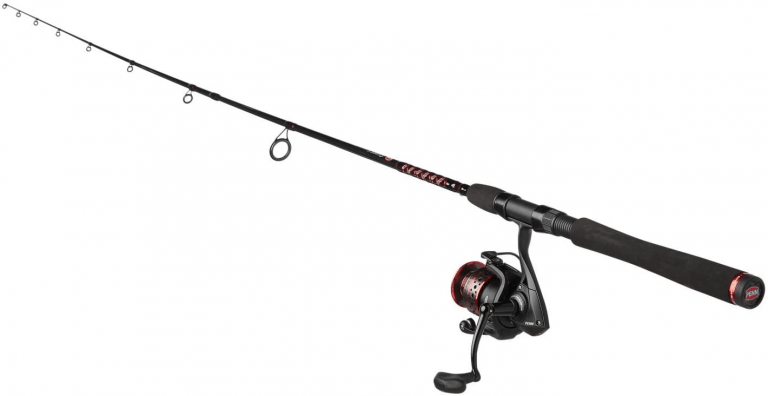 In this section, I'm going to offer my personal take and experience on the Penn Fierce 4000. After reading through this section you should feel equipped with the knowledge necessary to know if this is the right inshore reel for you. 
Performance 
You've got a budget-friendly reel here so you need to be realistic about the type of performance you're going to get. Keep in mind that the reel is bulky so it can feel a bit off balanced once in a while but it's meant to be solid and rigid to prevent you from grinding up the internals. 
On the water you should have no problem throwing soft plastics, topwater plugs, and tubes. It holds up over a period of time and hasn't shown any wear or tear either. If you're looking for a reel that you can use and abuse, this isn't a bad option. 
Appearance 
Even though most anglers would never admit to caring about the appearance of their reel, they do. The Penn Fierce III is pretty plain but I find that's the case with most Penn reels. They never go out of their way on the paint job or to make anything too fancy. I do like the black and red color combination though. The black bail wire is pretty sleek as well. 
I've also discussed this with some other anglers who have tested the reel for a longer period of time and they're pleased with how the appearance holds up over time. It's a great saltwater spinning reel if you take care of it.
Functionality/Durability
In terms of the components of this reel working properly, there's really nothing bad I can say here either. The drag system works as expected, the spool is braid-ready, the handle feels durable and strong, and the bail is smooth and opens and closes as you would expect. 
The only concern here is that you need to be careful as you increase the size of the reel up towards the 6000-8000 range because the reel foot is very large and doesn't fit on most spinning reels. You may want to opt for a Penn Fierce II combo whether it's the II or III model at that point. This ensures that you get the right rod to match the reel.
Reasons to Choose (or not choose) the Penn Fierce II and III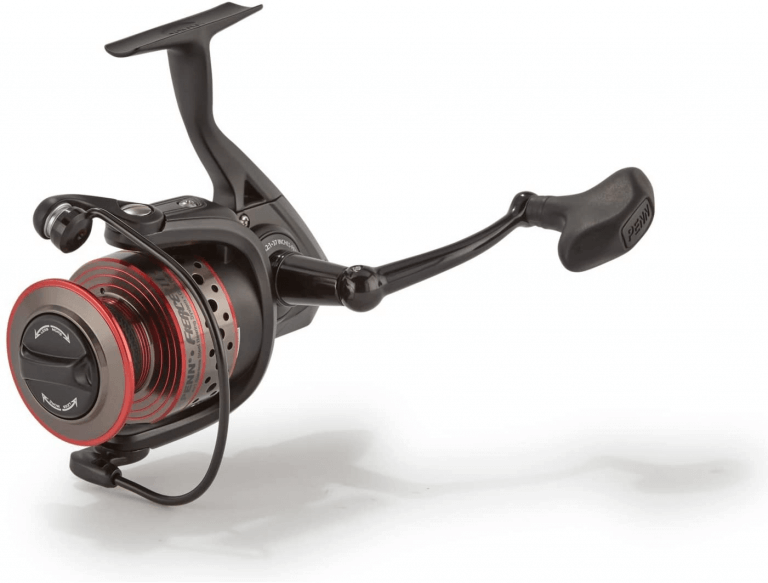 It's a solid reel. For around $70 you get yourself a great inshore reel that should have no problem lasting you a number of years before you run into any problems. The reel is durable, it's a beast in the saltwater, and you get optimal drag and retrieval to match the needs of inshore fishing. 
There are only two minor issues that people run into with the Penn Fierce. One, the weight. It's heavy for an inshore reel and it gets extremely heavy as you work your way up towards the Penn Fierce III 4000 or higher. But, that's something you need to be aware of. Fatigue is a real concern and matching brute force with a big tarpon or striped bass is not something you want to do when you've been casting for five hours with a 12 ounce reel. 
Another issue is that even though the stainless steel bearings are shielded, they're not sealed. This means that the bearings will be fine but much of the other internals will require a lot of maintenance because they're not as protected against the saltwater as the bearings are. It's not a deal breaker by any means, but also something to keep in mind.
If you're not completely sold on the Penn Fierce, I understand. The point of this reel review is to help you find exactly what you're looking for, so here are some quick alternatives from some other brands on Amazon. 
If you're trying to save a few bucks while also getting a reel that is lighter and easier to manage. Consider checking out the Daiwa Sweepfire spinning reel. This one doesn't have nearly the backbone of the Penn Fierce, but it's lighter and still a decent option for inshore saltwater fishing. 
Another great choice is the Okuma Ceymar. It comes with an oversized handle, oiled felt drag system, and it's made in the USA. 
If you want to stick with the Penn brand, you could simply upgrade to the Penn Battle II or III. These are in my opinion, some of the best spinning reels ever made. They're designed to handle heavy loads, they have a great bearing system, and they're beautiful for inshore fishing. 
For a few more dollars you could also upgrade to the Pflueger Supreme which offers similar features to the Penn Battle. It comes with a heavy-duty aluminum bail wire, great customer reviews, smooth retrieves, and features similar to the live liner.
If you're a freshwater angler and you're looking to dabble with inshore fishing, this is the reel to get you started. It's a great choice for those who are introducing themselves to the salt because it's braid-ready, durable, and comes at an affordable price. Even if you're looking for an upgrade from an existing reel, give the Penn Fierce II or Penn Fierce III a further look.