---
We independently research, test, and recommend the best products; you can learn more about our review process here.
Fishing with ultralight gear makes for some of the most enjoyable times I've ever spent on the water.
But choosing the best ultralight spinning reel can be a challenge with the improvements in reel technology in the past few years.
Fortunately I've been able to experience over 40 ultralight spinning reels through my career and have worked with reel makers that prided themselves on producing reels that actual fisherman wanted.
Reels that lasted and were built with high-end materials to perform in areas like casting, retrieving, and drag strength.
I've taken that experience and combined it with a weekend fishing trip to a local river near my house in Southeast Louisiana where I compared some of the newer reels on the market, with some of my all-time favorites.
Top 3 Ultralight Spinning Reels on the Market
As a quick summary, here are my top three choices for best ultralight spinning reels based on my research and testing.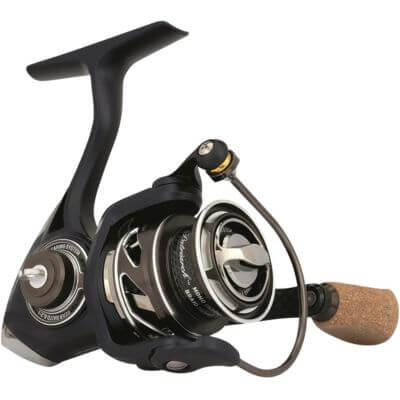 Best Overall Ultralight Spinning Reel
Pflueger Patriarch Spinning Reel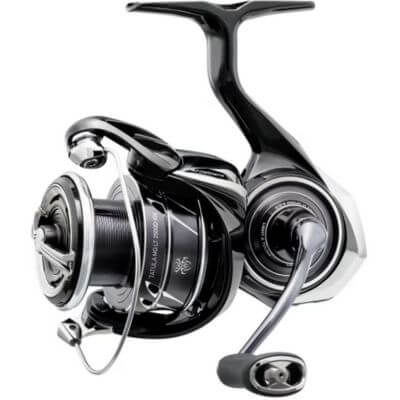 Best Tournament Grade Ultralight Spinning Reel
Daiwa Tatula MQ LT Spinning Reel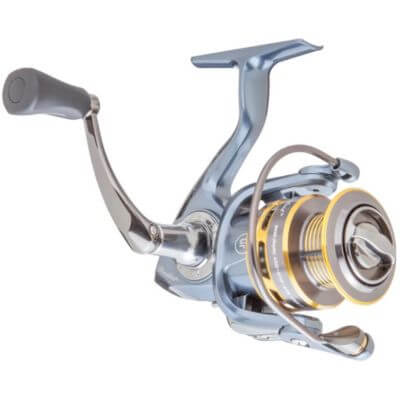 Best Budget Ultralight Spinning Reel
Pflueger President Spinning Reel
---
Testing Procedure
Since one of the most important features of an ultralight spinning reel is how the reel performs under pressure, I wanted to fish a location where I would be able to catch a wide variety of different sized fish.
I set aside a weekend and headed down to the nearby river.
This river gave me the opportunity to fish for a wide variety of fish including bream, catfish, bass, and crappie.
During my time on the water I specifically focused on the following qualities that each reel possessed:
Construction: An ultralight reel WILL be put to the test eventually and you really don't know when that fish is going to hit. The material that makes up the reel is important, as these reels don't have the size to overpower larger fish.
Drag System: Having a quality drag is one of the most important qualities that an ultralight spinning reel can possess. It reduces line breakage and allows the angler to fight the fish longer in order for the fish to wear itself out.

During my weekend I kept a keen eye (and ear) on the drag systems, especially when a big fish jumped on the other end of my line.
Weight: When it comes to ultralight fishing, the weight of the reel is very important. You don't want the reel throwing off the balance of the ultralight rod that you are using.

During my test I checked all the reels to see if they matched up to their specified weights.
Ball Bearings: The number and quality of ball bearings a reel has is one of the most important factors to look at when it comes to choosing the perfect ultralight reel.

Having high-quality ceramic bearings or stainless steel inside the reel can make a big difference in overall performance.
Price: Is the reel worth the price? Value is important! We'll look at all the key features of each reel and let you know if it's worth the number on the price tag.
Best Overall Ultralight Spinning Reel
Pflueger Patriarch Spinning Reel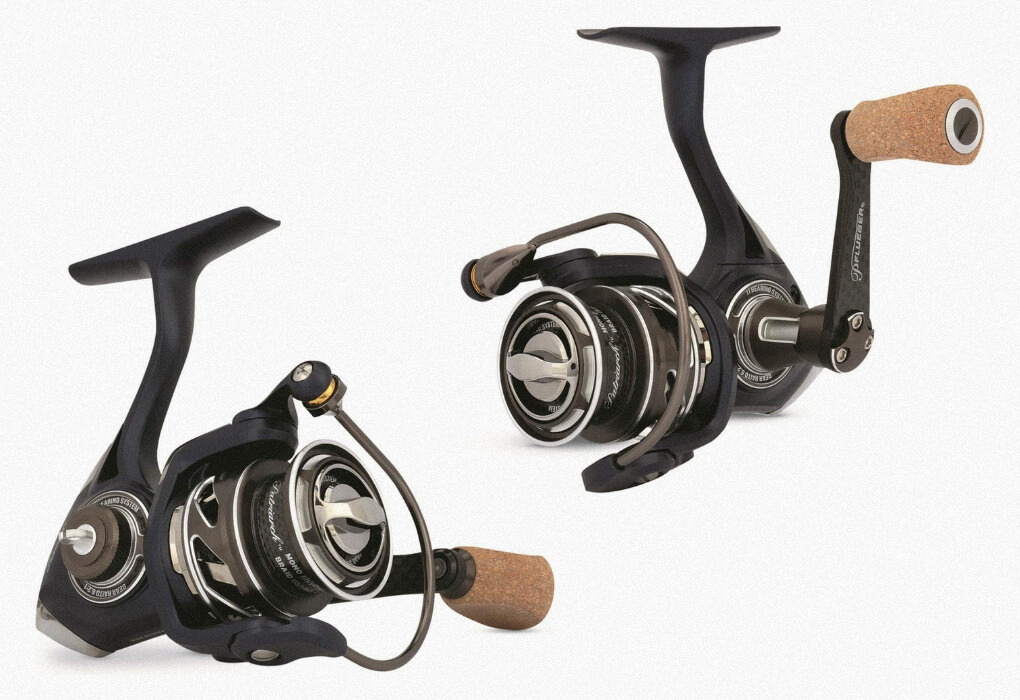 Specs
Type: Spinning
Gear Ratio: 6.2:1
Weight: 6 oz.
Bearings: 10+1
Line Capacity: 8/140
Why We Chose It
Finding an ultralight spinning reel that excels in durability, strength, and weight is very important when buying an ultralight reel.
The Pflueger Patriarch checks all the boxes and stands alone as a true ultralight spinning reel
I used the size 25 model which was the smallest of all the models.
Let's start out with the most important quality of an ultralight, and that's the weight. The Patriarch weighed 6oz. Which paired perfectly with my 6-foot Lew's Lite Rod.
The reel/rod balance was perfect! Pflueger did a nice job with the cutaway rotor and magnesium body. This is the main reason for the reel being so light.
I was able to cast weightless Flukes and skip them across the water's surface for some fun top-water spotted bass action.
The Patriarch handled all of the bass with ease. The sealed carbon drag system really made a difference as it was as smooth as silk when those Kentucky's made a run.
I even whipped a dry fly back and forth and was able to reach a group of bluegill in the shallows swimming around their beds. I watched as these bream shot up and inhaled the small fly. Now that was fun!
As far as the retrieve goes, the 11 ball bearings screamed high-end real. This reel was the smoothest reel that I experienced all weekend.
Pflueger really did a great job with this ultralight!
This smooth retrieve reminded me of the Daiwa BG Spinning Reel but in my opinion the BG is a little too heavy to be a legitimate ultralight coming in at 8oz. 
Now having a light reel is great, but is it strong you ask?
Well, is solid titanium strong? You bet! The Patriarch has a main shaft that is completely made of titanium. It don't get no stronger than that, as they say in my neck of the woods!
Be prepared to spend a little on this reel as it most certainly is not inexpensive. The Patriarch comes at over $200. But you know how the old saying goes – you get what you pay for!
From bream to bass, the Pflueger Patriarch Spinning Reel is the rod to go with if you are looking for a lightweight reel with titanium strength. Pair it with your favorite ultralight rod and get ready for hours of drag pulling fun!
Best Tournament Grade Ultralight Spinning Reel
Daiwa Tatula MQ LT Spinning Reel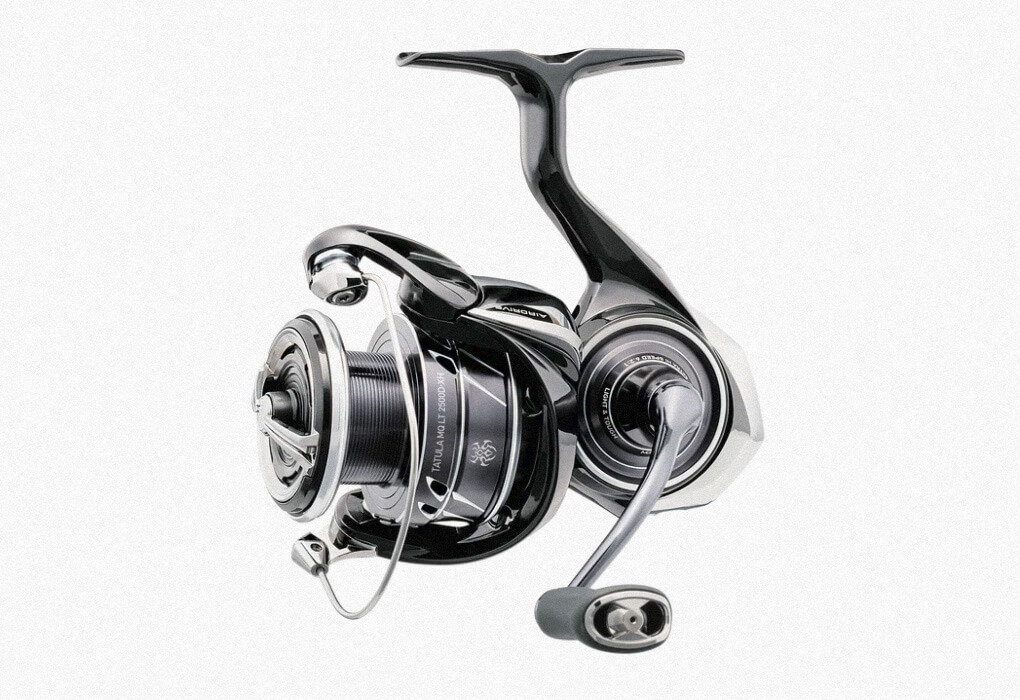 Specs
Type: Spinning
Gear Ratio: 5.8:1
Weight: 6 oz.
Bearings: 8+1
Line Capacity: 6/160
Why We Chose It
Just when you think Daiwa has reached the pinnacle with their Tatula reels, they find a way to improve.
Daiwa has come up with something called a 1-piece Zaion V carbon Monocoque body.
Let me translate that into human language. Basically the reel is cut from one piece of carbon which results in no moving parts.
"Carbon Monocoque" is a term used in the aerospace industry. It involves an external skin of the body that provides most of the strength and rigidity.
What's the point of that you ask? It simply removes the internal weight which gets the reel down to 6oz.
This reel is the most rigid ultralight that I have ever fished with meaning it doesn't have any "give" when flipping the bail and retrieving.
I paired this reel with a 13 Fishing Omen Panfish Rod and I felt like I owned the river.
I didn't want to put it down! I used it all morning and had a blast catching bluegill along the shoreline and was even able to haul in a 1.5-pound bass, and when I say "haul in" I mean I hauled it in.
This reel has 11 pounds of drag power so it performed like some of my larger reels did.
From the moment that bass blew up on that weightless Lil' John, to the moment I netted him, it took maybe two minutes. That is an incredible feat for an ultralight reel!
Of course the downside is that it's a bit pricey but I will say this: This reel is going to last and this reel won't leave you doubting as far as asking the question – "Did I buy the right reel" and that is a priceless feeling in my opinion.
I would definitely recommend this reel for fishermen who are serious about incorporating ultralight into their arsenal of bass fishing.
Even on a tournament scale. Pair it with a high-end ultralight rod and enjoy the feather-light ride!
Best Budget Ultralight Spinning Reel
Pflueger President Spinning Reel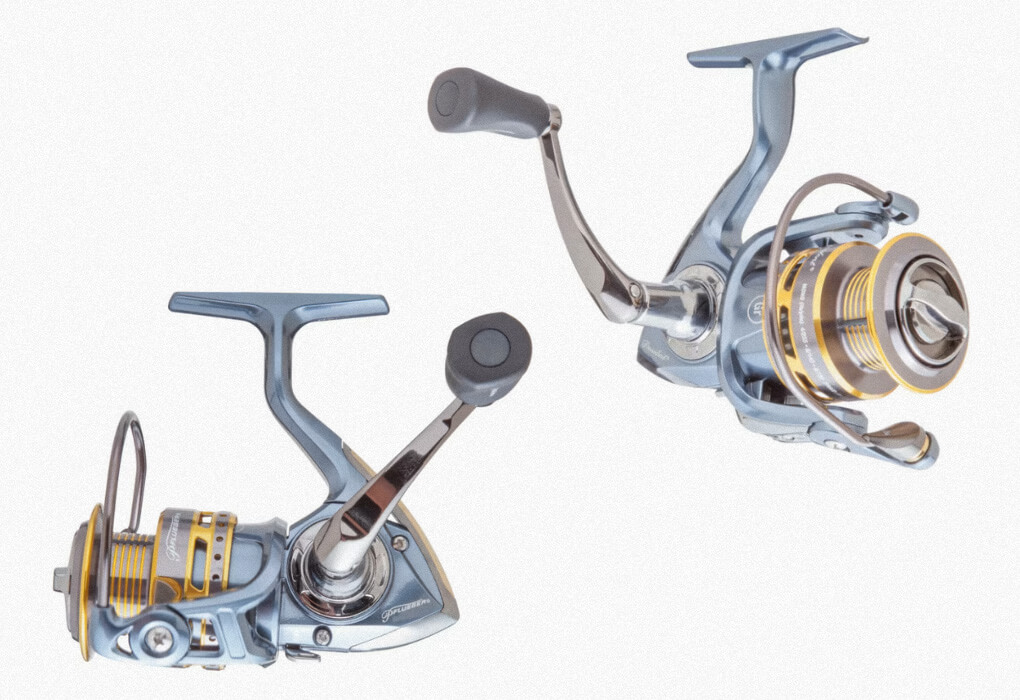 Specs
Type: Spinning
Gear Ratio: 6.2:1
Weight: 6.2
Bearings: 6+1
Line Capacity: 4/100
Why We Chose It
Bias warning! I've owned many Pflueger Presidents throughout my fishing career and they consistently hold the best value out of all the ultralight spinning reels.
With three young kids, ultralights setups outnumber regular rod and reels in my household 3/1.
The size 20 reel only weighs 6.2 pounds so it's a true ultralight reel.
One of the biggest mistakes you can make when selecting an ultralight reel is to get a reel that is too big.
During my test I paired the President with a 6'8, Medium action Abu Garcia Veritas rod and beat the bank with a Johnson's Beetle Spin.
The reel casted smoothly and I never encountered any "hiccups" from the bail wire opening and closing.
The line flowed off the spool freely and my casts consistently landed within two feet of the bank which led to a ton of bluegill being caught.
I had an absolute blast with this reel as I was able to put 16 bream in my ice chest to bring home and clean. (Whole-fried of course!)
While I didn't catch any big bass on it, I was able to test the drag system when a 2-foot garfish jumped on and made a run to deeper water.
The 7lb. max drag screamed for about 15 seconds but then the gar wore out and I was able to reel it in.
If you have ever fished with the Pflueger Patriarch Spinning Reel, the President feels a lot like that reel but doesn't boast the pulling power when it comes to drag.
Also the Patriarch has 11 ball bearings making the retrieve smoother.
And while the retrieve is ultra smooth, I have had problems with the retrieve after it was submerged underwater.
While it doesn't happen much, every once in a while my kids will drop their rod and reel in the water. When that happens the reel makes a grinding noise like it has sand in it.
This fully corrects after a few days of drying however.
On a side note, this reel can easily fill the role of an ice fishing reel if you're in need of a reel to pair with your ice fishing rod. The graphite makeup is cold proof and it matches up with most hard water rods.
When it comes to getting the most bang for your buck, the Pflueger President is the perfect ultralight reel to target bream and bass.
After trying it out, don't be surprised if you end up getting another one to match up with some of your other rods.
Most Versatile Ultralight Spinning Reel
Abu Garcia Revo3 X Spinning Reel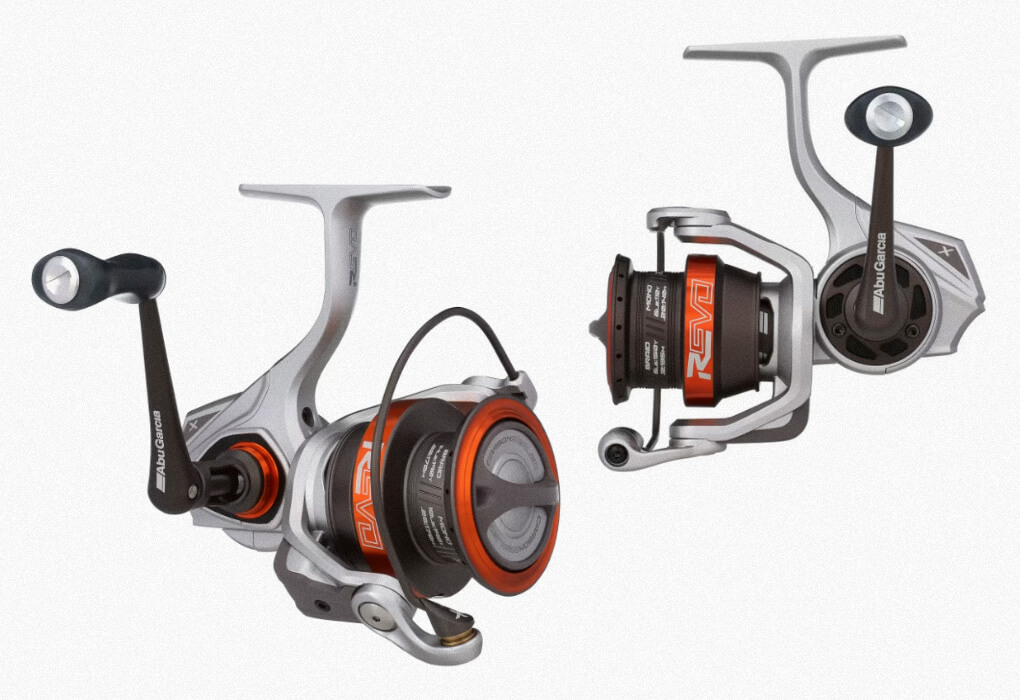 Specs
Type: Spinning
Gear Ratio: 6.2:1
Weight: 7.1
Bearings: 6+1
Line Capacity: 6/110
Why We Chose It
If you're looking for a versatile ultralight reel that is able to check off all of the boxes when it comes to weight, material makeup, and casting distance, look no further than the Revo 3X by Abu Garcia.
The reel comes in many sizes but the ultralight version is a size 10 and weighs 7.1 oz.
Its inspiration comes from the Abu Garcia Zenon Spinning Reel which sports an asymmetrical aluminum body design which results in a lighter overall reel. 
Out of the box this reel reminded me a lot of the old Abu Garcia Cardinal Reels that I used as a kid. Those reels were very well built and light.
I loaded it with 8 lb. mono and paired the reel with a 6'.6" Abu Garcia Vendetta rod and got into my "ultralight groove" quickly!
Right off the bat I noticed this reel's ability to cast farther than any of the other reels that I tried during my test.
It's because of the Rocket Spool Lip Design which allows the line to move back and forth on the spool in a longer, slower pattern.
This explains my long casts when using it. I was able to catch five bass that were along a shoreline full of cypress knees.
I was using a weightless Matrix Shad on a worm hook which is a very light lure. The reel casted beautifully and I hit all my targets.
The carbon drag system also had a high-end feel to it when a 2.6-pound spotted bass ambushed my Matrix and made a mad dash for the cypress knees.
The drag pull was VERY smooth without any jerks and the sound was really quiet as well.
The 11-pound max drag is another feature that sold me and it's the primary reason we choose it as most versatile.
It can handle bream, bass or even saltwater fish if you need it to cross over.
This reel made a hard push for our best overall ultralight but the Pflueger Patriarch was a bit smoother when retrieving line and it was also lighter, weighing 6 oz.
Overall, the Abu Garcia Revo3 X Spinning Reel performed very consistently and beat out all the others when it comes to versatility.
If you're looking for a reel that can be used for catching panfish and catching large bass, this is the reel to go with to pair with your ultralight rod.
Best Saltwater Ultralight Spinning Reel
Shimano Stradic FL Spinning Reel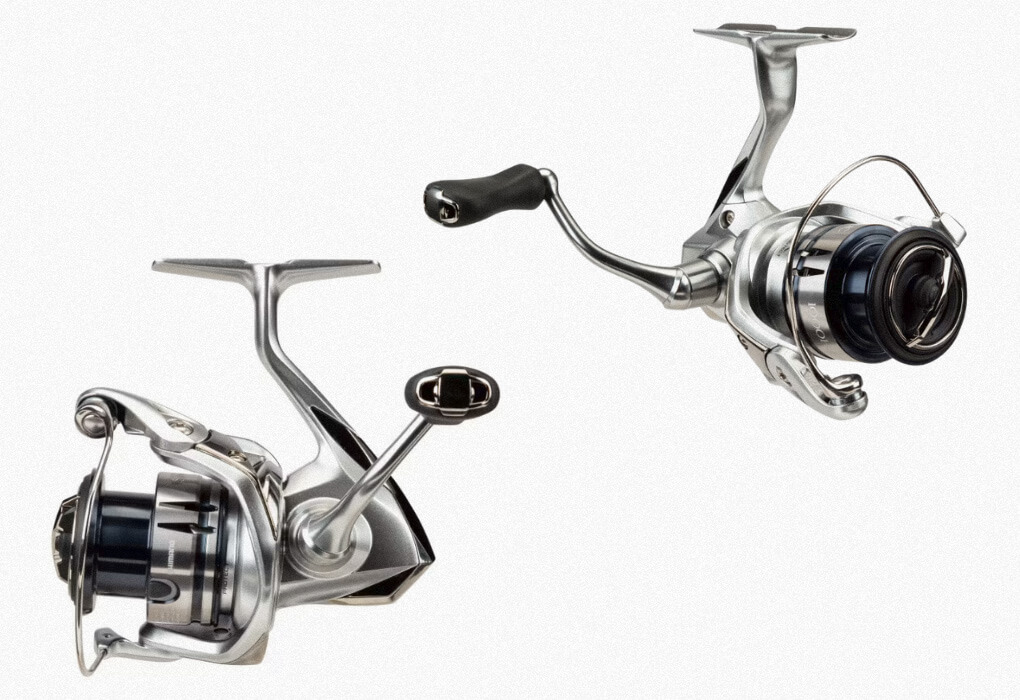 Specs
Type: Spinning
Gear Ratio: 6.0:1
Weight: 6.5
Bearings: 6+1
Line Capacity: 4/160
Why We Chose It
Shimano has created something special with the Stradic FL.
The spinning reel has loads of features that all come together to make one near-perfect specimen of a ultralight spinning ree.It's also a great reel to take along on your next saltwater excursion.
If you are anything like me, when fishing inshore saltwater areas, it's all about casting distance.
On my test I was able to make incredibly long casts with some casts stretching farther than 50 yards with only a plastic swimbait on a ⅜ oz. jighead.
I was able to cover a lot of water with this thing, and covering water means maximizing the area that you fish which is a good thing.
This reel kind of reminds me of Daiwa's T-Wing technology that's used on their baitcasters which is a longer spool.
The long spool creates less back-and-forth from the line when it's flowing off.
The Shimano Stradic FL has something called a Long Stroke Spool which translates to the same thing.
Another great thing about this reel is the HAGANE Body which is a rigid reel body design that reduces flex caused by body movement. This reel is ultra-quiet and sounds like a $500 reel.
Balance is another bonus with this reel. The G-Free Body is a reel design that shifts the center of gravity closer to the angler's hand. This reel is really comfortable and I could have used it all day without tiring out.
The only drawback I found was that the drag wasn't as smooth as some other reels like the Abu Garcia Zata Spinning Reel.
While the Zata was smoother, it just didn't measure up to the Stradic FL when it comes to saltwater protection.
Shimano's X-Protect waterproofing seems to be the real deal as it does a great job with repelling moisture which is a very important quality when fishing in saltwater.
Overall, I would highly recommend this reel to those saltwater inshore fishermen who are looking for an ultralight reel that casts far and is built to endure saltwater intrusion that is often the killer of open faced reels.
How to Choose the Best Ultralight Spinning Reel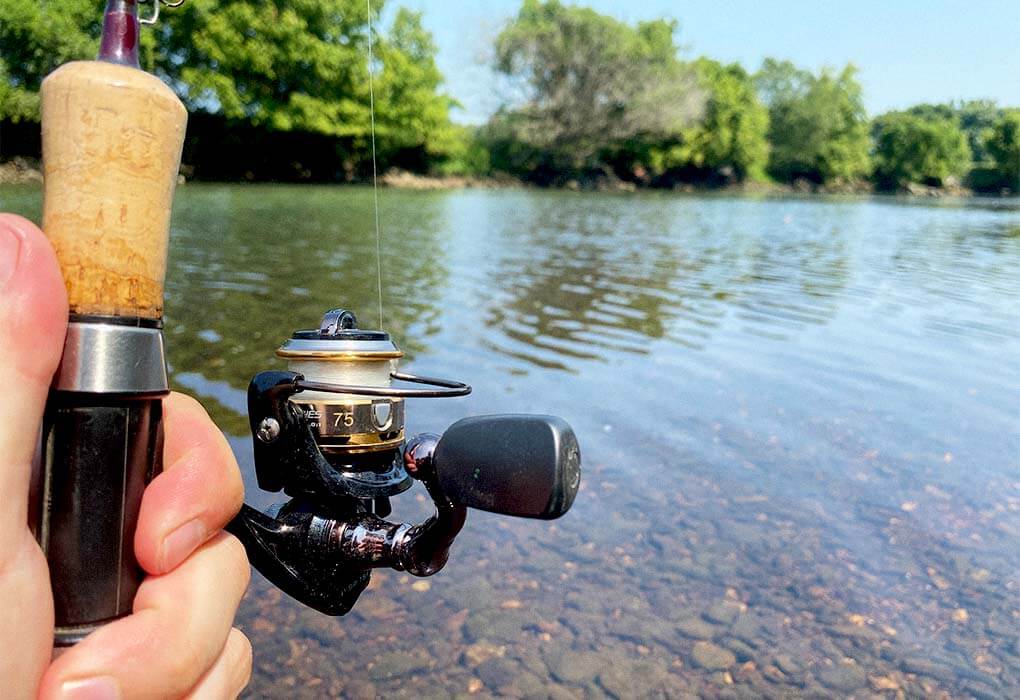 If you're in the market for this type of fishing reel you'll want to consider a few important factors before choosing your next ultralight spinning reel.
Size and Weight
Ultralight spinning reels are typically reels that size 2000 or under.
They are smaller reels that match up to an ultralight rod.
Having a reel that is too big will overpower your ultralight rod and throw everything off-balance.
Weight is important for the same reasons. You should be targeting a spinning reel that weighs less than 7oz. When choosing an ultralight reel.
Price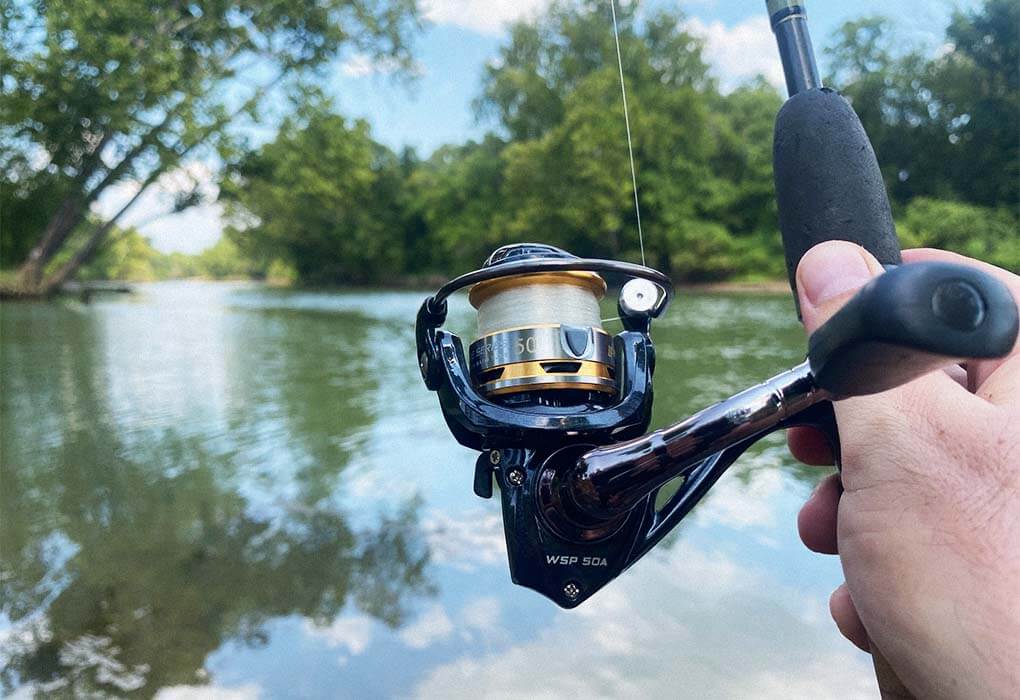 Ultralight reels are generally cheaper than regular size reels simply because they are made with less material, however there are some really high-end ultralight reels that can exceed 400 dollars.
It all depends on your preference. I find that most fishermen have one ultralight set-up and it may just be that you want a tournament-grade spinning reel to match up with your tournament-grade ultralight rod.
But for the most part, you can buy a sufficient ultralight reel for under 100 bucks and it's going to perform above par and last you several years.
If you're just starting out in the ultralight world, a budget reel is the way to go until you learn what you like and what you don't like about ultralight reels.
Drag System
A good drag system is one of the most important qualities of a great ultralight reel.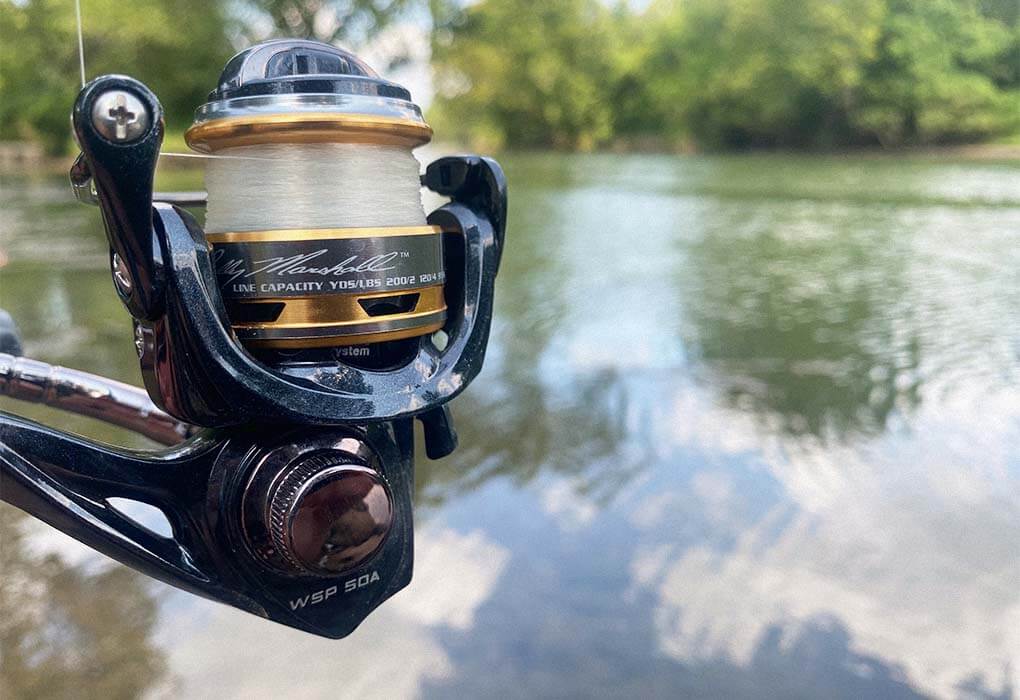 When you are using an ultralight reel, you're going to be using light line that is in the 6lb range.
This translates to longer battles with fish and more drag pulling runs that the fish will make. A high quality drag system will battle the fish for you because it wears the fish out while the fish is pulling.
Keep an eye out for reels with smooth drag systems and enough drag pressure to put the breaks on the fish you're targeting.
Material and Design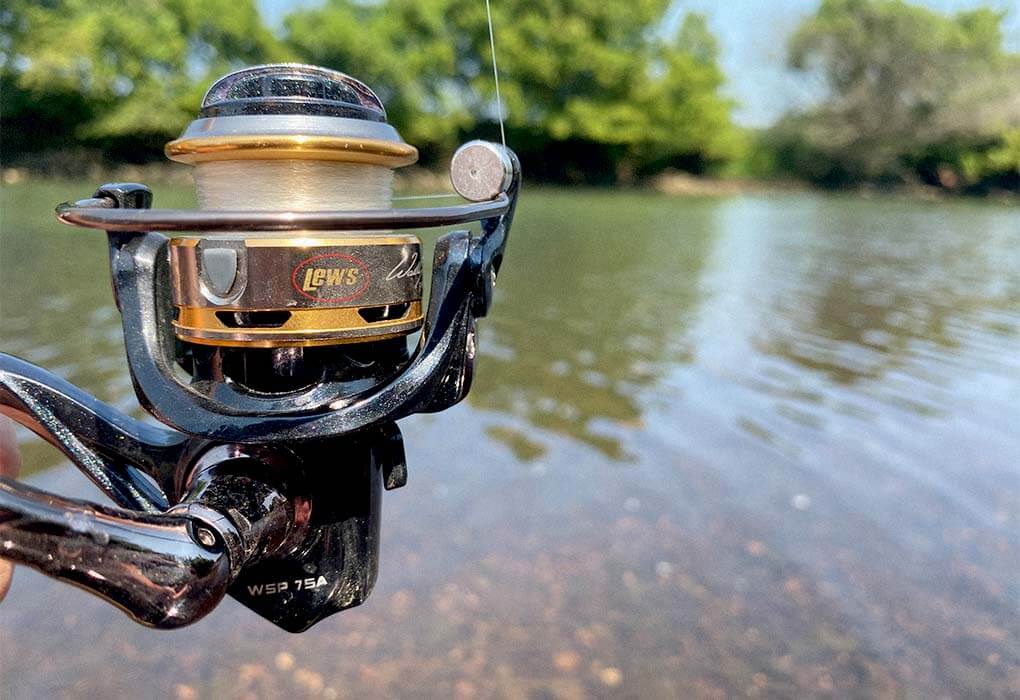 The material the manufacturer uses is as important with an ultralight reel as it is when choosing a regular size reel, if not more.
When choosing an ultralight reel you'll want to keep an eye out for ones that are built with graphite, simply because graphite is a high quality material but it's also lightweight. The company that is able to combine quality materials into a reel that weighs under 7oz. is a winner in my book.
Final Thoughts
I brought quite a few ultralight spinning reels to the river for my test over the weekend and I learned a lot about the newer reels that are out on the market.
There were also a few older classics that beat out the newer ones as well.
So let's review our top pick!
For the ultralight spinning reel overall, we choose the Pflueger Patriarch Spinning Reel.
It was a phenomenal lightweight reel coming in at 6oz.
Also the sealed carbon drag was the best I experienced all weekend.
Add to it the 10 stainless steel ball bearings that made for an incredibly smooth retrieve and it's no surprise that the Patriarch was our pick as best overall ultralight spinning reel.
While the Pflueger Patriarch won overall, you really can't go wrong with all the reels mentioned in this best ultralight spinning rod guide that we've put together.
Give them a try and tell us what you think! We'd love to hear from you!