Last Updated on January 13, 2023
We independently research, test, and recommend the best products; you can learn more about our review process here.
Pros
Unbelievably lightweight for the quality
Boasts intense drag capabilities to handle larger fish
Best of show Shimano technology
Cons
Pros
Super light
Buttery smooth
Anti-reverse
Affordable
Cons
Bail is tough
Handle is a bit flimsy
Pros
Graphite body
Priced affordably
Braid ready spool
Durable and well constructed
Cons
Quality control issues
Line twisting
Ultralight fishing is something that a lot of people don't understand or they don't quite get why anyone would do it.
It involves fishing lightweight tackle with fast action fishing rods and the best ultralight spinning reels.
This is my favorite way to fish and something I've dedicated so many years of my life to. Whether you're fishing for bass, trout, crappie, bluegill, or sunnies, using ultralight reels is the way to go.
They're light, easy to work with, and quick enough to set the hook fast and get the fish back to the boat. My favorite choice, hands down, is the Shimano Stradic FL.
It checks all the right boxes and is buttery smooth.
In this guide, we're looking at all the best choices for ultralight spinning reels. Open your mind, expand your horizons, and check these out!
---
How to Choose the Best Ultralight Spinning Reel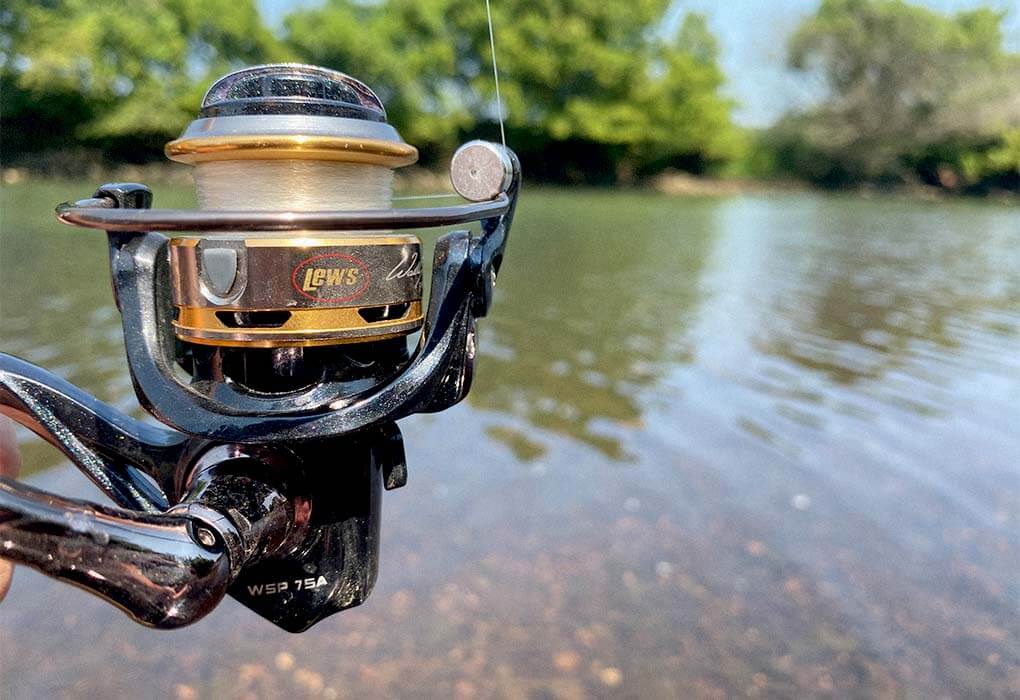 If you're in the market for this type of fishing reel you'll want to consider a few important factors.
The things you'll look for in an ultra-light reel will be different from the things you look for in a standard spinning reel so go through these to make sure you get the right reel for your needs.
Size and Weight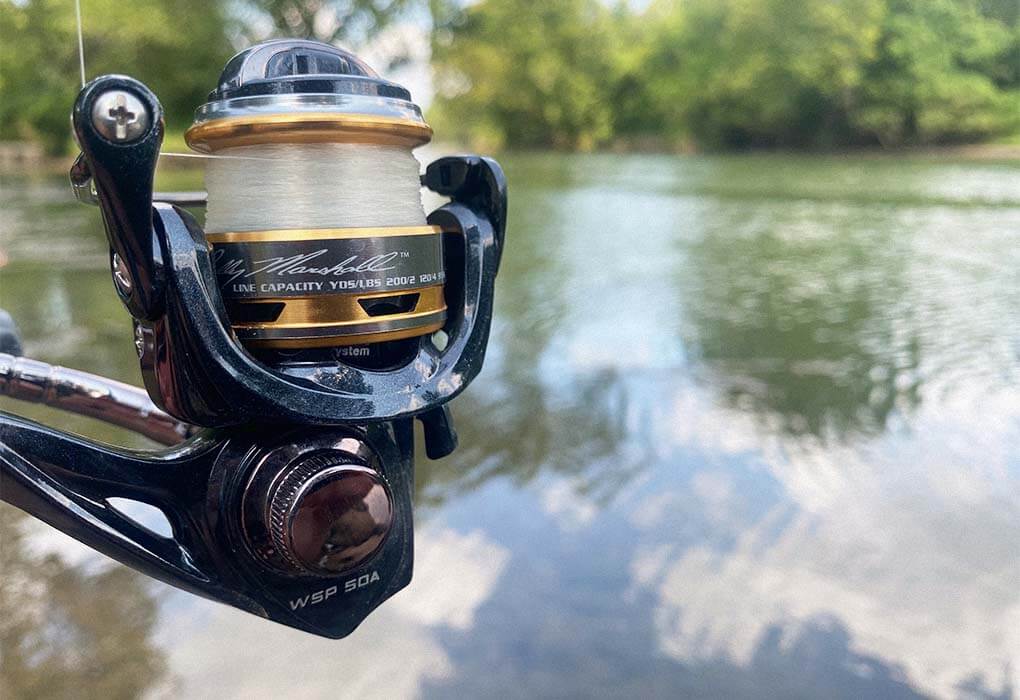 First and foremost, you want a lightweight reel because you're pairing it with lightweight tackle and it would be silly to hook up a three-inch plastic worm to a two-pound reel.
It just doesn't make sense.
The goal is to find something as light as possible without hindering the overall performance of your fishing. If a reel is too light it might be flimsy or poorly built with cheap materials.
If it's too heavy it will cause you to feel fatigued or it might get in the way and become too cumbersome to manage with your presentation.
Keep in mind that the size of your reel also impacts the amount of line you can use.
If you're planning on fishing saltwater whether it be inshore or offshore, you might encounter larger fish that you would in a small freshwater pond.
As a result, you may need a larger spool to accommodate a larger line and more of it.
Price
If you have to worry about the price of the reel it means you're spending too much.
Ultralight reels are designed to be affordable and they generally range in price from as little as $20 to as much as $400.
As a whole, they're still much more affordable compared to many other types of reels.
They're smaller, lighter, and contain less premium features so that results in a lower price.
I recommend putting together a budget for your reel and determining whether or not you think you'll be able to stay within that.
Like I said, this is one area you shouldn't have to worry when it comes to fishing gear, ultralight reels are cheap.
Gear Ratio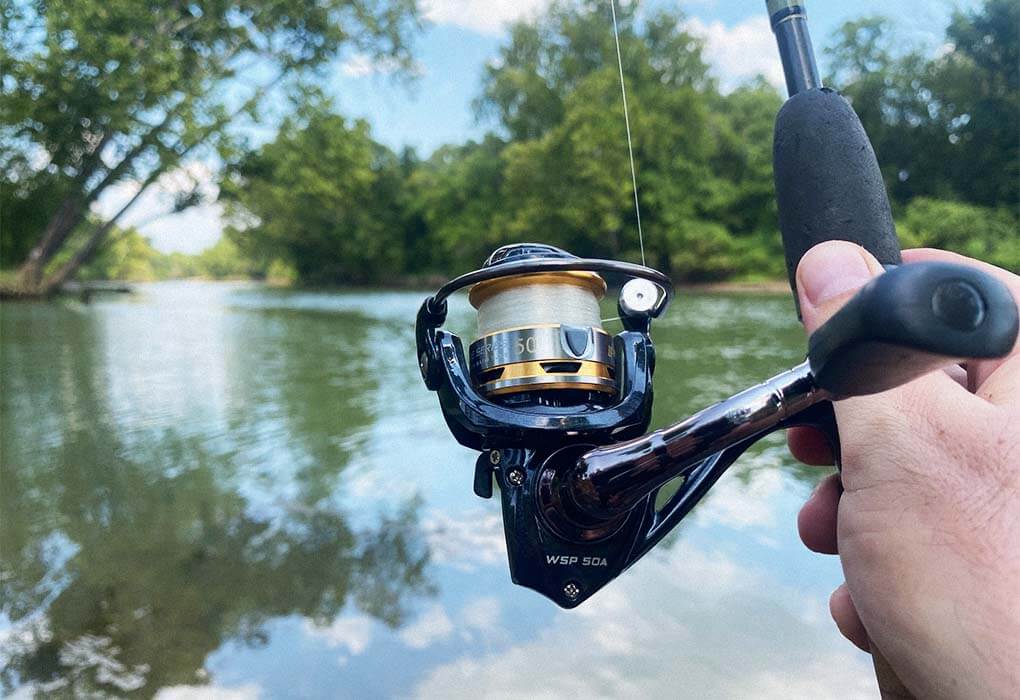 Your gear ratio[1] refers to how many revolutions the spool turns for each crank on the handle. If you see that a reel has a 6:1 gear ratio it means that each time you turn that handle, it will spin the spool around six times.
Generally, you want to stay somewhere around the 6:1 range but with ultralight spinning reels it's better to have a high gear ratio of 7:1 or higher.
This is because you don't need that slow cranking design because you're not likely to catch anything overly large.
When you're chasing larger fish, you need to be patient on the retrieval otherwise you might lose the fish.
A one pound crappie isn't going to take you very far so you don't need a slow gear ratio and you can simply crank him in, flip him in the boat, and be on your way.
With a slow gear ratio of 5:1 it means you'll have to work a lot harder to get the fish in the boat and you'll also need to turn the handle a lot more to get the same presentation out of the lure.
Your best bet is to get an ultralight reel with at least a 6:1 gear ratio unless you're planning on using it for catching large fish as well. Never go lower than a 5:1.
Drag System
Your drag is one of the most important features on the reel, especially with ultralight fishing techniques.
This is because you're typically using lighter line which means it'll be easier for a fish to snap it.
Using 4lb mono is a lot different than 12lb braid so you need that drag to support your efforts by allowing the fish to have enough flexibility to tire itself out as you're bringing it in.
Being able to have control over the drag is also important.
You should be able to adjust the pressure on your drag system so you can create the right amount of pressure to ensure you're not there reeling all day and so the line doesn't snap.
Keep in mind that these factors depend entirely on the type of fish you're trying to catch and where you're fishing.
Material and Design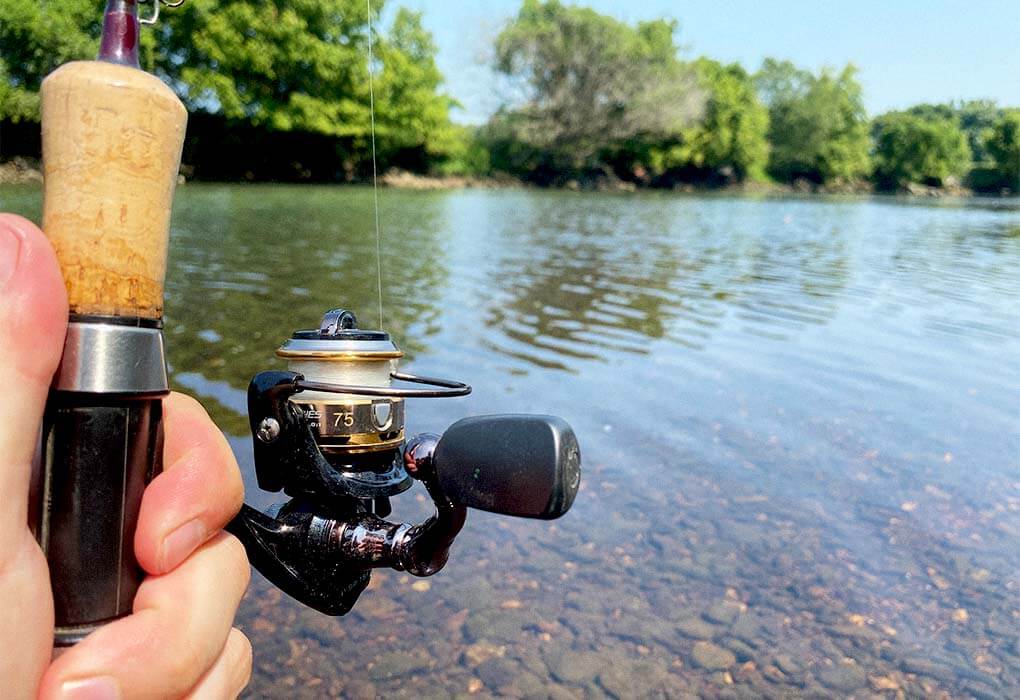 The materials used to make the reel paired with the overall design are important as well. As anglers, we like to take care of our equipment and ensure it looks good at all times.
I take a lot of pride in my gear and typically gravitate towards rods and reels that have an appearance that I like.
That said, the materials that go into making the reel do a lot more than make it look good or bad. Most reels are made using graphite, carbon fiber, or aluminum and each of these have their pros and cons.
Graphite is very light which will reduce fatigue and make it easier to handle the reel overall.
Aluminum may be a bit heavier but it offers more flexibility resulting in improved torque which will help you if you do land a larger fish.
I also suggest looking towards new technology and seeing what's the latest and greatest piece of equipment from certain brands.
Companies like Daiwa and Shimano are always coming out with new technology and figuring out ways to advance their reels to improve their handling and overall performance.
Brand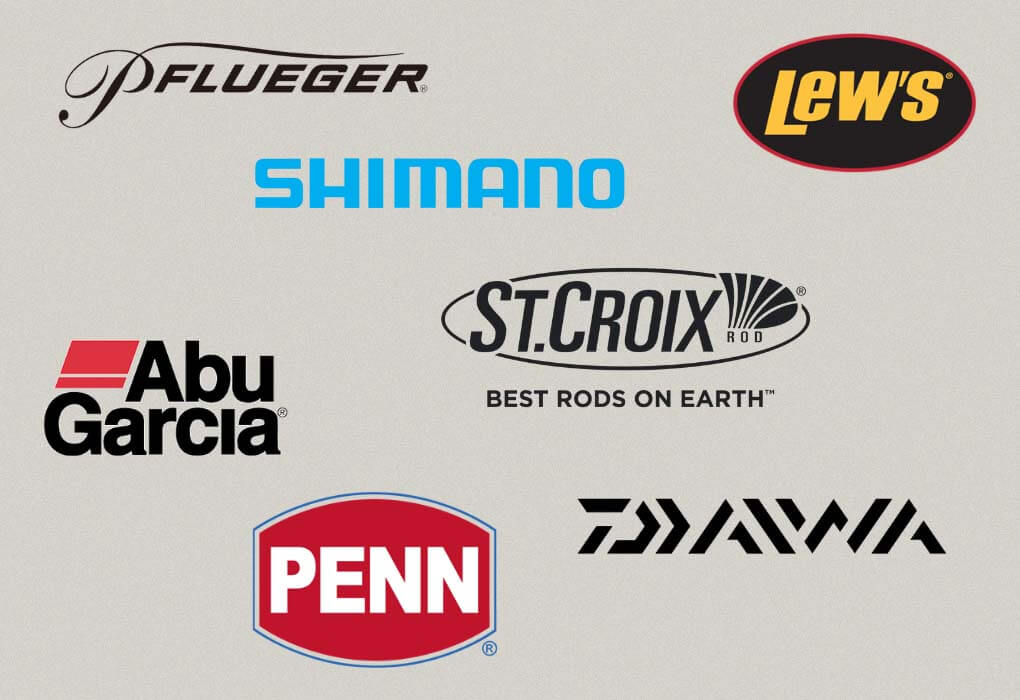 Last but certainly not least, we need to talk about the brand.
The brand is important because you not only want to have a good warranty and customer service if something goes wrong but a high-quality brand will offer state-of-the-art technology and a reputation that makes the investment worth it.
Even if you're not spending hundreds of dollars on a reel, you still want features and components that will last over time and help support your efforts.
I always prefer to stick with brands like Daiwa, Okuma, Penn, Shimano, Pflueger, St. Croix, Lews, and Abu Garcia.
Whenever possible, I shop around my favorite brands because I know that I'm going to get a reel that I love and even if it doesn't meet my expectations, these companies will do everything they can to make it right.
Best Ultralight Spinning Reel
SHIMANO STRADIC FL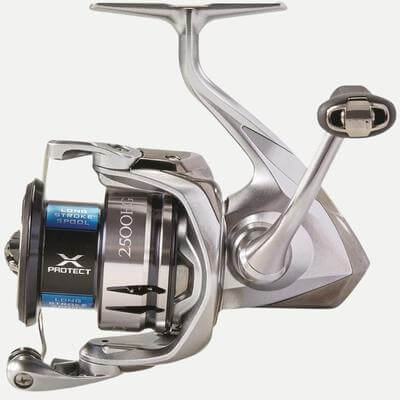 Specs
Weight: 5.6 ounces
Bearings: 7
Gear Ratio: 6.1
Line Capacity: 120-200
Pros
Unbelievably lightweight for the quality
Boasts intense drag capabilities to handle larger fish
Best of show Shimano technology
Cons
I own this reel and use it almost every week, it's the best you can find in this price range in terms of lightweight capabilities and smoothness.
The reel is buttery smooth and the almost unbelievable weight really lets you work your finesse baits.
One of my favorite things about this reel is the handle. It's a larger-sized handle which is unheard of on an ultralight reel but it really provides you with a better ability to crank it and manage larger fish.
Best of all, you get everything Shimano has to offer from the HAGANE body to the X-protect spool technology.
It's hard to beat this fishing reel brand and the Shimano Stradic just reinforces that.
In fact, the Sedona FL (discussed below) is one of the only reels that cuts it close in terms of weight paired with performance.
I think the Sedona is a better entry-level reel but the Stradic is the better of the two and will provide you with a better reel long-term.
Best 1000 Size Spinning Reel
SHIMANO SEDONA FI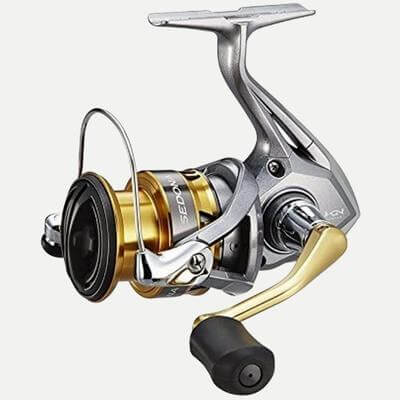 Specs
Weight: 7.5 ounces
Bearings: 3+1
Gear Ratio: 5:1
Line Capacity: 4/140, 6/110, 15/85, 20/65
Pros
Machine cut spool for larger line capacity
Super light
Propulsion line management system
Cons
Back here with another Shimano and this one offers some different pros and cons as compared to the Stradic.
With the Sedona, you still get the Hagane gear that is designed to lengthen the life of the reel and ensure consistent casting and retrievals over time.
It also comes with a G-Free body[2] which moves the reel closer to the rod. Shimano claims this improves comfort and limits fatigue when you're working your lure but I can't say I've ever met anyone that can back up this claim.
Personally, I've used a number of Shimano reels with this technology and it's hard to tell the difference. If it makes any impact at all, it's almost unnoticeable.
You'll get an increase in overall line capacity with this reel as it comes with a machine cut spool, which means you can stack more line in it.
While this is generally a "pro" for fishing reels, it's not that important in ultralight fishing applications.
You'll get a lower gear ratio of 5:1 with this and a 3+1 bearing setup which is sufficient but this number of bearings has an impact on the overall smoothness of the cast and retrieval.
Compared to the Stradic, this one comes with an anti-reverse bearing to limit the amount of backplay which is a feature you don't always find in reels of this price range.
Finally, the propulsion line management system[3] is one of my favorite features because it helps you when you're casting into the wind or trying to really drop your lure in a precise location.
It assists the line in coming off the spool without backlashing.
Our main issues come with the overall smoothness and performance of the reel. It has a lot of cool and interesting features but they don't always perform as described.
There are many issues with gears seizing or grinding. As the bail reaches the bottom of the spool it becomes stiff and almost feels like there is resistance.
One final issue is the size of the reel.
While it is super light, it does have a bit of bulkiness to it which they tried to address by moving the center of gravity closer to the blank but it still doesn't eliminate the fact that the reel is much larger than some of the others on our list.
With all that being said, if you're looking for great Shimano technology for around $100, this is a solid option.
It offers a lot of great features like the line propulsion technology, durable body, and long-lasting internals backed by the Shimano name but this one does leave us wanting a little more.
Best Value Ultralight Spinning Reel
KASTKING CENTRON 500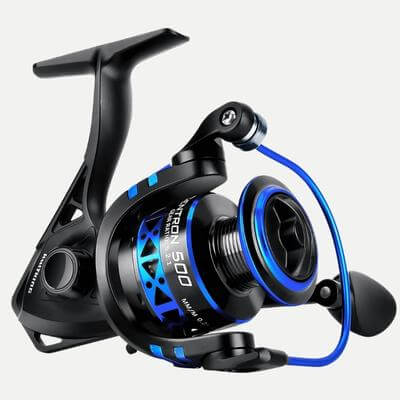 Specs
Weight: 6.9 ounces
Bearings: 9+1
Gear Ratio: 5.2:1
Line Capacity: 4/240, 6/155
Pros
Super light
Buttery smooth
Anti-reverse
Affordable
Cons
Bail is tough
Handle is a bit flimsy
We all know KastKing as the Amazon brand of fishing gear and for a long time, I tried to exclude their products from my reviews but they've really stepped up their game.
This is a great UL spinning reel with a lot to offer.
It comes at an extremely affordable price, being one of the cheapest reels I've ever seen, around $30.
KastKing uses a narrow graphite frame to limit fatigue and maximize performance by making it easier for you to control and handle.
It also has a 17.5 pound max drag which honestly isn't bad for something of this size.
Plus, you get the anti-reverse bearing and nine additional roller bearings. The bearing system is nice and smooth and the line flies right off the spool.
There's an ambidextrous application here too so you can swap the handle from side-to-side.
Last but not least, I personally think this reel just looks pretty dang cool.
Now onto the cons…
Keep in mind we're talking about a $30 fishing reel here so these cons aren't even necessarily "cons" so much as me just telling you what you're going to get in this price range.
The reel is a bit flimsy. The spool and internal components of the reel are fine but everything on the outside could use a bit of reinforcement.
The handle feels like it might break off when you're battling anything decent and the bail is really tough as well. Most of the time you have to manually close it when you're trying to reel it in.
The arm to the seat is made with cheap plastic as well so don't put too much pressure on it and be careful how you handle your rod because it will crack or break if you drop it or set it down too hard.
But let's keep in mind, the Centron 500 gets the job done and does so without breaking the bank.
It's a cheap ultralight reel that is a great choice for beginners, fishing for panfish, and ice fishing as well.
Is it the best ultralight reel of all time? Of course not. Like I said above, I love the Stradic FL.
But, if you need a spare reel to take with you or you're experimenting with certain techniques, you could make good use of this one.
Best Ultralight Spinning Reel for Trout
PFLUEGER PRESIDENT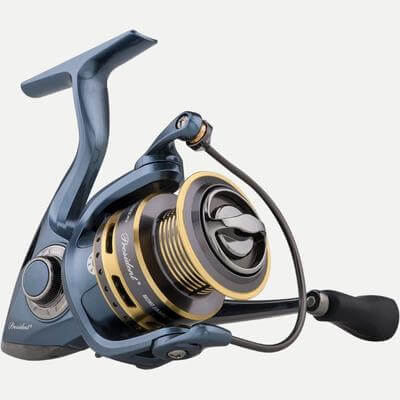 Specs
Weight: 7.3 ounces
Bearings: 7
Gear Ratio: 5.2:1
Line Capacity: 200/2, 100/4, 80/6
Pros
Graphite body
Priced affordably
Braid ready spool
Durable and well constructed
Cons
Quality control issues
Line twisting
This reel is beautiful. If you're the kind of person that likes to purchase a new piece of equipment and show it off to everyone then you're going to love this one.
The incredible graphite body with the gold finish on the spool offers great contrast and really makes the reel pop as a whole.
We all know the functionality of a reel is more important than how it looks but come on! You have to appreciate its' aesthetics.
The 5.2:1 gear ratio is optimal for trout fishing by supplying enough speed at the spool to limit fatigue when retrieving fish all day.
The reel is pretty light and it doesn't have too bulky of a body (like the Sedona) which makes it the best ultralight spinning reel for trout fishing.
The reel is also set close to the blank which will allow you to work this all day without feeling too fatigued. This should also help improve your control over the line and lures.
The President uses an aircraft-grade aluminum handle and the slow oscillation gearing promises to provide a nice even line lay.
We later find out that that's not always the case but these are isolated scenarios so don't worry too much about it.
This reel comes with an anti reverse system and seven total stainless steel ball bearings so it does provide a nice smooth cast and retrieval as we would expect from this brand.
The anti reverse feature is helpful for trout fishing because it helps you time your precision casting to hit the exact spot you want. It's also priced really affordable for a household name like Pflueger.
There are, however, a lot of quality control issues with this one.
While it's important to realize that these are isolated incidents and may never happen to you, we should be aware of them so we can look out for ourselves and not spend money on something that may give us problems down the road.
Many people we talked with said that if you use braided line it gets caught in the bail. This will make retrieving really difficult and result in constant problems with each cast.
You'll also be required to pay for the shipping to send it back as well because Pflueger doesn't cover that.
A few other issues we encountered were bearing grinding resulting in a really rough retrieval as well. There's a big difference between those who get a perfect reel and those who get a sub-par one.
It's luck of the draw but we really expect better from a popular and well respected brand.
If you can get past some of the issues, you're staring down on one of the best ultralight fishing reels ever made.
It's an incredible piece of fishing technology boasting great features and enough standard offerings to make anyone happy.
Plus, it comes at a price that is affordable for almost anyone's budget. We can only hope that some of the quality issues our neighbors are experiencing were rectified.
Best Ultralight Spinning Reel for Saltwater
DAIWA BG 2500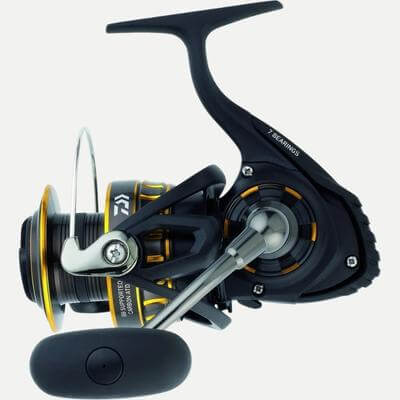 Specs
Weight: 11.6 ounces
Bearings: 6+1
Gear Ratio: 5.6:1
Line Capacity: 6/210, 8/170, 10/140
Pros
Waterproof drag system
Reinforced for saltwater
Air rotor
Cons
If you're looking for a reel that can offer the best of both worlds, this is a great option.
The Daiwa BG is a saltwater spinning reel that's light enough for finesse applications but powerful enough to handle large stripers and other brackish water fish.
It comes with a black anodized machined housing and oversized Digigear system. What does that mean? So glad you asked.
The Digigear is Daiwa's patented technology[4] that uses gears with bigger teeth to create more touch points which results in improved gear strength compared to other reels in the same class.
Not to mention the fact that you get the monocoque body as well which means it has a smaller body but it offers the same internal design with larger gears and bigger teeth for a smoother and overall better performance.
The corrosion-resistant drag system and durable body are what make it the perfect choice for the best ultralight saltwater reel.
They prevent the salt from getting inside the internal components so they don't rust out and damage over time.
As with everything in life, it's a give and take. You want a saltwater spinning reel so you're going to have to give up a little weight if you actually want to catch something.
You couldn't use anything lighter because you'd have a heck of a time getting whatever you hook into the boat anyway.
I think I said it all by this point. The Daiwa BG is exactly what we'd expect. It's a solid saltwater spinning reel that's light enough to work in a variety of applications.
You don't need to only use it for saltwater but it's powerful, durable, and strong enough to handle it if you decide to do so.
Best Ultralight Spinning Combo
SHAKESPEARE UGLY STIK GX2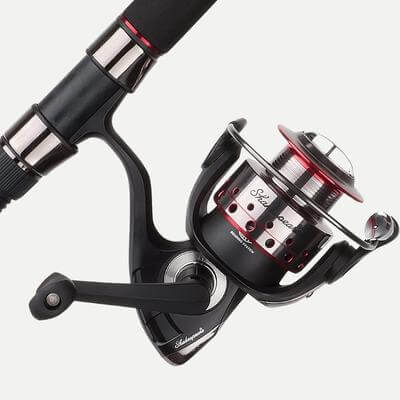 Specs
Weight: 11.2 ounces
Bearings: 3
Gear Ratio: 5:1
Line Capacity: 80-120
Pros
Affordable
Comes with everything you need to get started
Cons
Most of us have probably heard of the Shakespeare Ugly Stik and know it as being one of the more beginner-friendly rod and reel combos. Well, that's because it is.
This is the best ultralight spinning combo for someone who has never fished before because it's easy to handle and not actually a toy rod. While many people may call it a "toy," it's not.
The Ugly Stik offers decent durability with a graphite and fiberglass construction so you get the most in terms of sensitivity as well.
Most of the complaints about this one come from the reel itself and the lack of smoothness in the operation.
It only has three bearings so that could be to blame but I've used this a few times and believe you get what you pay for.
All in all, not a bad option if you're looking to equip yourself with a spare rod and reel for when your friend comes fishing or if you're getting your kids started out and don't want to spend too much money!
Another comparable option would be the Lew's American Hero combo.
It's still got the three-bearing system but the whole thing is made from graphite which allows for a little more durability and it's actually lighter.
Frequently Asked Questions
What is the lightest ultralight spinning reel?
The lightest ultralight reel I've used is the Shimano Stradic FL.
What is the best ultralight spinning reel for saltwater?
The best ultralight spinning reel for saltwater is the Daiwa BG 2500.
What is a size 4000 reel good for?
A size 4000 reel can handle fish up to 20 pounds so it can handle just about any size bass you're likely to find.
Final Thoughts
As I round out this review, it's important that we end with this. No matter what fishing style or technique you use, there's always room for something else.
Experimenting with different types of reels is fun and if you decide to give an ultralight a try, the Shimano Stradic FL is the best one on the market right now!
The best ultralight spinning reels will be light, portable, quick, and durable enough to last over time.
All the options in this guide will do the trick and they're pretty affordable to boot. Good luck and enjoy!
About Post Author