Baitcasting is a style of fishing that involves larger lures, heavier techniques, and more powerful cranking. The best baitcasting reel will support those efforts with a powerful gear system, optimal braking, and a large enough body to help you crank in larger fish.
I love my spinning gear but even I can admit that baitcasters are the right choice for deep crankbaits and swimbaits. I was intimidated by them years ago because I was so worried about getting tangled but after a few hundred (or thousand) casts, you get the hang of it. Let's take a look at the top seven baitcasters from the best brands in the world.
Comparison Table – 7 Best Baitcasting Reels
Image
Product
Rating
Price

Best Overall

Lew's Hypermag Speed Spool Baitcaster

Gear Ratio: 7.5:1, 8.3:1
Weight: 5.4 ounces
Bearings: 10+1
Line Capacity: 12/110 – 30/110

Amazon

Best Baitcaster for the Money

Gear Ratio: 7.2:1
Weight: 7.2 ounces
Bearings: 5+1
Line Capacity: 10/130-12/110-14/90

Amazon

Runner Up

Gear Ratio: 4.9/6.2
Weight: 13.4 ounces
Bearings: 5+1
Line Capacity: 200/50 - 285/30 - 380/20

Amazon

Best Reel Under $150

Gear Ratio: 5.6/6.8/7.5
Weight: 6.5 ounces
Bearings: 9+1
Line Capacity: 12/120-50/120

Amazon

Best Low Profile

Gear Ratio: 6.3/7.3/8.3:1
Weight: 8.8 ounces
Bearings: 7+1
Line Capacity: 14/100 - 16/90

Amazon

Fully Loaded

Gear Ratio: 6.2/7.4/8.5:1
Weight: 7.8 ounces
Bearings: 6+1
Line Capacity: 10/120-30/135

Amazon

Smoothest Baitcaster

Gear Ratio: 6.2:1/7.1:1/8.1:1
Weight: 6.5 ounces
Bearings: 8+1
Line Capacity: 12/110 - 30/135

Amazon
---

Total Breakdown of Our Favorite Baitcasters
Lew's Hypermag Speed Spool Baitcaster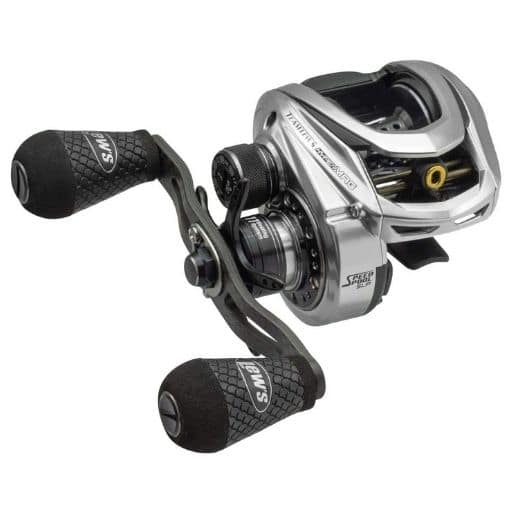 BEST OVERALL
Specs
Gear Ratio: 7.5:1, 8.3:1
Weight: 5.4 ounces
Bearings: 10+1
Line Capacity: 12/110 – 30/110
Pros
Lightweight
Adjustable internal braking system
Durable and attractive magnesium frame
Use by the pros
Cons
What Do We Like?
What don't we like? Straight out of the box this reel is sharp looking, durable, and lightweight. It's got a nice low-profile appearance with a crisp gray frame. If you've ever fished with a Lew's reel before, you'll know that they're very smooth and they cast well, there's no difference with this one.
One thing that actually makes me a fan of this baitcaster even more is the fact that they don't go overboard on the features. There are two primary features that stand out to me though.
There's a speed dial indicator which allows you to mark what type of line and what size you're using so you can remember for next time. This is great if you use a lot of different lines and reels but not that big of a deal if you don't fish too much.
The reel also comes with a speed keeper hook keeper which I personally find to be pretty valuable but again, some of you might not see it as a "feature."
It comes with a high-end 11-bearing system with double shield stainless ball bearings and a zero reverse. This one-way clutch is a great choice for fishing dense cover.
As for cranking, you get carbon fiber handles with Dri-Tack knobs from Winn which you really can't beat. I'm personally surprised that they don't charge an extra $200 for this reel. Where some come and say that it's priced as a premium reel, I disagree. A premium reel is somewhere in the $400-500 range and the fact that you can get a reel of this quality for $300 is mind-boggling.
What Needs Improvement?
There's really nothing I would improve about this reel, it's about as close to perfect as you can get and if you've fished with it before, you know what I'm talking about. It's lightweight, low-profile, durable, offers a great gear system, and it comes at a price that is reasonable for what you're getting.
Overall Summary
Overall? Don't think too much about it, just get it. If you want the best casting reel that will really make a difference with your fishing then this is where you want to go. Lew's has an exceptional reputation and while I've never had to deal with the customer service, I've heard great things about them.
Abu Garcia Revo Toro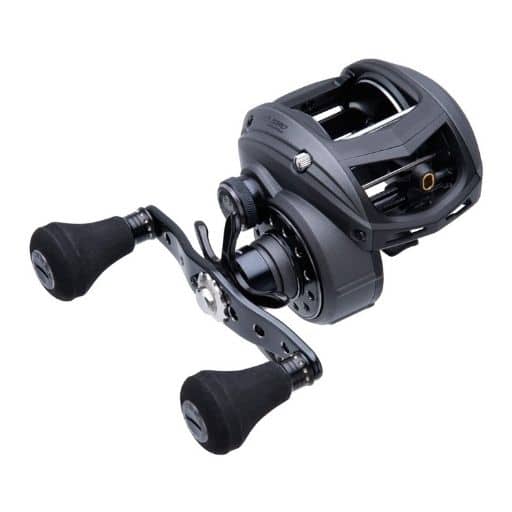 RUNNER UP
Specs
Gear Ratio: 4.9/6.2
Weight: 13.4 ounces
Bearings: 5+1
Line Capacity: 200/50 – 285/30 – 380/20
Pros
Power Stack carbon matrix drag system
Centrifugal brake system
Corrosion protection
Durable reel
Cons
Issues with used products
A bit bulky
What Do We Like?
If you're in the market for good baitcasting reels with a little more power, the Abu Garcia Revo SX series is where you want to be. These are some of the most popular reels of all time and the Toro got its name for a reason. It's durable, sleek, has a low-profile design, but has many internal components that allow it to take on quite a load without breaking down on you.
First, the overall design of the reel is incredible. It uses a 5+1 internal bearing system with an alloy frame and side plate to prevent corrosion. The X2-Craftic frame is also present to reduce the overall weight of the reel. They use titanium additives in the frame to help protect it against abrasion and ensure that the pressure and stress you put on it aren't noticeable after a few trips to the lake.
One of the most important features of the best baitcasting reels is the handles. Here you'll get thick metal handles with EVA knobs. There's very little backlash, the knobs fit nicely into your hand and they make it easy to crank. Plus, you really feel like you can crank these guys because of how sizable the handles are overall.
It's pretty clear that this reel is designed for larger fish and the corrosion resistant materials makes this one of the best baitcast reels for saltwater fishing.
What Needs Improvement?
While there are way more pros than cons, there are a few things I could say. If you've positioned the eye laterally when you cast you need to keep it in the middle or you're going to have some tension on the line which will wear it down and take away some of the strength. This function is behind the spool and it's something that many would ignore but don't.
Casting is also something that may take some time to get used to because the magnetic brake system isn't the easiest to understand. You may want to turn off all the weights and adjust the axial and magnetics because you'll get a greater casting distance. Keep in mind that pairing this with the right rod will make a difference as well.
Overall Summary
This reel crushes resistance, no question about it. The power qualities are excellent so if you're into deep cranks with a heavy braided line, this is the way to go. The full-metal body, powerful handle, and large line capacity make it a great choice for saltwater fishing as well. It's well-resistant to corrosion and has a beast of a drag system. This isn't for your small freshwater pond bass fishing though.
Lew's Speed Spool LFS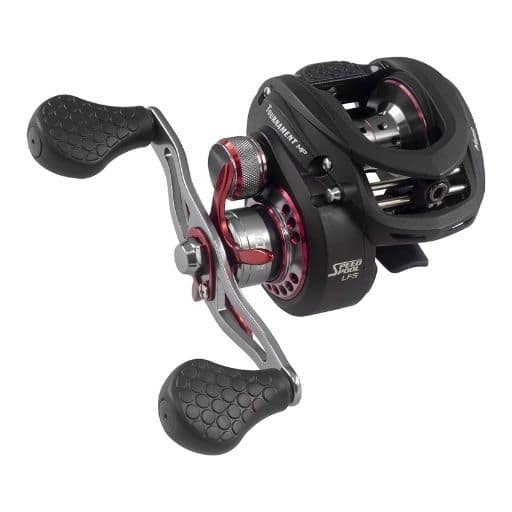 BEST BAITCASTING REEL UNDER 150

Specs
Gear Ratio: 5.6/6.8/7.5
Weight: 6.5 ounces
Bearings: 9+1
Line Capacity: 12/120-50/120
Pros
Priced affordably
10 bearing system
Lightweight and low profile
Cons
Subpar casting
5.6:1 only comes in right hand

What Do We Like?
This is a redesign of the original speed spool from Lew's and while I loved the original one, I don't know why they even bothered to redesign it because they don't do that much. That said, this is a highly affordable baitcasting reel and you get a lot of bang for your buck.
At first glance, it doesn't stand out appearance wise. It looks like it has a lot of plastic but what should you expect when paying $100 for a reel. It comes with an aluminum frame though (no plastic) and brass gears and pinions.
You get three different gear ratio options unless you're left-handed and a 9+1 bearing system. These days, anglers are demanding more and more for less cost and for this reel only being $100, you're getting a lot. They're focusing on minimizing the amount of extraordinary features you can get by maximizing the basic components of the reel to ensure you have something that performs over time.
I'll always be a fan of that strategy and this is the best reel you can get right not for less than $200.
The reel feels small in your hand because of the low-profile design. If you have a hard time handling the larger bulkier reels, you'll like this one and experience less fatigue throughout the day.
The one major difference from the old model is the decrease in weight which I'm always in favor of as well. It comes with a spool capacity of 150 yards of 12 pound line as well which is a step up from the previous model limit of 120 yards.
What Needs Improvement?
I'm not a fan of the handles or knobs on this reel. I think with the step up in many areas, they should've done something to improve this area. The knobs feel flimsy and the handle itself doesn't exactly do well with heavy cranking.
It's also not the smoothest operating fishing reel on the market and you can feel a little resistance every now and then. Backlash is a real possibility and there's no anti-reverse on this one which could be a blessing or a curse depending on how you look at it.
Overall Summary
Overall, you're getting a reel for $99. Not to mention the fact that you're getting a Lew's reel for $99. I don't even know how they make money on these. If you want to try a Lew's reel out for the first time and you don't want to fork over $400 for a premium option, give this one a shot.
Daiwa Tatula SV TW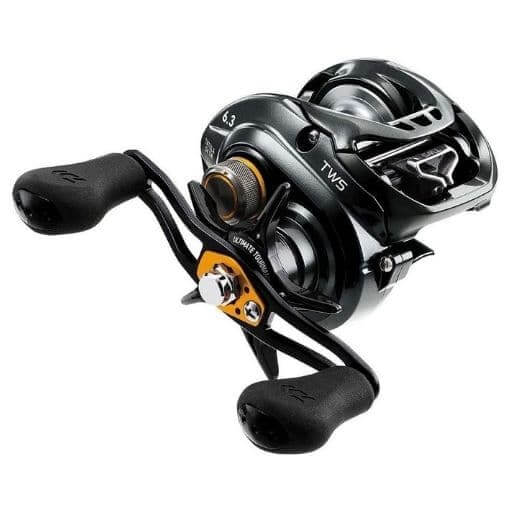 Gear Ratio: 6.3/7.3/8.3:1
Weight: 8.8 ounces
Bearings: 7+1
Line Capacity: 14/100 – 16/90
Pros
Total aluminum body
Lightweight, low profile
Great for beginners
Affordable
Cons
Small, lacking durability
What Do We Like?
There was a time when someone asked you what your favorite reel was, it was always a Daiwa. This brand has led the way for a long time until a lot of other manufacturers started popping up. They're usually at the front of cutting edge fishing technology and they implement so many incredible features into their reels.
The T-Wing system solves a huge problem that a lot of baitcasting anglers experience. There is friction caused by the level wind system and the T-Wring helps the line flow better through the top section of the reel when you cast. The end result is a smooth cast and more cast control.
They also use something called an air rotor which is much lighter than your traditional rotor but it also helps provide added strength to your retrievals.
The technology keeps flowing with Daiwa with their Magforce-Z feature as well. This is a magnetic braking system that allows the spool to spin early in the cast and it naturally starts to apply friction to the rotation to prevent back spooling. This adjustment provides more control over your cast without having to wear out the gear system.
What Needs Improvement?
As compared to some of the other options in this article, this pick for best baitcaster is the best choice for smaller fish. It lacks a little bit of the power you'd like to see in a heavy baitcaster but that's what you're getting here. You're getting something with a lot more ergonomic design.
Daiwa packs it full of their best technology to help ensure that you have a smooth and accurate cast, that's the primary goal of this reel design. It's a great choice for canal fishing, ponds, lakes, and around structure.
Overall Summary
It's low-profile, affordable, loaded with technology, and it comes from a brand we all know and love. What more could you ask for? Daiwa is a trusted brand and this small little reel packs enough punch to hold its own across many different applications.
Shimano Curado DC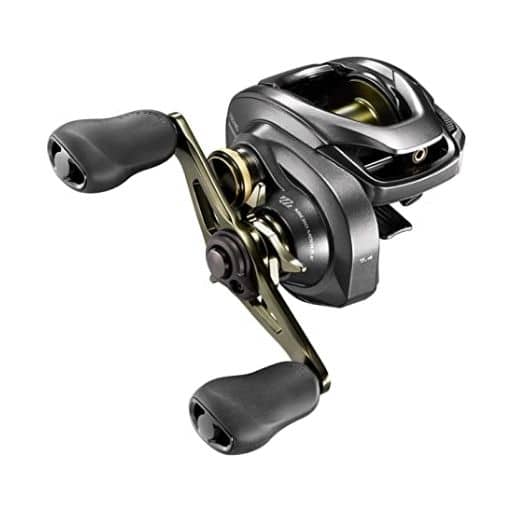 FULLY LOADED
Specs
Gear Ratio: 6.2/7.4/8.5:1
Weight: 7.8 ounces
Bearings: 6+1
Line Capacity: 10/120-30/135
Pros
Digital braking technology
Smooth and long casting capabilities
Shimano brand
Loaded with features
Cons
What Do We Like?
The Shimano Curado DC is an incredible reel that comes loaded up with features that only the top-of-the-line baitcasting reels get. You get the Hagane alloy body, X-Ship pinons, Cross carbon drag, and I-DC4 digital braking system. Come on now!
The X-Ship body is designed specifically to increase the smoothness of your cast while increasing the overall power of the retrieval.
The money maker is really in the digital braking system. There's a digital controller inside the reel that monitors the speed of the aluminum spool. When you cast, the chip will measure and compare the data with previous casts to automatically determine the amount of pressure required to get the casting distance you want.
This is great if you use a larger assortment of lures because you won't have to adjust anything, it's done automatically and you can get the perfect casting distance each time.
What Needs Improvement?
The only real con here is the fact that it's a few ounces heavier than some of the other options that we would consider the "best." In fact, it's one of the highest-rated baitcasting reels we've reviewed yet and we're already getting towards the bottom of the list.
Overall Summary
When you stick with brands like Daiwa, Shimano, Abu Garcia, Lew's, Piscifun, and Penn you really can't go wrong. You know you're getting manufacturing that has been time-tested over decades, improved upon, and tweaked until it's perfect.
Shimano Chronarch MGL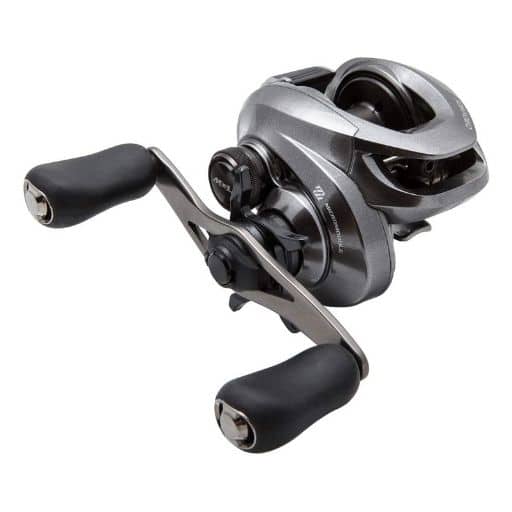 SMOOTHEST BAITCASTER
Specs
Gear Ratio: 6.2:1/7.1:1/8.1:1
Weight: 6.5 ounces
Bearings: 8+1
Line Capacity: 12/110 – 30/135
Pros
Magnumlite Spool
Infinity braking
Powerful and durable
Cons
What Do We Like?
You know it's good when you have such a hard time finding something wrong with the reel. I've always been a person to focus on the quality and performance of it rather than looking at the appearance but this reel looks amazing. It's so impressive and really eye-catching when the sun reflects off the incredible black finish.
It boasts an 8+1 bearing system with the micro-module gearing. This design uses smaller teeth in the gears to ensure that there is more surface convergence. That's a fancy way of saying, you'll be able to cast further with less resistance. It uses a centrifugal braking system that you can adjust using a knob on the outside.
I'm a huge fan of having all the adjustments in a place where you can easily access them. You shouldn't need special hardware to adjust the max drag or braking systems on your reels and Shimano did a nice job with this one.
As for performance, the retrieval and cast on this reel is as smooth as butter. You get an impressive casting distance even with lightweight lures and pitching into dense cover is easy as well. Many people prefer to go without the drag but the system overall is top-of-the-line whether you use it or not.
What Needs Improvement?
When you see me use price as the main con for a reel, it means I cannot find anything wrong with it. This reel is one of the best out there, from the top brand, and it comes loaded with so many features that make it silky smooth for casting, durable and powerful for cranking, and beautiful for sitting there and staring.
Overall Summary
If you're the kind of angler that pays attention to the small details, you'll appreciate a lot of the little adjustments made to this reel to make it lighter, smoother, and crisper. The internal gear system is state of the art and it really makes a difference with the cast. You'll only notice this if you really pay attention and if you don't have a lot of experience with reels, you may not pick up on it.
KastKing Royale Legend GT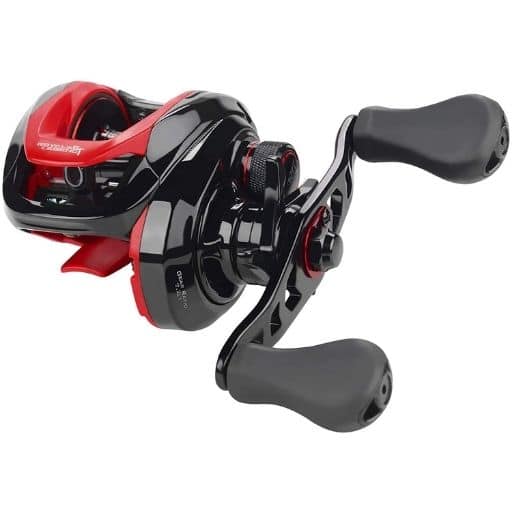 BEST BAITCASTER FOR THE MONEY
Specs
Gear Ratio: 7.2:1
Weight: 7.2 ounces
Bearings: 5+1
Line Capacity: 10/130-12/110-14/90
Pros
Smooth casting and retrieval
Highly affordable
Soft-grip handle
External adjustments
Cons
Lacking in durability and premium features
Some components don't function properly
What Do We Like?
First, let's talk about the price. You can barely get a gimmicky childrens rod for $40 nevermind a baitcasting reel that you can actually take onto the water and catch something with. We all know KastKing as the "amazon" brand of fishing products but this one is pretty impressive.
It has a graphite body with a compact design meant to be low-profile, smooth, and comfortable in your hand. They use a soft-grip handle which will also help you fish longer without feeling fatigued but they're mounted on a 95.5mm aluminum alloy handle so you're not sacrificing any durability.
They do a nice job of breaking down the construction of the reel as well. KastKing uses a precision brass main gear which is said to improve the overall life of the reel but we also know that the main gear is responsible for smoothness and this one is as smooth as a baby's butt.
It also has one of my favorite features which I haven't seen too much of yet (surprising that this is the cheapest reel) which is the ceramic line guide. These help preserve the integrity of the line while also supporting optimal casting distance and overall performance.
What Needs Improvement?
Of course, we need to expect problems with a cheap reel like this. First, the tension knob moves on its own because it's a little loose. There's also a big issue with my precious line guide, it's the fact that it doesn't guide the line, the line guides it. The ceramic guide is supposed to move with the spool but this one is a bit stiff so it's slow to respond. The end result is unnecessary tension on the line which screws up your cast and can start to wear down your braided line.
There's also the issue of durability. You don't want to skimp on a baitcaster because most of you are likely out there putting work on it with larger cranks and swimbaits. In many cases, you might be better off putting out another $100 to get something that will last.
Overall Summary
If you're towards the beginning of your journey as an angler, you might want to pick this reel up as your first baitcaster. It's good enough to last you a while, still pretty smooth, and relatively easy to operate. Plus, it's as affordable as they get.
How to Choose the Best Baitcasting Reel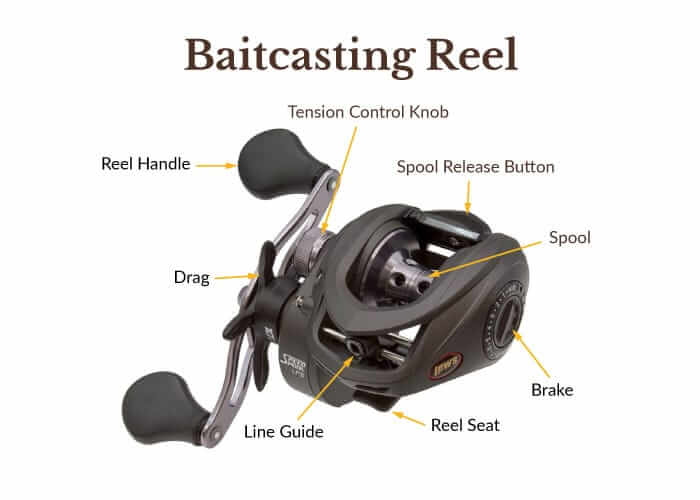 As you're shopping around for the best baitcasters, there are some important factors that you'll want to keep in mind. Everything outlined in this baitcasting reel review is great, but it means nothing if you don't know what you're shopping for.
Gear Ratio
The gear ratio refers to how many times the spool turns per revolution of the handle. So, if you have a 6:1 gear ratio, it means that the spool will turn six times each time you crank the handle around once. The most typical gear ratios you'll find are 6.4:1 and 7.1:1. These are the best choices for worms, jigs, and topwater spinnerbaits.
Lower gear ratios are ideal for deeper cranks and swimbaits. When you're moving the bait slower you're keeping it in the strike zone longer giving it more time for a strike. You also get more power out of these baits making them a great choice for flipping into cover. Fewer revolutions also means that you can tighten your drag a bit because you're not going to be burning the line up on the way back to the boat battling a big fish.
If you desire a reel with a high gear ratio, these are best for fishing smaller topwaters and plastics when you need to set the hook quickly and get the fish back to the boat as fast as possible. Higher gear ratios are more popular with spinning reels and fishing things like topwater frogs.
Spool Size
The size of the spool will determine how much line you can fit on the reel before you start reaching the backing. They also play an important role in managing the line so you don't have to deal with nesting or other tangling related issues. If you do a lot of pitching or flipping, you don't need a large spool because you're not casting long distances.
For the most part, many spool sizes are standard and there isn't too much variation between how much line you can fit on all of them. This information will apply most for sea anglers who are fishing for much larger offshore fish where they're taking the line out really far and battling for 10-15 minutes at times.
Handle
When it comes to the handle you'll want to focus on the size and materials. The best baitcaster for bass will be low-profile with smaller handles because you won't need to have as much power to crank them in. If you're fishing with primarily jigs and soft plastics, you don't have to worry too much about fatigue with a low-profile reel because the cranking isn't the issue, it's the presentation.
That said, if you're doing any type of offshore fishing or even inshore saltwater, you might be fishing for larger fish with big crankbaits. Having a longer handle will give you more leverage to pull the fish out of dense cover and battle them when they're dragging your lure in the opposite direction.
Handle and knob material is important as well. EVA knobs are most common but a lot of manufacturers are doing things to make them more comfortable while increasing their durability. This is important but it's impossible to say which one is "best" because everyone has their own preferences. Shop around and understand that these are necessary factors to think about.
Braking System
The braking system may be one of the most important components of a baitcasting reel. This is one thing that is primarily different from the spinning rod and reel combo. With a baitcaster, you have a tension knob that controls the amount of tension on your line at the beginning of the cast. The braking system will control the tension at the end of the cast. Without the right amount of tension, wind will start to impact your cast. It will slow down your lure. But, that wind is not slowing down the spool which will keep spinning at the same velocity until that lure hits the water.
The end result is a huge mess when your line gets all knotted up in the reel which is referred to as a "nest" or "crows nest" depending on where you're from. It's also called backlashing. This is the number one thing that turns people away from baitcasters because this is something that you need to learn how to manage otherwise you'll be constantly breaking apart your line and throwing it away because it's all tangled.
If you have a baitcaster with an exceptional braking system, these problems won't happen. If you notice, some of the manufacturers even use computerized technology to minimize the chances of this happening.
Bearings
Having high-quality bearings in your reel improves the smoothness of your cast and retrieval. Some people think that more bearings generally means it's a smoother reel but that's not always the case. There are so many factors that determine that so don't just run for the reel with the most bearings.
You want one that offers ceramic or stainless steel ball bearings and is made with lightweight materials. When you combine those factors, you'll end up with a smoother reel than if you went for something cumbersome with 11 bearings.
Line Guides
If your reel has a great line guide, it's the best feature in the world, if it has a crappy line guide, it'll be the first thing you regret. Try to find one that's made of ceramic because it has less friction but they are very fragile so you'll want to be extra careful when handling the reel.
Titanium guides are nice but they're more expensive and I don't find them to necessarily be any better. The most important thing about line guides is that they operate properly and flow smoothly with the line so they aren't creating any tension.
External Materials
What's the reel made of? All metal is the way to go and anodized aluminum offers the most durability with the lightest weight. There are also many manufacturers implementing graphite side plates as well for added durability over the internal components. No matter what, the construction of the reel is one of the most important aspects because you'll want something that is not only durable but easy to operate.
Why Choose a Baitcaster?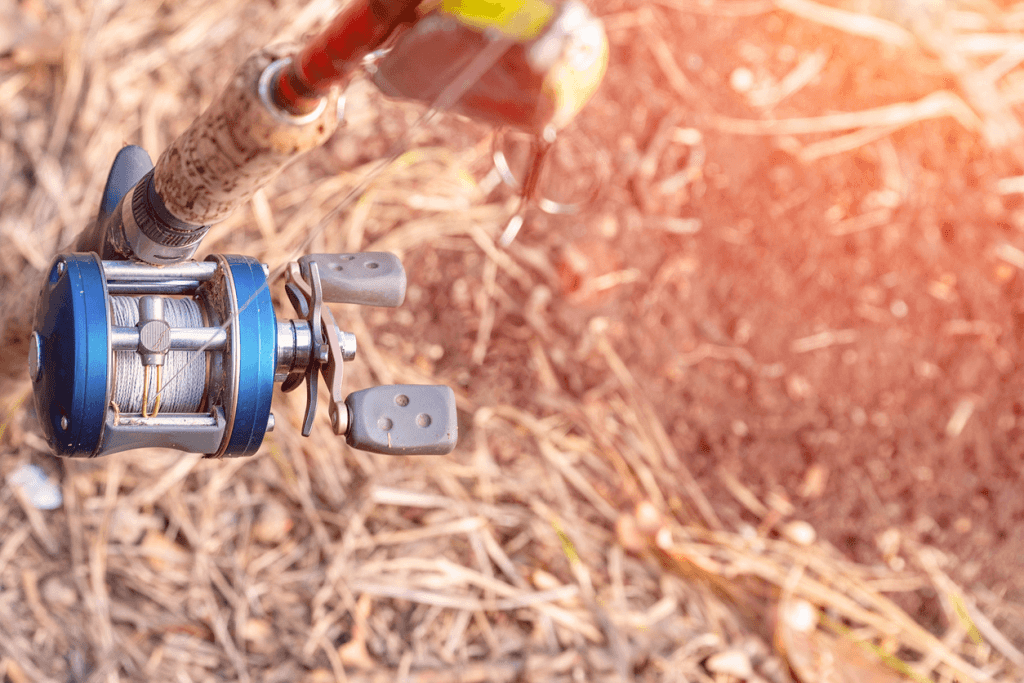 The big question is, why would someone choose a baitcaster over a spinning reel. First, a baitcaster sits on top of the rod whereas a spinning reel sits underneath the spinning rod. There are some pros to using a baitcaster instead of a spinner though.
These reels are generally perceived as more durable and capable of holding larger quantities of heavy line. Of course, there are unique scenarios where this might not be true but this is the reason why casting rods and reels are mostly used for saltwater fishing. They offer more control over your casting distance and precision, they have stronger drag capabilities, can hold more line, so ultimately, they are the better choice for heavier fish.
The downside to using a baitcaster is the fact that they have a steeper learning curve. This is the reason why most people start out with spinning rod and reel applications and later switch over when they have a better feel for things. Backlashing is the number one reason for this and you'll need to play around with the braking system and drag more on a baitcaster.
FAQs
Final Thoughts
Choosing the best baitcasting reel isn't as difficult as it seems. In reality, it's as simple as understanding what makes one the "best" and simply settling on something. As I mentioned, there are plenty of great options on this list so don't stress it too much. Find one that you like and go for it. Even if it's not the most expensive reel on the market, that doesn't mean that it's not a great option.