---
We independently research, test, and recommend the best products; you can learn more about our review process here.
Growing up, it seems I only had a few brands of bass fishing reels to choose from; Abu Garcia, Daiwa, Pflueger and Shakespeare were all brands that were part of my collection of best bass fishing reels.
Today, brands like Quantum, 13 Fishing, Cadence, and KastKing have entered the highly competitive world of bass fishing.
Since getting my start in bass fishing at age 6, I've been sponsored by numerous reel companies and have interviewed over 60 bass anglers
I've mingled with dealers from big-boy companies like Shimano, Daiwa, and Ubu Garcia and I've watched small startup reel companies assemble reels from start to finish.
By combining my personal experiences with owning different bass fishing reels and actually trying a few of them out during a bass fishing weekend, I've come up with a guide to help you select the best reel for your style of bass fishing.
Top 3 Bass Fishing Reels on the Market
As a quick summary, here are my top three choices for best bass fishing reels based on my research and testing.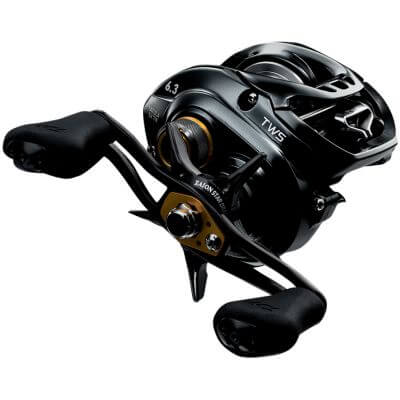 Best Bass Fishing Reel Overall
Daiwa Tatula SV TW Baitcast Reel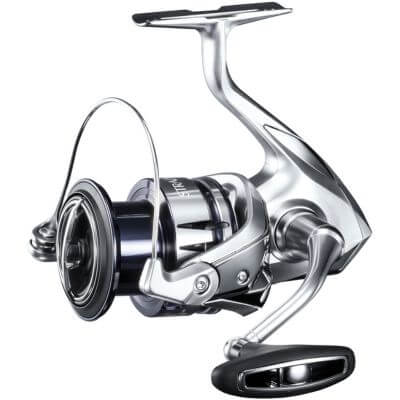 Best Bass Fishing Spinning Reel
Shimano Stradic FL Spinning Reel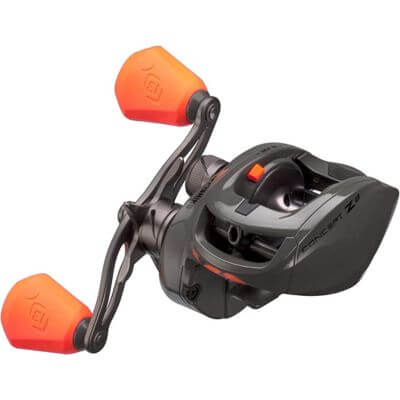 Best Bass Fishing Baitcasting Reel
13 Fishing Concept Z Slide Baitcast Reel
---
Testing Procedure
Living in South Louisiana, I have access to a lot of tributaries locally but I decided to make a trip to Northwest Louisiana to fish Caddo Lake.
Caddo comes fully equipped with aquatic vegetation, duck blinds, and cypress knees making it a bass haven.
It's there that I spent a week solely focused on examining some of the top selling bass fishing reels on the market.
During my time on the water I specifically focused on these qualities that each reel possessed:
Gear Ratio: Bass fishing lures come in all shapes and sizes. Having a reel that fits the lure is an important factor in how that lure performs after the cast.

During my test I looked at reels with a gear ratio between 6.4:1 and 8.0:1 since that's the ratio that's commonly used for bass fishing.
Reel Comfort: While the majority of your hand is wrapped around the rod, a lot of fishermen like to palm the reel when using a baitcaster.

Having a reel that is comfortable and allows your hand to operate it with ease is an important factor when choosing a reel.
Drag System: The drag system of a bass fishing reel should be smooth and consistent. Afterall, it's in charge of the line payout when a bass makes a run.

This helps with line breakage and gives the angler an advantage when tiring out a big bass.
Durability: What's the point in having a great reel if it isn't going to last? A quality bass fishing reel should be built to withstand beat-down.

It should be made with durable materials such as aluminum or carbon fiber to ensure long life and resistance to corrosion. A sturdy reel should be able to handle the stress of fighting bass and endure frequent use without issues.
Ball Bearings: The number and quality of ball bearings in a reel determine its smoothness and overall performance. Generally, reels with more ball bearings provide smoother casts and retrieves.

Also, the material that the bearing is made of can make all the difference in the world. I've found that high-quality stainless steel or ceramic bearings are the best when it comes to a smooth cast and retrieve.
Best Bass Fishing Reel Overall
Daiwa Tatula SV TW Baitcast Reel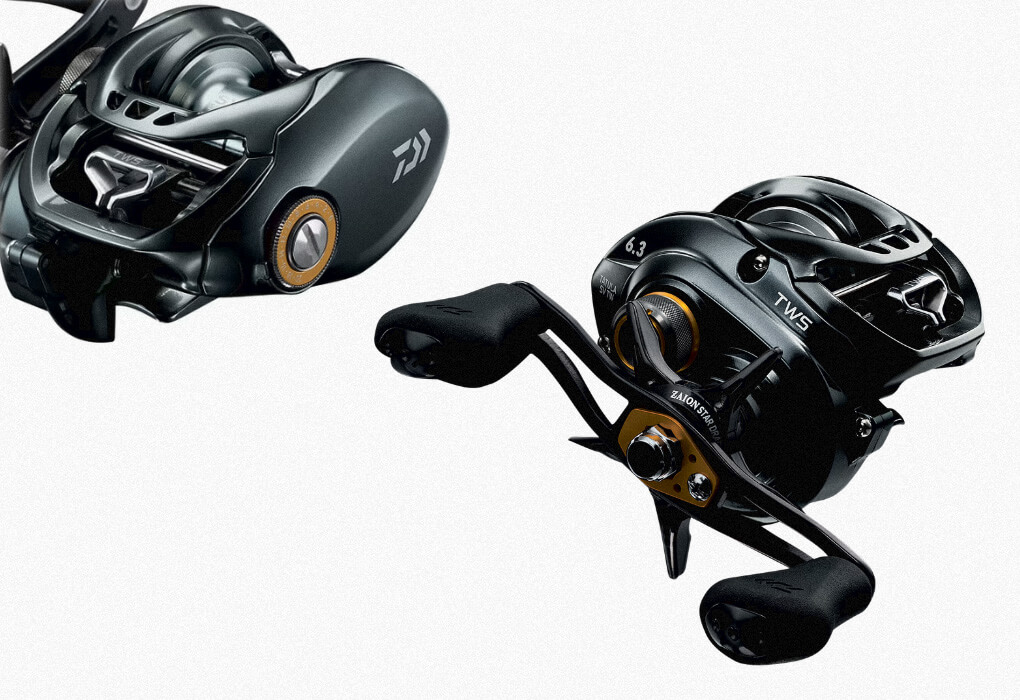 Specs
Type: Casting
Gear Ratio: 6.3:1, 7.3:1, 8.1:1
Weight: 7.2
Bearings: 7+1
Line Capacity: 14/100
Why We Chose It
My oh my how Daiwa has stepped up their game when it comes to bass fishing reels.
This reel excels in versatility and that's why we gave it the title of Best Overall Bass Fishing Reel. It's main strength is its abitly to cast all sorts of baits from swimbaits to Beetle Spins.
It comes in three models with gear ratios of 6.3:1, 7.3:1, and 8.1:1 so there's a little wiggle room as far as what speed you want to pick.
I was throwing a Strike King 3XD crankbait and barely had to touch my thumb to the spool when casting.
Then I got greedy and tried a full-load cast and was amazed when it casted perfectly, without a backlash. This is a game changer when it comes to baitcasting reels!
It also excels in casting distance. It makes monster bomb casts and I think it's because of the T-Wing System that allows for a wider spool with less bouncing back and forth of the line.
It's also very light weight coming in at 7.2 oz. Daiwa did a great job with the cut-outs on this reel.
During my test I caught four bass with the biggest being 3.2 pounds.
This bass came on a very long bomb cast. So I was able to gauge how the reel performed from the hook-set to boat as the fish tired, and it graded out at a 10 out of 10.
It was like there was some sort of autopilot in this reel and it braked when it needed to brake and sped up when it needed to get the bass in the boat!
I would highly recommend this reel for not only pro tournament guys but beginners as well as its strength is backlash-free casting. It's like having an auto-pilot built into the reel!
On a side note, there were two times where the line jammed up against the spool wall and the lure flung back at me but I'd say that was maybe once out of every 500 casts of so.
In comparison, If you've ever used the Daiwa Tatula 100, this is a souped up version of that but with virtually no backlashes!
If you're looking for a reel that covers all the bases as far as being able to cast lightweight lures and heavy lures, this is the reel that hits on all cylinders. Get this reel and you can thank me later!
Best Bass Fishing Spinning Reel
Shimano Stradic FL Spinning Reel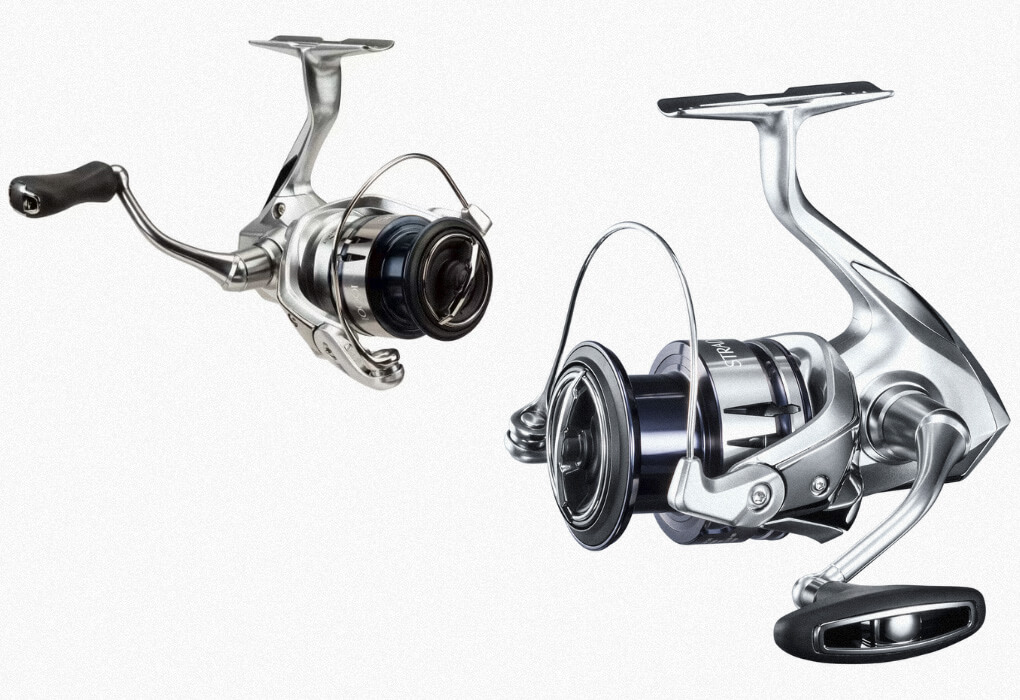 Specs
Type: Spinning
Gear Ratio: 6.0:1, 6.2:1, 6.4:1
Weight: 9.3
Bearings: 6+1
Line Capacity: 14/165
Why We Chose It
Shimano has definitely created a gem with the Stradic FL Spinning reel. The reel has loads of features that all come together to make one near-perfect specimen of a spinning reel.
When testing it, the first thing I noticed was how hard the reel was.
There's no give or flex in any section of the reel.
Everything works in unison when turning the handle.
This is due to Shimano's patented Silent Drive technology which is a combination of three features that come together to make a really quiet cast and retrieve.
The first feature is Shmano's MicroModule Gear which is a gear system that creates smaller teeth that engage with one another. Smaller teeth mean a soother, quieter retrieve.
The second feature is Shimano's HAGANE Body which is a rigid reel body design that reduces flex and any potential noise caused by body movement.
The third feature is The G-Free Body which is a reel design that shifts the center of gravity closer to the angler's hand position reducing weight shift.
All I know is this reel is comfortable and I could have used it all day without tiring out.
I was able to haul in five bass during my test with one coming off a really long bomb cast to a group of lily pads. The reel dominated this 4-pound bass and I was able to net him at the boat after a short 40-second fight.
The Shimano Stradic FL Spinning Reel comes in three models with gear ratios of 6.0:1, 6.2:1, and 6.4:1.
The reel is available in right hand or left hand retrieval.
The only drawback I found was that the drag wasn't as smooth as some other reels that I tried out but overall this reel took the top spot for Best Spinning Reel with the Abu Garcia Zata Spinning Reel coming in a close second.
Whether you're a beginner or a pro, the Shimano Stradic FL Spinning Reel is the way to go to put more bass in the boat!
Best Tournament Grade Bass Fishing Reel
Daiwa Tatula Elite Baitcast Reel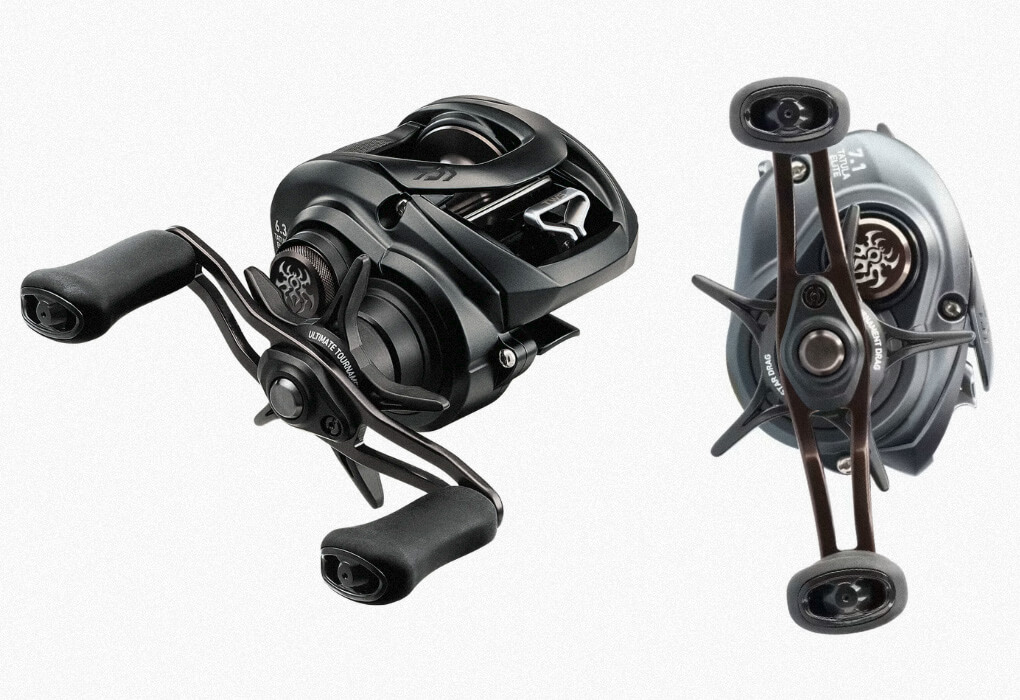 Specs
Type: Casting
Gear Ratio: 6.3:1, 8.1:1
Weight: 6.7
Bearings: 7+1
Line Capacity: 14/125
Why We Chose It
If you're looking for a reel that excels in the casting department then the Daiwa Tatula Elite is the reel for you. Wave bye bye to those time wasting bird nests!
The reel comes in two models with gear ratios of 6.3:1 and 8.1:1, and is available in right hand or left hand retrieval.
The effortless casts that I was able to make with the Tatula Elite during my test was almost unbelievable.
Let me save you a little time and directly compare this reel to its younger brother, the Daiwa Tatula SV TW Reel. It's virtually the same reel except for three features which is worth the extra 50 bucks.
The biggest addition to the Elite is the Zero Adjuster that works in tandem with the Magforce Braking system.
This basically allows you to adjust the reel based on specific casting situations like wind and lure weight in order to maximize your casting distance without backlashes.
The second improvement made is the weight of the reel. The Elite has more cut-outs which drop the overall weight to 6.7 oz. which is a really light reel.
The third improvement is the line capacity. The Elite holds 50 yards more line than the Tatula SV TW.
Now that that's out of the way, let's get to the fun part.
I was throwing a swimbait with this reel and it was casting up to 60 yards.
Then I switched over to a 3" Zoom Tiny Fluke without a weight just to push the envelope.
I adjusted the Zero Adjuster to account for a lighter lure and was able to whip the Fluke under a dock with ease.
I didn't pick up any bass with it but did manage a monster goggle-eye (warmouth) under the dock.
This reel will amaze even the tournament guys but I would also recommend it for beginners. You will be making pro-casts within a few days.
Oh…that's another thing I wanted to mention. It does take a few hours to get used to the Zero Adjuster but put in the time and you will be rewarded!
If you're looking for a lightweight tournament-grade reel that excels with casting accuracy and distance, the Daiwa Tatula Elite Baitcasting Reel is the reel to go with. You'll never regret purchasing this reel!
Best Bass Fishing Baitcasting Reel
13 Fishing Concept Z Slide Baitcast Reel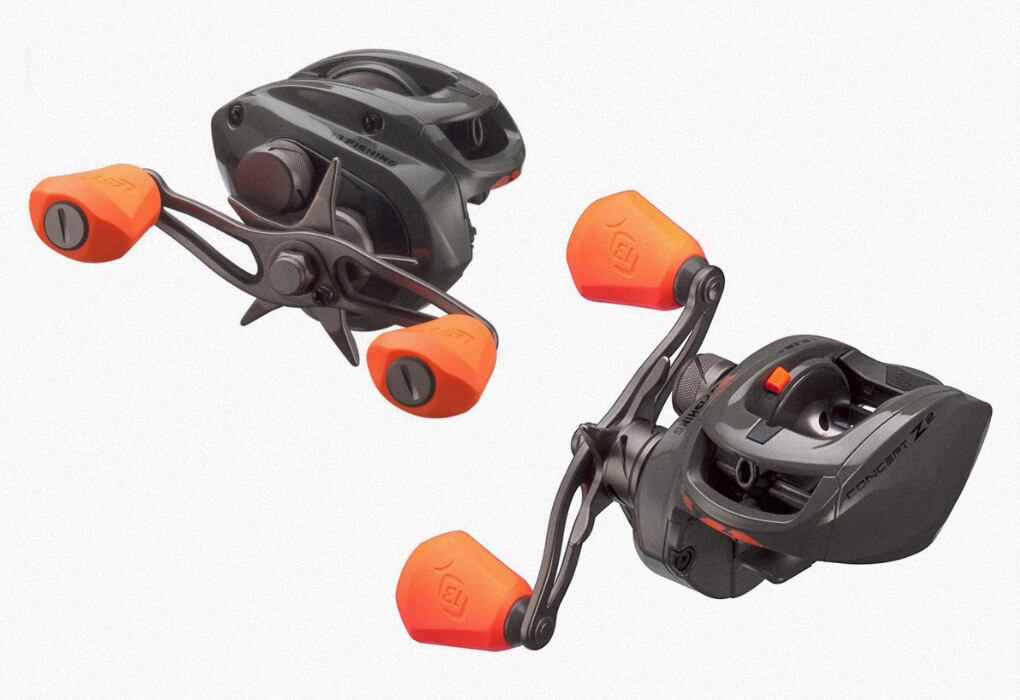 Specs
Type: Baitcasting
Gear Ratio: 7.5:1, 6.8:1, 8.3:1
Weight: 6.7
Bearings: 6+1
Line Capacity: 12/125
Why We Chose It
The folks at 13 Fishing just keep on bringing it! In a few short years they've taken their "make everything custom" approach to reel making (and rod making for that matter) and created their own space with the big boys!
The 13 Fishing Concept Z Slide Baitcast Reel comes in three models with gear ratios of 7.5:1, 6.3:1, 8.3:1 and is available in left hand or right hand retrieval.
Let me just say that this reel shines in the casting department.
They've created something called a SLIDE cast control system which is magnetized. The control is located on the reel near the spool.
I was able to shift my thumb over and switch it to whatever setting I needed for each specific cast.
So whether I needed to cast into the wind, or pitch a finesse jig, the spool was dialed in and ready to assist with what kind of cast I was about to make.
One thing to note is that it takes a little time to get used to switching the knob over to what cast you're planning to make. I'd say a few hours at least.
This reel was a very strong contender for Best Overall Bass Fishing Reel but it just couldn't top the Daiwa Tatula SV TW when it comes to controlling backlashes.
I had a few more when using this reel over that one.
In the end it's a very very solid baitcasting reel when it comes to material makeup, casting distance, and accuracy.
I highly recommend the 13 Fishing Concept Z Slide Baitcast Reel to add to your collection. Get it and get bass!
Best Budget Bass Fishing Reel
KastKing Royale Legend ll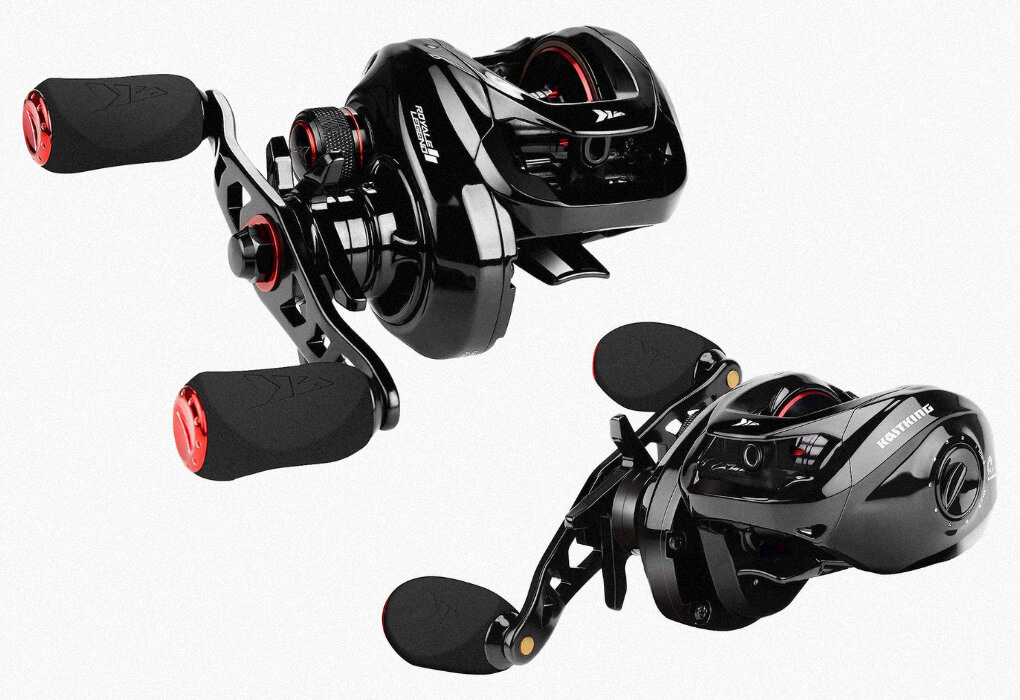 Specs
Type: Casting
Gear Ratio: 5.5:1, 7.2:1
Weight: 7.2 oz
Bearings: 5+1
Line Capacity: 10/130, 12/110, 14/90
Why We Chose It
VALUE ALERT! The KastKing Royale Legend ll packs a lot of features into its itsy bitsy price of under 50 bucks!
The Reel comes in two models with gear ratios of 5.5:1 and 7.2:1, and is available in right hand or left hand retrieval.
It's not often the case that I am as happy with a budget reel as I turned out to be with the KastKing Royale Legend.
When I tested this reel the first thing I noticed was the drag system. I hooked a garfish and got to experience the 17.5 pounds of force that the reel claims to have.
It's got six bearings which is more than I expected with the price being under 60 bucks. The casts were smooth and the retrieve was quiet.
But the most impressive thing about this reel is the braking system. It has a magnetic brake and a centrifugal brake, in addition to the spool tension knob which is noticeable when casting. My casts were long and accurate.
I really liked using this little trooper!
The low profile look makes it a really attractive baitcaster as well for those starting out bass fishing.
There were a few downsides however, the reel material is awfully lightweight which could spell durability issues.
Also I struggled throwing a weightless fluke and had to adjust the braking system more than I'd like.
In all honesty this reel felt very similar to the more KastKing's more expensive Royale Legend Elite reel but is considerably cheaper
But all-in-all, this reel overachieved for a budget reel and delivered where it needed to. It makes for a great starter reel for someone who is just starting out in the bass fishing world.
In this YouTube video, Anglers.com content creator Wes Littlefield reviews 5 of his favorite fishing reels to use while bass fishing.
How To Choose The Best Bass Fishing Reel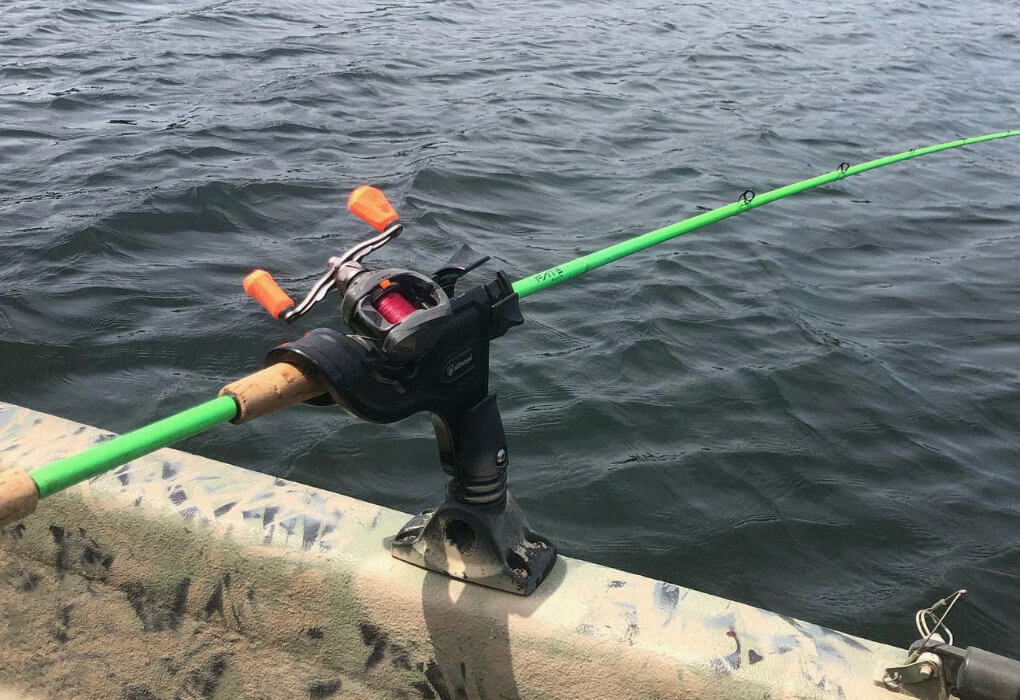 Now that I've covered what bass fishing reels graded out at the top, I think it's best if I show you a few important factors to look at when selecting a bass fishing reel.
Spinning or Casting
When selecting a type of reel you'll first want to gauge what kind of lures you'll be using.
When using lighter lures I like to go with a spinning reel. Also I would recommend spinning reels for beginners as it takes time to learn how to use a casting reel.
Spinning reels are way more simple to use being that all they require is flipping the bail, holding the line, and releasing the line when the cast is made.
If you are looking for a reel to pair with your flipping or jigging rod then you will need to look at a baitcasting reel. Baitcasters are great for underhand casts.
They are also great for making long casts with crankbaits or swimbaits. Generally a baitcaster will cast about 15-20 yards farther than a spinning reel.
Bearings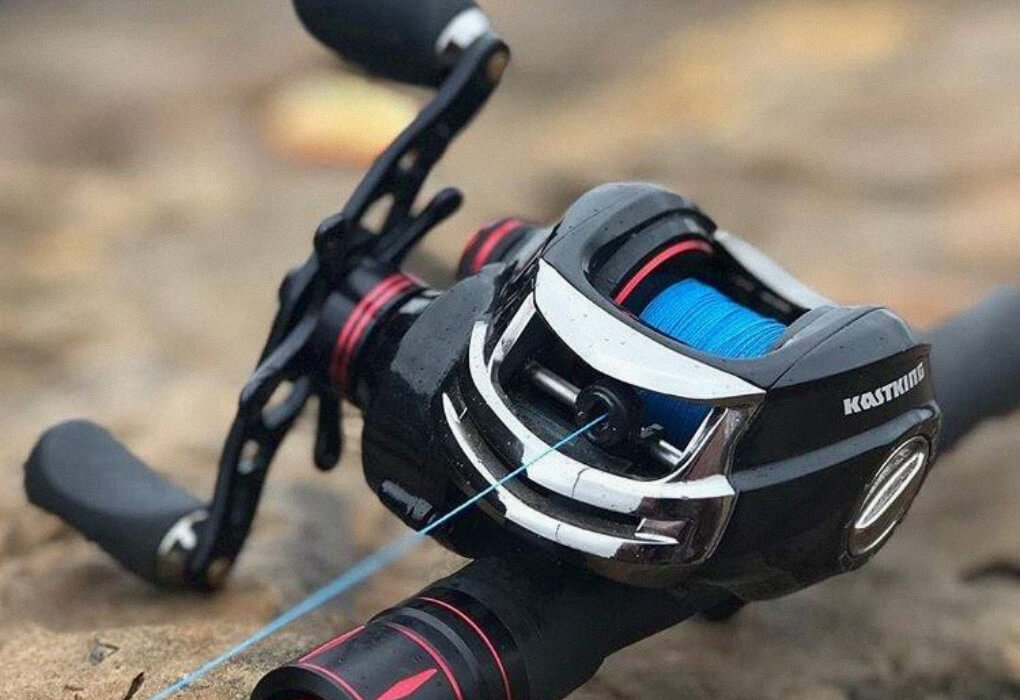 You'll want to take a look at the reels bearing system. It's a really simple equation that you need to keep in mind when selecting a reel. The more bearings in the reel means the smoother the retrieve is going to be.
Also you'll want to take a look at what they are made of.
Corrosion-resistant stainless steel bearings are best because they won't wear down over time, and if you maintain it, you won't have to worry about the dirt and debris getting inside and causing the bearings to corrode.
Gear Ratio
The gear ratio is the number of cranks it takes to get the fishing line to rotate.
So, if you have a 6:1 gear ratio, it means that every time you crank the handle one time, it turns the internal gear six times.
This should be factored into what kind of lures you want to throw. If you're going to put this reel on a crankbait rod then it should have a higher gear ratio than say a reel that is going to be used for a jig rod.
Anglers.com content creator Wes Littlefield reviews two fishing reels he often uses while on the water.
Final Thoughts
Although I brought a ton of knowledge about bass fishing reels into my test at Caddo Lake, I was able to learn even more by trying out each bass fishing reel.
During my test I learned a ton about some really good casting and spinning reels and can honestly say that there were some hard choices that I had to make.
So let's review our top pick!
For the bass fishing reel overall, I choose the Daiwa Tatula SV TW Baitcast Reel. It was a phenomenal reel and the lack of backlashes was the main thing that stood out to me.
While the Tatula SV TW won overall, you really can't go wrong with all the reels mentioned in this Best Bass Fishing Reels Guide that I've put together.
Give them a try and tell us what you think! We'd love to hear from you!