Last Updated on January 3, 2023
We independently research, test, and recommend the best products; you can learn more about our review process here.
So you think you're ready to take on the salt? Saltwater can do quite a bit of damage to the average reel. The best saltwater spinning reels on the other hand will offer corrosion-resistant materials, closed bodies, great line capacity, and a gear ratio optimal for both offshore and inshore fishing.
I've poured my heart and soul into this sport, learning as much as I can, testing everything, and breaking through barriers to see what works best and how I can get it into my hands ASAP. If you know absolutely nothing about saltwater spinning reels, stick around because you're about to learn.
In this comprehensive saltwater spinning reel review, I've found the five best choices for inshore and offshore fishing.
Comparison Table – Best Saltwater Spinning Reels
Image
Product
Rating
Price

Best Overall

Weight: 30 ounces
Gear Ratio: 5.3:1
Mono Capacity: 340/20, 310/25, 230/30
Braided Capacity: 475/50, 390/65, 345/80

Amazon

Best Offshore

Weight: 29.5 ounces
Gear Ratio: 5.7:1
Mono Capacity: 25/300, 30/250
Braided Capacity: 70/550, 80/440

Amazon

Best Inshore

Weight: 9.9 ounces
Gear Ratio: 6.2:1
Mono Capacity: 8/240, 10/200, 12/160
Braided Capacity: 15/230, 30/180, 50/120

Amazon

Best Budget

Weight: 30 ounces
Gear Ratio: 5.3:1
Mono Capacity: 20/550, 25/440, 30/370
Braided Capacity: 50/730, 65/590, 80/440

Amazon

Editor's Pick

Weight: 14 ounces
Gear Ratio: 5.6:1
Mono Capacity: 205/14
Braided Capacity: 200/20

Amazon
---
In Depth Reviews of Our Favorite Saltwater Spinning Reels
Penn Battle II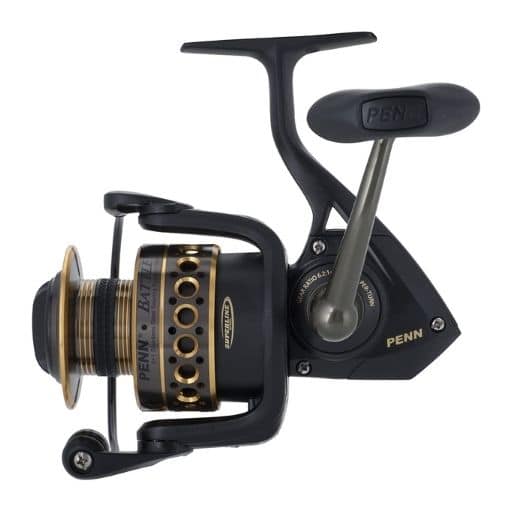 Weight: 30 ounces
Gear Ratio: 5.3:1
Mono Capacity: 340/20, 310/25, 230/30
Braided Capacity: 475/50, 390/65, 345/80
Pros
This reel is a bull
Built to handle intense salt spray
HT 100 carbon fiber drag system
Superline spool
Cons

What Do We Like?
When it comes to the best saltwater spinning reels, it's hard to find something better than the Penn Battle line of reels. They're built to withstand the salt spray, they're durable, and they're still super smooth for a reel of this size.
If we compare it to other reels in this price range like the Penn Spinfisher VI or Daiwa BG, the feature that you can't beat is the bullish durability. It comes with a full metal body with side plates and rotors all made to prevent saltwater from getting into the internals. Even down the bail wire you get a reel that doesn't feel fragile or gentle-hearted.
The Battle II comes with Penn's carbon fiber HT-100 drag system which not only offers one of the most powerful drags in the game but it doesn't sacrifice smoothness on your cast or retrieval either. This is what makes this a versatile reel. Although it's mostly intended for offshore salt fishing, you can take it inshore for peacock bass and tarpon as well. It's got the power to handle the big baddies but the finesse to take on smaller saltwater fish as well.
Continuing on, this heavy-duty reel is braid ready and the Superline spool feature reduces the need for a backing and it comes with line capacity rings so you know exactly where you can spool to and when you should cut it off.
The bearing setup here is a 5+1 with five stainless steel ball bearings and an instant anti-reverse bearing as well. The bearings are super smooth and add to the high-quality nature of this reel.
What Needs Improvement?
Whenever you get a reel of this size you're going to deal with fatigue. It weighs over 30 ounces which makes it one of the heaviest on the market but keep in mind what we're dealing with here. This isn't the reel you introduce to someone who has never fished before, this is for my anglers out there with serious saltwater experience who are looking to step up their game.
The one thing I will say is that a lot of manufacturers like Daiwa, Shimano, and Lew's are starting to do things to reduce the overall weight of their saltwater reels and Penn is lagging behind in this area.
Another gripe I have is that the drag isn't fully sealed and you'll have to take out a loan to afford the saltwater reel with a fully sealed drag. It's outside of my price range and likely outside of a lot of yours as well.
Overall Summary
Thankfully, if you can get past that, this reel is actually very affordable for everything you get. For example, you can get the 5000 model level for around $150 which is unbelievable. In many cases, you'd pay the same for an ultralight Shimano Sedona with the rod included. If you've already got a decent saltwater rod, 150 bucks gets you the best saltwater spinning reel to ever hit the market.
Daiwa Saltiga 5000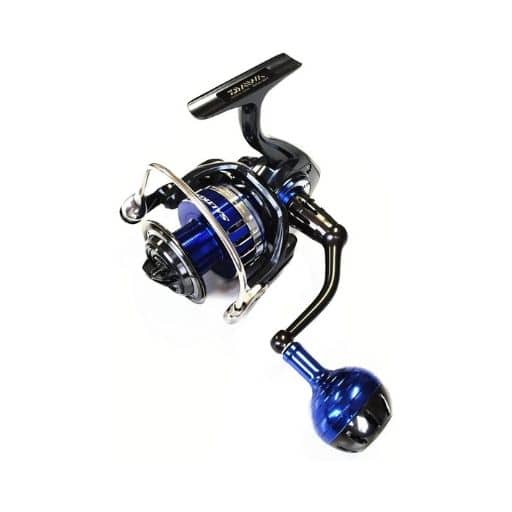 Weight: 29.5 ounces
Gear Ratio: 5.7:1
Mono Capacity: 25/300, 30/250
Braided Capacity: 70/550, 80/440
Pros
One time purchase
Reliable, durable, near perfect
14 bearing system
Incredible braided capacity
Cons

What Do We Like?
If you look for Daiwa saltwater spinning reels, you're not always going to find this guy. It's not the most popular reel on the market but I can't help but include it in this review because you will be hard-pressed to find a better offshore spinning reel than this. It's got the backbone to handle just about anything, the design to protect it against salt spray, and the flexibility and functionality to serve as a versatile reel for inshore and offshore fishing.
Daiwa put everything they've got into the Saltiga and it's been manufactured specifically to prevent failure. Over time, all saltwater reels start to wear down and will need to be replaced or repaired. That won't happen here. If you look at the first pro I included above, I said it's a one time purchase.
The price tag may scare some of you away, but think about it this way. Here you can spend what would be the price of three or four saltwater reels over the course of a number of years. You only need to buy one reel and you'll be good for the rest of your life.
Okay, that might be a bit of an exaggeration. Obviously you're going to want to upgrade to something else at some point but the reel is built to stand the test of time.
Now let's talk about specifics. The magsealed design is what keeps this reel going after extended saltwater exposure. They use magnetic oil that naturally moves throughout the reel to seal the inner and outer race of the ball bearings. This automatically prevents saltwater from getting in the internals so it continues to perform.
Surprisingly, the weight isn't too bad on this reel and that's because of the air rotor using Zaion Carbon composite material. It weighs less than the Penn Battle even though it's got more balls. This is the technology I was saying Penn lags behind on. The result is a smoother cast, lighter reel, and a more rigid frame preventing flex.
Last but not least, it comes with a 14 bearing system. Yes, one and four. To break this down, it features three mag sealed bearings with the magnetic oil, two corrosion-resistant bearings with shields, eight standard ball bearings, and one anti-reverse roller bearing. It's unbelievably smooth for an offshore reel. I could go on and on about this reel but we'll cut it there.
What Needs Improvement?
Areas of improvement? There are none. Of course you're going to pay a premium for this reel and that's why it costs over a grand but that's what we would expect from something of this level. This is the Rolls Royce of saltwater spinning reels and while the price tag might be out of some of our budgets, it's a worthwhile investment for anyone who can afford it.
If you can't afford this reel, I suggest going with the Penn Battle II. It'll give you the same level of offshore versatility but it doesn't have as many bells and whistles and it's not nearly as smooth.
Overall Summary
This is the ultimate offshore spinning reel. With a maximum drag up to 66lbs, magsealed bearings, air rotor, Digigear system, and infinite anti-reverse, you can't beat it. Everything else is a step down but the key is whether or not you see it as a worthwhile cost. How far are you willing to go to get the best saltwater spinning reel?
Shimano Stradic FL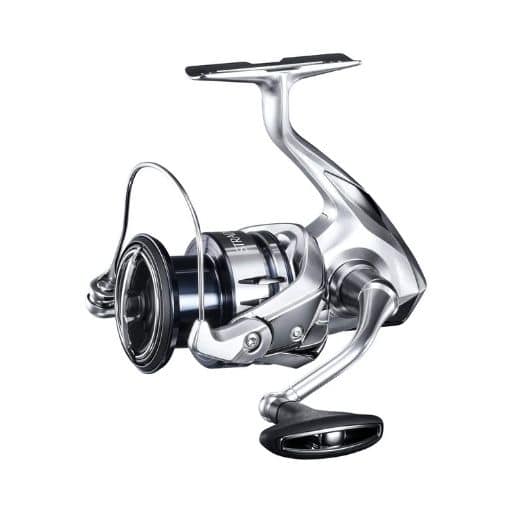 Weight: 9.9 ounces
Gear Ratio: 6.2:1
Mono Capacity: 8/240, 10/200, 12/160
Braided Capacity: 15/230, 30/180, 50/120
Pros
Extremely lightweight
Ultra smooth
Beautiful looking reel
24lb max drag isn't too bad
Cons
Not braid ready
Not full sealed

What Do We Like?
Anyone else getting hot after looking at this reel? Come on, it's amazing and it's the newest addition to the Shimano Stradic line. It's a piece of art that you almost don't want to fish with because it's so beautiful.
Anyway, Shimano is raising the bar with this reel and they're answering the call that a lot of inshore anglers have been asking for. They want a reel with the balls to handle the heavy stuff but also the lightweight flexibility for inshore canal fishing. This is it.
The reel is backed by Shimano's cold forged gear and silent drive technology. This means that you get unmatched smoothness in your cast, optimal distance, and protection from the saltwater.
It comes with a new piece of technology as well that Shimano calls the "Long Stroke Spool" which is supposed to increase your overall casting distance by helping the line flow smoothly off the spool. I'm not 100% sure what they did to accomplish that but it's a trade secret apparently.
They've also included something else I've never seen before which is the Micromodule Gear II that reduces reel noise on the drive and pinion by operating smoother and reduces clearance gaps and movement within the internal system. All of this fancy talk means that the reel is quieter because it's operating smoother which benefits anglers in a variety of ways.
As with most Shimano reels you get the Hagane body which is a full metal body with optimal stiffness to prevent flexing and burning of the bearings. This helps improve your overall cranking power which increases the number of fish you can target and what you can catch with a spinning reel that typically has limitations.
I do have to talk quickly about the weight of this reel as well. This is a fraction of the weight of the other reels we've reviewed so far and that's because of the G-Free body and Aero Wrap II.
What Needs Improvement?
If I had to pick some bones with this reel it would be with the spool capacity and sealing of the reel. It's not entirely braid ready so you'll have to back it and the line capacity isn't so great when you do so it does limit you to inshore fishing for the most part. It's also not a fully sealed reel which means that saltwater will get into the internals. This simply means that you'll have to spend more time cleaning and maintaining it. After every use, you should break it down or at least remove all the line and clean the spool off to prevent corrosion.
The max drag is a little low but like I said, this isn't intended for tuna and marlin but it'll do fine for snapper and most canal tarpon.
Overall Summary
All-in-all this reel is a freak of nature that comes at a price tag that isn't too bad. Many people compare it to their Shimano Stradic FK and wonder why they would upgrade but they've added so many great new features into this reel. The Micro Module Gear II, silent drive, and X Protect are all new features exclusive to the Shimano Stradic FL only. You won't find them on any other reel.
Daiwa BG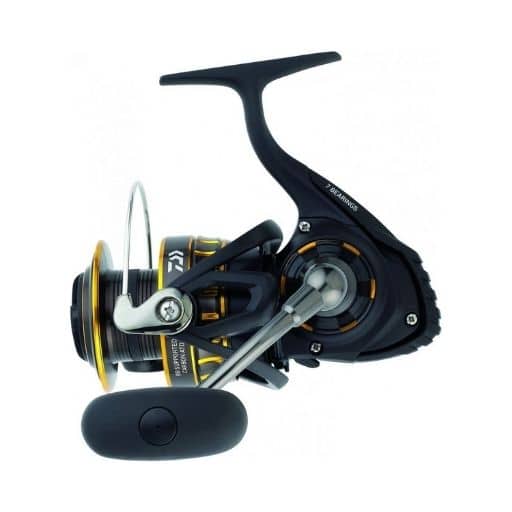 Specs
Weight: 30 ounces
Gear Ratio: 5.3:1
Mono Capacity: 20/550, 25/440, 30/370
Braided Capacity: 50/730, 65/590, 80/440
Pros
Powerful drag system
Tremendous line capacity
Great offshore reel
Cons
Weight
Lacking anti-corrosive materials

What Do We Like?
You're the next contestant on the price is right! How much do you think the Daiwa BG spinning reel costs? $300, $400? Nope, it sells for around $150. So, for less than $200 you get yourself an incredible offshore spinning reel with top of the line braided capacity and max drag.
It features an anodized machined aluminum spool and housing which will stand up to quite a bit of abuse in the saltwater and help it last longer as well. The BG also comes with the Digigear system which means that every piece of the reel is CNC machine cut resulting in a smoother retrieval, reduced stress on the internals, and increased torque which will help you handle larger fish in offshore applications.
As with most of the Daiwa reels at this price point, you get the air rotor which helps provide a more balanced feel with reduced weight even though it's still pretty heavy. The reel is braid-ready with a rubber ring that allows you to spool it up without a backing.
Last but not least, if you go with the 4500 model size or higher you'll earn an infinite dual anti-reverse bearing system which will really help you if you plan on fishing this mostly offshore.
What Needs Improvement?
The only real complaint besides the weight would be the fact that it's not entirely sealed and there are some issues with corrosion-resistance. For example, you get a 6+1 bearing system but they're not shielded to protect against the saltwater.
At this price range, I'm not surprised because this is something that you'd see in a premium reel like the Daiwa Saltiga but still, if they're going to call it the best budget saltwater spinning reel then why not do everything necessary to make it fully functional for offshore fishing?
Overall Summary
I think the best thing about the Daiwa BG is its versatility. You can go with a 2500 or 3000 model and fish inshore for bass and target everything around there. Or, you could upgrade to a 4000 or 5000 level and take it offshore for cobia and mahi mahi with no trouble. There are few reels that can compare in terms of price as well.
Abu Garcia Revo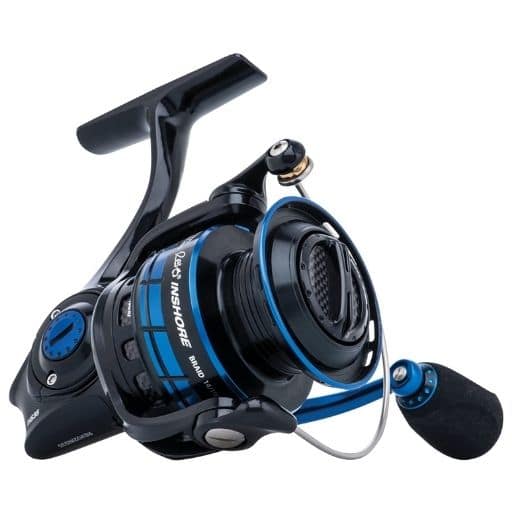 Specs
Weight: 14 ounces
Gear Ratio: 5.6:1
Mono Capacity: 205/14
Braided Capacity: 200/20
Pros
Lightweight
Great casting distance
Fast retrieval
Cons

What Do We Like?
I've reviewed and tested this reel quite a bit over the years and I always end up coming back to it. The Abu Garcia Revo line doesn't offer anything special, there are limited features, and it's not the most versatile reel on the market but it's reliable, durable, and gets the job done.
The reel is specifically designed for saltwater use so don't expect to take this to your local freshwater pond. It comes with a hardened aluminum body, main gear, and carbon drag system that are all designed to prevent saltwater from getting into the internals. It offers a smooth drag; optimal enough to handle decent sized fish in the canals and marshes throughout the southern areas of the country.
I think what makes this one of the best saltwater fishing reels is the fact that it's the perfect middle-ground between a bulky bullish saltwater reel and a lightweight spinning reel.
What Needs Improvement?
With that "perfect middle-ground" I mentioned comes limitations. The reel is too big for freshwater yet too small for offshore fishing which limits you to smaller inshore applications. You don't get much in terms of line capacity either and it's not braid-ready so you'll have to back it with monofilament.
The gear ratio is decent and so is the retrieval rate but it also doesn't come with an anti-reverse bearing which may aggravate some people. As with most Abu Garcia reels you'll also hear many anglers complaining about the sticky reel arm. This is something that many of these reels have and the manufacturer refuses to address the issue.
Overall Summary
No reel is perfect and while the Abu Garcia Revo is far from it, it still makes our list because it's one of the best saltwater spinning reels ever made. You get exceptional machined technology, computer optimized gearing, and a silky smooth carbon matrix drag system that casts and retrieves like a dream. If you're looking for something specifically geared towards inshore fishing, give this reel a further look.
Factors to Consider in the Best Saltwater Spinning Reels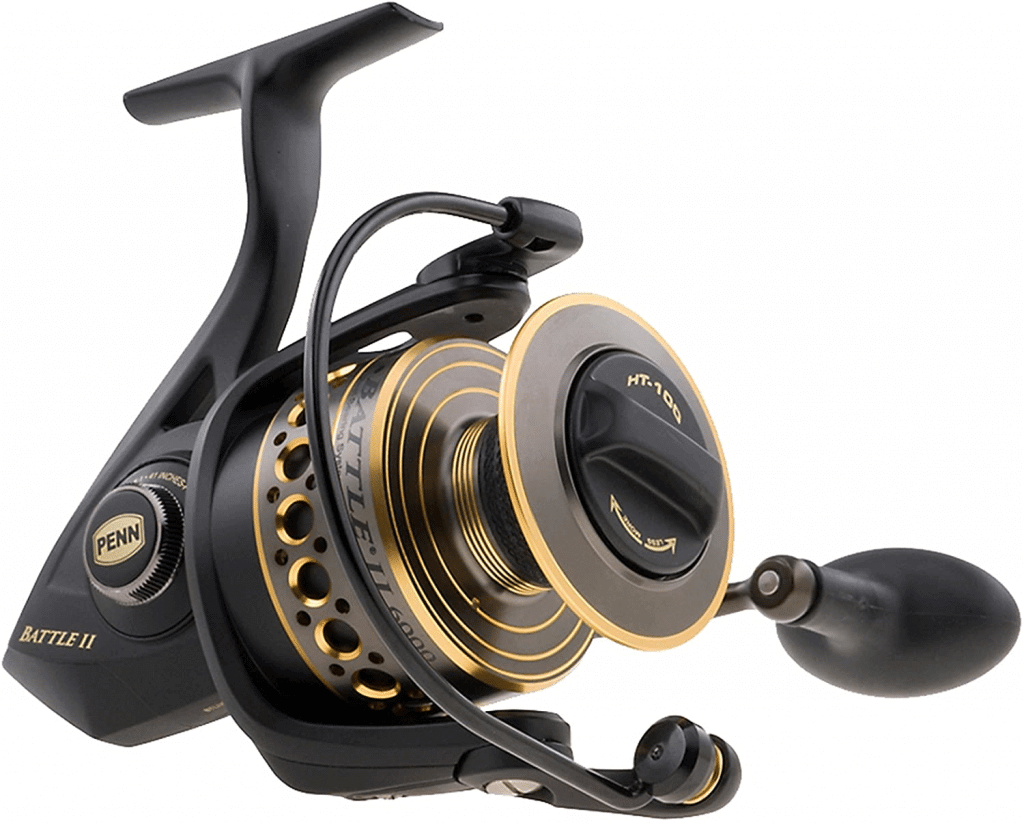 Now let's talk about some of the things you'll want to keep in mind when shopping around for saltwater spinning reels. Remember that many anglers prefer to use the best baitcasting reels for this type of fishing because the design and functionality better suits this fishing style. That said, it doesn't mean you have to follow that. There are plenty of spinning reels that work just as good for saltwater, you just have to know what you're buying and what you plan to do with it.
Where Do You Fish?
Where you fish is a huge factor to consider. If you're fishing inshore canals throughout Florida and South Carolina for example, you wouldn't want to go with a 6000 model size Penn Battle II because it's simply too big for that purpose. We want to understand what types of reels work best for each situation.
If you went for a smaller model size like a 3000, you would have the versatility to use it for inshore and light offshore fishing but you couldn't handle anything too big.
That said, there are plenty of options above like the Shimano Stradic that will offer you the maximum flexibility you want to fish both inshore and offshore while still having a reel that is super lightweight and easy to use.
Now, if I'm speaking to inshore bass anglers here, we have a whole different topic to cover. You might not want any of these reels. You may want to go specifically for an inshore spinning reel because they'll be lighter with faster gear ratios intended for lighter monofilament lines. You don't need to take a 25 ounce reel onto the water if you're fishing for bass.
What Are You Fishing For?
The other obvious thing to consider is what you're fishing for. This goes hand-in-hand with the previous point but it's still important to think about the two of them separately. What type of fish are you after and why? Are you looking to catch red snapper? If so, something like the Shimano Stradic or even the Penn Battle II will take care of business for you.
But, if you're out there trying to target marlin and tuna, you'll need something with a lot more backbone like the Saltiga or a higher model Penn Battle II.
Technical Considerations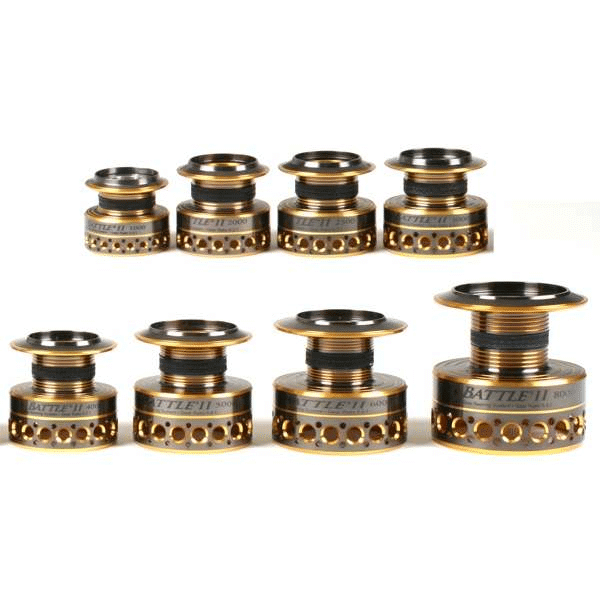 Next, let's break down some specifications you might look for in your ideal saltwater spinning reel. Keep in mind that these are my opinions and shouldn't be taken as fact. They're based on years of experience and hours of research and networking with others.
Line Capacity
Your line capacity is always going to be a factor when we're talking about saltwater fishing. It's like talking about the difference between an ice fishing reel and a deep sea trolling reel. One requires a high line capacity while the other requires almost none.
The line capacity of the reel refers to how many yards of line you can get on the reel to provide the fish with enough space to tire itself out. The larger the fish, the more line you'll need. That's why I consider line capacity to be one of the most important factors when shopping for a saltwater spinning reel.
If you can find a spinning reel with a line capacity of at least 200 yards of braided, you're in pretty good shape. Obviously, if you're fishing offshore for mahi mahi and other really aggressive species, you might want to double that to 400 but there's no set in stone rule about how much line you should have. It simply comes from experience and knowing the waters you're fishing.
Braid-Ready?
When you hear me talk about a reel being "braid-ready" what I'm referring to are the reels that are already set up to spool braided line directly to the arbor of the reel. Reels that are dedicated to offshore saltwater fishing will allow you to do that because it takes a very big step out of the equation. If your reel isn't meant for braided line, you'll need to use a monofilament backing to get the line started.
Some reels also come with other features like pins and indicators to tell you how much line you should have based on what you're targeting. This is by no means a deal breaker in any way but something to keep an eye out for.
Gear Ratio
No matter what reel we talk about, gear ratio is always something that comes into question. The gear ratio refers to the number of revolutions the spool takes each time you crank the handle once. So, a gear ratio of 5.4:1 means that each time you turn the handle, the spool moves around 5.4 times. The general consensus is that a higher gear ratio is better because it requires less cranking and ultimately reduces fatigue.
When it comes to freshwater fishing, that's a fair assumption. You can throw that notion out the window when we talk about saltwater fishing. There are a lot more factors to keep in mind.
First, you can't just crank on the handle all day and expect to catch anything because you're going to snap your line or grind up your internals and tear up the bearings. That's where our drag comes into help.
Working along with the drag is your gear ratio. Having a lower gear ratio to target large game fish is the right way to go. You need to take it slower to prevent snapped lines and damaged gears.
Bearings
Bearings are another factor that a lot of people think they understand but they don't. The assumption is that more is better but that's not always true. Now, in the case of the Daiwa Saltiga, more is better because they've put a lot of technology and advancement into it. They didn't just include more bearings for the sake of doing so.
Generally, more bearings results in a smoother cast and retrieval but it's the quality of the bearings and the rigidness of the body that makes a big difference as well. If you have a lot of flex in your reel, you're not going to have a smooth retrieval because you're going to grind on the teeth of your internals which will make it more difficult to bring the fish in.
Overall, you don't want to worry so much about the bearings but focus on the quality of the reel as a whole and always shop brands you know and trust.
Corrosion-Resistance
If you look at most of the product reviews above, I talk a lot about sealed bodies, magnetic oil, all metal frames, and so on. All of these features go into the reels with the intention of limiting the amount of crap that can get inside your reel and cause it to break down. These aren't features you'll find on any ultralight spinning reel, they're dedicated to saltwater reels to prevent corrosion.
Without many of these components, the reel would start to break down after only a few trips to the water.
Also keep in mind that the more money you spend, the more of these features you'll get. That's what justifies the price of some of these premium reels like the Saltiga. While it might cost more than $1,000, you're getting as much as they could possibly pack into a reel to make maintenance and care that much easier.
While I would never knock the Shimano Stradic, this is one area that this reel falls behind. But, it's because it's a lightweight versatile reel that's not only for saltwater. As a result, they had to take some of their resources away from saltwater protection and put them elsewhere.
Just be sure you're aware of what features your reel comes with and how they protect everything from getting gummed up with salt and sand.
Weight
Last but never least, let's talk about weight. The weight of your reel is in direct relation to how many power-packed features the manufacturer threw in. If you have a lightweight reel, it's most likely not going to handle big fish without tearing apart the internals.
If you have a huge 30 ounce reel, you'll have a much easier time fishing offshore but you'll tire yourself out if you think finesse casting for bass is going to work with it.
While there's no direct answer to what weight is the "right weight" I say keep all these factors in mind and use weight as one piece of the puzzle.
You could go for a reel like the Shimano Stradic which is super lightweight for this guide but remember what you're sacrificing and the risk you're taking. You'll want to fish lighter tackle so you don't even give yourself the chance to hook anything too large.
If you plan on doing some offshore fishing paired with inshore as well, most of the reels in this guide will do the trick. They also each have plenty of different reel sizes to choose from based on your fishing style and intentions.
Final Thoughts
Did you get all of that? Choosing a saltwater reel requires you to understand what saltwater can do to anything if you let it happen. It will corrode a normal reel in a matter of days if you don't maintain it properly. No matter what technology and fancy jargon you throw into it, all reels require maintenance so be sure to take good care of your new reel no matter what the manufacturer says.
The best saltwater spinning reel is only as good as the angler who wields it. I would feel more than happy about having any of these five reels in my hand whether I'm putting through a South Florida canal or taking my chances offshore in the Gulf. Good luck and stay safe out there!
About Post Author