---
We independently research, test, and recommend the best products; you can learn more about our review process here.
Spinning reels and saltwater fishing go hand in hand. And living in the Gulf South means having at least three or four different reels in your arsenal.
But choosing the right saltwater reel isn't as easy as it seems. Sure you can go with the reel that casts the farthest or has a smooth retrieve, but if it doesn't handle the salt, it's not going to last very long.
I've grown up using some of the best saltwater spinning reels in the marshes of South Louisiana and have used upwards of 80 spinning reels throughout my fishing career.
I've taken that experience and combined it with a weekend fishing trip to the marshes of South Louisiana where I compared some of the newer reels on the market, with some of my all-time favorites.
Top 3 Saltwater Spinning Reels on the Market
As a quick summary, here are my top three choices for best inshore spinning reels based on my research and testing.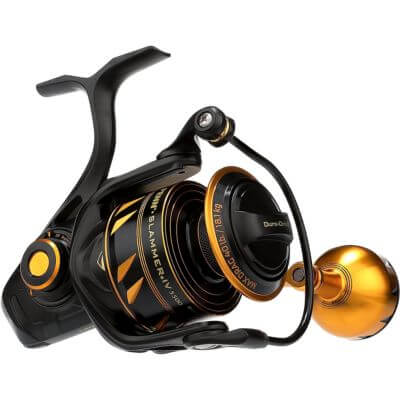 PENN Slammer IV Spinning Reel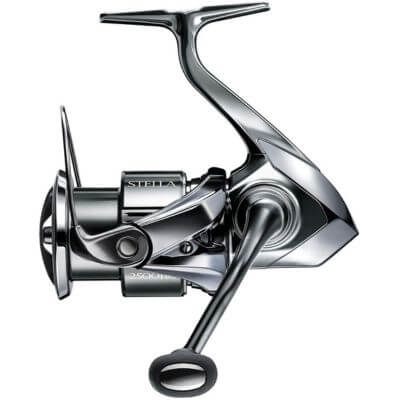 Shimano Stella FK Spinning Reel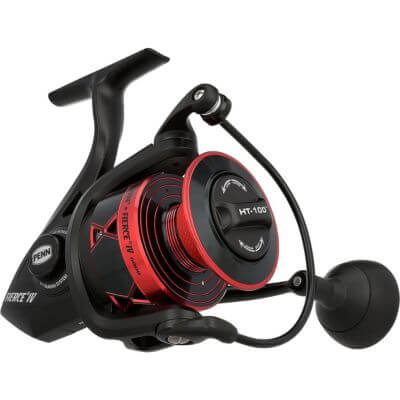 PENN Fierce IV Spinning Reel
---
Testing Procedure 
Since one of the most important features of a saltwater spinning reel is how well the reel holds up against larger fish like sheepshead, flounder, and bullreds, I wanted to fish a location where I would have access to all of these fish.
I headed to Venice, LA where I spent the weekend fishing for every kind of fish that the Gulf of Mexico has to offer. I fished for three days and was able to rank numerous spinning reels.
During my time on the water I specifically focused on the following qualities that each reel possess:
Corrosion Resistance:  Saltwater can wreak havoc on a spinning reel. During my test I looked at the materials that were used to make the reel. Would these materials hold up to saltwater intrusion? 
Drag System: Saltwater fish are larger and stronger than freshwater fish so it's important that the reel's drag system performs consistently and is able to tire out the fish during its initial run.
Weight: Saltwater reels are generally on the heavier side due to the more durable materials that manufacturers use to make them.

They also have larger ball bearings and hold more line. During those all-day saltwater trips, having a saltwater spinning reel that is lightweight will allow you to fish longer without tiring. 
Ball Bearings: One of the most important factors to look at when it comes to choosing a saltwater reel is the number and quality of the ball bearings. 

Having high-quality ceramic bearings or stainless steel inside the reel can make a big difference in overall performance. 
Price: Is the reel worth the price? Value is important! We'll look at all the key features of each reel and let you know if it's worth the number on the price tag. 
Best Overall Saltwater Spinning Reel
PENN Slammer IV Spinning Reel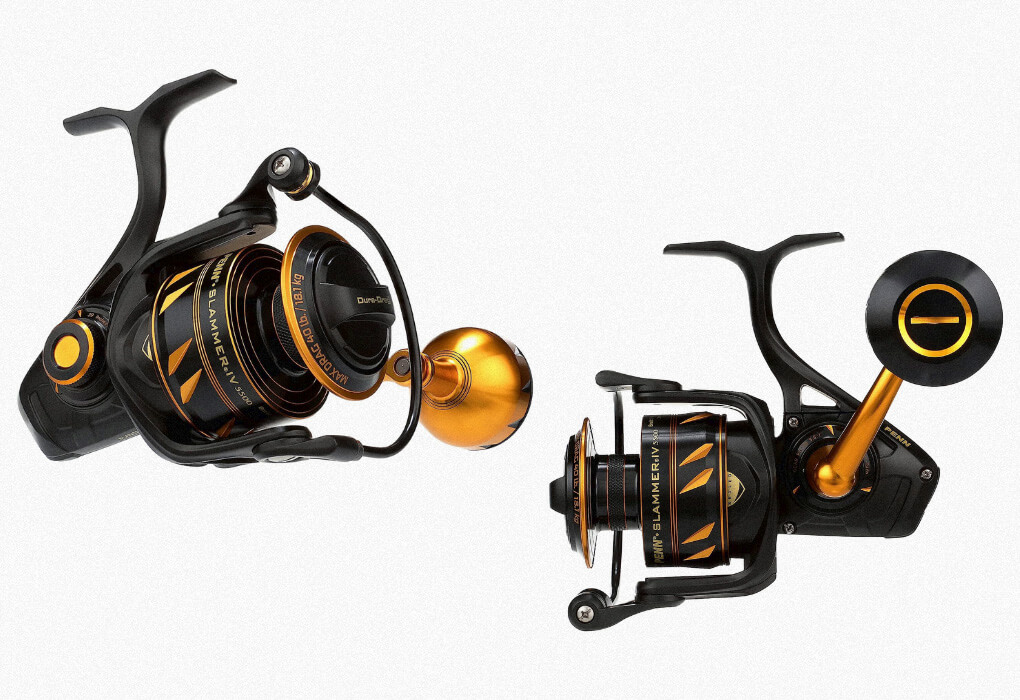 Specs
Type: Spinning 
Gear Ratio: 6.2:1
Weight: 11 oz.
Bearings: 8+1
Line Capacity: 8/125
Why We Chose It
P-E-N-N…those are the four letters that embody saltwater fishing!
I've owned many PENN spinning reels in my life but none can top the PENN Slammer lV. During my test I was blown away with the performance of this saltwater masterpiece.
Let's start off with the material build of this reel. It's got a full metal body and side plate that helps keep everything aligned properly when the reel is under pressure.
The reel has no flex in it because the gears are cut out using CNC technology. Basically this means the gears are cut from one block of metal which makes the gears fit perfectly.
The 9 total stainless steel ball bearings made for a buttery smooth retrieve.
I tested this rod along a rock jetty. I was able to put 12 speckled trout in the ice chest with one of the trout measuring 18 inches.
I was also able to test the drag when a bull-red almost ripped my rod out of my hand and made a run for it. After getting a firm grip back on the rod I held on and let the drag fight the fish.
The 20lb. max drag system handled the fish with ease and I was able to net him within five minutes.
The HT-100 Carbon Fiber Drag System made a big difference as the drag pull was smooth and without any sporadic jerks.
I was also able to try out the Slammer's Automatic Bail system which was soooo sweet! For those who have never used this live bait feature, basically it's a drag system that allows for the fish to eat the bait and run with it.
The drag is light enough to allow the fish to swim away with the bait without feeling any tension in the line. I actually caught three specks using this feature and it performed exactly how it was supposed to.
The only downside that I can see is that the reel is slightly heavy weighing 11oz. but that's only due to the metal sides on the reel.
In the long run I'd rather a slightly heavier reel if the reel provides a lifetime of use and holds up to saltwater conditions.
If you're looking for a lighter option I can point you to the Lew's Custom Speed Spin Reel which has an all-aluminum body and only weighs 8 oz.
However, this reel is a step beneath the Slammer IV in the casting and retrieving department. 
Overall the PENN Slammer IV is a beast of a reel and offers so many sizes that it will fit any type of saltwater fish you are targeting. Add this reel to your saltwater collection; it is truly a saltwater gem. 
Best Tournament Grade Saltwater Spinning Reel
Shimano Stella FK Spinning Reel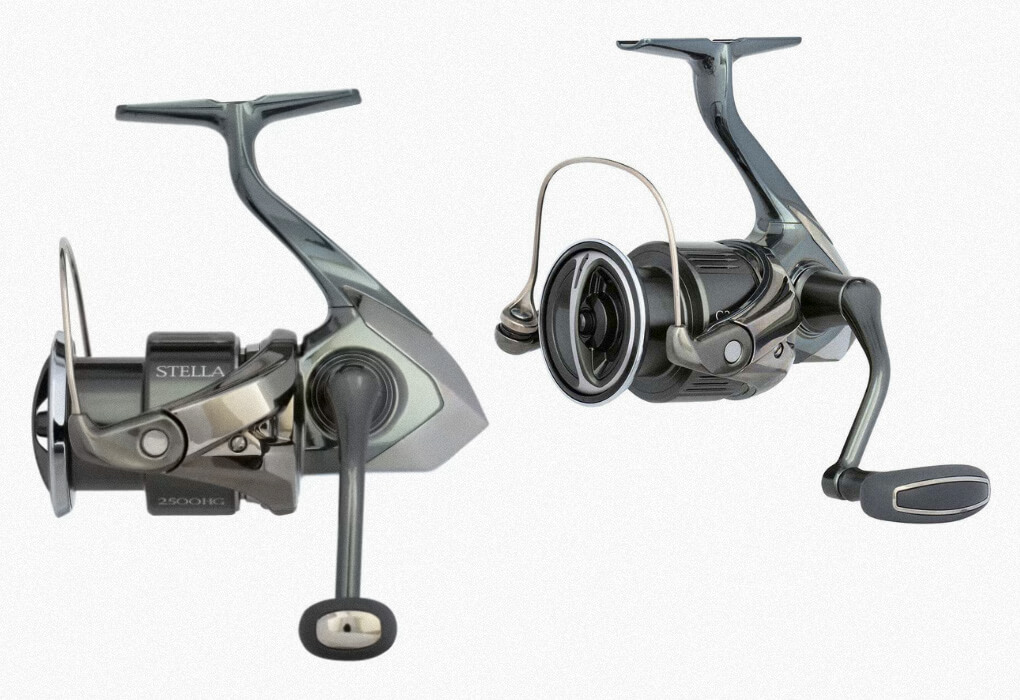 Specs
Type: Spinning 
Gear Ratio: 5.1:1, 6.2:1
Weight: 6 oz. 
Bearings: 12+1
Line Capacity: 6/110
Why We Chose It
It's nice to experience the finer things in life every once in a while!
I finally had the opportunity to try out the Shimano Stella after hearing numerous reviews from friends and professional saltwater fishing guides. 
Oh Boy! Where do I start? The retrieve is like butter on WD 40. It's got 13 total ball bearings inside, making the smoothest reel I've ever used.
After I made my first cast and started reeling my swimbait in, I noticed something. It felt like the reel was powered by an engine. I turned the handle three times and let it go and the handle made three more revolutions on its own.
In addition to the 13 ball bearings, the Stella FK has Infinity Drive. 
So instead of having the main shaft supported by the pinion gear, it's now supported by a new low friction bushing that significantly decreases resistance which results in the lightest winding reel in the industry.
Another obvious quality is the reels rigidity. There's no give or flex in any section of the reel. The reel works in unison without any give in any of the gears, reel seat, or spool.
The Infinity Loop and Anti Twist Fin are responsible for the best level winding I have ever felt. There is no sagging tension whatsoever with this reel.
It's as if Shimano threw the budget out of the window with this reel. It's made with the finest materials including liberal use of C14 and 13 total ball bearings (the more bearings, the smoother the reel)
I paired this reel with my G. Loomis 7' Medium-fast spinning rod during my test and I was able to catch three redfish that were busting shad in a shallow trenesse that was spilling out of the marsh. 
Those reds didn't stand a chance with the pairing of the Stella with the G. Loomis. It was a thing of beauty reeling them in and netting them with the other hand.
The downside is obviously the price with it coming in at over 700 bucks but it's worth every penny in my opinion. If price is a factor, the Daiwa Saltist Black Bay LT Spinning Reel was also an impressive high quality reel at a great price point however it wasn't really comparable when going head to head with the Stella. 
The Shimano Stella FK Spinning Reel is a reel that blew away the competition during my test. There was no other reel that I tested that came close to this reel.
I've already started saving up for a chance to get another one before the speckled trout run in April. 
Best Lightweight Saltwater Spinning Reel 
Shimano Stradic FL Spinning Reel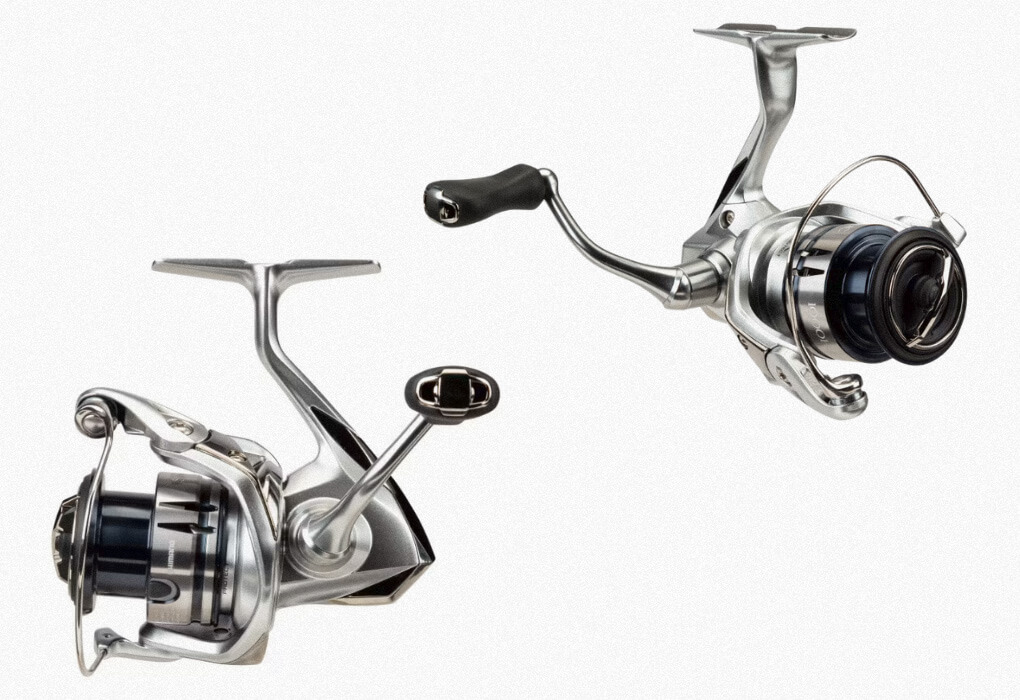 Specs
Type: Spinning 
Gear Ratio: 6.0:1, 6.2:1, 6.4:1 
Weight: 7.9
Bearings: 6+1
Line Capacity: 10/120
Why We Chose It
When looking for an inshore saltwater reel it's important that I'm not forced to have "too much reel."
I find oversized spinning reels just get in the way and are cumbersome when I'm trying to make bass fishing style casts back in the duck ponds or fishing up against bulkheads.
So when I saw that Shimano makes the Stradic FL in a 1000 size, I was sold. 
During my test I used the size 2500 and was amazed by the weight of the reel. It only weighed 7.9 oz. which is great for a saltwater reel.
I paired this reel with a St. Croix Premier Spinning Rod and fished a deep channel for croaker with dead shrimp on the bottom.
The reel was flawless! It locked up quickly on each hookset and the retrieve felt like a high-end reel.
The retrieve is really smooth because of Shimano's MicroModule Gear System which is made up of smaller teeth and sprockets that engage with one another.
Another thing that I noticed about the Stradic FL is that there was no flex in any part of the reel. 
Shimano has created something called a HAGAN Body which makes the reel work in unison without any play in any of the gears, reel seat, or spool.
To put it simply: the reel is made of very rigid material. This is perfect for the abuse I put my saltwater reels through.
Now let's talk about drag. Being a lightweight reel, I thought the Stradic FL would come up short in the drag department. Nope! This little warrior's got 20 lbs. of drag strength. 
If you are looking for a comparable reel that is lightweight like the Stradic FL, check out the Lew's Custom Lite Spinning Reel, It's available in a size 200 and only weighs 6.6 pounds.
The Shimano Stradic FL Spinning Reel hit on all cylinders during my test. Casting, reeling, drag strength, and weight. It checks all the boxes!  It's built for salt and looks like it has the potential to be a lifetime reel. 
Best Budget Saltwater Spinning Reel
PENN Fierce IV Spinning Reel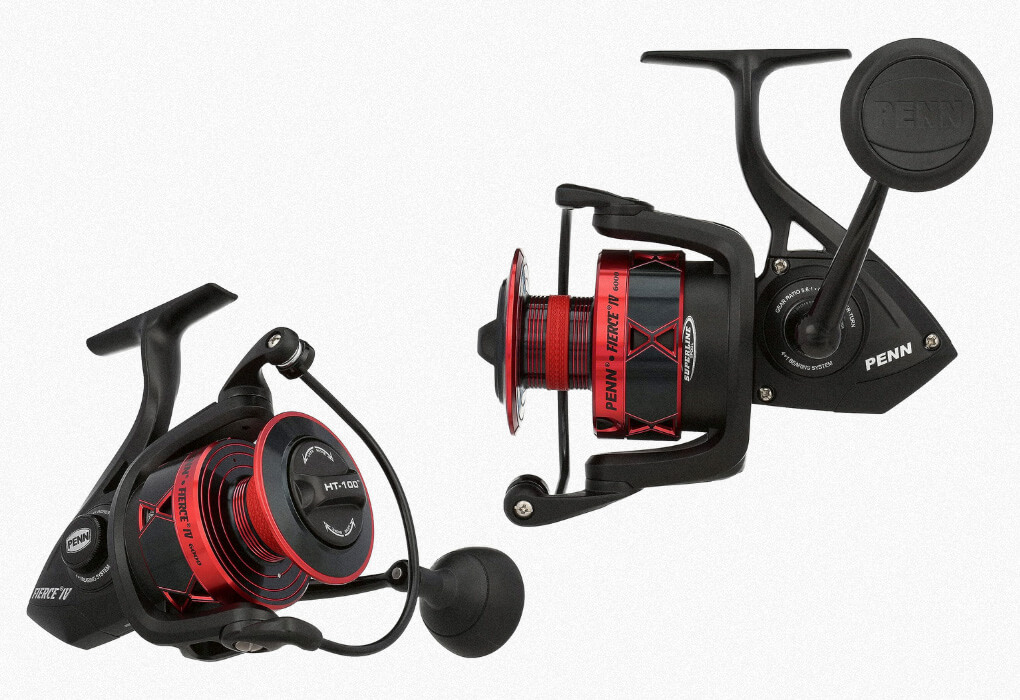 Specs
Type: Spinning 
Gear Ratio: 5.3:1, 5.6:1, 6.2:1
Weight: 9.9 oz.
Bearings: 4+1
Line Capacity: 8/175
Why We Chose It
It's a bit of a surprise to see a PENN reel headlining as the best budget reel but I have to admit, they've done a really nice job with this reel.
I tested this reel deep in the marsh where I was able to find some hard falling water jetting around a grassy point.
I was throwing a white 4" Zoom Fluke on a weightless keeper hook and picked up 6 speckled trout. (There's nothing like catching trout on weightless Flukes)
I was also able to test the drag when I hooked a 19-inch flounder which made a hard run WITH the current which was a tough test.
But the HT-100 Carbon Fiber Drag System managed beautifully! The drag pull remained smooth without any sporadic jerks. 
This is a great little reel!  Built solid and has great line capacity so you can fill it with a ton of braid. 
Another thing I like about this reel is the Superline Spool which allowed me to spool up with thicker braided line and still manage to get a ton of line on it!
While the Fierce performed well I will say that it had an average retrieve when it comes to smoothness. For a slightly smoother retrieve,  the PENN Battle ll Spinning Reel offers an extra bearing for a couple of bucks more. 
Overall, the PENN Fierce IV is a fantastic reel and is really affordable especially for being a PENN and built specifically for saltwater!
Add this reel to your saltwater collection and don't look back!
Best Offshore Saltwater Spinning Reel
Daiwa Saltist MQ Spinning Reel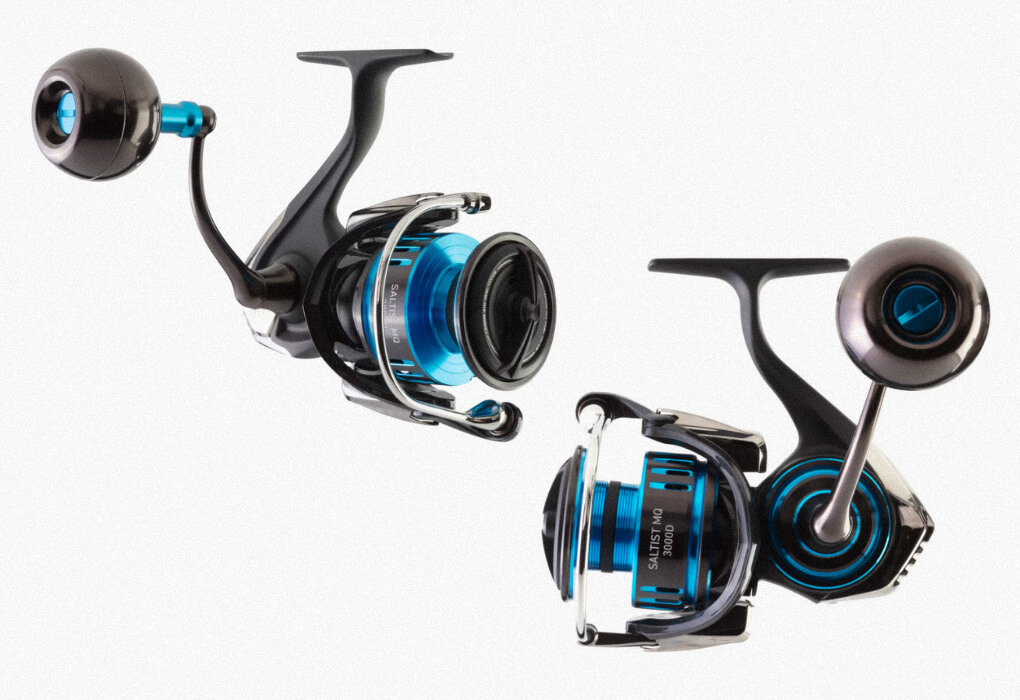 Specs
Type: Spinning
Gear Ratio: 5.3:1, 5.7:1, 6.2:1 
Weight: 21.9 oz.
Bearings: 6+1
Line Capacity: 16/330
Why We Chose It
It seems Daiwa has stepped up their game with the Saltist MQ. 
I tried this reel out along a rock jetty just off the coast. I knew this reel was special on my first cast as I slung my Carolina rig tipped with dead shrimp over 70 yards.
The line peeled off of the reel as if it couldn't wait to get in the water.
I was able to wrestle my limit of 5 bullreds into the ice chest with minimal effort. The Saltist MQ was very light for its size (I was using the 4000)
Daiwa's "Featherweight Zaion Air Rotor" is supposed to be responsible for a 15% reduction in weight. That figure may just be right because it definitely had a lightweight feel to it.
Another thing that I noticed was the line distribution. I found that the air rotor laid the line out onto the roller in a tight, even pattern. This made a difference when casting.
When casting I also noticed the bail arm. It had a very crisp and secure sound after it engaged just before I started reeling.
Another great thing about the Saltist MQ is it ranges in size from a size 2500-8000.
One thing to think about with offshore spinning rods is how much line it holds.
It has line capacity of 10/280 with the larger 10000 size holding 16/330 which is plenty line, even enough to drop for red snapper at a rig.
I will say that this reel is a bit expensive. For a similar reel with slightly less bells and whistles, check out the Penn Spinfisher VI Spinning Reel which is comparable to the Saltist but about 100 bucks less. 
If you're looking for a saltwater spinning reel to fit your offshore needs the Daiwa Saltist is the rod for you. 
It handled the brutal salt from the Gulf of Mexico, not to mention the big bulls I caught. Pair this reel with a stout offshore spinning rod and you'll be in business when it comes to offshore fishing! 
Best Saltwater Rod and Reel Combo 
PENN Battle III Rod and Reel Combo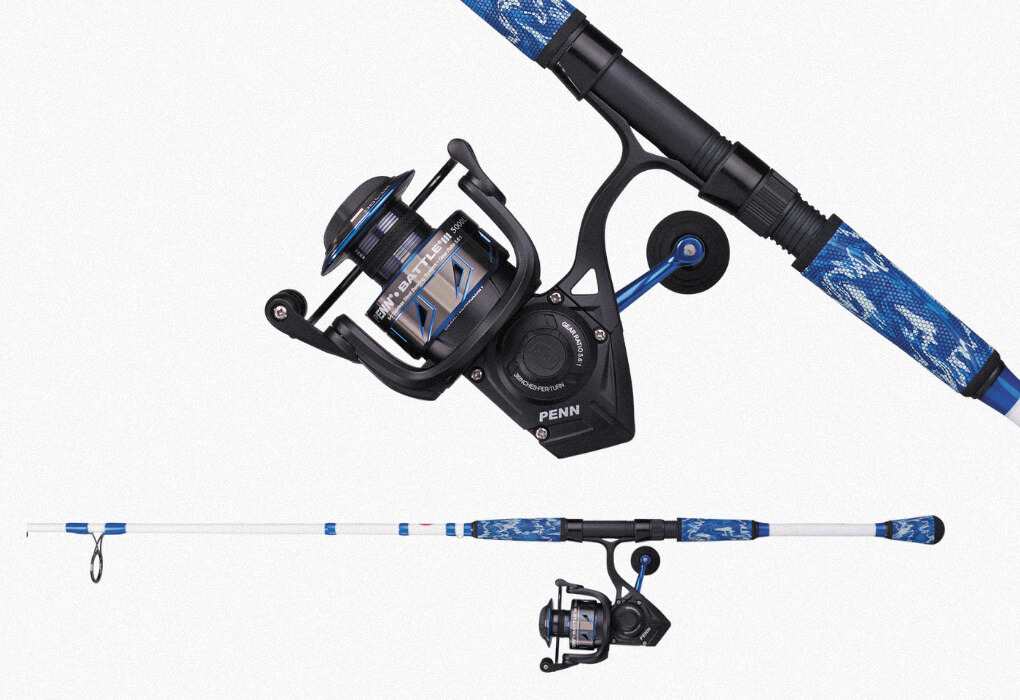 Specs
Type: Spinning
Gear Ratio: 6.2:1
Bearings: 5+1
Line Capacity: 20/180
Rod Material: Composite 
Why We Chose It
The Penn Battle lll Rod and Reel Combo combines a high-quality rod with a high-quality reel that is custom built for saltwater fishing. 
The reel has made significant strides since the PENN Battle ll.
The main improvement is the CNC machined gears that are cut from one block of metal which makes for a PERFECT fit. It makes for a surprisingly smooth retrieve.
Another thing that sets the reel apart is the HT-100 Carbon Fiber Drag System which makes the drag pull smooth without jerking.
This is important when hooking a bigger fish like redfish or sheepshead. You don't want the line being pulled out fast, in sudden spurts, as this adds more tension to the line.
I used the PENN Battle lll Combo in a trenasse that lead back to a duck pond. 
The water was flowing out of it and there were redfish stacked in a 9-foot hole beating up on storm minnows that were coming out with the current.
The reel handled all five redfish wonderfully as I bullied them to the boat and into the landing net.
The rod loaded great and stood up to the redfish. Being made of a mixture of both graphite and fiberglass, you're getting durability with the fiberglass and sensitivity with the graphite.
Another great thing about the rod is that it has one-piece guides which means the guides are part of the rod instead of glued or woven on.
This adds durability and means you won't have to change out broken or beat up guides
The only downside that I can see is that the reel is slightly heavy but that's only due to the metal sides on the reel but that's to be expected with saltwater reels.
They did make an attempt to reduce the weight by carving out design holes in the reel that somewhat reduces the weight but it's still 9.7 oz which is heavier than a lot of other reels.
If you're looking for a comparable combo, the Daiwa BG Inshore Combo graded out close to the PENN but it is slightly more expensive. 
If you're a beginner, this is a fantastic rod for bass fishing because it's durable and it is sensitive enough to feel a soft bite.
Plus, it can also be used for other fish like trout, redfish or walleye. The PENN Battle lll Combo hits on all cylinders and has the potential to be a lifetime rod in the future.  
How to Choose the Best Saltwater Spinning Reel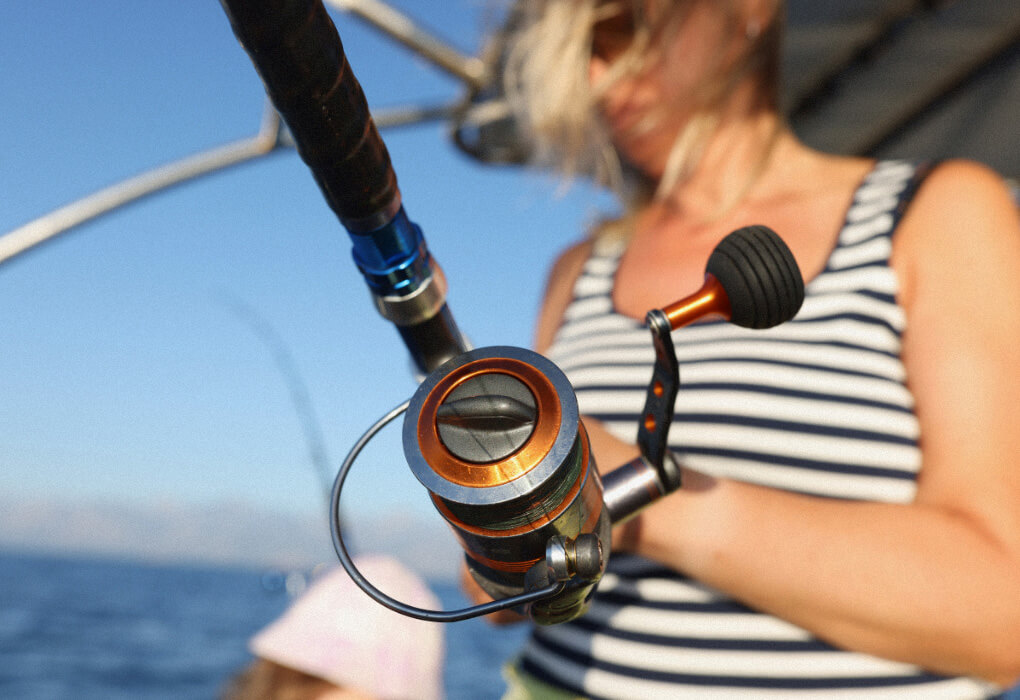 When it comes to choosing the best saltwater spinning reel, you'll need to focus on three main things. One being the material used and how the reel is sealed. And the second being how the drag performs and its power rating.
Material/Sealant
Unarguably, the most important thing to consider when fishing saltwater is the material of the reel and how well it's sealed to protect against saltwater.
Look for reels that are made of materials that are corrosion resistant.
A helpful hint for finding reels like this is to look for words like Stainless steel, X-Protect waterproofing, and IPX6 Sealed.
Also reels that are specifically designed for saltwater fishing will last longer and hold up to the elements longer than a freshwater reel will.
Drag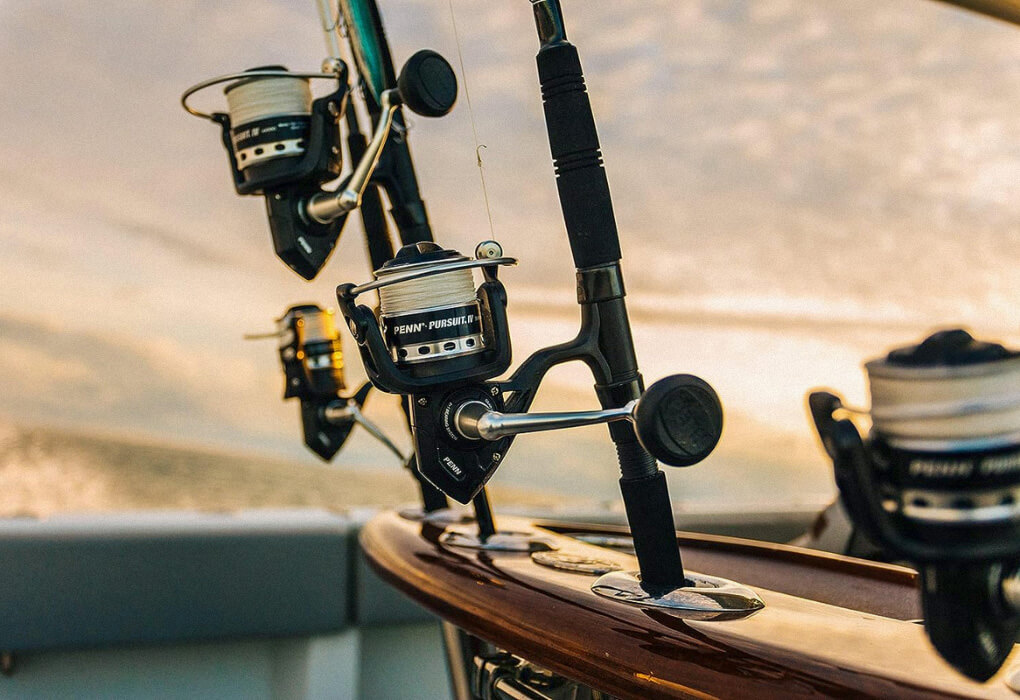 Having optimal and smooth drag is an important feature for all spinning reels but it's really important when it comes to saltwater reels because you'll be tangling with some larger fish like redfish, trout, and sheepshead.
Ideally, you're looking for a max drag rating somewhere between 15-25 or higher. Keep in mind that as you get higher the reels generally get larger and heavier.
If you choose an inshore spinning reel with a drag rating that's too low, it decreases the overall size of the fish you'll be able to manage.
If you're after big fish, you might want to size up your reel to the next model level to not only increase the drag but the drive gear and metal body as well.
Final Thoughts
During my week fishing near the Gulf of Mexico, I put all of my favorite reels up against some of the newer reels. In the end, I think our top 6 list will help guide you to the best saltwater spinning reels.
So let's review our top pick!
For the best saltwater spinning reel overall, I chose the PENN Slammer IV Spinning Reel. 
It was an outstanding reel and led the pack when it came to casting ability, a smooth retrieve, and protection against saltwater.
While the Slammer IV won overall, you really can't go wrong with all the reels mentioned in this best saltwater spinning reels guide that we've put together.
Give them a try and tell us what you think! We'd love to hear from you!