---
We independently research, test, and recommend the best products; you can learn more about our review process here.
The best side imaging fish finders are gems, hidden in a barrel of pretty rocks. I and the staff at Anglers.com have our hands on some outstanding fish finders, and we know that side imaging makes a huge price difference.
With that being said, anglers want to get the best for their money, maximize their time and efficiency on the water, and quickly map any body of water.
The market for sonar with side imaging capabilities is saturated and often confusing.
Whether you're fishing from a jon boat, kayak, bass boat, or dropping through the ice, our team at Anglers.com has tested the best fish finders with side imaging.
Ultimately, we came up with four, each ranking based on features that will put you on the fish.
Top 3 Box
If you already have a good idea of what you want or just don't have the time to run through the individual products and features, here's a brief overview of our favorite side imaging fish finders.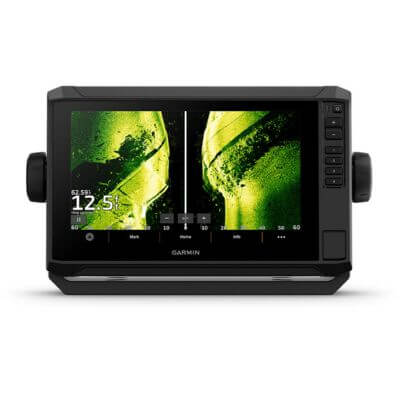 Best Overall Side Imaging Fish Finder
Garmin ECHOMAP UHD 2 - 9"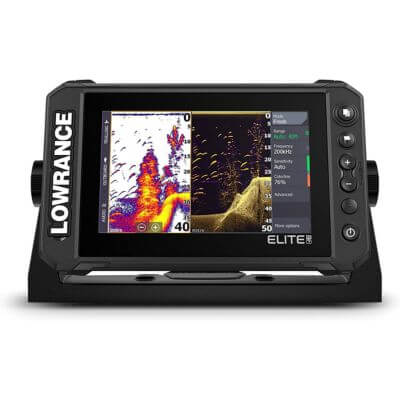 Lowrance Elite FS 7 Active Imaging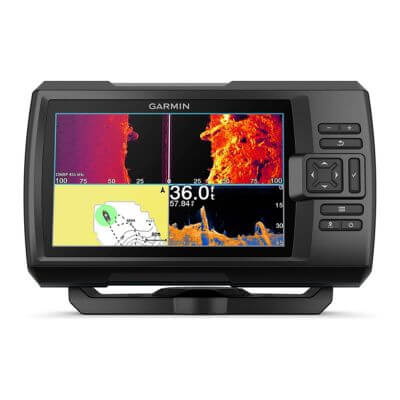 Garmin Striker Vivid 7sv
How We Selected Our Favorites
Yes, we spend a lot of our time typing words about some of the best fishing products on the market today.
However, we're also out there on the water, fishing and using these fish finders to find out what works for us because we know it will work for you too. Our testing parameters are included below:
Transducer:
The transducer is the second half of the fish finder, so what side-imaging quality does it produce? Is it accurate? Detailed? Precise? Durable and dependable?
Mounting:
It's amazing how so simple a feature can be so critical. How well does it mount? Does it hold up over time? Is it convenient, and what degree of portability is there?
Screen Size:
This is another crucial component because the larger the screen, the higher the pixel count needs to be for a sharp and decipherable resolution.
Does it feature a split-screen? If so, to what degree? Is it best for a kayak or a bass boat?
Power, frequency, and range:
The three are inextricably linked. High frequency for shallows and lower frequency for depth. Plus, how much strain will the fish finder's capabilities place on your battery, and how far can it reach out?
Mapping: Side-imaging is as much a scouting and mapping system as it is a fish-finding technology. GPS is integral to side imaging both for navigational purposes and high-quality mapping.
---
Best Side Imaging Fish Finders Reviews and Recommendations
The best side scan fish finder often boils down to Lowrance, Humminbird, and Garmin.
Thanks to market consolidation and a furious level of competition, these three are the cream that rose to the top, dominating Amazon, Cabelas, and Bass Pro.
Garmin ECHOMAP UHD 2 – 9" (Best Overall)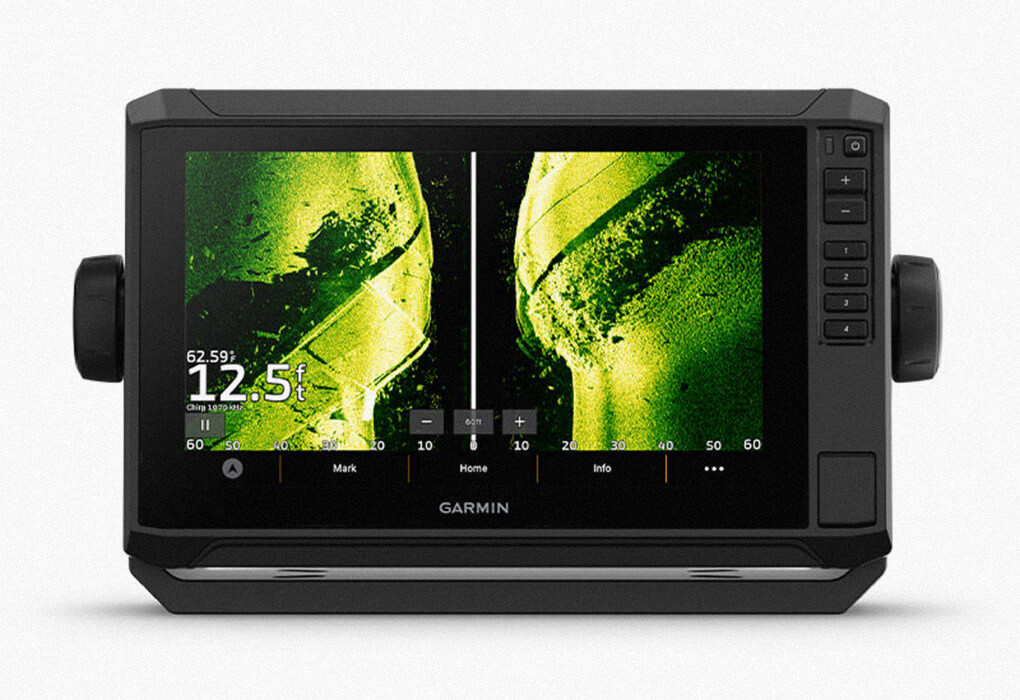 Key Features
Redesigned, quick-release bracket mounts
Hi-res, keyed-assist display
Two-frequency Sidevu
Compatible with LiveScope
20% improved Sidevu range
Pros and Cons
Garmin's ECHOMAP UHD 2 really stood out to us, mostly because of the vast improvements over the original UHD series.
This thing becomes a veritable nightmare for fish when you pair it with the Panoptix LiveScope, but the GT56 transducer is a fantastic transducer all the same. .
Why We Love It
One of the biggest decisions that Garmin made was to improve the resolution on the larger UHD2 models over the 800 x 600 res from the previous generation.
While 1024 x 600 isn't mind-blowing on paper, we think it looks fantastic, especially paired with Garmin's sun-viewable tech.
Little fish and big fish are easy to separate, and the level of detail is incredible. For the chartplotter fanatics out there, the GPS receiver jumps from a 5Hz frequency to 10Hz.
While it's more of a drain on your battery, the response is far more rapid, and instantaneous in some cases.
Garmin has always leaned towards a key interface, rather than a touchscreen, but the combination of both is one of the smarter business decisions they could have made.
We like how responsive the touchscreen is, while still employing the key interface for precision when needed.
Traditional CHIRP sonar, sidevu, and clearvu are all here, and one of the first things we noticed was that Garmin wasn't exaggerating about the 20% extended range with Sidevu.
The amount you can broaden or narrow the cone is excellent, with 260, 455, 800, 1000, and 1200 kHz frequencies.
This range opens up a lot of options with broader cones in shallow water and narrower, precision cones in deeper water.
The same frequencies are available for Clearvu (Garmin's version of down imaging).
One of the more anticipated elements of the UHD2 release was Garmin's upgrade to Navionics+, and we were highly impressed with the improvements.
Features and Benefits
What separates the Garmin ECHOMAP UHD2's side imaging capabilities from others is the power of combined technologies.
Garmin's color palettes:
The Garmin Striker Vivid leans heavily on this, but it's present in the UHD2 as well. The combination of Sidevu with vivid color palettes does so much to help you quickly identify and separate on-screen information.
Because of the level of detail and color separation, the underwater topography, structures, fish, depths, and bait visually pop.
Improved receiver frequency:
Originally, 5Hz frequencies allowed for five map updates per second. Plus, it helps oil an already well-oiled machine when it comes to networking across multiple UHD2s.
Navionics+:
Everything is expanded and improved upon, including tidal representation, customizable depth layers, creation and storage of sonar charts, valuable updates and software support, and excellent measuring capability.
Panoptix LiveScope compatible:
The 9" version comes with the GT56 transducer. However, if you want to upgrade to real-time imagery, reduced sonar noise and clutter, and better image stability, UHD2s are compatible with LiveScope.
We were thoroughly impressed with the Garmin ECHOMAP UHD2, and it's only been on the market for a few months.
If you're looking for impressive and accurate side imaging (with the GT56, 54, or even the GT20 transducer), ECHOMAP UHD2 is easily one of the best.
Lowrance Elite FS 7 Active Imaging (Best for Kayakers)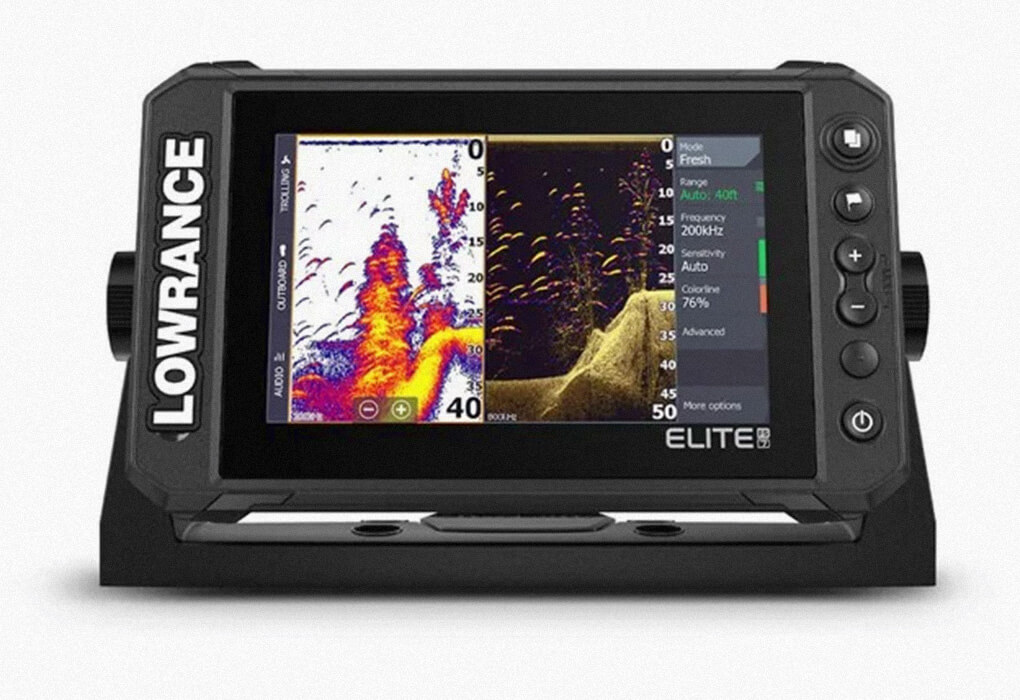 Key Features
Active Target Live Sonar
Up to 1,000' depth
Excellent networking
Preloaded C-Map Contour + Charts
Routing and auto-routing capable
Pros and Cons
Lowrance put together a very accurate fish finder and its compatibility with Active Imaging is impressive.
The Active Imaging 3-in-1 takes full advantage of the Elite FS 7's visual capabilities along with great range, Fish Reveal Smart Target (targets and identifies fish), multiple angle viewing, reduced noise level, and specific depth isolation.
You also get DownScan and automated "Scout" views in real-time.
The FS Elite is small enough to suit a large fishing kayak, but we did have some trouble getting everything set up—something which Lowrance is known for with this particular model.
Why We Love It
The Lowrance Elite FS 7 is a fantastic fish finder for kayaks.
Its just the right size for easy mounting options and shallow water fishing takes full advantage of the FS 7's SideScan and fantastic imaging. It's also perfect for smaller bass boats and jon boats as well.
This is one of the best Lowrance fish finders with the Active Imaging transducer truly shines in shallow water thanks to incredibly fast ping speed, which results in highly detailed images.
The faster the ping, the detail rich the feedback. Since the Elite FS 7 features Lowrance's SolarMAX HD screens, you won't miss any of that detail, even in full sunlight and from extreme angles.
If you've ever experienced a Lowrance fish finder before, excellent screens is one of the company's strong suits.
Sitting on a kayak, staring at a 7" screen, backlit at 1,200 nits, you will see everything from your own, tiny lure, to baitfish, large fish, and levels of structure detail that are nearly picture-like in quality.
Another thing we love about the Elite FS is the SideScan plus map overlay, otherwise known as StructureScan.
Anglers can take their on-screen maps and overlay them with SideScan. This puts everything into perspective and significantly boosts mapping capabilities on the fly.
Lastly, when it comes to networking, the Elite FS has it all. Bluetooth, ethernet connection, WiFi, and NMEA 2000 are all present and accounted for. The level of customization and automation is fantastic.
Our own, Wesley Littlefield field-tested the Elite FS and had this to say: "If you fish tournaments, this is definitely a unit to look into."
Features and Benefits
The Elite FS 7 typically comes with an Active Imaging, 3 in 1 transducer but it's compatible with other transducers as well.
Active Imaging is the way to go, however. Its forward view combines exceptionally well with SideScan. If you have three screens up at once, you can see everything.
Active Imaging 3 in 1 Transducer:
Active Imaging is just like Garmin's Panaoptix LiveScope. It offers forward, down scan, and scout views that provide exceptional, live imagery coverage all around you.
Balanced power consumption:
Even with the screen fully lit and Active Image, the max output is 2 amps, making it a great choice for kayakers who want to avoid heavy, large batteries. At 2A, you can get roughly 24 hours out of a brand new, lithium-ion.
SideScan images are highly accurate:
What you see is exactly what you get. Lowrance offers some of the most precise sonar in the industry.
SideScan Map overlay:
It's hard to emphasize enough how immensely helpful this tool is, especially if you love to build precision maps, create waypoints, save them to your micro SD card slot, or share them.
If you spend a lot of time fishing from a kayak, the Lowrance Elite FS is a top-of-the-line model for your craft. It's a little on the large side but feels perfect when you get it set up.
It's also a great choice for jon boats and small bass boats. It's well-priced on Amazon, but you can find lower prices on Cabelas and Bass Pro.
Garmin Striker Vivid 7sv (Best Budget Buy)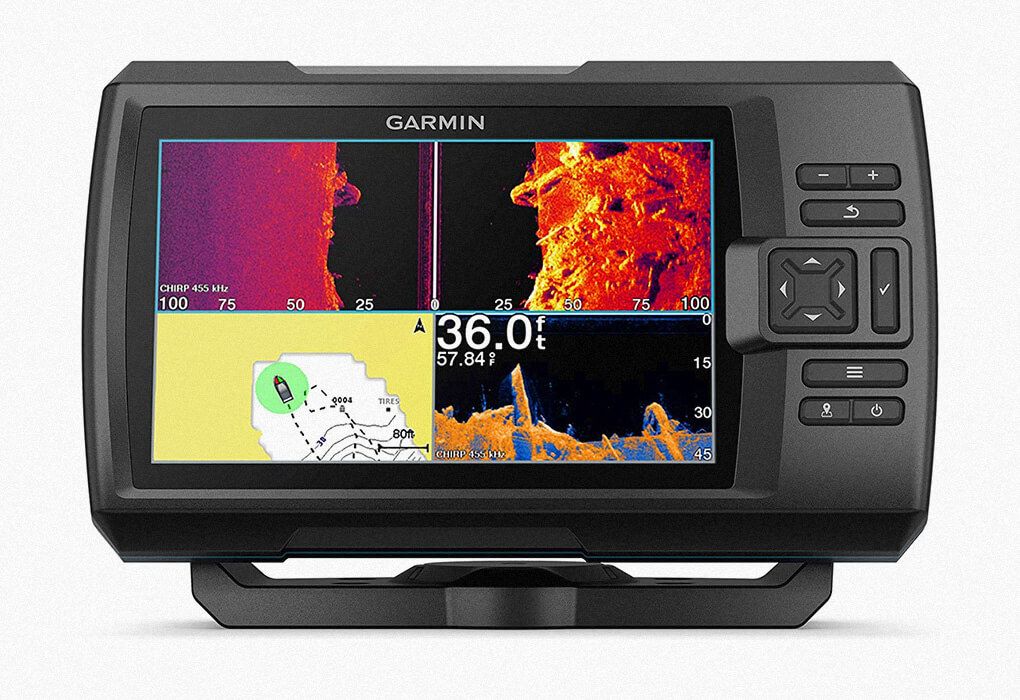 Key Features
Includes CHIRP sonar, Sidevu, and Clearvu
Garmin always has the best color palettes
Waypoint marking return with rapid refresh GPS capability
WiFi connectivity, including ActiveCaptain app
Multiple mounting options/hardware included
Pros and Cons
The Garmin Striker Vivid 7sv packs a lot of hardware and software into a device that carries a sub-$500 price point.
Why We Love It
Here at Anglers.com, we understand that fishing can be an expensive hobby. I practically ooze envy whenever one of the big three releases something new that would require me to sell a kidney on the black market to afford it.
If you're like me, you want the best sonar on a budget.
It was hard not to like the Vivid 7sv. The upgraded, GT52HW-TM transducer offers outstanding detail, better than other sonar at higher price points.
The way Garmin combines waypoint plotting with exceptionally fast GPS is mind-numbing.
It features a lively, color display you can split into four screens and enough hardware under the hood to watch it all without a hitch.
It's rare to see traditional CHIRP sonar, down imaging, and side imaging sonar at a price below $500, especially with built-in contouring and WiFi connectivity.
The only real complaint we could come up with was Garmin's decision not to include preloaded maps and a slot of a micro SD or standard SD. You can make your own maps all day long, but you're limited to the onboard storage.
Bright sunlight has little to no effect on-screen visibility. Side and down scans show up in a variety of vivid colors, or you can set the color schemes you want.
Either way, the level of detail isn't lost, regardless of outside conditions.
Features and Benefits
Although it lacks onboard mapping, one of my favorite aspects of the Vivid 7sv is the DIY contour mapping. Garmin may have missed the boat with onboard mapping but they made up for it elsewhere.
However, that's not the only feature that makes the Vivid 7sv shine.
QuickDraw Contours Software:
Combined with the ActiveCaptain app, we found that taking Sidevu data and creating complex, detail-rich maps, with 1' contours was a breeze.
Upgraded transducer:
The GT52HW transducer doesn't hit the mHz frequency but covers Sidevu and Clearvu sonar at 260, 455, and 800 kHz.
Vivid 7sv display:
It's hard to say enough about what Garmin was able to do with an 800 x 480 resolution. The colors pop and the detail is rich, immersive, and informative.
WiFi Connectivity:
If you're a social media person, you can connect with fellow anglers and share all of your created maps or even take advantage of theirs. WiFi keeps your smartphone, app, and the Vivid 7sv linked.
Like the Lowrance Elite FS 7, the Vivid 7sv is a good option for large kayaks, jon boats, and small bass boats. But it's also just as good on larger craft as well.
If you want to take advantage of some of the best advances in sonar tech, without breaking the bank, Garmin's Vivid 7sv is the answer.
Humminbird Solix 12 CHIRP Mega SI+ G3 (Best Splurge)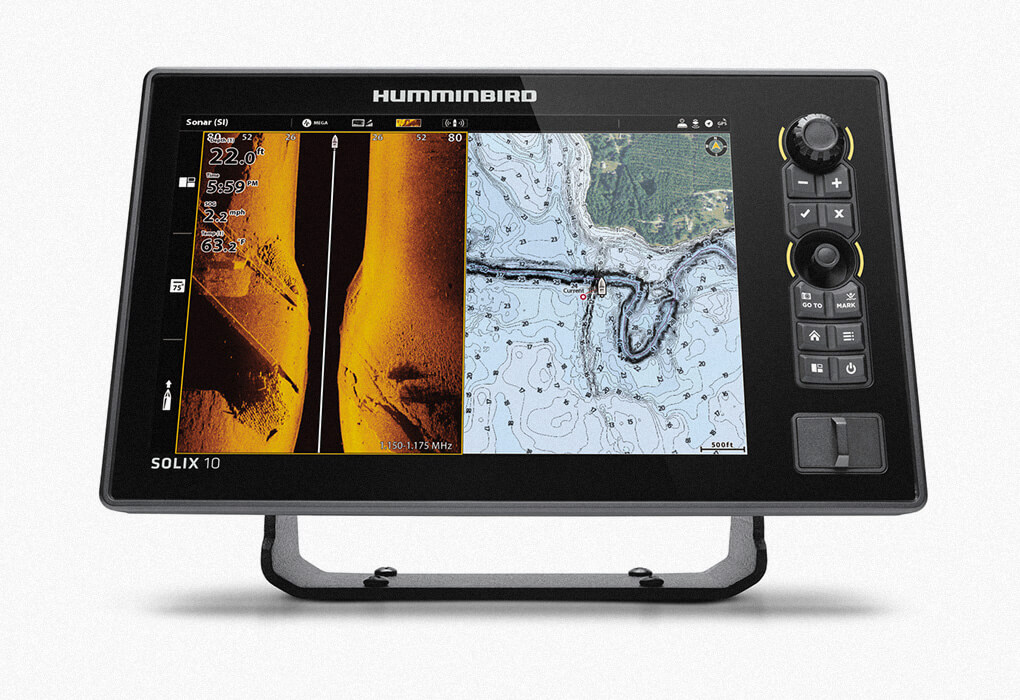 Key Features
Mega down imaging and side imaging
Cross Touch technology
AutoChart Live
800' side imaging
MHz High-Def imaging
Pros and Cons
Professional angler, Carl Jocumsen broke down the Humminbird Solix in a couple of sentences:
"This is the greatest setup that I've ever had in my career. It was 100% the reason I was able to break that lake down in 10 days."
Why We Love It
We were already impressed with the Humminbird Helix series fish finders, and Humminbird simply took what worked and made it better in every way.
Yes, it's on the pricey side, but what we love about it is the fact that it's a monster in every category.
The Mega down and side imaging technology are incredible, thanks to the transducer, with the optional XM 14 HW MSI T transducer standing head and shoulders above the rest.
We found that the imaging returns on the Solix 12 are probably the best on the market today.
A lot of that is because the Solix can get into the MHz range, offering 250' on either side of the boat and 250' down.
My personal favorite is the level of customization. You can change the color palettes and tweak the imagery until your heart is content.
As sonar technology goes, the Solix is just hard to beat. Not bad for something that's been out for several years now.
One of our Anglers.com team members and Editor, Coty Perry, recently wrote a review on the Solix, stating that:
"MEGA Side Imaging gives you an unparalleled view of the underwater terrain."
The mapping is fantastic, and the Solix comes with the Humminbird Basemap onboard, as well as compatibility with Navionics, LakeMaster, and CoastMaster. Its chartplotter capabilities are also second to none.
Features and Benefits
Other than the price, one of the other drawbacks to the Humminbird Solix 12 is that it only comes with Basemap.
Basemap is perfectly fine unless you live in Canada, and it's more of a minor gripe at the end of the day. Otherwise, Solix is absolutely loaded with features.
Incredible networking capabilities:
Includes ethernet, NMEA, WiFi, and Bluetooth. The Solix series connects to a wide array of Johnson Outdoors products and Minn Kota trolling motors.
SmartStrike software:
Input your data, and SmartStrike will find the fish for you. Literally. It's an amazing piece of software that takes all the real-world data you input and converts it into info on where to go.
AutoChart:
This is a fantastic contour mapping software you can overlay onto your Side imaging. You make your own maps, down to the finest detail, then combine them with Mega side imaging. It's almost unfair.
Joystick:
It's like Humminbird decided to integrate a gaming controller with a robust, touchscreen interface. They did a great job too. The joystick and key access are especially useful when you need precision.
Traditional sonar went out the window a long time ago, and the Solix 12 effectively buries it. It's not for everyone, thanks to its steep price point and complexity.
However, if you're looking to step up your game to the amateur and professional levels, there's no better place to start.
Side Imaging Fish Finder Buying Guide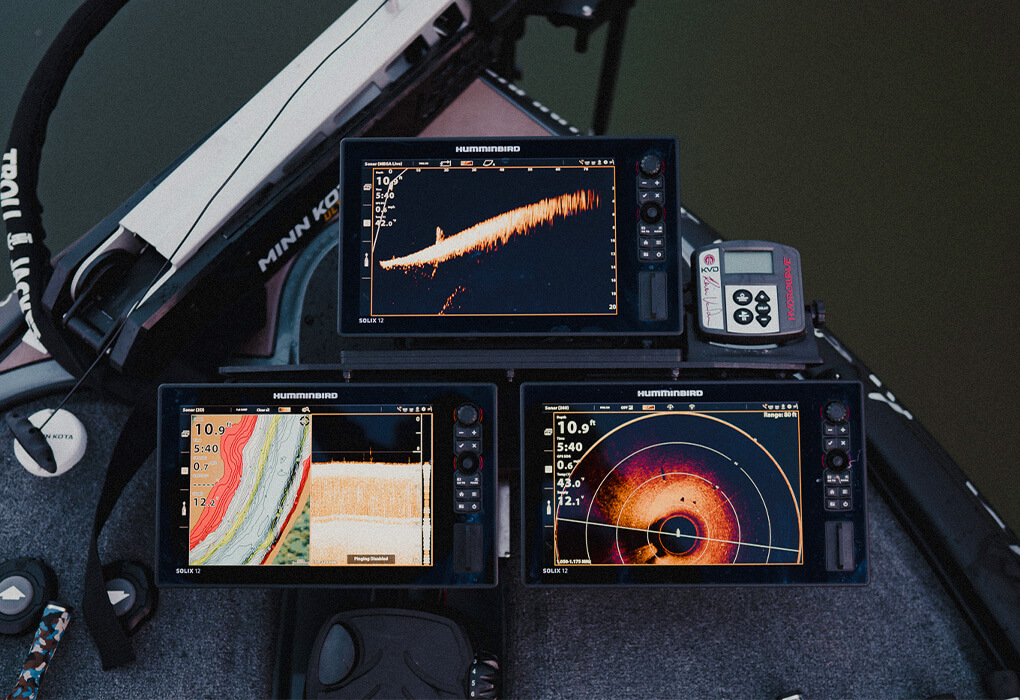 Whether you like to buy from Amazon, Cabelas, Bass Pro, or any other online or in-person fishing retailer, you have to know what fish finder you're looking for. This is especially true for new anglers.
First, you have to know what your needs are. There's no sense in refinancing your home to get a Humminbird Solix 12 when all you need is a Helix 7.
What are the display specs?
How much power do you need?
Transducer size for your craft
Frequency
Screen size
Combo or single fishfinder
These are all things you have to carefully consider. For instance, a 10" screen may give you trouble on a kayak. Or, a large transducer might be too much for a smaller craft. Your power needs are important as well.
Some of the fish finders on our list have an extensive output, which can sink your battery in a hurry if you aren't prepared.
If you own a large boat, you may consider a combo pack, with perhaps two Humminbird Helix 7s, or ECHOMAP UHDs—one for the bow and one at the stern.
If you decide on a combo, networking comes into play. Garmin's UHD2s pair nicely with each other wirelessly, but they don't pair with other Garmin devices or other brands.
Do you fish in the sun a lot? Make sure the screen is designed for sunlight readability.
Final Thoughts
There you have it, our list of the best side imaging fish finders. Let's touch on what we covered.
Our best fish finder with side imaging is the Garmin ECHOMAP UHD2 9". It's an exceptional piece of sonar hardware that won't break the bank.
If you want to upgrade in the future, it's completely compatible with LiveScope and, on its own, it offers incredible side imaging.
Garmin also makes the Vivid 7sv if the UHD2 is too rich for your blood. The Vivid 7sv is an outstanding fish finder, and it includes side imaging sonar and most of the bells and whistles on pricier units for a sub-$500 price point.

Whether you can splurge on the Humminbird Solix or want to keep things simple with the Elite FS, there's no wrong choice here.
Feel free to leave a comment below and let us know what you think!