---
We independently research, test, and recommend the best products; you can learn more about our review process here.
I have to say, when I was tasked with writing a Humminbird Helix 10 review, I instantly had some doubts. I'm not a fan of pricey fish finders because I think they're loaded with features that really take away from the fishing experience.
I spend most of each and every day staring at a screen, why would I want to do that on the water too?
Sure as hell, was I wrong about this unit. The Humminbird Helix 10 is hands down one of the best fish finders I've ever seen and there's a few reasons for that.
1. It offers countless options in terms of customization.
2. It's crystal clear and accurate as could be.
3. It's user-friendly even for people who aren't tech-savvy.
Put all those features together and you have yourself the "every man's fish finder." Let's dive into it.
---
Pros
Loaded with customization options
Incredibly user-friendly
Crystal clear 10-inch HD display
Options for down imaging and side imaging sonar
Humminbird Basemap with Navionics combo
Cons
Price
A lot of models are sold out
The goal of this Humminbird Helix 10 review is not to sell you a fish finder, it's to help you realize that this is one of the best fish finders on the market right now.
Between endless customization options, price ranges, down imaging sonar, side-imaging sonar, mapping capabilities, and 360-degree viewing angles, it really doesn't get much better than this.
If you're looking to spend some money on a fish finder, I can't see a reason to go anywhere else.
There isn't really anything bad I can say about this unit other than the fact that you may have a hard time finding one.
At the time of this writing, it's out of stock at Amazon, Bass Pro, and Cabelas.
Things to Consider Before Buying a Fish Finder
There are a few reasons why anyone would want to buy a fish finder but the most obvious reason is to make fishing easier right? We all want to catch bigger fish, catch them easier, and get more of them.
High-quality fish finders help us do this. If you're not experienced with fish finders, you might not know exactly what features are important and which ones aren't.
Keep in mind that a fish finder can be a serious investment and in the case of the Humminbird Helix 10, this is true. If you're going to pay more than $1,000 to put something in your boat, it better makes a big difference.
These are all of the things I consider before deciding on a fish finder. Some may be important to you, others might not. Go through and figure out what features speak to you!
Display/Screen Size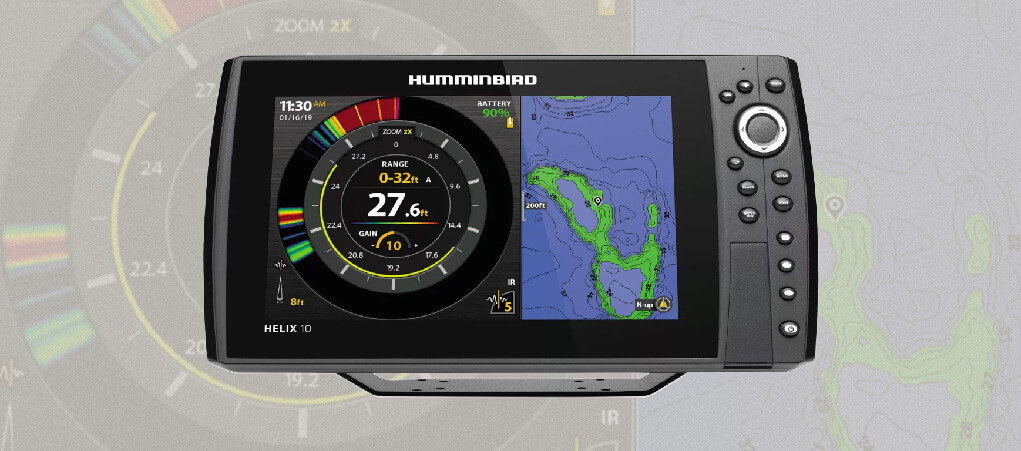 Starting with the most obvious feature, the screen. You want a screen that is large enough for you to easily read and identify what you're seeing.
In many models, it's pretty clear what size the screen is because that's often the only feature that changes. This is true in the Humminbird models.
As you increase in model number from Helix 5, Helix 7, to 12, the screen size is what changes as you increase in number.
In addition to the size, you should also look for things like a sun-glare reflecting backlight, advanced color palettes, multiple SD card slots, temperature graphs, split-screen, HD radar, power output, and pixel information.
All of these features combined will make it easier for you to see the fish but also easier to identify different sizes, types, and fishing opportunities. To sum it all up, deciding on a fish finder based on the screen is a lot more than simply choosing a screen size.
Sonar and Transducer
When it all boils down, the sonar and transducer are the most important deciding factors of a fish finder. Without these, we wouldn't actually be able to find any fish. Now, the type of sonar you get depends on the type of fish finder you buy as well as your budget.
You'll hear words like CHIRP, dual-beam, tripleshot, side imaging, down imaging, mega imaging, mega side imaging, 800khz, and mega di. All of these words describe the type of sonar and transducer you're getting with your fish finder.
At the core, CHIRP sonar is the standard and something expected from all modern fish finders. The introduction of CHIRP sonar is really what changed the game and made fish finding technology easier to use for beginner anglers.
Years ago, fish finders operated at a single frequency and the sonar would bounce off things and that's how you identified that there was something in the water. Today, CHIRP sonar operates at a range of frequencies which offers a clearer image as well as better target separation so you can identify schools of fish and different size fish.
In all the Helix 10 reviews I've ever read, I don't think they do enough to break down the types of sonar technologies offered by this fish finder so continue reading to learn more.
Beyond the sonar, we also want to think about mounting the transducer. Gimbal mounting is most common on the Humminbird Helix 10 CHIRP and other models.
Navigation and Mapping Features
The fish finders of yesteryear did a nice job at finding fish but they didn't offer much else beyond that. Today, fish finders come with mapping technology, GPS navigation, Autochart Live, and even preloaded maps for lakes and ponds you haven't even been to yet.
Try to prevent your mouth from watering but the Helix 10 even comes with a variable setting that allows you to input seasonal and weather factors and it'll help you better find fish based on those factors. Shhh… I'll get to more on that later.
Humminbird Helix 10 Review: Features and Benefits
I've done a lot of reviews from the Humminbird Helix 5 to the Humminbird Helix 9 and while they have more things in common than not, there are many reasons why stepping up to the 10 might be the way to go.
Go through this Humminbird Helix 10 review and decide if these features merit an almost $2,000 price tag (for your personal use.)
360 Degree Imaging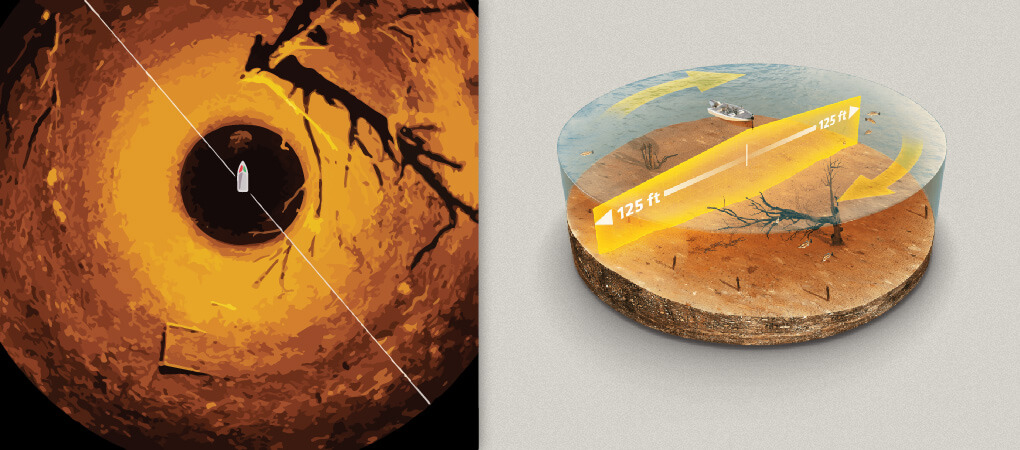 You'll be sick of hearing me say "yesteryear" by the end of this article but the old fish finders we're great at telling us what was going on underneath the boat and even beside the boat in modern models.
The Humminbird Helix 10 takes it to a whole new level with the Mega 360 Imaging feature.
You get a 360-degree view around your boat in all directions spanning as far as 125 feet in each direction. This not only makes it easier for you to identify potential fishing opportunities but you can scout structure, vegetation, and even spawning areas near the shoreline because of the distance.
My favorite thing about this feature is that you're able to actually scout areas you can't reach with your boat but you can with a lure. If you identify a holding area 50 feet away in a bunch of veg, now you can cast there without having to risk running your boat too close and getting hung up.
SwitchFire Sonar
I'm a huge believer in the fact that a "one size fits all" offering is a recipe for failure.
Fish finding technology should offer ways to customize what you see and how you see it because everyone has a different idea of what a good fish finder looks like. SwitchFire sonar helps make that possible by allowing users to customize the display between two different modes.
If you're fishing in shallow or murky water, it's more difficult to get an accurate reading and actually identify fish beneath the surface. As a result, clear mode helps to eliminate some of the features that might only get in the way when conditions are less than perfect.
On the flip side, if we're dealing with ideal conditions like clear water and low wind, the max mode can help you identify the finer details like structure, thermoclines, and even how the fish are reacting to your bait.
Mega+ Down and Side Imaging
One thing that can get pretty confusing with these fish finders is figuring out what DI, SI, MEGA+, and G2N mean. Simply put, they're all different types of sonar. DI stands for down imaging, SI for side imaging, MEGA+ offers both, and the G4N models have GPS as well.
Now, let me explain why this matters. Down imaging fish finders are the most basic and most affordable. You can pretty much get any Humminbird model in down imaging alone and it would be the cheapest. If you get a Humminbird Helix 10 DI it means you're getting a 10-inch screen and a down imaging transducer.
That's all it means. The number 10 has nothing to do with the upgrades or bonus features, it applies to the screen only.
Where these added bonus features come in is with the letters after the 10. So, a Humminbird Helix 10 MEGA+ G4N would mean that you're getting a 10-inch screen with both down and side imaging+, and GPS plus mapping capabilities.
It's a lot to take in and understand and I really wish Humminbird would do a better job of breaking it down but here's a quick chart to help you understand.
| | |
| --- | --- |
| Model | Features |
| Helix 10 DI | Down imaging |
| Helix 10 SI | Side Imaging |
| Helix 10 CHIRP GPS G4N | GPS, Chart-plotting, Contour Maps |
| Helix 10 CHIRP Mega DI GPS G4N | GPS, Chart-plotting, Contour Maps, with Mega Down+Side Imaging |
As I said, it's a bit challenging to understand but it might clear up as you see the price increasing with each feature. I can't tell you how much the price will increase because it fluctuates but I want to clear up the fact that the model number "10" doesn't impact anything other than the size of the screen. All the letters and numbers in the chart above are what really impact the capabilities of the unit.
Now, if you're looking for a Helix 10 Chirp Mega SI GPS G2N review, you might be out of luck… but not entirely. While Humminbird isn't exactly pumping out G2N models anymore, you can find some used ones on eBay.
Wireless Capabilities
In a Helix 10 Chirp Mega SI GPS G4N review, we would talk all about the latest and greatest features of these incredible fish finders and one of the biggest things worth mentioning is all the new wireless features.
Starting with ethernet networking, you can now share information between different Humminbird models and you can even control certain Minn Kota motors that are compatible with i-Pilot Link.
I just wish I could do that with my new Lowrance Ghost.
You also get full Bluetooth connectivity that once again, allows you to control your motor, fish finder, as well as all the mapping features on the fish finder. You have the choice of choosing between these network-compatible models or not.
If these features don't appeal to you, great, you don't have to get them and you can save some money as a result. That's one of my favorite things when comparing Humminbird and Lowrance fish finders . 
SmartStrike
Remember how I was telling you about a feature that allows you to actually input variable settings to customize the results you get on your fish finder? Well, here it is. This might actually be one of the coolest features I've ever seen in my life.
SmartStrike allows you to insert different parameters like time of day, temperature, season, and targeted species to customize the results you get on the screen. It'll highlight certain areas of the water and guide you in that direction.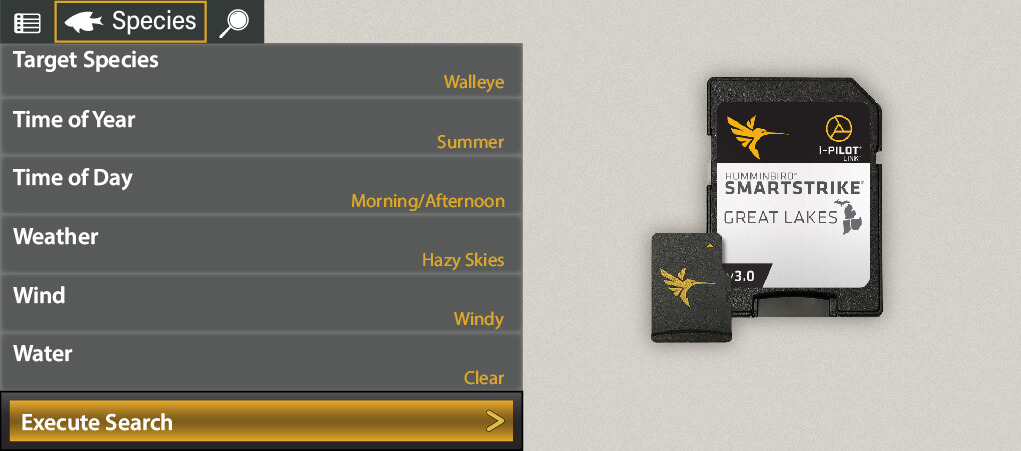 This is done using the LakeMaster data with advanced algorithms based on decades of research and experience fishing tens of thousands of lakes all over the country.
Best of all, it's available all throughout the country and you can find a list of lakes and regions here.
What Are People Saying About the Humminbird Helix 10?
As I'm researching and trying to learn more for my Humminbird Helix 10 review, I take a lot of other professional opinions into account. Whether it be through word of mouth or reading reviews online, getting honest and unbiased opinions about gear is important especially when that gear is north of $1000.
So with that being said, here's what some others are saying: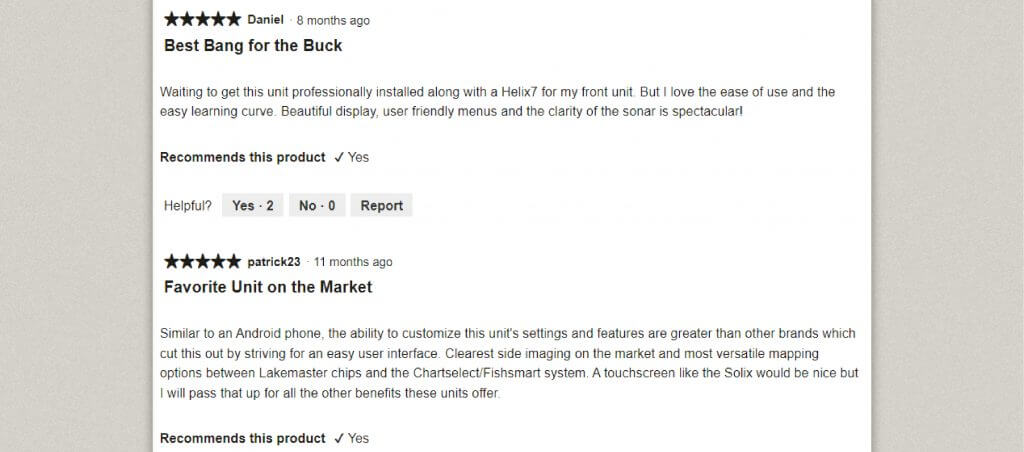 I found these happy anglers on Cabelas. The first guy talks about the ease of use, user-friendliness, and sonar clarity. One thing I didn't touch on too much is how easy these fish finders are to use but part of that reason is because of how flexible they are on features.
If you're not tech-savvy, go with a simple down-imaging model. Even in a Helix 10 SI review, I'd tell you that.
The second guy likes the customization options and ease of use as well. He also talks about how great the imaging is and how he loves all the versatility in terms of options.
I have to disagree with the touch screen though and if you've read my other best fish finder reviews you'd know that I think they get dirty, gunked up, and start breaking down quicker than regular keypads.
Alternatives to the Humminbird Helix 10
Let's take a look at some of the other options that could compare to the Helix 10.
Humminbird Helix 12
If budget is no concern for you and you've got almost $5,000 to hand out (send me a message for my address). Just kidding, but I wanted to provide you with pretty much the only option you would find on the market that would be an upgrade.
In this Humminbird Helix 10 review, I've really preached the fact that this is the best fish finder money can buy, but I take much pride in alerting you to pretty much the only fish finder that could offer anything else.

What does it offer you may ask? Two-inches of screen… that's about it. But hey, some people are willing to pay the ~$3,000 difference for two inches!
Lowrance HDS Live 7
Garmin Striker Plus 4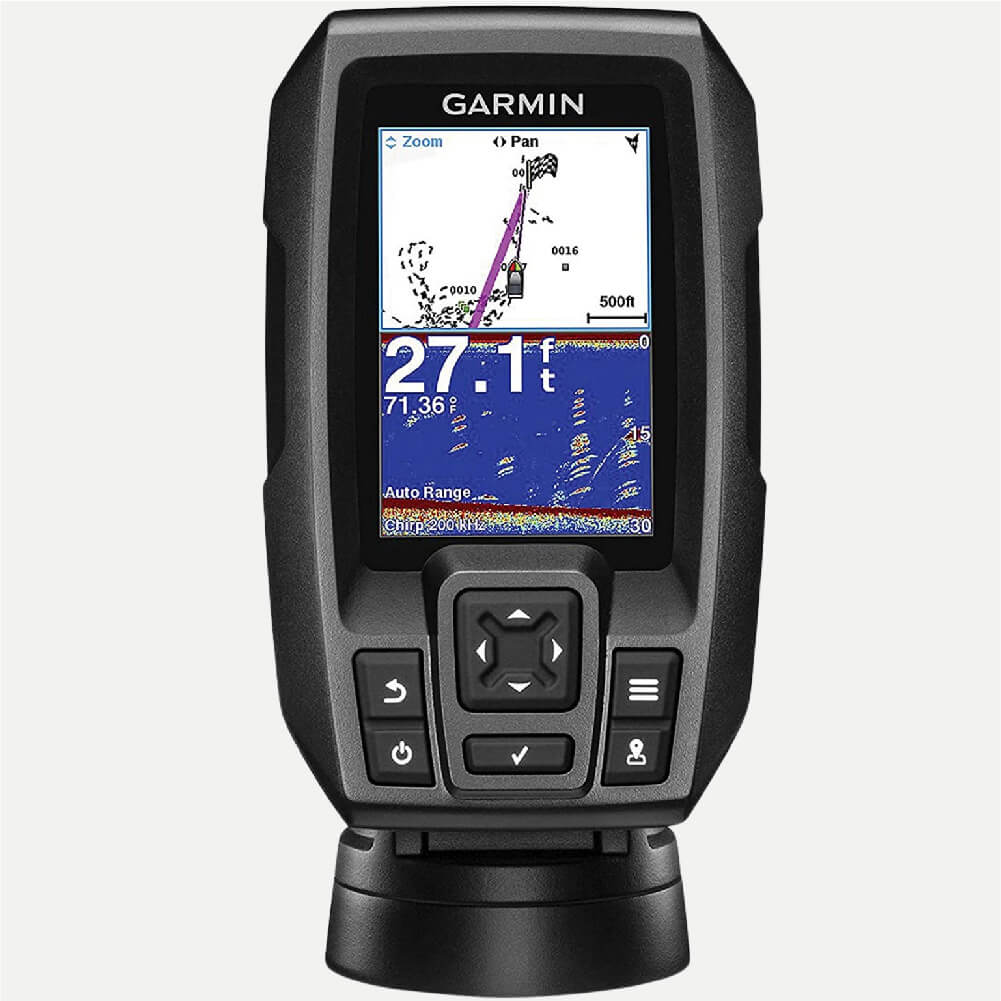 If you're salivating at all of these fish finders but wondering how on Earth you plan to afford them, I have an option for you!
The Garmin Striker Plus 4 is one of my absolute favorite fish finder for the money.
Final Thoughts
The goal of every fish finder is to make fishing easier and more enjoyable. A lot of the time you find products loaded with unnecessary features that hike up the price and make it unaffordable for most of us.
The best thing about the Helix 10 is that this fish finder isn't like that. You can pick and choose which features are most important to you and decide which ones you'd prefer to leave out.
Best of all, if you like features and have the budget, you can build the best fish finder known to man. Between 360-degree imaging, dual spectrum chirp sonar, and incredible customization options, there are a few reasons not to buy this fish finder.
If you're as smitten for this fish finder as much as I am, click here to check it out today and I hope you enjoyed this Humminbird Helix 10 review!