---
We independently research, test, and recommend the best products; you can learn more about our review process here.
If you've been a reader for a while now, you'll know that I'm very vocal about my fish finder preferences. And one thing has remained true and it's that I love the Garmin Striker 4.
The goal of this Garmin Striker 4 review is to show you why I love it and why it's better than most of the other fish finders I've ever used.
For years we anglers searched for a fish finder under $100 that actually provided us with a little quality control, a little accuracy, and decent imaging that you could see in less than desirable conditions.
Well, folks, it's been here right under your nose since 2015. If you've never heard of the Garmin Striker 4, it's about time you did. Let's get to it.
---
By the end of this Garmin Striker 4 review, you'll understand a few things. You'll understand that you don't need a ton of fancy features to find fish, that a small screen can go a long way, and that Garmin's customer service stinks.
But even with subpar customer service, the Striker 4 is single-handedly the best fish finder for the money and beginner fish finder the market has ever seen. There's a reason why this fish finder has been leading the market for nearly seven years now with no sign of slowing down.
Are Youtube videos your speed? Anglers.com writer Wes gives us his opinion of the Garmin Striker 4 that he uses on his kayak.
Things to Consider Before Buying a Fish Finder
The point of this Garmin Striker review is to help you identify the best fish finder for your needs. Of course, with any decision comes buying factors. The point of every fish finder is to make catching fish easier and more enjoyable, right?
Only a high-quality fish finder can help you do that and if you don't have decades of experience testing out various units, you might not be as familiar with some of the features.
The good news is, the Striker 4 is a relatively affordable unit so we won't have to dwell too much on the finer details. Nonetheless, let's take a look at some of the things I look for before buying a fish finder.
Display/Unit Design
The first thing everyone sees when they look at a fish finder is the screen and it has a few primary purposes.
First, the obvious purpose is to show you what's going on in the water.
You want something in the 100-200 kilohertz (kHz) range to provide a sharp enough image but scan enough area to make it worth your while.
If we dive a little deeper into it, you'll also want to pay attention to everything outside of the screen as well.
In the case of the Garmin Striker 4 we're not dealing with a touchscreen unit, it's a keypad fish finder.
I find these preferable because they're easier to keep clean and buttons are less likely to give you trouble or short out than a touchscreen.
You want to make sure that the keypad is large enough for you to actually be able to push buttons without accidentally pushing other stuff. It should be simple to navigate with only as many buttons as necessary to accomplish the goal of finding fish.
Sonar and Transducer
You'll find a lot of companies like Garmin, Humminbird, and Lowrance throwing around phrases like side imaging, down imaging, CHIRP, mega+, tripleshot, and all kinds of other things.
These are all used to describe the type of sonar available on the fish finding unit.
CHIRP sonar was one of the first types of sonar that really changed the way we used fish finding technology. It essentially uses a consistent flow of variable rate sonar to provide enhanced image quality with great target separation and a more accurate picture of structure underwater.
What does all of that mean?
It means that you get better imaging than you would on older models. You also get everything you need to mount this fish finder including the transducer and waterproof cables.
You can mount it on the transom or directly to your trolling motor (Garmin Force preferred).
This is also a great kayak fish finder and works well for most freshwater fishing situations.
Navigation and GPS
The best GPS fish finders do a heck of a lot more than show you where the fish are. They serve as a complete guide on the water.
Many of these fish finders can help you identify great fishing locations, you can use them to navigate your way around the water, and you can even input variable fishing conditions such as rain or clouds to customize what the unit tells you.
Some of the more advanced fish finders come with 5,000 waypoints, premium high-sensitivity GPS systems, and more.
You won't find a lot of these advanced features on the Garmin Striker 4 because this fish finder isn't quite pricey enough to merit them.
This is more of an entry-level fish finder for someone who hasn't experimented much and just wants to find some fish.
That said, it doesn't mean there isn't a GPS feature. More on that coming soon!
Customization and Model Options
One of the most confusing things that I find to be the case with the Garmin fish finders is understanding the different types of models. There are four primary units, each with its own added benefits.
Here's a quick table to help break it down for you.
I want to break each of these down a little more to help you understand which one would be the right choice for you.
If you're new to fish finders and you're looking for something standard go with the CHIRP or Vivid sonar. These offer limited details with enough to get you going and help you understand how fish finders work.
Dual-beam sonar means that it comes with a variable kHz frequency which is highly useful in shallow or murky water. It's a step up from the previous options and as a result, is more expensive.
The portable kit Garmin Striker is the same as the traditional CHIRP sonar but it comes with a cover so you can use it as an ice fishing fish finder or in heavy rain.
Garmin Striker 4 Review: Features and Benefits
Whether you're looking for a portable fish finder or something to install permanently to your boat, the Garmin Striker 4 does a nice job at offering a little something for anglers of all skill levels. It's a nice budget-friendly fish finder with plenty of user-friendliness as well.
That said, does it offer enough premium features to make it worthwhile for skilled anglers? Let's see.
Display
The first thing you see when you look at a fish finder is the 4.3-inch, 480 x 320-pixel screen with A-Scope and you want to make sure it's as simple to read and accurate as possible. Even if you don't have any experience using a fish finder, you should have no problem diving right in and using the Garmin Striker 4. The image quality is crisp, and the buttons make navigating it as simple as could be.
If you choose to go with the dual-sonar unit, you'll benefit from both a 77 kHz and 200 kHz image.
Naturally, the 77 kHz image quality will be much lower but you'll be scanning a larger area with the sonar to provide a more comprehensive look at what is going on beneath the surface.
This is great for scanning along shorelines or deeper water.
CHIRP Sonar
As I've said, CHIRP was really the world's introduction to serious sonar technology for the average fisherman. It works by sending bursts of sonar into the water at variable frequencies. This allows the sonar to either bounce off what it's hitting or identify it and either narrow down or spread out for better target separation and more accuracy.
The case with the dual-beam transducer is that instead of a single frequency of CHIRP sonar, now you get two frequencies of sonar which further increases the accuracy and provides you with more details about everything happening beneath the surface.
This unit also comes with an IPX7 water resistance rating to protect against splashes, rain, and snow but it cannot handle submersion or anything like that. It comes with a split-screen with 2D sonar and all the hardware needed to install it. You can swivel and tilt the unit when installed and it also alerts you to things like water temperature.
Variable Modes
One of the coolest but most confusing parts of this Striker 4 Garmin review is the fact that this fish finder comes with a bunch of different modes that you can hop between. It can take a little while to understand what each of these does but I want to give you a headstart by outlining some of it for you.
Traditional Mode – The traditional screen settings allow you to scan the water for fish arcs, structure, or any type of obstacle you might find in the water.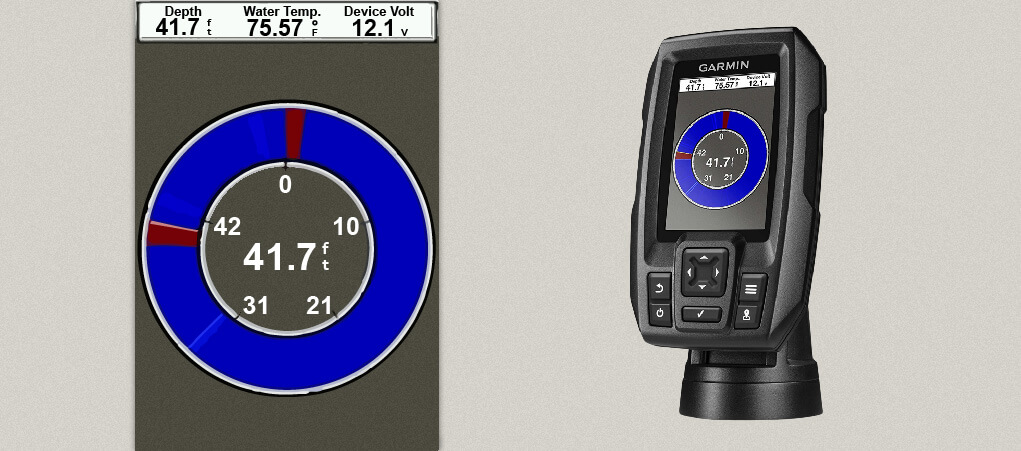 Flasher Mode – The flasher setting operates similarly to an ice fishing flasher in terms of sonar. It sends bursts of sonar down into the water directly beneath you for extreme accuracy but limited range.
Split Frequency – I prefer this mode most often because you're allowing the fish finder to essentially decide what frequency it should use based on what is happening beneath the surface.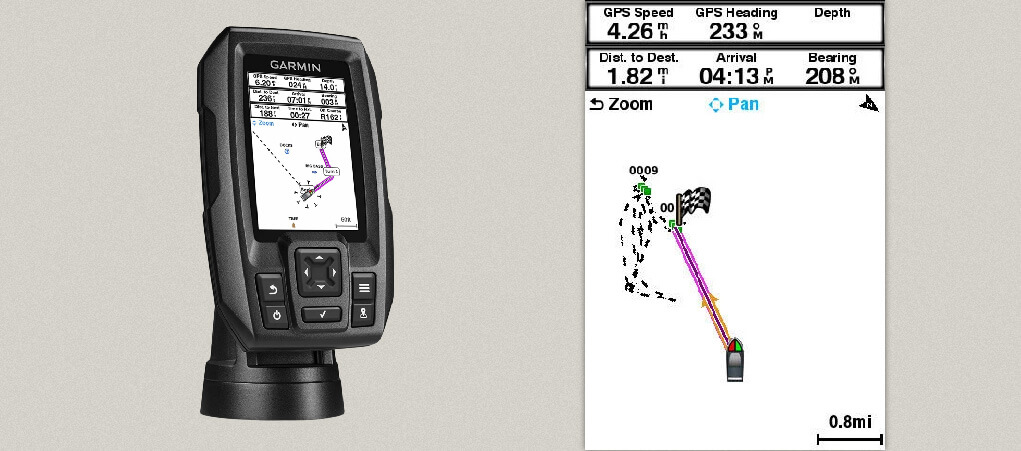 Waypoint Map – The map mode allows you to mark your favorite or least favorite spots on the lake so you can remember hot spots you want to visit again and fishing spots you want to avoid on future fishing trips.
Section Number – This mode provides you with exact GPS coordinates.
Ultra Scroll – I love this feature. It allows you to scan the water even if the boat speed is high speed. The HVGA color display will still show fish arches and fish symbols but it can be a bit distorted.
What Are People Saying About the Garmin Striker 4?
I've spent hours researching and testing this fish finder to determine that it's a solid unit that offers a lot of what you need but not a lot of what you might want.
Keep in mind, it's a value fish finder geared towards beginners.
If you're expecting to get $2,000 premium fish finder features out of a unit priced less than $200 you're mistaken.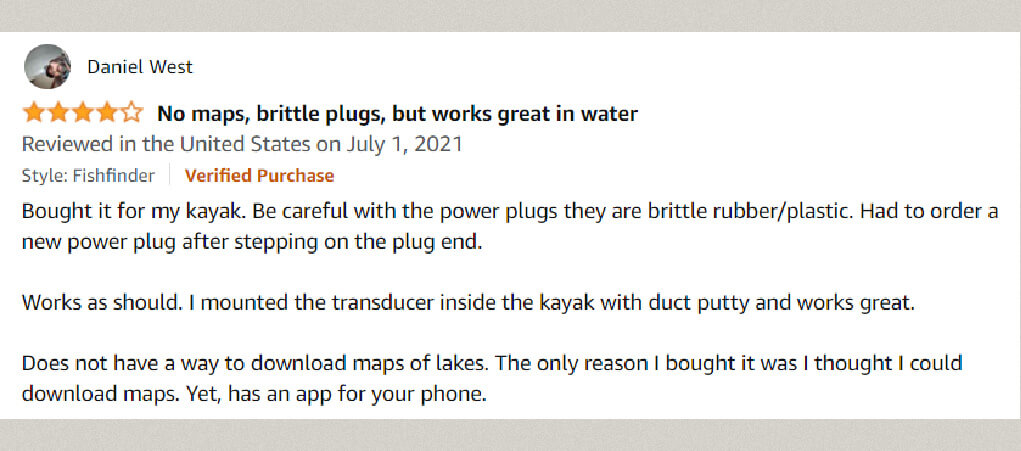 A little good and a little bad from Amazon, I appreciate it. Even though this unit does come with GPS capabilities, it doesn't offer downloadable maps but I wouldn't expect that in this price range. It's also recommended by a lot of people that you don't use it in saltwater.
The chirp technology and connectivity are fine but the transducer isn't cut out for it.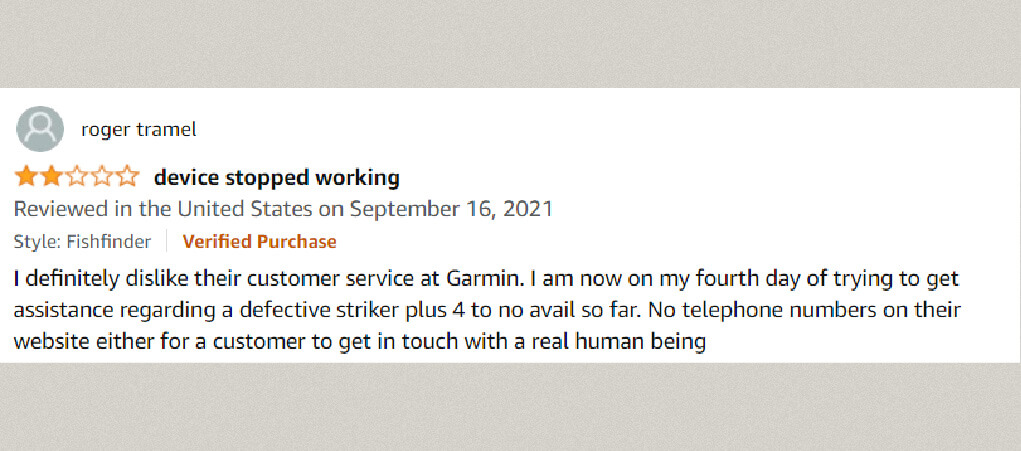 The more I research, the more I hear about Garmin's terrible customer service. Hopefully, this is something they can address but if you're the kind of person that likes to shop based on the company reputation, Garmin has a rough one.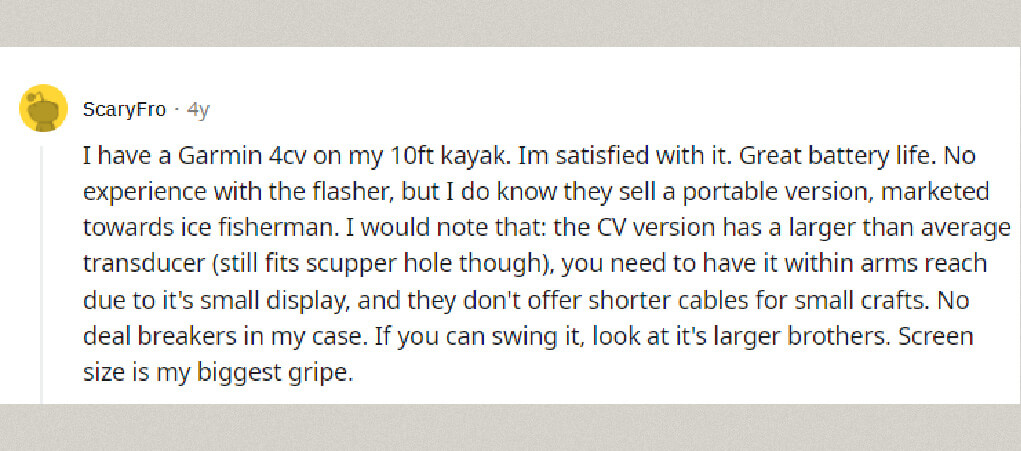 Even people in the fishing forums are fans of the Garmin Striker 4. Personally, folks, this fish finder review here says a lot. It has its limitations but it's priced accordingly.
Alternatives to the Garmin Striker 4
Humminbird Piranhamax 4
Humminbird 5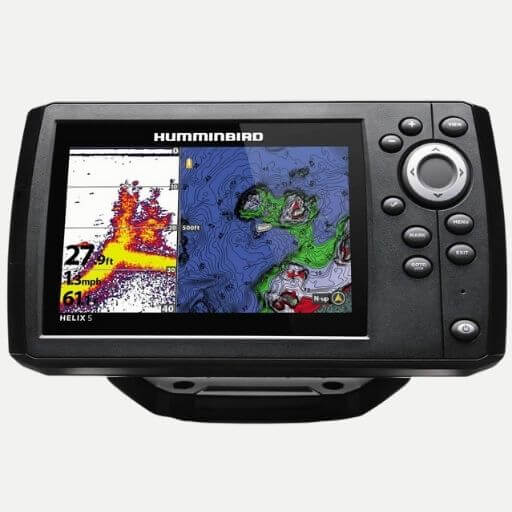 The Humminbird 5 is about double the price of the Striker but we have to branch out a bit in this Garmin Striker 4 review. It's a great portable fish finder with a 5-inch display, dual frequency sonar, and built in basemap technology with GPS so you get access to all the preloaded maps of lakes. It offers a lot more than the Striker 4 but it's not as easy to use and the price tag could scare some of you.
Lowrance Hook Reveal 5
The heavily debated Lowrance vs Humminbird topic will never end but this fish finder brings a lot to the table.
If you want to dive deeper, check out my full Lowrance Hook Reveal review.
Final Thoughts
There comes a time in every angler's life when they start to wonder about fish-finding technology. They start to question if a fish finder could make a dramatic impact on the enjoyment they experience out on the lake.
I'm here to tell you that the point of this Garmin Striker 4 review is to show you that great fish finders don't have to be expensive and they don't have to be loaded with endless features to be useful. This fish finder is awesome because it provides a consistently accurate and crisp reading and it's simple to use. What more could you ask for?
If you're new to fish finders and you're looking for a great starter unit, click here to learn more about the Garmin Striker 4.
Garmin Striker 4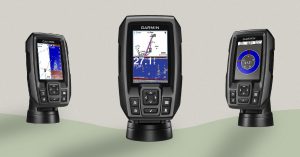 In this Garmin Striker 4 review, I take a deep dive into this beginner fish finder to see if it's the best option for advanced anglers as well. Click here.
Product Brand: Garmin
Pros
Portable
Easy to use
Clear and crisp imaging
Budget-friendly
Cons
Bad customer service
Doesn't come with preloaded maps