---
We independently research, test, and recommend the best products; you can learn more about our review process here.
A Garmin Striker Vivid review is kind of a misnomer. I own two of them, and there are eight in total. The collector in me wants more, but the point is, calling it a Garmin Striker Vivid misses the forest for the trees.
This review covers four, including the 9sv, 7sv, 7cv, and 5cv. Garmin started with the GPS 100, a panel-mounted GPS receiver released in 1990.
Since then, GPS and Garmin became synonymous, with Garmin moving into the fish finder and sonar technology combinations much later.
Ironically, Garmin built its reputation in avionics and, later, the GPS arena.
Nowadays, Garmin is positioned with Lowrance and Humminbird as the top three fish finder manufacturers on the planet, with their mid-tier Striker Series a dominant force in the industry.
---
Overview of the Garmin Striker Vivid Series
| | | | | |
| --- | --- | --- | --- | --- |
| Device | Garmin Striker Vivid 5cv | Garmin Striker Vivid 7cv | Garmin Striker Vivid 7sv | Garmin Striker Vivid 9sv |
| Display Size | 2.6" x 4.3" | 3.4" x 6.1" | 3.4" x 6.1" | 4.4" x 7.8" |
| Display Type | WVGA Color | WVGA Color | WVGA Color | WVGA Color |
| Display Resolution | 800 x 480 | 800 x 480 | 800 x 480 | 800 x 480 |
| Mounting Options | Flush, Tilt, Swivel | Flush, Tilt, Swivel | Flush, Tilt, Swivel | Flush, Tilt, Swivel |
| Receiver | Traditional, CHIRP, and Clearvu | Traditional, CHIRP, and Clearvu | Traditional, CHIRP, Clearvu, and Sidevu | Traditional, CHIRP, Clearvu, and Sidevu |
| Connections | One, 4-pin Transducer Port | One, 4-pin Transducer Port and Garmin WiFi | Two, 4-pin Transducer Ports and Garmin WiFi | Two, 4-pin Transducer Ports and Garmin WiFi |
| Contour Map | Garmin Quickdraw Contours | Garmin Quickdraw Contours | Garmin Quickdraw Contours | Garmin Quickdraw Contours |
| Current Draw | 0.40A to 1.5A | 0.55A to 1.5A | 0.67 to 1.5A | 0.75A to 1.5A |
| Weight | 1 lb | 1.7 lbs | 1.7 lbs | 2.4 lbs |
| Waterproof | IPX7 | IPX7 | IPX7 | IPX7 |
| Waypoints | 5,000 | 5,000 | 5,000 | 5,000 |
| Max Depth | 2,300' freshwater and 1,000' saltwater | 2,300' freshwater and 1,000' saltwater | 2,300' freshwater and 1,000' saltwater + 240' sidevu | 2,300' freshwater and 1,000' saltwater + 240' sidevu |
As you can see, there's not much difference between the four. The size and weight are the biggest changes from device to device. The 9sv and 7sv include an extra, 4-pin connector, Sidevu, and Garmin WiFi local connections.
Since the Striker Vivid Series is made up of mid-tier fish finders, you won't get the high-definition resolution found in the industry's heavy hitters.
However, I noticed that the LED backlights can keep the display bright and visible, even in the sun.
All four screens present a ton of information that's easy to spot and understand, regardless of the time of day. Weatherproofing is an obvious feature necessary on a fish finder. All four in the Striker Vivid series feature IPX7.
I'm a huge fan of maps, and you won't find anything pre-loaded on any of the Garmin Strikers. It's doubly disappointing that Garmin didn't include an SD card slot, so you could at least bring your maps over.
The GPS is here, along with map contours for where you are at any given moment.
If you're interested in Garmin's exceptional Panoptix, LiveScope Transducer System, none of the Garmin Striker Vivid models are compatible.
You'll have to make the leap to Echomap. For ice anglers, the Garmin Striker Series is compatible with Garmin's ice fishing bundle, as is the Echomap Series.
Features and Benefits of the Garmin Striker Vivid Series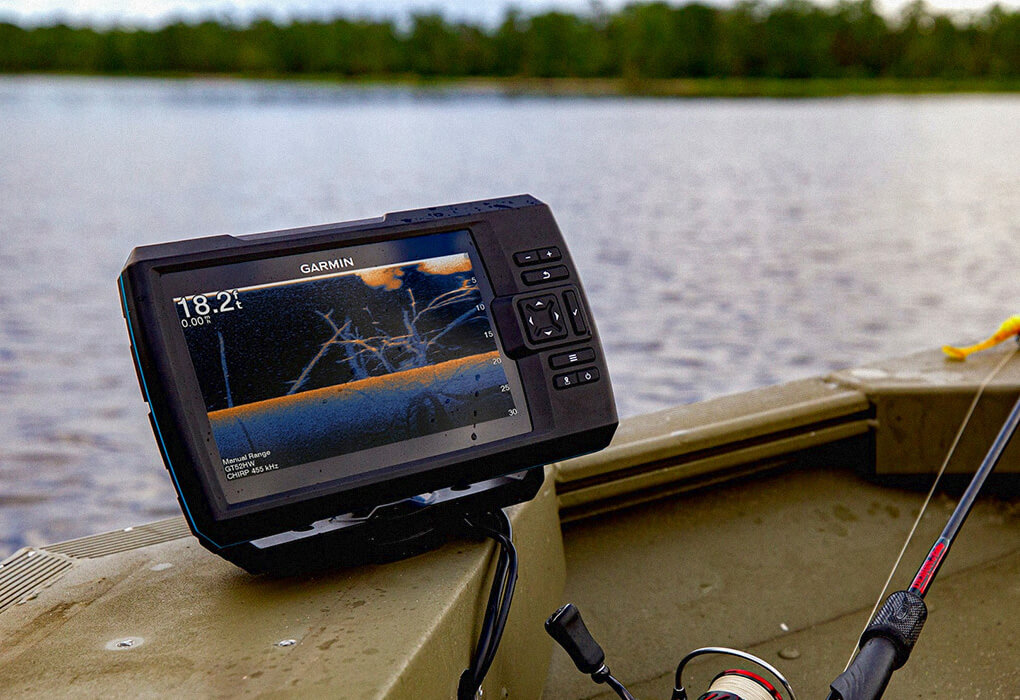 If you think the lack of maps and SD cards is a deal killer, you really shouldn't because there is more than one way to filet a fish. For one, the Garmin Striker Series allows you to build your maps.
I just think of it as starting from scratch, with all of the contouring and chart plotting entirely up to my personal customization choices.
I also use the ActiveCaptain App, which connects to the Garmin Striker and adds what it doesn't have—maps.
In other words, I have a smartphone, and, if the difference between the Garmin Striker Vivid 5cv and the EchoMap UHD 63cv is nearly $300 and preloaded maps, I'll take the nearly $300 and use my smartphone.
It's all pretty convenient crammed into a kayak.
Fortunately, there is a lot more to the Garmin Striker Vivid Series fish finder than a lack of a touchscreen and preloaded maps.
Affordability
A good fish finder isn't cheap, and by pulling the touchscreen and preloaded maps features, Garmin managed to produce an excellent series of devices that won't break the bank.
You can see what you're fishing for without selling a kidney on the black market to pay for the privilege.
These fish finders will fit on just about any craft. You can even get away with slapping a Striker 9sv on a kayak.
The point is, their affordability and portability combine for a wealth of opportunity on the water. Most anglers bring their phones with them anyway. Gotta have those Facebook posts with the catch of the day.
These fish finders are well within a sensible price range for anglers on small bass boats, canoes, jon boats, and kayaks, so there is a huge market for them.
Contour Mapping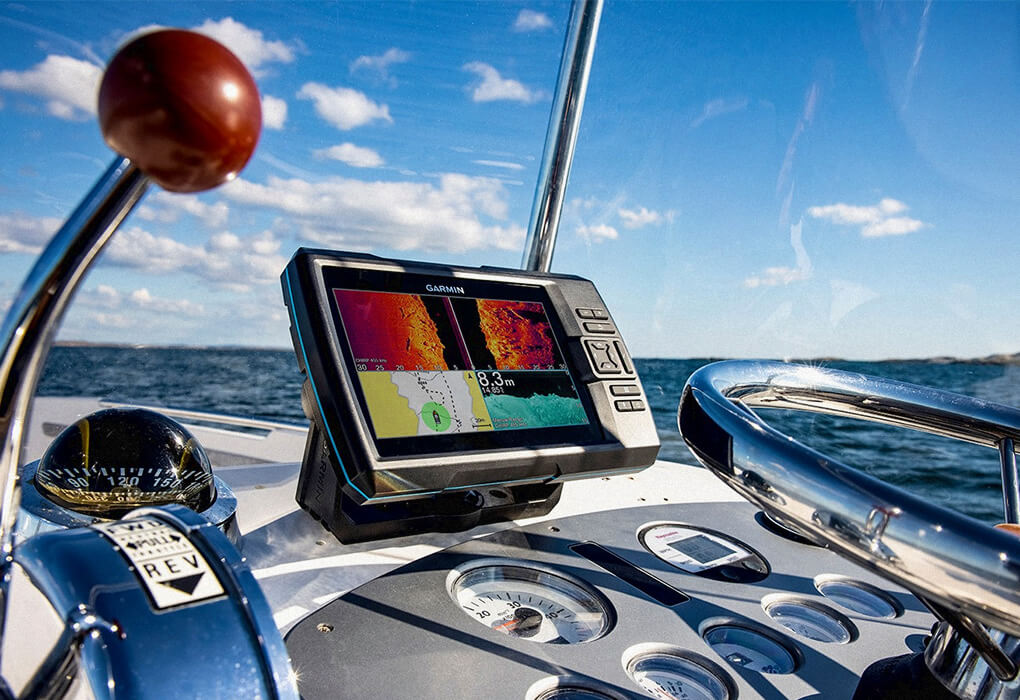 If you're desperate for preloaded maps, the ActiveCaptain app (available for iOS or Android) will provide that.
Once you have the app, you can connect it to your Garmin Striker and you're off to the races. But where's the fun in that?
Part of what I enjoy about fishing is exploration. There's nothing closer to the spirit of exploration than charting and designing your maps. Contour mapping is a feature on all the Garmin Striker Vivid Series devices.
It's called Quickdraw Contours, and it offers anglers the ability to make their maps with 1' contours.
You can even save these maps over to ActiveCaptain and share them with other users. That is, so long as you don't mind compromising some of your fishing holes. Fortunately, that works both ways.
All the Garmin Strikers have built-in GPS and support 5,000 waypoints, 50,000 track points, 50 tracks, and 100 navigation routes.
Included Transducer
The Garmin Striker Vivid 5cv and 7cv come with a GT20-TM Transducer, which is capable of traditional sonar CHIRP and Clearvu.
It's both down imaging and standard sonar combined into a single transducer. CHIRP sonar helps with object separation and widens the cone while Clearvu provides a distinct, narrow sonar view.
The Garmin Striker Vivid 7sv and 9sv come with the same thing, except the transducer for these two also includes Sidevu, which provides you with side imaging around your boat.
All of the Striker devices on the list here offer imaging at 77 kHz or 200 kHz for traditional or CHIRP and 455 kHz or 800 kHz with Clearvu. Sidevu operates at the same frequencies as Clearvu.
Image Customization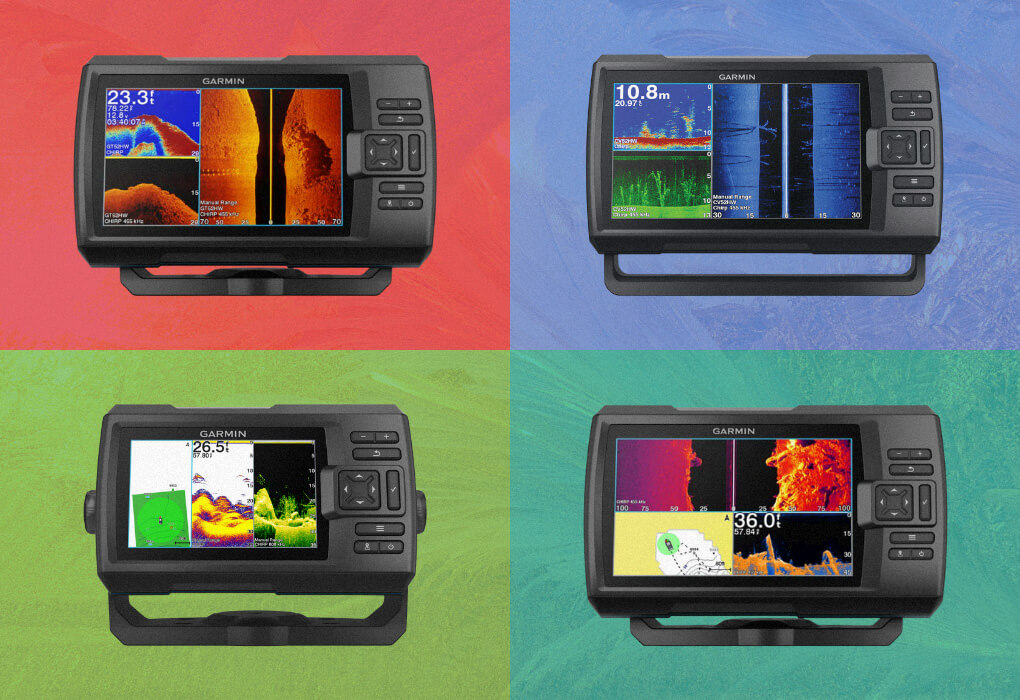 Each Garmin Striker Vivid comes with a little color palette customization. I prefer green or blue, but there are 7 colors to choose from and all of them are bright and easy to see.
Though the screen isn't optimized for sunlight viewing, the LED backlights are so bright it doesn't matter. You'll see it regardless.
The Striker Vivid 5cv, 7cv, 7sv, and 9sv feature split-screen images. You can track your progress across a self-drawn map and see what's going on under the surface at the same time.
It's a little scrunched on the 5cv screen size but looks pretty slick on the 9.
Since I use a Vivid 4cv more often than not, I find a healthy balance between my iPhone and the ActiveCaptain app, along with the fish finder. 
Networking
When it comes to networking, there's not much here. That's because Garmin Striker Vivids are meant to be combined with the ActiveCaptain app when you need networking capabilities. There are no ethernet ports.
If you want to integrate everything on your boat, your best bet is to make your smartphone the hub instead.
Alternatives to the Garmin Striker Vivid
If you strongly desire the networking features, preloaded maps, touchscreens, and Garmin's version of ActiveTarget technology (LiveScope), make the leap to Garmin Echomap.
Or, you could simplify things with the Garmin Striker Cast.
The Echomap is one of the best Garmin fish finders because there's a lot to choose from—the Echomap series, the Echomap CHIRP series, and the Echomap Plus series.
The closest Echomap match to the Striker 7cv and 7sv is the Echomap UHD 73cv and Echomap UHD 73sv respectively.
Garmin Echomap UHD 73cv and 73sv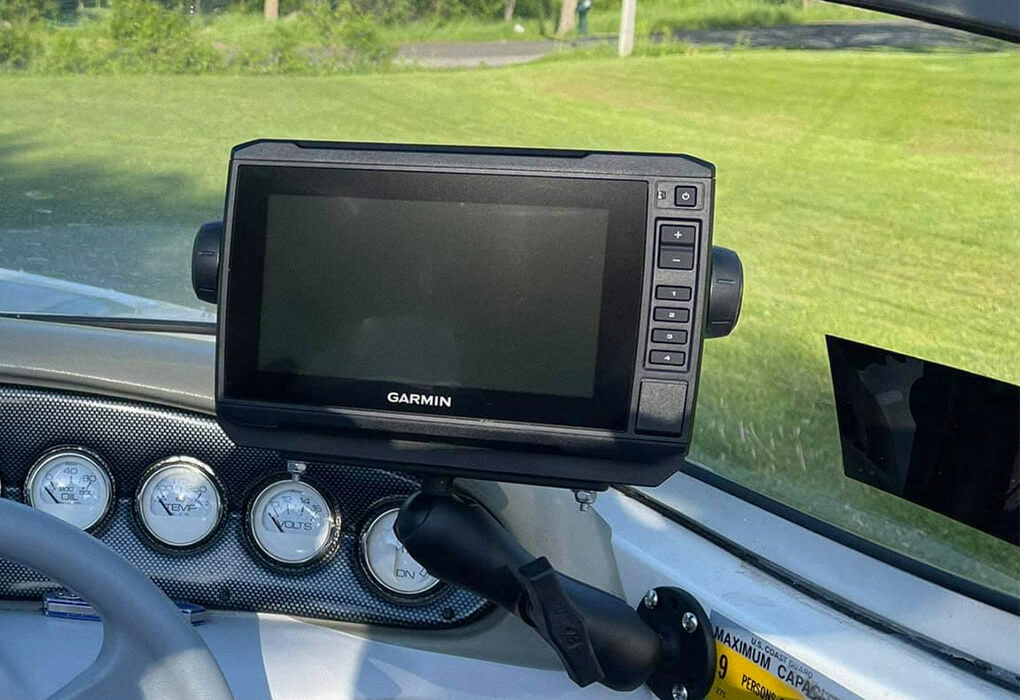 A Garmin Striker Vivid 7cv review is worth throwing up against the Echomap UHD 73cv because the devices have a lot in common.
In the big scheme of things, none of the Strikers can compare with the Echomaps because of the addition of touchscreens, networking, and preloaded maps.
All of the Echomaps come with either preloaded maps or SD card slots.
Plus, both the 73cv and 73sv Echomap versions come with Wifi and both are compatible with Garmin's Panoptix LiveScope System.
In fact, the 73sv is the single best bang for your buck you will find when combining with LiveScope.
Lowrance Hook Reveal 7x Tripleshot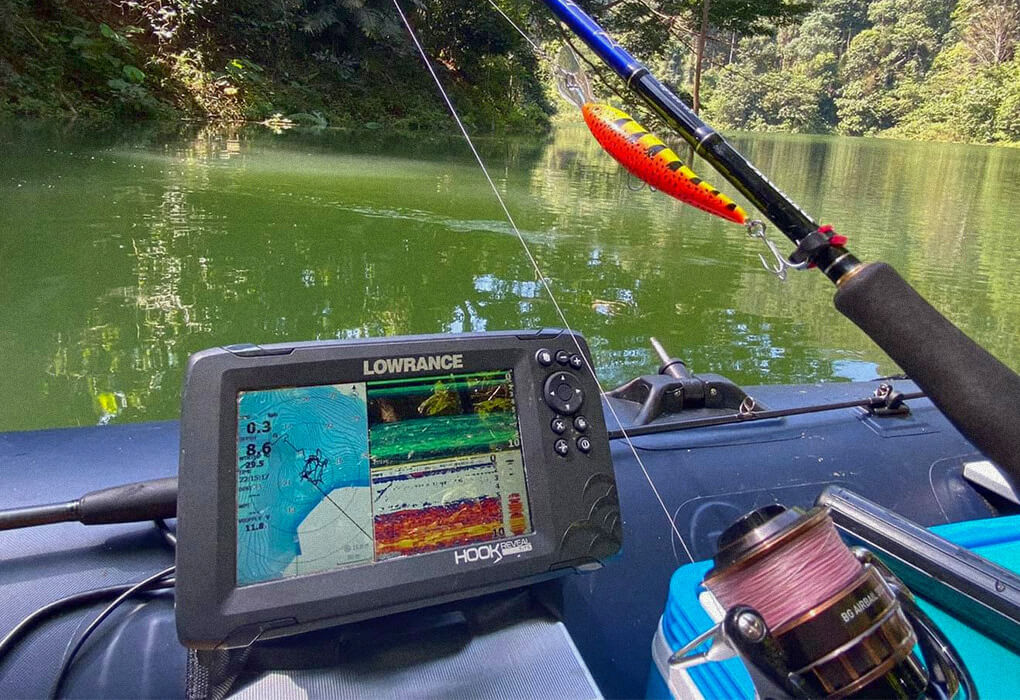 If you're a fan of Lowrance and want something in Lowrance's inventory to match Garmin's Striker 7sv, the Hook Reveal 7x Tripleshot is practically a mirror image.
It even lacks the same features as the Striker 7sv—the mapping, most notably. The biggest advantage the Tripleshot has is a microSD slot.
Humminbird Helix 5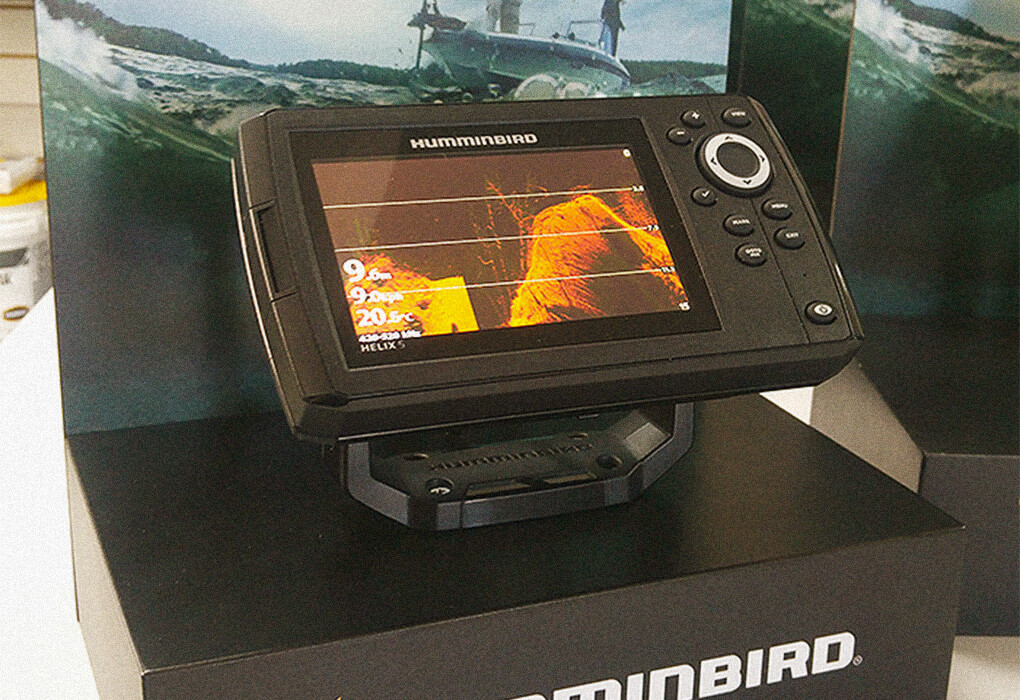 Though the Helix 5 may have a smaller screen than the Striker 7sv, it makes up for it in style points and a MicroSD slot. It's compatible with Lakemaster and Navionics cards as well. Unfortunately, it lacks side imaging.
If you already have a Helix 5 or know someone that wants to sell you their original, Humminbird is practically throwing HD, side-imaging, upgraded transducers at Helix 5 owners.
All thanks to their Humminbird Transducer Exchange program.
Raymarine Dragonfly Pro 5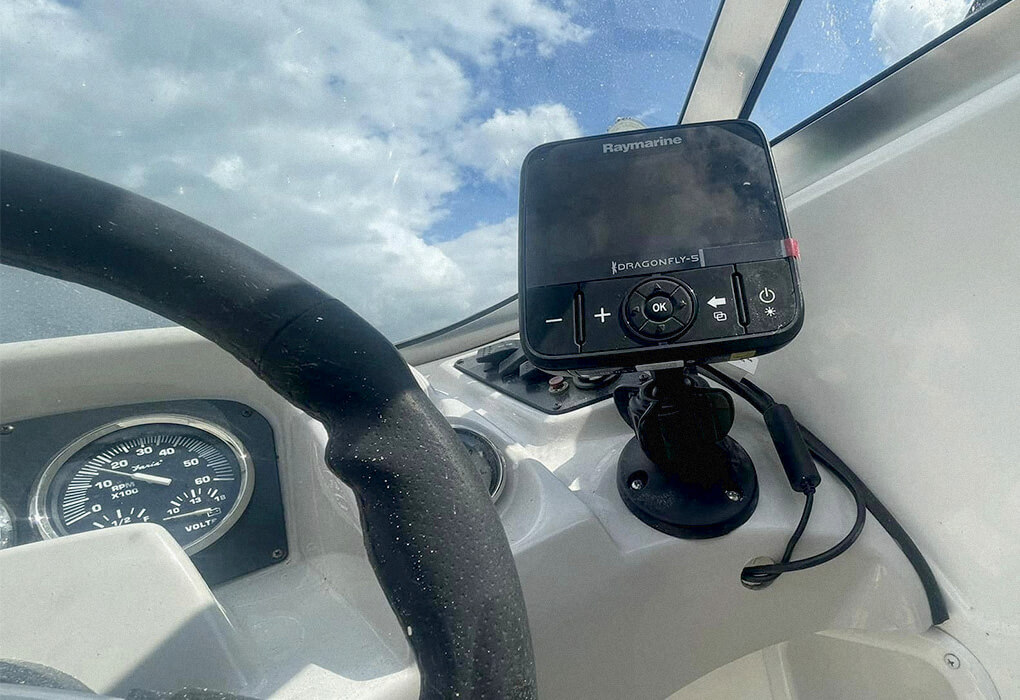 The Raymarine Dragonfly Pro 5 features WiFi, a microSD slot, a bonded glass screen (excellent viewing), simultaneous CHIRP ping frequencies, and smartphone WiFi integration.
The only downside is that it's a little steeper in terms of price.
Frequently Asked Questions
Does Garmin Striker Vivid have maps?
Technically, no, it does not have maps. None of the Garmin Striker Vivid series of fish finders come with maps.
However, you can make your maps, which is why I went with "technically." Once you make your maps, you have maps. ActiveCaptain takes care of the rest. 
Is Garmin Striker Vivid waterproof?
There is no such thing as waterproof, and the term gets thrown around too often. It features an IPX7 water resistance level, which means you can submerge it in up to a meter of water.
Keep it in the water for longer than 30 minutes or go deeper, and water will penetrate the device. 
What is the difference between the Garmin Striker Vivid 5cv and 7cv?
The only difference between the Vivid 5cv and 7cv is the screen size. The 7cv also draws a little more power than the 5cv.
Other than that, both devices are essentially identical in every way, even down to the button control panel. 
Final Thoughts
Our Garmin Striker Vivid Review covers more than just the generic name because it's good for you to know before you make a decision.
Some of the saltiest anglers out there may not recognize the fact that there's a big difference between the Vivid 7sv and the 7cv.
Looking for the best fish finder shouldn't be an exercise in singularities. Whether you're kayak fishing with a trolling motor or deep-sea fishing in a 30-footer, knowing the capabilities of your fish finder is a must.
Garmin Striker Vivid Series fish finders are some of the best on the market for those who want efficiency without burning a hole in their wallets.
Besides, what the Striker Vivid lacks is easily gained a smartphone and some creativity.
If you have experience with this unit, leave us a comment and let us know what you think.