---
We independently research, test, and recommend the best products; you can learn more about our review process here.
We face a lot of choices in life and if you're like me, more often than not, we end up going with the middle-of-the-road option.
That's how I felt during this Lowrance Elite FS review.
I felt that there wasn't really anything about these fish finders that "WOW'd" me.
But, in my 20 years of fishing and nearly 10 years of writing about it, I've never seen a fish finder that could appeal to so many different people.
It has a large variety of optional features, pinpoint accuracy, and a price tag that is competitive with the market. Sometimes going with the most vanilla option is the way to go.
Comparison Table – Lowrance Elite FS
7-inch screen
ActiveTarget Live Sonar
Active Imaging
U.S. Lakes
preloaded C-Map Contour Charts
FishReveal, Navionics, C-Map Genesis, Bluetooth
Touchscreen control for anchors and trolling motors
9-inch screen
ActiveTarget Live Sonar
Active Imaging
U.S. Lakes
preloaded C-Map Contour Charts, FishReveal, Navionics
C-Map Genesis, Bluetooth,
Touchscreen control for anchors and trolling motors
---
Lowrance Elite FS Reviews: By Model
The Elite FS series may not have as many options as the Lowrance HDS Live series but when it comes to fish finders, I'm a believer in "less is more" so I don't take it as a downside.
The two main options you can get are the FS 7 and FS 9.
And to be honest, they're essentially the same fish finder with the only difference being the screen size (7 inches and 9 inches.)
Lowrance Elite FS 7 Review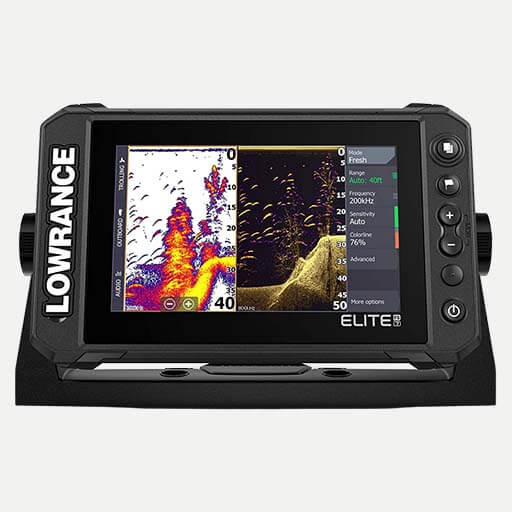 Specs
7-inch screen
ActiveTarget Live Sonar
C-Map Contour Charts
FishReveal
Touchscreen
Who is it for?
The Elite FS 7 offers all the great features like ActiveTarget, C-Map, and FishReveal technology packed into a 7-inch screen which I believe to be the perfect size for mounting on your boat.
I recommend this fish finder for those who aren't entirely sure what they're looking for and whose fishing situation changes frequently because you can customize the settings easily to meet your needs.
While it comes standard with the features mentioned above, it also has a lot of optional upgrades so you can really grow with it and your fishing skills and demands grow.
Anglers.com Community Coordinator, Wesley Littlefield, discusses the pros and cons of the Lowrance Elite FS 9 in this YouTube video!
Lowrance Elite FS 9 Review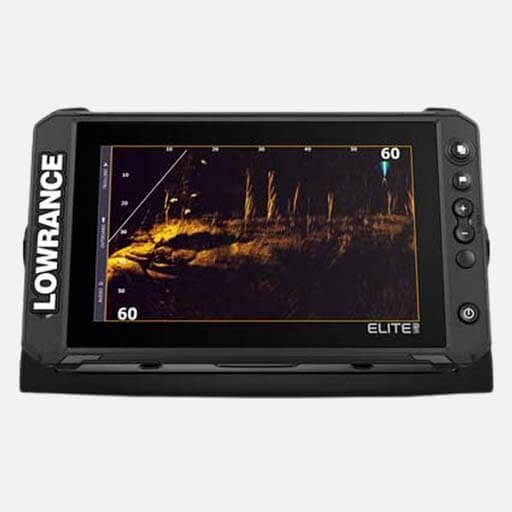 Specs
9-inch screen
ActiveTarget Live Sonar
C-Map Contour Charts
FishReveal
Touchscreen
Who is it for?
Just like the Elite FS 7, the Elite FS 9 offers all the same features with optional upgrades. The only difference between these two fish finders is the fact that one is 7-inches and the other is 9-inches.
If you think size does matter, go with the larger screen because it's great for getting the most out of your split-screen feature.
The extra screen size also makes this fish finder a great candidate for mounting inside the dash of your bass boat.
Breaking Down Key Features
I like to think of the Lowrance Elite FS as a "middle of the road" fish finder. It's not super pricey, it's not packed with premium features, but it still brings a lot to the table for a fish finder in this price range.
The goal of the following sections is to help you understand what these features mean for you when you actually take this fish finder to the water.
There are different pros and cons to every fish finder whether you want one for your kayak or one for your ice fishing game.
These fish finders are somewhat standard in our technology-rich society, but that doesn't mean they're not full of features you'll love.
Screen/Display
You get a customizable touchscreen that allows you to pick and choose which features are most important so you can make them readily available when you want them. If you prefer sidescan over downscan imaging and plan on using that more frequently, you can add that to the dashboard so you can get there more easily.
The touchscreen functions well in high-resolution, it's responsive, and navigating the fish finder is somewhat easy even if you're not technologically savvy. There are only a few different screens to jump between which I think makes it much simpler to use.
The Elite FS doesn't offer a ton of screen-size options. You can choose between a seven and nine-inch display and that's it. In fact, that's really the only thing that is different about the two models if we compare them side-by-side.
They offer all the same features and some extras you can pick and choose from. But, all-in-all the only difference is the screen size.
As you all know by now, I'm not a fan of touchscreen fish finders. I think they're wonky and more prone to acting up if you're fishing in bad weather conditions. They also get yucked up more easily when you're having to touch the screen with dirty fingers.
The good news with this one is that it has a split-screen feature so you can view multiple sonars at once. You can have downscan, sidescan, chartplotter, and mapping all on the screen at the same time. This should limit the number of times you have to touch the screen.
Networking
This model is one of the first Lowrance fish finders to offer Ethernet networking connectivity. This means that you can share information and data between your own fish finders or even someone else's unit.
This is great if you have a friend who keeps telling you about a fishing hole you've never been and how he's been cleaning up there. You can make him prove it to you now by sharing his waypoints, snapshots, and charts.
You'll be able to see exactly where he found fish and how he traveled around the lake so you can mimic it. I've used this feature a few times and it's a great way to spend less time scouting and more time fishing.
HALO Radar
One of the coolest networking features is the HALO radar that comes directly from Lowrance. The main goal of this feature is hazard avoidance. You'll get real-time updates of underwater structures to help you avoid collisions.
It also features simultaneous dual-range operation which is a fancy way of saying you can see things both near and far to help plan your travel route.
The HALO radar is mostly popular with offshore and harbor anglers who may encounter dangerous riptides, waves, and sporadic weather patterns.
NMEA2000
NMEA is a feature you'll see thrown around a lot but very few people actually know what this does. This is part of the networking package with the Lowrance Elite FS. It's not something you have to get and most people won't find use in it, but it's still important to understand what it does.
Essentially it comes with a variety of sensors for different things on your boat. There's a livewell water temperature sensor, a fluid level sensor, and a fuel sensor.
Of course, most boats will provide you with this information anyway but these sensors will alert you directly on your fish finder which makes it more convenient and doesn't take you away from paying attention to what's happening in the water.
Active Imaging
The Active Imaging 3-in-1 transducer is one of the most popular offerings from Lowrance. This is the cream of the crop in terms of imaging technology. Active Imaging provides you with three different options for how you'd like to view everything in the water.
You'll get CHIRP sonar, sidescan, and downscan with FishReveal technology. I'll break down each of these to help you understand them better.
CHIRP
CHIRP technology is what has really revolutionized the fish finding game. Prior to this technology, you would have single or double frequencies which would send pings of sonar down into the water and you'd have to wait for those pings to return. Anything that got in the way was considered a "fish."
With CHIRP, it's a much longer pulse that starts at a low frequency and works its way up to a high frequency as it gets farther away. This means that you get the same response whether you're reading at 15 feet or 50 as long as the transducer is rated for that depth.
Since the sonar waves are much longer it also means that you receive a clearer response. This is how CHIRP allows you to identify the fish size and tell the difference between a fish and vegetation or debris.
DownScan
We've talked about a few different features so far in the Lowrance Elite FS review but there's one feature you're probably familiar with and that is downscan. The main purpose of downscan sonar is to send sonar waves vertically down through the water column to read what is happening directly beneath the boat.
Whenever you look at sonar images of fish finders online, this is typically what you're seeing. CHIRP sonar works in conjunction with downscan to help you identify fish in the water.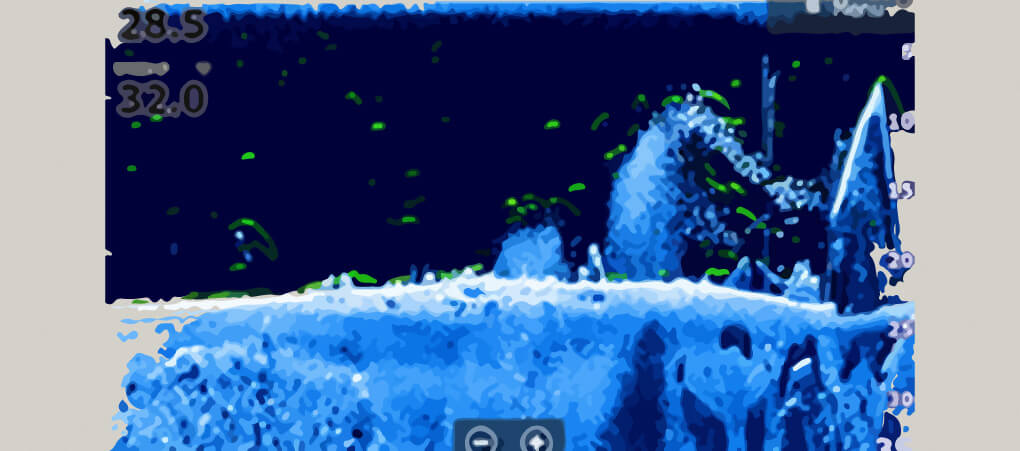 Lowrance takes things a step further with FishReveal technology. This feature takes things a step further to help you separate targets and identify schools of fish.
As indicated in the image above, you can see that there are clear differences in the sizes of fish and you can also tell that they prefer holding to that structure versus swimming in the open water.
SideScan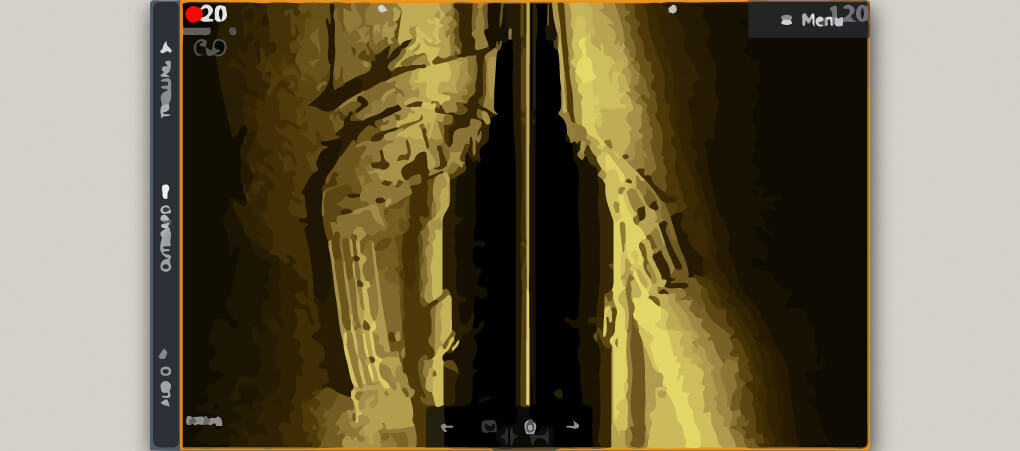 Sidescan does exactly what it sounds like it does, it scans the sides of the boat. If you look at the image above, it's a little hard to tell what you're looking at but basically, you're looking at both the right and left sides of the boat. This type of feature exists for a few different reasons.
First, it helps you better identify the structure where the fish may be holding.
Second, it's great for finding fishing opportunities you otherwise wouldn't have been able to find with downscan. Since you're scanning into the distance on both sides, you're accessing information you wouldn't be able to get otherwise due to limitations with water depth and vegetation.
ActiveTarget
ActiveTarget in my opinion is the flagship feature of this fish finder model. I've never seen this before in any other fish finder I've reviewed and it's super cool. So, instead of getting updated sonar imaging with each pulse entering the water, now you're getting a live sonar feed as fish move around and as you work your bait.
You can actually see your lure dropping into the water. You'll be able to see how the fish are taking to your bait and how they react to everything you're doing.
This provides you with one major bonus that you don't get with any other fish finder and it's the ability to react on cue. If you see a fish darting from across the water towards your bait, you could time your hookset to make it even easier to catch fish.
The ActiveTarget feature requires a different sonar transducer that has to be purchased separately. As you could likely imagine, it's expensive but I highly recommend it. It'll change the way you fish forever.
Mapping
GPS fish finders are great and as with most fish finders in this price range, the Lowrance Elite FS comes with a variety of different mapping features.
C-Map Contour+ provides you with inland and coastal charting on pre-loaded maps that are added to the fish finder using a microSD card. You're able to map your travel paths, create waypoints, and save data to the fish finder so you can revisit it whenever you want.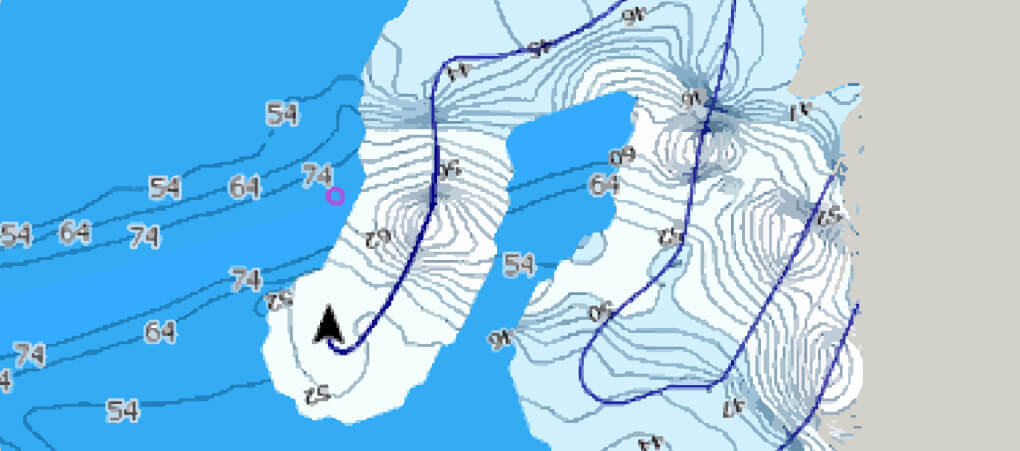 You also have the option of getting C-Map Genesis which offers 1-foot contours to help you better identify changes in structure. It comes with a vegetation map so you can find deep weedlines, isolated weed patches, and more.
Lastly, Genesis also comes with a bottom hardness map so you can see what type of bottom you're dealing with and plan accordingly.
All-in-all, this information is hyper-specific and some might find it to be unnecessary. If you do, that's fine – you don't have to get this feature. It's just nice to have the option.
These types of seriously advanced features are most commonly used by fishing charter captains who really need the most accurate and comprehensive data to help them find fish for their passengers.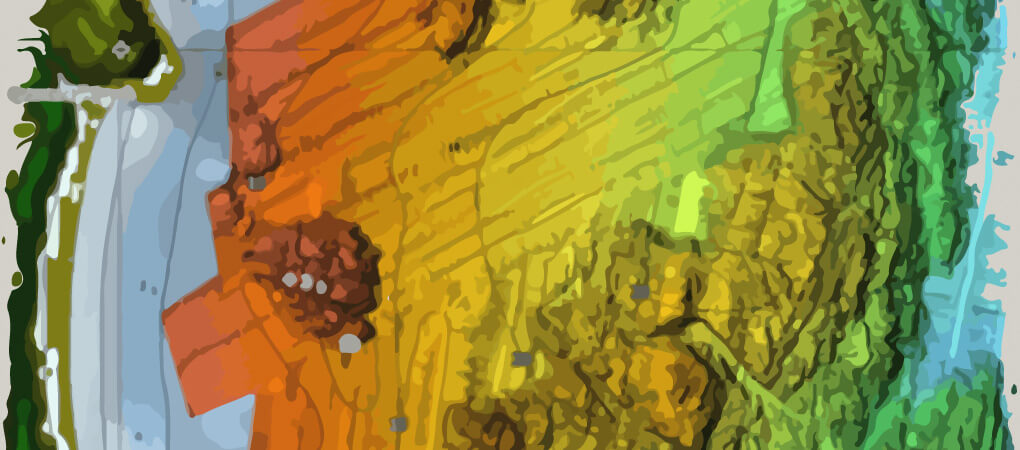 The last optional mapping feature is called C-Map Reveal. This uses colors to help you identify structural changes. When you pair this with downscan or sidescan you can use the structural changes to solidify what you're seeing on the sonar.
I particularly like this map view because it's easy to read and it doesn't appear cluttered with information.
Lowrance Elite FS Review: Comparisons
Here are two other options you might prefer if you're not interested in the Lowrance Elite FS.
Lowrance HDS Live
The Lowrance HDS is another impressive model from Lowrance. It offers four different models ranging in size from 7-inches to 16-inches. Many of the features are the same proprietary blend of offerings including the 3-in-1 transducer, C-Map, and Active Imaging.

The HDS does offer one feature you won't find here though and that's the LiveSight feature. This transducer actually allows you to track fish underwater in real-time. It's similar to the ActiveTarget feature of the Elite FS.

In fact, it's almost exactly the same feature so it makes me wonder if they renamed it in an attempt to sell it as a new feature. Either way, it's great for timing your hookset and getting a great view of what's happening in the water.
If you'd like to learn more about this fish finder, take a look at my Lowrance HDS Live review.
Garmin Echomap UHD
If you like options, you'll love the Garmin Echomap UHD. There are 14 different fish finders to choose from in this lineup ranging from a 4.3-inch screen keypad fish finder to a 9-inch touchscreen with every feature you could imagine. Of course, this does come at a cost and the Echomap UHD lineup is pretty pricey.

Since we're not dealing with Lowrance anymore there are some different features you may not have seen before. ClearVU sonar is their "downscan" sonar. The fish finders also come with sideVU, LakeVU (which is their mapping), and something called Bluechart G3. Bluechart is useful if you fish offshore because it contains a lot of coastal water information and maps to help you navigate those waters.
If you'd like to learn more about this fish finder, take a look at my Garmin Echomap UHD review.
Final Thoughts
I hope you found value in this Lowrance Elite FS review. These fish finders don't really offer anything too unique or extravagant compared to the competition. That's why I pegged them as a "middle of the road" fish finder. They're not fully loaded but they're priced accordingly for what you get.
The thing I like most is the versatility to grow with the fish finder. These are relatively new to the market and you can choose between a lot of optional features, networking, and transducers to up your game over time.
Be sure to give them a further look. Good luck out there!