---
We independently research, test, and recommend the best products; you can learn more about our review process here.
In the battle of fish finder supremacy, there are two brands that seem to overtake the rest.
We're comparing Humminbird vs Lowrance in this review because these are the two manufacturers with the most products of the highest quality and the most relevant reputation in the market.
I've likely reviewed at least 25 fish finders by this point and many of them have been either Humminbird or Lowrance so I'm interested to see how they look side-by-side.
Let's get right into it!
---
Company History
We'll start with company history and reputation. If you read any of my reviews you know that I stay loyal and true to brands when it comes to fishing gear.
I don't believe these rules should apply in everything but there's a lot of experience and knowledge that goes into manufacturing fishing gear, technology, and accessories.
I think it's best left to the most experienced brands like Humminbird, Lowrance, Garmin, Simrad, and Raymarine.
Humminbird

The company started in 1971 in a garage in Alabama.
Right off the bat, they were a hit because they represented a lot of the grassroots and hometown history that we struggle to find in today's society.
Humminbird led the way with technological advances by being the first manufacturer to develop a waterproof depth sounder and 360-degree sonar technology.
Their product line has since grown to include tremendous products like down and side imaging fish finders, huge HD displays, and new technology that continues to make fishing easier and more pleasurable.
Even after all that, they've still managed to maintain a reputation of family values and homegrown roots.
Their customer service team has an excellent reputation, they stand by their products, and represent their warranties when something goes wrong.
Lowrance

Lowrance got its start in 1957 and they've maintained a rightful leadership in marine electronics ever since.
They have a large assortment of fish finders and sonar with many products possessing new technology like structure scanning, down scanning, and side-scanning.
In 2008, they were the first company ever to introduce a split-screen HD multifunction setting on their fish finders.
Now you can have both side and down scanning on the screen in HD clarity which is something the world had never seen before.
Lowrance was also one of the first manufacturers to bring CHIRP sonar into the market.
It's clear that Lowrance has led the competition in new technology but I struggle when I read reviews about how they treat their customers.
I find many instances where the company doesn't stand by their products, won't honor warranties, and even gives their customers a hard time on the support line.
Features
The number of features a fish finder offers is important because it helps you determine if you're getting enough for your money.
While many of the features are a little extra and we could certainly fish without them; if you're dropping a decent amount of money on something you want to make sure it provides enough to make it worth it.
Humminbird
This company is known for packing a lot of features into all their products. You can start at the bottom with a basic CHIRP sonar and travel all the way up to a down scan, side imaging, dual display combo, GPS unit, with the works.
Some of their more high-end models also offer a variety of ways for you to connect. Many anglers prefer wired connections while others want something that connects via Bluetooth.
That's up to you but I recommend using a wired connection if you can because it's more reliable. If you need a portable fish finder, wireless is the only way to go.
Lowrance
One thing I notice right away about Lowrance is the number of cheap fish finders they offer. I don't say this in a bad way, I say it in a good way. They offer a large assortment of smaller and more affordable fish finders which I think is important.
Much of the time we get too caught up in how many features our products have that we neglect to realize that they only need to do one thing. They need to tell us where the fish are so we can have an easier time catching them.
When you have a fish finder that's loaded with a ton of features, all you're doing is creating new things that can break down and cause problems.
That said, Lowrance offers plenty of features as well including down scanning and something they call "StructureScan." This is a fancy way of saying they have sidescan.
Number of Products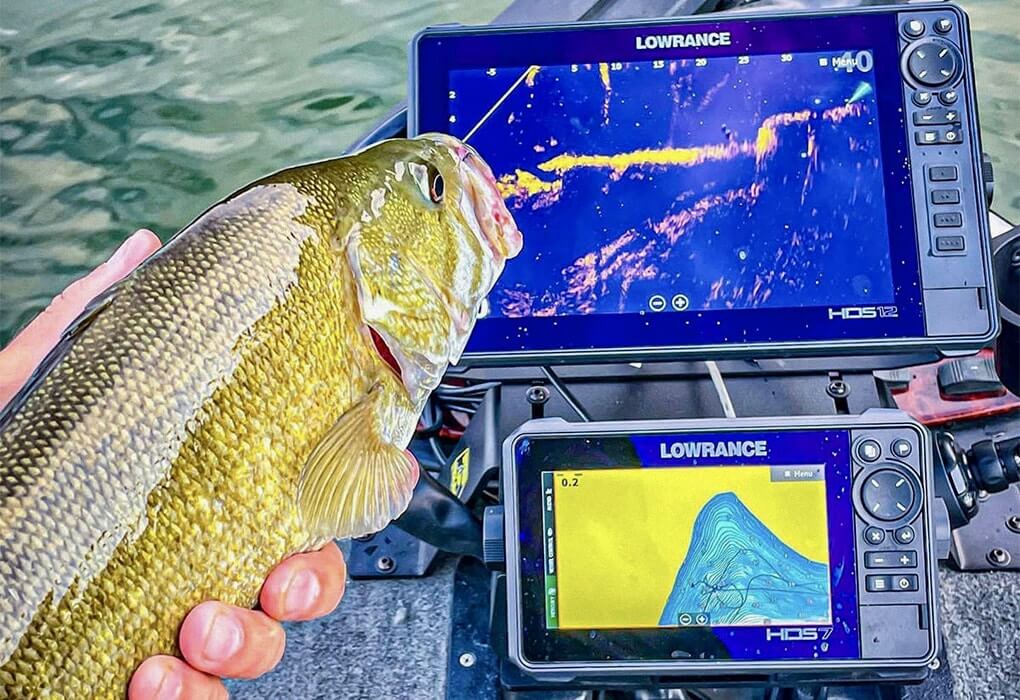 The number of products offered by a manufacturer is important for a few reasons.
You want to be able to find something that caters to your needs and if the company doesn't offer a lot of variations of a single product, your chances of getting what you want go down.
Keep in mind preferences, taste, and fishing style as well.
Humminbird
Humminbird has continued to push forward over the years while it seems like Lowrance is nearing retirement.
At one time, Lowrance was the biggest on the market but Humminbird has definitely surpassed them in terms of the number of products.
Something else I really like about Humminbird is that they don't reinvent the wheel.
They take products they have that are already selling and they modify them slightly, add a few new features, and send them back out into the market.
That tells me two things. One, people already like that product so there's no need to change much. Two, the product is performing well because they don't feel the need to completely discontinue production on it.
Some of the models you'll see in the market are the Helix 5, Helix 9, Helix 10, Solix, ICE, C-Map and PiranhaMAX. 
If you want to dive deeper, check these articles:
Lowrance
Lowrance offers three major product lines. They have the Hook, Elite, and HDS Live. The Lowrance Hook is their most popular model among recreational anglers and you'll find a few variations within as well.
Personally, I don't dislike the Lowrance model, I'm just not as impressed by it. I feel that it lacks definition, the quality feels cheaper, and the price is actually more expensive in many cases.
Budget Friendliness
We only have so much money to spend and the last thing we want to do is spend it on a product that might not even help us catch any fish. We'd be better off spending it on lessons!
Anyway, the price range of a fish finder is important because you want to get the most bang for your buck and not waste money on something that is going to consistently underwhelm you.
Humminbird
As with most products from competitors, they specifically match the prices pretty evenly to prevent the price from becoming a deciding factor. This means I have to dive a little deeper to find the value versus the price.
If we look at Lowrance vs Humminbird we'll see that Humminbird products consistently outrank Lowrance in terms of reviews and reputation.
The average score of a Humminbird fish finder is near 4.5 out of 5 while Lowrance ranks considerably lower.
Another thing I noticed is that Humminbird seems to offer better features in lower-priced fish finders.
For example, the Humminbird Helix 7 offers three types of sonar technology for roughly $750 while you'll have to pay nearly $1,000 to get that same technology from Lowrance.
And I believe that Humminbird makes one of the best fish finders under $500, the Helix 5 (if you don't get all the bells and whistles).
Lowrance
It's not all bad and I'm not by any means saying you should count this manufacturer out. They do a lot of great things and they keep many of their fish finders at price ranges that Humminbird cannot match.
For example, the Lowrance HOOK Reveal 5 uses SplitShot sonar technology and comes with mapping for a price that beats Humminbird and exceeds them in reputation.
The key is to pick and choose which products are their high-performers and which ones you might want to avoid.
If you want to dive deeper, check out my full Lowrance Hook Reveal review.
Ease of Use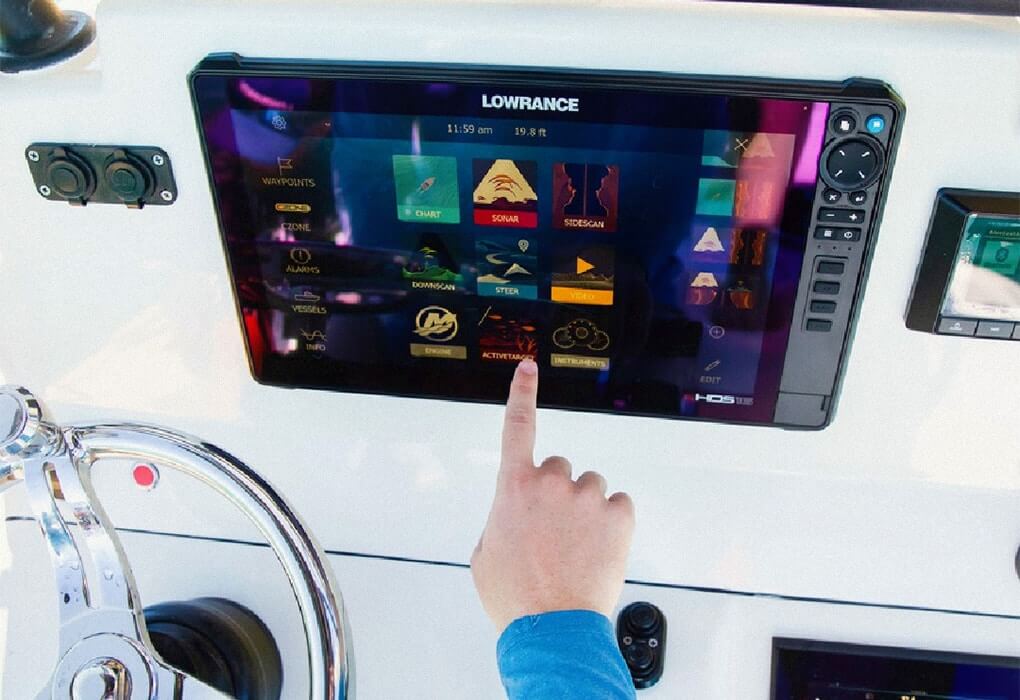 Ease of use is obviously important because we're not all the most tech-savvy and you shouldn't need a college degree to operate a fish finder.
As technology continues to advance, they're making the units more and more difficult to operate and fewer people are able to keep up.
As I've previously mentioned, you don't need the latest and greatest features to find fish but you do need to know how to use the fish finder.
Humminbird
I think Humminbird does a nice job of providing variety in terms of the units they offer.
Some are easy to use while others are a bit more difficult but you'll have to choose a basic model if you want something without all the bells and whistles.
Of course, as you increase in features you make the unit more complicated and ultimately will find something that you don't know how to use.
Where I think Humminbird succeeds is with its customer service.
Everything you read about this company praises their customer support helpline and how they're so helpful in answering questions and handling inquiries. That's an important consideration.
Lowrance
As with Humminbird, Lowrance also does a nice job of providing product variations to keep things simple for people.
What I like about these products is the number of units offered with push buttons rather than a touchscreen.
I don't think anyone wants to use a touchscreen when your fingers are all grimy and fishy and the regular buttons are easier to use.
The area where Lowrance fails is with its customer service. As you read about this company you realize that many of their complaints stem from the customer support people experience when they call in for help.
GPS/Mapping Capabilities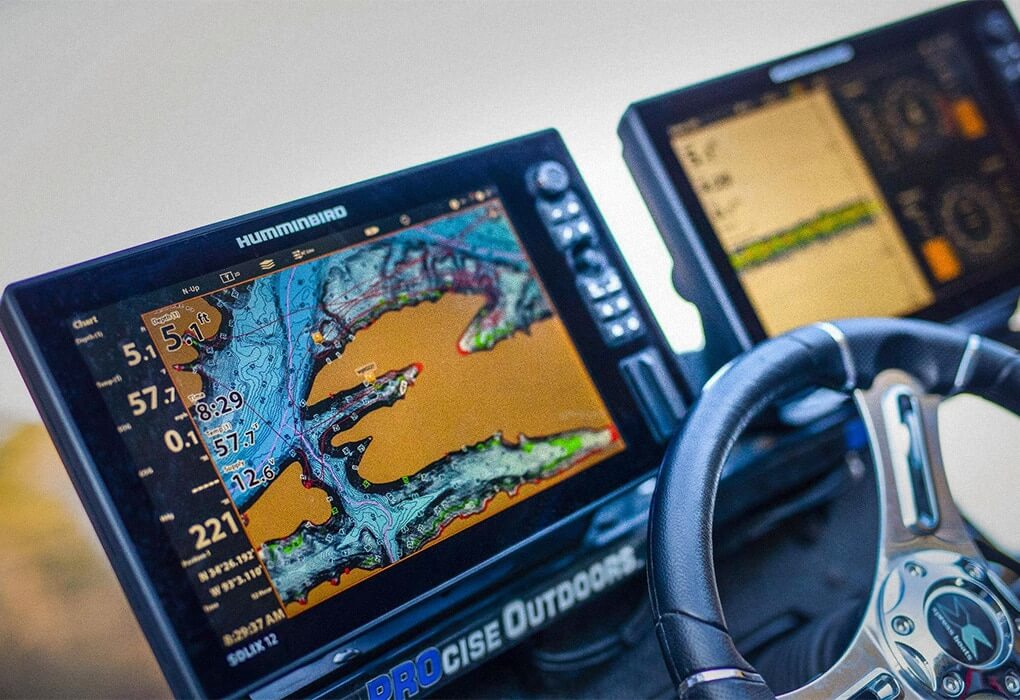 GPS and mapping are features that are becoming more essential as fish-finding technology advances. In this fish finder comparison, we want to see who offers better GPS, Humminbird, or Lowrance?
Humminbird
This company offers both GPS and chart plotter on many of their fish finders.
A variety of the units come with preloaded maps of lakes so you can map where you've been and where you'd like to go again as you make your way around the lake.
It looks like you'll have to pay around $300 or more to get a fish finder with GPS and mapping in it. That's not too bad and right around where we'd expect. As for the technology itself, as you could've guessed, it's state of the art.
You can track your location, drop dots on the map of places you'd like to revisit, monitor your speed to help with trolling, and a variety of other things.
It seems like it's functional, easy to use, and doesn't break down that often either.
Lowrance
Lowrance also offers GPS and mapping technology on their fish finders. For this, you'll have to pay around the same price as the Humminbird.
Most of their GPS units will run you around $300 but I'm a bit disappointed by the mapping on their units.
They use a blank white screen that requires you to input your own design and shape of the lake and you can draw it up that way. This is the same as using a paint feature on your phone and it doesn't really help that much.
To get real mapping, you need to upgrade to a more expensive model which then puts the pricing comparison in Humminbird's favor.
Lowrance Side Imaging vs Humminbird Side Imaging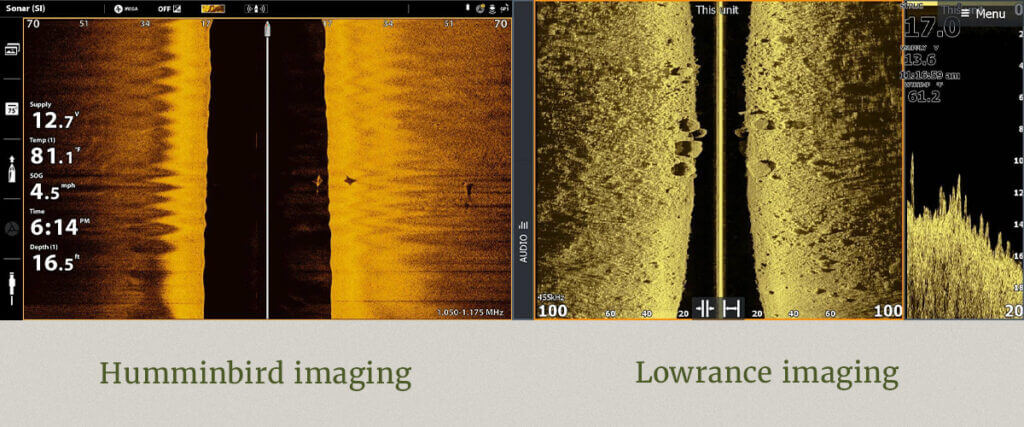 This comparison comes up a lot and it's rather subjective to the individual unit but I'll try and clarify this as much as possible. If I had to pick Humminbird or Lowrance I would pick Humminbird for a few different reasons.
First, Humminbird premium units use a lot less power which results in your either sucking less life out of your battery or using fewer batteries.
I also find that Humminbird offers a lot more features built into their side imaging compared to Lowrance.
You get the fastest refresh rate on the market, ethernet sharing, a dedicated DI, variable bandwidth, and a "made in the USA" stamp that you can carry with pride.
Overall, Lowrance structure scan vs Humminbird side imaging isn't really much of a debate.
Humminbird produces a better product and I think it's because they're actively looking for new technology and ways to develop their products. Lowrance could be headed for the hills.
Advantages of Lowrance
A large variety of affordable units
Long company history
High-quality imaging
Disadvantages of Lowrance
Poor customer service
Expensive premium options
Sub-par side imaging
Advantages of Humminbird
Made in the USA
Great customer service
More affordable mid-range units
Great side scan
Disadvantages of Humminbird
More expensive low-grade options
As you can see, I'm impressed by Humminbird, and doing a side-by-side comparison was a great way to realize that their products exceed expectations.
That said, there are plenty of reasons to love Lowrance and we still think they put out a vast assortment of quality units. Each company has its own set of pros and cons.
Best Options From Each Brand
Humminbird Helix 10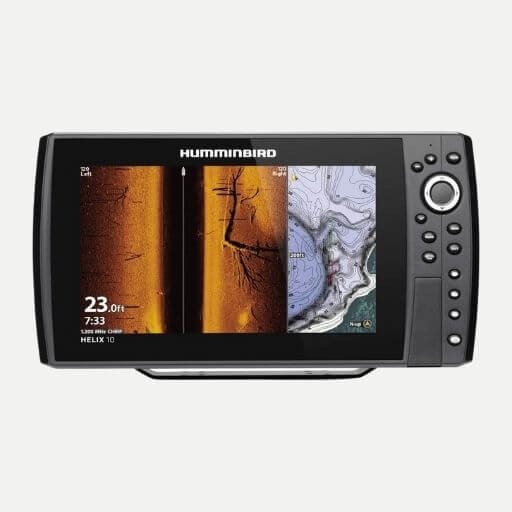 This fish finder offers a 10-inch HD display loaded with customization options, split screen, down imaging, side imaging, and Humminbird Basemap with Navionics.
Model: Humminbird
Type: DI and SI
Display: 10-inches
One of the standout features of the Humminbird Helix 10 is its imaging capabilities.
It uses advanced imaging technologies like CHIRP, Side Imaging, and Down Imaging to provide you with detailed, accurate images of what's below the surface.
The 10-inch screen is also incredibly clear and easy to read, even in bright sunlight.
This unit boasts a unique set of features including SwitchFire Sonar, Mega+ down and side imaging, and Smartstrike which allows you to design your results based on the species you're targeting.
Click here to read our complete review of the Humminbird Helix 10.
Lowrance Hook Reveal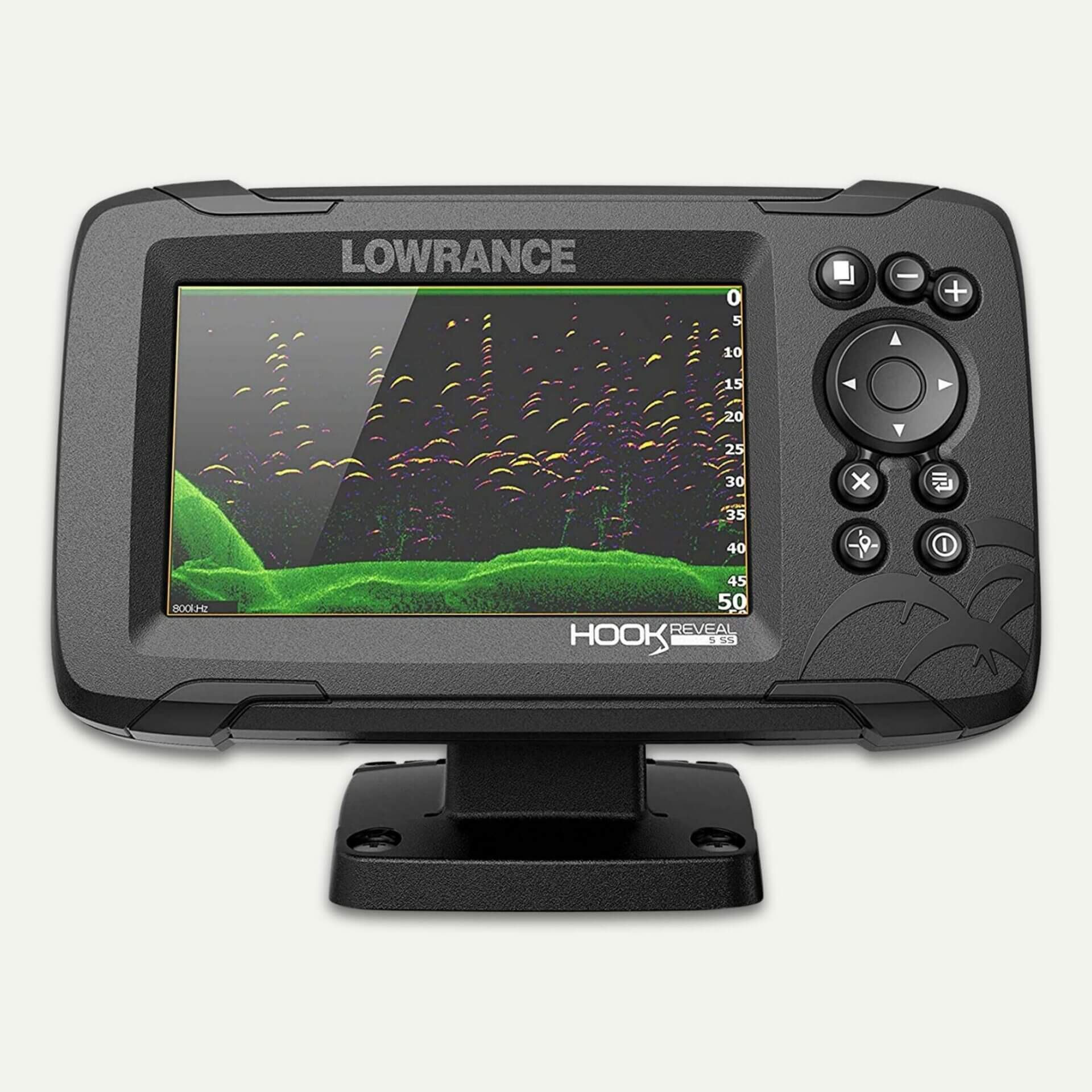 The Hook Reveal is a high-quality fish finder ranging in size from 5-9-inches.
It reaches max depths of up to 1000-feet and comes with FishReveal, one of the most advanced fish finding technologies on the market today.
Model: Lowrance
Type: Down, Side, and Structure Scan
Display: 5-9-inches
One of the most impressive features of the Lowrance Hook Reveal is its SplitShot transducer.
This allows you to view high-quality, detailed images of the water below the surface, making it easy to spot fish and other underwater structures.
Additionally, it features a GPS plotter that enables you to mark your favorite fishing spots and navigate your way back to them easily.
Another great feature of the Lowrance Hook Reveal is its FishReveal technology. This feature separates fish from other underwater structures using advanced color palletes, making it easier to identify and target the fish you want to catch.
It also comes with an Autotuning sonar, which adjusts the settings automatically to deliver the best possible image of the water below.
Click here to read our complete Lowrance Hook Reveal review.
Humminbird Solix 10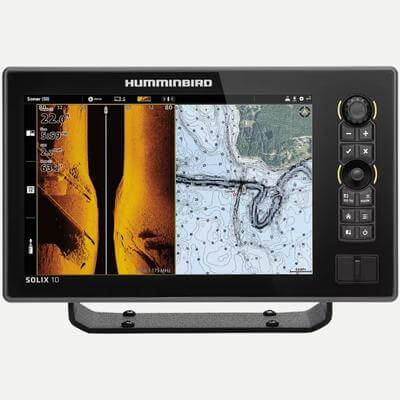 The Humminbird Solix is one of the premium options available from this company. It offers a high-resolution 10-inch screen with down, side, and dual imaging sonar.
The Solix also provides a ton of customization options for your dashboard.
Model: Humminbird
Type: Down, Side, and Dual Imaging
Display: 10-inches
If you're on a budget but still want the convenience of touchscreen functionality and a customizable interface, the Solix 10 fish finder might be the perfect option for you.
It's the most affordable choice in the Solix series, as many of the older models have been discontinued.
With the Cross Touch Interface, you have the flexibility to use either the touchscreen or keypad to navigate the menus and settings.
The Solix 10 also features a large 10.1-inch screen, making it easy to see and analyze the data.
You can choose from down, side, or dual-imaging sonar, which can provide you with accurate and detailed images of the underwater environment.
By default, the range is 1,200 feet, but you can upgrade to the Airmar CHIRP for an extended range of 3,500 feet.
Overall, the Solix 10 offers a great value for its price point, and its various features make it a good option for anglers who want to get the most out of their fishing experience without breaking the bank.
Lowrance HDS Live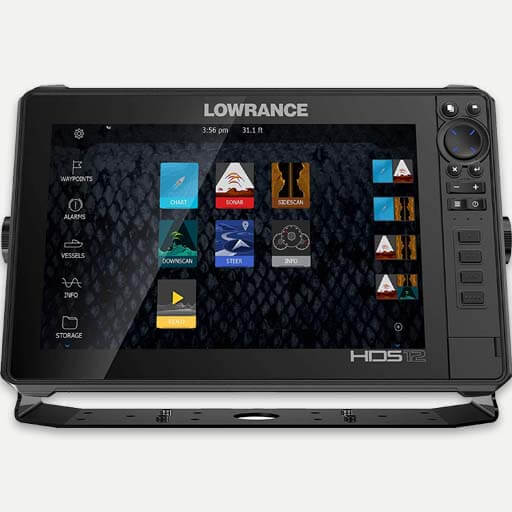 The Lowrance HDS Live is a powerful and versatile fish finder that offers advanced features for anglers of all levels.
It has a large, high-resolution display that is easy to read and provides crystal-clear imaging paired with top of the line Live sonar technology.
Model: Lowrance
Type: Live Imaging
Display: 7-16-inches
One of the standout features of the Lowrance HDS Live is its Active Imaging technology, which delivers detailed, high-resolution images of fish and other underwater structures.
It also features an advanced mapping system that allows you to create custom maps of your favorite fishing spots and share them with other anglers.
The Lowrance HDS Live also comes with built-in wireless connectivity, making it easy to connect to your smartphone or other devices.
It has a fast and responsive interface that allows you to quickly access and adjust settings, and it supports a range of advanced sonar technologies, including StructureScan 3D and LiveSight sonar.
Overall, the Lowrance HDS Live is a top-of-the-line fish finder that offers a wealth of features for anglers who demand the best.
Click here to read our complete review of the Lowrance HDS Live.
Final Thoughts
By this point, you should firmly understand the Humminbird vs Lowrance comparison. Throughout the article, we've broken down their line of products, features, price points, and company history.
Only you can decide which one is right for you but they're both industry leaders so you'll likely be just fine choosing either company.
Good luck!