Last Updated on June 6, 2022
We independently research, test, and recommend the best products; you can learn more about our review process here.
Many of us are looking for an edge on the water.
We want a way to locate the best fishing spots and catch as many fish there as possible.
Fish finders help make this possible.
In this Lowrance Hook Reveal review, you're going to see why this fish finder offers some of the best bang for your buck I've ever seen.
Between testing out fish finders, researching expert opinions, talking with other anglers, and actually fishing; it took me a little while to actually compile my thoughts on this fish finder, but I'm glad I did.
Pros:
FishReveal technology
Includes downscan, sidescan, and tripleshot transducer
Max depth up to 1000 feet
Includes charting and C-Map upgrades with Genesis Live
Three screen size options
Cons:
Complicated array of features
Lackluster tech support
---
If you're one who prefers video format then take a look at Anglers.com's very own Hook Reveal review video where Wesley takes it out on the water and walks you through all the pros and cons.
Very few fish finders enter the market and impress me with an array of new features.
I "kind of" felt this way when reviewing the Lowrance Hook Reveal.
These models don't offer anything too different from the rest of the major manufacturers. But, they have two main selling points.
FishReveal technology allows you to get better image separation between structure and fish unlike any other fish finder on the market.

They offer the same features as Garmin and Humminbird and they're able to do it for almost half the price. So, if you're in the market for a budget-friendly fish finder with all the bells and whistles, you're in the right place.

For instance, the HOOK Reveal 7 is one of the best fish finders under $500 that you can get.
Things to Consider Before Buying a Fish Finder
When you finally decide it's time to purchase a fish finder, there are a variety of factors that should pop into your head. You're thinking about whether or not the fish finder will help make fishing easier and what features will appeal most to you. But, what exactly are those features? How will they impact your fishing game and make it easier?
The best fish finders are easy to use, simple to read, and highly accurate. That said, in our world of modern technology; all fish finders are simple and accurate. Here are some of the things you might not have thought about, but should consider before deciding on a fish finder.
Sonar Types
One of the most important things to understand are the various types of sonar, how they work, and how they'll impact how you use the fish finder. The three primary types you'll hear about are:
Downscan
Sidescan
Tripleshot
These variables determine a few different things. It refers to the type of CHIRP sonar used to find fish in the water. A downscan fish finder operates at a frequency (kHz) that allows you to see everything happening beneath the boat.
This helps you to identify structure and vegetation where fish might be hiding.
Sidescan offers high-resolution images of everything happening around your boat on both sides. This is what you're going to find on the Hook Reveal and it's considered an upgrade compared to the downscan that was on the Hook2.
With sidescan you don't have t be right on top of the fish to locate them on the display.
You can also use sidescan to identify ideal casting locations along the shoreline.
Tripleshot is the cream of the crop because it offers everything bundled into one. Tripleshot fish finders will give you more range as well as the flexibility to search for fish wherever you want.
Understanding how these three components work and how they impact the price of your fish finder will be one of the most important factors to consider.
GPS Mapping and Charts
Many modern-day fish finders come with GPS, Navionics, and chartplotter. These features allow you to navigate around the lake using waypoints, routes, and trails so you can mark where you'd like to fish again and where you'd prefer to avoid.
Best of all, many of these premium fish finders come with preloaded lakes with contour. This means that you'll be able to use an already uploaded map of the lake directly on your fish finder and it'll tell you where changes in structure occur, where drop-offs are, and where ideal fishing locations are.
Screen/Display
The first thing most people think of when they think of a fish finder is the screen. Many models offer variations in terms of size and they're indicated in the name of the model. For example, Garmin Striker 4 would mean that it's a four-inch screen. Humminbird Helix 5 would mean it's a five-inch screen.
So, if you're reading a Lowrance Hook Reveal 5 review, it would mean you're reading a review of a fish finder with a five-inch screen. Simple enough.
A lot of fish finders also come with a split-screen option. This is a nice feature because it allows you to view two things at once. For example, you could be checking out your side scan sonar on one side while mapping on the other.
Lowrance Hook Reveal Review
Now that you understand some of the basics of choosing a fish finder, let's look at the Hook Reveal to see what features it brings to the table.
First, we need to understand exactly what we're looking at.
Remember in the previous section where I talked about the different types of sonar and screen size? This Lowrance Hook Reveal review will be looking at three different fish finders:
FishReveal Technology
The biggest standout feature of these models is the FishReveal technology. The goal of this is to make it easier to separate fish from structure and vegetation.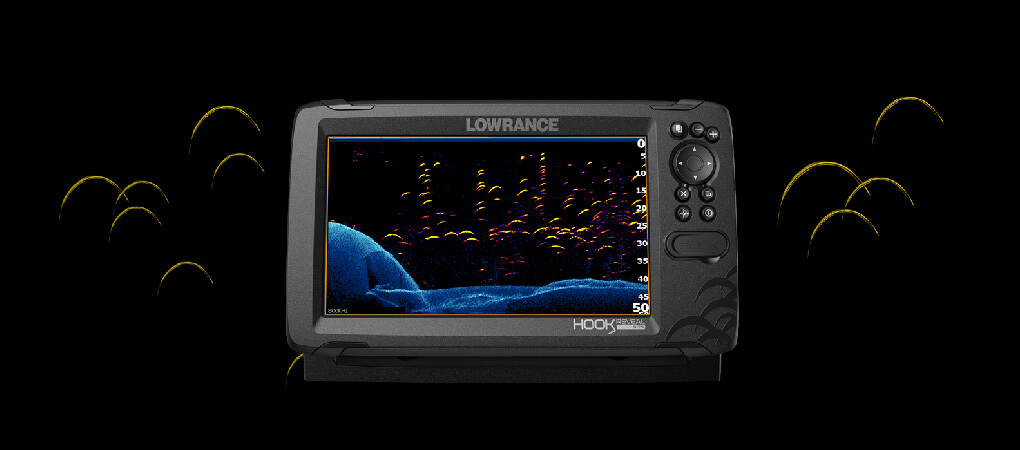 If you look at the image above you'll see that they've combined the 2D sonar fish arches with the downscan sonar to not only show you the fish and the structure; but both in the same image in real-time.
This is an incredibly powerful feature for a few different reasons. First, it'll help you identify ideal fishing locations because you'll be able to see where the fish are schooling to and you'll have the bottom imaging to solidify that.
Second, you'll be able to separate the fish from structure better because you can see them both at the same time.
Various Sonar Options
One of my favorite things about Lowrance is that they do a nice job of providing customers with options. Whether you choose the 5, 7, or 9, you have the choice of adding the splitshot, tripleshot, C-Map, Contour+, and other features to your base model.
This allows you to essentially build your ideal fish finder with the features you're looking for while being able to keep the price within the range you want it.
For example, if you're not too worried about inland mapping and GPS but you really want the splitshot transducer, you could do that.
Lowrance also has an HDI feature with 83/200 or 50/200 high definition imaging. This adds extra range to your transducer allowing you to get the maximum output and highest quality image even at high depths.
SolarMAX Display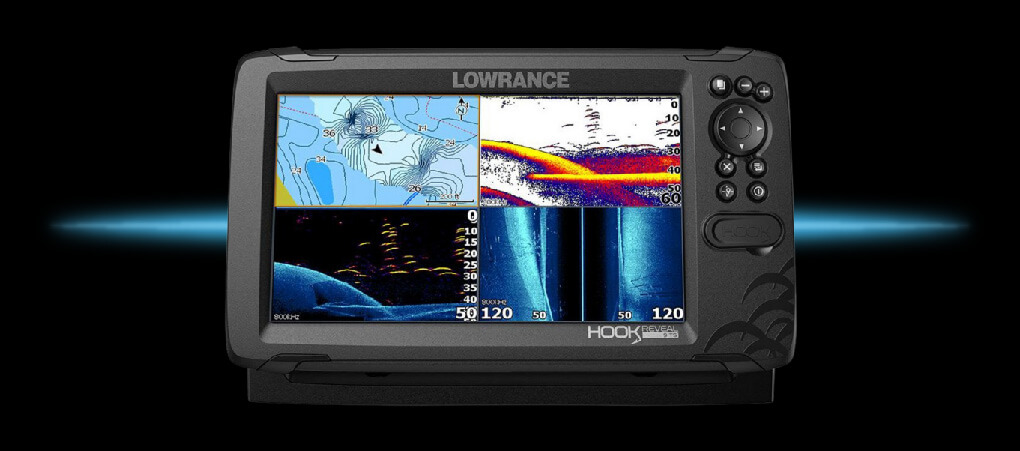 In addition to offering plenty of screen sizes and customizable options you also get the great SolarMAX feature to help heighten the quality of your display even more.
Essentially, this is just a backlight that prevents glare in direct sunlight. I think it serves as a nice cherry on the top of what seemingly is a perfect piece of fishing technology.
Genesis Live Mapping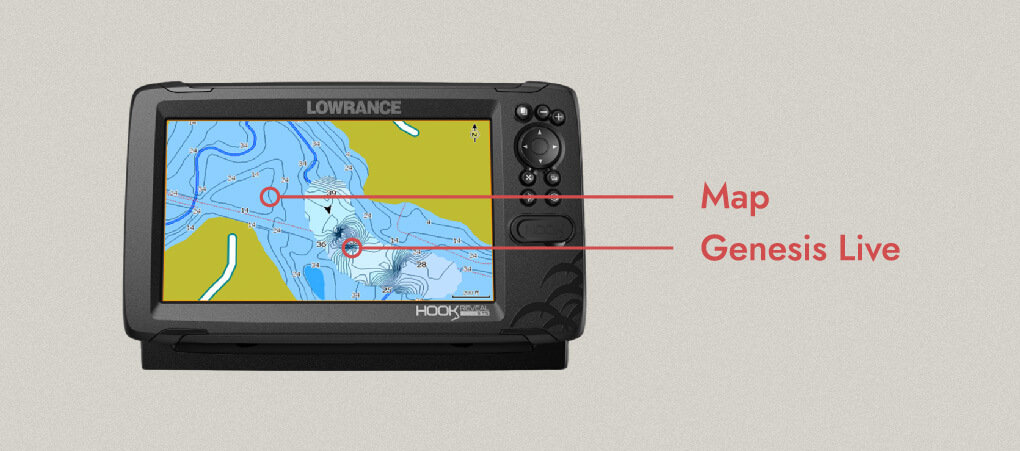 This Lowrance fish finder also brings some of the most advanced mapping and plotting technology to the table. C-Map Contour provides high-resolution details with one-foot contours of more than 15,000 lakes in the United States.
They've even added over 9,400 in Canada too.
What this does is allow you to insert a separate SD card into the MicroSD card slot, look up the lake you're fishing, and use the split-screen feature to watch the map overlay on one side while finding fish on the other.
It'll show you where the contours are in the water so you can identify slopes and drop-offs to find ideal fishing locations.
Even better, as you're going along you can create your own contour maps, plot your own locations, and create waypoints so you can remember your favorite fishing spots for later.
What Are People Saying About the Lowrance Hook Reveal?
I trust what anglers have to say about fish finders and since I can't get every single model into my hands, it's important that professional and amateur opinions play a role in my reviews.
That said, the online community likes the Lowrance Reveal. Here's what they said:
You'll find a lot of reviews online complaining about the mapping features, but this is only due to negligence. People who don't actually understand how this technology works will get frustrated and leave poor ratings before understanding the problem.
I get it though, Lowrance could do a better job of explaining their features but this person does a nice job of understanding what has to be done.
To get the maps, you need to purchase a separate SD card with them loaded onto it. It's not a standard feature unless you add that feature.
This person went with the large 9-inch screen and loves the fact that it's large enough to see everything. I would agree with that!
Here's an example of what I said before. The product description can be misleading but that's why it's so important to read reviews like this one so you can understand exactly what you're getting before you buy it.
The chartplotting and mapping technology is a separate feature that only comes with it if you purchase that feature. If you look at the style of fish finder this person bought at the top you'll see where it says "splitshot Xdcr GPS plotter ONLY."
That means they got the GPS plotter for custom maps but not the C-Map or Contour feature. It can be extremely confusing.
Alternatives to the Lowrance Hook Reveal
As we move through this Lowrance Hook Reveal review, let's take a look at some comparable fish finders in terms of features and price.
Garmin Echomap UHD
The Echomap brings a lot to the table with a touch screen/keypad fish finder featuring downscan imaging and sidescan technology. It also comes with Garmin's LakeVu with 17,000 lake maps with one-foot contours.

This is definitely a premium fish finder if I've ever seen one and it does have a premium price tag to boot.
Humminbird Helix 7
The Helix 7 is a lot like the Lowrance Hook Reveal because it allows you to really customize your display based on what features you want and what you don't. You can get MEGA side imaging, MEGA down imaging, and dual spectrum CHIRP.

It also features AutoChart Live which is their charting technology and LakeMaster compatibility for mapping and contour imaging.
Final Thoughts
As we reach the completion of our Lowrance Hook Reveal review, it's time to make a decision. Based on my research and experience, I think you'll find it hard to locate a fish finder with the amount of features of the Hook Reveal at a price tag this low.
Plus, the FishReveal technology isn't something you can find in any other fish finder model on the market today.
Click here to see more about the Lowrance Hook Reveal 5.
Click here for the Lowrance Hook Reveal 7.
Click here for the Lowrance Hook Reveal 9.
About Post Author