---
We independently research, test, and recommend the best products; you can learn more about our review process here.
Many of us are looking for an edge on the water.
We need a way to locate the best fishing spots and catch as many fish there as possible.
Fish finders help make this possible.
In this Lowrance Hook Reveal review, you're going to see why this fish finder offers some of the best bang for your buck I've ever seen.
After rigging the Hook Reveal 9 to my kayak and testing it out on a few fishing trips, I found that there's a lot to like about this fish finder and a few things I'd like to see updated or changed.
Pros:
FishReveal technology
Includes downscan, sidescan, and tripleshot transducer
Max depth up to 1000 feet
Includes charting and C-Map upgrades with Genesis Live
Three screen size options
Cons:
Complicated array of features
Lackluster tech support
Testing Procedure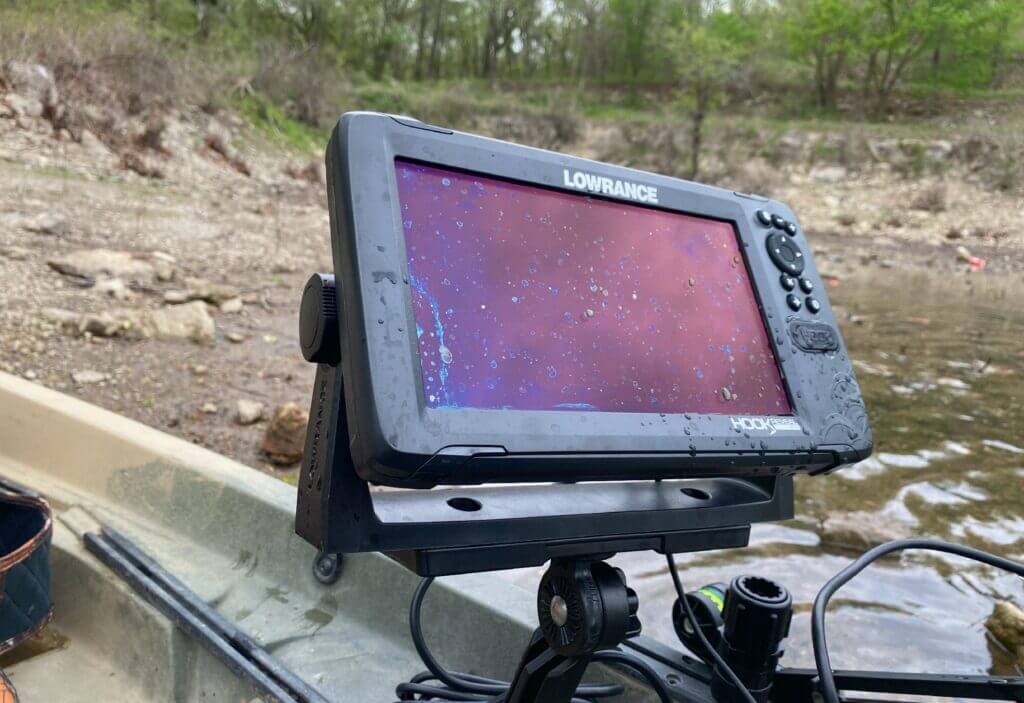 I installed the Lowrance Hook Reveal 9 on my kayak for testing purposes.
The first location I visited was a local crappie hotspot in an old rock quarry, so sidescan was critical for finding where the fish were hanging out along the bluffs.
The second location I visited was a small kayak-only lake, where I primarily used downscan to find the edge of the weeds and locate bass.
Below you'll find a few things that stood out while using the Hook Reveal.
Screen Size: While testing the Lowrance Hook Reveal 9, I found that a 9″ screen was too big for such close quarters. A 7″ or 5″ screen would have been perfect for a kayak, and the 9″ screen works best for a boat or pontoon.

Features: I tested it with the Tripleshot transducer, so I was able to see how well downscan, sidescan, and traditional chirp sonar work. I also messed with the mapping feature, which quickly became one of my favorite features.

Installation: I have installed a few fish finders, and I must say installing the Hook Reveal on my kayak was simple.

User Friendliness: If the unit is frustrating to use, you'll probably hate it. Thankfully, the control buttons work great, and the navigation screens are easy to follow.
---
Don't miss my Hook Reveal review video above, where I walk you through the pros and cons after getting my hands on this unit.
Very few fish finders enter the market and impress me with an array of new features.
I "kind of" felt this way when reviewing the Lowrance Hook Reveal.
These models don't offer anything too different from the rest of the major manufacturers. But, they have two main selling points.
FishReveal technology allows you to get better image separation between structure and fish, unlike any other similarly priced fish finders on the market, such as the Humminbird Helix and Garmin Striker Vivid.

They offer the same features as Garmin and Humminbird, and they're able to do it for almost half the price. So, if you're in the market for a budget-friendly fish finder with all the bells and whistles, you're in the right place.

For instance, the HOOK Reveal 7 is one of the best fish finders under $500 that you can get.
Lowrance Hook Reveal Review
Let's look at the Hook Reveal to see what features it brings to the table.
First, we need to understand the differences between the Hook Reveal models.
This Lowrance Hook Reveal review will be looking at three different fish finders:
After testing the Hook Reveal 9, I think it's best for a boat or pontoon, while the Hook Reveal 7 and 5 are best for a kayak or Jon boat.
All models have the same capabilities, but the available features and performance will primarily depend on the transducer you purchase.
Let's move onto some of the standout features of the Lowrance Hook Reveal.
FishReveal Technology
The biggest standout feature of these models is the FishReveal technology. The goal of this is to make it easier to separate fish from structure and vegetation.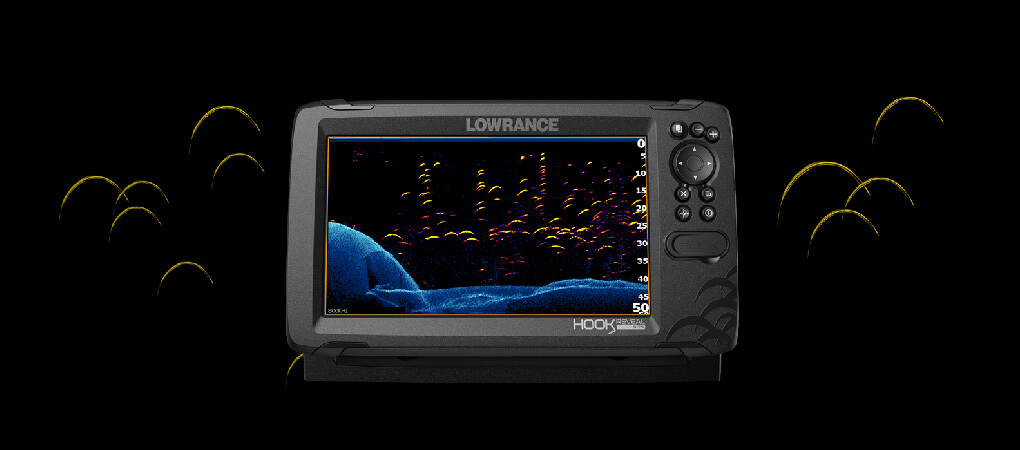 If you look at the image above, you'll see that they've combined the 2D sonar fish arches with the downscan sonar to not only show the fish and the structure, but both in the same image in real time.
This is an incredibly powerful feature for a few different reasons. First, it'll help you identify ideal fishing locations because you'll be able to see where the fish are schooling, and you'll have the bottom imaging to solidify that.
Second, you'll be able to separate the fish from structure better because you can see them both at the same time.
I was blown away by how well I could see underwater structure and fish. I could quickly find the edge of the weeds I was fishing and began to spot the areas where fish were most likely to hangout.
However, after I tested the Lowrance HDS Live and saw its clarity, I realized the Hook Reveal is nice but far from the top of the line.
Various Sonar Options
One of my favorite things about Lowrance is that they do a nice job of providing customers with options.
Whether you choose the 5, 7, or 9, you have the choice of adding the splitshot, tripleshot, C-Map, Contour+, and other features to your base model.
This allows you to essentially build your ideal fish finder with the features you're looking for while being able to keep the price within the range you want it.
For example, if you're not too worried about inland mapping and GPS, but you really want the splitshot transducer, you could do that.
Lowrance also has an HDI feature with 83/200 or 50/200 high-definition imaging. This adds extra range to your transducer allowing you to get the maximum output and highest quality image even at high depths.
I used the tripleshot transducer when I tested the Hook Reveal 9 since I primarily fish lakes from my kayak. I really liked being able to see all three sonar modes at the same time.
However, the 9″ screen was still a little small when I had all three sonar types running, especially if I wouldn't have been so close to the screen.
SolarMAX Display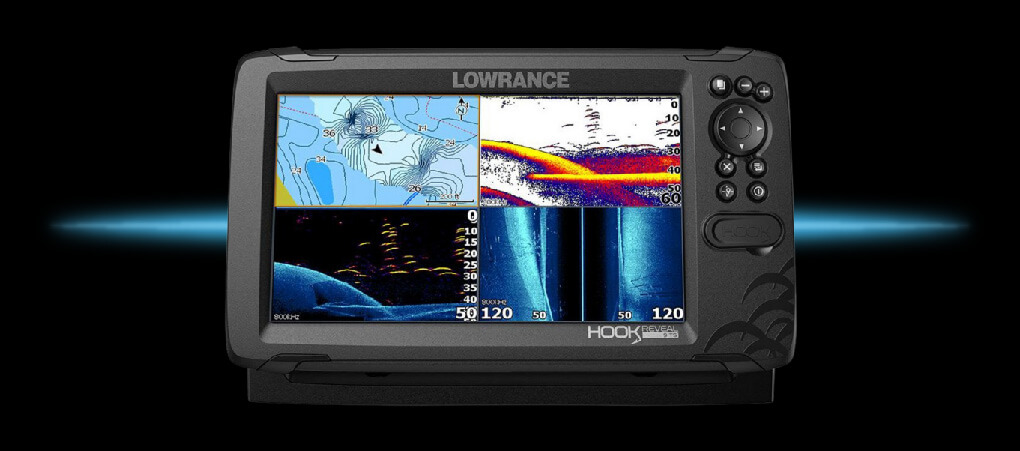 In addition to offering plenty of screen sizes and customizable options, you also get the great SolarMAX feature to help heighten the quality of your display even more.
Essentially, this is just a backlight that prevents glare in direct sunlight. I think it serves as a nice cherry on top of what seemingly is a perfect piece of fishing technology.
I was very impressed with how easy it was to see the screen on a bright sunny day. The glare from the sun was minimal, so I was able to see details I would have missed using other fish finders that don't have a SolarMAX Display.
Genesis Live Mapping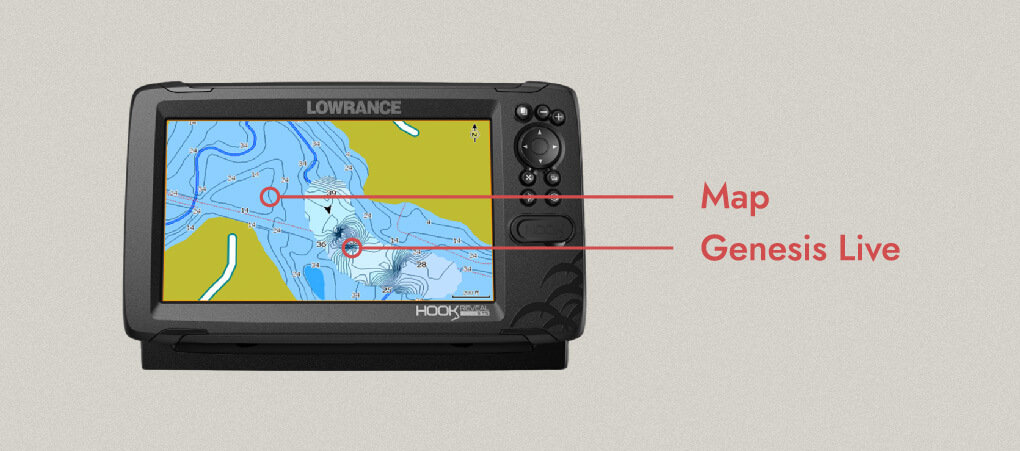 This Lowrance fish finder also brings some of the most advanced mapping and plotting technology to the table.
C-Map Contour provides high-resolution details with one-foot contours of more than 15,000 lakes in the United States.
They've even added over 9,400 in Canada too.
What this does is allow you to insert a separate SD card into the MicroSD card slot, look up the lake you're fishing, and use the split-screen feature to watch the map overlay on one side while finding fish on the other.
It'll show you where the contours are in the water so you can identify slopes and drop-offs to find ideal fishing locations.
Even better, as you're going along, you can create your own contour maps, plot your own locations, and create waypoints so you can remember your favorite fishing spots for later.
I was pleasantly surprised to see the map of a small kayak-only lake; I regularly fish already installed, and it was very easy to update the contour lines using Genesis Live.
Installation Process
On high-end fish finders, the installation process can be a bit daunting.
That's not the case with the Lowrance Hook Reveal. I installed it on my kayak for testing in less than an hour.
All I had to do was attach the unit and transducer to my kayak fish finder mount, connect the unit to the battery, and plug the transducer into the back of the unit.
If you're not comfortable installing it yourself, you can always take it to a dealer or marina and pay them to do it.
User Friendliness
I am not a Lowrance user. Up until this testing, I had only used Garmin or Humminbird fish finders.
However, I found it very easy to switch over to the Lowrance interface. I didn't have any problems navigating the menus or various screens using the buttons.
It does not have a touchscreen, so if you're looking for a fish finder with a touchscreen, this unit won't be for you.
What Are People Saying About the Lowrance Hook Reveal?
I trust what anglers have to say about fish finders, and even though I got my hands on a Hook Reveal 9, it's important that professional, and other amateur opinions play a role in my reviews.
That said, the online community likes the Lowrance Reveal. Here's what they said:
You'll find a lot of reviews online complaining about the mapping features, but this is only due to negligence.
People who don't actually understand how this technology works will get frustrated and leave poor ratings before understanding the problem.
I get it, though, Lowrance could do a better job of explaining their features, but this person does a nice job of understanding what has to be done.
To save the maps, you need to purchase a separate SD card.
This person went with the large 9-inch screen and loves the fact that it's large enough to see everything. I would agree with that after testing it myself!
Here's an example of what I said before. The product description can be misleading, but that's why it's so important to read reviews like this one so you can understand exactly what you're getting before you buy it.
The chartplotting and mapping technology is a separate feature that only comes with it if you purchase that feature.
If you look at the style of fish finder this person bought at the top you'll see where it says "splitshot Xdcr GPS plotter ONLY."
That means they got the GPS plotter for custom maps but not the C-Map or Contour feature. It can be extremely confusing.
I did not have to deal with customer support, so I can't speak directly to that case, but it's safe to safe the larger the company, the worse their customer support will be.
That's not always the case, but it's been my experience, generally speaking.
Alternatives to the Lowrance Hook Reveal
As we move through this Lowrance Hook Reveal review, let's take a look at some comparable fish finders in terms of features and price.
Garmin Echomap UHD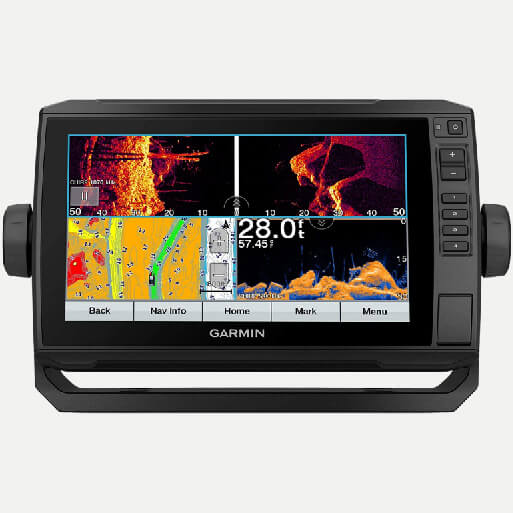 The Echomap brings a lot to the table with a touch screen/keypad fish finder featuring downscan imaging and sidescan technology. It also comes with Garmin's LakeVu with 17,000 lake maps with one-foot contours.

This is definitely a premium fish finder if I've ever seen one and it does have a premium price tag to boot.
Humminbird Helix 7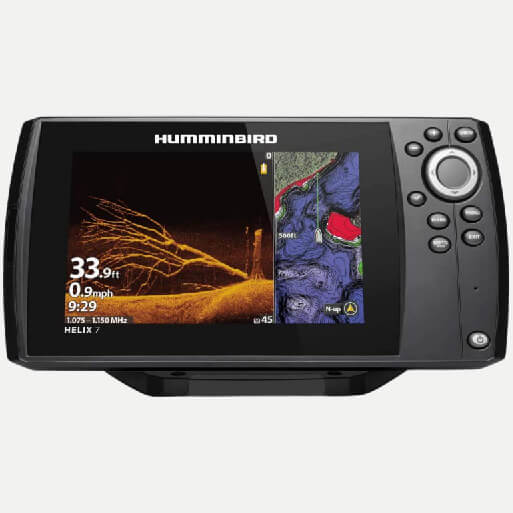 The Helix 7 is a lot like the Lowrance Hook Reveal because it allows you to really customize your display based on what features you want and what you don't. You can get MEGA side imaging, MEGA down imaging, and dual spectrum CHIRP.

It also features AutoChart Live which is their charting technology and LakeMaster compatibility for mapping and contour imaging.
Final Thoughts
As we reach the completion of our Lowrance Hook Reveal review, it's time to make a decision.
Based on my research and testing, I think you'll find it hard to locate a fish finder with the number of features of the Hook Reveal at a price tag this low.
Plus, the FishReveal technology isn't something you can find in any other fish finder model on the market today.
Click here to see more about the Lowrance Hook Reveal 5.
Click here for the Lowrance Hook Reveal 7.
Click here for the Lowrance Hook Reveal 9.