---
We independently research, test, and recommend the best products; you can learn more about our review process here.
The main difference between Garmin and Lowrance is that Lowrance provides better options, more modern features, and enhanced display choices. The two fish finder brands are pretty equal in almost every other way.
Something that stands out to me is that both of these brands stay on the cutting edge of the latest and greatest technology.
The Garmin Echomap being one of the best fish finders ever made is a really close comparison to the Lowrance Hook Reveal and HDS Live.
Of course, I realize you didn't come here for me to tell you they're equal so let's take a deep dive and compare Garmin vs Lowrance so you can see which brand you might prefer shelling out for.
Before we get started, if you'd rather watch our video breakdown of Garmin vs Lowrance fish finders, you can check it out here:
---
Garmin vs Lowrance Brand Differences
A brand is only as good as the products it provides but we can learn a little about a company by taking a look at factors like their reputation, advancement, and service.
Brand Reputation
Comparing Lowrance and Garmin is a little like stacking an old war vet up against a "wet behind the ears" recruit. Lowrance has been on the market since 1957 and has made a name for itself by providing strictly marine electronics.
Garmin on the other hand didn't hit the market until 1989 and was known entirely for its line of GPS technology. Garmin GPS units were originally sold to the United States Army and were used in many military vehicles.
Both of these companies have a positive reputation and are known for providing some of the best technology the industry has to offer.
Anglers tend to turn towards Lowrance for their product variety while Garmin often appeals to anglers who need to watch their budget.
Either way, you can choose Garmin or Lowrance when it comes to reputation and you wouldn't know the difference.
Technological Innovations
This is where things get interesting. Let's break this down by company.
Lowrance
The first thing that stands out to me about Lowrance is that their focus is entirely on fish finding technology so they're constantly seeking ways to improve their ability to find fish.
That leads to a number of positive advancements in imaging, sonar, and mapping.
Lowrance provides some of the most crisp imaging in the game and allows you to see everything from structure, wreckage, and fish in the clearest way possible.
Lowrance also boasts some of the most advanced features I've ever seen like ActiveTarget Live Sonar. This is the closest you can get to literally sticking your head in the water and looking for yourself.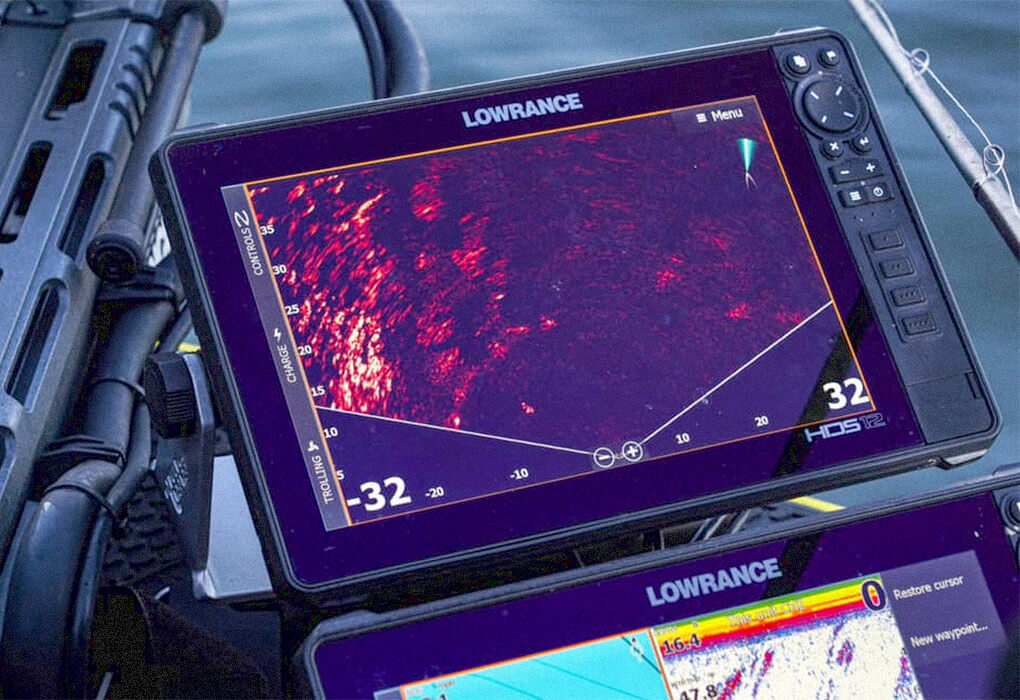 ActiveTarget provides a live, high-resolution view of what is happening beneath the surface. You can actively see your lure moving around and see how the fish are responding to it and how they're holding to nearby structures.
Best of all, it comes with a forward, down, and "scout" view which allows you to see everything ahead of the boat.
FishReveal is another state of the art feature only offered by Lowrance. The purpose of this technology is to improve target separation so you can better see the difference between fish and structure.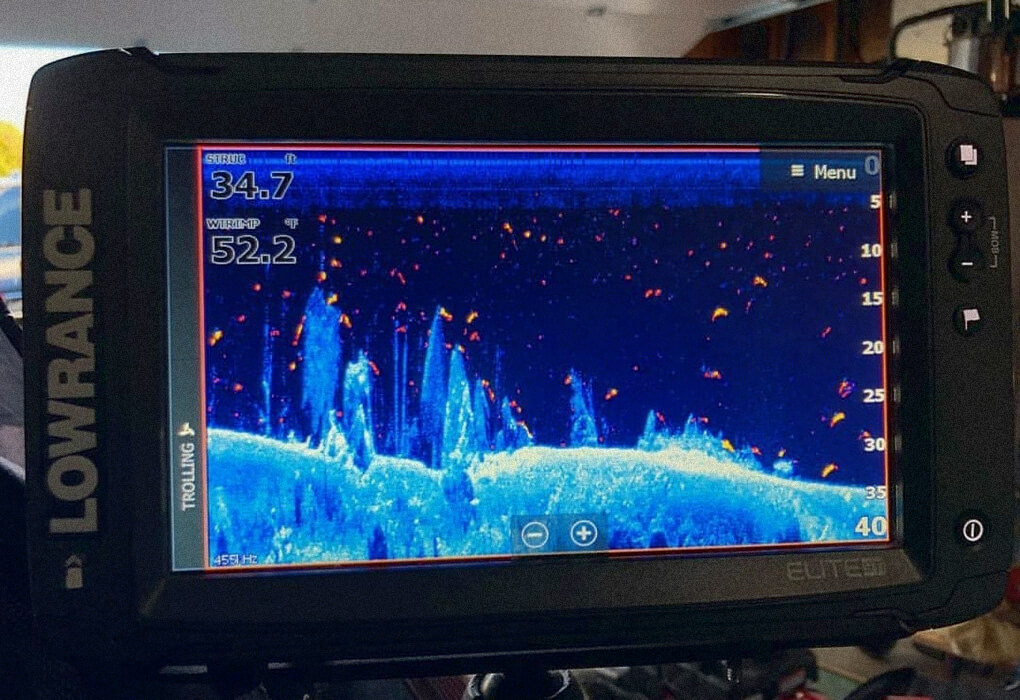 If you look at the image above, this is a Lowrance fish finder with FishReveal technology. The high visibility color schemes make it much easier to see actual fish in the water column.
Lowrance is also known for having a more responsive touchscreen display as well as offering various split screen options on the user interface.
Truth be told, this technology is not available with Garmin. While they put their own spin on this technology, it can barely sit in the same room with what Lowrance is offering.
Garmin
In a nutshell, Garmin offers the Striker, Echomap, Vivid, and Panoptix Livescope as its primary products.
As I've expressed, I love the fact that Lowrance focuses the majority of their resources on marine products.
The same cannot be said for Garmin as they sell a bunch of other things like GPS, watches, automotive products, and sports and fitness equipment.
That does not mean I don't like Garmin.
The Garmin Echomap is my favorite fish finder and my personal choice that I use regularly. The reason I love the Echomap is for the LakeVu and Navionics features.
Of course, with Garmin being a GPS company first, they provide some of the best mapping and chartplotting money can buy.
If you compare Garmin vs Lowrance chartplotters, Garmin will win all day.
Garmin also provides optional navionics cards that you can purchase to use in your fish finder depending on where you fish and what waters you would like better mapping off. (Mid-atlantic lakes, great lakes, Pacific northwest lakes, etc)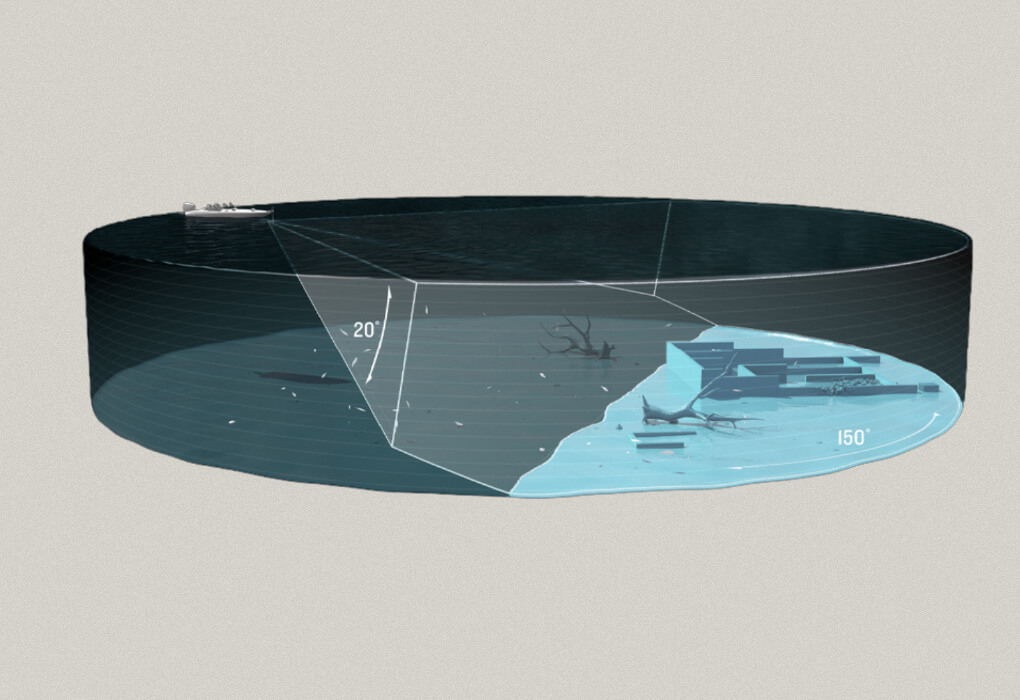 The Garmin Panoptix Livescope is the closest thing to ActiveTarget from Lowrance. While I find it to be quite a bit more challenging to use and install than ActiveTarget, you can't argue with the results.
It provides great range up to 200 feet and it tackles one of the issues with ActiveTarget.
Image stabilization is a big problem if you're fishing during inclement weather or murky conditions. The Panoptix Livescope uses something called AHRS which helps stabilize the view and optimize it based on the conditions.
Keep in mind that this is a separate transducer that needs to be installed to your existing unit and it comes at quite a cost.
To wrap it up, Garmin still can't compete with Lowrance in my eyes when it comes to innovation but that doesn't mean you should ignore them completely.
Pricing
If you understand how business works, you know that the pricing of these fish finders is basically neck and neck and that's done on purpose.
They're constantly competing with each other and based on the model you purchase, you shouldn't have much variation from equal model to equal model.
For example, the Lowrance Elite FS 7 is comparable to the Garmin Echomap UHD 73sv. These are the same level of fish finder in terms of features, screen size, and so on. They're pretty much equal in price ranging from $700-800.
You'll find this to be the case across the board.
Lowrance vs Garmin Fish Finders: Face to Face
Let's stack some Garmin and Lowrance fish finders side-by-side to see how they compare.
Garmin Striker 4 vs Lowrance Hook Reveal
Model
Garmin Striker 4
Lowrance Hook Reveal
Preview
Image of fish finder
Image of fish finder
Sonar Options
Chirp sonar
Ice fishing flasher
Downscan
Sidescan
Tripleshot
Size Options
4-inches
5, 7, or 9-inches
Max Range
1500 feet
1000 feet
GPS
No
Yes
Mapping
No
Yes
Waterproofing
IPX7 – fully submersible to approx. 3-feet
IPX7 – fully submersible to approx. 3-feet
Price
$
$$$
More Info
Check Lowest Price
Check Lowest Price
A Lowrance Hook vs Garmin Striker comparison isn't so much of a "Clash of the Titans" as it is a "David vs Goliath" story.
The Garmin Striker 4 is a budget-friendly fish finder for those who haven't experimented too much and may not fish quite as often.
If you're serious about getting into marine electronics and want a unit you can grow into, the Lowrance Hook Reveal is the way to go.
Related Articles:
Garmin Echomap UHD vs Lowrance Elite FS
Model
Garmin Echomap UHD
Lowrance Elite FS
Preview
Image of fish finder
Image of fish finder
Sonar Options
Chirp
Side ImagingDown Imaging
ClearVu
Chirp
Side ImagingDown ImagingActiveTarget Live Imaging
Size Options
4, 6, 7, and 9-inches
7 and 9-inches
Max Range
1000 feet
300 feet
GPS
Yes
Yes
Mapping
Yes
Yes
Waterproofing
IPX7 – submersible to approx. 3-feet
IPX7 – submersible to approx. 3-feet
Price
$$$
$$$
More Info
Check Lowest Price
Check Lowest Price
This is a side-by-side comparison we could actually debate a little. The Lowrance Elite FS gives you the option of getting ActiveTarget which is hands down, some of the best active imaging on the market.
On the other side, the Garmin Echomap offers the best GPS, mapping, and chartplotting in a fish finder of this price.
If you fish saltwater and offshore fishing, I'd recommend using the Echomap for the Bluechart G3 but if you strictly fish lakes and ponds, I think the Elite FS might be the better option. 
Related Articles:
Garmin Panoptix Livescope vs Lowrance HDS Live
Model
Garmin Panoptix Livescope
Lowrance HDS Live
Preview
Image of fish finder
Image of fish finder
Sonar Options
Down scanning
Side scanning
Structure scan
Down scanning
Side scanning
Structure scan
Size Options
n/a
7, 9, 12, 16-inches
Max Range
200 feet
1000 feet
GPS
n/a
Yes
Mapping
n/a
Yes
Waterproofing
n/a
IPX7 – submersible to approx. 3-feet
Price
$$$$
$$$$$$
More Info
Check Lowest Price
Check Lowest Price
The cream rises to the top in this Garmin vs Lowrance comparison. These are the two premium options from these companies and they're both amazing in their own way.
The Garmin Panoptix is a livescope transducer that you have to install separately to your compatible Garmin unit. The HDS Live is an actual fish finder unit with a display.
They both offer state of the art imaging with live features that allow you to see what's happening beneath the surface in real-time.
All in all, you can't beat the crisp clarity, display, and imaging options of the Lowrance HDS Live no matter how hard you try.
This is truly one of the best fish finders ever made. That said, this is a high-end product that may be out of many peoples price range.
Related Articles:
Stand Out Features
Let's take a look at some of the things that stand out most about these two brands.
Interesting Garmin Features
The best Garmin fish finders have the following features:
Bluechart G3 and LakeVu G3:
These are Garmin's proprietary mapping technologies for both lakes and ponds and offshore fishing.
They use Navionics data to scan over 15,000 maps based on your location to provide you with waypoints and ideal bass fishing locations all across the country.
Garmin Quickdraw Contours:
Contour mapping is a big part of Garmin's features and this helps you identify changes in underwater structure so you can find the best fishing opportunities.
Livescope with Image Stabilization:
The Garmin Livescope provides some of the best and most crisp imaging in the game using real-time imaging.
Interesting Lowrance Features
The best Lowrance fish finders have the following features:
ActiveTarget:
As previously mentioned, there's no way to describe ActiveTarget without telling you to go and check it out for yourself.
This is some of the best fish finding technology money can buy. It allows you to see what is happening underwater in live action as fish respond to your lure and nearby structure.
FishReveal:
FishReveal does a great job at separating structure from fish with unique color palettes and designs that make distinguishing the two much easier.
SolarMax:
SolarMax further enhances these two features by providing a better glare protection on all their fish finders.
The screen will automatically adjust to the outside conditions whether it's sunny or overcast to provide the best viewing experience possible.
Who Wins?
In this Garmin vs Lowrance comparison, Lowrance wins.
There are simply too many amazing features that have become standards in the fishing technology industry.
Neither Garmin nor Humminbird can compete and while I do love my Garmin Echomap, the Elite FS and Hook Reveal likely provide better quality and performance in terms of sonar imaging.
Just remember, there's no right or wrong answer here. Do you have a feature you prefer about one of these fish finder brands over the other?
Let me know in the comments!