---
We independently research, test, and recommend the best products; you can learn more about our review process here.
Castable fish finders have made it possible for weekend warriors and shore anglers to get some skin in the game. Putting together this Lowrance Fish Hunter vs Deeper Smart Sonar review allowed me to learn a little more about these portable fish finders and why people use them.
I've used quite a few fish finders and have tested out more than a dozen units but I was incredibly surprised by how many features they are able to bundle into such a small package.
In this review, I compare the Fish Hunter and the Deeper Smart Sonar to help you decide which of the best castable fish finders is the best choice for you.
---
What is the Lowrance Fish Hunter?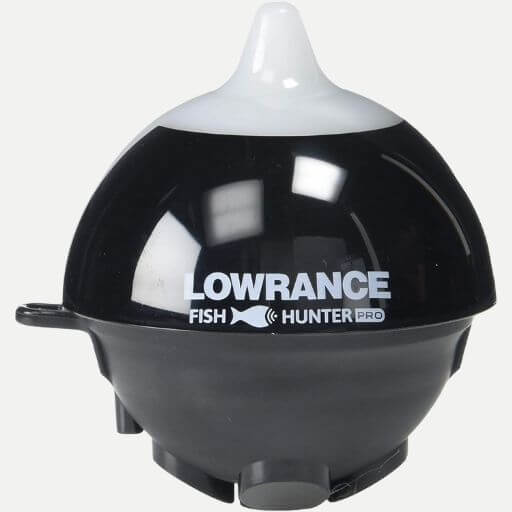 Lowrance brand product
Portable and castable fish finder
Affordable, easy to use
Dual-range frequency with fish ID technology
Comes with FishHunter App that you can use on both iOS and Android
Let's start by taking a look at the Lowrance Fish Hunter PRO. It's a Lowrance brand product, but one that has seemingly flown under the radar a little. This isn't one of their more popular offerings for a company that is known for so much.
It's a portable and castable fish finder that you can hook up to a spare rod or even a pole and toss it in the water. It behaves like a bobber and serves as your transducer.
The reason people use fish finders like this is to access areas that they can't with a boat. They're generally affordable, easy to use, and great if you're renting boats or fishing from the shore.
The Lowrance Fish Hunter PRO comes with an app that you can use on both iOS and Android. You'll connect the app to your phone through whatever app store you use and then the sonar readings will be displayed on your phone.
The Fish Hunter does have some limitations and we'll get into it more thoroughly in the following sections. It doesn't use CHIRP sonar but instead uses a dual-range frequency with fish ID technology. The result is a somewhat lackluster sonar but a fish finder that is loaded with goodies.
Main Factors to Understand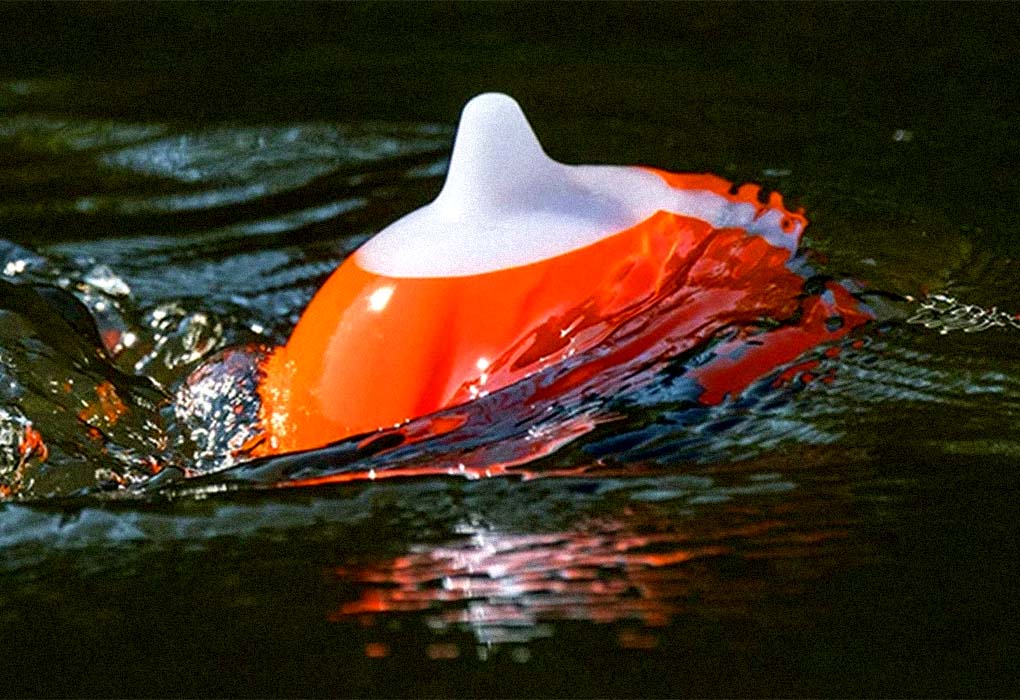 I want to break down the main components of the Fish Hunter PRO into a few different categories so you can understand what makes this fish finder tick. Bear in mind, it won't blow you away like some of the best fish finders I've reviewed in the past.
Portability
The obvious number one reason people go for this fish finder is because it's portable. If you rent boats or fish from the shore, this is the type of fish finder you want since you can't necessarily attach anything to a boat.
The unit itself only weighs 155 grams which translates to less than half a pound. It's super lightweight, easy to carry, and simple to operate.
It's also a great option for ice fishing because it can withstand temperatures of -22F so you can drop it in your hole and use it to scout if you don't have an ice fishing fish finder.
Battery Power
Since this fish finder doesn't boast a lot of extensive features, the rechargeable battery life is pretty strong which results in longer distances and ranges as well. It displays up to 150 feet in depth and 160 feet in terms of distance.
Versatility
While the imaging and sonar capabilities are rather limited, this fish finder does provide a lot in terms of views, screens, and options. You can track all kinds of information like bottom depth, temperature, location of fish, location of lures, mapping, GPS, and chartplotting.
Starting with the "RAW" view, this option is the classic sonar view that allows you to see everything that's happening in the water. It uses traditional infrared colors to determine structure, bottom, fish, and lures.
You can then change to Fish ID technology which allows the transducer to interpret the information it receives and tell you exactly where the fish are and what size they are. This technology is somewhat accurate but can be misleading at times.
If you're the kind of person who prefers to interpret the information yourself, you might not be a fan of this feature.
For the ice anglers out there, if you've ever used an ice fishing flasher, you'll be happy to see that it has a flasher feature as well.
GPS/Mapping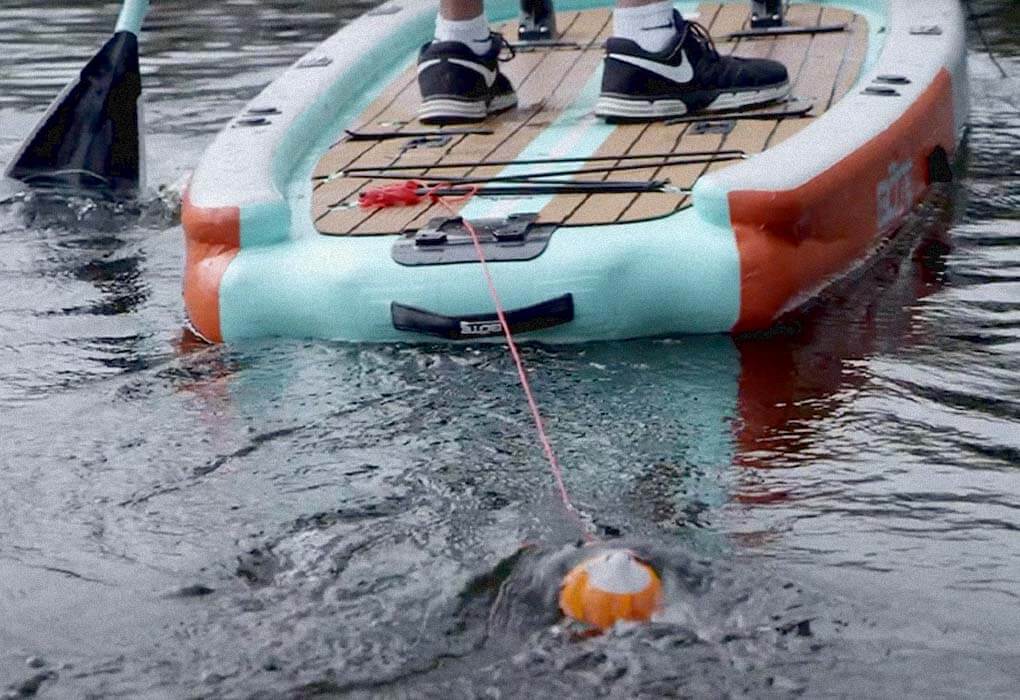 You might be thinking to yourself, "this thing can't have GPS too!" Well, it does. It has a feature referred to as "three-dimensional mapping" and bathymetric mapping which is the more traditional offering.
The FishHunter directional 3D mapping helps you identify contours, drop offs, and ledges with extreme clarity. You can set waypoints and save maps for future use.
The bathymetric mapping allows you to create custom maps with various bits of information and the app will actually track things such as bottom depth and contours as you move around the lake.
For a portable fish finder, this is pretty impressive technology.
FishHunter App
Let's talk about the app because all of this information is useless if the app doesn't work well. It doesn't require a data connection, Bluetooth connectivity, or WiFi because it has its own connection. The app also allows you to log where you caught something and various information about the fish.
You can even track and find other people on the water that are using the same app.
That said, I had to go over to the Google Play Store to get an idea of what anglers think of the app. At the time of writing, it has a 2.9 out of 5 on Google, so, not great.
The overall consensus is that the app is a bit buggy, doesn't allow you to do anything unless the fish finder is connected, and there are issues with the WiFi connection cutting in and out. One of the standout issues I see is that the app requires you to log in before using the sonar.
To login, you must have an actual internet connection so you'd have to log in at home and then keep it logged in until you get on the water.
What is Deeper Smart Sonar?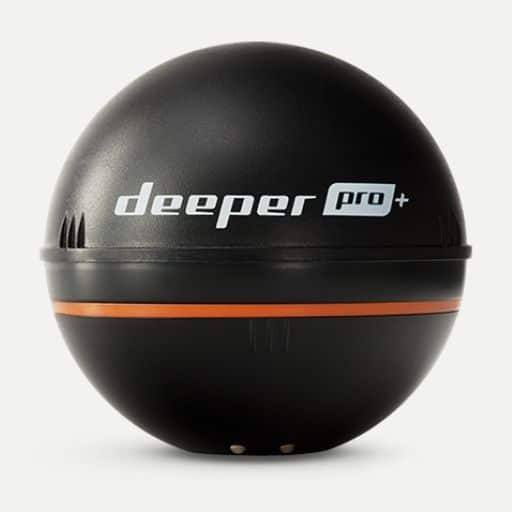 Deeper brand product
Portable and castable fish finder
Lightweight, easy to cast
Built with its own WiFi technology
Comes with Deeper Fishing App that you'll have to download and it can present its own list of challenges
Let's do a Deeper fish finder review now and look at how this fish finder compares to the previous option. Like the Fish Hunter, this is also a portable and castable fish finder that you can use from the shore or a boat that isn't yours.
This unit is a bit more popular because it's produced by a company that is known for putting out some amazing portable fish finders. They have a whole line of products ranging from the Deeper Smart Sonar CHIRP to the Deeper PRO+.
These fish finders also use a mobile app that you'll have to download and it can present its own list of challenges.
Overall, at the first glance, comparing Deeper vs Fish Hunter, it looks like Deeper has the better brand of portable fish finders. I'll go into more detail below.
Main Factors to Understand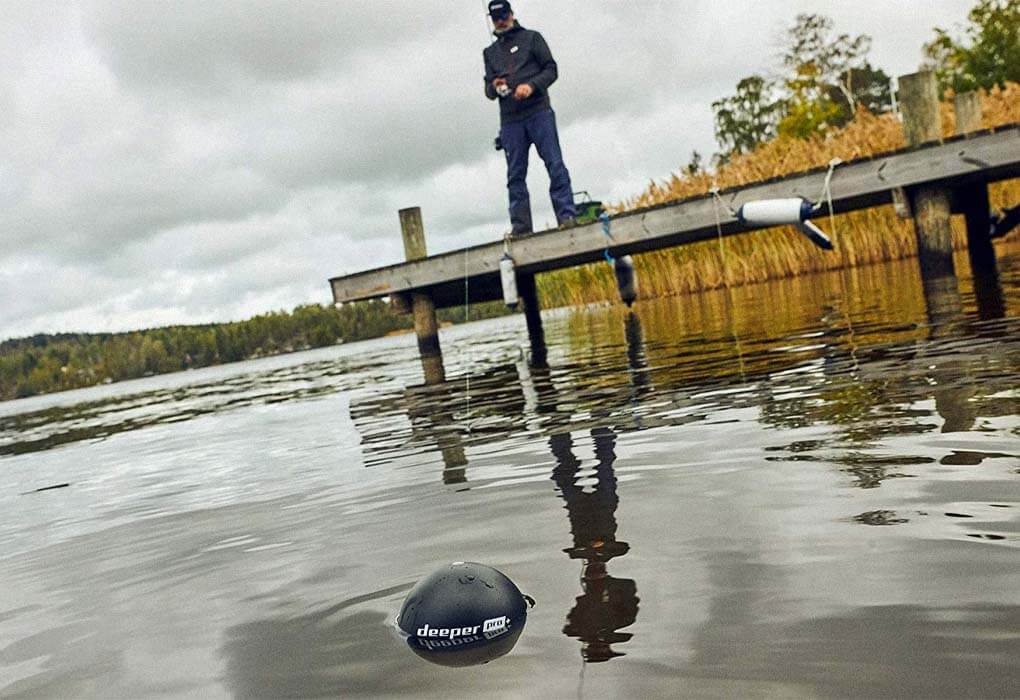 Here are some of the things you'll want to consider before purchasing either of these fish finders. I included the most important information that really makes this unit stand out or fall flat. Let's take a look.
Portability
The initial thought when you look at a fish finder like this is possibilities. You can do a lot with it. You can use it for shore fishing, boat fishing, kayaking, and so on. There aren't really any limitations especially because everything is viewed from your smartphone.
In terms of portability, it's about as portable as you can get. It's lightweight, easy to cast, and the Deeper Pro+ has a casting range of 330 feet and a depth of 260 feet.
WiFi
It's built with its own WiFi technology which means you don't need to have an internet connection or mobile data to use it. This makes it a lot more accessible for people who are on limited data plans or simply don't want to use it all up when fishing.
GPS/Mapping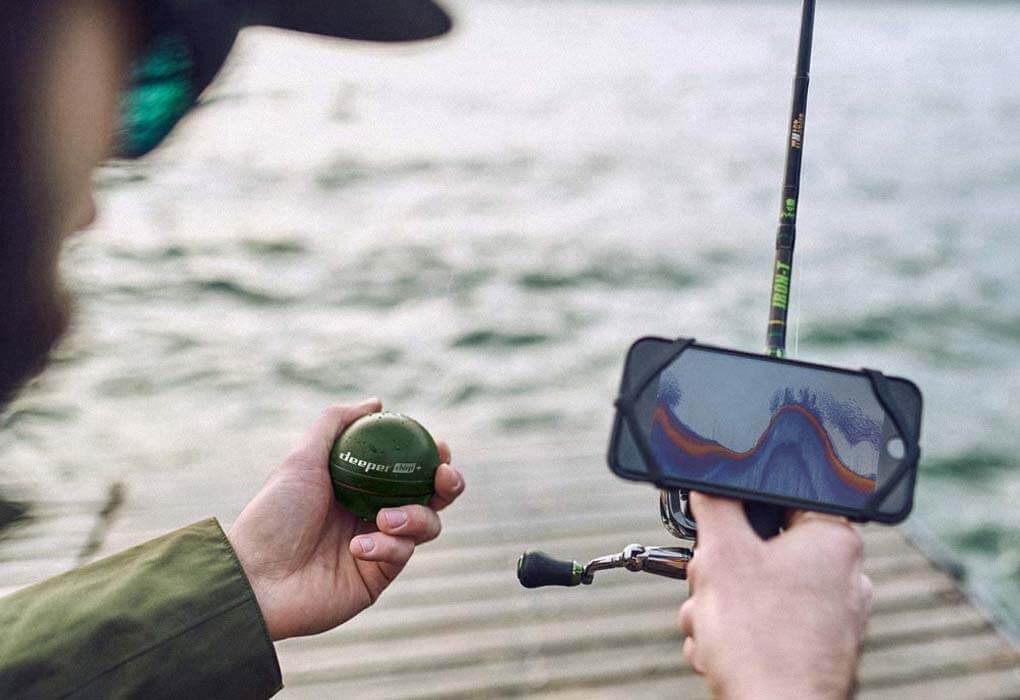 If you opt to go with the best portable fish finder which is the Pro+, you'll get GPS and mapping. The lower end Smart Sonar Pro does not come with any GPS feature.
As for the Pro+ it offers a standard GPS feature that makes navigating the lake easier and the mapping capabilities are up there with some of the best. You can track just about everything including depths, contours, holes, structure, and waypoints.
The Pro+ also comes with something called The Lake Book which allows you to add existing maps through the app. When someone uploads a new lake to the app, you can also get access to that lake by downloading it.
Versatility
So, I talked a lot about the Lowrance Fish Hunter offering all types of views and sonar options, the Deeper Pro does this as well. It comes with four primary modes, standard, onshore GPS, boat mode, and ice fishing mode.
The standard mode is your typical 2D display with fish finding features. Onshore GPS implements the GPS features of the fish finder when you're on land and the boat mode does the same but in the water. Ice fishing mode implements a flasher next to the 2D sonar view for two different views on one screen.
Deeper Fishing App
The Deeper app has a great rating of 4.1 on the Google Play Store. There's a lot of positive feedback saying that the app is easy to use, simple to understand, and the company has fixed a lot of the bugs that were once a problem.
It's also nice to see that the company comments on all negative comments providing a support line for anglers to reach out.
Lowrance Fish Hunter vs Deeper Smart Sonar
Now that you've seen most of the features of each of these fish finders, we need to stack them against each other and see which fish finder comes out on top.
Imaging
Winner: Deeper Smart Sonar
The Deeper Sonar fish finders provide a better quality image, longer distance and range, and 15 scans per second which makes their technology a lot closer to what we expect out of today's fish finders.
I find that the Lowrance Fish Hunter uses somewhat outdated technology with the tri-frequency scanning and no CHIRP.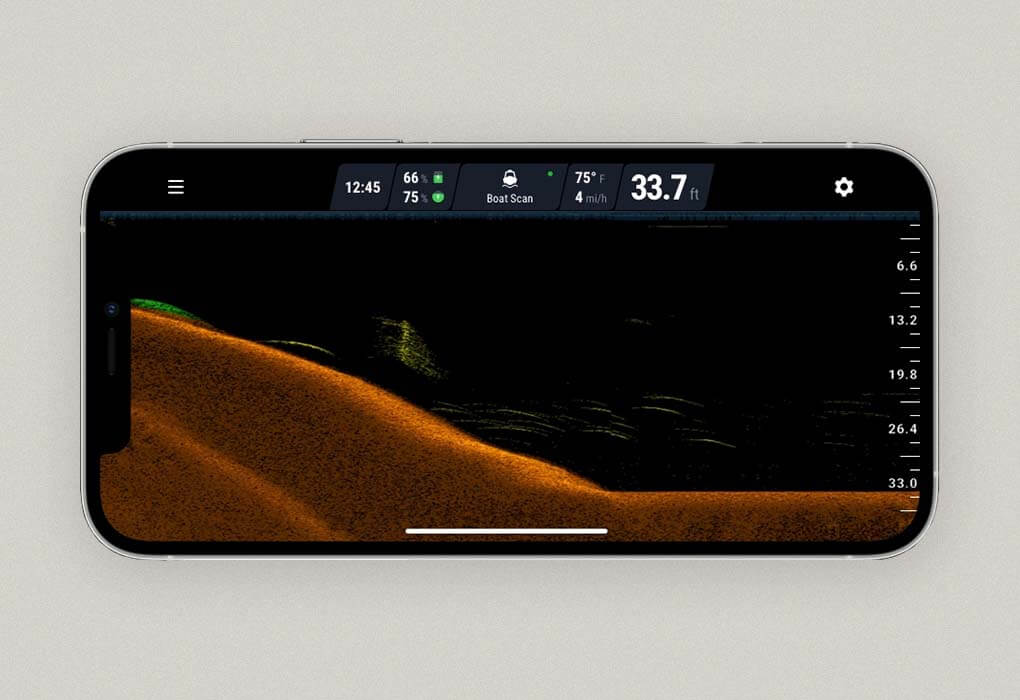 This image above is an example of what you would see on the Deeper. It's a very basic example but I'm using it to explain why it's better. All those arches are fish and the green and yellow shaded areas are vegetation. The image is crystal clear and very easy to interpret.
The dual-beam sonar makes it easy to find fish and ideal fishing spots based on what you see on the sonar device. This technology rivals everything we see from premium brands like Humminbird and Garmin.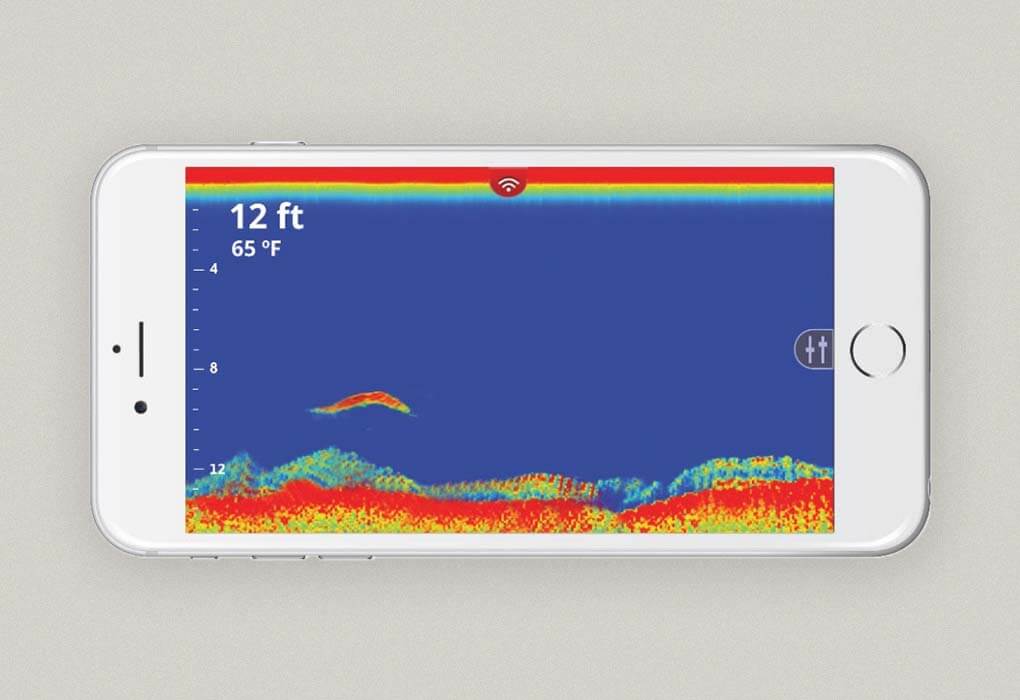 This is the type of image you'll get with the Lowrance Fish Hunter Pro. It's functional enough but just feels outdated to me.
Portability
Winner: Deeper Smart Sonar
In terms of sheer portability, it would be a tie. They're both portable, easy to cast, simple to use, and take up almost no space. The reason why I'm choosing the Deeper fish finder as the winner is because of the range.
You get nearly double the range and depth with the Deeper fish finder which allows you to really put it wherever you want because you don't have to rely as much on precision casting.
GPS/Mapping
Winner: Lowrance Fish Hunter Pro
The Fish Hunter offers some pretty sweet mapping with the 3D and bathymetric mapping features.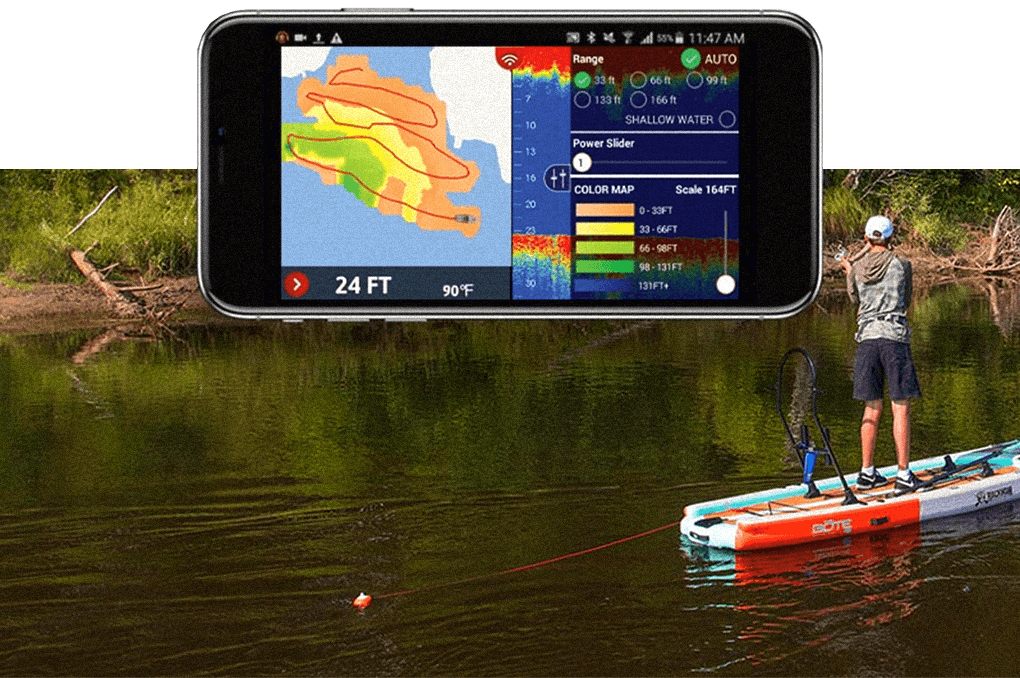 If you look at the image, you'll see an example of mapping with the Fish Hunter. It keeps track of your path while identifying depth ranges and contours in real time as you're moving around the water.
The only area where Lowrance lacks is with the community aspect of their app. You can download a lot of maps and share them with other people on the Deeper app which is not something you can do with a Lowrance fish finder.
Apps
Winner: Deeper Smart Sonar
This one is pretty cut and dry with almost no comparison. The Deeper app is much more developed and prepared to handle extensive use. Lowrance specializes in premium fish finders, so if you are interested you can check our HDS Live review and Lowrance Hook Reveal review.
They don't do a lot of portable fish finders and as a result, those who purchase them can suffer a bit. 
I also love the fact that Deeper has a really comprehensive website to help you use the app and learn how to use their sonar. If you're on the fence, I'd highly recommend checking out their site and all the helpful guides.
While you'll have a hard time finding any piece of Lowrance technology as cheap as the portable unit, you might be better off paying for a full-size fish finder if you have the means of using it.
Price
Winner: Lowrance Fish Hunter Pro
I don't want to dive too deep into pricing because you can find the price yourself and they change so frequently. That said, the Lowrance Fish Hunter Pro is less than half the price of the Deeper Pro+ so if you're on a really strict budget, the Fish Hunter offers more than enough to justify its price.
Realistically, these two fish finders aren't too far from each other in terms of performance. They're pretty close. So, if the price is the only thing that's keeping you from purchasing one over the other, I'd go with the Lowrance Fish Hunter.
By the way, if budget is the main thing on your mind, the iBobber is another great Bluetooth smart fish finder from Amazon. Any of these units are great for beginners and ideal for catching fish.
Model Options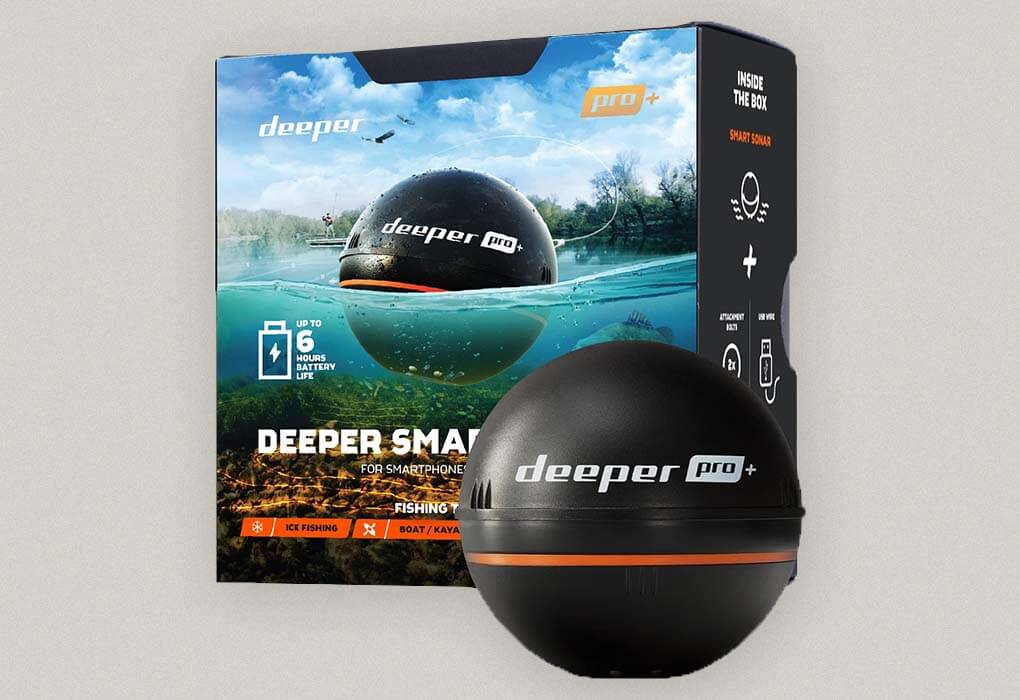 Winner: Deeper Smart Sonar
Keep in mind that the Lowrance Fish Hunter only has one purchasing option. They used to sell the Lowrance FishHunter 3D but that model is no longer for sale.
The Deeper models are the Deeper Pro Depth Finder, Deeper Pro+, and Deeper Start. All of these options are great for various types of shore and kayak fishing.
Final Thoughts
I hope this Fish Hunter vs Deeper review shined some light on which of these fish finders is the right choice for you. Personally, I see the potential of the Fish Hunter dwindling because it doesn't look like Lowrance plans to issue a newer model for a while.
What that can mean is the app will decrease in functionality until it's eventually obsolete. Looking forward, it appears that Deeper has found its niche and they plan to continue focusing entirely on portable and castable fish finders.
As a result, I would choose the Deeper Smart Sonar Pro+ over and over again. If you purchased either of these units, let me know in the comments one thing you love about it and one thing you hate. Good luck out there!