---
We independently research, test, and recommend the best products; you can learn more about our review process here.
Using hair jigs for bass is like using flies for walleye, a lot of people don't do it – but those who do are able to catch a ton of fish. Okay, maybe no one uses flies for walleye, but you get the gist.
Hair jigs are a great lure when the weather is cold because they offer up a slow presentation that's easy to maintain, and the bass are always willing to take it.
Where I live, we spend a lot of months around 40-60 degrees, and these are prime hair jig temperatures. I've put many hours into these lures and compiled a comprehensive list of the best bass hair jigs out there.
---
Our Picks For The Best Hair Jig For Bass
Last Cast Tackle Bucktail Jigs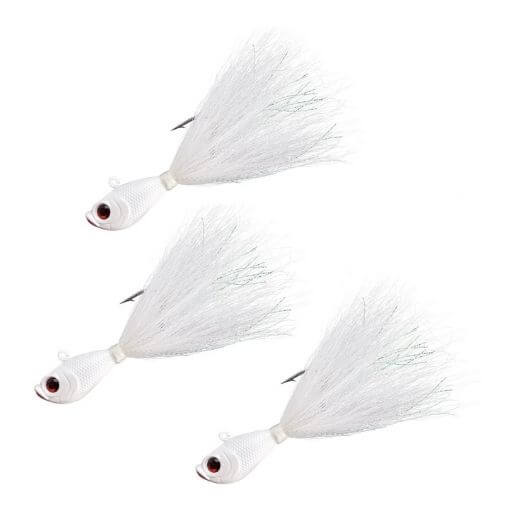 BEST BUCKTAIL JIG FOR BASS
Specs
Size: ½ ounce
Quantity: 3
Type: Bucktail jig
Color: White
FEATURED SPECS
These jigs feature a top-mounted eyelet, which makes them a great choice for casting and vertical jigging.
EXTRA FEATURES
Uses an incredibly sharp hook with realistic-looking eyes and body. The bucktail jig hair is high visibility and durable when casting into cover.
BUYING ADVICE
I would suggest getting these and using them on days when the sun is high and bright. These work well during the spring.
Pros
Durable construction
Lifelike appearance
Top-mounted eyelet
Cons
There's really nothing fancy about these bucktail jigs. Many people are pairing them with a fluke and having a lot of success catching bass. I only wish they came in a large variety of colors so you would be able to cater to the environment and time of day/year.
JSHANMEI Marabou Jigs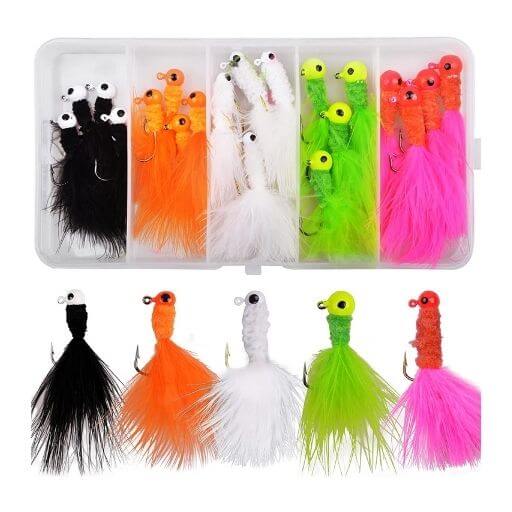 BEST MARABOU HAIR JIG
Specs
Size: ⅛, 1/16, 1/32
Quantity: 20 pieces
Type: Marabou jigs
Color: Assorted
FEATURED SPECS
These jigs feature a lead head with a threaded body and a hair jig at the end. They create a vibrating motion in the water that attracts bass.
EXTRA FEATURES
You get 20 pieces with this purchase, so it's a great option if you're looking to have a variety of colors and sizes.
BUYING ADVICE
These lures are typically used for panfish like crappie, but you can certainly put them to use for bass as well.
Pros
20 pieces
Great for vertical jigging
Durable and long-lasting design
Cons
No exact number of each size
This is a new one for me, the company says you get a "random number of each size." So, it's a toss-up in terms of what sizes you'll get, but they vary from ⅛ to 1/32, so who knows.
Anyway, Marabou jigs are most popular with panfish, but there are some situations where you'll want to try them for bass as well. I'd suggest giving these a go in a nearby river for smallmouth, that's where most people have a lot of success.
Haggerty Pheasant Chenille Jigs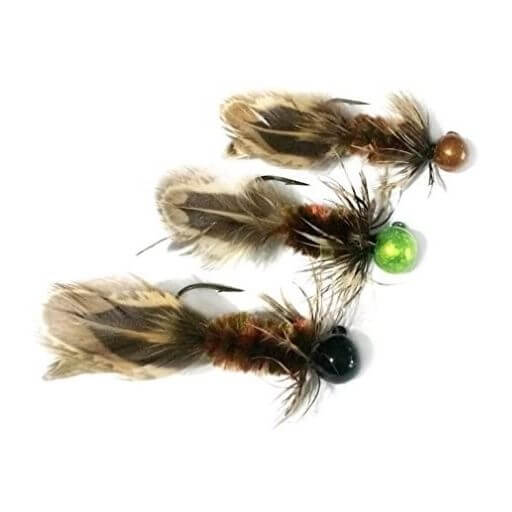 BEST CHENILLE JIGS
Size: ¼ ounce
Quantity: 3 pieces
Type: Chenille jigs
Color: Black, copper, chartreuse
FEATURED SPECS
These jigs come in a few different sizes, and with each purchase, you get three different jig head colors. The feathers themselves are a natural brown color.
EXTRA FEATURES
Chenille jigs create an interesting scattered presentation in the water, and they work best with lightweight lines.
BUYING ADVICE
I'd suggest rigging these up with a 4lb test or lighter and use them when flipping for bass.
Pros
Three different color variations
Lightweight and easy to use
Great when flipping and pitching
Cons
I don't want to go as far as to say these lures are a secret, but they're not the most popular ones in the bunch. When you're flipping for bass, many people use a jig, and these are the ideal choice. If possible, always go for a weedless hook because you'll likely flip directly into dense vegetation.
Lindy Little Nipper Jig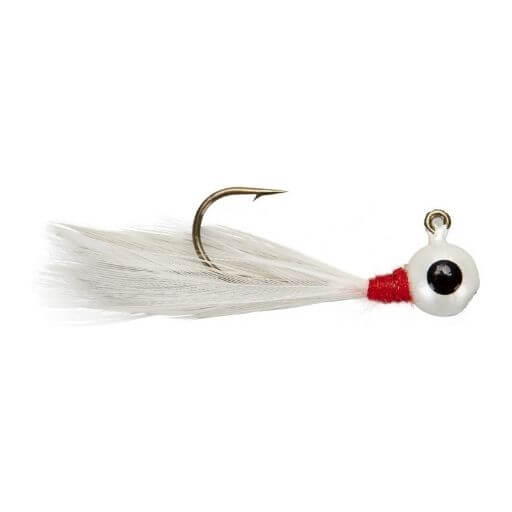 BEST NIPPER
Specs
Size: 1/32 ounces
Quantity: Two
Type: Nipper jig
Color: 8 different colors
FEATURED SPECS
These are incredibly small, and they work well on panfish and smallmouth bass.
EXTRA FEATURES
The little nipper jigs come with a lead head and small bucktail skirt on the back.
BUYING ADVICE
Many anglers refer to these as bluegill candy, but I've seen a lot of bass anglers have great success fishing these on rivers and small streams for smallmouth bass.
Pros
Lightweight and easy to fish with
Great for smallmouth bass
Assorted colors and sizes
Cons
Too small for most fishing applications
This is a funny lure simply because of how small it is. Many bass anglers would never bother looking at something this small because you'll never be able to reach the bass with how many panfish you'll have all over it.
That said, it's possible. I suggest finding areas of still water in small rivers and streams and giving these a try. It might just surprise you.
Berkley Fusion19 Bucktail Jig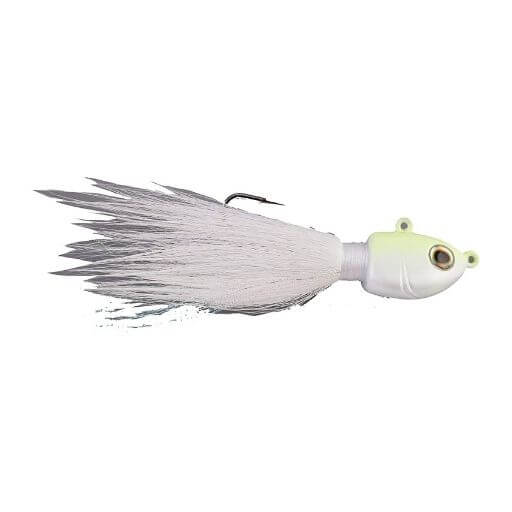 BEST LARGE HAIR JIG
Specs
Size: 13 different size options
Quantity: One
Type: Bucktail Jig
Color: 8 different colors
FEATURED SPECS
Uses an ultra-sharp Fusion19 hook paired with realistic recessed eyes to create the ideal presentation.
EXTRA FEATURES
Designed to work perfectly with all Berkley Gulp soft plastic baits.
BUYING ADVICE
Consider pairing this with the Berkley Gulp soft mullet for the perfect presentation, whether you're pitching around docks or casting into dense vegetation.
Pros
Manufactured by Berkley
Realistic appearance
Great durability and strong hook
Cons
Different Types of Hair Jigs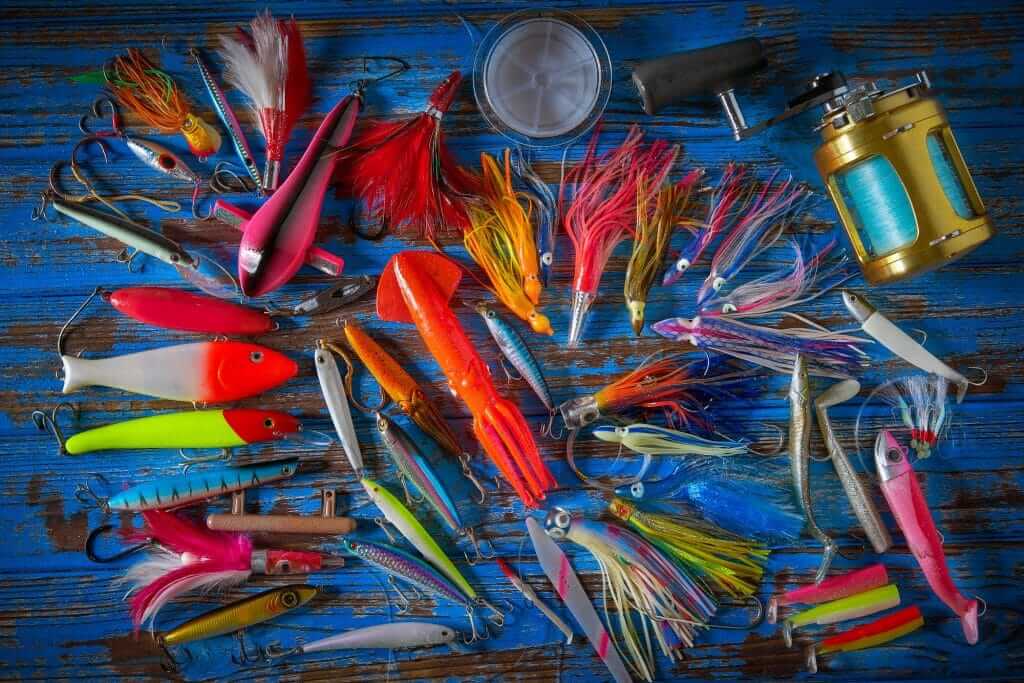 When the temperature drops, the opportunity for fishing hair jigs opens up. During the winter, fall, and spring months, the bass's metabolism slows down, so we ultimately need to slow down our presentation. This is the perfect time to pull out your hair jig.
But what kind of hair jig should you use? In this section, we're breaking down the different types of hair jigs, what they look like, how you present them, and how to catch bass with them.
Bucktail
The bucktail jig is one of the most popular lures on the market, whether you're fishing for panfish or large bass. This material has the least amount of movement for animal hair, and the material lays flat against the hook.
The result is a rapid fall rate that draws attention from aggressive bass, but I don't recommend using these when the water is really cold because the high speed of the drop will impact the bass's chances of biting it.
If you add deer body hair to the jig, it will become more buoyant, which means that it will fall slower. The slow descent will entice bass that might not be looking for as much of a fight, but they're willing to jump into the ring if they see an easy meal.
Fox
Fox jigs are a well-balanced choice because the material doesn't fall at such a fast rate, but instead, they maintain their position on the descent, which makes them a greater option when the water is really cold. You'll want to use these in a place where there are plenty of baitfish like shad around because chances are the bass are a little more active.
If you can catch them when there's a little sun shining on the water and outdoor temperatures are around 50 degrees, you're golden.
Rabbit
These bass jigs use rabbit hair, and many anglers will manipulate the appearance of the hair to make it look like the pincers of a crawfish. While this strategy is a bit niche, using rabbit hair is a great choice because it pulsates and moves very naturally when submerged in water.
The hair can also mimic distressed leeches when used in singular strips, and this is another strategy deployed by a lot of skilled anglers.
Marabou
I'm a big fan of these hair jigs because they have a great rippling effect, which creates a pretty big presentation under the water even with the slightest movement on the rod. You're able to cast these and let them do the work for you. Every now and again, give them a little twitch, tighten the line, and leave them alone.
You can also run these along the bottom of the water when the temperature starts to warm up. I personally enjoy pitching and flipping marabou jigs.
Synthetic
Synthetic jigs can be anything you want, really. The punisher hair jigs are popular, and they can vary in terms of drop speed, but synthetic hair will always have its own motion and appeal, so be sure to shop around and understand what you're buying and how it will impact the presentation.
Required Gear for Hair Jig Fishing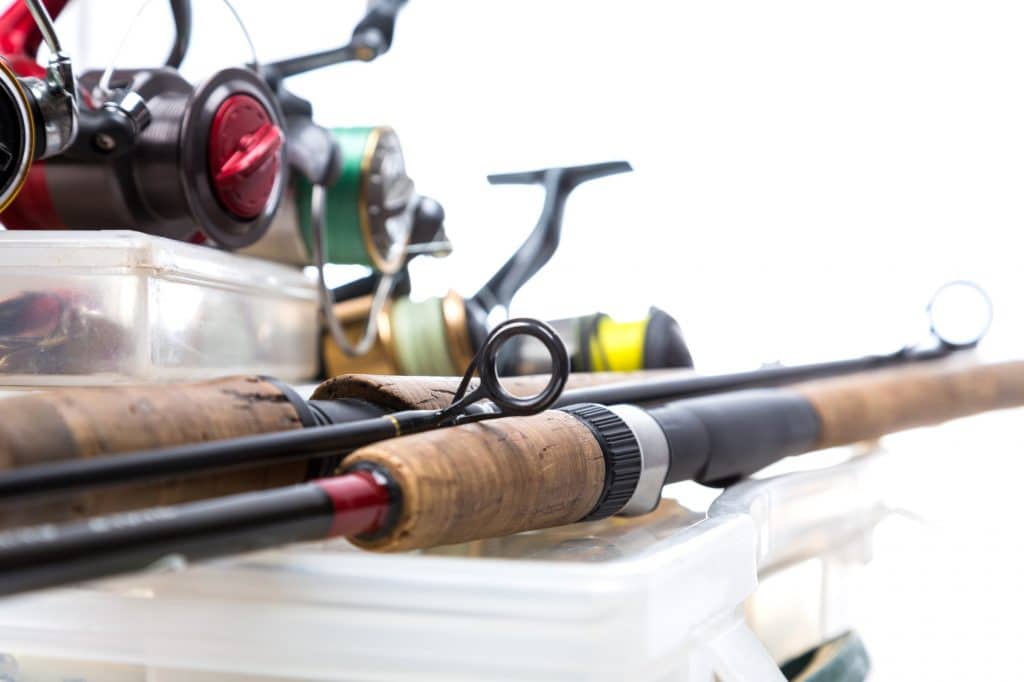 What kind of gear are you planning on pairing with your hair jigs? It all depends on your strategy. As I've said, many people like to pitch and flip hair jigs, so if you're doing that, you'll want to use a nice long spinning rod of around 7'6" to keep your distance between yourself and the bass.
If you're trying to cast around docks and structure, you can go with a smaller spinning setup, but you'll want to make sure you're using a leader. I recommend using a fluorocarbon leader with a bright monofilament backing because you need to see your line for this to work.
These lures are incredibly light, so it's easy for the bass to take off with them if you're not working them constantly. Always use a bright line with a leader, so you're not spooking them with a high visibility line.
How to Fish a Hair Jig for Bass
If you're not flipping them, you'll want to work them towards the bottom of the water but not "on" the bottom. The goal here is for the hair jig to glide through the water naturally without touching the bottom. This is a finesse approach, so it takes some practice, but once you get it down, it's effortless.
You'll cast the jig and let it sink with your rod tip pointed down towards the water. Make sure you have an ideal depth in mind and then lift the jig rod and pause so the lure swings around. Reel in the black and repeat this process until you're back at the boat. While you're doing this, always have the desired depth in mind.
The key here is to keep the lure off the bottom, which is very difficult. You need to know the water you're fishing, and you need to make sure you have the right rod for the job. Sensitivity is important, so I recommend going with a fast-action rod with medium power.
Trolling with Hair Jigs
If you want to take some of the thinking out of the equation, you can always troll with your hair jig. This is another reason why having a long rod is an important buying factor if you plan to fish with hair jigs. You'll want to set your target at around 8-10 feet deep and then flip your jig out. Let it sink down to the desired range.
So many people like to cast while the boat is moving and I don't recommend it. A lot of your bites and nibbles will happen as soon as you drop that jig into the water. Don't mess it up by doing it while you're moving.
Once it reaches the desired depth and you haven't felt anything worth calling home about, you can start moving. Keep it nice and slow around one mile per hour, and you'll be able to keep the jig at the desired depth without hitting the bottom. Make sure to keep the lure as far away from the boat as possible while you're doing this.
Where and When
I talked about this a little, but it's such an important thing to understand. These lures are "niche," which means you can't just throw them out there anytime you want and expect to catch fish. These are not spinnerbaits, wacky worms, jerkbaits, or crankbaits – they have a specific audience who only comes to visit for a short while.
You want to fish around 12 feet deep or less and usually clear water, which means you're playing pretty close to the shoreline in most cases. If you're fishing in the river, you want to stick around clumps of weeds and rocky beds, but it's most important that you keep the lure moving.
Most of the presentation will happen on its own because that's the nature of the hair jig. The hair of the jig is what creates the presentation, and that's why so many people shy away from bucktail jigs because their hair is very stiff.
So, when is the best time to fish these?
They're a slow finesse presentation, so you want to fish them when the bass are slow, which is during the winter months, fall, and early spring right before spawn. They're lightweight and small, which makes them the perfect candidate for cold water bass fishing because when the bass's metabolism slows down, they have zero desire to chase your lure across the pond.
Instead, they're looking for a small and easy meal that won't require too much effort. That's where you come in.
Tips for Fishing Hair Jigs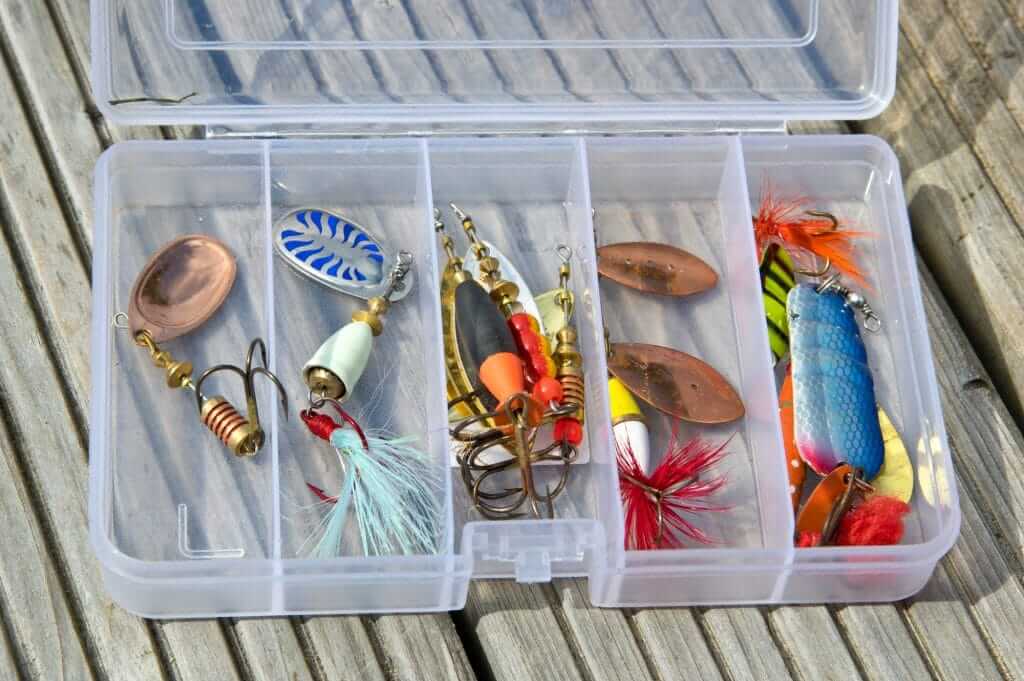 Here are some of my best tips for fishing hair jigs. Try to keep these in mind if you're considering this strategy for your next fishing trip.
Light and small – The lighter and smaller the lure, the better in most cases. Their metabolism is slow, smallmouth bass prefer smaller lures anyway, and you're likely fishing shallow water so you'll find largemouth too.
Use a spinning reel – I recommend using a spinning reel rig for this. You need that smooth, fluent motion to get the presentation right because you'll need to release and reel in the slack pretty frequently unless you're trolling.
Use a leader – Always use a leader when fishing with hair jigs. It's all about not spooking the bass and not creating too much attention for yourself, keep the attention on that lure. When you use a leader, it decreases the visibility of the line, which makes the bass trust the lure more.
Choose your color wisely – Hair jig colors for bass are important, and they depend a lot on the season. Make sure you're always catering to your surroundings. Use neutral and natural colors when it's cold and overcast and use bright colors when the sun is out, and it's warm.
Final Thoughts
Hair jigs for bass are a niche fishing market that a lot of anglers don't utilize. I've had a lot of success over the years fishing these around docks, vegetation, and other structure. You'll catch a ton of bass if you can take your hair jig and spinning fishing tackle to a nearby river and troll upstream for smallmouth bass during the fall.
I get excited just thinking about it! Keep all these tips and tricks in mind, and be sure to check out some of the recommended products from above. These are the best hair jigs on the market right now, so get one (or two) for yourself!
Good luck out there!