---
We independently research, test, and recommend the best products; you can learn more about our review process here.
After using it for several summers, I've decided the Minn Kota PowerDrive is an excellent bow mount trolling motor for beginners.
Every summer, we visit my in-law's lakefront cabin, where I spend most mornings on the water running my father-in-law's fishing boat with a PowerDrive 55 on the front.
I've found several things I like about it and a few things I think need improvement, which I will bring to light in this Minn Kota PowerDrive trolling motor review.
---
Minn Kota PowerDrive Overview
Multiple shaft lengths- 48", 54", and 60"
45, 55, and 70lbs of thrust
12-volt or 24-volt
Universal Sonar 2 option
i-Pilot GPS option
Reasonably priced
The motor makes noises when steering (electric steer)
The footpedal is prone to breaking
Very similar to the Terrova
Too many breakable plastic parts
If you're not looking to spend a fortune on the latest and greatest features for freshwater fishing, then the PowerDrive is for you.
The PowerDrive is essentially a stripped-down version of the Terrova, and once you add iPilot GPS and Universal Sonar 2, there's very little difference between the two trolling motors.
Because the PowerDrive is marketed towards the average angler, it's reasonably priced, but this also means Minn Kota doesn't always use high-quality parts, so it might be in the shop more than you'd prefer.
I love that Minn Kota offers anglers many options with the PowerDrive so they can order the model that best fits their needs, including the Minn Kota Riptide PowerDrive, which is the saltwater version.
What to Consider Before Buying a Freshwater Bow Mount Trolling Motor
Purchasing a trolling motor can be a little overwhelming, especially since it seems like every week, another company is coming out with another "must-have feature."
Instead of focusing on what the trolling motor company says you need, we've listed several of the most important factors before buying.
Where Are Minn Kota Trolling Motors Made?
According to Minn Kota, its trolling motors are made in Mankato, Minnesota.
So if you like supporting American-made products, Minn Kota trolling motors fit the bill.
Shaft Length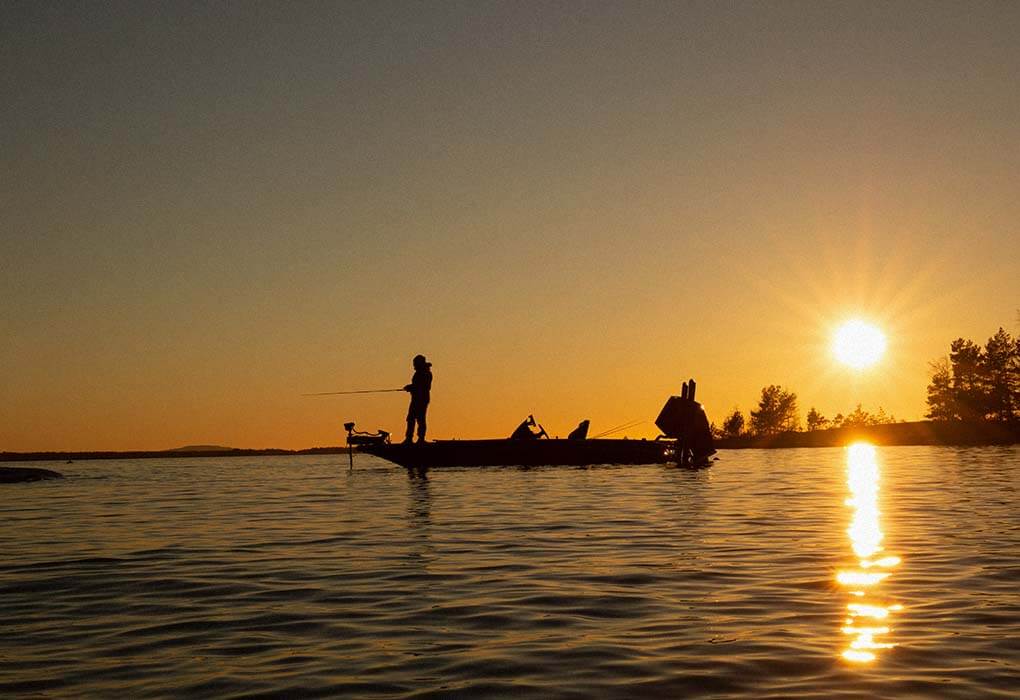 Determining the shaft length you need is vital before purchasing a trolling motor. The ideal length of the shaft will vary from boat to boat.
Boats that sit higher above the water will need a longer shaft to keep the lower unit at least six inches below the water's surface.
Thrust
Having enough thrust to battle the wind and currents is essential, but having too much thrust that quickly drains your trolling motor batteries can ruin a great day of fishing.
Understanding how much thrust you need for your boat's weight will help you choose a trolling motor that best suits your needs.
Some trolling motors are rated for different voltages or different levels of power. The higher the voltage, the more power, which correlates to more thrust.
Quietness
If you're an angler, you know the importance of keeping quiet while fishing so you don't spook the fish.
However, if your trolling motor is noisy, then there's no point in you needing to be quiet because it's already spooking fish.
The quietness of the lower unit is most important since it's the part of the trolling motor in the water. The head unit can be a little noisier and still be effective, but it becomes annoying to the operator.
Ease of Use
If you purchase a trolling motor with all the bells and whistles, yet it's too complicated to use, then those features aren't helping you catch more fish.
Keeping things as simple and easy to use as possible is best, especially when you encounter a problem.
Battery Life
Running out of battery juice is one of the most frustrating experiences while on the water.
That's why it's so important to buy a trolling motor that efficiently uses deep cycle batteries.
Minn Kota uses Digital Maximizer to help extend battery life.
Standard Features
The standard features often determine the price of the electric motor.
So if you're someone who needs the best of the best features to get an edge on the competition, you'll likely be paying more for those features.
PowerDrive Features & Benefits
Unlike the feature-rich Minn Kota Ulterra, the PowerDrive only offers the essential features for the weekend warrior.
This simple model means it's an excellent beginner trolling motor because it doesn't require you to learn a lot of complicated features.
Before using my father-in-law's PowerDrive, I had never operated a Minn Kota electric steer, but I quickly picked up how to use it due to its simplicity.
Deploy-Assist Lever
I like the idea of the deploy-assist lever. Because when it works, it's great! However, I've had a few problems with it not entirely securing when stowing.
This also leads to some frustrations when deploying it because it must be fully secured to deploy correctly.
Once I figured this out, it hasn't been much of an issue, making deploying the motor easier.
Waterproof Foot Pedal (Not Included With i-Pilot Models)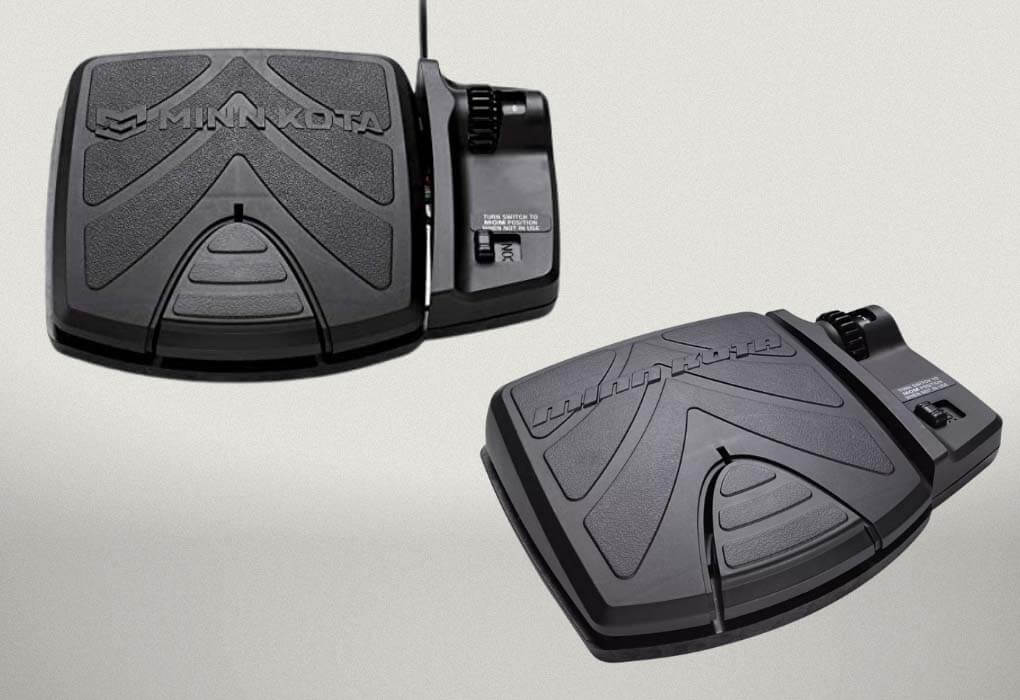 I had only run cable steer trolling motors in the past, so it was a little bit of a learning curve when I began using the electric steer foot pedal of the PowerDrive.
Unlike cable steer foot pedals that steer by pressing your toe or heal down, the PowerDrive foot pedal runs right when you press the right side and left when you press the left side.
I found the electric steer isn't as accurate as the cable steer. Meaning a cable steer can be adjusted in the exact direction you need.
Whereas the electric steers in set increments, which takes a little time to get used to but overall isn't that big of a deal.
Trolling with the 18′ long foot pedal cord is perfect when sitting in the seats. My father-in-law and I can relax, talk, and troll without yelling over the outboard engine.
The Minn Kota PowerDrive V2 offers a wireless foot control system, so you won't worry about getting tangled in a long cord.
Digital Maximizer
Digital Maximizer is what Minn Kota uses for five times longer run time.
Since the PowerDrive is equipped with Digital Maximizer, it delivers only the amount of power you need, conserving your battery.
I have only run the battery down once while operating the PowerDrive, and that was after multiple mornings and evenings of fishing.
Had I checked the push-to-test battery meter, I would have noticed the low battery and charged it, but I didn't, so I had to swap out the battery for a fresh one.
Thankfully, we had a fully charged marine battery.
Overall I've been impressed with the battery efficiency when using the trolling motor for hours at a time.
Indestructible Composite Shaft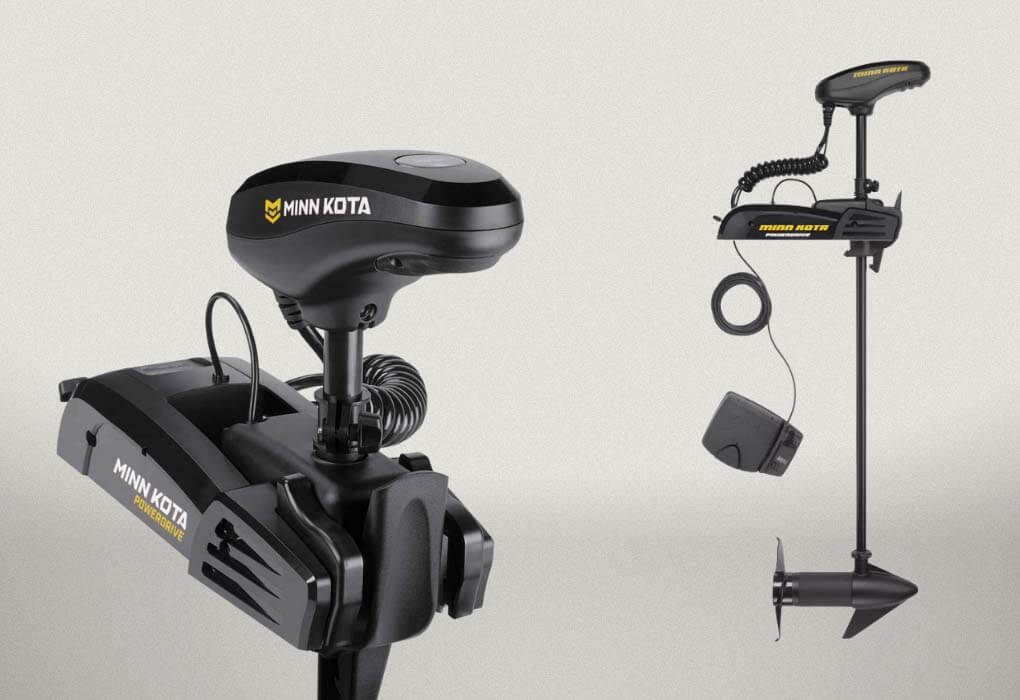 I tend to fish a little deeper with my father-in-law. However, we've run the PowerDrive up shallow and into a few rocks before with no problems.
The shaft has a great lifetime warranty, but that's not usually the part that breaks. It's usually one of the plastic pieces in the lower or head unit.
As long as the two-year warranty covers these parts, it's only a hassle.
However, once the warranty expires and you have to start purchasing those parts, it can quickly get expensive.
i-Pilot GPS With Autopilot
This is a self-contained GPS system operated by wireless remote control. The foot control does not come with the unit if you get this feature.
However, you can add i-Pilot to the trolling motor later. So you can have spot-lock functionality on it.
The PowerDrive does not come with the option for i-Pilot Link, which can communicate with a Humminbird fishfinder.
Universal Sonar 2
The Universal Sonar 2 feature is excellent if you only fish with CHIRP sonar. It allows you to use any brand of fish finders, like Lowrance, with the transducer that's built into the trolling motor.
This means no more strapping transducers to the lower unit or mounting them to the back of the boat; unless you want downscan, sidescan, or MEGA 360 because the built-in transducer is not compatible with these features.
So until they release a universal sonar transducer for all of it, we're still going to be mounting transducers to the boat and trolling motor.
The Universal Sonar 2 feature is extra, so you don't have to pay for it if you don't want or need it.
Social Proof
Even though I've used this trolling motor several times, these are still one man's opinions.
So what are other customer reviews saying about it?
As with most products, it's either the greatest thing since sliced bread or terrible. There aren't many reviews in the middle.
We'll start with the individuals who love their PowerDrive:
And another PowerDrive lover:
Now for the ones who were less than impressed by the PowerDrive.
I liked that Minn Kota reached out to this next customer to try and be of some assistance, but their customer service has taken a backward slide in the last several years.
It's also curious to note that the people who loved the PowerDrive left a review several years ago, so they received older models while the newer reviews purchased a newer model.
I'm not saying that has anything to do with it, but I find it interesting.
Alternatives
If you're not satisfied with the PowerDrive, there are a few alternatives offered by competitors and another Minn Kota electric motor.
Motorguide X3 and Xi3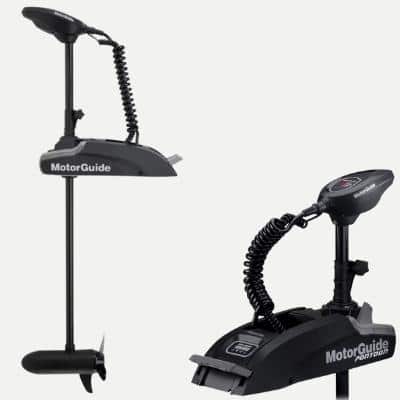 The Motorguide X3 and Xi3 trolling motors are similar in price and features to the PowerDrive, but neither offers a long foot pedal cord.

However, the Xi3 is controlled by a wireless remote, so it doesn't have a foot pedal.
Minn Kota Terrova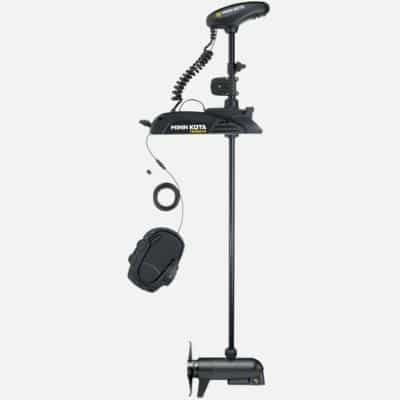 The Terrova is more expensive than the PowerDrive, but it comes standard with the features that are extra on the PowerDrive.

So if you're looking for more features, check out the Minn Kota Terrova.
Last Cast
The Minn Kota PowerDrive is great for beginner anglers looking for an entry-level trolling motor that has the option for more advanced features at a reasonable price.
However, if you're an advanced angler needing the latest features, the PowerDrive is not for you.
If you have a Minn Kota PowerDrive trolling motor review, feel free to leave it in the comments!