---
We independently research, test, and recommend the best products; you can learn more about our review process here.
The Minn Kota Maxxum is not a trolling motor decked out to the max despite its name.
Honestly, the Maxxum is only a step or two up from a transom mount trolling motor because it has only a few features.
This is why I only rated the Maxxum a 3/5.
By the end of this Minn Kota Maxxum Review, you'll know the benefits and drawbacks of the Maxxum, who should purchase it, and discover other viable options.
---
Minn Kota Maxxum Overview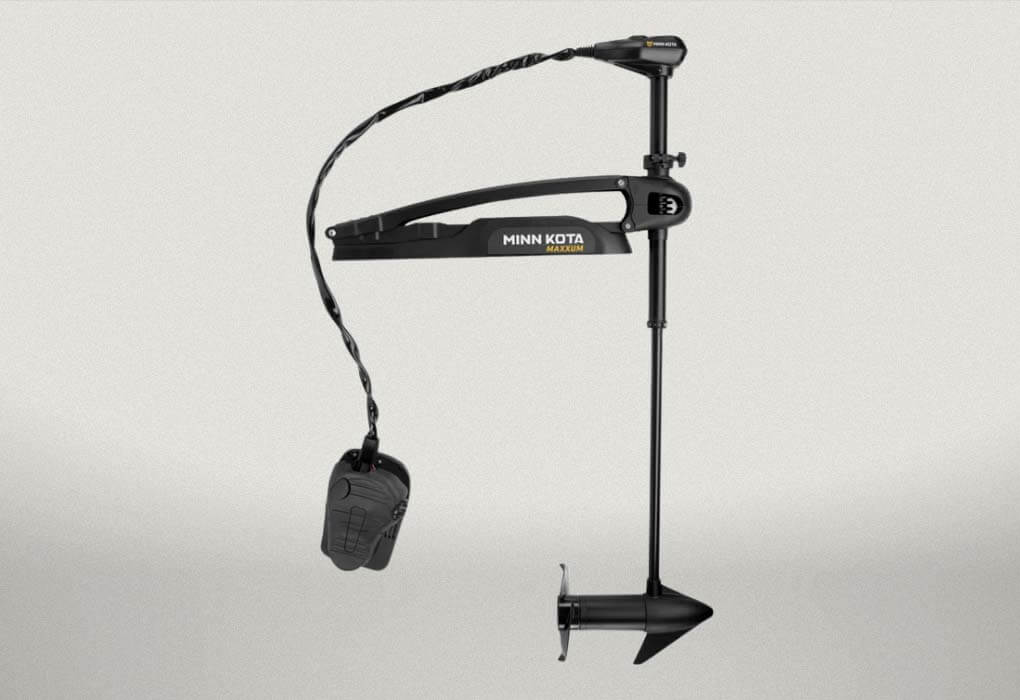 Pros
Digital Maximizer
Multiple shaft lengths
Multiple thrust options
Bowguard 360 breakaway mount
Cons
No Spot-Lock
No wireless remote
No i-Pilot Link GPS
No i-Pilot GPS
The Minn Kota Maxxum is designed to be one of the first trolling motors you install onto your bass boat.
It has limited features, but that means using it is straightforward, so it's an excellent choice for beginners.
I'm less than impressed with the options to upgrade it through add-ons like i-Pilot; this also means you won't have spot-lock.
I would prefer it to be a trolling motor that can grow with the angler.
At first, you might not need all the features.
However, as you dive deeper into fishing, you'll discover how useful those features can be, but to get those features, you'll have to spend thousands of more dollars on a new trolling motor.
With that said, the weekend angler can benefit significantly from the Maxxum features.
All the models are relatively the same, differing in shaft length, thrust options, and power options.
The Riptide (saltwater) Maxxum models are variable speed tiller-handled bow mount trolling motors instead of bow-mounted cable steer trolling motors.
They're more corrosion resistant than the regular models, so they also come at a higher price.
Minn Kota Maxxum 55 Review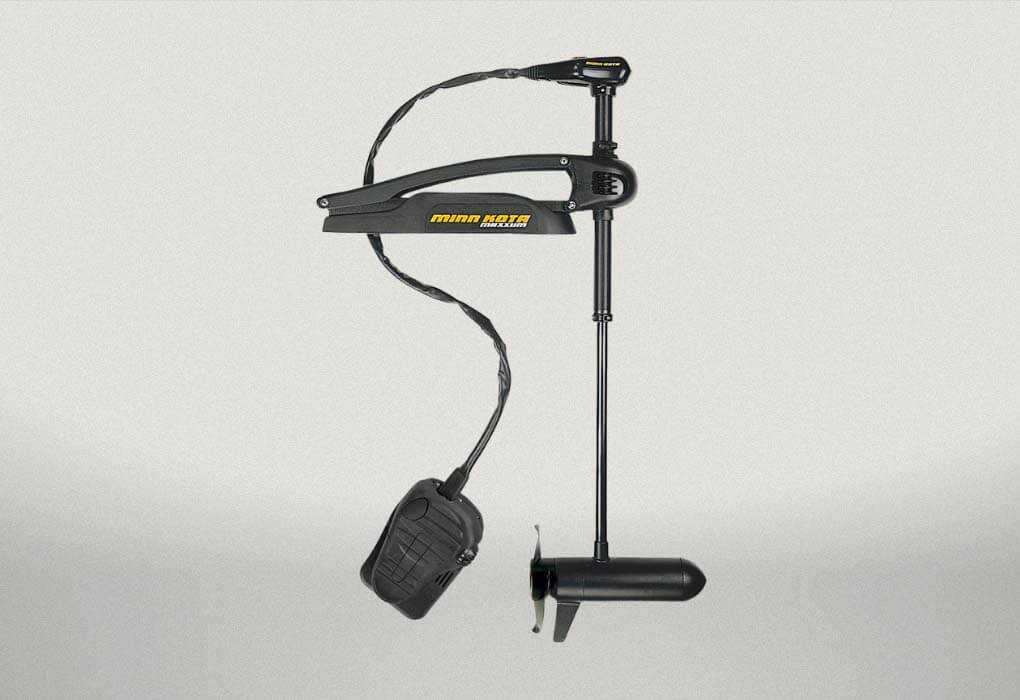 The Minn Kota Maxxum 55 or Max55 is a 12-volt, 55-pound thrust trolling motor with the Weedless Wedge 2 prop.
You can choose between a couple of shaft lengths, the most common being the 42″.
This is the ideal motor for a large Jon boat or small bass boat.
Minn Kota Maxxum 65 Review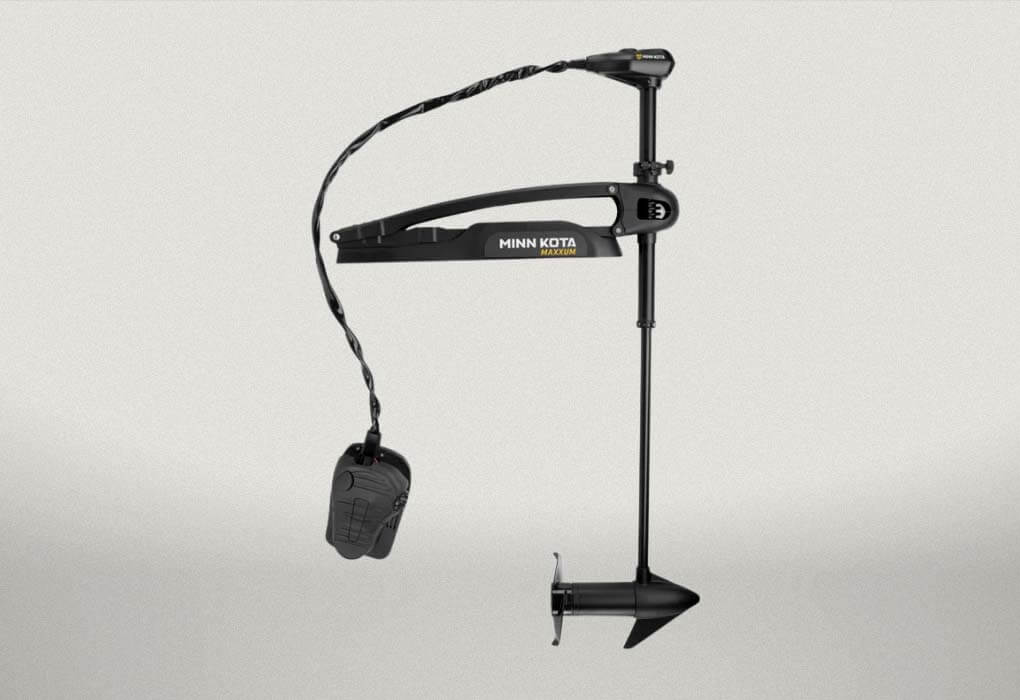 The Max65 steps up to 24-volts for the 65-pounds of thrust with the same composite shaft length options as the Max55.
The Maxxum 65 is best in bass boats, with room for an extra 12v marine battery.
However, if you're going to get the Maxxum 65, you might as well save an extra couple of hundred dollars and get the slightly more powerful Maxxum 70.
Minn Kota Maxxum 70 Review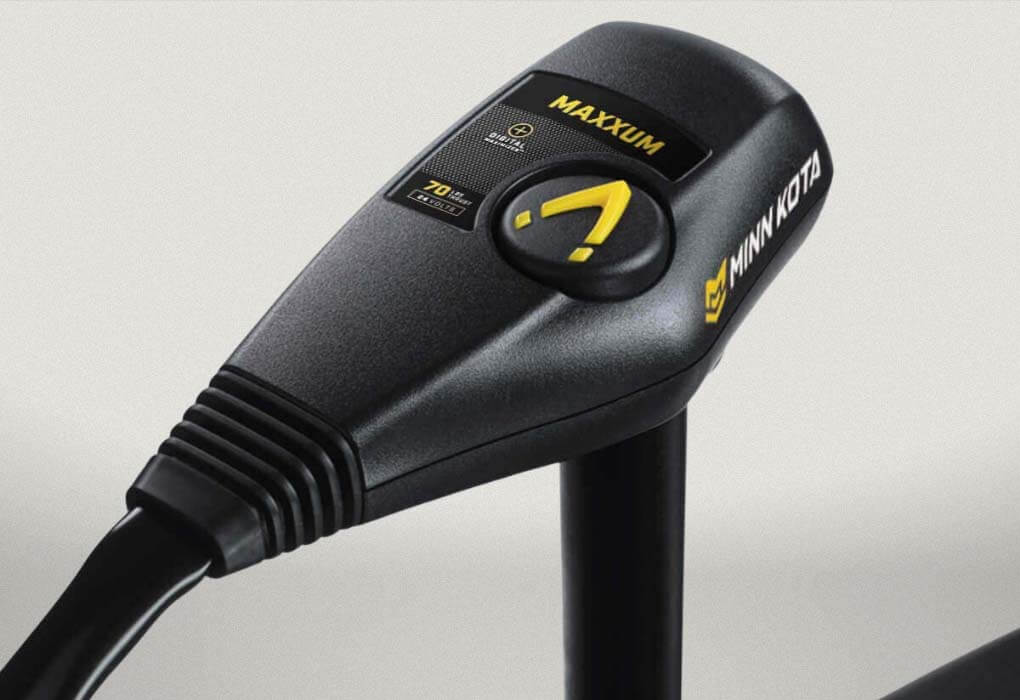 The Minn Kota Max70 is also a 24v trolling motor, but it has several more pounds of thrust than the Max 65, with 70lbs of thrust.
Minn Kota Maxxum 80 Review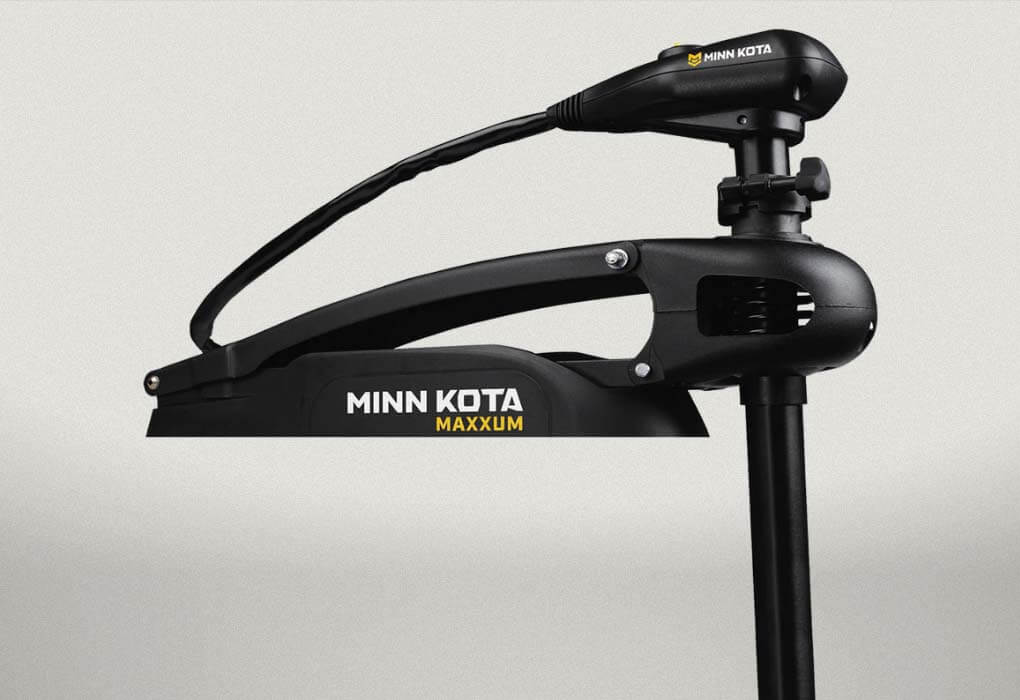 The Maxxum 80 is the last 24v model of the Maxxum series boasting 80lbs of thrust. The shaft length selection is similar to the rest of the lineup, with 42″, 52″, and 62″ being the primary options.
The Maxxum 80 is ideal for deep v-hull boats that need more power to propel through the water.
Minn Kota Maxxum 101 Review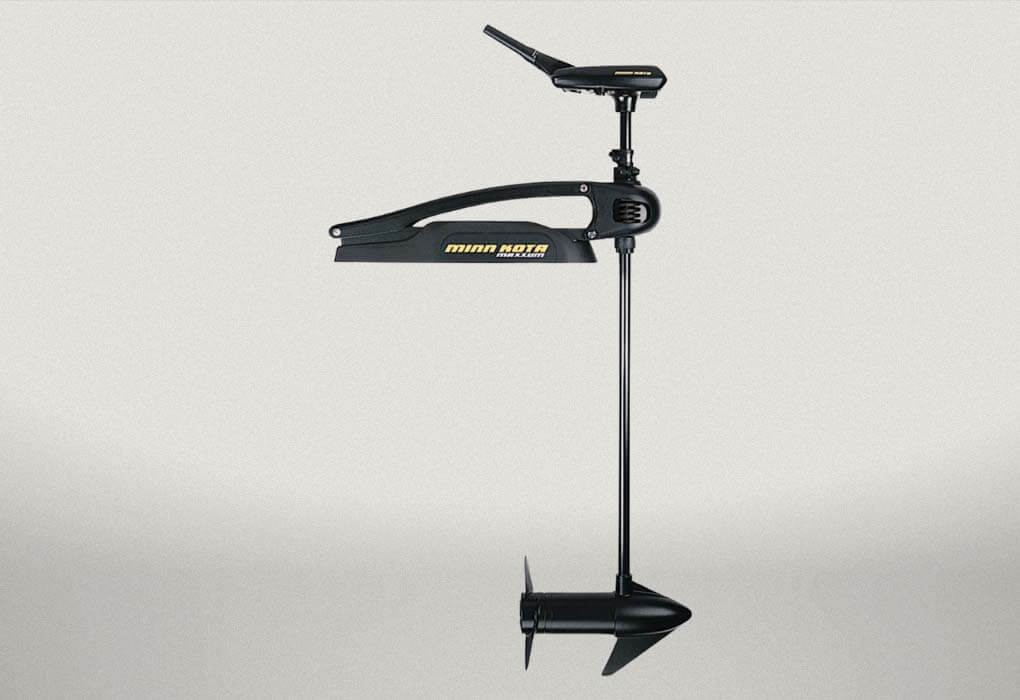 The Maxxum 101 is less common, but with a max thrust of 101lbs, it's no wonder it takes 36-volts to power this trolling motor.
Unless you own a large boat, as in over 22ft, you shouldn't need this much power. A couple of exceptions would be if you plan to fish in strong currents and your area is known for high winds.
What Matters Most When Buying a Trolling Motor
Buying your first trolling motor is daunting and can be very confusing.
That's why we've broken it down into what matters.
We know keeping these factors in mind while purchasing a trolling motor will help you make the best decision possible.
Quietness
Electric motors are quieter than combustible engines; however, some electric trolling motors are quieter than others.
A silent trolling motor is essential because it helps you sneak up on fish that otherwise would have heard you coming.
We've all spooked fish and know you're chances of catching that fish are slim to none after it knowns you're there.
The lower unit's sound level is most important since it's below the water's surface.
If the head unit squeaks or makes other noises, it's annoying for you as the operator, but it's less likely to spook a fish.
I prefer everything to be as silent as possible on my trolling motors, but I also know that comes at a price.
Power
A trolling motor's power is determined by the number of volts it's designed to handle. A 12v trolling motor is less powerful than a 24v, which is less powerful than a 36v.
Just because you hook up a trolling motor to 36v doesn't mean you'll get more power, especially if it was only designed for 12v. You could damage your trolling motor if this is the case.
Always use only the recommended amount of power.
The power of a trolling motor is measured in thrust pounds or pounds of thrust. The larger the number, the more powerful the trolling motor.
55 to 75 pounds of thrust can propel most boats against the wind.
Choosing the correct size trolling motor goes a long way with how satisfied you will be with your electric trolling motor.
Durability
I don't purchase anything with the intention of breaking it; however, I am tough on my equipment, and I inevitably break things.
So I need gear that will hold up to the abuses of my style of fishing.
The durability of a trolling motor will determine how long you get to use it without breaking it.
I will pay more for a trolling motor that will last longer than the cheaper ones.
Most trolling motors come with a nice 2-year warranty if it breaks in the first two years, but you're out of luck if it breaks after the warranty is up.
Another reason durability is important is that I plan to use my trolling motor, not send it off to the shop for months at a time.
Functionality
I also like to keep things simple; not only does this help with the durability of the trolling motor, but it also helps me with using it while fishing.
I don't need any complicated procedures to get fishing. I want something straightforward so I spend more time fishing and less time trying to understand my trolling motor.
The best trolling motors offer incredible features but keep them simple and functional.
Features vs. Budget
Typically, the more features you add to a product, the more expensive it is; trolling motors are no different.
That's why it's best to set your budget and determine which features are a must and which ones are just nice to have.
For a feature-rich trolling motor, prepare to spend $2,500 or more, while a simple trolling motor with little to know features will cost several hundred to $1,000.
Minn Kota Maxxum Features & Benefits
The Maxxum is a basic trolling motor that doesn't offer many features.
This means it's excellent for learning how to operate a trolling motor, but it lacks any room for growth once you've mastered cable-steer control.
The following are the features Minn Kota boasts the Maxxum has on most of its models.
Riptide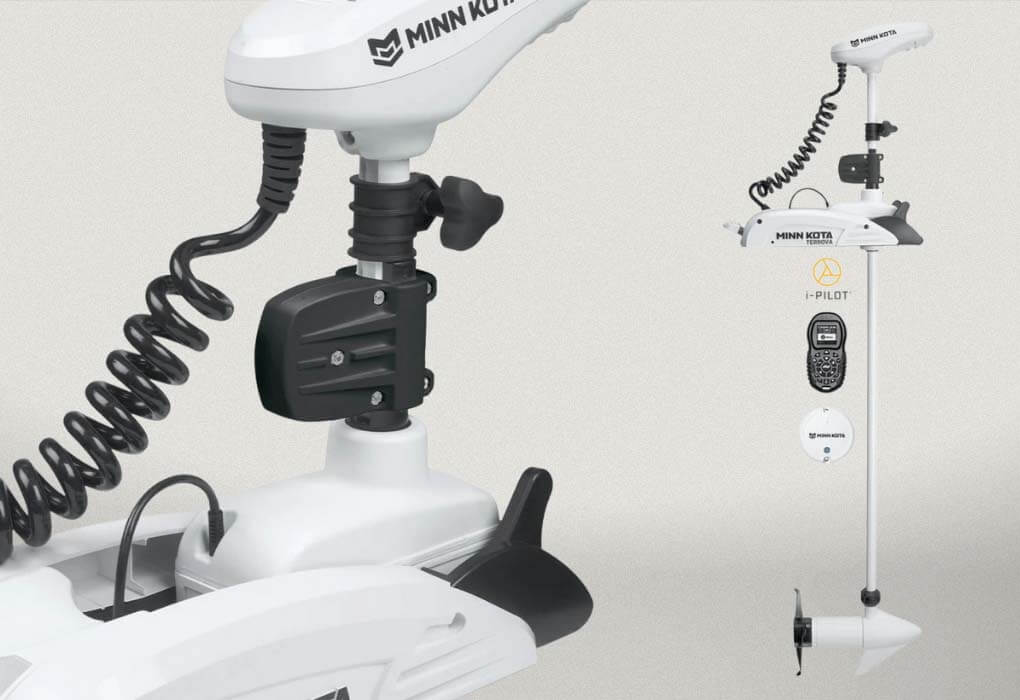 Riptide models are Minn Kota's way of telling us that they're saltwater compatible. There's not much difference in the freshwater model vs. saltwater model for most of their electric motors.
However, the Maxxum is different.
All the Riptide Maxxum models are tiller handles instead of cable steer footpedal.
It is an extendable handle that tilts; however, you still have to take one hand off your rod to steer the boat, which is inconvenient.
Bowguard 360 Breakaway Mount
The Bowguard 360 breakaway mount is designed to protect your boat's trolling motor and bow.
It is a great safety feature for shallow water anglers who tend to run into rocks and stumps. Instead of breaking your trolling motor or ripping a hole in the bow, it gives on impact and automatically resets itself.
Digital Maximizer
Digital Maximizer is Minn Kota's way of saving battery.
The trolling motor only uses as much power as it needs, which prolongs run time up to five times longer.
This feature helps you stay on the water longer, which should mean more fish in the boat!
Illuminated Directional Indicator
The Illuminated Directional Indicator is a ridiculous way of saying it has an arrow that lights up and tells you the direction you're going.
I admit it's nice to have in low light conditions, but Minn Kota is trying to make it sound fancier than it is.
Having a directional indicator is essential to prepare yourself to move in that direction.
There have been more times than I like to admit where I've nearly thrown myself out of the boat because I wasn't paying attention to the direction of the arrow.
Heel-Toe Cable Steer Foot Pedal
Cable steer trolling motors are known for responsiveness, meaning they turn quickly when you adjust them.
This is great for dodging rocks and stumps and quickly adjusting your boat position.
I've used both electric-steer and cable-steer. While I see the benefits of both, I prefer the cable steer.
The Heel-Toe refers to the steering method.
So instead of pressing a button on the right or left of the foot pedal, you'll push your toe down to move in one direction and press down your heel to move in the other direction.
Social Proof
In recent years, Minn Kota has slacked on their customer service and quality control. They were once known for long-lasting quality products, but now even Minn Kota lovers admit to a decline.
Here are a few of the negative customer reviews about the Maxxum-
I guess the indestructible composite shaft isn't as indestructible as they thought!
Even with the noticeable decline, many people love their Minn Kota Maxxum. Some even purchase multiple Maxxums for their boats, like this person –
As with most products, there are people on both sides of the fence. Some people love it, and others hate it.
Alternatives
If you decided the Minn Kota Maxxum trolling motor is not for you, don't worry; other trolling motors in a similar price range are worth checking out.
Motorguide X3
Minn Kota vs. Motorguide has been debated at every boat ramp in the country, and we still can't agree on a winner.

The Motorguide X3 is very similar in price and features to the Maxxum, so if you're a Motorguide fan, then the X3 will be the way to go.
Haswing Cayman
The Haswing Cayman is an electric steer with a remote or foot control for a similar price as the Maxxum. The Cayman has a more expensive model with GPS capabilities, which means it can GPS anchor.

However, Haswing is an overseas company, so if you prefer American-made products, I don't recommend Haswing, but they're great if you're on a budget.
Minn Kota Terrova
If you still want a Minn Kota but want a trolling motor with more features, the Terrova is an excellent place to start.

The Minn Kota Terrova has built-in sonar, lift-assist, and i-Pilot GPS with Spot-Lock and jog.

It is more expensive than the Maxxum at $2,000, but the additional features are well worth it.
Final Thoughts
Many anglers prefer the simplicity of the Maxxum over other feature-rich trolling motors.
If you're a weekend angler who doesn't fish tournaments, then the Maxxum could be the perfect match.
However, if you think you'll get into tournament fishing, I recommend spending the extra money on a Terrova.
Don't hesitate to leave your Minn Kota Maxxum review in the comments!