---
We independently research, test, and recommend the best products; you can learn more about our review process here.
The Minn Kota Ultrex has set the standard for trolling motors over the last several years.
However, that changed when Lowrance decided to enter the trolling motor market.
When we directly compared the Lowrance Ghost vs. the Minn Kota Ultrex, we quickly saw why Minn Kota's dominance ended abruptly.
We're eager to share the reason's with you in the rest of this article. Let's get started!
---
Lowrance Ghost Quick Overview
Specs
Three shaft lengths - 47", 52", 60"
Max thrust of 120lbs at 36 volts and 97lbs at 24 volts
Pros
Brushless (silent) motor
360-degree breakaway mount and automatic realignment
Programable foot pedal buttons
It doesn't interfere with sonar
Cons
Less than ideal factory prop
Lowrance only compatible sonar
Obviously, Lowrance is not a newcomer to the fishing industry. However, the Ghost is the first attempt by Lowrance to produce a trolling motor. We rate it a 9/10 in our Lowrance Ghost review because it set the bar for what features should come standard on high-end trolling motors.
Silent Brushless Motor
AutoPilot
Multiple Power Options
Spot lock/ Anchor Lock
Lowrance Integrated Sonar
360-Degree Breakaway Mount and Automatic Realignment
Lowrance didn't pioneer all of these features, but they have improved upon them in some form or another.
Minn Kota Ultrex Quick Overview
Specs
Two shaft lengths - 45" and 52".
Max thrust of 112lbs at 36 volts and 80lbs at 24 volts.
Pros
Multiple power options
Built-in universal sonar
Lift-Assist
Indestructible shaft with a lifetime warranty
Cons
Minn Kota reigned supreme for many years with the Ultrex. However, it seems they became a little complacent with their success in recent years and allowed Lowrance and Garmin to overtake them. That's why we only rated it a 7/10 in our Minn Kota Ultrex Review. They should still be given credit for features such as.
Lift-Assist
Power Steering
Spot-Lock
One-Boat-Network
Steering Lock
With a few minor changes and updates, the Minn Kota Ultrex is sure to be considered for the top spot amongst trolling motors.
Minn Kota Ultrex Features vs. Lowrance Ghost Features
The Ultrex and Ghost both offer features that will enhance your fishing capabilities. However, one offers more bang for your buck.
Who comes out on top when we pit the Ghost vs the Ultrex? Let's find out!
Brushless Motor
Brushless motors are here to stay. While they are relatively new to trolling motors, they have been common in power tools, so a brushless motor is not untested technology. They are quieter, more efficient, and more powerful than traditional motors.
Minn Kota Ultrex
The Minn Kota Ultrex does not have a brushless motor, making it louder in the water than its competitors that do have brushless motors. This means you have a greater possibility of scaring off fishing before they come into casting range.
Lowrance Ghost
The Lowrance Ghost has a silent brushless motor, so you can stay out on the water longer with more power and catch more fish.
The Lowrance Ghost is the winner because it has a brushless motor unlike the Ultrex.
Spot-Lock / Anchor Lock
When Minn Kota introduced spot-lock, it changed the way anglers fished from a boat. Every high-end trolling motor must have a spot-lock even to be considered a quality trolling motor.
Minn Kota Ultrex
The Ultrex has Spot-Lock, so you can set the GPS anchor from anywhere in your boat using the One-Boat-Network. This means you can click the Spot-Lock button on the foot pedal, remote, app, or Humminbird fish finder.
Lowrance Ghost
Lowrance didn't forget spot-lock. They also allowed you to initiate the GPS anchor using the remote, foot pedal, and Lowrance fish finder so you can anchor from any location in your boat.
This feature is a TIE because both trolling motors offer GPS anchoring.
Integrated Sonar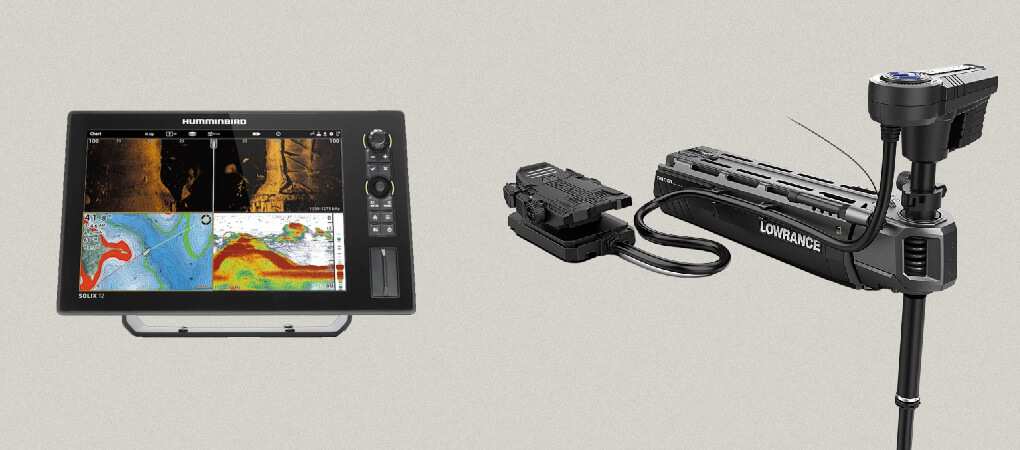 Gone are the days of coming up with creative ways to mount your transducer to the trolling motor. Any quality trolling motor now has a transducer integrated into the motor.
Minn Kota Ultrex
The Minn Kota Ultrex can use Humminbird fishfinders with the One-Boat-Network. What sets it apart from competitors is the option for a universal sonar mount.
Lowrance Ghost
Of course, the Ghost has Lowrance integrated sonar. However, this is where the Ultrex has the edge over the Ghost because, as of this writing, Lowrance does not offer a universal sonar option. This isn't a big deal if you already have Lowrance electronics, but if you run another brand's electronics, this could be a deal-breaker.
The winner is the Ultrex because of the universal sonar option.
Power Options
Having multiple power options is ideal if a battery fails or you don't feel like spending the money to purchase another battery. Keep in mind though the higher the voltage (more batteries), the more thrust you will get out of your trolling motor.
Minn Kota Ultrex
Depending on the amount of thrust you want from your trolling motor, you can rig up the Ultrex using 24 volts or 36 volts. With 24 volts, you will get 80lbs of thrust, and with 36 volts, you will get 112lbs of thrust from the Ultrex.
Lowrance Ghost
The Ghost can be rigged up the same as the Ultrex using 24 or 36 volts. With 24 volts, the Ghost will deliver 97lbs of thrust, while using 36 volts means 120lbs of thrust.
The power options feature is a TIE because both offer two options for power.
Control Options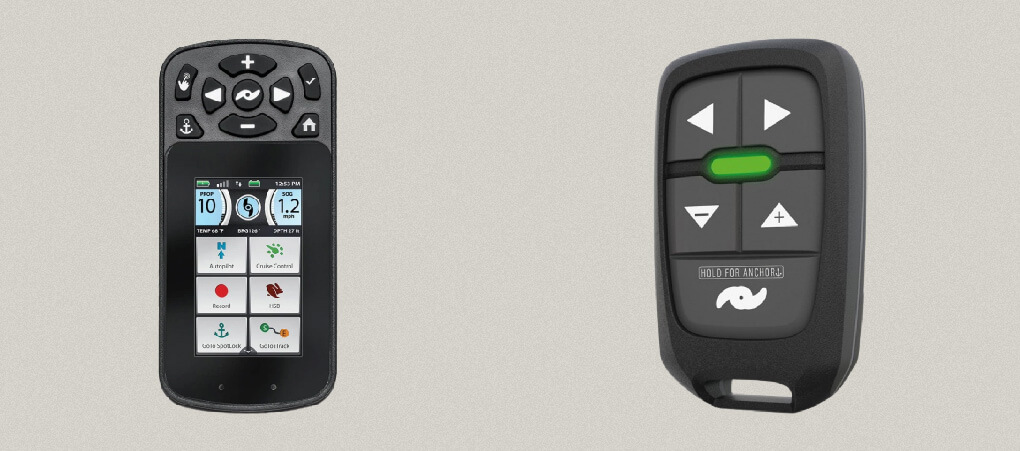 As anglers, we want to have as much control as possible over the factors we can control. So having multiple ways to operate your trolling motor means you have a better chance of landing more fish.
Minn Kota Ultrex
Controlling the Ultrex is easy using the foot pedal, mobile app, remote control, or a Humminbird fishfinder. The One-boat-Network offers anglers the ability to have complete control of their boat using any of the previously mentioned methods.
Lowrance Ghost
You can control the Ghost trolling motor with the foot pedal, remote control, or Lowrance fish finder (such as the Elite FS).
This means you have complete control over your boat, whether you're located in the front or the back.
This is a TIE for multiple control options.
AutoPilot
When you can set a course, and your boat automatically follows that course to the waypoints, you have an immediate edge over other anglers in fishing tournaments and the fish because you can concentrate on fishing instead of staying on course.
Minn Kota Ultrex
If you're running Humminbird electronics, you can set a course and initiate AutoPilot with the Ultrex foot pedal so you can focus on fishing.
Lowrance Ghost
Setting your course and automatically following it is easy using the Ghost with the Lowrance fishfinder GPS capabilities.
This feature is a TIE, as long as you are using each brand's respective fish finders.
Stand Out Features
If you were wondering, this is where the gap between the Lowrance Ghost vs the Ultrex widens. Lowrance not only improved on the barely noticeable features, but they also added features the Ultrex does not have.
Unique Lowrance Ghost Features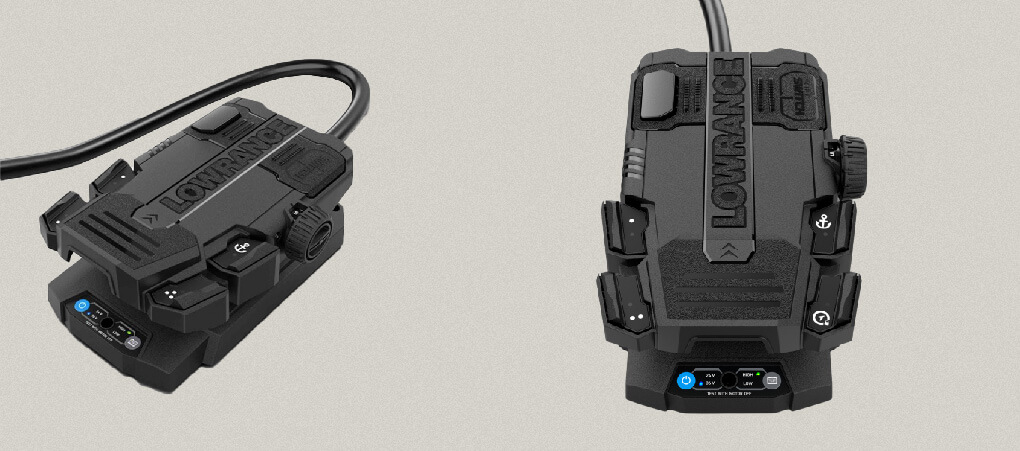 The Ghost has several features that propel it over the Ultrex. These features are:
Quiet brushless motor
Customizable foot pedal
Cable pull cord
How Lowrance keeps the wires in place and out of the way
Automatic stow positioning
360-degree breakaway mount and automatic realignment
Let's take a deeper dive into these features.
Quiet Brushless Motor
As mentioned above, brushless motors are quieter, more powerful, and offer longer battery life than traditional motors.
Customizable Foot Pedal
One of the most incredible features is the ability to customize the buttons on the foot pedal of the Ghost. Instead of the manufacturer telling you what function the buttons perform, you get to choose what each button does.
Cable Pull Cord
Truly showing their attention to detail, Lowrance uses a cable pull cord instead of a rope, like their competitors. Gone are the days of the rope breaking as you're pulling the trolling motor up!
Wire Placement
Another way Lowrance showed their attention to detail was by designing the trolling motor to keep the wires secure and out of the way of the motor. You won't have to concern yourself with accidentally pinching or cutting the wires.
Automatic Stow Positioning
As you pull the Ghost up out of the water, it will automatically go into the stow position. This is awesome because you don't have to worry about adjusting the motor to stow correctly.
360-Degree Breakaway Mount AND Automatic Realignment
When you run into a submerged log or rock, you won't have to worry about breaking the shaft or lower unit of the Ghost with the 360-degree breakaway mount because this feature absorbs the force of the impact. What makes this feature unique is that it automatically realigns itself after the incident. For more on these features, check out our Lowrance Ghost Review!
Unique Minn Kota Ultrex Features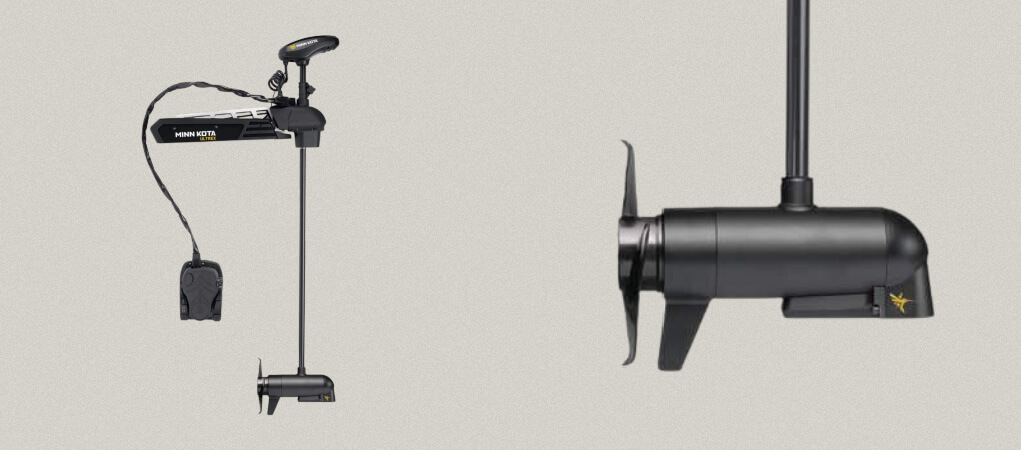 Because the Ultrex has been on the market for several years, it no longer has many unique features. Other trolling motor brands have found ways to "copy" or improve upon the elements that made the Ultrex the best trolling motor on the market at one time.
Here are a couple of features the Ultrex can still lay claim to over the Ghost:
Power-steering
Universal sonar
Let's take a closer look at what these unique features mean.
Power-Steering
Cable-steer trolling motors ruled the market for years, but they had their drawbacks, such as they were prone to being difficult to steer. Minn Kota changed that when they introduced power-steering.
This feature gives you more control than a digitally guided trolling motor and is easier to navigate than a traditional cable steer trolling motor.
Universal Integrated Sonar
As a kid, my dad and grandpa were the universal fishfinders. Nowadays, we have fancy electronics that help us locate fish. The Minn Kota Ultrex has an option for a universal sonar mount.
The Lowrance Ghost does not have that option as of the date of this writing. For more on these and, other features don't miss our Minn Kota Ultrex review!
Conclusion
When it comes to the Ultrex vs. Ghost, the Ghost comes out way ahead because of its unique features.
There are a few instances when you should purchase the Ultrex instead of the Ghost, they are:
when you don't use Lowrance graphs
already have Humminbird electronics
can't afford to spend the extra money on a Ghost
don't need the top on the line equipment
If you fall into any of these categories, you should purchase the Minn Kota Ultrex!
You should buy the Lowrance Ghost if:
You want to own one of the best trolling motors on the market
Own Lowrance units
Love supporting a company that pays attention to the details
You fish in water with lots of trolling motor hazards
Want a customizable foot pedal
If any of these sounds like you and you're in the market for a new trolling motor, you should get the Lowrance Ghost!